Cayin N7: A Voyager of Unexplored Frontier
Pure 1-bit Android-based DAP
To seek out new DA and new audio solutions …
To boldly go where no man has gone before …
Product Highlights:
Discrete fully-balanced 1-Bit Resistor Network "DSD" DAC
Discrete fully-balanced Low Pass Filter with BJT driver
Discrete fully-balanced Headphone Amplifier with JFET input stage and BJT amplification.
FPGA/Audio Bridge to re-shape, de-jitter and transcode/oversample PCM to DSD512
Dual Amplification Mode (Choice of Class A/Class AB)
High Quality "unamplified" single-ended and balanced Line Out
Unique variable-voltage single-ended and balanced Pre Out
4-ch resistor ladder electronic controlled analog volume from JRC
Decode DSD512 natively; support PCM up to 32bit/768kHzk; 16x MQA decoder
Headphone Outputs: 3.5mm Single Ended and 4.4mm Balanced
Shared Line and Pre Output: 3.5mm Single Ended and 4.4mm Balanced
Digital Interface: USB In, USB Out, Coaxial Output, I2S Output.
Snapdragon 665 CPU, 4G RAM, 64G Internal, 1xTF card (up to 1TB)
Android 12 with Google Play preinstalled, streaming ready
DTA bypass Android SRC, Hi-Res playback to all applications
Dual Band Wifi: 2.4G/5G.
9000mAh Battery with a duration of 6 to 10 hours.
5" TFT multi-point touch screen.
Suggested retail price:
US$1,999
Availability:
27th Feb 2023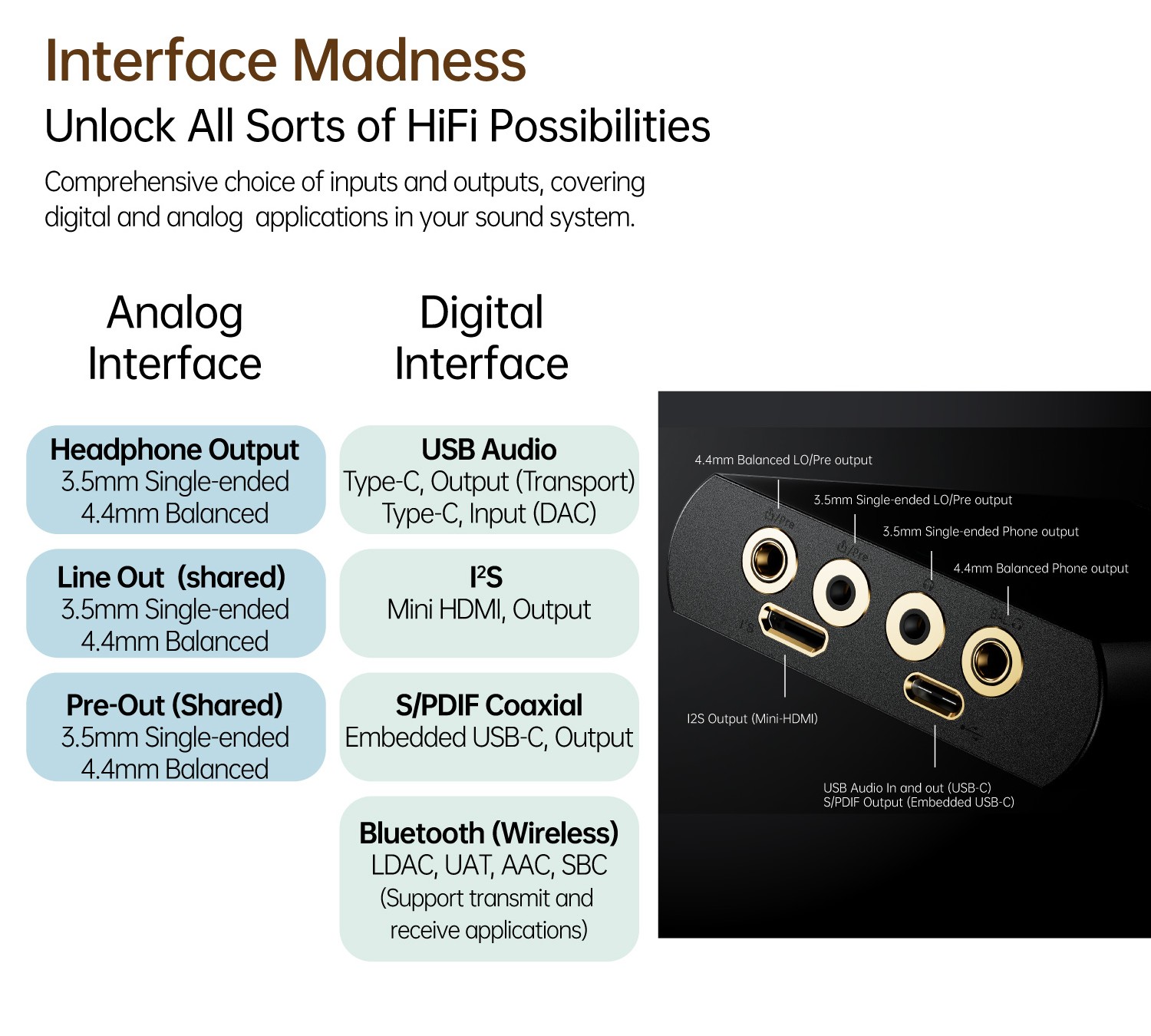 Last edited: