Item information
Added by
Views

1,196
Comments

1
Reviews

6
Last update
Rating

4.00 star(s)

6 ratings
General Information
Kinera BD005 Pro
1 BA + 1 DD (9.2 mm beryllium DD)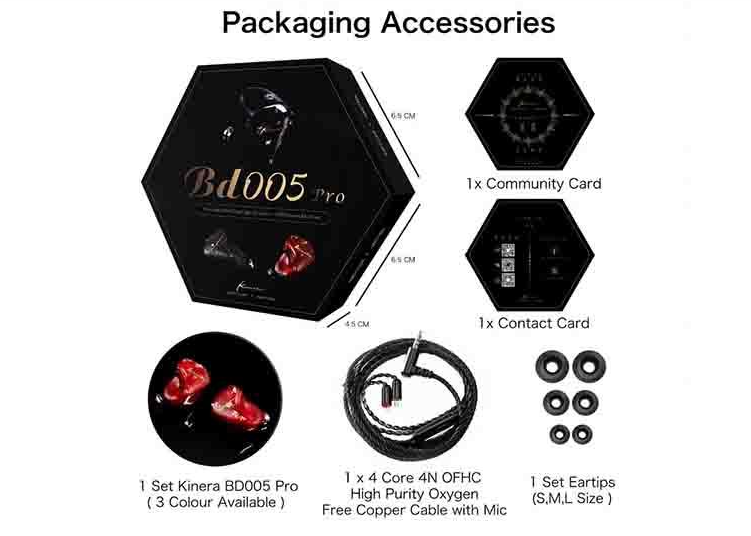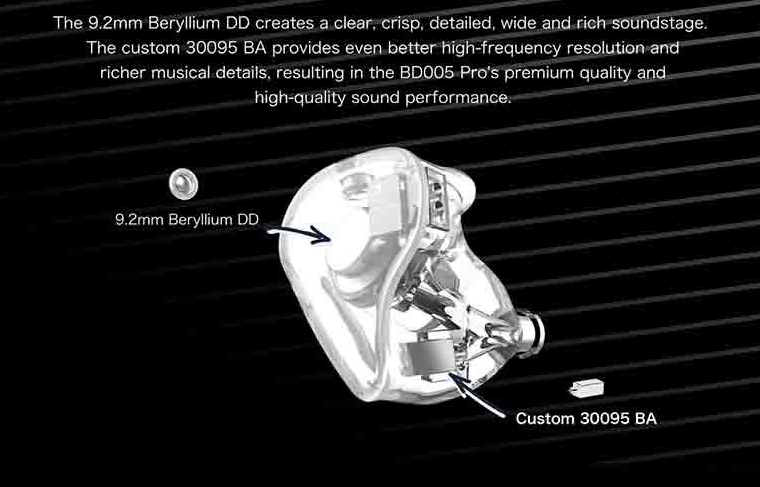 Latest reviews
Kinera Bd005 Pro Review
Pros
:
Good bass, fatigue-free, design and fit, price to performance Ratio
Cons
:
Hoped that it could be more technical, rolled off highs, too relaxed sometimes
For more reviews, check us out at: www.perrivanaudio.com
Driver Setup: 1 Dynamic Driver + 1 Balanced Armature
Price: 33 USD
Intro ​
Disclaimer: Disclaimer: This review set was graciously lent to me by a friend and the review is written of my own accord.
While most of you might know, Kinera Audio launched QoA in December 2020 and we managed to get our hands on the Vesper, which was the last hybrid set we reviewed. Now with Kinera themselves launching a new hybrid model that was priced at a much more competitive point, how will the BD005 Pro perform? Let us take a look!
Accessories and Build Quality (Score: 5.5/10)​
The Kinera BD005 Pro comes in a hexagonal box and the package comes with a set of ear tips, the IEM itself, a carrying case, and a detachable mic cable. Although nothing fancy, they covered all the necessities for a decent package. I do feel that the ear tips were not what I would expect, it is rather small like what you see with most TWS earphones. It is nothing big, but based on my experience with the BD005 Pro, I would prefer a more conventional design of the ear tips. The cable design is very common in the world of chi-fi as if they are all using the same OEM manufacturer with minor tunings in design to brand themselves.
Fit (Score: 8.0/10)​
Fit wise, the BD005 Pro excels and it was really comfortable when wearing them over longer periods and I did not felt that my ears were stretched out or tired. The relatively ergonomic design did smooth out most of the contact points with my ears which is probably why I felt really comfortable with them attached to my ears. Seal wise, I felt that the ear tips had something to do with it where I couldn't get that perfect seal sometimes but I guess it is due to the ear tips being smaller.
Sound (Overall Score: 7/10)​
I would describe the sound to be rather warm with less aggressive highs as compared to other conventional V-shaped offerings. We were unable to graph the frequency response of the BD005 Pro, my apologies.
Sources used
Ibasso DX120
iPhone XR
Atom DAC and AMP
Music and Albums listened with
Alan Walker
Billie Eilish – When we all fall asleep, where do we go?
Tchaikovsky 1812 Overture
Cigarettes After Sex
One Republic – Dreaming Out Loud
Keane – Fears and Hopes
Nino Rota – The Godfather OST
Fedde Le Grand – Cinematic
ARTY
Halo 1 & 2 OST
Czardas
Lauv
Scary Pockets
Hans Zimmer
Aladdin OST
Bass (Score: 8.0/10)
The midbass has a good punch to it as well as being impactful when listening to modern pop works. Similarly, its sub-bass lines are clear and steer clear from being muddy or mashed up while providing good meaty response and that is the best part about the BD005 Pro in my opinion. Although the overall response is quite authoritative with some texture and depth, its separation and layering are not as defined as what one would describe as perfect bass.
It is definitely one of those IEMs that have above-average bass qualities in the price bracket where it is quite emphasised but in a positive way that satisfies most listeners and put them in delight.
Mids (Score: 6.0/10)
I find the lower mids to be taking a somewhat backstage here which makes male voices underpowered when compared to its bass response. However, its upper mids have that boost to give that sense of energy and clarity but it causes female vocals to sometimes get shouty which isn't a huge bummer to me but felt that it could be tamed a little more. I felt that the mids on this unit was rather boring but it still manages to tiptoe along the thin line of sounding wonky and off which is a good sign and something that any make and model should achieve.
Treble (Score: 6.5/10)
The treble on the BD005 Pro sounds rather rolled-off with cymbals and percussive sparkles dimmed. It also does not have much "airiness" which is part and parcel of the overall tuning stance with the BD005 Pro. Although sometimes it sounds slightly unrefined and splashy which is hard to avoid as seen in many budget offerings, it does not cause any fatigue at all. A very good track to showcase that trait was me listening to percussive heavy intros such as "Friend like me" from Aladdin which I do not experience fatigue at all.
Although the experience was rather okay, do not expect a resolving and shimmery response with the BD005 Pro but on the other hand, the unit is fatigue-free which might be suitable for those sensitive to treble.
Overall
Its layering and separation capabilities are somewhat average with its soundstage sounding rather closed. Its imaging is decent as I was able to discern between instruments and placements rather easily. Its overall tuning was set to be rather warm with less aggressive highs which may appeal to the typical consumer but not for those who are looking for that sparkle and energy. I just want to conclude its sound with the point that technical abilities aren't the BD005 Pro's forte but its tuning should be its main selling point.
Conclusion​
The BD005 Pro is a good bassy and non-aggressive budget hybrid pick that has my attention due to its fit and design. It has a pretty sick value proposition which includes nice design choice, fit, and a safe-yet-fun tuning that can give you that bass boost that satisfies your cravings. To conclude this review, I can describe the BD005 Pro as "tastefully emphasised bass with fatigue-free experience that you can relax with".
Pros
:
Imaging and Soundstage
Bass punch and decay, overall bass quality.
Non fatiguing and safe tuning.
Cons
:
Might be too dark for some people.
Mids are a bit muted.
Overall tuning could improve.
Build & Fit
It would be a surprise if a Kinera IEM wasn't the looker. The Bd005 Pro is quite the looker if I am honest. The 3d Printed shell is similar to a semi custom fit, which translates to it fitting like a glove in my ear. Blissful comfort for me.
The faceplate has a "glassy" glossy finish to it, and indeed for the 49$ you pay for this, you are surely getting more than your worth at least when it comes to looks.
The cable is of the generic kind, which isn't to say that it is bad, just that there are better cables coming in stock form with other IEMs, but surely none of them are eyecandy like the BD005 Pro.
A feature to note is that the stock tips are quite shallow, even the largest size, which might pose some seal issues with big ears.
Finally, the best feature of all has to be the mic in the cable. THANK YOU! Why don't brands offer mic cables? It's basically a necessity. The mic cable means it's a dream to use it outside on the streets. I do wish it had volume controls as well,
but I guess I am getting ahead of myself in a world where mic cables are probably rarer than a hen's tooth.
Amp Needs
16 ohm @ 108dB/mW, i.e, no portable amp needed. Plug them in your phone and enjoy. These are extremely easy to drive. But 108dB/mW is quite sensitive as well. So do not plug this into noisy sources as it will surely pick up noise.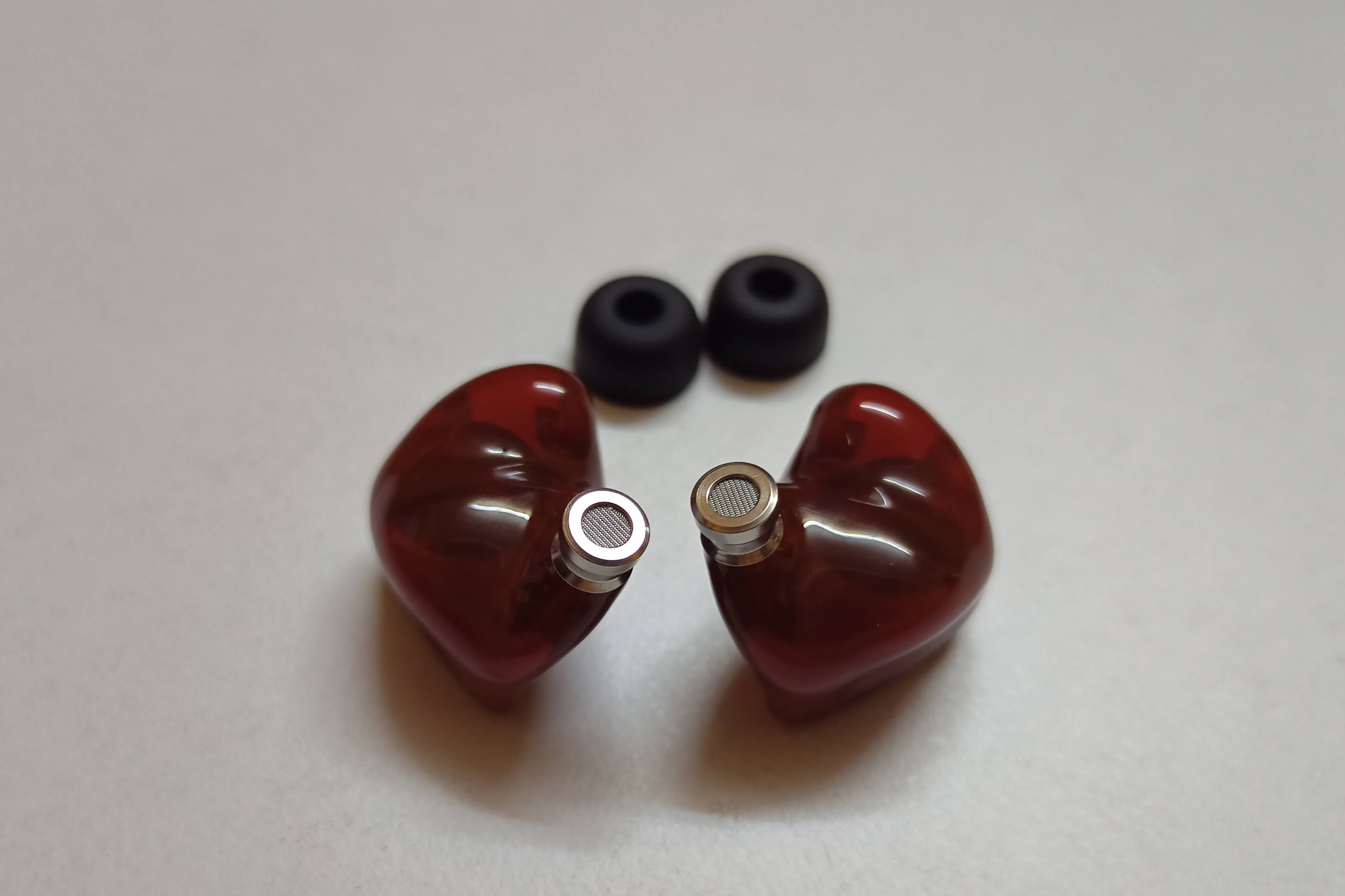 Sound

Lows
The bass is surprisingly clean and punchy, and more noticeably it decays fast! Never thought I'd find good bass in such a budget offering.
In it's price point, bass information is fine and not worth complaining. Impact is controlled, and it is slightly forward in comparison. You buy these for their bass performance on the budget.
Mids
The presentation of the mids are not exactly to my personal preference. The lower mids tend to get overshadowed by the bass. I find the entire midrange to sound a bit closed off and muted, but at it's price point
this isn't much of a concern. Vocal performance is good for the price range, but not the best I have heard. They appear slightly darker than they should be although with enough surface detail retained. That slight dark tilt is more noticeable on female vocals.
On the plus side this tuning can work well with genres that are badly recorded or compressed, avoiding the shoutiness in the mids that come with them.
Highs
There is a substantial roll off in the highs which result in an overall warm and dark tone. Good for treble sensitive people. For my tastes, it is a bit too dark. There isn't much detail and information to be extracted off this region due to it's tuning but
you get a very laid back experience that doesn't even come close to being fatiguing. Sibilance control is good for the price. The mid-treble region has just south of "just enough" presence in my opinion.
I can see this type of tuning work out for certain genres that don't take advantage of active treble.
Soundstage, Imaging and Dynamics.
Soundstage and Imaging is quite good actually. It is noticeably better than the Blon BL03 and the Tin T2. The imaging is very precise for a 49$ IEM. The stage has more width than depth but it is also above average, wider than most of the popular IEMs in this price class.
Dynamics are a bit lacking due to the laid back tuning.
Detail Retrieval and Resolution
These aren't the most resolving IEMs because of the slight closed off nature in the midrange, you don't get much spatial information in the music. When it comes to detail retrieval, these do a good job when it comes to surface level detail.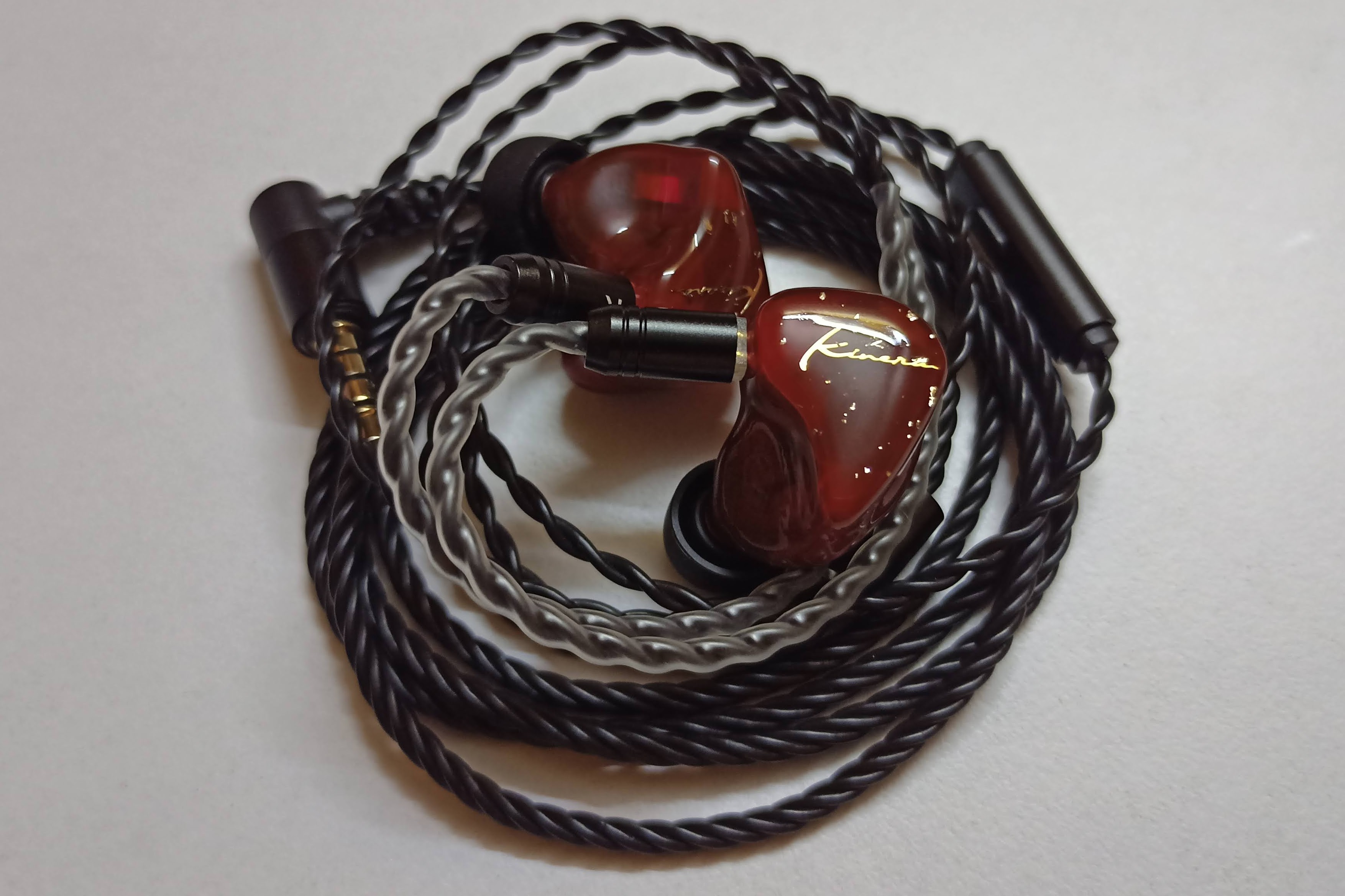 Conclusion
At 49$ this is the new kid in town, but there is serious competition to face from the likes of Tin T2/T2+, Blon BL03, Sony MH755. The BD005 Pro handily beats them in the soundstage and imaging department while the BD005 Pro has a considerably warmer and darker tonality than them. This type of tuning will appeal to a subset of the audience and complement genres that take advantage of bass.
Last edited:
Kinera BD 005 Pro: Well, what do we have here?
Pros
:
Gorgeous looks
Mellow sound (as opposed to competitors)
Better bass than other Kinera
Excellent build
A case! A case!
Cons
:
May be too laid back for some who like the higher intensity wrought from many ChiFi in this segment
Cable is good, but not excellent (tangles a bit)
Not airy enough?
Treble might not fit some genre
Treble might be too off for those seeking an energetic sound.
Kinera BD 005 Pro ($49):
Well, what do we have here?

3.75 stars overall
BD005
HiFiGo BD005 Pro link
I was contacted by Nappoler at HiFiGo to see if I was interested in reviewing the Kinera BD005 Pro. I have reviewed several Kinera IEM's in the past a appreciate the company's willingness to tinker with a model until it works the way they see fit. In addition to this, the looks often are among the best out there. So, knowing all of this I accepted his gracious offering. As per all, the Kinera is known to be a review unit and I have (nor have I made) any financial gain in the review or from the unscrupulous selling of the unit, which to this day is still really uncool. All that is asked is an open, honest review and it is understood that the unit may be asked back for or to send on to another reviewer. Until then, the BD005 Pro is mine to keep.
Specs:
3D Printed Earpieces.
9.2mm Beryllium Diaphragm Dynamic Driver Unit.
Custom tuned 30095 series high-frequency BA driver.
2-Pin 0.78mm Connectors.
Impedance: 26Ω.
Frequency Response Range: 20Hz-20kHz.
Sensitivity: 108±2dB.
Termination Plug: 3.5mm.
Features:-
>3D Printed Earpieces.
>9.2mm Beryllium Diaphragm Dynamic Driver Unit.
>Custom tuned 30095 series high-frequency BA driver.
>2-Pin 0.78mm Connectors.
>Impedance: 26Ω.
>Frequency Response Range: 20Hz-20kHz.
>Sensitivity: 108±2dB.
>Termination Plug: 3.5mm.


In the Box:
Kinera BD005 Pro
4-core 2-pin (0.78mm) cable
3 sets of silicon tips (s, m, l)
Round zippered case
Community card
Contact card

Gear used/tested:
CCA C10 Pro ($49)
CCA C10

Shanling M0
HiBy R3 Pro Saber
HiBy R5s
Songlist:
Joey Alexander-Warna album and others
Mark Knopfler-Laughs And Jokes And Drinks And Smokes
Santana w/ Mana- Corazon Espinado
twenty one pilots album, Trench
Tedeschi Trucks Band
Big Head Todd & The Monsters-Beautiful World
Mark Knopfler-Down The Road Wherever
Elton John-yep, still good, still cool
Tidal MQA

Unboxing:
Kinera moved to a sextagonal-shaped box some time ago. Smaller in design and with very nice graphics, the environmentalist in me approves. Laden with all three of the three possible colors options on the front, and their familiar cursive font you are drawn to explore the top from edge to edge. The back has the ubiquitous specifications, a graph and product information as well as pictures of the three choices side by side. Tastefully done overall and much appreciated that none of the graphics scream at you in technicolor yawn (look it up).
Taking the lid off you are presented with the round zippered case tucked nicely into a form fitting soft foam blanket. On top of that are the two cards mentioned above. Unzipping the case, you are met with the BD005 Pro and the tips. Simple, straightforward and much appreciated again in the subtlety. The color that arrived is called
Murky Blue
and of the three, I like it the most.
Internals:
Over the years Kinera has tried many variations on driver configuration running the gamut from a single Dd to many BA's. The BF005 Pro comes with a single 9.2mm Beryllium coated dynamic driver and a single 30095 Knowles balanced armature. I will not debate whether the dd is coated or not. It does not really matter to me as long as the sound is good. With a 3D printed shell as well to optimize the sound chamber, the quality is good and on par with other Kinera offerings.
Combined with the 108-dB sensitivity and a 16-ohm rating, the BDP is easy to drive no matter the source.
Build/Fit/Finish:
With a 3D printed shell, a choice of three colors for the faceplate (to match the shell), and a small, short silver nozzle the BD005 Pro has a somewhat customized look to it. Add in the "fin," which helps hold the unit in place and one could easily be forgiven for mistaking this to be a custom unit. The Murky Blue looks quite stunning in the right light, with an almost midnight blue look to it, and the flakes of gold look like stars in the night as a result.
With a vent hole in the back of silver insert-type, the look is broken only by said vent hole and the short nozzle. This is just about if not the shortest nozzle I have seen on an IEM, and as a result the included tips are extremely shallow as a result. I am not happy with them, but when using other tips, the chamber is pulled too far from my ear canal and as a result, sound suffers. I am still working through tips to find the best fit/sound. Finding something with as wide of a bore, which does not hinder the sound has been a challenge. Settling on the large Final Type-E tips (yes even though they moved the sound a bit further out) gave me the best response. My suggestion is to throw the existing tips away.
The cable is a tightly wound silver-plated copper wired cable shod in black plastic. It lays nicely and does not tangle. With a right-angled jack the cable does look like any you would find from a Smartphone given or similarly priced IEM. The over ear guide sheath of clear plastic is supple and not stiff, and also lays nicely. This is a very good fitting cable, and you could easily change to another cable if needed.
The construction for this price is very good, and quality of the materials is very good as well.
Sound:
At this price you consider pretty much two things: 1. The competition, and 2. Whether you are spending too much/not enough. Going with #1 first, there are literally a ton of options at this price. I have another at the exact same price (compared below); and that is simply two of the plethora available. To say the market is flooded or full would be the proverbial understatement. #2 is more of a personal decision. On some of the forums, there seems to be a price point or rather a stigma against items above $25usd. Everyone loves a bargain, true; but what of those who have fulfilled their obligations at that price and want to move up market? I myself am guilty of this upon re-entering the portable audio world some years ago. I found the $50usd price as my first "benchmark," but then quickly moved to $100 after reading some reviews. I enjoyed both levels, and (unfortunately for my bank account) moved WELL beyond that price into the stratosphere. Some will never do that for reasons I won't get into other than personal choice or other. I would never fault anyone for stopping and honestly am jealous of those with such restraint. So, at the $50usd price point, you have options, and can certainly fulfill your needs and desires to the taste of your flavor.
The BD005 Pro (BDP, henceforth) is another iteration of a Kinera at a reasonable price. Above this and you get into the lower end of mid-fi so to compete here it must be good. And I would state that overall the BDP is good for the price, and as such a worthy consideration for those who prefer a slightly richer, and warmer signature. The combination of the dual driver technology may seem to limit the appeal and what can be heard, but not here. When you consider that some manufacturers are using single DD's in their flagships, the combination here is much appreciated. I do like the sound quality emanating from the BDP and do consider it worthy of the range.
The
bass
qualities while not mind boggling are a worthy addition to the signature with a broad depth and a richness, which is quite fitting at the price. Quick of note as well, the signature while not bone crunching provides a solid foundation from which to move upward. There is a desire for more depth or a more impactful bass to me, but that should not be taken as a slight of what the BDP provides, but rather my personal tastes. Solid but unspectacular would be a good description.
With a V-shaped signature to me one might think that the
mids
are withdrawn or moved to the back. I would say that is not the case, but rather they are a bit subdued and not wanting to intrude. Guitar work comes across as succinct and present. Not spectacular or vibrant beyond your dreams or price, but rather present and pleasing, while not wanting to intrude upon the overall character. Decent would be close to an apt descriptor, but that might be an insult. Amiable would better describe it to me. And of character I do like as well. Playing Damian Marley's
Here We Go
, which can become a grating song on the wrong listening devices, the sound is almost strident up top. Almost. But that is the nature of his work, there is a push up top, which can interfere with the mids to me. Add in a slight bleed from the upper bass area into the lower-mids and the sound seems to be a bit behind. This does not mean it is bad, but a good description would be smooth. Male vocals are present in good detail, but not like some such as the comparison below. Not bad mind you, but they seem to be a bit behind the overall character.
Using the above-mentioned song, to me
treble
can become a bit grating. Not overly pungent or overly shadowing the other aspects, but I do have to be careful with the volume. Moving on to the next song
Nail Pon Cross
, I find the treble good, with good weight and volume, again seemingly smoother with a bit of roll off. Volume has to be cared for again, but less so than the song before. This makes the uppers to me song dependent and with a roll off that I find not offensive. Those who value succinct and staccato-like treble may need to look elsewhere. This is not unpleasant, just not as detailed and oriented towards that smooth character instead. Personally, I prefer smooth over strident.
Soundstage/Imaging/Layering:
Wider than deep, there seems to be a loss of depth from the
soundstage
as a result. Moving to me towards the more intimate, this isn't all bad and on
Hotel California
you get that sense of intimacy and a personal song sung into your ear by Don Henley. I like this sense of placement and sometimes prefer this to cavernous. Music dependent, this may not be the best for orchestral movements. It works for guitar work and rock, though.
Imaging
is good, with an easily discernible placement of instruments. Not the most distinct but based upon the tuning not meant to me. Again, this bodes towards an overall smoothing of the texture. As a result,
layering
comes across like that layer cake where each layer bleeds into the next. It still tastes fine, but the distinctness of each layer is harder to come by. Moving on to the
New Kid In Town
, and the combination of the above "tactics" works to provide me with a smooth textured laid-back presentation. This can still rock, but in a more subdued manner. Here this combination works with the song seamlessly. I find this song particularly suiting to the tuning of the BDP. What this does for the segment is present a fairly detailed signature that happens to be of laid-back smoother textured nature, which seemingly goes against many at this price. I applaud the updating of this according to other reviews of the original I read in advance.
Comparison:
Kinera BD005 Pro ($49) v CCA C10 Pro ($49):
The other at this price of which I mentioned above, the C10P makes abundantly clear it does NOT favor a laid-back signature. More in tune with ChiFi of old and a more in-your-face sound signature instead, it presents itself as the dance queen of the party compared to the dude sitting on the couch pleasantly drinking instead. On
Life In The Fast Lane
, the song comes across as punchy and forward compared to the Kinera. This song is meant to rock, and in the C10P it does just that. Without the bass punch of the BDP though, you are left with a bit of desire to the overall character. Detail retrieval is better in the CCA as well. But that is to be expected due to the smoothed nature of the Kinera.
It would be silly to choose one as a favorite they vary so much in character. You could easily justify both, using the CCA to drive you up on your commute in the morning, and the Kinera to settle you down on that train ride home, such are the differences. Need a pick me up? CCA. Need to chill? Kinera.
Kinera BD005 Pro ($49) v CCA C10:
Thrown in more to see how far the CCA had come, while I find the original C10 pleasant, it sits more in tune with the KZ mode of loud and almost obnoxious, which some do prefer. The C10P almost bridges that gap, making you realize why you like the CCA brand in the first place. Why? Because it comes across as a mature KZ/TRN tuning and I prefer that to either of the other two. This is more an exercise in how far tuning has come in the last 2-3 years, and the trials in which Kinera has pained itself trying to find a niche while pleasing its fan base.
Finale:
Finishing my Eagles-tour reunion, I play
Wasted Time
. I do not find my time wasted though, as the song provides what I like about the BDP. Mellow in tune the song is, and the Kinera provides for that with aplomb. Not the best. Not the worst, but present and accounted for with enough to like that it should be a choice in the $50usd price range. A fellow reviewer commented how the Pro was a maturity of the original BD005. Not hearing the original, I will take his word for it. And I do trust his judgement.
The BD005 Pro is indeed mature compared to others in this segment, and if you are tired of those in this price, which seem to scream at you like those annoying Vroom commercials; then consider the BD005 Pro the alternative to buying a car at the lot. The self-centered enjoyable, laid back method to pleasing your purchase and it is worth it to me.
I thank Nappoler and HiFiGo for the review sample, the Kinera BD005 Pro is indeed an adulthood of the original.