Item information
Added by
Views

862
Comments

1
Reviews

3
Last update
Rating

4.33 star(s)

3 ratings
General Information
Kinera BD005 Pro
1 BA + 1 DD (9.2 mm beryllium DD)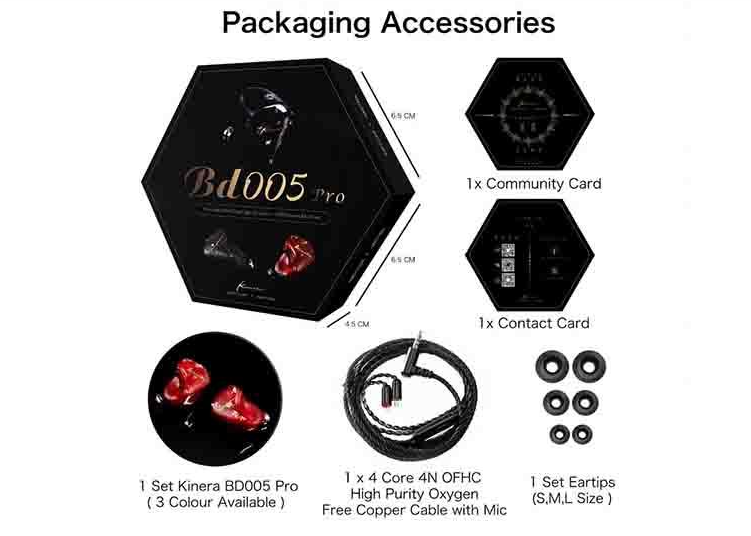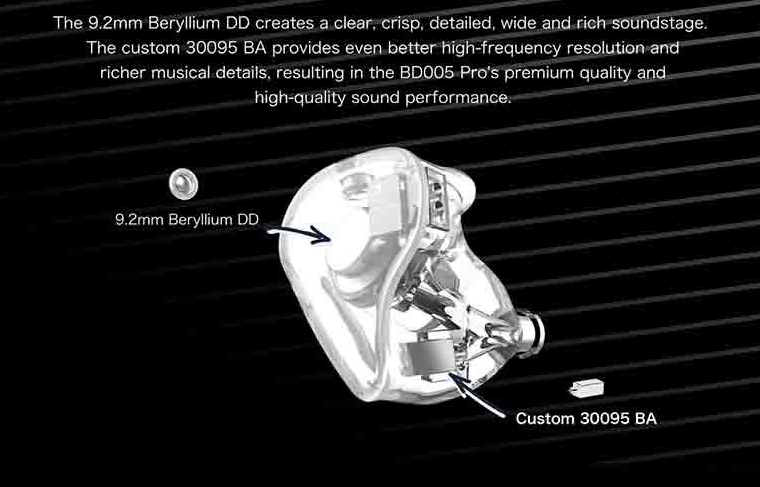 Latest reviews
Kinera BD005 Pro – emotional appeal of a hybrid nature
Pros
:
design, fit, look, crafting, treble clarity and extension, bass texturing, midbass power
Cons
:
susceptibility to hisses
Kinera DB005 Pro is not our first encounter with IEMs of this brand. Couple of years ago we were reviewing Seed and Idun models that have scored high in our ranking, although not without some nuances. Since than Kinera has released a number of IEMs, mostly hybrid type, but as we have noticed – done it selectively, less than a dozen, whereas each of the models was thoroughly tested prior to launch and given enough time to settle on the market afterwards. This can be seen from the posts by official Kinera Facebook page – how product information appear prior to the beginning of sales, than it launches and Kinera starts to collect customer feedback in direct and indirect communication and finally followed by the next product according to the current market expectations. The point is that, in contrary to some brands that stamp millions of IEMs, Kinera takes time to come up with another product and also takes user feedback and expectations into account.
BD005 Pro is not new to the market either. Its roots go back to 2017 when initial BD005 IEMs were released and became popular mostly in Asian region. Predecessor was also based on a combination of single DD and BA drivers but was less versatile by its fit. Pro version utilizes much more comfortable shape, retains the structure and replaces older model on sales.
Kinera BD005 Pro specs:
Dynamic driver: 9.2mm beryllium diaphragm
Balanced armature driver: 30095 series
Sensitivity: 108±2dB
Impedance: 26Ω
Frequency response: 20Hz-20kHz
Jack: 3.5mm
Cable connectors: 2pin,0.78mm
Cable: 4-wires with mic and inline remote
Cable length: 1.2m
Packaging and design:
Kinera BD005 Pro comes in small pentagon-shaped box which is common across most of Kinera IEMs. Box is pretty small but carries all necessary information – product picture and specifications, brand name and logos, company information and even AFR graph. Box also shows all available color options and clearly states which one is inside.
Inner box compartment is occupied by special foam insert that holds storage case at place. IEMs and its accessories are all located inside this case. Good way to protect all items during transportation and save some space and cost on logistics.
The full set is as following:
Kinera BD005 Pro IEMs
Audio cable
3 pairs of silicone ear tips
storage case
warranty and manual papers
IEM shells look to be made of plastic with resin coating over it that adds a lot to overall look and soft compound feel. Beautiful top cover with Kinera name and particles in gold has also been covered with a layer of resin which would ensure the protection from scratches.
Despite that there is a cover and thanks to such coating – BD005 Pro construction feels unibody and rigid. Shells are semi-transaprent but with our color option (Murky Blue) we can barely see the insides.
Large compensational openings are located on the back edges and additionally protected by aluminum grills. 2pin connector bases are slightly recessed into the shells to add some anti-bending protection. Sound output nozzles are made of aluminum and covered with aluminum filters.
Stock cable has 3.5mm TRRS jack since it is also equipped with mic and one control button. Such cable is good for the everyday use with a smartphone but doesn't seems to be a proper option when we talk about maximum sound quality and good source equipment. It is better to be replaced with 3.5mm high-quality cable or some balanced options. Although, since BD005 Pro are inexpensive IEMs – looks like Kinera positions it for everyday activities and general user, rather than audiophile listening…
Fit: excellent. We consider such "custom"-like shape to be the best and most universal among all mass production IEMs. DB005 Pro would be comfortable for most of the people and during different activities.
Sound quality:
Tested with: Hidizs AP80 DAP -> xDuoo XD05 Plus DAC/AMP
Lows:
Kinera BD005 Pro dynamic unit is capable of delivering deep bass and punchy midbass with good extension and more than average texturing on of lower end. Bass presence is full and well-contoured but the amount is not astonishing or excessive. Lows can go as deep to make you feel it instead of hearing in bass rich tracks. But we still wouldn't call DB005 Pro as IEMs for "bassheads" – it is more about extension and slight accentuation rather than huge amount. Midbass in its turn is rich and punchy, recreates drums with excellent expression and articulation. Good overall speed and control and doesn't sound too bright or harsh.
Mids:
Lower mids are a bit recessed whereas upper mids are slightly accented. Male vocals would sometimes sound thin and distant. Female vocals are brought to front, sound very natural, transparent and emotional. Resolution on mids is decent, amount of details is high. The tonality is on the brighter side as a result of BA unit influence at upper mids range. The result is lively and detailed performance but a bit prone to lisping on female vocals, consequently. Bright instruments would also have this effect, compensated by good level of separation and high clarity of each sound.
Treble:
DB005 Pro treble is sparky and accented. Full of micro details and articulation with airy and transparent feel to it which forms the bright essence of the tonality. It might become too much at highest volume but stays balanced by other ranges at normal or lower levels. This is probably why warm sources would be more suitable — amount and extension would stay high while the excess of brightness would be eliminated by the source. Anyway, BD005 Pro treble is decent and not so overly emphasized as in some other hybrid models.
Soundstage:
Special demo recordings with precise instrument locations show moderate distance from the center. Stage feels neither too tight, nor too wide. Slower music genres sound good, leaving enough space for each instrument. No revelations here – just a moderate performer.
Sound in overall:
Kinera BD005 Pro sound can be described as V-shaped, tend to brighter and colder side of the tonality, with extended and detailed lower and higher ends, powerful midbass and slightly recessed but emotional mids. Stage size os moderate. Suitable for most of the genres but best to be used with some warmer sources.
Compared to Moondrop SSP:
SSP and DB005 Pro are similarly V-shaped IEMs but the nature of sound derives from the structure… SSPs are dynamic driver-based and adds more body to mids but lack in treble clarity and extension. DB005 Pro, on its turn, handles treble much more delicately, adding much more details but might feel too emotional on mids.
Compared to Kinera Seed:
Seed by Kinera feel much more neutral in signature with no obvious accents or peaks. It is even hard to tell that Seed IEMs are based on BA + DD units. Feels more like linear and less appealing sound of single DD driver or pure BA drivers tuned for monitor use. Consequently, the perception of sharpness, amount of details and textures is also less impressive.
Conclusion:
Kinera BD005 Pro joins very limited squad of inexpensive V-shaped hybrid IEMs with engaging, fatigue-free sound as a result of accurate tuning during conscious development process. The fact that BD005 Pro is a successor to a popular initial model also helped a lot to achieve the maturity and round all edges. Sound is engaging, detailed and bright with all possible disturbing outcomes brought to the minimum. Gorgeous look, decent build quality and nearly perfect shape also add to BD005 Pro overall high score among the competitors. We highly recommend this model for BA signature fans and for those with warm HiRes audio sources who search for the extra clarity and expression on a budget.
Kinera BD005 Pro available at HiFiGO store:
LINK
Kinera BD005 Pro Elegant and Fun
Pros
:
The IEM is quite stunning in design. Sound is pleasant and doesn't disappoint, ergonomics are very good as is isolation. Good accessories are included as well.
Cons
:
Polite treble may not be pleasing to all and resolution not as defined as some but still a fun listen.
My thanks to HiFiGo for the sample to test.
https://hifigo.com/products/kinera-bd005-pro-3d-printed-hybrid-in-ear-earphone
The Bd005 pro is in that familiar Kinera hexagon shape box and comes with a case similar to the Sif, inside I found some different size tips and a cable with a microphone, great for taking a call in the middle of use but I generally change the cable after the testing is done and began experimenting with cable and tip rolling. The accessories are of good quality and should make most people happy considering this is such a beautiful budget IEM.
I liked that the shell was protected in travel by plastic covers its a nice touch especially on something this price.
Comfort was way above average , to my ears they fit well with the medium tips put on, I found the default was a little small for me. The shape of the shell allows for a long listening session as does the tuning.
Sound:
Simply put the Bd005 is a Vshape signature made for a fun listen but it still has some good details to it.
Bass has a good punchiness to it Mid Bass is speedy and clear Sub-Bass can get deep depending on the recording and sources your using, the DD performs as would be expected providing a good balanced Sub-Bass and punchy Mid-Bass with control.
Mids are warm and robust with clarity vocals seem forward but the mids in general have that typical recession Vshapes have to a certain degree. Upper Mids are slightly boosted but this is only more noticed with bad recordings, for the most part Mids are good for a fun listen.
Treble: Is polite but its not without some sparkle at the top just not a whole bunch, the lower end seems a bit more boosted combined with the upper Mids it can seem bright at times but Bass is there to remind me its more twords the V signature than anything else.
Soundstage and imaging was above average but not overly wide compared to other IEMs in this price, I would consider it good and nature sounding with enough details.
Conclusion: The Kinera Bd005 is a interesting and safe tuned Vshape with compatibility for many different types of music, The shell is both beautiful and comfortable. I think it will be a hit with most people as a all a rounder IEM.
Kinera BD005 Pro Review – Sleepy Beauty
Pros
:
Beautiful shells, light and well fitting.
Good isolation.
Safe non fatiguing tuning, coherent V shape set.
Easy to drive.
2 pin connector – generally better lifespan than MMCX.
Cons
:
Notes may have a lack of bite/edge definition (may be pro or con depending on personal taste).
Technicalities not class leading.
Roll off at higher treble may not appeal to trebleheads, but this is not that fatiguing as such.
DISCLAIMER
I would like to thank the Yaotiger HIFI Audio Store for providing this review set at a discount. The Kinera BD005 Pro can be gotten here:
https://www.aliexpress.com/item/1005001870377067.html
EXECUTIVE SUMMARY
The Kinera BD005 Pro is a beautiful jack of all trades, sporting a rather coherent warmish V shaped tuning that is safe for the upper frequencies (compared to the usual CHIFI tuning). Other than looks, it scores above average points in most areas, but doesn't have a particular department that it truly excels at to stand out in the ultra cut throat budget CHIFI market segment.
SPECIFICATIONS
Driver configuration: 1 DD (9.2 mm) + 1 BA
Frequency response: 20Hz – 20kHz
Impedance: 16 Ohms
Sensitivity: 108 ± 2 dB
Cable: 2 pin 0.78 mm
Tested at $49 USD
ACCESSORIES
Other than the IEM, the Kinera BD005 packaging comes with:
4 core 4 N High purity oxygen free copper cable (in built mic) – seems there isn't a choice for a non mic cable. I generally don't really like mics in the cable as they may be a potential source of failure down the line, not to mention sometimes they may add resistance, but I appreciate that some may like the mic for calls and meetings. The cable doesn't have a chin cinch though, but is quite usable sonically, and is leagues better than the usual TRN or KZ stock cables.
Eartips (S/M/L) – the stock silicone eartips come in a short nozzle config, so you might wanna tip roll to aftermarket tips depending on fit.
Semi rigid carrying case.
For the purposes of this review, the stock cable and tips were used.
BUILD/COMFORT
Kinera gear are generally well known for having beautiful shells/designs and nice packaging, and the Kinera BD005 Pro is no exception. The resin shells are indeed very beautiful. In terms of ergonomics, they are very light, comfortable and well fitting. They actually look and feel like semi customs. The shells are on the larger side in terms of size, but I have used them for hours with no discomfort.
I didn't find any driver flex for myself (but YMMV as this is somewhat dependent on ear anatomy and types of ear tips used). I liked that the Kinera BD005 Pro came with a 2 pin connector as they generally have better life span than MMCX types, for those who do frequent cable rolling.
ISOLATION
The Kinera BD005 Pro has good isolation, I quite like it as a transit IEM as such, though it won't beat pure BA unvented types in this department.
DRIVABILITY
I tested the Kinera BD005 Pro with a Khadas Tone Board -> Topping L30 amp (thankfully the L30 didn't blow up for this review LOL), smartphone, Shanling Q1 DAP, Tempotec Sonata HD Pro, ESS ES9280C PRO DAC/AMP, and a Khadas Tone Board -> Fiio A3 Amp. The Kinera BD 005 Pro is relatively easy to drive, and amping is not generally required. Though amping can increase dynamics, soundstage and perhaps microdetails a tinge.
SOUND
& TECHNICALITIES
The Kinera BD005 Pro sports a rather balanced warmish V shaped tuning that is safe for the upper frequencies (compared to the usual CHIFI tuning). I've owned a few Kinera gear in the past and the general consensus in audio forums is that for the Kinera house sound, they are on the brighter (and more fatiguing) side, so this Kinera BD005 Pro's tuning is rather atypical for a Kinera.
Technically, the Kinera BD005 Pro has above average details and imaging. Clarity and instrument separation are about average. Note weight is on the thicker side, and the notes do have a lack of edge definition/bite, so this might be a pro or con depending on personal preference. It results in a smoother and less fatiguing presentation, but those that want some crunch/bite in vocals and guitars might need to look elsewhere. Soundstage is above average in width/height, but not too deep, music can at times get congested with complex riffs or competing instrumentation. So to summarize, the technical performance of the Kinera BD005 Pro is above average at this price range, but not classleading in this aspect.
Timbre of acoustic instruments does have a slight BA timbre, so it won't beat a well tuned pure DD setup in the timbre department for acoustic instrument realism. But I would say the Kinera BD005 Pro still has better instrumental timbre than most garden variety TRN and KZ hybrids, and it should be an all rounder for most genres of music.
Bass:
Midbass of the Kinera BD005 Pro is of more quantity than subbass, with midbass north of neutral, but not at basshead levels. Bass is a tinge on the slower side, with a mild midbass bleed and average texturing/details. The note weight is a bit thick and nebulous. Some folks may not like the midbass quality as such, but I liked that it added some warmth to the lower mids. The bass may smear in some fast bass movements and hence bass quality isn't the tightest compared to comparatively priced competitors in the same price bracket. The subbass rumble is quite good like in well tuned DD sets, though subbass extension is not the absolute deepest, but will definitely not be absent from subbass focused tracks.
Mids:
Lower mids are mildly recessed, but are thick and coloured. As per the mid bass, some may not like the fuller lower mids, so YMMV. Mids details and texture are average but not class leading. Upper mids are boosted but are not as harsh as some CHIFI counterparts, so this is quite an atypical Kinera tuning per se. As per the Fletcher Munson curve, the upper mids can get hot if the volume is pumped up a lot, or on poorly recorded material, but by and large, it is a very safe upper mids. Notes have a lack of bite/edge definition in the mids, so this can be a love it or hate it kind of thing especially when it comes to guitar crunch and vocal bites.
Treble:
Lower treble is boosted as per the upper mids. There's a dip around the 6 kHz area, and thereafter the upper treble extends once again (though upper treble extension is not the greatest). For me, this is a rather safe upper treble, but trebleheads will probably want a bit more air and sparkle. Sibilance is mild. Cymbals are not as splashy as some budget CHIFI. As per the mids, notes have a lack of bite/edge definition, and whether one likes this is down to your personal preference.
COMPARISONS
As per comparing oranges to oranges, I left out single DD types as they have different pros and cons among the transducer types:
KBEAR Lark (1BA + 1 DD; $29 USD)
The KBEAR Lark we will discuss here is the newer retuned version (not the 4 kHz boosted older version). The KBEAR Lark has a neutralish bright tuning and is not as warm as the Kinera BD005 Pro in terms of tuning. The upper treble on the KBEAR Lark extends more and is brighter and airier but can be more fatiguing and sibliant. Note weight is noticeably thinner on the KBEAR Lark and acoustic instrumental timbre is a tinge poorer on the KBEAR Lark.
Bass is tighter on the KBEAR Lark, and the KBEAR Lark has a bigger soundstage and better clarity.
The KBEAR Lark has poorer isolation.
I would consider these 2 sets to be complimentary sidegrades, it depends if you want a thicker and warmer sound (Kinera BD005 Pro), versus a more neutralish bright and thinner sound (KBEAR Lark). Both sets are very well accessorized and look beautiful externally, hence they will make good gifts for beginners to this hobby.
KZ ZS10 Pro (4 BA + 1 DD; $35 USD)
The venerable KZ ZS10 Pro is more V shaped, with hotter upper mids and more midbass thump (quantity). The KZ ZS10 Pro has poorer isolation, poorer accessories and poorer instrumental timbre.
In terms of technicalities, the KZ ZS10 Pro is slightly better in soundstage, details, instrument separation, clarity and details, but this hotter upper mids/lower treble area can make it more fatiguing for treble sensitive folks, compared to the smoother Kinera BD005 Pro.
TRN V90S (5 BA + 1 DD; $43 USD)
The TRN V90S is also V shaped, and has a tighter bass than the Kinera BD005 Pro. The upper mids on the TRN V90S are also smooth when compared to the Kinera BD005 Pro, however, the TRN V90S has greater treble extension and can be more sibilant and fatiguing in the higher treble. Note weight is thinner and tonality is more analytical on the TRN V90S.
The TRN V90S has poorer isolation, poorer accessories and poorer instrumental timbre. Technicalities are slightly better on the TRN V90S.
CONCLUSIONS
The Kinera BD005 Pro is a beautiful jack of all trades, sporting a rather balanced warmish V shaped tuning that is safe for the upper frequencies (compared to the usual CHIFI tuning). For a budget hybrid, other than looks, it scores above average points in most areas (eg timbre, technicalities, tonality), but doesn't have a particular area that it truly excels at. And at this cut throat budget price bracket, that makes it quite hard to stand out from the extremely stiff competition (eg there are some sets that excel at timbre, though at the expense of technicalities, and vice versa).
Nevertheless, the Kinera BD005 Pro would be an all rounder for most genres, and the note weight is thick and tonality is generally quite good and non fatiguing. Coupled with the beautiful shells and packaging, it would make a good introductory set to those who are new to this hobby (though recalcitrant CHIFI addicts will probably have something better in their inventory).