At the time this review was written, the Dunu DK-3001 was listed for sale on Penon Audio and Amazon. Here are links to their listings of the product:
https://penonaudio.com/dunu-dk-3001.html
https://www.amazon.com/DUNU-DK-3001-Titanium-Detachable-Earphone/dp/B06XT1SYWF/
Introduction
2017 marked a renaissance for hybrid in-ear monitors. A couple of years ago there were only a few companies offering hybrids, primarily consisting of dual or triple driver designs, and they weren't cheap.
Dunu was one of the first to enter the hybrid ring with the DN-1000. They were definitely one of the early pioneers of this technology. To this day the DN-1000 (released about three years ago) is still an incredible sounding earphone that ranks very high on my list of all-time favorites.
As more and more budget manufacturers bring dual and triple driver hybrid designs to market, the more notable names in the business are working on the next best hybrid designs. We've seen some pretty incredible advances in hybrids as time goes on. As previous breakthroughs in hybrid technology become more and more mainstream, the path is laid out for pioneers of the audio industry to take things to the next level. Enter the DK-3001 from Dunu.
New designs create new trends, and for the last couple years hybrid earphones have created a stigma as being a V-signature that can provide listeners with the visceral bass impact and extension of a dynamic driver with midrange and treble accuracy of an armature driver. While many enthusiasts enjoy this type of sound reproduction, I've heard some hybrids that sound downright awful. There's a fine line manufacturers teeter on that determines whether they're utilizing this driver setup to maximize the listening experience, or bringing to market a disjointed, bloated, harsh and artificial sound. As I've stated in previous reviews, it doesn't matter if an earphone has one or fifty drivers in each channel, what matters is how much fun they are to listen to.
The DK-3001 is one of Dunu's next breakthroughs in hybrid earphones. Dunu has made a name for themselves by staying ahead of the curve and bringing top of the line sound at mid-fi prices. The DK-3001 is just that. They've brought to market an earphone that breaks free from the hybrid stereotype and further advances the technology driving them. Let's take a look and listen to the DK-3001, and find out why.

Disclaimer
I was given a free sample of the DK-3001 in exchange for my honest opinion and review. I am in no way affiliated with Dunu. I would like to take this time to personally thank the Dunu representatives for the opportunity to experience and review the product.
REVIEW
The DK-3001 comes in a medium white sleeved box similar to previous models. A nice picture of the product is on the front along with the Hi-Res logo we see so often these days. For the record, the Hi-Res logo is awarded to earphones that have confirmed measurements that reproduce sound that covers and exceeds the limit of human hearing.
The back of the box features product and accessories information along with illustrations.
Opening the box I'm greeted with a glimpse of the earphones and case. Two high quality cables are laid underneath the foam cutout. The remaining Dunu accessories are located in the airtight carrying case.
Specifications and Accessories
Description and Accessories
Hi-Res Audio
Four driver Hybrid Earphone
Hi-Res Audio Awarded
High molecular liquid crystal polymer film dynamic driver
Knowles top audio balanced armature drivers
Singal BA driver & Double BA driver
Configured with Spinfit & Comply foam tips
Premium Earphone Tips also included
High precision S316 stainless steel housings
3.5mm original cable and 2.5mm balanced cable enclosed
Super purity 5N OCC cable with gold plated plug
MMCX connector design Improve the playability
Carrying case
Specification
Model No: DK-3001
Type: Dynamic(13mm)*1 Balanced Armature*3
F.Response:5Hz-40KHz
Sound pressure level:110+/-2dB
Impedance:13Ω
Plug Size:3.5mm Gold-plated
Cord length:1.2m
Weight:31g
Housings
The DK-3001 features a black powder coated black stainless steel metal shell. They are lightweight for the materials used and feel very sturdy. Dunu signs can be seen on the shell's exterior.
A red ring is located at the right channel of the MMCX connector (silver ring on the left), making it easy to identify each channel. The DK-3001 has a rotatable MMCX connection that seems premium. I didn't have any issues using these regularly for the last few months.
The DK-3001 nozzle is slightly wider and shorter than the average in-ear monitor and has no lip. Although this is the case, I didn't seem to have a lot of difficulty tip rolling for the most part (I wasn't able to get Sony silicone tips to sit flush). The stock Spinfit tips are ideal for these earphones and will most likely be the most popular option.
Cable, Y-Split, Cable Jack, Strain Reliefs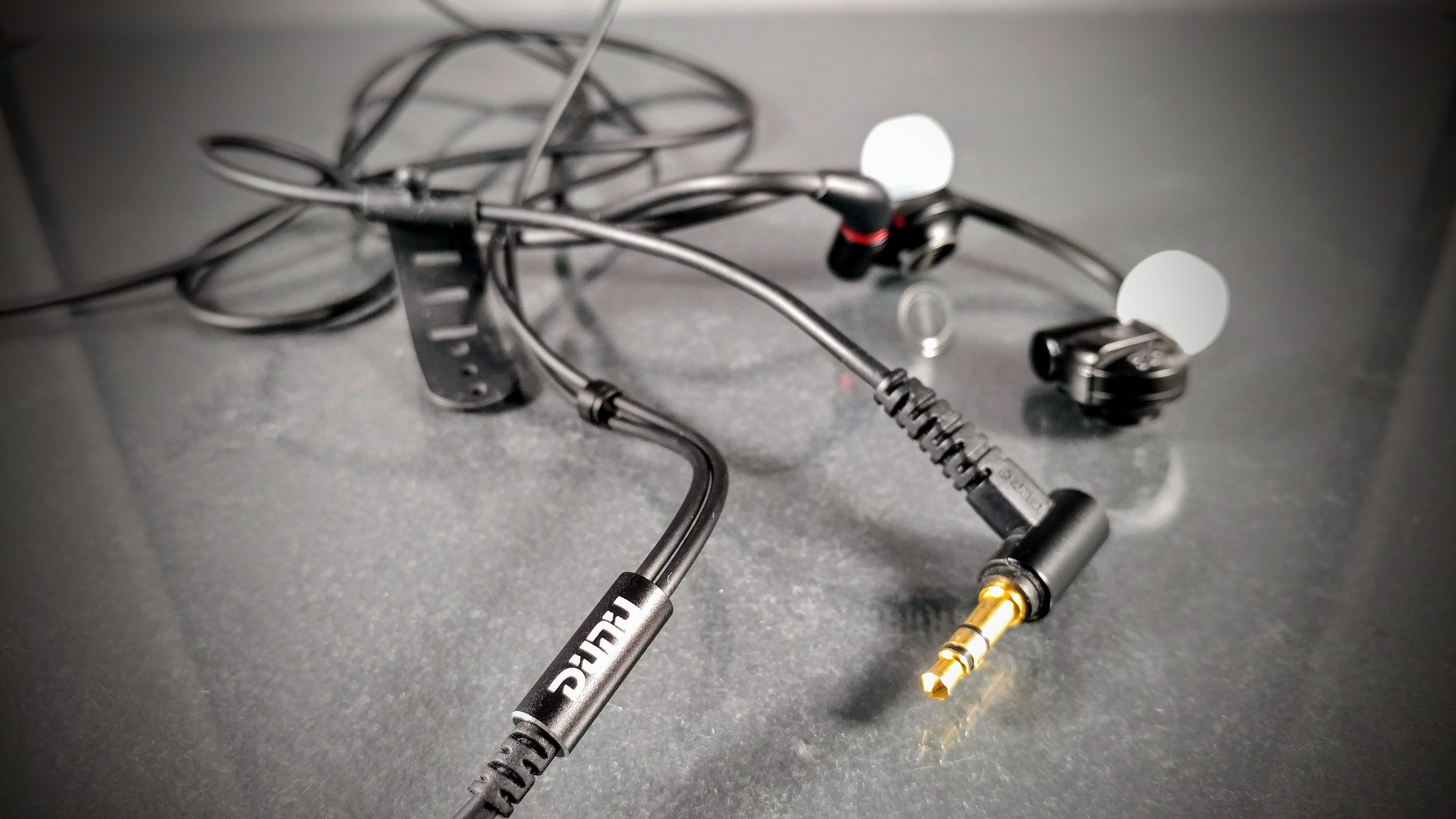 NOTE: The DK-3001 comes with two versions of the same cable, with the only difference being the jack termination. The first option is a 3.5 mm jack, the second option is a 2.5 mm balanced cable. I didn't notice any difference between the two cables besides the termination. Rather than repeat myself, please apply the information in this section to both cable options.
If you've owned a Dunu product in the past, you'll be familiar with the jacketing used on the DK-3001. Dunu uses a premium black rubber coated cable that has minimal spring and memory.
The DK-3001 uses a long memory wire at each channel. This wire is coated in a soft rubber that provides a decent level of comfort. One thing to note, like other earphones with this type of memory wire, the DK-3001 requires a considerable amount of wire manipulation to achieve a comfortable and secure fit. It can be tedious, but once this is accomplished it is a professional over-ear fit.
The Y-Split is a black metal tube with a complimentary matching black metal ringed chin/neck slider. When not used the chin/neck slider sits flush with the Y-Split.
Dunu provides a very well made (and sturdy) ninety degree metal and rubber jacketed cable jack. This is one of the best designed jacks in the business. I had no problems using this jack with any device, and enjoyed how pocket friendly the sturdy ninety degree jack was.
Functionality
The DK-3001 is a plug and play device geared towards maximizing the listening experience. The package doesn't come with a microphone or remote option. The fact that it is a replaceable MMCX connector earphone, it opens up the options for an aftermarket purchase with this feature. Nowadays a nice mic/remote cable can be purchased for relatively cheap prices. My suggestion, if you do this make sure to buy an MMCX mic/remote cable with memory wire. The DK-3001 needs a memory wire to maximize and secure the earphone's fit.
Ergonomics, Fit and Microphonics, Isolation
Previous reviews have given poor scores in this criteria. While I can understand why some would have issues with the fit, if you spend some time tip rolling, experimenting with housing placement when wearing them and bending the memory wire to work best for your ears, you should get some really good results. I respectfully disagree with others who took a stance of these being unwearable.
The DK-3001 has a disc shaped housing with a metal cylinder attached (where the MMCX connector is located). The edges of this cylinder have edges that can irritate the listener's ear IF they are seated so they make contact inside user's concha (the cavity of the ear). I've experienced similar issues with other earphones, most notably the Campfire Andromeda. I've been able to remedy this issue in both cases by experimenting with tips and manipulating how these earphones sit in my ear. Simply put, with the right tip and manipulation of the memory wire, I can achieve a secure and comfortable fit. Angling the housing so the cylinder rests outside my ears makes this earphone very comfortable and easy to listen to for hours.
Before customizing the fit, I couldn't wear these earphones for very long. After figuring things out for my ears, I was able to comfortably wear these for long listening sessions. Your mileage may vary, but I wouldn't let other reports of a poor fit deter you from trying these earphones. Doing so might prevent you from experiencing some world class sound quality.
Microphonics are virtually eliminated thanks to the over-ear fit and memory wire. Isolation is somewhat mediocre, as these earphones don't provide and air tight or vacuum seal. I could easily hear my surroundings when using them. They will block some external noise, but a majority of my surroundings could be heard when music isn't playing.
Sound Review
I did my demo with my usual gear. I used an LG-V20 and iPhone 6 for smartphone use, and either my Fiio X7, Aune M1S or iBasso DX80 DAP/Bushmaster D14 DAC/Amp for high fidelity portable use. For desktop use, I used my Toshiba Satellite Laptop in combination with a ifi micro iDSD playing at 32/192 kHz, or Aune S6/S7 combo. I tested them with several other sources as well. I used Google Music in its highest download quality (320 KBPS), and also streamed FLAC via Tidal streaming service. I also used purchased and downloaded tracks in MP3, FLAC, WAV and DSD. I make sure that any gear I test has sufficient playtime before writing a review.
I used my usual same songs for testing gear:
"Limit to your love" by James Blake (bass speed, punch, response)
"Doin' it Right" by Daft Punk (sub bass)
"Get lucky" by Daft Punk (bass to midrange transition resolution, male vocals)
"Madness" by Muse (soundstage, separation)
"Some nights" by Fun (soundstage and male vocals)
"The soundmaker" by Rodrigo y Gabriela (texture and imaging)
"Bassically" by Tei Shi (bass to midrange resolution, female vocals)
"Skinny Love" performed by Birdie (female vocals, acoustic playback)
"One" by Ed Sheeran (male vocals, acoustic playback)
"Outlands" from the Tron Legacy Soundtrack (symphonic presentation, imaging)
"Sultans of swing" by Dire Straits (detail, separation, balance)
"And Justic for All" by Metallica (driver distortion, treble response, rock playback)
"Ten thousand fists" by Disturbed (driver distortion, treble response, rock playback)
Note: Other tracks were used, but the listed songs were primarily used to assess and break down the gear's response.
Source Selection
The DK-3001 is geared to sound great with your best portable source and music files. The earphone doesn't discriminate against poorly recorded music, but at the same time they scale incredibly well. The DK-3001 is nicely balanced and plays all genres of music extremely well.
Coming in at 13 Ohms and 110 dB of sensitivity the DK-3001 is a very sensitive earphone. Amplification and high gain are not needed to maximize sound quality. More powerful sources will yield a mild audible background hiss.
Listening to them with warm and colored sources yields a different presentation from a lean and clinical sounding source, but they were equally as good and this will be a matter of preference. While I listened to them the most through my LG V20 (mainly due to convenience), my favorite listening sessions were listening to DSD files through my iFi micro iDSD, Fiio X7 and Aune M1S.
The DK-3001 is a music lover's earphone. They combine musicality and detail wonderfully. I thoroughly enjoyed listening to my entire music collection with them. Listen to the DK-3001 with your best portable source on low gain and I can almost guarantee you will enjoy what you hear.
Sound Signature
Finally, we get to the part where I feel the DK-3001 sets itself apart from most hybrid earphones!
Having heard many of Dunu's previous hybrid earphones (primarily the DN-1000 and DN-2000J) I was expecting an earphone that gears primarily towards detail and doesn't shy away from sub-bass and sibilant areas. That WAS NOT the case this time around. I am pleasantly surprised with what Dunu has done here. The DK-3001 is a generally balanced sounding earphone with more mid-bass punch and warmth, and less perceptual top end as compared to their previous hybrid offerings.
Dunu has taken four drivers and made a hybrid that is NOT V-shaped, is relatively well balanced, and also added a little color and musicality. I expect this earphone will win over the ears of those who previously stereotyped hybrid sound as unnatural.
Bass
Something Dunu has always done with their hybrids is offer a phenomenal bass response. That legacy continues with the DK-3001, but has a more mid-bass focus as compared to other products in their lineup. This is tastefully done and very well executed.
Sub bass is there, and the extension is decent. During Daft Punk's "Doin' it Right" I could hear every note clearly and with great tone. However, I can't classify it as visceral or robust. Mid-bass tones are a step up from the lowest registers. To my ears it seems as though Dunu's intention was to give you all the information and present it in a more musical approach. They took the emphasis off the ends of the sound spectrum and bumped up the neighboring frequencies.
Mid-bass is slightly forward and full-bodied. The mid-bass presentation is punchy, bold and growls when warranted. There's no distortion to speak of. Mid-bass bleed doesn't even need to be mentioned in this review. Kudos to Dunu for their ability really dial it in just right with the transition from mid-bass to mid-range tones. There's a sense of dynamics that sounds a lot more natural and engaging than most other hybrid earphones. With some music genres that utilize fast paced and complex music passages, the attack and decay of bass notes did seem a micro-fraction slower than upper frequencies. This was only noticeable during critical listening, and didn't necessarily negatively impact my impression of them.
Mid-range
Dunu takes a leap forward with the midrange tuning of the DK-3001. As compared to something like the DN2000J, the new DK-3001 has more color and dynamics. There's more timbre and texture in the middle frequency ranges. The DK-3001 pulls this off while still maintaining a world class level of detail and separation. While not as clinical or detailed as the DN-2000J, I find myself enjoying it more thanks to the overall more musical nature. The midrange is highly enjoyable, and what I consider to be the best part of this earphone's sound presentation.
During Metallica's "One" the multiple guitars and bass guitar weaved in and out from each other beautifully and with a natural and full presence. Unlike many other hybrids, the DK-3001 has the mid-range girth to make bass guitars sound very relevant and phenomenal. At the same time Dunu hits a sweet spot in the sense that male vocals sound natural and are never came across as bloated. Low notes on pianos have timbre. While there isn't a range of the sound spectrum that takes center stage, mid-range is very relevant and has a unique and enjoyable sense of detail and musicality that many will appreciate.
Upper mid-range has a forward presence somewhat similar to mid-bass tones. As previously mentioned, the more forward mid-bass presence along with the slightly forward upper mid-range give a perception of an all around more balanced, textured, dynamic and cohesive sound as compared to many other hybrids.
Treble
Treble hits a sweet spot for me. Similar to sub-bass tones, the information is there, but treble sounds aren't stealing the show. Sibilant sounds are audible without being overbearing or harsh whatsoever. I can hear sharp pronunciations of the letters S and T, but it's relaxed enough to not be strident or bothersome (even at loud volumes). Cymbal crashes actually crash, but are a step back from upper mid-range sounds. What I like most about the DK-3001 treble response is that they've taken the armature-ish shrillness out of it's treble response. Those who've been around the earphone scene long enough should know what I'm trying to say here.
Don't get me wrong, the DK-3001 isn't a "rolled-off" sound by any means. They are crisp without ever being horribly sibilant or what I consider as harsh. Of all the Dunu earphones I've heard, this is the most natural sounding treble presentation I've heard. I'm not sure if this is thanks to the more forward neighboring frequencies, or if they've made some changes in treble tuning. All I can say is that it works well.
Soundstage and Imaging
This is one criteria where I feel that what you listen to, and what volume you listen to these at will determine your impression. With modern genres and at low volumes, soundstage suffers. Increase the volume a few dB and you will hear the soundstage open up.
NOTE
: I LOVE listening to hip-hop with these earphones. I really enjoy the way hip-hop vocals are rendered. The DK-3001 will make all genres sound good, but over the course of listening to these, the DK-3001 has become one of my all time favorite in-ear monitors for this genre.
With acoustic and rock music, the DK-3001 soundstage is rather large, and only gets larger the louder you turn the music up. They get a high score in this criteria.
In terms of imaging, I really think there's something special about the midrange of these earphones. Although there's not an extreme sense of soundstage depth, the combination of warmth, dynamics, separation and detail in the mid-range pushes me to give them a very high score.
Comparisons
Fidue Sirius ($999 to $1250 USD on many sites)
The Sirius is an incredibly well built and great sounding earphone from one of Dunu's biggest competitors. It's one of the first four driver hybrids to hit the scene, and doesn't come cheap (twice as expensive as the DK-3001).
Holding the two in my hand they are both solidly built. However, the Sirius build quality is a large step forward. From the housing to the cable, materials on the Sirius appear to be more premium in just about every way. In terms of accessories I give them a draw.
When it comes to sound, they're both great. The Sirius is a more technical and slightly leaner sound with a more even representation of each frequency. That doesn't necessarily mean it sounds better. It is more technical, but the Dunu packs a more musical and warmer signature that to my ears is more fun to listen to. The Sirius bass is more sub-bass focused while the Dunu is geared towards mid-bass and warmth. Bouncing back and forth between the two, Dunu gets a decisive advantage in mid-range presentation. The Sirius mid-range (although excellent) is a bit more flat and sterile in comparison to the Dunu offering. Let that be a testament to how good the Dunu mid-range is. Treble presentation is a draw. The high frequencies of the Sirius are more even and extended, but the DK-3001 is more clean and fun sounding to my ears.
The Sirius is more source friendly at 20 Ohms and will perform better with a larger number of portable sources. The Dunu will work primarily with low powered sources.
At the end of the day, I may give a slight edge to the Sirius, but not as much as the price would indicate. The Dunu is a more engaging sound with the lesser build quality. Sirius is the more technical and balanced sound with a more robust build and source applicability. Considering the DK-3001 is half the price, I'll leave it up to you to decide what meets your preference (and price point) better.
BGVP DM5 ($65 to $75 USD on many sites)
The BGVP DM5 is another four driver hybrid earphone that comes in at a budget price. Just like the DK-3001, it features a dynamic driver and three Knowles armature drivers.
Comparing the two, I'm actually more impressed by the shape and build quality of the DM5 housings. The DM5 has a more ergonomic shape and fit, and is made of all metal. Other than that, the DK-3001 is superior in every other way (sound, cable and accessories).
The DM-5 follows the trend of the typical V-shaped hybrid sound. DM5 has a much more forward sub-bass presentation that is looser and boomier than the DK-3001. The DK-3001 bass response is tighter, more responsive and balanced than the DM5. The DK-3001 mid-range is leaps and bounds better than the DM5, making the DM5 seem dry and lifeless in comparison. Treble on the DM5 is more sibilant and harsh at higher frequencies. I can't turn the volume up too high on the DM5 without the treble being to harsh. This comparison shows a classic comparison of the typical V-signature hybrid that misses the mark in terms of sounding natural, and also shows how Dunu has grown with their hybrid tuning. While the DM5 offers a lot of technology and doesn't sound bad for the price, they fall short in bringing an earphone that can compete with the new top of the line hybrids that are hitting the market. The DM5 represents what hybrids were and sometimes still are, which isn't necessarily bad. The DK-3001 represents what hybrids of the future will be.
Conclusion (TLDR?)
The DK-3001 is an advancement in hybrid technology and tuning. Their signature is an impressive blend of detail, balance and musicality. Simply put, they're a ton of fun to listen to. They break free from what we've grown to expect, not only in terms of earphones with this driver set up, but also what I'd expect a new Dunu earphone to sound like. They sound incredible to my ears (with a low powered source and high quality recordings).
The DK-3001 is not cheap, but the sound quality I get from them justifies the asking price. The question is whether something will come along that outperforms this earphone at a lower price. At the moment there isn't much that comes to mind. The DK-3001 rocks my entire music collection and makes every genre sound awesome. The DK-3001 isn't selling technology alone, they're selling technology that makes top dollar sound quality. I've had a lot of time to listen to these earphones, and I can say in all honesty that these earphones compete with the best in-ear monitors in the world in terms of sonic presentation (with the proper source and music files).
The DK-3001 isn't perfect product for everyone. The fit of these earphones is not the most ergonomic and ideal. However, with the right tips and a little patience you can achieve a great fit and make this a non-issue.
When rating a product I have to take all criteria into account. The DK-3001 gets four and a half stars for build quality (they use high quality materials throughout), five stars for accessories, five big stars for sound, and four stars for fit and isolation. All in all I give the DK-3001 four and a half stars. They are phenomenally tuned, and with the right source and tips they will be the prize earphone in many people's personal audio chains.
Thanks for reading and happy listening!