Item information
Category
Added by
Views

31,214
Watchers

5
Reviews

7
Last update
Rating

3.57 star(s)

7 ratings
Massdrop x Noble X Universal IEM
General Information
2 balanced armature universal IEM.
Latest reviews
Hearing music at a party I wasn't invited to
Pros
:
Super wide stage for an IEM.
I just pulled these out of my desk drawer. They in fact sound like crap.

I do find that the staging is pretty good. It has some gimmicks with directional, but it sounds like the music is being played in a sound proof room and I'm listening through the wall.
Reviewer at Headphones.com
Pros
:
"Laid back", warm sound signature
Cons
:
Midrange leaves a lot to be desired
Treble roll-off exacerbates lack of detail
Bass lacks rumble or depth
Poor shell ergonomics
Noble is well-known for their exorbitant IEMs, and the Noble X was an attempt to bring their house sound to the masses vis a vis Massdrop (Drop). It was based off another model (that I don't remember the name to) and uses a 2BA setup.
It was also my introduction to the world of IEMs and high-fidelity audio. I fondly remember plugging them into my iPad, playing David Nail's "Let it Rain," and being absolutely blown away. And who could blame me? Coming from the likes of Bose and other, ah mainstream brands, my ears were wholly inexperienced.
Now if you're expecting a tribute where I sing this thing's virtues, uh sorry, it's more the opposite. I've since moved onto much better things, and the Noble X stands as a fat stain on my audiophile journey. I also don't feel
too
bad crapping on this IEM as its been out for several years. These days, I mainly keep it around for reference purposes; my threshold for what I would consider outright "bad".
Presentation and Build Quality


The Noble X comes in a cardboard box with a plastic, screw-top canister that has the Massdrop and Noble logos. This is also the way you are intended to carry the IEMs. Nothing special, nothing outright terrible.
Build quality of the IEMs is acceptable. If you look closely - or feel by touch - you can tell that the shell doesn't quite line up with the faceplate...that's a small sign of less-than-stellar QC. The faceplate itself has been done well and I find no fault. There is a recession for the cable pins so they don't wiggle.
Some may find the cable "cheap" feeling because it lacks fancy braiding or weight. To the contrary, I rather like it and think it's an excellent cable in practice.
Source and Drivability
All critical listening was done off of an iBasso DX160. I used the stock cable and small Azla Sedna tips. Oh, that's right – there's no size small tips included when you buy this thing. I too enjoy saving the mere pennies it would have cost to include a pair of tips.
Sound Analysis
Tonally, everything about the Noble X sounds flat-out wrong. The entire frequency spectrum is just
veiled
. And I know that's a catch-all term, but I'm not exaggerating. If there were ever an IEM that exemplified "BA timbre" it would be the Noble X. Of course, this is helped in no part by its treble. The Noble X is up there with the likes of the Empire Ears Wraith in the treble, and that's not a complement. It sounds like everything over 10kHz, maybe even earlier, straight-up enters the void. "Laidback" would indeed be a
charitable
description of the Noble X's overall tonality.
Because there's effectively no treble, I deviate to calling this a mid-centric IEM. After all, there is (surprisingly) some outward diffusion of the image too. However, it draws attention to itself in a "sticks out like a sore thumb" sense. The transients are incredibly rounded, outright smearing at times, and there's a severe lack of resolution. Yeah, this thing has next to zero resolving capability – I've heard IEMs a third of the cost, at its
discounted
price, that beat it out here. What about other intangibles? Zero macro-dynamics, zero engagement factor, zeeero. The Noble X turns songs into dark, fuzzy caricatures of what they should be.
And yikes, I almost forgot the bass. But what bass? The Noble X's bass is utterly unremarkable, the epitome of BA bass. There's next-to-zero decay and density to its slam; it's utterly one-note in nature. In a sense, this is probably the Noble X's saving grace if only by virtue of being decidedly average amongst other BA bass responses in this price range.
The Verdict
The Noble X is one of the best all-rounders I've heard – in that it does everything
wrong
. I doubt these were a good IEM when they were released in 2017 – certainly not for $250 by a long shot – and they sure as hell aren't now. And even at their discounted rate of $125, they're not remotely worth it.
Now, I fully concede that everyone hears things differently and has their own preferences. And yet, I struggle to entertain the notion of any experienced audiophile calling these anything but plain bad. Nobody wants to call something, well, garbage but sometimes it just needs to be said. As a first-time buyer, I fell for a lot of the fancy, raving reviews against my better judgment. Perhaps, in a way, the Noble X was the wake-up call I needed to recognize how utterly convoluted the audio world can be. You live and you learn.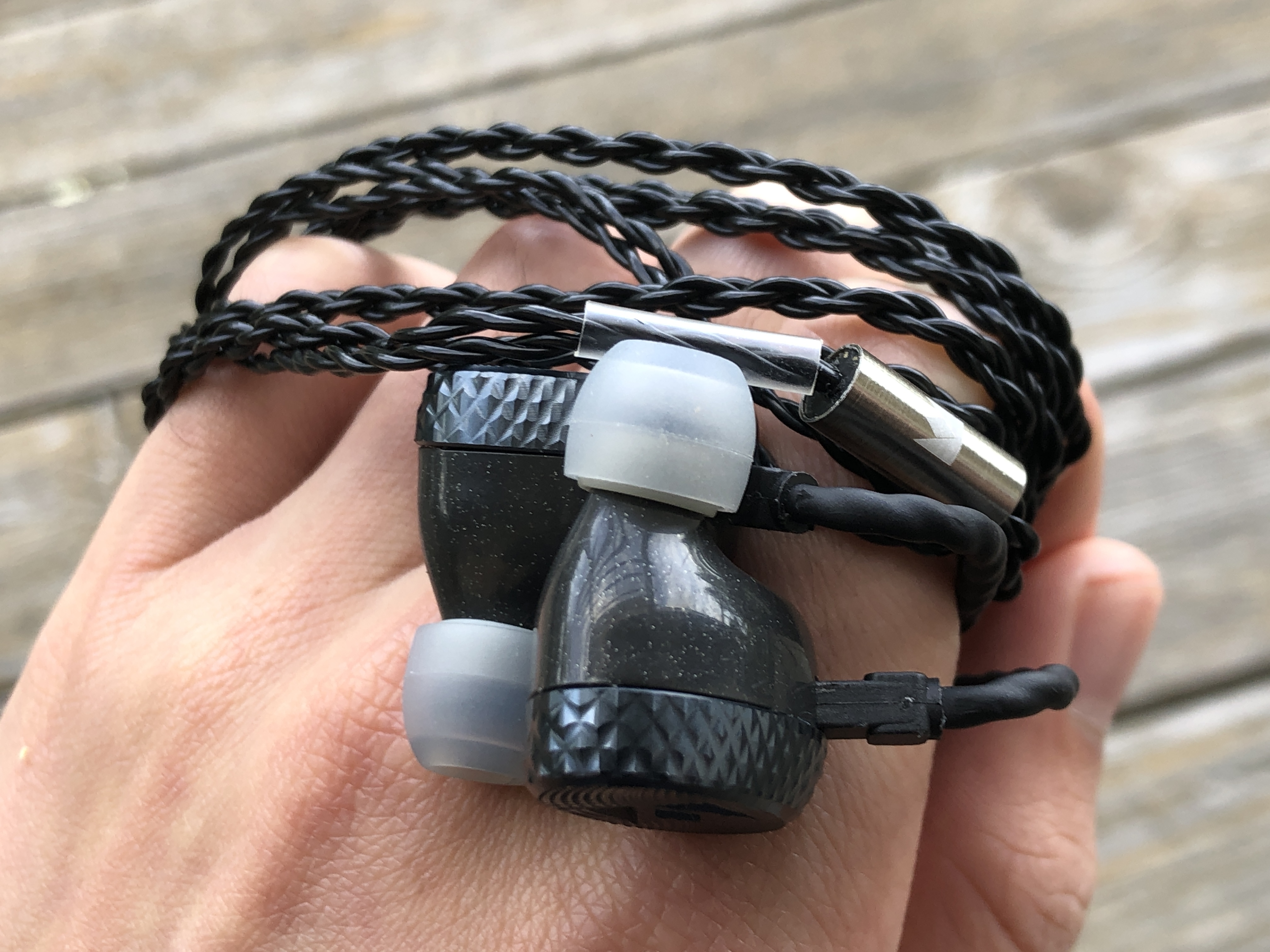 Last edited:
Pros
:
Warm, smooth and resolving signature is fun and easy to listen to, Non fatiguing sound, Works well with all genres, Noble craftsmanship and tuning at an all-time low price, Comfortable and secure fit
Cons
:
Will be too warm and smooth for some, Some will want more low and high end extension, There's a ton of competition at this price range, Accessories package (tip selection) could be better
At the time this review was written, the Noble X was listed for sale on Massdrop. If by chance the Noble X drop has ended by the time you read this review (check the link below), there should be more drops coming in the not too distant future. Here is the link for information and purchase:
https://www.massdrop.com/buy/massdrop-x-noble-x-universal-iem
Introduction
Noble X was introduced a few months ago. This release is a collaboration between Noble Audio and Massdrop. The drop comes in at the two hundred fifty dollar mark, making it the most affordable Noble earphone by a long shot.
The Savant was one of Noble's most popular earphones. Many heralded them as their favorite earphone when it was released. It made waves in Head-Fi circles because of their very natural and engaging sound signature. Since then, the Savant two driver design has been replaced in the new universal lineup by the Noble Sage.
Many who owned or heard the Savant had very little if anything bad to say about them. For some, they wished the Savant was a few bass decibels (increase) away from sounding perfect for their preference. If anything the Savant bass was maybe a touch to lean for some preferences (not all).
When the Noble X was announced I was curious about how they would sound. So far the reviews have been a mixed bag, with some writing fairly critical and somewhat negative remarks, while others wrote overwhelmingly positive reviews. When this happens I feel even more intrigued to see which side of the fence I'm on based on my own personal impression. Considering the fact that the Savant and Sage are both two armature driver designs, I was curious to see the progression with the Noble X (same driver count).
When I saw Brannan at Axpona I was hoping that he would have a pair of Noble X at his booth I could listen to. Although that wasn't the case I was able to set up a chance to borrow a pair and share my opinion. Let's dive in, and see what Noble and Massdrop are offering with the X.
Disclaimer
I was borrowed a pair of the Noble X in exchange for my honest opinion and review. I am in no way affiliated with Noble. I would like to take this time to personally thank Brannan for the opportunity to experience and share my impressions of the product.
REVIEW
The Noble X comes in a Black cardboard and tin canister. Nothing extraordinary to say here.
Opening the box I'm greeted with a pomade sized plastic jar.
Opening the jar reveals the Noble X earphones and cable along with a baggie of accessories.
Specifications and Accessories
Specifications (copied from the Massdrop website)
Faceplates: Anodized aluminum in midnight blue
Drivers: 2 proprietary balanced armature drivers per side
Impedance: 30 ohms
Frequency response: 15 Hz – 20 kHz
Cable: 50 in (127 cm), detachable, with 2-pin configuration
Plug: ⅛ in (3.5 mm), gold-plated
Weight: 0.69 oz (19.5 g)
Made by Noble Audio
Drivers sourced from a US company
Socket, ABS housing, and aluminum CNC housing manufactured in the US
Cable, tubing, solder, and wiring manufactured in Taiwan
Partial assembly overseas; final assembly and QA in the US
Optional Noble Lightning Cable (+$40)
50 in (127 cm), detachable, with 2-pin configuration and Lightning connector (0.75 mm diameter)
Accessories (copied from the Massdrop website)
Detachable cable with 2-pin connector & 3.5mm TRS plug
2 pairs of single-flange silicone ear tips (M, L)
2 pairs of Noble foam ear tips (M, L)
1 pair of double-flange silicone ear tips (M)
Cleaning tool
Carrying case
Noble Audio warranty
Housings
The housing are reminiscent of Noble's current universal lineup and come in their own custom color, which is a midnight blue with a hint of dark green (under the right light). The outer part of the shells are aluminum, with the inside portion being made of plastic.
As with all of the new universal lineup, the shape is stylish and durable. There is some really cool design detail in the outer portion of the shell. The earphone nozzle is fairly average in terms of length and width and has two ports (one for each driver). I had no problem tip rolling with these, and came up with some really nice aftermarket options. A two pin channel is located on the upper portion of each housing and has a small indentation to secure the connection.
Cable, Y-Split, Cable Jack, Strain Reliefs
The Noble cable is reminiscent of the remaining lineup but with one welcomed difference. Noble has gone away from the more rigid memory wire and went with a shrink wrap variation. I FAR prefer this over the oder memory wire, as it promotes a more consistent and comfortable fit for my ears (YMMV). The new shrink wrap at the top of the wire springs back to a preset shape and makes getting an even and consistent fit less tedious than Noble's previous memory wire offerings.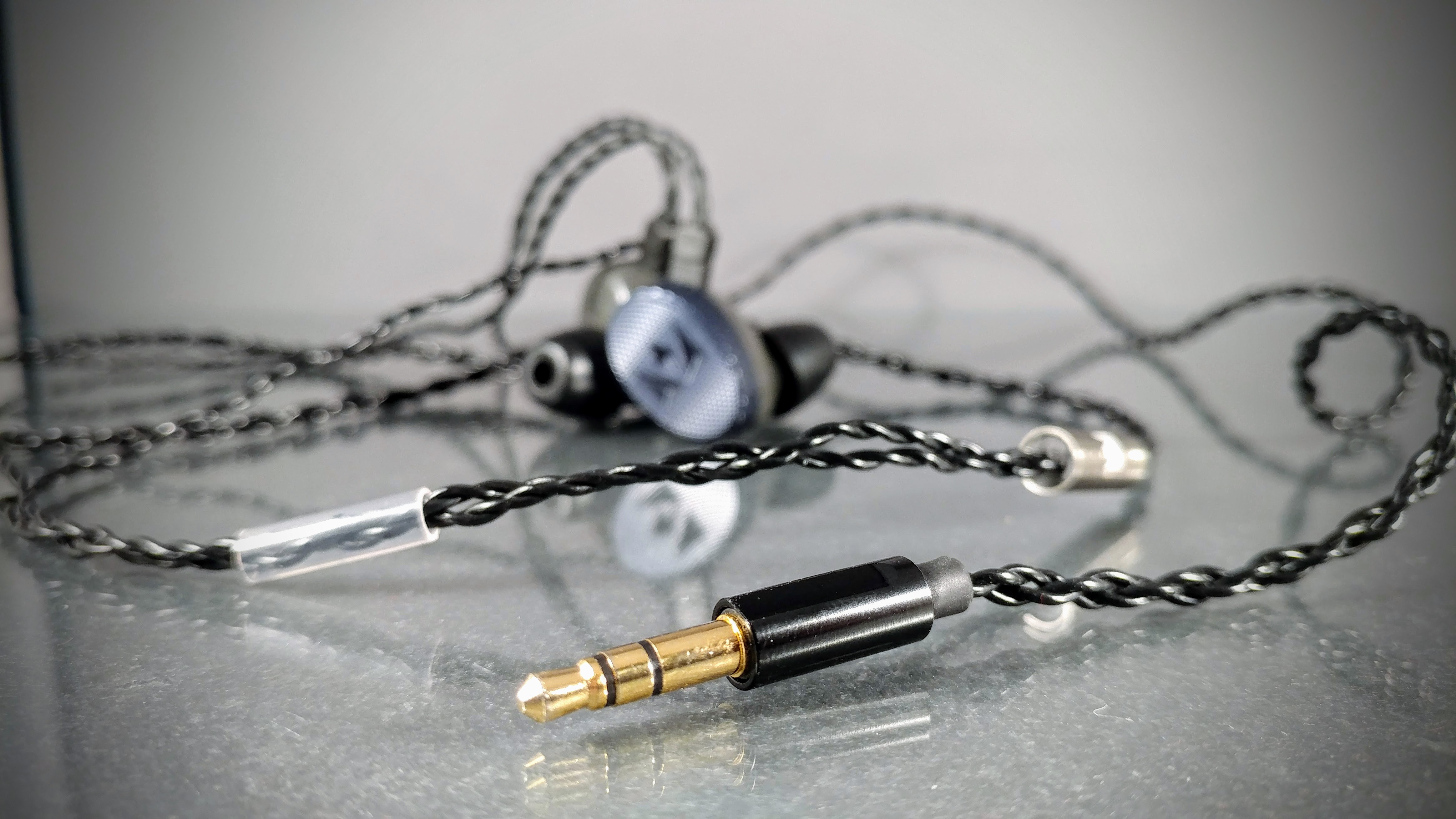 X has a black rubber jacketed four strand braided cable. The Y-Split is a black metal tube that splits the braid into two strand twisted cables that lead to each housings. LIke all other Noble earphones, the Noble X has a two pin connection. The cable has a welcomed clear plastic chin/neck slider that does its job and helps hold things in place. A straight black metal jacketed 3.5mm gold plated jack is small but built to last.
Another option (for an extra $40 upcharge) is a lightning cable that works with iPhone 7. If you own an iPhone and want to use your Noble X without an adapter, make sure to purchase this option. I didn't get to use or test this cable, but I'm confident Noble won't disappoint with this option.
Ergonomics, Fit and Microphonics, Isolation
If you've worn other Noble earphones don't expect these to fit any different. For those of you who haven't, the Noble X is a nicely designed shell that will easily fit a majority of people's ears. The ergonomic shape of the inner part of the housing in combination with an angled nozzle, you won't have any issues wearing these earphones. Although they provide a nice fit, the housing doesn't sit flush with my (and most other's) ears. The shells do stick out of each ear a bit (not significant).
The over ear fit of the X in combination with the shrink wrap wire and chin slider, microphonics are virtually eliminated. Isolation is better than average in-ear monitor, making the X a great commuting earphone.
Sound Review
I did my demo with my usual gear. I used an LG-V10 for smartphone use, and either my Fiio X7 or iBasso DX80 DAP/Bushmaster D14 DAC/Amp for high fidelity portable use. For desktop use, I used my Toshiba Satellite Laptop in combination with a ifi micro iDSD playing at 32/192 kHz. I tested them with several other sources as well. I used Google Music in its highest download quality (320 KBPS), and also streamed FLAC via Tidal streaming service. I also used purchased and downloaded tracks in MP3, FLAC, WAV and DSD. I make sure that any gear I test has sufficient playtime before writing a review.
I used my usual same songs for testing gear:
"Limit to your love" by James Blake (bass speed, punch, response)
"Doin' it Right" by Daft Punk (sub bass)
"Get lucky" by Daft Punk (bass to midrange transition resolution, male vocals)
"Madness" by Muse (soundstage, separation)
"Some nights" by Fun (soundstage and male vocals)
"The soundmaker" by Rodrigo y Gabriela (texture and imaging)
"Bassically" by Tei Shi (bass to midrange resolution, female vocals)
"Skinny Love" performed by Birdie (female vocals, acoustic playback)
"One" by Ed Sheeran (male vocals, acoustic playback)
"Outlands" from the Tron Legacy Soundtrack (symphonic presentation, imaging)
"Sultans of swing" by Dire Straits (detail, separation, balance)
"And Justic for All" by Metallica (driver distortion, treble response, rock playback)
"Ten thousand fists" by Disturbed (driver distortion, treble response, rock playback)
Note: Other tracks were used, but the listed songs were primarily used to assess and break down the gear's response.
Source Selection
Coming in at 30 Ohms, the Noble X is an exception to most all-armature designs. Aside from using a ridiculously powerful source, the X doesn't suffer from sensitivity issues (background hiss or EMI) and sounds good with most portable sources. I enjoyed using less powerful smartphones all the way up to more powerful DAPs and DAC/amplifiers. Although I enjoyed the sound of the X out of my LG V20, I got an increase in balance and performance from a more amplified source like my iBasso DX80, Fiio X7/AM3 combo, and also several portable DAC/amps. Noble X is one of the few armature driver earphones that likes a little extra juice.
I feel the X will benefit most from a somewhat linear, transparent and more powerful portable source to sound its best. The added linearity and power will help even out the tonality and balance the smoother and relaxed higher and lower frequencies with the rest of the tuning. Noble's X is pretty forgiving with poor recordings and low bitrate files. Add a high quality (linear, neutral) source and some high quality and high bitrate recordings, you will be maximizing the Noble X's potential.
Sound Signature
The Noble X is a unique tuning that is incredibly easy to listen to for long listening sessions. I consider this earphone to be the "anti-V signature" earphone for those who don't like boosted lows and highs. In fact, the lowest lows and highest of highs take a back seat to everything in between.
Noble X has a punchy and forward mid-bass, warm tilt, beefy midsection and relaxed highs. The first time I listened to them my initial impression was that they are kind of dark sounding, especially compared to most other earphones. After my ears and brain adjust to their tuning, the Noble X becomes a highly enjoyable and fatigue free tuning that I can enjoy for hours.
NOTE
: These earphones sound much better to my ears on medium/medium high listening volumes. Listening at low/moderate volumes, I heard a dull and lifeless response that needed some extra power. Giving these particular earphones a few extra db on the volume meter will give the X more dynamics and improve your overall listening experience. I question whether this could be a reason why reviews have been mixed up to this point.
Bass
The X has a midbass forward sound that is highly responsive. There's definitely more punch than rumble. Although there's sub bass that is responsive and carries a good tone, don't expect visceral impact or dynamic sub bass that will yield a tremendous sense of depth. Responsive and audible sub-bass? Yes. Earth rattling? No.
Although the mid-bass seems to be the most forward frequency of the Noble X, it gives listeners a nice sense of punch and dynamics but at the same time has very good resolution. Although the X has a forward mid-bass presence, there is no bleed or bloat to mention. The response is very controlled and accurate in tone.
Mid-range
A downward tilt carries from mid-bass to midrange tones. A rich and somewhat bold lower mid-range tuning puts weight and timbre on midrange instruments and male voices. Think along the lines of a warm tilted version of neutral that has minimal distortions and richness that many will appreciate. Starting with the lower midrange, there is a very nice layering of sounds that gives listeners a nice sense of instrument placement and separates sounds well for a dual-armature earphone.
Overall, vocals sound solid. Had the mid-bass not been as forward as it is I would likely be saying that the Noble X is mid-range forward, and to a certain extent it is. The smooth and laid back sub-bass and treble frequencies help promote this impression as well.
Female vocals and upper midrange sounds are fabulous. Upper midrange sounds are incredibly natural to my ears. Although they will play just about every genre well, they shine particularly with vocal oriented genres of music like Indie, Americana, Hip Hop, and Acoustic Music. With these genres the Noble X seems to give an upfront vocal presentation that puts the lead singer right in front of you, and does it with a non-shouty and smooth sound that's easy to listen to.
Treble
If you are a person who is sensitive to sibilance or aggressive high frequencies the Noble X might be the perfect fit. They have a relaxed presence which refrains from revealing sibilance in a recording. Pronunciations of the letters S and T are present but relaxed. Hi-hats, cymbal crashes and high frequency noises are slightly in back of the mix. You will hear a majority of high frequencies, just don't expect them to sound incredibly crisp. The treble response of the Noble X is a soft complimentary tuning to the fantastic mid-range the X has. You will hear hi-hats and cymbals but they will be a more relaxed and distant sound than most other earphones. Think along the lines of another earphone like the Noble 6 or LZ-A3's treble tuning.
Soundstage and Imaging
Because things are relaxed on top and bottom I would normally say that this type of earphone struggles in terms of soundstage. That's not the case with the Noble X. Instead, the impression I get (after my ears/brain adjust to the tuning) is that the sound creates a decent sense of space thanks to the resolve, texture and layering of sounds they're able to pull off. Because of it's ability to put air between instruments and put vocals and some midrange sounds upfront, the Noble X has a great sense of instrument placement (primarily in mid-range frequencies).
Comparisons
Brainwavz B200 ($175 to $200 USD on many sites)
The B200 is far and away the best Brainwavz product I've heard to date. Their dual armature design provides listeners with a relatively neutral and airy presentation.
Comparing the two, they have more similarities than differences. Both earphones have a dual driver design with a somewhat mid-focused sound, warm tilt and mid-bass punch. B200 has a bit more sub bass and treble presence. Noble X'x mid-range is more dynamic with a bit more warmth and maybe just a touch more mid-bass presence. The biggest difference between the two in terms of sound is in the treble area. Brainwavz B200 has a treble and upper mid-range presence that balanced out better with the rest of the overall tuning. B200 sounds better at lower volumes. Noble X sounds better at louder volumes. Going from the X to the B200, B200 mids seems to be a bit hollow and sucked out. Going from the B200 to the X, X seems to have an overly relaxed top end. If I had to pick one, I would go for the smoother and more textured mid-range of the Noble product. At the end of the day the Noble X is smoother on the ears, easier to listen to at loud volumes, and better for long listening sessions. Don't let that take away from the Brainwavz B200, they are an all around more neutral and balanced sounding earphone. This is a really close contest that will depend on preference.
In terms of design and build, the X destroys the B200. The Noble X feels and looks like a premium product, while the B200 could easily be mistaken for a thirty dollar piece. The attached cable of the B200 leaves no opportunity to upgrade or switch cables. Noble's two-pin connection gives owners the opportunity to switch and upgrade cables as they so choose. The B200 ergonomics and flush fit are slightly better than the X. B200 has a better accessories package with their clamshell case and broader selection of tips.
Sony H3 ($250 to $350 USD, discontinued)
Sony's H3 was an earlier intro into the hybrid market when the technology had not yet gone as mainstream as it is today. Still, Sony nailed it in terms of making a consumer friendly tuning. The treble performance of the H3 is still one of my favorites.
Comparing the two, both earphones have a warm tilt and mid-bass forward tuning. H3 has more sub-bass, but also more mid-bass resonance that seems to impact the midrange clarity. Aside from the resonance issues with the H3, midrange warmth and clarity are very similar. In terms of upper mid-range and treble, the H3 gets top honors. Sony manages to be crisp, clear and more cohesive with it's upper frequency tuning. Cymbal crashes sound more natural with the H3 and more distant with the Noble X. If I had to pick between the two, it would be a matter of what application I'm using them for. The mid-bass of the H3 becomes fatiguing during long listening sessions (especially at louder volumes). I prefer using the Noble X when I'm out of the house and also for long listening sessions. I prefer the H3 when I'm home or listening to modern genres of music. Fit also plays a part in this.
Ergonomics goes to the Noble X. They are more of a conventional over-ear fit than the bulky and somewhat awkward design of the H3. Build quality is a draw. Accessories goes to the H3. Sony offers two cables and a lot of very nice tips, while the Noble X offers the basics.
Conclusion (TLDR)
The Noble X is a dual driver earphone that is warm, with punchy bass, warm mids and sounds all around sweet to my ears. They break away from the V-signature stuff we often see these days. Their tuning works well with almost all genres of music and I enjoy long listening sessions with them. Their better than average isolation, over the ear fit that avoids microphonics makes them a great commuting earphone. They make the most of vocal-centric tracks (primarily female vocals).
There are some who should avoid this earphone. Those who want crisp highs or rumbling bass won't find it here. The Noble X isn't necessarily a neutral or linear earphone either. There's a warm, smooth and laid back approach taken with the X. Ask yourself if this is something you'd like to hear. If it is, go for it. Noble has done something unique and special by combining a high level of resolution to a tuning like this.
The build quality is decent, and Noble provides the basics in terms of accessories. While the X doesn't come close to their summit-fi stuff in terms of accessories (or performance), it gives Massdroppers a chance to get their hands on a Noble built product at a reasonable asking price. I feel this earphone performs well for a dual armature driver, takes a unique and welcomed tuning approach towards in-ear monitors, and gives owners the look and feel of a Noble universal at a reasonable price.
Although I feel that Noble offers tremendous summit-fi gear with performance that many can't come close to, the $200-$500 dollar mid-fi earphone market is loaded with lots of competition and customers with varying tastes and preferences. Some are going to love what Noble has done here, and some won't. I feel that's why impressions are mixed.
When rating a product I have to take all criteria into account (including price). The Noble X gets four and a half stars for design and build quality, three and a half stars for accessories, four and a half stars for ergonomics, fit and isolation, and four stars for sound quality. All in all, I give the Noble X four stars. If you're looking for a rich and smooth sounding earphone that doesn't sacrifice resolution, the Noble X will not disappoint.
Thanks for reading and happy listening!