Item information
Added by
Views

29,479
Watchers

5
Reviews

6
Last update
Rating

3.83 star(s)

6 ratings
Massdrop x Noble X Universal IEM
General Information
2 balanced armature universal IEM.
Latest reviews
Reviewer at Headphones.com
Pros
:
"Laid back", warm sound signature
Cons
:
Midrange leaves a lot to be desired
Treble roll-off exacerbates lack of detail
Bass lacks rumble or depth
Poor shell ergonomics
Noble is well-known for their exorbitant IEMs, and the Noble X was an attempt to bring their house sound to the masses vis a vis Massdrop (Drop). It was based off another model (that I don't remember the name to) and uses a 2BA setup.
It was also my introduction to the world of IEMs and high-fidelity audio. I fondly remember plugging them into my iPad, playing David Nail's "Let it Rain," and being absolutely blown away. And who could blame me? Coming from the likes of Bose and other, ah mainstream brands, my ears were wholly inexperienced.
Now if you're expecting a tribute where I sing this thing's virtues, uh sorry, it's more the opposite. I've since moved onto much better things, and the Noble X stands as a fat stain on my audiophile journey. I also don't feel
too
bad crapping on this IEM as its been out for several years. These days, I mainly keep it around for reference purposes; my threshold for what I would consider outright "bad".
Presentation and Build Quality


The Noble X comes in a cardboard box with a plastic, screw-top canister that has the Massdrop and Noble logos. This is also the way you are intended to carry the IEMs. Nothing special, nothing outright terrible.
Build quality of the IEMs is acceptable. If you look closely - or feel by touch - you can tell that the shell doesn't quite line up with the faceplate...that's a small sign of less-than-stellar QC. The faceplate itself has been done well and I find no fault. There is a recession for the cable pins so they don't wiggle.
Some may find the cable "cheap" feeling because it lacks fancy braiding or weight. To the contrary, I rather like it and think it's an excellent cable in practice.
Source and Drivability
All critical listening was done off of an iBasso DX160. I used the stock cable and small Azla Sedna tips. Oh, that's right – there's no size small tips included when you buy this thing. I too enjoy saving the mere pennies it would have cost to include a pair of tips.
Sound Analysis
Tonally, everything about the Noble X sounds flat-out wrong. The entire frequency spectrum is just
veiled
. And I know that's a catch-all term, but I'm not exaggerating. If there were ever an IEM that exemplified "BA timbre" it would be the Noble X. Of course, this is helped in no part by its treble. The Noble X is up there with the likes of the Empire Ears Wraith in the treble, and that's not a complement. It sounds like everything over 10kHz, maybe even earlier, straight-up enters the void. "Laidback" would indeed be a
charitable
description of the Noble X's overall tonality.
Because there's effectively no treble, I deviate to calling this a mid-centric IEM. After all, there is (surprisingly) some outward diffusion of the image too. However, it draws attention to itself in a "sticks out like a sore thumb" sense. The transients are incredibly rounded, outright smearing at times, and there's a severe lack of resolution. Yeah, this thing has next to zero resolving capability – I've heard IEMs a third of the cost, at its
discounted
price, that beat it out here. What about other intangibles? Zero macro-dynamics, zero engagement factor, zeeero. The Noble X turns songs into dark, fuzzy caricatures of what they should be.
And yikes, I almost forgot the bass. But what bass? The Noble X's bass is utterly unremarkable, the epitome of BA bass. There's next-to-zero decay and density to its slam; it's utterly one-note in nature. In a sense, this is probably the Noble X's saving grace if only by virtue of being decidedly average amongst other BA bass responses in this price range.
The Verdict
The Noble X is one of the best all-rounders I've heard – in that it does everything
wrong
. I doubt these were a good IEM when they were released in 2017 – certainly not for $250 by a long shot – and they sure as hell aren't now. And even at their discounted rate of $125, they're not remotely worth it.
Now, I fully concede that everyone hears things differently and has their own preferences. And yet, I struggle to entertain the notion of any experienced audiophile calling these anything but plain bad. Nobody wants to call something, well, garbage but sometimes it just needs to be said. As a first-time buyer, I fell for a lot of the fancy, raving reviews against my better judgment. Perhaps, in a way, the Noble X was the wake-up call I needed to recognize how utterly convoluted the audio world can be. You live and you learn.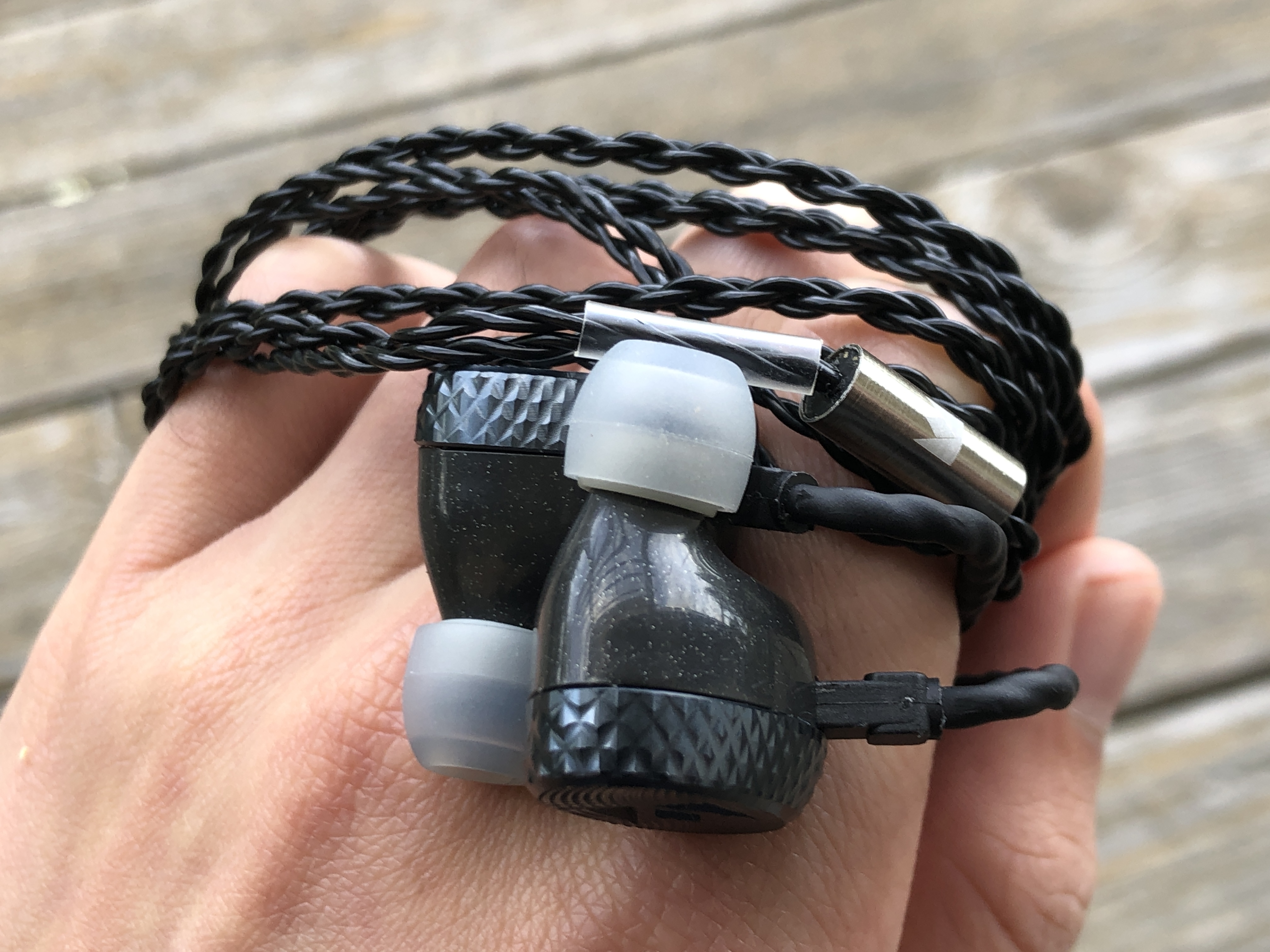 Last edited:
Pros
:
Warm, smooth and resolving signature is fun and easy to listen to, Non fatiguing sound, Works well with all genres, Noble craftsmanship and tuning at an all-time low price, Comfortable and secure fit
Cons
:
Will be too warm and smooth for some, Some will want more low and high end extension, There's a ton of competition at this price range, Accessories package (tip selection) could be better
At the time this review was written, the Noble X was listed for sale on Massdrop. If by chance the Noble X drop has ended by the time you read this review (check the link below), there should be more drops coming in the not too distant future. Here is the link for information and purchase:
https://www.massdrop.com/buy/massdrop-x-noble-x-universal-iem
Introduction
Noble X was introduced a few months ago. This release is a collaboration between Noble Audio and Massdrop. The drop comes in at the two hundred fifty dollar mark, making it the most affordable Noble earphone by a long shot.
The Savant was one of Noble's most popular earphones. Many heralded them as their favorite earphone when it was released. It made waves in Head-Fi circles because of their very natural and engaging sound signature. Since then, the Savant two driver design has been replaced in the new universal lineup by the Noble Sage.
Many who owned or heard the Savant had very little if anything bad to say about them. For some, they wished the Savant was a few bass decibels (increase) away from sounding perfect for their preference. If anything the Savant bass was maybe a touch to lean for some preferences (not all).
When the Noble X was announced I was curious about how they would sound. So far the reviews have been a mixed bag, with some writing fairly critical and somewhat negative remarks, while others wrote overwhelmingly positive reviews. When this happens I feel even more intrigued to see which side of the fence I'm on based on my own personal impression. Considering the fact that the Savant and Sage are both two armature driver designs, I was curious to see the progression with the Noble X (same driver count).
When I saw Brannan at Axpona I was hoping that he would have a pair of Noble X at his booth I could listen to. Although that wasn't the case I was able to set up a chance to borrow a pair and share my opinion. Let's dive in, and see what Noble and Massdrop are offering with the X.
Disclaimer
I was borrowed a pair of the Noble X in exchange for my honest opinion and review. I am in no way affiliated with Noble. I would like to take this time to personally thank Brannan for the opportunity to experience and share my impressions of the product.
REVIEW
The Noble X comes in a Black cardboard and tin canister. Nothing extraordinary to say here.
Opening the box I'm greeted with a pomade sized plastic jar.
Opening the jar reveals the Noble X earphones and cable along with a baggie of accessories.
Specifications and Accessories
Specifications (copied from the Massdrop website)
Faceplates: Anodized aluminum in midnight blue
Drivers: 2 proprietary balanced armature drivers per side
Impedance: 30 ohms
Frequency response: 15 Hz – 20 kHz
Cable: 50 in (127 cm), detachable, with 2-pin configuration
Plug: ⅛ in (3.5 mm), gold-plated
Weight: 0.69 oz (19.5 g)
Made by Noble Audio
Drivers sourced from a US company
Socket, ABS housing, and aluminum CNC housing manufactured in the US
Cable, tubing, solder, and wiring manufactured in Taiwan
Partial assembly overseas; final assembly and QA in the US
Optional Noble Lightning Cable (+$40)
50 in (127 cm), detachable, with 2-pin configuration and Lightning connector (0.75 mm diameter)
Accessories (copied from the Massdrop website)
Detachable cable with 2-pin connector & 3.5mm TRS plug
2 pairs of single-flange silicone ear tips (M, L)
2 pairs of Noble foam ear tips (M, L)
1 pair of double-flange silicone ear tips (M)
Cleaning tool
Carrying case
Noble Audio warranty
Housings
The housing are reminiscent of Noble's current universal lineup and come in their own custom color, which is a midnight blue with a hint of dark green (under the right light). The outer part of the shells are aluminum, with the inside portion being made of plastic.
As with all of the new universal lineup, the shape is stylish and durable. There is some really cool design detail in the outer portion of the shell. The earphone nozzle is fairly average in terms of length and width and has two ports (one for each driver). I had no problem tip rolling with these, and came up with some really nice aftermarket options. A two pin channel is located on the upper portion of each housing and has a small indentation to secure the connection.
Cable, Y-Split, Cable Jack, Strain Reliefs
The Noble cable is reminiscent of the remaining lineup but with one welcomed difference. Noble has gone away from the more rigid memory wire and went with a shrink wrap variation. I FAR prefer this over the oder memory wire, as it promotes a more consistent and comfortable fit for my ears (YMMV). The new shrink wrap at the top of the wire springs back to a preset shape and makes getting an even and consistent fit less tedious than Noble's previous memory wire offerings.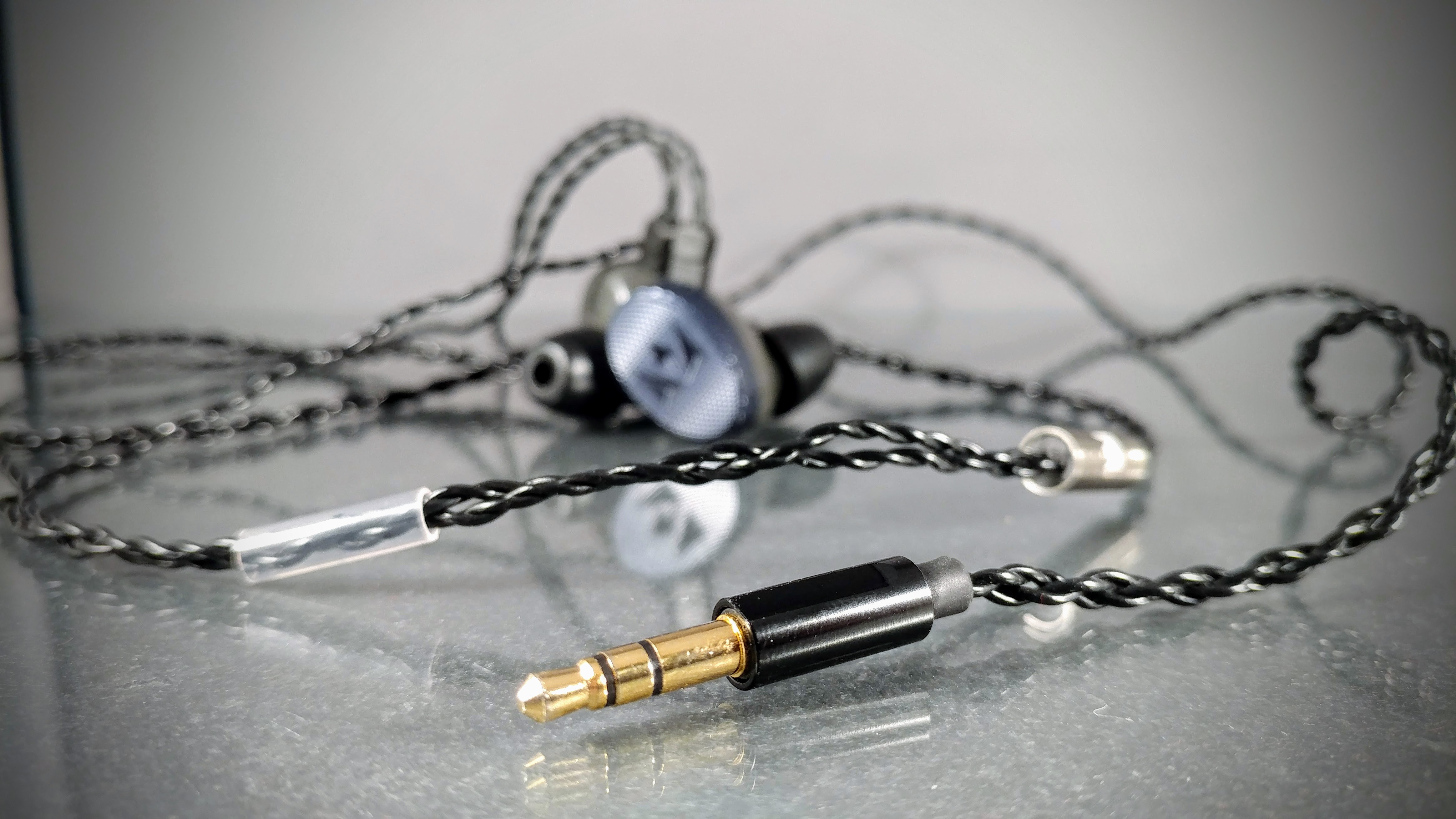 X has a black rubber jacketed four strand braided cable. The Y-Split is a black metal tube that splits the braid into two strand twisted cables that lead to each housings. LIke all other Noble earphones, the Noble X has a two pin connection. The cable has a welcomed clear plastic chin/neck slider that does its job and helps hold things in place. A straight black metal jacketed 3.5mm gold plated jack is small but built to last.
Another option (for an extra $40 upcharge) is a lightning cable that works with iPhone 7. If you own an iPhone and want to use your Noble X without an adapter, make sure to purchase this option. I didn't get to use or test this cable, but I'm confident Noble won't disappoint with this option.
Ergonomics, Fit and Microphonics, Isolation
If you've worn other Noble earphones don't expect these to fit any different. For those of you who haven't, the Noble X is a nicely designed shell that will easily fit a majority of people's ears. The ergonomic shape of the inner part of the housing in combination with an angled nozzle, you won't have any issues wearing these earphones. Although they provide a nice fit, the housing doesn't sit flush with my (and most other's) ears. The shells do stick out of each ear a bit (not significant).
The over ear fit of the X in combination with the shrink wrap wire and chin slider, microphonics are virtually eliminated. Isolation is better than average in-ear monitor, making the X a great commuting earphone.
Sound Review
I did my demo with my usual gear. I used an LG-V10 for smartphone use, and either my Fiio X7 or iBasso DX80 DAP/Bushmaster D14 DAC/Amp for high fidelity portable use. For desktop use, I used my Toshiba Satellite Laptop in combination with a ifi micro iDSD playing at 32/192 kHz. I tested them with several other sources as well. I used Google Music in its highest download quality (320 KBPS), and also streamed FLAC via Tidal streaming service. I also used purchased and downloaded tracks in MP3, FLAC, WAV and DSD. I make sure that any gear I test has sufficient playtime before writing a review.
I used my usual same songs for testing gear:
"Limit to your love" by James Blake (bass speed, punch, response)
"Doin' it Right" by Daft Punk (sub bass)
"Get lucky" by Daft Punk (bass to midrange transition resolution, male vocals)
"Madness" by Muse (soundstage, separation)
"Some nights" by Fun (soundstage and male vocals)
"The soundmaker" by Rodrigo y Gabriela (texture and imaging)
"Bassically" by Tei Shi (bass to midrange resolution, female vocals)
"Skinny Love" performed by Birdie (female vocals, acoustic playback)
"One" by Ed Sheeran (male vocals, acoustic playback)
"Outlands" from the Tron Legacy Soundtrack (symphonic presentation, imaging)
"Sultans of swing" by Dire Straits (detail, separation, balance)
"And Justic for All" by Metallica (driver distortion, treble response, rock playback)
"Ten thousand fists" by Disturbed (driver distortion, treble response, rock playback)
Note: Other tracks were used, but the listed songs were primarily used to assess and break down the gear's response.
Source Selection
Coming in at 30 Ohms, the Noble X is an exception to most all-armature designs. Aside from using a ridiculously powerful source, the X doesn't suffer from sensitivity issues (background hiss or EMI) and sounds good with most portable sources. I enjoyed using less powerful smartphones all the way up to more powerful DAPs and DAC/amplifiers. Although I enjoyed the sound of the X out of my LG V20, I got an increase in balance and performance from a more amplified source like my iBasso DX80, Fiio X7/AM3 combo, and also several portable DAC/amps. Noble X is one of the few armature driver earphones that likes a little extra juice.
I feel the X will benefit most from a somewhat linear, transparent and more powerful portable source to sound its best. The added linearity and power will help even out the tonality and balance the smoother and relaxed higher and lower frequencies with the rest of the tuning. Noble's X is pretty forgiving with poor recordings and low bitrate files. Add a high quality (linear, neutral) source and some high quality and high bitrate recordings, you will be maximizing the Noble X's potential.
Sound Signature
The Noble X is a unique tuning that is incredibly easy to listen to for long listening sessions. I consider this earphone to be the "anti-V signature" earphone for those who don't like boosted lows and highs. In fact, the lowest lows and highest of highs take a back seat to everything in between.
Noble X has a punchy and forward mid-bass, warm tilt, beefy midsection and relaxed highs. The first time I listened to them my initial impression was that they are kind of dark sounding, especially compared to most other earphones. After my ears and brain adjust to their tuning, the Noble X becomes a highly enjoyable and fatigue free tuning that I can enjoy for hours.
NOTE
: These earphones sound much better to my ears on medium/medium high listening volumes. Listening at low/moderate volumes, I heard a dull and lifeless response that needed some extra power. Giving these particular earphones a few extra db on the volume meter will give the X more dynamics and improve your overall listening experience. I question whether this could be a reason why reviews have been mixed up to this point.
Bass
The X has a midbass forward sound that is highly responsive. There's definitely more punch than rumble. Although there's sub bass that is responsive and carries a good tone, don't expect visceral impact or dynamic sub bass that will yield a tremendous sense of depth. Responsive and audible sub-bass? Yes. Earth rattling? No.
Although the mid-bass seems to be the most forward frequency of the Noble X, it gives listeners a nice sense of punch and dynamics but at the same time has very good resolution. Although the X has a forward mid-bass presence, there is no bleed or bloat to mention. The response is very controlled and accurate in tone.
Mid-range
A downward tilt carries from mid-bass to midrange tones. A rich and somewhat bold lower mid-range tuning puts weight and timbre on midrange instruments and male voices. Think along the lines of a warm tilted version of neutral that has minimal distortions and richness that many will appreciate. Starting with the lower midrange, there is a very nice layering of sounds that gives listeners a nice sense of instrument placement and separates sounds well for a dual-armature earphone.
Overall, vocals sound solid. Had the mid-bass not been as forward as it is I would likely be saying that the Noble X is mid-range forward, and to a certain extent it is. The smooth and laid back sub-bass and treble frequencies help promote this impression as well.
Female vocals and upper midrange sounds are fabulous. Upper midrange sounds are incredibly natural to my ears. Although they will play just about every genre well, they shine particularly with vocal oriented genres of music like Indie, Americana, Hip Hop, and Acoustic Music. With these genres the Noble X seems to give an upfront vocal presentation that puts the lead singer right in front of you, and does it with a non-shouty and smooth sound that's easy to listen to.
Treble
If you are a person who is sensitive to sibilance or aggressive high frequencies the Noble X might be the perfect fit. They have a relaxed presence which refrains from revealing sibilance in a recording. Pronunciations of the letters S and T are present but relaxed. Hi-hats, cymbal crashes and high frequency noises are slightly in back of the mix. You will hear a majority of high frequencies, just don't expect them to sound incredibly crisp. The treble response of the Noble X is a soft complimentary tuning to the fantastic mid-range the X has. You will hear hi-hats and cymbals but they will be a more relaxed and distant sound than most other earphones. Think along the lines of another earphone like the Noble 6 or LZ-A3's treble tuning.
Soundstage and Imaging
Because things are relaxed on top and bottom I would normally say that this type of earphone struggles in terms of soundstage. That's not the case with the Noble X. Instead, the impression I get (after my ears/brain adjust to the tuning) is that the sound creates a decent sense of space thanks to the resolve, texture and layering of sounds they're able to pull off. Because of it's ability to put air between instruments and put vocals and some midrange sounds upfront, the Noble X has a great sense of instrument placement (primarily in mid-range frequencies).
Comparisons
Brainwavz B200 ($175 to $200 USD on many sites)
The B200 is far and away the best Brainwavz product I've heard to date. Their dual armature design provides listeners with a relatively neutral and airy presentation.
Comparing the two, they have more similarities than differences. Both earphones have a dual driver design with a somewhat mid-focused sound, warm tilt and mid-bass punch. B200 has a bit more sub bass and treble presence. Noble X'x mid-range is more dynamic with a bit more warmth and maybe just a touch more mid-bass presence. The biggest difference between the two in terms of sound is in the treble area. Brainwavz B200 has a treble and upper mid-range presence that balanced out better with the rest of the overall tuning. B200 sounds better at lower volumes. Noble X sounds better at louder volumes. Going from the X to the B200, B200 mids seems to be a bit hollow and sucked out. Going from the B200 to the X, X seems to have an overly relaxed top end. If I had to pick one, I would go for the smoother and more textured mid-range of the Noble product. At the end of the day the Noble X is smoother on the ears, easier to listen to at loud volumes, and better for long listening sessions. Don't let that take away from the Brainwavz B200, they are an all around more neutral and balanced sounding earphone. This is a really close contest that will depend on preference.
In terms of design and build, the X destroys the B200. The Noble X feels and looks like a premium product, while the B200 could easily be mistaken for a thirty dollar piece. The attached cable of the B200 leaves no opportunity to upgrade or switch cables. Noble's two-pin connection gives owners the opportunity to switch and upgrade cables as they so choose. The B200 ergonomics and flush fit are slightly better than the X. B200 has a better accessories package with their clamshell case and broader selection of tips.
Sony H3 ($250 to $350 USD, discontinued)
Sony's H3 was an earlier intro into the hybrid market when the technology had not yet gone as mainstream as it is today. Still, Sony nailed it in terms of making a consumer friendly tuning. The treble performance of the H3 is still one of my favorites.
Comparing the two, both earphones have a warm tilt and mid-bass forward tuning. H3 has more sub-bass, but also more mid-bass resonance that seems to impact the midrange clarity. Aside from the resonance issues with the H3, midrange warmth and clarity are very similar. In terms of upper mid-range and treble, the H3 gets top honors. Sony manages to be crisp, clear and more cohesive with it's upper frequency tuning. Cymbal crashes sound more natural with the H3 and more distant with the Noble X. If I had to pick between the two, it would be a matter of what application I'm using them for. The mid-bass of the H3 becomes fatiguing during long listening sessions (especially at louder volumes). I prefer using the Noble X when I'm out of the house and also for long listening sessions. I prefer the H3 when I'm home or listening to modern genres of music. Fit also plays a part in this.
Ergonomics goes to the Noble X. They are more of a conventional over-ear fit than the bulky and somewhat awkward design of the H3. Build quality is a draw. Accessories goes to the H3. Sony offers two cables and a lot of very nice tips, while the Noble X offers the basics.
Conclusion (TLDR)
The Noble X is a dual driver earphone that is warm, with punchy bass, warm mids and sounds all around sweet to my ears. They break away from the V-signature stuff we often see these days. Their tuning works well with almost all genres of music and I enjoy long listening sessions with them. Their better than average isolation, over the ear fit that avoids microphonics makes them a great commuting earphone. They make the most of vocal-centric tracks (primarily female vocals).
There are some who should avoid this earphone. Those who want crisp highs or rumbling bass won't find it here. The Noble X isn't necessarily a neutral or linear earphone either. There's a warm, smooth and laid back approach taken with the X. Ask yourself if this is something you'd like to hear. If it is, go for it. Noble has done something unique and special by combining a high level of resolution to a tuning like this.
The build quality is decent, and Noble provides the basics in terms of accessories. While the X doesn't come close to their summit-fi stuff in terms of accessories (or performance), it gives Massdroppers a chance to get their hands on a Noble built product at a reasonable asking price. I feel this earphone performs well for a dual armature driver, takes a unique and welcomed tuning approach towards in-ear monitors, and gives owners the look and feel of a Noble universal at a reasonable price.
Although I feel that Noble offers tremendous summit-fi gear with performance that many can't come close to, the $200-$500 dollar mid-fi earphone market is loaded with lots of competition and customers with varying tastes and preferences. Some are going to love what Noble has done here, and some won't. I feel that's why impressions are mixed.
When rating a product I have to take all criteria into account (including price). The Noble X gets four and a half stars for design and build quality, three and a half stars for accessories, four and a half stars for ergonomics, fit and isolation, and four stars for sound quality. All in all, I give the Noble X four stars. If you're looking for a rich and smooth sounding earphone that doesn't sacrifice resolution, the Noble X will not disappoint.
Thanks for reading and happy listening!
Pros
:
Superb performance for the value, especially on the bass. Does not need a dedicated ecosystem to sound great.
Cons
:
Highly limited availability that is based on drops. Lackluster treble when compared to its other regions.
DISCLAIMER
The Massdrop x Noble X was sent to me by Christian from Massdrop (with full support from Brannan of Noble Audio) as a loaner in exchange for an honest review.
(Certain) Comments below are made based on my interpretation of the information given by Massdrop on their website and John Moulton (aka The Wizard) from Noble on the Head-Fi forums, specifically the Massdrop x Noble X main thread, and does not necessarily reflect the opinions of both parties. For the absolute facts and accurate answers to all questions revolving the Massdrop x Noble X, please forward your enquiries towards the Massdrop or Noble team.
This is my first review since the platform change, so I do apologize if there are any mistakes or inconsistency in the formatting.
INTRODUCTION
A few months ago, I was fortunate enough for a piece of Noble Audio gear, their co-flagship the Noble Audio Katana, to grace my front door for a review. The Katana is clear, detailed, ultra-silky smooth and definitely rank among my favourites for use in my daily IEM rotation. However, as good as the Katana was and still is it's not necessarily the most accessible Noble product to the masses as it may not be within the budget of most people. Even the Noble Trident, the lowest priced option within the classic Noble stable, might just be a touch off the mark with people's budgets at $399.
Enter Massdrop (MD). MD is a company established back in 2012 that focuses on a business concept that runs on 'community-driven commerce'. In a nutshell, MD gathers ideas from its end users to learn of the products of interest for the general public, then negotiates and organises bulk purchases for said products, thus allowing the users to usually obtain desired products at a group discount. In recent times, people like Will Bright and Christian Tanimoto from their Custom Products section has worked tirelessly to discuss and develop uniquely MD products with several major companies. These products include the Massdrop x Fostex TH-X00 series, the Massdrop x Grace Design M9XX and most recently the Massdrop x Sennheiser HD6XX. Late last year, MD, in collaboration with Noble Audio, released the Massdrop x Noble X (X).
With the X project, MD was aiming at creating their first unique foray into the
UNIVERSAL IEM
market, and wanted that extra touch of magic from a company that is led by an aptly named Wizard. I had previously reached out to Christian about a potential review project for the X during its first drop but as there were a lack of samples available at the time; we had to put it on hold. As the second drop approached, a sample was finally available and I was approached by Christian (thanks for remembering about me) who wanted to know if I was still interested in doing a review. You bet I am. Days later, with the help of Christian, the sample was expedited and sent to my grateful hands.
So will the X manage to cast its spell on the masses and keep them tapping on their feet?
INFO + SPECIFICATIONS
In contrast to the modus operandi of Noble Audio, more details of the driver configuration and specifications of the X are actually available on MD's website. The X has 2 proprietary balanced armature drivers on each side, supplied by Knowles Electronics, and has a frequency response between 15 Hz to 20 kHz with its impedance rated at 30 ohms. The drivers are separated into two bands, one for the bass while the other is for both the mids and treble. According to MD, the bass driver has a reconfigured vented port which would allow for increased extension for the overall bass response along with a slight lift in quantity. The sensitivity rating was not revealed but from my experience drivability is not an issue as I could easily from my Samsung Galaxy S7 to listening levels that are louder than what I normally listen to.
The X has an MSRP of $499.99, but is available at a price of $249.99 through MD, the cheapest unit made by Noble Audio by far. It is crazy to believe that Noble is able to offer the X at such a price, especially considering the Sage, and previously the Savant, are sold at $599 although all 3 are pieces from Noble that utilises two driver designs. However, as explained on the forums, MD commissioned the build of the X, and had made a large volume purchase of the units that propel Noble into offering a substantial discount, thus enabling MD to offer the X at wholesale prices. The price to me is a huge up and would allow for a wider audience in the public to be more willing to invest in a Noble piece, knowing that there are no compromises made to the performance of the unit, just the packaging around it.
As the X is available exclusively through MD, do not expect it to appear on Noble's product page. It will only be available for purchase using MD's drop system, more of which you can learn here. When I started my writing, the details of the next drop has not been revealed to the public but the initial drop had 2000 units available for all MD members worldwide, with each member being limited to 3 units. The second drop, as I was told, was going to feature about 500 units (this was later confirmed on drop day to be 510 units, with 175 Lightning Cables available), with the same limitations per purchase. I think this would help allow more members to have a chance at purchasing a piece, but at the same time thwart potential resellers from bulk purchases to resell the X for a higher price, something I believe MD will have definitely taken into deep consideration.
This is a huge disadvantage to the availability of the X, as one can only obtain the unit if the drop is ongoing.
Furthermore, since this is basically a bulk order, and the order has to be processed by MD before distribution to its customers, the shipping date is usually a few months after the drop ended, which means you will not receive your unit immediately but only after a wait period. This is unlike the rest of the Noble Classic Universal Line, in which it will be shipped immediately by Noble once the order details are processed, provided stock of said unit is available, but people who has gone through the process of obtaining Noble's custom might have a similar experience. Safe to say, a little patience is needed if you are to order the X.
The preceding comments were made before the second drop, and since the unit has been confirmed to ship a few days after the end of the drop, the comments as of such are no longer valid. The X is still only available through drops, which I feel is a huge disadvantage, but at least your patience won't be tested that seriously anymore.
ACCESSORIES & OPTIONS
The Massdrop x Noble is shipped with aluminium can that is wrapped with a piece of paper, printed with both Massdrop's and Noble's logos, with an X at the bottom.

Lifting the lid, a small card with the X's specification sheet and a plastic round case with both companies logos etched on top.
​
One thing that I do have to continuously clarify is that the unit is a sample and the contents of my package may slightly differ from what you would receive as an end product.
The Massdrop x Noble X does not come shipped with a Pelican case sleeved in a Noble logo emblazoned cardboard sleeve used for all the other Noble units. Instead it comes in a form of an aluminium can, with the insides filled with a small card listing the specifications of the unit and a plastic round case, similar to the round case that comes as an additional option that could be found in the Noble Audio online shop. I personally don't find that as an issue as I usually carry my other IEMs in a smaller case, such as my Katana that is stored in the Noble round case, unless the extra protection offered by a Pelican case is needed. This, to me, is definitely a cost reducing measure that I feel is completely justified, as the round case would probably serve to be enough protection for most day to day used cases, such as storing it in a backpack.
This is the content of the actual product sent to an end consumer. The round case contains the X, a cleaning tool, and an array of tips. Picture obtained from the Massdrop x Noble X product page from Massdrop's website.
​
Within the round case, I found the X inside, already equipped with a pair of M sized single flanged silicone ear tips. This is probably where my sample differs from the final product, in which my sample does not come with the array of tips an end consumer would receive. The actual product would come with 2 pairs of single-flange silicone ear tips, 2 pairs of Noble foam ear tips, both in M or L sizes, an a pair of M sized double-flange silicone ear tips in a plastic pack, rather than the usual metal plate. It comes also with a cleaning tool, which is highly welcomed. Speaking as a consumer, I would appreciate it if the X came with at least an extra set of S sized silicone and foam ear tips, so that it would be easier for more people to find their right fit.
The X uses a detachable cable system with the commonly used 2-pin connector, as shown in the photo above. Picture obtained from the Massdrop x Noble X product page from Massdrop's website.
​
The X, like the rest of Noble's products, is designed to use a detachable cabling system in the 2-pin configuration. The supplied cable is configured with a gold-plated, 1/8 inch (3.5mm) plug. Additionally, from what I could gather, uses the same wiring material as the Noble stock cable but utilizes cable guides wrapped with heat-shrink tubing instead of memory wire. I have found no issues with regular memory wire as a spectacles user but some end users had always found discomfort with memory wire based headphone cables. For me, the cable supplied with the X is fairly comfortable but there are certain moments that I would have like to have memory wire as I prefer to be able to adjust the wire around my ear. To my experience, no cable microphonics was experienced while using the X, whether it's sitting at a desk or walking about.
The picture above shows the cable options available for the X, including the Noble 'stock' cable (top left) and the newer Noble Lightning cable (bottom right). Picture obtained from the Massdrop x Noble X product page from Massdrop's website.
​
When purchasing the X, one could also opt to add on a Noble Lightning cable for an additional $40, which would allow the iPhone 7 or 7 Plus users to use the X, due to their lack of a 3.5mm input jack. The Lightning cable was offered by Christian to me for evaluation, but since I do not use any other iProduct except my trusty iPod Classic, I would have found it redundant and hence I declined. Both the supplied cable and the additional Lightning cable are 50 inches in length or for the metric people (like me), 127cm in length.
In the near future, an option may become available for X users to swap out for their stock X design and have it reshelled as a Wizard Universal. This option, currently priced at $200, will be available directly through Noble, with its details available to be found on this particular
post
by the Wizard himself. For more information in regards to the reshell option, stay tune to the Massdrop x Noble X thread on Head-Fi.
BUILD QUALITY
These are the wonderfully taken professional shots of the X from Massdrop. Pictures obtained from the Massdrop x Noble X product page from Massdrop's website.
These are much less professionally taken shots of the X by me, but could possibly better reflect the actual look of the X. Notice the difference in colour between the faceplates and the ABS plastic shell.
​
The X has faceplates made with CNC aluminium, similar to the rest of Noble's universal line. However, the design of the plates itself is like none other, with what is known as a 'basket-weave' like texture around it. The faceplates are in midnight blue, the same colour (or similar) they use with the HD6XX. From far, it might look black, akin to the black used for its ABS plastic shell, but closer inspection will reveal a shade of blue that I personally found a liking to. Both the aluminium faceplate and ABS shell paired together allowed for a solid feel, and since it uses the same housing as those found on the other universals, I am sure it has sturdy enough build quality to go through everyday use without a hitch, as long as its afforded proper care.
As I have personally not own a piece of Wizard Universal, I am unsure if the new option would lead to a product with better build quality. Regardless, as it is being built by Noble, I am not concerned that the final product would be in any way worse than the original product.
A lot of buzz was initially made when MD, by its own accord and without the direct approval from Noble, made a statement declaring that the X, from top to toe was a Made in America product. This statement has since been pulled back, with the origin of most of its parts and manufacturing processes being clarified. It is as follows:
Drivers sourced from a US company
Socket, ABS housing, and aluminium CNC housing manufactured in the US
Cable, tubing, solder, and wiring manufactured in Taiwan
Partial assembly overseas; final assembly and QA in the US
SOUND QUAITY
Evaluation Process
Similar to the review procedure that I previously used for my other reviews, the X was burned in for at least 200 hours before more critical evaluations were made. This allows to for a basis that keeps the X on a fair playing field with my other pieces. In addition to my usual gear, I also extended my source gear to my mobile to get a feel for end users who are not currently interested in investing in a dedicated music player. The tracks used for my listening sessions are files that are either FLAC/ALAC from a wide variety of genres except metal. The following is a list of source gear that I used during the review of the X:
· Chord Mojo
· iBasso DX90
· Questyle QP1R
· Calyx M player
· Samsung Galaxy S7 Edge
Initial Impressions
The first time I listened to the X is with this sample that was sent to me. MD claims that the X was designed with the sound inspired by the Noble Savanna, Savant, and Django, where the X will have impeccable clarity but also remain fun, punchy, musical, and engaging, with a solid bass presence.
The instant I plug in the X into my DX90 + Mojo stack and listen, I knew MD and Noble has a winner on their hands. It is perhaps treading on the line between warm and dark for me. It is clearly not on the level of my Katana, but I did not expect it to be, especially putting their respective prices into consideration.
Its bass is definitely the star, with the elevated bass response lending for a superb experience to dance and techno tracks through the unit. I found the mids to be appropriately positioned, and retained the smooth sound that Noble is known for. The treble was left to be desired though, but I gave the X the benefit of the doubt as it was not fully burned in yet.
Sound Signature
First and foremost, it is important to note that no form of tip rolling was involved during my reviewing process. I fully understand and respect the idea of tip rolling would tweak the sound of the X, but I would have probably chose the single flanged silicone ear tips anyways, solely for comfort reasons. I do not prefer foam tips for most of my IEMs. But to provide some context, the Noble X has been said to sound thicker and darker with the foam tips.
During the initial stages of the burn in, I found myself swaying between two general sound signature definitions for the X. Is it warm? Or is it dark? Listening to a host of genres of music certainly didn't help, as it continually shifted my opinion from one side to the other. But finally, after longer periods of listening upon finishing the previously fixed burn in time, I can conclude that the X is a warm sounding IEM. Yes, the elevated lows have made it sound slightly bassy, hence dark at times, but the midrange definitely pulled the line towards the warmer side of things. One thing for sure, it is not the subjectively 'balanced' sound of the Savant, nor does it share the same level of transparency of the Savanna or the same level of musicality of the Django, but it does take pieces and parts of the sound from those 3 units to create its own unique identity.
If you are looking for a well- controlled, but emphasised lower end response, then the X is definitely the IEM for you. For me, it is only second to the Dulce Bass in terms of bass quantity when compared to the entire spectrum. The bass come across full and rich, but words like boomy never crossed my mind. The sub-bass coming from the earpiece punch through the air with a precision and slam that is timed to near perfection, and when paired with superb bass extension, especially for the price, it lends for a wonderful experience when listening to my tracks that require great performance in the sub-bass to bring itself to life. This region is also the region that I found most detailed for the X, to ensure that you literally never miss a beat. People who appreciate bass both in superb quality and additional quantity would fall in love with the piece upon first listen, and a self-declared treble head like me still found it to have a bass presentation that brings out the best from my dance and techno related tracks.
The mids on the X is the region in which the sound is closest to neutral, with the overall mids being pushed just a touch forward. The mids, similar to the lower region, is rich yet it retains the familiar smoothness found on most if not all Noble products. It sometimes comes across as breathy to me, where upper mids response in an airy and organic manner, especially on instruments such as the trumpet and the saxophones. This make it more of a do-it-all in genres featuring mids as the focus, as it excels at creating a realistic voicing for the vocals and instruments found in jazz, but also performs excellently with old school pop due to its forward mids. In fact, the forward mids when paired with its well-mannered but lifted bass make it a highly qualified candidate for use as a main IEM if most of your listening revolves around mainstream pop and rock genres. Sibilance was minimal if any, which naturally let the smoothness to come through even more, thus allowing for some near fatigueless listening.
If I were to pick out what I regard as the biggest fault on the piece, it would be the treble presentation. It has probably the least treble energy within the Noble line. There seems to be a slight roll off at the top end that made the overall sound just a little veiled or muffled for me. This may have helped in rounding up the overall sonic signature of the piece, where a more tamed or even lowered treble would allow for a less U-shaped but a warmer sound from the X. It perhaps reminded me most of the old K10. The sound signature and the sound quality are absolutely different from one another, with the K10 miles ahead in terms of raw performance. Regardless, both suffered from the same issue, at least with a self-pronounced treble lover like me, that the more laid back presentation of both pieces did not fit my personal taste. Don't get me wrong, the treble is still decent, and would probably be detailed and cleared enough for most people, just not for me.
So, transparent it is not. It is definitely musical though. The cohesion found between the two drivers, as expected from a Noble design, along with a sense of speed and timing that I found wonderfully natural, will surely keep most people on their two feet while listening to their tunes. It doesn't have the deepest or the widest soundstage when compared to its competitors that are around the same price range, but it is good enough to ensure that the illusionary space between your ears, or the head stage if you will, for your music does not feel constricted or jammed. The imaging is perhaps no on par with best, but I feel that it might have been limited by its soundstage performance. I could still pick out the placement of each instrument and voice being played out, especially on live tracks, just not as accurately or easily as I would hope for.
An important thing that I want to point out is that the X does not need a great sounding player or desktop setup to sound good. Yes, it does scale, perhaps not to the same extent as the Katana or the K10 Encore, but I was already fairly impressed by the sound and the fact I was able to draw out most of its performance when listening to it directly through my mobile. Therefore, do not fear that you would need to invest in one of those fancy DAPs just to get the X to perform well.
COMPARISONS
For the comparisons below, I compared the X to my Earwerkz Supra-2 and my Echobox Audio Finder X1. In addition, I also made comparisons (to the best of my ability) with the Noble Audio Savant and the Noble Audio Sage, since most would be interested in this particular comparison as they all share a common point in which they are all two driver designs from Noble.
Noble Audio Savant + Noble Audio Sage
Before I start, let me clarify that as of writing, I do not own either of these two units, nor have I extensively listen to both of them, so please take my comments with a grain of salt. I have listened to both, spending more accumulative time with the Savant than the Sage, and am trying to pull out my sound memories to try my best to compare the 3. Do remember the Sage, and previously the Savant, are sold only through Noble and their dealers at a price of $599.
The X has the heaviest touch on the bass among the 3, followed by the Sage then the Savant. All 3 have similar if not the same bass performance but only differ from one another in terms of sheer bass quantity, with the Sage slightly better for me. The mids are a wash for me. I recall that the Sage might have the sweetest mids among the 3 but it is perhaps due to its overall tonal balance, which for the Sage is probably the one I would rank as the one closest to the 'ideal' warm line. The Savant would have the best treble among the 3, possibly again due to overall tonal balance, as the Savant has been often described as bright but I have found it to be the most 'balanced' among the 3. Soundstage and imaging is practically similar, maybe just a slight edge to the Sage based on memory. Musicality and engagement would favour the X or the Sage, at least for me. A choice between the 3 in terms of overall performance would be hard to make as I found all 3 to be almost similar. Just based on sound preference, I would probably prefer the Sage or the Savant over the X but considering potential budget requirements the X is absolutely the best choice in terms of performance to cost ratio.
It is important to remember however that the sound differences, if any, are slight but noticeable. The Sage and the Savant use different drivers, as Noble's proprietary driver was introduced into the Sage, and I suspect the X uses the same drivers as the Sage but has a different tuning. So, to summarise, my opinion about the 3 are:
Bass Quantity : X > Sage > Savant
Bass Quality : Sage > X ≈ Savant
Treble Quantity : X < Sage < Savant
Treble Quality : X < Sage < Savant
Mids Quality : X ≈ Sage ≈ Savant
Soundstage : X ≈ Sage ≈ Savant
Imaging : X ≈ Sage ≈ Savant
Musicality : X ≈ Sage > Savant

Earwerkz Supra -2
The Supra was the sole survivor of the massive overhaul of the product line-up when Earwerkz became Empire Ears some time ago. It was first sold (I believe, not sure if it was sold before this) as a Kickstarter project from Earwerkz, with prices ranging between $229 as an early bird backer and the final tier pricing of $299. You could argue that post Kickstarter, and under the current Empire Ears brand, the Supra-2 is actually a $429 unit, but do remember that the X has a MSRP of $499.99, and only available at its current price due to a bulk purchase discount. Hence, the price ranges are fairly similar for the two.
Considering only sonic performance, the two units have very different overall sound signatures. The X is a warm sounding unit bordering on dark while the Supra has a more mid-forward sound. The Supra to me is the more balanced of the two, although some people claim that it might be a little too bright for them. Bassheads will prefer the X from the two, as I felt the bass on the X had better punchiness and has more quantity to it, though I felt both had similarly detailed bass. The bass region is lifted on the X side while the Supra has bass that is closer to neutral between the two.
Mids play a central role in the Supra sound, and I felt that it delivered more detailed and euphonic sound than the X. It is less smooth than the X, possibly due to its more forward or aggressive (relatively) nature. When the top end was compared, I found the Supra to have a treble that is a touch north of neutral while the X is relatively subdued. The difference in treble quantity led to a reduction on what I would think is 'perceived detail', which tilt my preference towards how the treble is presented on the Supra. The soundstage is wider on the Supra but not deeper, and the imaging is a wash for me.
Overall, I prefer the sound of the Supra, but that's solely because it fits my taste better than the X. In terms of overall performance, I think the two are on par with each other, and there is no right or wrong decision when choosing between the two. So it's a case of which one is more fitting towards your taste of IEM sound.

Echobox Audio Finder X1
Comparing the prices of the X and the X1 is near impossible, as the X1 has been offered in so many different prices that it's hard to pin it down. It was initially sold as part of their crowd funding campaign on Indiegogo for prices as low as $79, and was then sold on their website for about $199, but don't quote me on that. Currently, with the impending release of the Nomad N1, Echobox's latest flagship IEM, it is currently sold at a price of $159 (as of the release of this review), so that would be the best benchmark for our comparison.
Before the comparisons, I would like to point out a few things. First of all, the cable configuration on the X1 allows for a person to wear it straight down whereas the X will only be practical when worn over the ear, but both were worn over the ear during comparisons. Secondly, the X1 applies a filter system that lets the user tweak and tinker its overall sound signature, so for this comparison, only the 'reference' filter was used. The cables on the X1 are non-detachable, so to make it a more even fight the X had to stick to its stock cable for a stock versus stock comparison. Both units were equipped with single flanged silicone tips that come with the product when compared. Finally, the X1 uses a dynamic driver design while the X uses a design based on balanced armature drivers, so there would be inherent differences in presentation.
With the reference filter, the X1 takes on a sound that is overall U-shaped, bordering on becoming V-shaped. The bass on the X has significantly deeper impact, better extension, and more detailed, at least to me. When the two units are compared, the X1 seems to have a hard time keeping up with the bass, making the timing and attack of the notes from the lower region sound less fluid. This is more of a case of high praise for the X and is not a shoot against the X1, as when listening to the X1 as a standalone, I found the X1 to perform well at the bass department.
The mids on the X1 are recessed, and surely less smooth than the one I found on the X. It is more sibilant, and thus I found it less enjoyable. The treble of the X1 felt strident and sharp, but only when I compared it to the X. The soundstage felt wider on the X, but have similar depth between the two, though in terms of imaging the X is leagues ahead for me.
Between the two, I would choose the X more often than not. The price difference is not insignificant, but I felt the higher price for the X is well justified, and without budget constrictions it would be my preferred choice. But if durability and longevity is a must, then the X1 may be your cup of tea as the whole unit is built like a tank, capped off with a well-rounded performance.
CONCLUSION
As I was applying my last touches to this review, I checked the orders on the current drop and almost 400 of the 510 units within the first few days of the drop, with about the unit still available for order (provided it doesn't run out) for another 11 days. That is just testament to how well received the X has been, that even the second drop is already about 80% sold out even at its early stages.
I am fairly certain that those who have recently pre-ordered, like those who had ordered in the first drop, will be pleased with what they will receive. The warm sound signature of the X will be to the liking of many people who are after all-rounding performers, especially those who are attempting their first step into a deeper part of this hobby. The X comes with a robust build, paired with the ability to deliver great sound even from your mobile, and packed with all the necessary accessories. This will rank up as one of the top recommendations from me for a person who wants to invest in a suitably priced, great performing contender.
It does not come flawless, but nothing ever has. The treble on this piece left something to be desired, and the soundstage and imaging, albeit decent, may not wow and impress everybody who listens to it. But the biggest problem I have, and probably the one issue that will plague everyone else's mind when they're deciding on the X, is availability. Based on the MD drop system, the X is basically available in seasons, and it's hard for a consumer to predict when the next drop will happen, if any. I would hope that MD will increase its availability through methods that can be agreed by both MD and Noble. Maybe, just maybe, MD could purchase a bigger bulk order, keep stock of the X and with Noble's blessing, sell them individually throughout the entire year. The X is simply too good in terms of value for money for it to be have an availability that is not definitive.
It is products such as these that remind me, as a reviewer, I can have my own bias and preferences when it comes to sonic taste, but I should never ever allow those things to cloud my judgement of a product. The X may not play directly into my preferred taste, but it is still a great sounding unit in its own right. So, if you have a fondness for modern pop and rock and wish to elevate your experience, or if you simply prefer a warmer sound from your gear, rank the X high above your wanted list. Better yet, log in or sign up at MD right now and join the second drop while you still can because if you don't act now, you're going to be miss out on a wonderful opportunity.
And you'll not know when your next chance will appear again.
Comments
There are no comments to display.