Item information
Added by
Views

25,084
Comments

1
Reviews

13
Last update
Rating

4.15 star(s)

13 ratings
Latest reviews
Pros
:
Fantastic details, very good transparency, plenty of air between instruments, very good stage size.
INTRO:-
Almost everyone is aware of the Brand Brainwavz. They are one of the most active and most popular brands in budget and mid range buyers. They have plenty of things in their inventory, starting from single DD priced to quad BA earphones to full size planar headphones priced in the range of $20 to $400.
The Brainwavz B200 calmly lies in the mid of their product list which has a price tag of $90 and comes in two colors Cosmic Black and Stay Frosty. It has two BA driver in tweeter and woofer configuration and is a revised version of the older B200 which lacked the newer models refined qualities and removable cables.
In the market which is getting flooded with new earphones in this price range every week, I have some of the competing earphones like the Simgot EN700pro, DT500 and the TFZ series 4 for comparison.
You can get one for yourself from here.
https://www.brainwavzaudio.com/collections/earphones/products/b200-dual-balanced-armature-earphones
ACCESSORIES & PACKAGING:-
The B200 comes with their signature black and red long earphone carry case, the newer packaging too looks more premium and classy compared to the older B200. The set of accessories is exactly same except the removable mmcx cable.
There are 6 pairs of rubber tips, one pair of comply T-100 tip, a cable clip, Velcro cable tie, and few documentation completes the list of accessories.
BUILD QUALITY & ERGONOMICS:-
I never had any problem with the build quality of any of the Brainwavz earphones, and the Bxxx series being their flagship range are some of the most ergonomic earphones in their price ranges. The newer version has 3D printed shells and are as comfortable as the older version. The size of the earpieces are fairly small the fit is very snug.
The all plastic build looks fairly strong and is very light weight. The nozzle is longer than most and is one of the most secure fitting earphones as it gets nicely deep into the ear. There is a vents on the shell, maybe to keep the pressure in control. Keep in mind that BA based earphones don't need vents.
The B200 seals very well, one of the best to be precise.
CAUTION:-
don't use earphones where you have to be aware of your surroundings like driving and walking on the road, stay home and enjoy your music or at gym.
CABLE:-
In their words:-
"The Brainwavz B200 use the industry standard MMCX cables.
Detachable cables extend product life span, allow for additional features and creates a truly custom product experience."
The newer cable is very similar to the older version, thankfully the newer one has removable cables and swapping the cables with something aftermarket is now possible.
The cable is internally braided with a layer of rubber coating on it. it does have some bouncy characteristics and is on the stiffer side of the spectrum when compared to cables which comes with earphones in this price range. It retains the exact 45degee jack, Y splitter and even the cable guides, but thankfully it terminates at the MMCX port. The cable guides are fairly comfortable.
SOUND QUALITY:-
In their words:-
"The B200 plays host to some of the finest drivers around, and tuned to produce a balanced and accurate sound signature, with little to no colouring, hear the music as the artist intended.

Brainwavz unique 3D modelling and printing allows us to create a unique system that lets the the Balanced Armatures perform above and beyond expectations."
The brainwavz B200 has flatter and more detailed tuning compared to the older version. The bass doesn't have the boomyness to it and the treble has fantastic reach and energy for the price.
The newer version has better balance across the spectrum. Unlike the Oder version, the newer one has little to no coloration. The tonality is not exactly neutral, there is some brightness to it.
Burned for more than 100hrs, I am using the Plenue R and D for this review, the B200 doesn't need much power and can be driven out of mobile devices but some devices like my Galaxy A7 exhibits huge amount of background noise. I advice to use it with an aptly powerful DAP.
TECHNICALITY AND MATCHABILITY:-
The Brainwavz B200 has a nominal impedance of 30ohm but it is not exactly mobile device friendly, the twins inside are like, no no no.. this thing we don't like, bring us something DAP like. It has a sizeable amount hiss and distortion with some under powered mobile devices.
The 110db sensitivity helps the B200 to get very loud. So the thing is, match ability of the B200 depends on your device, it does perfectly fine with the Galaxy Note 8 but not with low ringers.
BASS:-
The B200 has a typical BA type bass, powered by a single BA, its does have better like and thump compared to The legendary ER-4P but earphones like klipsch X10 have slightly bigger presence. Nothing close to what single DD bass monsters like King pro and dynamically driven BGVP DMG can deliver with their bass body and impact size.
The B200 triumphs those bass heavy earphones with better details and accuracy. What B200 have is very good sub-bass reach and rumble, for a BA based earphone in this price range, it has one of the best bass extension along with the Earnine EN210. The mid-bass is not as forward as the sub-bass but gives the bass notes the required amount of body. There is good amount of slam when called upon and it moves nice amount of air when. I cannot call the bass full bodied but it's not lean. The upper bass lacks a bit of forwardness and lies flat on its back.
The decay speed of the B200 gives the bass notes a very accurate presentation, its slightly slower than the flatter ones and considerably faster than bassier ones. There is very good amount of details
What is really interesting is that this B200's bass is like the Fibae 3 bass on budget, very similar, the Fibae 3 has better body and rumble and tonal accuracy but the B200 has faster decay.
Those who are looking for a bass heavy signature will find the B200 lacking.
MID RANGE :-
The first thing that catches the attention of the listener is the mid range, it is very accurate and transparency along with level of details is class leading. Level of details too is something I had not seen in this price range. The mid range is more forward compared to the bass region, giving it the driving seat. The whole mid range maintains very good amount of energy. The overall tonality is on the metallic side.
The Transition from upper bass to lower mid is nearly flawless. There is a little dip in energy nearer to the bass side, nothing anyone can hold against any earphone under $300, let alone at this price range.
The Mid-range of the B200 has very good clarity and transparency. The tonality and polished notes presentation pulls the B200 ahead of the competition. There are many chi-fi earphones who lack refinement, resolution, presentation, evenness with density and tonal balance the B200 can achieve. They tend to be unrefined and either edgy or sibilant.
The forwardness of the mid range makes both female and male vocals sound very clear and lively. The tonality of female vocals is very good, the male vocal sound a bit sharper than required.
Instruments have very good amount of transparency and details to them, they have fantastic amount of sharpness to them. Upper mid range is nicely balanced with the vocals and rest of the mid range with good accuracy. There is no sibilance to worry about but some tracks might induce some upper mid peak.
Level of layering and separation is class leading thanks to the bigger than most stage size in this price range. The stage has more depth than width and height.
HIGHS:-
Transition from upper mid to lower treble is very good. The amount of energy in this transition region is nicely maintained. There is little to no reduction of energy when compared to the mid range.
The B200 has one of the most lively highs for the price range, there is plenty of spark to it with very good amount of energy until the end. The extension is one of the best if not the best. There is no edginess or unwanted smoothening to the notes sharpness.
The level of transparency and clarity is class leading. There is a bit more energy than needed but there is nothing to worry about. Sibilance is just kept out of the equation. The extension is exceptional, the last one I had seen with this type of extension in this price range was the hifiman RE-400.
Just like the mid range, layering and separation is very good, there is plenty of air between instruments and the bigger stage size helps with instrumental placement.
COMPARISON:-
VS Simgot EN700pro, TFZ Series 4, Ostry KC09 and Final F3100:-
VS the old Version:-
The older version had slightly bigger but slower bass, lacks some details, was not this transparent and lacked a bit of air. The stage size was more cylindrical, the newer version is equally deep with more rounded width and height. The treble extension was not deep enough.
In other words, the newer version is an improvement to the older version in every aspect.
CONCLUSION:-
The B200 is fantastic for the price. It is immensely capable. It has one of the best transparency and resolution for a $100 earphone and the level of details is the best. There is little to no fault in the SQ of the B200. The stage size is very good. The only thing which holds the B200 a little back is the slightly metallic vocal tonality (mostly because I was listening to some $1000+ earphones before this, which are better with tonality, obviously).
The B200 is so good that I can tell you, those who bought a Fiio F9 will find the B200 doing far better than it in every aspect, nothing the Fiio F9 does better than the B200, not a single thing.
If you are in the market looking for an earphone under $100 which deliver at every front, the B200 fits the bill. It might lack some bass but it still has enough.
It is very difficult to find a better sounding earphone for $100.
Pros
:
Lot of clarity, detail, and texture to go around - Comfort and ergonomics - Well-isolating - Great accessory kit
Cons
:
Not a particularly versatile tune - Bland visual appeal - Slender nozzles; be careful changing tips so as not to snap them off
Greetings,
Today we're checking out the B200 from Brainwavz.
The B200 was originally released early 2017 alongside the B100 and B150. What set the B200 apart from it's more budget friendly brethren was the use of two balanced armatures per side in the vein of the B2, a legacy model in the Brainwavz lineup that found quite the following.
2018 saw the B200 receiving a pretty hefty update. Gone were the shells shared with the B100 and B150. That was replaced by a 3D printed unit very similar to the design and shape used for the successful B400. Fixed cables were also made a thing of the past with the B200 now featuring MMCX equipped removable cables.
How does the current generation B200 perform. Let's take a closer look!
Disclaimer:
A thank you to Marlon with Brainwavz for sending over a sample of the B200 for review. The thoughts within this review are my own opinions based on time listening to and using the product and do not represent Brainwavz or any other entity. At the time of writing, the B200 was retailing for 119.50 USD. You can check it out here:
https://www.brainwavzaudio.com/products/b200-dual-balanced-armature-earphones
Sources:
The B200 was generally used straight out of a Shanling M0 on low gain. It's not particularly challenging to get up to volume and the M0's warmth paired nicely with the B200's lean neutrality. It was also used with my TEAC HA-501 desktop amp on low to mid damping with the M0 or a ZiShan DSD playing source duty. The B200 doesn't hiss when paired with a more powerful source which is welcome.
Personal Preferences:
I listen primarily to various EDM sub-genres (liquid drum and bass, breakbeat, drumstep, etc.), hip hop, and classic rock. My preferences for earphone tuning are quite relaxed and as such their is no one signature I look for. The HiFiMAN RE800, Brainwavz B400, and Massdrop x MeeAudio Planamic are examples of earphones with wildly varied signatures that are enjoyable for different reasons. I generally listen at very low volumes, so keep this in mind when perusing my thoughts on how an earphone sounds.
Specifications:
Driver: Dual balanced armature
Impedance: 30ohms
Sensitivity: 110db @ 1mW
Frequency Range: 12Hz - 22kHz
Packaging and Accessories:
I quite enjoy the packaging Brainwavz has created for their armature series. It has a very premium feel to it compared to much of the competition, partly because it shares a number of qualities with the packaging of the significantly more expensive HEM series of earphones from Optoma Nuforce. The cardboard has a nice texture and is dense and durable. It offers lots of protection for the contents inside so they're kept safe and sound until they get to you, the buyer.
On the front of the cream white exterior sheath in a clean, contrasting black font you find the usual Brainwavz branding and model information. In addition, there are notifications for the inclusion of Compy foam tips and Brainwavz's generous 24 month warranty. The sides of the sheath are completely blank while the back contains some trademark info, the Brainwavz logo, and a number of images to coincide with the contents.
Sliding off the sheath reveals a matte grey box with 'Brainwavz' pressed into the magnetically seal flap and '24 month warranty' pressed into the main panel. Flipping back the flap you find the inner left panels contain the Brainwavz mission statement and a short description of what the warranty covers. In the enclosure on the right you find one of Brainwavz's outstanding black and red elongated hard shell cases set within a foam insert, a spare cable tucked in beside it. Resting on top of the foam, surrounding the case, is a paper insert with a psychedelic colour scheme thanking you for your purchase. Within the case resides the B200 and accessories. In all you get:
B200 earphones
MMCX 3.5mm cable
MMCX mobile cable with inline control and microphone
Shirt clip
Velcro cable tie
Red Comply T-100 foam tips (m)
Single flange silicone tips (s/m/l x2)
Manual and 24 month warranty card
Overall a great accessory kit. You get a spare cable, one of the best cases in the business, quality ear tips, and some potentially useful little extras like the shirt clip and velcro strap. No complaints here. Plus, you can't argue with a 24 month warranty which shows that Brainwavz is confident in the quality of their products.
Build, Comfort, and Isolation:
Like other models in Brainwavz's armature lineup, the B200 features liquid resin 3D printing for their construction. The shape and design is quite similar to it's bigger brother, the B400, but shrunk down to something more suitable for a dual-driver. The printing quality is good with the two halves of the shell fitting together nicely and the MMCX ports smoothly integrated, though the cloudiness is a bit of a turn off. I also miss seeing the Brainwavz logo integrated into the face plate design. It all looks somewhat barren and overly simple. FiiO's recent release, the uber stylish FA1, is also 3D printed but unless you knew ahead of time it would be exceptionally difficult to tell just by looking at them. While I appreciate what Brainwavz is doing with the tech and give them huge kudos for being one of the first to start making retail-ready earphones with it, some additional refinement would go a long way towards improving the visual appeal. As is, I think the appeal is in function over form giving the B200 a very subtle appearance that does not draw attention.
The cables included with the B200 will be familiar to Brainwavz faithfuls. They feature multiple twisted strands coated by a tough, matte black sheath. While they tend to retain bends out of the box and are a bit springy, the cable materials used have shown me time and again that they are tough as nails. Plus, microphonics are pretty minimal, strain relief is prominent (less so on the mobile cable), and you get the same style of angled ear guides that were first introduced with the B100 and B150. I love the shape of these guides as they work very, very well. While the wire and sheath materials are the same between the two, the hardware is quite different. The standard cable has a rubber 45 degree angled jack with excellent strain relief, and a beefy rubber y-split that is equally well-relieved. Above it sits an effective chin cinch. The mobile cable adds in a metal three-button remote. The y-split and chin cinch are swapped out for more compact metal units, still with adequate strain relief. I'm glad they didn't omit the chin cinch, even if it can only raise as far as the inline control unit. The 45 degree angled jack becomes a small metal straight jack. Strain relief here is a bit short and stiff making me think it won't hold up as well long term as the 45 degree jack. Overall, both cables are quality items and welcome inclusions.
Due to the B200's light weight, small size, and low profile ergonomic design, this is one earphone I can't see too many having issues with. It tucks into the outer ear like it belongs there and ceases to exist while you enjoy your music. The tiny nozzle, 4mm at its widest and not ideal for tip rolling, does help the B200 with it's universal designation in that it should be suitable for ear canals of all shapes and sizes. Another nice perk is the location of the vent on the inside of the ear piece. Thanks to this and the sleek shell design, it doesn't pick up much wind noise making the B200 a nice companion when walking around outside on a windy day.
Like other models in the Brainwavz armature lineup, the B200 provides well above average isolation thanks to it's reasonable insertion depth, minimal and smartly placed ventilation, and form fitting shape. These are nice to wear in noisy areas, even more so with the included Comply foams installed. Chilling at my computer you hear only the highest pitched portion of a key stroke. In my local coffee shop and on my walks around the city, you hear only a dulled murmur from the activity going on around you. The only thing stopping the B200 from being an amazing travelling companion is the bass quantity which is more suited to the quiet of your home than the chaos of the outside world.
Sound:
Bass on the B200 is certainly not a focal point thanks to what is quite a reserved presentation. Playing a support role, it goes about it's job without ever overstepping boundaries. While some might call them anemic, I can't agree. Extension is just enough and they've got some solid mid-bass punch and overall speed. Running them with The Crystal Method's "Bound Too Long", a track that in the past I found reliant in a robust low end to fully enjoy, was a surprisingly complete experience. The B200's presentation certainly isn't ideal for bass heavy genres, but it can still hold its own thanks to its extension, speed, and impressive texturing.
The midrange is where the B200 is at its most impressive. Thanks to the reduced midbass the midrange runs lean, but that's the only criticism I can levy at it. The detail and clarity afforded by the B200s mids are intoxicating and impressively capable. The vocal presentation in particular is stellar. From the screams of Warlock's Doro on "East Meets Wesrt" to the soft, melodic crooning of Riya on Lenzman's "Open Page", female vocalists sound like they should. Male vocals work too, regardless of whether you're listening to Aesop Rock's relentless barrage on "Catacomb Kids" or Paul William's emotional discharge on Daft Punk's "Touch". Timbre is fairly accurate as well with instruments sounding mostly accurate, but a bit lighter than they should thanks to the lean note presentation.
Treble is extremely tight and well controlled with a clean, inoffensive presentation. Extension is fine with a smooth roll off and a fairly even emphasis between upper and lower regions, though the lower treble sees more of the spotlight. This gives the B200 an extremely detailed and airy presentation without it coming across overly analytic or bright. I like the snappy decay of cymbals and crispiness each hit displays. The treble really nails my personal preferences. Elevated just enough to give me the detail I want without stepping too far. It's not laid back, but not aggressive either.
The B200's sound stage gives off a pleasing sense of depth and width that I just don't hear often from armature-only iems. This seems to be something Brainwavz does better than most. Notes swirl off into the distance and multi-instrument tracks sound layered and well-separated. This presentation is fantastic and about as far from congested as it gets for this driver layout, at least of those I've tried.
The B200 is a pretty impressive performer. If it had the B400's low end emphasis it would probably be my favourite of the lineup. As is, if you value detail and clarity and a neutral bass presentation, the B200 unquestionably delivers.
Select Comparisons:
EarNine EN2J (267.00 USD):
Like the B200 the EN2J is a dual armature model, though the EN2J uses EarNiNE's own in-house designed drivers. The EN2J is a brighter, more precise sounding earphone that is quite analytic. Like the B200 it is light on bass. The EN2J is more textured but lacks the extension and as such doesn't offer much in the way of visceral feedback. The B200 doesn't offer a lot of that either, but it does better than the EN2J. The EN2J's mids are rife with clarity but not as timbre accurate giving vocals a dry tone that is characteristic of the EarNiNE drivers. I personally like the presentation quite a lot, but someone wanting a more realistic tone would be better served by the B200. Treble on the EN2J will be overwhelming to those sensitive to upper frequencies. If you aren't, you'll be rewarded with a level of clarity the B200 cannot match. It's tight and extra crisp and almost makes the B200 sound veiled, which it isn't. Sound stage on the EN2J is similarly large but it sets the listener closer to the action by default. This gives sounds a greater range of motion and more impressive imaging. Layering and separation are slightly better on the EN2J as well. While the EN2J is the better performer, for less than half the price the B200 more than holds it's own.
Where the two are somewhat comparable in terms of audio performance, the EN2J takes a few leaps forward with it's stainless steel build. Like the B200 it is low profile and isolates quite well. The EN2J's cable is not as dense and durable, but is much lighter and more flexible. I liked it enough to donate it to my Campfire Audio Polaris. It's an awesome cable but feels like it needs to be babied to survive. Brainwavz's cables need no such thing thanks to their tough sheaths and effective strain relief.
Havi B3 Pro I (discontinued):
The B3 Pro I is a classic example of budget neutral and has a legendary status in the Head-fi forums. Outside of the B200 being much easier to drive, it and the B3 are quite comparable in their style of tune. Light on bass with a luxurious mid-range and smooth, detailed treble. The B3 and it's twin dynamics have a larger sound stage, width in particular, but the B200 isn't too far behind and offers more depth to its presentation. B200's imaging is more precise and accurate with better separation. B200's treble is slightly more forward and it's overall presentation a bit more lean and cool. Seems tighter and more defined. I'm split on the low end. B200 is tighter and more punchy but the B3 Pro I provides more extension, though it isn't impressive on either. The B3's mid-range has a thicker note presentation with a warmer, more organic feel, but it isn't as crisp and clear.
Build isn't spectacular on either with the B3 suffering from cracked housings. It certainly looks more impressive with it's Sennheiser inspired design and Gorilla glass face plates. It's fixed, quad-core flat cable also looks snazzy but is subject to drying out and cracking over time. While the B200's 3D printed housings are somewhat uninspired looking and I doubt their ability to stand up to heavy abuse, Brainwavz offers a 24 month warranty and a solid repair service, something you never received with the now discontinued B3 Pro I. The cables are also replaceable. And they're far more form fitting and comfortable than the B3's housings.
Along with the Macaw RT-10, the B200 is one of the closest things I've come across to a proper replacement for the B3 Pro I. The RT-10 is closer in tone sharing the same, soft, slightly warm presentation as the B3, but it's not as capable on a technical level and is notably bassier. The B200 bests the B3 technically, but gives up warmth and note weight.
Final Thoughts:
Aiming for an "ideal" target tune is great and all, but when everyone is doing it you end up with a bunch of samey products that lack a unique identity. It's boring if I'm being frank. The B200 doesn't have that problem.
It has a niche tune that is not going to have wide appeal with your average consumer. Bass on the B200 is well-extended and nicely textured but very much downplayed in favour of the detailed mid and treble regions. To some that is a fatal flaw since it means the B200 isn't well-rounded. To others that specialization is exactly what they want. Neither party is right, but neither is wrong either. This is simply another flavour to choose from within the vast see of earphones available to us consumers, and choice is always a good thing. It breeds competition and innovation.
The rest of the package is nice too with Brainwavz's usual in-depth accessory kit. Their case is durable and spacious and the two cables are useful. Even the quality of the stock tips is good avoiding the need to replace them immediately. I hope to see some refinements to the printing process in future products making the frosty/clear models a more attractive, but as is the printing process does what it needs to do. Function over form as they say.
In the end, I think the B200 is a pretty good product. If a bass-lite sound is your jam, there aren't too many options at this price range, and fewer still that do it as well as the B200.
Thanks for reading!
- B9Scrambler
***** ***** ***** ***** *****​
Some Test Tunes:
Aesop Rock – The Impossible Kid (Album)
Hail Mary Mallon – Are You Going to Eat That? (Album)
King Crimson – Lark's Tongues in Aspic (Album)
King Crimson – Starless and Bible Black (Track)
Supertramp – Crime of the Century (Album)
Infected Mushroom – Legend of the Black Shawarma (Album)
Gorillaz – Plastic Beach (Album)
Massive Attack – Mezzanine (Album)
Fleetwood Mac – Rumors (Album)
Run the Jewels – Run the Jewels (Album)
The Prodigy – The Day is My Enemy (Album)
Tobacco – F****d Up Friends (Album)
Felt – Felt 2 (A Tribute to Lisa Bonet) (Album)
Michael Jackson – Thriller (Album)
The Crystal Method – Grace (feat. LeAnn Rimes) (Track)
Jidenna – Long Live the Chief (Track)
Skrillex – Ragga Bomb (Track)
Big Grams – Run for Your Life (Track)
Funkadelic – Maggot Brain (Track)
Aesop Rock – Fishtales (Track)
Pros
:
Balanced tuning, impressive vocal, treble sparkle, clarity, easy to drive, very comfortable, generous accessories
Cons
:
Lower end weakness, can have difficulty to deal with complex music, not a good all arounder, sensible to audio source pairing
BRAINWAVZ B200 (late) REVIEW:




SOUND: 8/10
CONSTRUCTION: 8/10
DESIGN: 8/10
VALUE: 8/10

INTRODUCTION :
Brainwavz lauch 3 new universal customs earphones since 2018, the last on the list is a single BA name the KOEL. With the B200m we have a dual BA's Brainwavz describe as ''not coloured', and leading to a neutral sound presentation. I can already comfirm that this is mostly the case, and that for a dual BA's the B200 cover a very wide range of frequencies, never sounding dull even if bass light.
As well, Brainwavz are quite pround of there new 3D print machine, and for good reason, as it can create very organicaly shaped housing that offer next level of comfort, and unlike the B400 being slightly big but still very comfy, the B200 is so small that you will be able to keep it all day as well as all night sleeping with them.
AT 100$, this dual BA's enter a price range with lot of competitors, so can it keep up with the competition and represent a good value? Let's see if it do in this review.
Disclaimer (whatever) : I contact Brainwavz to know if they would be interested I review this because of my eternal quest to find the best sub-100$ budget earphones. I'm happy they send me this sample free of charge even if I underline the fact that I'm an independant reviewer that share is NO BS toughs. I'm not a promoting agent for Brainwavz and I buy other earphones from them in the past.
SPECS & Features :
- 3D Printed ergonomic housing
- Detachable MMCX Cables
- Balanced audiophile grade sound
- Dual balanced armature, tweeter & woofer configuration
- Ergonomic over the ear design for comfortable fit.
Drivers :
Dual Balanced Armature
Rated Impedance : 30Ω


Frequency Range : 12 Hz ~ 22 kHz


Sensitivity : 110 dB at 1 mW


Detachable cable : Yes, MMCX Type


Plug : 3.5 mm, Gold plated





CONSTRUCTION, DESIGN & ACCESSORIES :
When Unboxing the B200, you know this is a serious audio products you have. The presentation is really nice as it come in an elegant grey box that you don't wanna put in garbage after. AT 100$ this type of products presentation is very rare, and appreciate.
In this intriguing grey box we have a good lot of accessories, wich will impress the humble consumer. We have a nice quality protective case, good lot of eartips including foam tips, and more importantly 2 mmxc cable-one with mic and other being standard. Again, all look of standard irreprochable quality.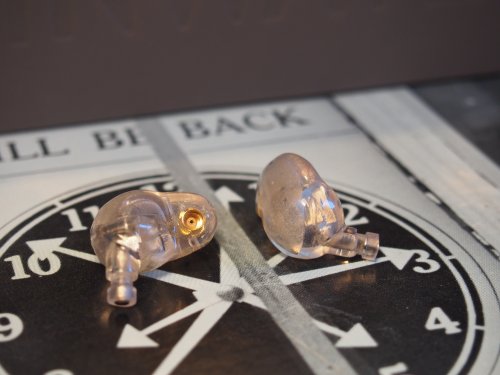 Now, about the B200 housing, first thing is how VERY small they are for a 2BA's, wich explain too the level of comfort we get. The resin plastic is very slippy and will fit perfectly any ears. The nozzle is very thin and nozzle hole is so little, like 3mm in circumference, that I wonder how sund can go out of such a little hole . As well, the 3D resin printing make the housing trasparent at some place and opaque at other, for esthetical aspect thats a little disapointing because they would be so more beautifull if all perfectly translucide. MMCX connection is well implemented in housing and will must likely never break. So, about durability i'm not that worry, perhaps the plastic can crack if beaten up, can't tell for now.
As said, these are slippy iem, because the form design have an organic shape, wich is perfect for comfort and fitting, but can make connecting MMCX cable a little clumsy….but this is not really an issue. Just don't change mmcx cable in front of a grinder or alligator.
SOUND:
OVERALL Sound impressions will really depend on music style, as well as music source because the B200 are very sensible to too powerfull or noise source, these are delicate sounding earphones that need special care. What impress me at first listen with these is how airy and mid centric they sound, when signer is either alone, with a piano or acoustic intruments, the voice have a wonderfull presence that really take your attention and impress by its level of details without sibilance. Solo soprano signer was really what impress me the most, as if I was in the very church she sign, the voice expending greatly in a hall like soundstage. Solo instrument like violin or harpsichord are real delight too, but, when I try bassy music my happy face turn to yucky face because of messed up crosstalk, and distorted transient response. So, i decide to put low gain and lower volume of my Xduoo X20 to see if there any change and yes, it solve the distortion issue, but do not make the bass sounding marvelous, just okay. Anyway, here, the tuning is really about mids and treble, wich are fantastic and give plenty of presence and highs sparkle and brillance, with an admirable naturalness to it. So I really think the B200 are targeted for classical, acoustic instrumental and folk (or guitar, piano accompanied) singnersongwriter, for any beat driven music, they should be avoided.
AMPING is not suggested at ALL, I mean, B200 are very sensible to current (or sound source) distortion and the drivers can't handle too much of it. Even if high gain can open the mids even more, as soon as bass will appear, transient problem with lower ends and lower mids will occur. This would NOT happen with low gain. You really need to push the volume high before hearing any type of distortion. Anyway, don't use portable with the B200, it will hurt them and make them bleed.
SOUNDSTAGE is average wide but quite great in deepnest and tallness. It have an airy feel that is taken full advantage off with solo or not over crowded instrumental music. B200 have a circular hall like presentation, where the air can flow, for the better or the worst (as with too much instrument soundwave can mess up in all this background air).
SOUNDSIGNATURE is Mid centric, with extra focus on extended sparkly treble and slight soft mid bass push.
BASS is the weakest aspect of B200 and take a back seat under the mids without interfering with clarity. It have a roll off before 20hz, and a dry sub bass, the mid bass is better and have more body and punch, but still is on the soft side. Bass is really moe about timbre than impact with the B200, wich can do good to give enough body to cello or acoustic bass, but will feel underwhelming for punchy rock, beat driven electro, and well, its neither for basshead or hip hop lover for sure.
MIDS are simply breathtaking even if they do not lack air to breath at all! The presence is wide and immersive, the timbre is transparent but well detailed, its really the star of the show and take advantage of treble extension as well. They feel very realist and alive and not unnaturaly push fowards or overly bright, they have a kind of juicy musicality. Rarely I have been as impress by vocal, piano, cello or violin performance, there a sens of urgency to it that give attack and decay great grip, in the 500hz to 6khz range, Magic happen. But the magic tricks do not always work, especially when the soundstage is crowded in whole frequencies range, where we will hear more precisely upper mids instruments than lower mids, because there extra treble texture to upper range that can shadow a little rest of spectruc, when bass come in too, well, suddenly it became too warmed up. Anyway, as I am a big fan of chamber orchestra, this problem do not really happen and it sound really lively and marvelous.
TREBLE is the other aspect of B200 that utterly impress me, its full of sparkle and brillance without near any harshness or violent peaks. The highs are very resolved and you will sure find secret microdetails in upper range wich is sharp like the razor of a talented barber that never hurt his beloved consumer. This type of treble give extra air to overall presentation as well as more grip to instruments and voice. The decay do not feel artificial as we can heard with harpsichord note that sound full of brillance and authority, with fast decay and realist presence. This again, make me in awe, and underline the fact B200 is a special contradictory earphones, it can sound phenomenal with some music and ackwards with other. Treble extension go so far, and were it emphased is so well tuned, that in fact the B200 will perhaps became my go to suggestion for instrumental music and chamber orchestra.
SCORES:

LOWER BASS: 6/10
MID BASS: 6.5/10
LOWER MIDS: 8/10
UPPER MIDS: 8.5/10
LOWER TREBLE: 9/10
MID TREBLE: 8.5/10
UPPER TREBLE: 7.5/10
SOUNDSTAGE: 7.5/10
COMPARAISONS:
VS GT600S :
B200 is more detailed and airy sounding, have more attack and decay in mids and highs and a wider-deeper soundstage. GT600S is warmer and bassier, especially in sub bass wich B200 lack dangerously, tough bass impact of GT600S bleed a little on lower mids, giving it extra body but less resolution. Being V shape inits ADN, GT600S will do better with electronic especially if lower end is very present, but separation will be less good as well as detailsand mircodetails. B200 will shine with acoustic, instrumental, jazz, folk, classical and signersongwriter and feel from another leaguein term of overall musicality, realism and layering. HIGHS and treble extension is sublime with the B200, while without being bad feel unbalanced with the GT600S. Anyway, because bass never distort with GT600S I feel its a better all arounder even if inferior in treble extension, if you only listen to isntrumental B200 are marvellous earphones that will certainly wow you with its timbre, attack and vast airy musicality.
CONSTRUCTION of GT600S metal housing is sturdier, neer invincible, B200 housing seem fragile compared to it even if more comfortable. Accessories of both products are god but B200 have 2 cables, one with mic and one without, while GT600S have only one.
VS Final Audio Design E4000 (150$) :
B200 have a wider around your head soundstage, with more decay, wich is a plus for not too complex tracks while a drawback for more complex due to extra echo and decay that can veil certain frequencies range especially in bass region and lower and middle mids.
E4000 in other hand feel overall better balanced and more agile in layering.
Bass of E4000 is more bodied, especially in mid bass where the punch have more weight than the dryer hitting of B200, sub bass of B200 have some roll off begining around 100hz that make it feel tinner than the E4000 even it have a bump to compensate lack of weight. This make E4000 more natural and realist in lower end without the need of any treble push, its lively and make it for better rounded up presence. B200 feel mid centric compared to more neutral E4000, and have upper mids fowardness give extra presence to violin or vocal, but not to piano note that lack weight, another time, the mids of E4000 are more realist and have better attack and body in a tigher more intimate presentation, between 2-8khz we can easily separate each instrument that play in this range, while it will be more messy and veiled with B200 mixing.
Highs have more emphasis with the B200, but do not give more details, tough you will have more sparkle and decay and better feel of air with certain music style like solo harpsichord, classical guitar or folk signer. Talking about harpsichord, even if the strings plucking sound less full in attack timbre, but the decay will give extra liveness to the instrument wich is quite delicious in fact even if I would have like better weight in attack. As well, it most be noted that B200 can sometime create little distortion when too much different instrument are mix togheter, like bass, electric guitar, violin and voice….this will never happen with E4000 whatever you trow at it.
All in all, the E4000 is more neutral and agile with less emphasis on mids and vocal, while the E200 is more airy and less bassy and is less a great all arounder than the masterfully tuned E4000.
VS TinAudio T2 :
Soundstage is deeper with the B200 and have a clearer more transparent layering, where the T2 is more about widness.
T2 have way more sub bass presence as well as more mid bass body, while the B200 feel anemic in this region, with fowards dry mid bass punch. Bass of T2 is slower tough, and can warm the lower mids more than B200.
MIDS make the B200 fell more balanced because they are more controled and less coloured in upper range, where the T2 can have some harshness in this region, B200 doest and sound more natural in tone and timbre. T2 have more thickness to the vocal but less transparency, and can hollow other instrument more easily, so the B200 are more agile and well layered.
TREBLE is more emphased in lower region with a mid treble peak, while the B200 feell more extended and linear, giving more air and sparkle to highs. B200 are more resolved and will not hide any details in this region, while the T2 will focus on specific microdetails.
For construction, even at 50$, the T2 feel more sturdy and esthetically pleasant than resin plastic B200, cable included with T2 is beautiflull twisted SPC but we have 2 cable with the B200 (of lower quality).
All in all, the T2 is a better all arounder even if B200 is more balanced and will sure surpass it with instrumental music.
CONCLUSION :
The Brainwavz B200 is generous in mids and treble tuning as well as accessories, little less generous with bass, wich in fact is a good change from too coloured sounding iem we can find nowadays.
For 100$, you get a well tuned iem that deliver lush immersive vocal in an above average soundstage, level layering and details is as well quite impressive for this price range. If you listen to mostly bass light music, I think the B200 is a stellar contender for 100$, but if you listen to electronic or bassy music, you should look elsewhere.
Brainwavz get more and more serious with there iem offering and have a bright promising futur if they continue to create such good sounding iem that put to shame most other chi-fi audio engineer in term of tuning capabilities.