Item information
Added by
Views

30,495
Watchers

3
Reviews

12
Last update
Rating

4.58 star(s)

12 ratings
General Information
an excellent DAC/AMP combo
Latest reviews
Pros
:
Variety of input and output options, superb build quality, fantastic sound quality, flexibility in terms of use (music or gaming), single ended and balanced output.
Cons
:
Power button at the back, no included remote, top of case is curved therefore not easy to stack

Aune S6
A complete and Balanced Package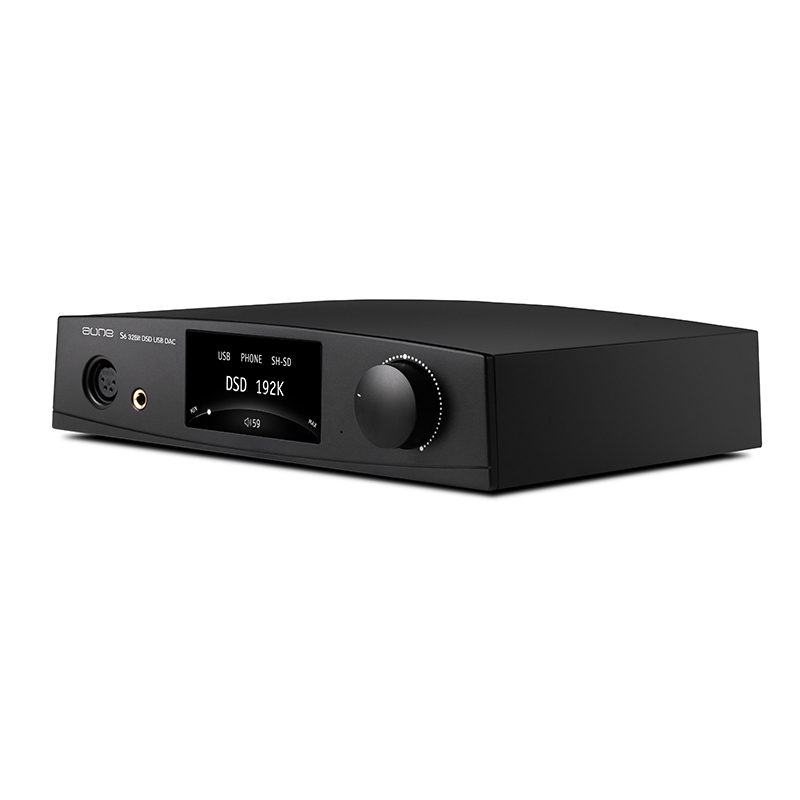 ​
DISCLAIMER
Before I begin this review, I would like to thank Shelly from Aune audio who made this review possible, and for her help and patience during the review period.

The Aune S6 is a long term loaner unit provided in exchange for my honest and unbiased opinion. These thoughts and opinions are mine and mine alone and I reserve the right to change my opinion as time goes on. These are my personal findings and should be taken as such.


INTRODUCTION
Aune is a brand that I have come across on head-fi on many an occasion, especially when it came to DAPs and Amp/DACs. They have developed a stellar reputation for producing high quality devices that perform at a tier above most other brands.

This is what their website had to say:

Superb Sound of Aune

As Ao Lai Er Technology's high quality HiFi brand, Aune has been devoted to developing and producing desktop, portable and car audio products. Founded in the year of 2004, Ao Lai Er owns the largest Chinese audio technology website - HIFIDIY.NET and high end audio brand TITANS. HIFIDIY.NET has 700 thousand members. It's always been a platform for the most advanced HiFi technology communications and practice. We gained lots of experience from the long-term accumulation, and have released hundreds of kits and parts from independent R&D, which are well received around the world! Aune team is a group of audiophiles who only pursue the best. We use our products in daily life and we love each and every one of them! Superb sound is Aune's goal; great user experience and satisfaction is what Aune pursues. We are striving to make Aune one of the world's famous audio brands in the future!​

So when an opportunity to review and check out the Aune S6 presented itself, I jumped in head first. This is a long term review and I have put the device through its paces and then some.

Truth be told, having tried many a device that tends to eschew on the portable side of things, I was curious to see how a desktop class device would fare for my setup. And of course, how it performs! Let's take a gander shall we?


ABOUT ME
Before I get into the nitty gritty of things, I want to provide a little background information in the hopes that it can help put my views in perspective and provide some context for the content of this review.

[size=14.949999809265137px]
Music has always been a huge part of my life, whether it was performing music on stage with my band or more recently, involving myself in this masochistic wonderful hobby of ours. I have always enjoyed listening to music but I haven't always paid attention to the quality of headphones because I was perfectly content with included cellphone earphones or cheap earbuds from department stores. Ignorance is bliss right? This however all changed when I came across head-fi one day, and that's when things started to go downhill (for my wallet that is
). It is all too easy to underestimate how large an impact a good pair of headphones can have in the enjoyment of your favorite songs.
[/size]
[size=14.949999809265137px] [/size]
[size=14.949999809265137px]
After getting my first pair of good headphones, I had felt as if an entirely new world has opened up to me musically and I found myself rediscovering music that I have listened to for many years.
[/size]
[size=14.949999809265137px] [/size]
[size=14.949999809265137px]
When it comes to musical taste, I can't say that I have any specific genre that is my absolute favorite, as I like a little bit of everything. But if I had to be specify, I would say that I love mainstream and Pop music and I consider myself to be an average joe in that regard. That is the approach I will be taking in reviewing gear, for people like me who aren't all that technical and are not audiophiles in the classical sense.
[/size]
[size=14.949999809265137px] [/size]
[size=14.949999809265137px]
I mostly stream music from the Internet using services such as Spotify and Youtube and like millions of other people, my laptop and cellphone serves as my main media players.
[/size]
SOFTWARE
As with most audio devices these days, the Aune S6 was strictly plug and play on my MacBook Pro. On windows 10, the computer automatically downloaded drivers and it was smooth sailing since. I did not experience any problems in this regard on either operating systems.


SPECIFICATIONS
​
As you can see the S6 has been outfitted with enough output and input options to whet even the most ardent audiophile's appetite. In my case, I primarily used the USB digital in from my MAC and PC, and optical input from my gaming console.

On occasion I use the RCA line out to my solid state amps and the balanced out to my balanced tube amp. But most of the time I use the balanced and the single ended headphone out. Sometimes less is more, and I am a firm believer of the K.I.S.S philosophy (Keep It Simple Stupid).

The S6 can also output to speakers but I was not able to test this feature as I do not have any computer speakers.


HARDWARE
​

It should be noted that I received the S6 in non-retail packaging so I won't be able to comment on the retail side of things. All the same, the box came with the necessary cables, including a power cable and USB Type A cable. A driver CD was also included. The S6 is available in both Silver and Black.

Now about the device itself: It looks and feels professional and sturdy, with a mean metal exterior that in all honesty would not at all look out of place in Darth Vader's Audio setup. He probably has an amp/dac built into his helmet but I digress.



The front display panel is bright and easy to read and displays only the pertinent information such as volume level and input method and headphone vs line out among other things. The Line out volume can be adjusted with the aid of the knob.

​

The knob has no end point and will continue to rotate freely. So if you need to change volume quickly, such as during a gaming session, just give the knob a whirl. There is enough resistance that it will not haphazardly change volume levels. The volume change is linear and smooth and there is no chance of accidental volume spikes, which is important when using sensitive IEMS.

I was not able to hear any hissing or background noises when using the S6 with my headphones, everything from sensitive in ear monitors to hard to drive open back headphones.


SOUND
The S6 can be quiet enough to use with in ear monitors and at the same time,it has enough power to comfortably drive my Sennheiser HD600 and HD650. And if you ever need more power, feel free to use line out to an amp of your choice. I sometimes run it with the VE RunABOUT 2.0 and xDuoo TA-20 balanced tube amplifier.

As I touched upon earlier, the Aune S6 sports both a single ended and a balanced ended headphone out. Now people will argue all day long whether balanced truly makes a difference. In the case of the S6, I was able to hear a difference between the two headphone outs. Whether this difference will be an improvement or not will depend completely on you. In my case, I prefer the airier and more open sound of the balanced output. YMMV in this regard. Please put down the pitchforks lol.

​

Personally, I love running the HD600 balanced from the Aune S6! Again, to my giant ears the balanced output sounds more open and less congested. But the single ended headphone out is no slouch and all my headphones sound just wonderful when using the Aune S6. Given that most of my headphones are terminated single ended, this port gets the most use, and suffice to say I am quite pleased with the output.

When it comes to the sound, I am reluctant to talk too much about DAC performance as it's hard to describe. After All if it is doing its job well then it should be neutral and add no strong flavor of its own. And the sound often will depend on which headphone you are using so talking about the DAC seems like a moot point.

To my ears, the S6 sounds quite close to neutral, and does not sound analytical at all. It has a natural and engaging sound signature that makes it a blast to use for all applications, including music listening.

Regardless of the headphone being used, the sound was always clear, pristine and detailed with great positional cues. It sounds natural and makes a fantastic match for open back headphones like the HD650 and HD600. It sounded great with all genres of music and did not have any particular weakness that I could readily identify.

​

The best thing about the S6 is how easy it is to use. Plug and play and turns on instantly, allowing you to enjoy music without any hassle. It's sound is so soothing and pleasing that I often find myself lost in music, not caring about the analysis or pontification - it's sound signature has that effect on me. I


USAGE
Since I began my journey in this hobby in 2015, I have always turned to portable devices for my audio needs, even for my desktop needs. Since the Aune S6 has been in my posession, it has surprisingly supplanted all my other devices, quickly becoming the center piece that manages audio for my computers (PC/MAC) and gaming console (Playstation). The S6 is basically the audio equivalent of the swiss army knife.

The Aune S6 gets hours upon hours of use on a daily basis, whether I am working on my computer, or gaming on my computer or console. I have basically stopped using my other devices and I can say with a great deal of confidence that the S6 stopped my upgraditis dead in its tracks.

I find the S6 to be so easy to use, while being incredibly capable and feature filled that I almost never feel the need to reach for my DACs, all of whom are sitting in a box gathering dust. Whenever I am in the mood for a different flavour of sound, I use line out to an external amp, with my favourites being the Venture Electronics RunABOUT 1.0 and 2.0. All of this more have kept me satisfied and happy since I received the device.

I would like to highlight gaming performance - the S6 positively shines in this area! I typically enjoy first person shooters, and I find that the S6 with its detailed sound and accurate sound cues make playing games like Call of Duty and Battlefield an absolute blast. In fact, I daresay it gives you a leg up over others.

All of this makes for a complete package that I feel is worth it's asking price and more.


SUMMARY
My view on what makes a good headphone or even a good device has changed a great deal since starting in this hobby. It used to be that newer was better, more is better or louder is better. But I assure that is not at all the case

The S6 might not be the most recent, nor the shiniest device on the black, but I feel it is a complete package that is worth its asking price and more.

From a hardware perspective, the Aune S6 has a great build quality, along with a stealthy professional design ensuring that it will feel at home with any setup. It has a myriad of inputs and outputs ensuring great flexibility.

Most importantly, it sounds fantastic for almost any application. It can take care of all our audio needs, whether you are listening through iems, headphones or even speakers. It has the potential to put your audio demons to bed and get down to what actually matters….enjoying audio!

I am absolutely smitten by the S6 and it is most definitely a Keeper. If my unit were to be stolen or be struck by lightning (can't think of any other way this thing might die on the account of being built like a tank), you can bet your crayons that I will be buying a unit right away!

Pros
:
Great output power
Refined DAC with no harshness
Variabile output
Digital volume control
Introduction
First of all, I would like to thank Aune (@AuneAudio) for giving me the opportunity to review their unit.
This is the link to the relevant head-fi thread:
https://www.head-fi.org/threads/fin...dsd-128-dac-amp-worldwide-review-tour.830399/
.
I would like to mention that I am not affilitated to the Aune company in any way.
Associated Equipment, including Hardware and Software
Not a lot changed after the Aune X1S review. Anyway, these are my setups.

At Home
Hardware
Dedicated Mini PC with Intel Atom D510 1.66GHz (dual core, Hyper Threading)
Hardware: Supermicro X7SPA-H mainboard
Hardware: Linear PSU from italian brand ZetaGi (set @12V)
Hardware: 1x1GB + 1x2GB RAM
Software: Currently running Ubuntu Server 16.04, 64bit, Generic Kernel
Software: MPD (Music Player Daemon -
http://www.musicpd.org
)
Software: UPMPDCli (Upnp Renderer plugin for MPD -
http://www.lesbonscomptes.com/upmpdcli/upmpdcli.html
)
Gear
Schiit Wyrd
Gustard U12 USB Interface
Gustard X12 DAC
Gustard H10 Headphone AMP
Yulong D200 DAC / Headphone AMP
Aune X1S DAC / Headphone AMP with its own XP1 linear power supply
Additional software
Linux Mint 18.2 'Cinnamon' desktop PC, used to run GMPC/Cantata as MPD clients and Upplay as UpNP control point
BubbleUpNP on Android as UpNP control point
Another Debian-based Linux box is dedicated to file sharing (via Samba and via MinimServer, a UpNP server)
Cables
USB Cables: Audioquest Cinnamon 0.75m
HDMI Cable (I2S), used for the comparison with Gustard U12/X12/H10: Ricable HDMI Supreme F1
Balanced Cables, used for the comparison with Gustard U12/X12/H10: Neo By Oyaide D+ XLR
RCA Cables: Wireworld, Amazon Basics
Headphones and Speakers
Headphones:
Sennheiser HD800 (stock cable)
Sennheiser HD650 (with additional XLR cable)
Sennheiser Momentum On Ear
Denon AH1001
Yamaha HP-3 (Orthodynamic, modded)​
Speakers Amplifier
PopPulse T150​
Speakers
Q Acoustics Concept 20​
I have connected the Aune S6 to my dedicated PC via USB. Also, I have tried a AudioPhonics 5v LPS for USB power, with pleasant results. Not every DAC benefits from a dedicated LPS, because not every DAC draws power from the USB host. This one does. It seems to me the dedicated LPS can improve performances. I did not do any specific measurements, but what I can tell is that I have experienced in the past how a noisy usb power can harm the functionality of a DAC.
I also would like to mention tha, as usual, no drivers are needed on Linux.
In case someone wants to connect the S6 to a linux os, please note the name of the device is "DAC".
I tend to use upsampling with sox on mpd, tipically to 352.8kHz and 384kHz.
At the Office
Same old Linux PC with Intel Core2Quad Q6600 @office, also used with MPD (Music Player Daemon - http://www.musicpd.org), sox, upmpdcli, upplay.
Headphones: Sennheiser HD650 with a balanced cable.
The Listening
I listened as much music as I could in the limited time available. Here are the albums I'd like to specifically mention:
Dire Straits - Brothers in Arms
Miles Davis - Kind Of Blue (from HDTracks, stereo version)
Metallica - The Black Album
Eric Clapton - Unplugged
Please not that I did not listen to the HD800 with the S6 in balanced mode as I do not have a cable yet.
Impressions
Deeper (but not bloated) bass
Lots of power (this kind of explains previous bullet)
No harshness to my ears, at least after 2-3 hours of listening.
Be prepared for 2-3 hours of not-so-exciting listening time, so I would advice to allow some burn-in time when possible.
The listening has been very pleasant. I enjoyed the bass definition, which probably comes from a great reverse of power.
Also, the mids have always been good and I never heard any harshness on the highest frequencies.
My only complaint is I could not properly test this dac/amp with the HD800 in balanced mode. I hope I will be able to fill this gap soon.
Comparisons
I have compared the S6 against the following two setups:
The Aune X1S
The Gustard U12/X12/H10 stack
Both the X12 and the X1S use ESS chips. The X12 adopts the 9018, while the X1S adopts the mobile version 9018k2m.
The Aune S6 adopts a DAC chip from a different brand: the AKM AK4495 from Asahi Kasei.
Detailed specs of the S6 are available on the aforementioned Aune forum post. As I have done with previous reviews, in order to avoid mistakes and misunderstanding, I prefer not to duplicate technical specifications here.
Against the Aune X1S
Quite easy to imagine, this is not a fair comparison. The S6 is superior in quite every aspect. This consideration is not in any way intended to be detrimental to the X1S.
Simply, these two products belong to different price ranges, and the different in audio quality is well audible. That said, I still own and enjoy the X1S in my setups.
Against the Gustard U12/X12/H10 stack
It has been very difficult to compare, especially because I feel using the HD800 with the single ended cable on the S6 would not have been fair.
I can say I have compared the HD650 single ended from the U12/X12/H10 against the HD650 balanced from the S6.
Despite a higher price, I feel the S6 can get very close to the Gustard Stack. We also need to consider the S6 is not burned-in as the Gustard stack is. Also, the H10 has been upgraded with Burson Supreme Op-Amps (both single and dual), for a great improvement.
Both of the setups rewarded me with very nice sound, with no harshness whatsoever, with great definition and great control. In terms of raw power, the S6 seems to have an advantage here.
Why would I want to buy it?
Because it's a very nice dac/amp, remarkably powerful, and because I want a balanced headphone out
It has a variable output so I can also think of connecting a speakers power amp (meaning, with no pre-amp section)
Final thoughts
I really liked the Aune S6 and I want to thank Aune again for the opportunity and the patience.
One thing that is IMO left to be desided by this unit is the lack of a I2S input. If you have a DDC like the Gustard U12 or the now very popular Singxer, you might want to use the I2S of such interface, but the S6 has no I2S input.
You can use the coax, aes/ebu or the opt input, but those kind of connections are limited to 192kHz max (this happens on almost all DACs I know of, with the notable exception of some Chord DACs).
Of course this is not a showstopper: the usb input is really fine, and can be improved with dedicated LPS as well as with some "jitter eliminator" devices, like, for example, the Schiit Wyrd.
Another minor glitch IMO is that you do not have the option to output to headphone and line outputs at the same time. However, I understand why it is designed like that. In most use cases, one does not want to ear speakers when listening to headphones.
So in conclusion, I would safely advise a friend to buy this DAC/Amp and I would be sure he would not complain.
Great work, again. Kudos to Aune.
Pros
:
Balanced headphone output has the power you'll need for most situations

Simple and sweet GUI

Very neutral sounding, color free tonality
Cons
:
1/4 headphone out lacked power I needed for Hd600, the balanced output did have enough power.
I spent alittle over a week comparing the AUNE S6 to my Chord Mojo portable dac/amp, and to my Benchmark Dac2 HGC desktop amp.

I was first to recieve the tour unit, so I gave the S6 and supplied VE Zen 2.0 earbuds about 200 hours before critical listening. My source was a Melco N1A streamer/ server. I used the supplied Venture Electronics Zen2.0 in balanced XLR termination, my personal VE Zen2.0 standard 3.5mm termination, and my trusty Senn HD600 for comparing all 3 units. Cables used were Curious USB between Melco streamer and AUNE S6 dac.

First off, I will say the AUNE S6 actually reminded me of Chord Hugo's very flat and neutral tonality. Its dac had similar dynamics and bass definition as the 3x priced Benchmark Dac2 HGC, which really surprised me. The S6 has a nice build quality, screen looks great, and has a decent heft to its weight. I was not able to test its preamp capabilities, but I tested its dac and headphone outputs against the latter.

Unfortunately the AUNE did lack the power of the Benchmark through its 1/4 output which I am accustomed from the Benchmark. The S6 balanced output is closer to what I expect from the Benchmark as far as power and weight, this was easily distinguishable while using both the supplied balanced zen2.0 earbuds, and my personal 3.5mm terminated pair while using a 1/4 adapter. The S6 could easily drive my Sennheiser hd600s using its balanced output.

The AUNE S6 has a studio like neutrality and is tonally uncolored I found. It has a very wide soundstage which is far more defined and layered compared to Chord Mojo's soundstage. Bass was also more defined with the S6. The Benchmark Dac2 HGC, at 3 times the AUNE's price, did seem more refined and alittle more hefty in build. It is fair to say the extra money will get you slightly better build quality.
More importantly, comparing only sound quality, the S6 has about 85 percent of the performance of the Benchmark which surprised me the most.

Aune has made a very nice desktop unit with the S6. It's dac is as good or better than Chord Mojo, and close to the performance of the 3x priced Benchmark Dac2 HGC. With a decent power cable, USB cable, and interconnects, you have yourself a fantastic dac/ preamp/ headphone amp, that punches well above its weight. This unit keeps up with gear costly much more, and I believe will impress most with its studio like presentation. I enjoyed my time with th AUNE S6 and was sad to see it go. I recommend this unit to anyone looking for a brutally honest and tonally neutral dac/preamp/ amp.
Comments
There are no comments to display.