Joined

May 26, 2014
Posts

295
Likes

861
Location
Hello there Questyle fans and friends!
We will be the first to admit:
it's been far too long since we've released a new product.
The reason? Four years ago, in 2019, we set our sights on something that in many ways has turned out to be the most challenging project we have tackled to date, a back-breaking marathon that lasted much longer than any of us bargained for or expected — but, finally, we have reached the finish line.
Today we are particularly proud to share with all of you the newest addition to the Questyle family:
the NHB12
the world's first Apple MFi-certified Hi-Res Lossless earphones
....and the beginning of what we hope is a new era of portable and effortless True Lossless rhapsody for music lovers the world round.
Where to begin? How about two short videos that let our baby speak for itself:
We have been developing the NHB12 for over four years now, quite frankly the longest R&D cycle at Questyle to date, and
we are beyond pleased with what we were able to achieve — and we think you will be pleased too
.
The NHB12 in a nutshell:
​
Trailblazing True Lossless system for Apple Music Lossless that you've Never Heard Before


Featuring Questyle's new and patented CMA SiP, which combines the DAC and Current Mode Amp circuitry under one roof for ultimate efficiency and performance


Up to 24/192 audio reproduction, yet consuming 50% less power than typical TWS earphones (the NHB12 runs under 2V / 3mA, maximizing your iPhone's battery life)


Effortless plug-and-play experience: simply plug the NHB12 into your iPhone's Lightning port*, play a lossless track off Apple Music, and indulge yourself


Comes with interchangeable 3.5mm headphone jack cable for use with other devices


Silver-plated OFC cables for optimized signal transmission


Customized dynamic drivers that have been carefully impedance matched with the CMA circuitry; however, both the Lightning and 3.5mm cables feature a universal 2-Pin Professional jack so you can connect and listen to the earpiece or IEM of your choice
Two sample rate indicator lights signal if music is of standard or Hi-Res Lossless Quality


Innovative ear-molding silicone tips that provide a surprising level of comfort and acoustic insulation (the NHB12 also comes with 4 other sizes of ear tips so everyone can enjoy a perfect fit)


Retailing for $299 USD (currently discounted to $229, only for early supporters of the NHB12 on Kickstarter, see below)
*We are closely monitoring Apple's official announcement regarding the next generation of iPhone. Once Apple releases a new
iPhone with a USB-C port, we will offer a free upgrade of the True Lossless Cable from Lightning connector to USB-C connector,
only for Kickstarter backers of the NHB12,
see more below.
Nobody has ever enjoyed reading a solid block of endless text,
so for more information visit our much more captivating NHB12 Landing Page here:
www.questyleshop.com/pages/questyle-nhb12
And now, a plot twist (and of course the 23% discount we mentioned):
Not only is the NHB12 groundbreaking in terms of its technology and performance, but also for the first time in Questyle history,
we are launching the product via Kickstarter.
Yep, Kickstarter, the crowdfunding platform. Hear us out.
The NHB12 is not yet available for purchase, but
by backing us on Kickstarter you can secure an NHB12 in advance at a 23% discount off the eventual retail price
.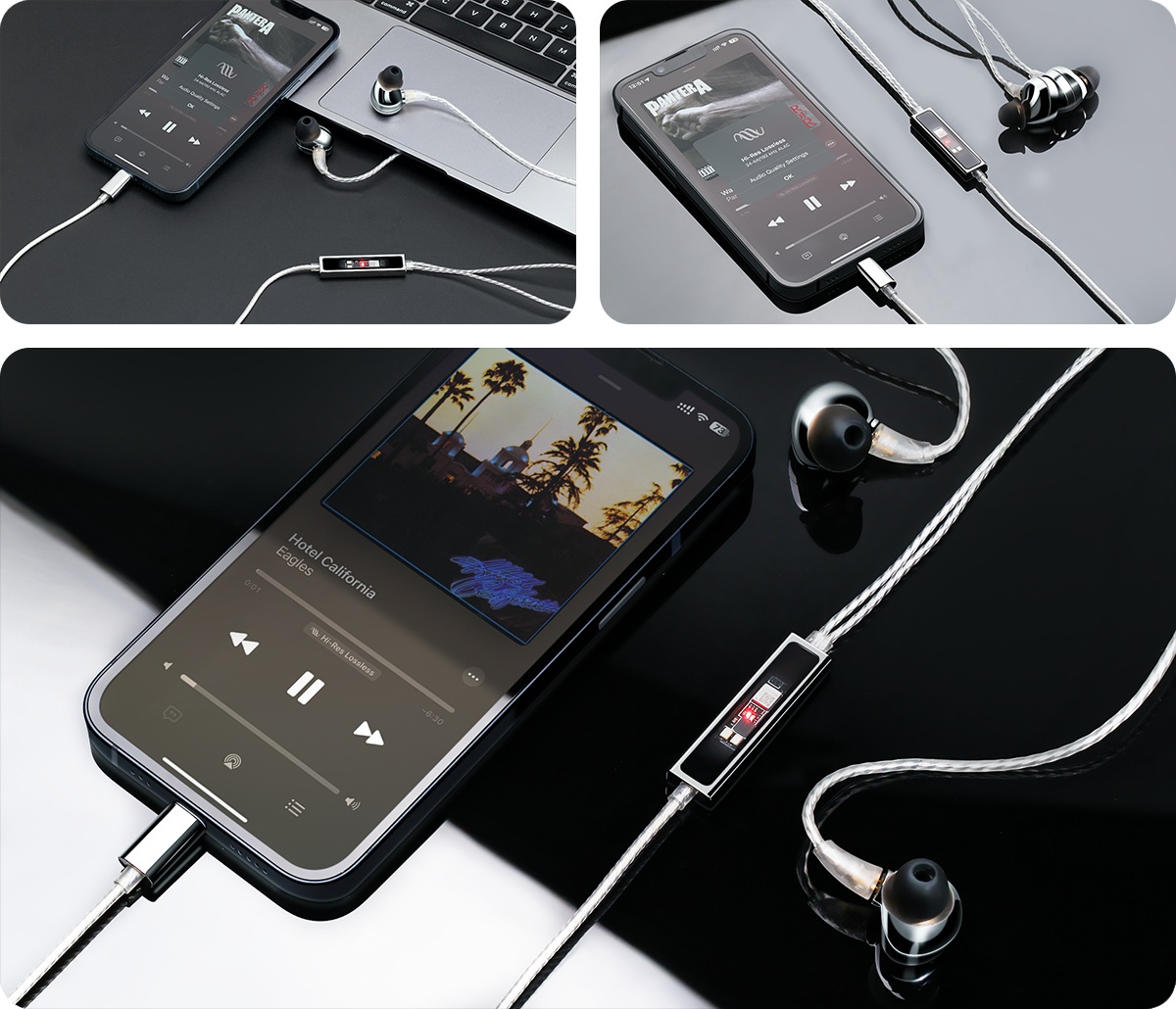 Now, before you start fretting or wondering if the NHB12 is just some pipe dream, let us assure you that this is not your average Kickstarter campaign.
Development is fully completed, the design has been thoroughly tested and confirmed
, and we have actually already produced over two hundred production validation units to send around the globe for review (you can see some of these review videos on our Kickstarter page). Once our Kickstarter campaign finishes in the next two weeks, production will promptly begin. Indeed, those with keen eyes will notice that we have already exceeded our campaign target — so yes, the NHB12 is coming, without a doubt. In fact, I'm currently listening to one as I write this.
All of us on Head-Fi enjoy a bit of deeper understanding of things, so I'll elaborate on this decision of ours…
The NHB12 is Questyle's first product that, from its inception, was designed to precisely fit the demands and expectations of not only our Hi-Fi community, but also the "not quite audiophile but still addicted to music" community across the world. It's for this reason that we chose to launch the NHB12 on Kickstarter: to start spreading the good news to those who might not have otherwise kept a pulse on the Hi-Fi world.
As all of us here on Head-Fi can attest from personal experience, the dive into the Hi-Fi realm is not for the faint-hearted. It is deep, long, expensive, and at times confusing and overwhelming to the point of surrender. (Poetic language aside, I think all of you know the feeling I'm referring to — HiFi can be a real beast sometimes.) Those of us here on Head-Fi are the fortunate ones; we made it through the impenetrable maze to the other side, the reward of course being the delight of Hi-Fi music on demand, and the understanding of what it takes to build and maintain such a Hi-Fi system. But then there are those that didn't find a way to end of maze, or perhaps were too daunted to even attempt it… people who crave the same rapturous Hi-Fi experience, but for any number of reasons cannot access it.
These are the people that inspired the NHB12.
In essence, we invented the NHB12 to be the simplest path to True Lossless music possible. It provides an authentic, profound, and captivating Hi-Fi experience, but via an effortlessly-simple system and at a digestible price point. The Apple ecosystem plays an integral role in this regard: as soon as you take the NHB12 in one hand and an iPhone with Apple Music in the other, all that is left between you and True Lossless euphoria is pressing play. As we see it, now more than ever before,
anybody who dreams of HiFi can have it for themselves, and take it with them wherever they go
.
We at Questyle really take this point to heart: great audio is simply too inspiring, therapeutic, and sublime for it to be limited to those who have the resources and know-how to design a proper Hi-Fi setup. Some might even argue that the magic of pure lossless audio can cure disease — all the more reason to make HiFi as accessible as we possibly can.
With all of this in mind, and after very careful research and deliberation, we decided that Kickstarter is the best choice for us to introduce the NHB12 to the world, and slowly
start breaking the mold of what a Hi-Fi system can be
.
Yes, this is a very unorthodox decision for a company deeply-rooted in HiFi. But then again, Questyle isn't the most orthodox company around. One important lesson we learned a long time ago — when we decided to construct a company upon the sole foundation of Current Mode Amplification— is that
sometimes only an out-of-left-field, unorthodox decision can take you where nobody has gone before
.
As stated on our Kickstarter, we plan to
start shipping next month, September 2023
. Should a month-long typhoon appear on September 1 (metaphorically speaking), our worst-case scenario contingency plan has us shipping the NHB12 no later than October.
So, if the NHB12 is something that interests you, and if a 23% discount interests you even more, please consider backing us on Kickstarter here:

www.kickstarter.com/projects/338111799/questyle-nhb12-tls-earphone-for-apple-lossless-audio
Thank you as always for being a Questyle fan, and thank you for your continued support as we do our best to chart new courses in the HiFi world.


— From Shenzhen with
Additional images of the NHB12:
Follow this link for more info:
www.kickstarter.com/projects/338111799/questyle-nhb12-tls-earphone-for-apple-lossless-audio
​
Last edited: