Introduction:
Unique Melody will by now need little introduction from me, having already become well established as premium purveyors of prolific products in the IEM world
Here, for your convenience (and indeed Layman1's!) are the IEM details from the MusicTeck (authorised dealer's) website:
https://shop.musicteck.com/collecti...lody-3d-terminator-3dt?variant=32656510156862
This link also has photos and explanations of the tech that features in these IEMs.
The 3DT retails at USD $399 at the time of writing.
It's only been a month or two since I reviewed Unique Melody's mini-MEST IEM.
That IEM was – quite literally – music to Layman1's ears.
As my regular readers – hello? Anyone?! – will know, Layman1 is an unabashed fan of dynamic drivers (or DD's as the cool kids say).
The mini-MEST, which omitted the DD's sported elegantly by its older sibling, was still able to impress me mightily, delivering what for me was genuinely the closest I've heard BA's come to a DD-like performance.
So what does all of this have to with the IEM I'm reviewing today?
"Get to the point, Layman1!", I hear you cry.
I shall graciously overlook such impatient tetchiness and explain forthwith; namely, this is an IEM which features not one, not even two, but
three
DD's per side!(!!!)
Specifically, one 10mm DD and 2 x 7mm DD's.
To shamelessly quote UM themselves: "We utilised 3D printed technology for 3DT's inner structure. In that way, we optimised the sound transition and further reduced unwanted distortion. Each dynamic driver is equipped with its own independent tunnel and each driver is tuned separately and precisely with our newest tuning technique. Ultimately the sound is much more coherent and imaging and synergy are also significantly improved".
If you're anything like me – and you have my sympathy if that's the case – then you're probably drooling right now and anxious to get stuck in.
Layman1 being an obliging kind of chap, I shall delay your gratification no further!
Please proceed to the next section to find out what such a tantalising new product looks like in its natural state:
Photos
: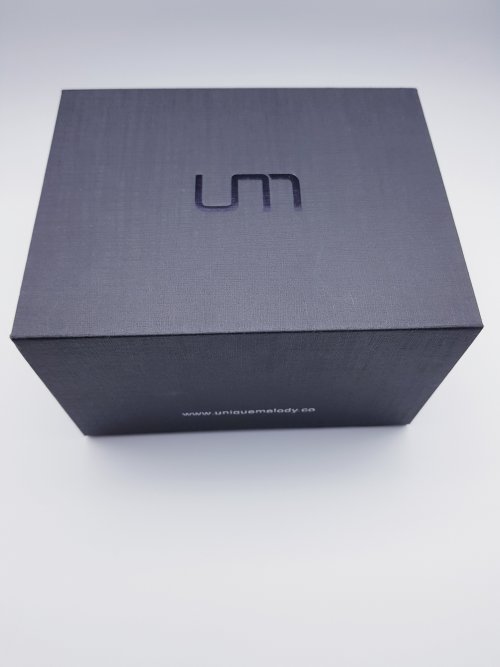 Unboxing, packaging and accessories
:
They come with a 0.78mm 2-pin silver-plated copper (SPC) cable, which is terminated in 3.5mm SE. I would have preferred a balanced option at this price point, however, I understand UM are still looking for a new supplier so that they can again offer the 2.5mm and 4.4mm termination option on their products.
The cable itself seems decent enough. It's fairly soft and supple and feels very lightweight.
However, I think maybe a touch too lightweight; maybe it was just me, but I found the 2-wire sections of the cable (between the chin slider and ear hooks) to tangle fairly regularly in storage, with the ear hooks exacerbating this situation). Aside from this it's a nice silver colour in a glossy transparent sleeve and felt comfortable in use.
The 3DT comes with UM's usual impressive array of complimentary accessories; a selection of eartips including premium Comply eartips, a 'thank you' note and, as if that all wasn't enough, a Dignis PU leather case; the same as the mini-MEST one, that many people have said they even prefer to the one that came with the much more expensive original MEST.
The Fit
:
They have a quite deep insertion depth for me personally; I'd prefer the nozzle length to be reduced a bit so that the main body of the IEM can sit more flush with my ear, especially given that these IEMs are somewhat on the large side. This I think was a necessary design choice, with having to fit 3 DD's into each side, with the various accompanying tech to support them and direct the sound waves.
Having said that all this, with my usual New Bee foam tips, I was able to maintain a strong and consistent seal with no issues, and I have been able to wear them for extended sessions with no discomfort or fatigue.
The Sound
:
I'm using the iBasso DX220MAX and Sony WM1Z DAP (with MrWalkman's custom 'Midnight' FW) for testing and the stock cable, and a playlist of lossless and hi-res lossless music of many genres.
I'd describe the 3DT as follows:
Low end
:
Listening to 'Lonely Stranger' from the excellent Eric Clapton Unplugged album, I'm immediately impressed by the fidelity of the timbre and the substantial note weight on offer here; something I really appreciate personally in an IEM.
The texture on display with the plucking of the guitar strings is lifelike and engaging and I am seriously impressed by the impact and rumble on display. You may be wondering where that impact and rumble is being displayed, given that this is an acoustic track and I'm still on the introductory 30 seconds of the song. Well, it's in the middle and bass string plucks of the guitar and his thumps on the guitar and foot tapping. It's a real treat that exemplifies what I so love about a well-implemented DD; the physical, tactile feeling that has its foundations in the sub-bass extension and rises all the way up through to the mids from there.
Here, it's combined devastatingly well with a substantial degree of note weight, and an above average degree of note thickness.
Listening to Gregory Porter on Don't Be A Fool (24-96 HDTracks), I'm struck by the impact and weight behind the kick drum and the acoustic double bass. It's a more traditional tuning on the 3DT, with a fair degree of sub-bass extension and a strong mid-bass delivering an analogue warmth and presence, albeit balanced with a well-judged decay that prevents muddiness whilst facilitating accuracy in the timbre.
The mids
:
I hear the upper mids as being slightly forward compared with the lower mids, but only slightly. Vocals sound just slightly forward of centre, with a medium amount of body, good timbre and a fairly crisp presentation. Backing vocals are given just enough space to distinguish themselves nicely.
The note thickness and weight that comes through from the low end and into the lower mids make for an engaging and musical signature, and one that fills up the soundstage; however, there's a sufficient quantity of separation to keep things from sounding congested.
It's a signature that leans more on the side of intimacy and warmth than clinical and spacious, despite the control evident here, but that warmth and intimacy certainly never goes to extremes. I think UM have done well to balance these elements nicely.
This will also depend on the genre and track being listened to; on 'Burnout' by Green Day (24-192 HDTracks) I hear the mids as being somewhat recessed, the guitars a bit 'shouty', the drums clattering and the whole sounding fairly intimate; not a bad presentation of the track, but not the best I've heard either.
Conversely, on 'The Coast' by Paul Simon (24-96 HDTracks), the whole song sounds spacious, open and airy, with crystalline levels of detail and just a touch of organic warmth.
It sounds fantastic.
The stringed instruments on Hong Kong opera singer Alison Lau's cover of Handel's "Lascia la spina" are gorgeously presented, rich and full-bodied. Her voice, which can soar very high and trigger my sensitivity to such things on many IEMs is – just - kept in check here, and those vocals are infused with body, richness and weight. It's quite stunning!
Overall, I do here a bit of a lift in the mid-bass which maintains a hold throughout the sound signature; this mostly is a good (or even a great) thing, but I'm just conscious of noticing it a bit most of the time; much as I did with EE's Legend X although of course to nowhere near the same degree!
"So long, Astoria" by the Ataris was – like most of their tracks – played with and recorded on vintage instruments and equipment and as such is a pretty excellent complement to the tone of the 3DT; there's sufficient space and separation here to prevent the song from getting too congested (as it has on some IEMs) but the organic warmth and rather analogue signature really shine on this kind of music and classic rock generally, with the electric guitars infused with a rich texture and crunch.
That same texture and crunch were especially evident on the alternate version of their song 'Fast Times at Dropout High' from the album 'Silver Turns to Rust', where the opening two electric guitar lines are beautifully controlled and separated, even once other instruments and the vocals come in, and the tone of the guitars and vocals are just exquisite in their presentation.
I also found a similar synergy with electronic music, such as Club 8's 'Stop taking my time' and 'Monument' by Röyksopp, with a stunning crunchiness and texture to the main synthetic riff and all the background details and backing vocals constantly bubbling up to the surface.
The treble
:
I hear the treble as being relatively neutral in terms of striking a balance between being rolled-off or being huge and airy.
They are smooth and engaging; some might wish for a touch more air and spaciousness to come through, but I'd add that this feeling may for many be alleviated by dedicating some time to get used to the sound signature, especially if you've come from an IEM or headphones that were particularly bright and open (I was listening to the Odin a lot until relatively recently!). Also, as ever choice of ear tips or cable rolling could be used to influence this to some degree.
I did notice that the 3DT brought forward an amount of detail – presented more organically than analytically - that quite surprised me at this price point. I was often becoming aware of sounds in the background of the music that I hadn't noticed before, which – given that I am often reviewing flagship products these days – is quite the achievement.
Technical performance and sound signature
:
I feel the soundstage, separation and layering vary quite a bit depending on the song being listened to; on some fairly dense rock music, I heard these qualities as being around average (or slightly above average) in size; artefacts of the note weight and large note size of the 3DT, which conspire to swiftly fill up whatever 'real estate' is available. Furthermore, there's the tuning of the treble which features a modest amount of air and extension along with a slight treble roll-off and these things together sometimes give the impression of perhaps a bit less soundstage than there actually is.
Having said that, when I listened to 'The Coast' by Paul Simon or 'Love Dies' by Swedish pop/acoustic/ambient artists Club 8, I found the soundstage and signature overall to actually be airy and spacious, and 'Love Dies' in particular was
astonishingly
good; the note weight adding a stentorian authoritativeness to the crystalline sound of the music and vocals. I hear imaging to be pleasingly accurate and it proved a consistent strength of the 3DT in my listening sessions.
Conclusion
:
I think the 3DT is tuned in a way that emphasises enjoyment and tonality above pure technical prowess, although it is not bereft of quality in that area either. They did well with all of the many genres of music I threw at them, from jazz to classical, Motown to Mandarin pop, country to rock.
On songs that were quite dense or congested, the 3DT were still able to shine with their musicality, and on songs with more sparse or open arrangements, I was surprised by the technical qualities and soundstage size (with width and depth particularly impressing me).
They're not the bass-cannon that some might have been expecting with the 3 DD's per side here, and those looking for that, or for a super-analytical performance or a consistently holographic and airy signature will probably want to look elsewhere, but for sheer musical engagement that leaves you with a grin on your face, the 3DT are an IEM well worth consideration, especially at this comparatively modest price point.