Pentatonix harmony!
---
The product was provided to me free of charge for the review purpose in exchange for my honest opinion. The review was originally posted on my
blog
, and now I would like to share it with my readers on Head-fi.
Manufacturer website:
Meze Audio
. Available for sale directly or from
Audio 46
.
---
Intro.
Call me shallow, but when Meze Audio RAI Penta flagship IEMs arrived at my doorstep for review, I wasn't in a rush to put them in my ears. Instead, I spent a good 10-15 minutes just looking at these little Romanian beauties and then continued while examining the custom case and the cable. And we are not talking about some exotic shell material or fancy custom finish. What caught my attention from the get-go was the design details of Penta's uniquely shaped shells.
Of course, it should always be about the sound first, with everything else coming in second as the icing on the cake. But when it comes to Meze Audio earphone and headphones, you can't help but notice how hard they try to stand out both in the design looks and the sound quality. But looks can only get you so far before it is time to hear what's behind the shells. That is exactly what I did after spending the last month testing and analyzing RAI Penta. Here is more about it.
Unboxing and Accessories.
Considering how much thought goes into the design of Meze products, you should expect as much when it comes to the unboxing presentation. Starting with a packaging box, it has a textured wavy pattern surrounding the company logo and the model name on the top cover. Inside you have a foam inlay with custom cutouts to hold securely RAI Penta, all the eartips, and a custom shaped protective travel case. Yes, I'm a sucker when it comes to unboxing and I do enjoy accessories, especially when it's something unique and custom.
Here, you will find a ton of eartip pairs, such as soft black XS/S/M/L, a pair of regular double flanged and a two pairs of deep insertion double flange tips, plus a pair of Comply eartips. Considering a stock cable 3.5mm termination, included was also 3.5mm to 6.3mm adapter which can come in handy when dealing with desktop equipment. You also get a cleaning tool with a brush and a long flexible cleaning whisker, a 2pin airplane adapter (that one is antique), stickers, and instruction manual.
My favorite accessory has to be a custom shaped protective EVA hard case. It's not a real leather, this is EVA material, but it looks like a real leather and has a protective hard shell with a soft inner lining and a mesh pocket. On the outside, you have a metal Meze Audio logo and even a little loop to clip the case. Meze is always trying to stand out from the crowd with their unique designs, even if it's just a case.
The included removable cable also looks nice. According to Meze, this is higher purity silver plated copper (SPC), 4 twisted wire conductors with each having 20 litz strands. The IEM connector is MMCX plug inside of clear transparent housing with a color mark for right side, and seem to be good quality. The cable has a flexible heat-shrink pre-shaped earhook, custom y-split with Meze audio symbol, plastic chin-slider, and a matching custom Meze audio branded connector plug. The stock cable comes with 3.5mm rhodium plated plug, and Meze also offers optional 2.5mm and 4.4mm balanced terminated SPC cables.
Design.
While some IEMs standout based on the material and the finish of their shells, the first thing you notice with Penta's in your hand is the unique shape. Milled from solid aluminum piece, the shells are very compact, have rounded edges with sexy wavy design lines, and a very comfortable ergonomic fit inside the concha area of my ear. While the surface of the shells is anodized, the milled Meze logo on the faceplate reveals the aluminum material underneath, and the same on the inner part of the shell where you have milled L/R letters, and 2 vents.
One of the vents, referred to as Pressure Equalization System (PES), has a unique drilled shape to control the airflow which regulates the internal chamber pressure around the driver assembly. And btw, absolutely zero dynamic driver flex. The nozzle also has aluminum finish with 3 precision milled sound bores that bring out the sound from connected internal metal sound tubes (also precision milled). You are not going to find typical plastic tubes and dampeners inside the shell, instead Meze uses metal sound tubes, each one precisely cut to control the amount of air volume in front of the driver.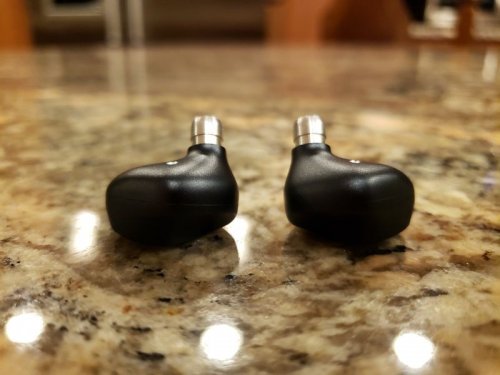 As the name of this IEM suggests, we are dealing with Penta-hybrid configuration of DD and 4BA drivers inside the shell. Based on the internal diagram, 4BA drivers are split into groups of 2 each. While it wasn't specified in the spec, I assume DD is for the bass, one pair of BAs is for the mids, and the other pair of BAs is for the high frequencies, with each group connected to its corresponding metal tube going to a separate sound bore at the tip of the nozzle.
Sound Analysis.
I analyzed RAI Penta sound performance driven by LPGT while playing a variety of test tracks, such as Agnes Obel "The curse", Sandro Cavazza "So much better" (Avicii remix), C-Bool "Never go away", Ed Sheeran "Shape of you", Alan Walker "Darkside", Galantis "Hunter", Iggy Azalea "Black widow", Indila "Boite en argent", Counting Crows "Big yellow taxi", David Elias "Vision of her", and Michael Jackson "Dirty Diana".
Penta has a natural full-bodied tonality with a nicely balanced signature. The presentation of the sound is slightly laid back, not too much in your face. I'm hearing a natural organic sound with a relatively coherent hybrid tuning, not too crisp or too analytical, but still will a decent amount of clarity and good retrieval of details. It doesn't stand out with super resolution or fun bass slam, it's more for a natural non fatigue enjoyment of the sound.
By the nature of Penta tuning, don't expect surgically separated layering of the sound with air in between, but you certainly should expect a distinct separation of vocals and instruments with the sound never getting congested or veil. This particular tuning is intended for enjoying the music rather than analyzing its micro details.
Soundstage had a very good width and depth expansion, not exactly on 3D holographic level, but it creates a natural space with a convincing positioning of instruments and vocals. You can easily distinguish and pin-point every sound in space, nothing is exaggerated.
Low end has a deep sub-bass rumble with a smooth analog texture that adds a fuller body weight under the mid-bass punch which has slightly above average speed/decay, not quite as fast as BA performance, but a little faster than average dynamic driver. The bass sounds natural and realistic, not super tight or very articulate, but with a very good control for a dynamic driver, without spilling into lower mids.
Lower mids are neutral and with a good amount of natural body which adds to an overall sound characteristics without adding too much to the thickness of the sound. It also creates a nice coherent transition from bass to mids, unlike some hybrids where you can hear a disconnect between DD and BAs. Upper mids have a good level of detail retrieval and natural resolution, never getting bright or thin. The lift around 2kHz is well executed and helps with clarity. It especially shines when it comes to vocals, both male and female, you can hear a very natural, organic, clear tonality.
Treble has a good extension, decent definition, modest amount of airiness and sparkle, not too much, just a moderate amount without going over the top. You are not going to miss the details of your crash cymbals, but the sparkle and the sizzle will be smoother. This makes the sound non-fatigue, without a single hint of sibilance, great for an extended enjoyable natural listening.
Once you get into listening, sometimes you just forget this is a hybrid IEMs with DD and 4BAs, because tuning is very coherent, with all drivers working in a balanced natural unison.
Comparison.
Despite the fact that Penta is 5-driver hybrid, it has a unique tuning that could be compared to other 5-driver hybrids, or 5, 8, or 10 driver multi-BAs which I'm going to cover in the comparison below. In every case I was using LPGT as my reference source, Meze SPC cable with 4.4mm termination and adapters (if necessary) to match other IEM; also, volume matched in every comparison.
RAI Penta vs Campfire Audio Andromeda
- the soundstage expansion in this comparison also has a lot of similarities, with depth being more out of your head while Penta's width is just a touch wider. Unlike the previous comparison with A91, compared to Andro I hear the same bass quantity, but not the same quality where Penta's bass is more articulate, having a little faster attack and shorter decay, giving it more control in comparison to Andro. But in general, the bass difference is not necessary night'n'day. Upper mids and treble is where I hear more difference. Again, with a focus around 2k peak which gives upper mids/vocals more crunch and clarity, Penta is more elevated and more forward, while Andro is pushed back and smoother and more laidback. But it reverses when it comes to treble where Andro is brighter and sometimes could get a little harsher in lower treble and has more airiness and more sparkle in upper treble, while Penta is noticeable smoother and more natural around the same peaks. As a result, Andro has a fun tuned signature with more focus around low end and treble, while Penta is more balanced and more naturally and evenly tuned.
RAI Penta vs Westone W80
- this is another very interesting comparison, despite that I'm stepping up to 8-driver multi-BA. Here, the soundstage in both width and depth are very similar. With bass, like in Andro comparison, quantity is very similar, but when it comes to quality the Penta has a faster/shorter attack and decay, giving its bass a better articulation. Treble is also nearly the same, well defined and still quite natural and non-harsh. Mids is where you will hear the biggest difference. Lower mids have a little more body in W80, giving the sound more thickness. Upper mids, especially around that 2k peak, is where you have the biggest difference where Penta has more forward presentation and vocals with more clarity, while W80 has its vocals more laid back, smoother, more organic.
RAI Penta vs Fidue Sirius A91
- the soundstage expansion in this comparison is close, with both having a similar depth with out-of-your head sound placement, but Penta has just a touch more width. The bass of A91 has a little more quantity, while the quality of the bass extension and impact and the balance between sub-bass and mid-bass are similar. Mids is where I hear more difference, especially in upper mids. Both have a natural neutral lower mids, and both have a similar peak around 2k, but Penta has this peak higher, making upper mids and vocals a little brighter and more revealing, with a slightly more forward presentation, while A91 has upper mids smoother, more organic, and slightly pushed back especially since A91 has a little more bass. The same with lower treble where 7k peak of Penta is a little higher than A91, giving the sound slightly more crunch. You can't help but notice similarities in these two IEMs, but even with their more subtle sound difference, I hear A91 being smoother, warmer, and a little more relaxed, while Penta is more transparent, more revealing, and overall having a little more balanced signature.
RAI Penta vs EarSonics Grace
- it has been awhile since I used Grace in my testing, but once I started listening to Penta, I felt it would be an interesting comparison. With soundstage, Penta has advantage of more width, while the depth is similar. When it comes to bass, Grace sub-bass extension and mid-bass slam is overwhelming more powerful than of Penta. Penta's bass is elevated for sure above neutral, but Grace bass hits closer to basshead level, shifting its sound sig even more toward L-shaped. As a result of this difference, Grace mids/vocals are not as forward and not as balanced when transitioning from low end to mids. Penta mids/vocals have a better balance and a little more clarity, but most of it due to bass being less overwhelming when compared to Grace. Treble is very similar, just with Grace having a little more sparkle, while Penta having a little smoother definition.
Pair up.
RAI Penta has an average impedance (20 ohm) and a little higher sensitivity (110dB), still quite efficient and easy to drive from any portable source I tried it with. Also, I didn't hear any hissing in the pair up examples I tried.
Lotoo LPGT
– very wide soundstage expansion; balanced sound signature with a natural detailed tonality. Average speed, above neutral bass impact, natural detailed mids/vocals, well defined natural treble. This pair up probably exhibits the most balanced signature since bass impact is not as lifted.
Cayin N6ii w/E01
(Mode AB) – very wide soundstage expansion; balanced sound signature with a natural detailed tonality. The bass has a faster attack and more articulate punch, mids/vocals sound very natural and still quite detailed, and treble has a little more sparkle and airiness. Very good pair up which scales up the bass performance of Penta.
iBasso DX160
– very wide soundstage expansion; balanced sound signature with a natural detailed tonality. Average speed, above neutral bass impact, natural detailed more organic mids/vocals, and well-defined natural treble. Quite a balanced pair up here as well.
A&K SP1000 SS
– wide soundstage expansion; balanced sound signature with a natural detailed tonality. While with some other sources the bass goes deeper (more sub-bass rumble), here I actually hear stronger mid-bass punch. Mids/vocals sound smooth and natural, a little more laid back. Treble is also a little smoother in this pair up.
Shanling M0
– wide soundstage expansion; balanced sound signature with a natural detailed tonality. The bass is a little deeper in this pair up, average speed, more typical of DD performance, mids/vocals are smooth, laidback, detailed. Treble is smooth, and still well defined. This pair up sounds a little smoother and warmer, with deeper bass impact.
FiiO M11 Pro
– very wide soundstage expansion; balanced sound signature with a natural and slightly more revealing tonality. Bass here is faster and more articulate, with a performance which feels closer to BA rather than DD. Mids/vocals are still natural and detailed, but they do sound a little more revealing, slightly brighter. Treble also has a little more sparkle. Overall, this pair sounds a little more revealing.
Samsung Galaxy S9
(w/HibyMusic) – the soundstage is above average, but not as wide as with some other DAPs. Tonality is smoother, a little less resolving, while the signature is still quite balanced. The bass does have a little more impact (more lift), mids/vocals are warmer, while treble is still well defined and natural.
Cable Rolling.
For those who are interested, here are a few comparisons to other cables I tried with RAI Penta. Majority of my cables are 2pin, thus I don't have a big selection of MMCX cables.
Stock SPC to ALO Super Litz SPC
– nearly the same performance, with an exception of ALO cable being just a little bit brighter. But other than that, nearly identical performance.
Stock SPC to DITA Oslo
– also, nearly the same performance, but DITA cable is also a little brighter, especially in upper mids/lower treble. Surprisingly, it was even brighter than ALO cable.
Stock SPC vs Linum SuperBaX
– this is first cable comparison which I actually liked over the stock cable. Perhaps due to a very low impedance of SuperBaX cable, the changes are more pronounced with a tighter faster more articulate bass and still natural but a little more revealing mids/vocals and a bit more sparkle in treble.
Conclusion.
It's always a bonus to have a combination of beauty and brain, and that's how I felt about RAI Penta. Of course, a beauty is in the eye of the beholder and the brain, which in this case the sound tuning, is subjective and depends on your preference. But you can't deny, these are beautifully crafted IEMs with a natural detailed full-bodied sound tuning. To my surprise, I read a few polarizing impressions either praising or criticizing their tuning. If you want a big bass slam or extra revealing crisp treble details, the tuning of RAI Penta not going to fit your sound preference. Instead, RAI Penta has a more relaxed, more laidback sound presentation with natural detailed tonality and a balanced sound signature. I found Penta's to sound great with any genre of music I threw at them, and personally I enjoyed their non-fatigue sound tuning over extended listening sessions.