My background-
I am a professional musician, producer and an audio engineer by education, with experience in the performing, recording and pro-audio industry. I test products on a technical and musical level, and try to write reviews as simple as possible from a music fan's perspective.
Disclaimer –
The sample was provided for a test and review. I am not affiliated with the company and write this review with my best unbiased opinion regardless of how the review turns out.
Genre preferences-
I majorly listen to rock, acoustic, pop and metal genres and occasionally checkout EDM music which is doing the rounds on the radio and charts.
About the product –
Hiby R6 Pro
is the flagship DAP from the company, Hiby, and sells for $799. I don't think Hiby needs any introduction here as they are quite famous and successful in what they do. They have an extensive history of developing software and UI, music applications like Hiby Music (which is a killer music player capable of doing things the average Android player can't) and are now a couple of hardware products old with successful products like their DAPs
R3
,
R6
and Bluetooth Hifi Amp,
W5
.
In the Box –
Hiby R6 Pro
Silicone case
USB Type-C charging cable
Glass guards – 2
Micro-SD card tray extraction tool
Manuals and warranty cards

Design and Build Quality –
I've always found Hiby's designs very beautiful, symmetrical and classy. R6 Pro is no different. It is rectangular shaped weighing around 285 grams. It has fantastic build quality with brushed stainless-steel body, which I absolutely love. The edges are slightly rolled for a smoother look. It has a 4.2 inches high resolution, precisely a 768x1280 screen. The screen is not bezel-less like how recent smartphones have gotten, yet fills up almost 90% of the space. It is covered by Corning Gorilla Glass on both sides, which is a great add-on for clumsy people and gives the R6 Pro a cool glossy look at the back.
On the top are the LineOut/Coaxial, 3.5mm and 4.4mm outputs.
On the bottom is the USB Type-c connector.
On the left are buttons for volume up and down as well as the Micro-SD card tray.
On the right are buttons for Power (with LED light indications), Previous, Play and Next.
All the buttons are curved in and have very good touch and feel to them while staying true to the design language of the stainless-steel body.
Technical Specifications -
This is where DAPs get interesting and it becomes a battle of who can fit the most impressive hardware as well as features. Every enthusiast including me loves checking out every specification in detail and then concluding if the device has ousted the others on paper or not. Well after all a DAP is a culmination of all these tiny hardware decisions working in sync together, so good matching between components is key.
Let dig in deeper….
- CPU Model (SoC) – Snapdragon 425 -
Qualcomm Snaprdragon series of processors are the most famous and widely used CPUs for mobile phones and you certainly can't go wrong with the Snapdragon 425. It is being used by most smartphones around $200-300 and has had the test of time. While choosing a CPU, speed, power and stability are 3 key things and 425 is a time tested good performer in the price range compared to its competition.

- Operating System – Android Oreo 8.1

- Memory - 3 GB RAM | 32GB ROM | 512 GB Micro-SD Card Support

- Sound Hardware
DAC – ES9028Q2M * 2
MUSES8920 x 4 Low-pass filter chips
Empowered by Panasonic Polymer Capacitor with low ESR and Elna SILMIC audio grade capacitors
LPF & Amplifier - SSM6322 *2
Crystal - Low Phase Noise Crystal *2
Japanese Nippon Dics 4.4 Balanced Base for flawless plug and jack connection performance
I've always loved the ES9028Q2M DAC whenever I've heard it in a device. It performs very well and a lot of manufacturers (making smartphones, DAPs or DACs) like using it in their devices for good sound performance. MUSES8920 low pass filter chips are impressive but more on the sound analysis in the later part of the review.
​
- Sound specifications
3.5mm Single Ended Output
Output Power – 245mW + 245mW (32Ω)
Noise Floor Level – 3.8uVrms
Signal to Noise Ratio (SNR) – 118dB
Channel separation (Crosstalk) – 68dB
THD+N – 0.0025%
Closed Loop Output Impedance – 0.24Ω
Output Power – 750mW + 750mW (32Ω)
Noise Floor Level – 5uVrms
Signal to Noise Ratio (SNR) – 120dB
Channel separation (Crosstalk) – 97dB
THD+N – 0.0012%
Closed Loop Output Impedance – 0.28Ω
- Screen – 4.2 inches IPS screen with Corning glass | Resolution – 768x1280 | 320 PPI
With full brightness it looks sharp with good color reproduction. The touch responds very well and there are no ghost touch responses.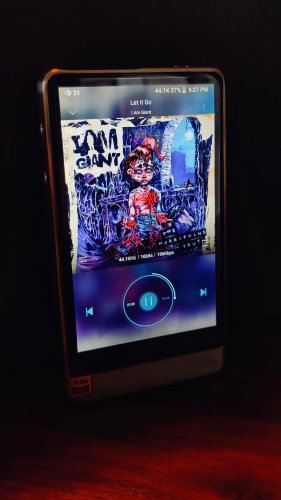 - Battery (4000mAh) –
Hiby claims that it provides more than 12 hours (32Ω, single-ended) and 8 hours (32Ω, balanced) of music playing under test conditions. *Test conditions: Bluetooth/WiFi/display off, volume at 40, low gain, single loop 44.1kHz 16bit wav file.

- Qualcomm Quick Charge QC3.0 Support -
R6 Pro supports QC3.0 charge, which is excellent and claim that it takes only 1 hour to charge 70% of the battery. That claim is accurate in real world tests too.

- Full support for most Hi-Res formats including HD Bluetooth Formats -
The HiBy R6 Pro not only supports most Hi-Res lossless formats such as aptX, aptX HD, LDAC, HWA, but also FLAC, WMA, WAV, Apple, LOSSLESS, DSF, and DSDIFF. Native support for DSD 128/256, PCM up to 384Khz/32bit, ISO DSD.



User Experience –
Of course compared to smartphones, DAPs are a bit behind in regards to putting in attractive large ultra-high resolution screens but you have to remember that the primary objective of DAPs existing is high quality sound, which is where most of the money goes into manufacturing the device. Keeping that in mind, the UI experience of R6 Pro is quite impressive. It is very smooth, not laggy or sluggish at all. I quickly inserted my Micro-SD card which contains all my songs and started the Hiby Music App. Scanning of all my 5000 songs or so must have taken around 30 seconds. Once set, sifting through the Artists or Albums section is very quick. FYI, I easily get irritated with slow or laggy UIs but R6 Pro does not disappoint at all. The songs play smoothly and switch over to the next song without any lag. Though when using the physical buttons, it does take R6 Pro a fraction of a second more to respond when the screen is off than when the screen is on. It's because it goes into pseudo standby mode with the screen off.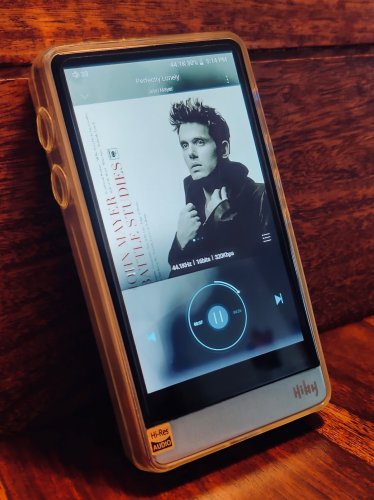 Google Play Store –
Yes it works, giving you full access to all your apps that you want to install. I don't know about every app but all the ones I wanted to install, installed quickly and ran smoothly.
Battery Life –
Initially I noticed my battery draining out rather quickly on standby mode with no music playing. Turns out that it is a small bug with a very easy solution. All you gotta do is grant all permissions to the Google Play Services and the Play Store in the Apps section of your settings. I don't know if all devices experience this but Hiby should've sorted it out with a firmware update. Or maybe there is an odd reason why Google apps don't or can't ask for permission authorization automatically by themselves, like how every other app does when you run it for the first time.
Once done, the battery life for moderate usage is quite good. I averaged around 10-11 hours shuffling between both 3.5mm and 4.4mm outputs. I wasn't testing under the exact testing conditions mentioned by Hiby in their disclaimer. I guess if I do, I could hit closer to their numbers.
Cool features of Hiby Music worth mentioning –
Import music via Wifi – If you have a Mac, you know what a pain in the *** transferring files using the Android File Transfer (AFT) is! That is why I love this feature. Even though I already had most of my music collection on the Micro-SD card, I wanted to transfer the new albums that I had recently bought. I simply entered the URL mentioned by Hiby on the page in my browser, which loaded an interface shown in the picture below. I created a new folder in R6 Pro's system music folder using the page and selected all the files I wanted to transfer and BAM! It was fast and saved me the hassle of connecting the R6 Pro to my Mac and then having to use that horrendous AFT app.




MSEB – Whoever has used the Hiby Music app knows that MSEB is a very cool EQ using layman terms, very easy for people who aren't well versed with the frequency bands in a graphic equalizer. It has sections like - Bass extension, Sibilance, Voice, etc. If you haven't used it yet, I suggest you try it. I'm sure you'll be impressed.




10-Band Graphic Equalizer – Nothing out of the ordinary here but I'd like to tell you that being a mixing engineer, I use such EQs on a daily basis and Hiby's EQ works and reacts to gain increments and decrements very well. It's a very musical EQ.


Hiby Link – Here is how Hiby describes this feature and it is quite self-explanatory.

Control and manage your music files wirelessly with your mobile phone. With the HiBy Link, you can also play the Hi-Res music stored on the R6 wirelessly right on your smartphone.

I synced it to my OnePlus 7 Pro, with OnePlus acting as a controller. Quite cool!
Outputs –
3.5mm out
4.4mm balanced out
Line Out / Coaxial – It can be switched from the Settings section.
USB DAC – Now this shows R6 Pro can do it all! Being a Mac user, it was extremely easy to set it up. All I had to do was connect the cable, switch R6 Pro to 'Dac In' mode and choose R6 Pro as the sound output in my Mac (by clicking the sound icon in the menu bar with the option keep pressed). Done! As easy as that. It works flawlessly!
High Quality Bluetooth

Sound Analysis -
Keeping it simple without overcomplicating, I'd say that R6 Pro has a very nice organic natural sound. If you see FR graphs of most DAPs these days, they are generally mostly flat. Yet, I'd say that the R6 Pro sounds full bodied, smooth and has good balance. Bass has good reach and rumble, mids are natural and treble is smooth yet clear. It is missing a bit of separation but makes up for it in sounding highly musical.
Timbre & Tonality –
Tonality (Harmonics) is switchable from the audio settings though I didn't hear drastic differences while switching between the different modes. But I want to talk about tonality and timbre of instruments which is very good in the R6 Pro. I can't emphasize enough that everything sounds very organic and natural, like how well aged vintage instruments sound. Drums shells to orchestral instruments all have accurate presentation. Listening to movie scores and live recordings of symphonic orchestras are a joy on the R6 Pro.
Soundstage –
Because R6 Pro has an organic sound signature, soundstage too has a very natural expansion. Clinical sound signatures have a bit wider soundstage but they sometimes lack the organic character which makes everything sound very musical. R6 Pro has good depth giving reverb trails it's natural space.
Power –
As you can see from the specifications, R6 Pro's outputs are very powerful and will be able to power most of the headphones out there. The balanced out is much more powerful and should preferably be used for headphones with high impedance. On the other hand, the 3.5mm output should satisfy most needs while using regular earphones/IEMs.
Noise Levels in Reality –
I've tested the R6 Pro with my most sensitive IEMs from Fearless and Tansio Mirai (impedance around 16Ω) and the noise floor is acceptable to me. The noise is majorly heard with low impedance BA IEMs, not with dynamic drivers like KXXS, Oxygen or Kanas Pro. It is low enough that you can't hear it with music playing at normal average levels. Maybe I'm a bit forgiving having dealt with vintage gear like tapes, vintage microphones and operating noise of consoles in my work but in an ideal world, it would've been great if it was a bit lower or even better, not there at all. But if you want high output power and low output impedance, there is going to be a bit of noise floor and you can either learn to live with that or use devices like iFi Audio iEMatch to counter it. I personally don't use the iEMatch.
Sadly, I too experienced EMI interference in the balanced 4.4mm output, like most others reported. Every time I pause the music, I hear digital crackling for a few seconds before the DAC goes on standby. This happens mainly when I'm around the WiFi router or my phone with WiFi on. This can be attributed to the ultra-high output power and very low output impedance. I think Hiby should have sorted this out somehow while beta-testing but nevertheless there is an easy workaround to it - just avoid standing next to wireless connections and signals. Lol!
Conclusion –
Hiby's flagship, the R6 Pro, is a lovely DAP and it has been a pleasure testing it out in detail. It has excellent build quality plus it is very beautiful and classy to look at and hold in the palm of your hands. Hiby also managed to fit in impressive hardware, features and developed a very smooth UI. Hiby Music too is an excellent music player with outstanding features, some of which I use on a daily basis. The high output power and low output impedance specs are impressive and should power most gear flawlessly yet sadly it has R6 Pro picking up EMI interferences in the 4.4mm out, when close to Wifi signals. Nevertheless, my experience of using and testing it in detail for the past month has been great and I find it to be an excellent piece of gear, period! I can't wait to try what Hiby has in store next but for now, R6 Pro can certainly go into my list of gear recommendations.
You can purchase the Hiby R6 Pro directly from Hiby for $799 -
LINK