post-15996405
Joined

Dec 24, 2019
Messages

295
Reaction score

1,375
Location
Joined

Dec 24, 2019
Location
Posts

295
Likes

1,375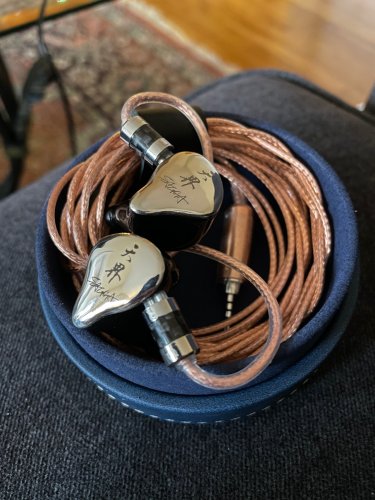 Well this was an interesting one to try and gather my impressions on!
Sagga:
Pros:
Unique, fast, and deep bass that almost mimics DD rumble; crispy and airy; near holographic staging; good imaging; female vocals sound sensual; good microdetails; comfortable and light; pretty silver faceplate
Cons:
hard to drive; timbre/texture feels a bit metallic at times; lower treble peaks; inconsistent mids
Intro:
After going through several TOTLs at a pace quicker than supermarkets selling out of toilet paper during the pandemic, I admittingly have hit a silver brick wall (figuratively)-the Rhapsodio Sagga.
It's a unique IEM. And in turn, it is a bit tough for me to describe-but alas, I shall try. After my mostly blind buy, I was hoping for a highly technical IEM with strong bass to help satisfy my dopamine needs. Perhaps a "direct upgrade" to the LX or a cheaper alternative to the Thummim. Infinity MKII already hits my highly musical, mid-centric IEM with holographic staging for all my non-guilty pleasure genres. I just need something to
rumbleeeeeee
me into oblivion (while retaining high technical chops to remain fresh and exciting).
Sources:
Stock or Socrates cable + DX160/MAX/R8 from Tidal MQA streaming. It sounded best from the MAX rather than R8.
Sound:
Bass:
The bass is definitely the most intriguing part of the IEM. It digs deep with a slight focus on mid-bass over sub-bass. It does detract a bit from the mids but is very well controlled. It is tight and punchy. The magnetostatic driver seems to provide a quicker decay than most dynamic drivers. It also does seem to move more "air" than the typical balanced armature, but you likely will not get the speaker/sub-woofer kind of boom akin to a standard dynamic driver.
While it does not fully replicate a DD in terms of realism and rumble, I do feel it fits somewhere comfortably between a well implemented BA and DD. In Bjork's "Hunter", it shreds through the sub-bass and thumps from left and right with ease, portraying the various densities and speed in the sounds. Its' ability to handle fast basslines/double-bass is impressive.
Mids:
This is where things get a bit wonky and ultimately fell short for me. I am a fiend for texture and as detailed as the mids can be, they felt slightly recessed to me. Occasionally they can come across as a bit crisp or metallic. Metallic to me does not necessarily mean thin or sharp, but rather lacking that warmth that helps with instrument texture and naturalness. Granted, overnight burn-ins did help subdue the crispness quite a bit. For reference, I put about 40-50 hours of burn-in before these impressions
Otherwise, instruments are generally airy and hold their staging on the axis well. Based off both MAX and R8, I would actually describe the IEM as slightly dry/bright with definite strong bass emphasis. Female vocals do sound very good – more sensual than male, which seem to be pushed back in the mix.
Treble:
The lower treble is well extended, with occasional sparkle (although personally not enough sparkle for me). The transients come across more crisp than warm/smooth. You can pinpoint the cymbal hits quite well on the vast stage of Saggas, although they do not come across as particularly organic. There is strong upper treble air to help avoid congestion. Before slight burn-in, Sagga came across as brighter. But as mentioned before, this has dwindled down over the week and become more bass prominent in the signature.
Staging & Details:
Sagga's bread and butter (along with the bass) seems to be the overall staging. It comes across as
almost
3-D like, with strong layering (not Odin levels but close). Odin for example has more of that surgical precision ability that makes it easier to pinpoint imaging. For Sagga, notes do fly around your head, mostly from left to right and depth (but not on Infinity's level, and not as much for height). The detail is top notch as well, I would say around the Elysium ability for microdetail.
Comparisons:
Sagga honestly does not remind me of anything I have listened to up to date. Yet, I will try and compare to similar priced IEMs in case it helps.
Elysium:
Not really similar at all. Sagga's bass runs laps around Ely, providing a stronger and more prominent mid-bass slam, with more convincing thwacks and thumps. Both are very agile and fast, where Ely is a bit more precise. Sagga and Ely are both crisp and airy, where Ely seems to have a bit better extension and more sparkle. Ely has stronger texture across the frequencies. Elys mids are more warm/wet/organic to my ears. Sagga seems to have the slightly larger staging versus Elysium's more intimate setting.
Universal Elysium was particularly crisp/vivid for me until I paired it with an Eletech Illiad cable that smoothened everything out. Unfortunately I never had the luxury of cable rolling with Sagga to see if I can get a similar type of fine-tuning.
Legend X:
LX has the visceral bass advantage, whereas Sagga will win in the speed department. LX is more sub-bass focused whereas Sagga on the mid-bass. LX mids are lusher with more warmth and texture. LX and Sagga seem similar on left-to-right staging although Sagga has slightly better instrument imaging, soundstage depth and detail. LX is overall the smoother IEM across all frequencies.
Infinity MKII:
As for Sagga versus Infinity MKII, I can see them being strong complements. Based off my R8 pairing, Infinity MKII comes off as mid-centric with very natural/organic instruments and vocals. The bass is more of a supporting cast rather than yelling "focus on me!", with great speed and deep sub-bass. Sagga's bass is better suited for bass-heavy genres like EDM/rap with more rumble-like mid-bass slam. Vocals are sweeter and more intoxicating from the Infinity. The treble sounds smoother on Infinity than Sagga to me, with more sparkle and extension. Sagga has great 3D-like staging, but Infinity IS "3D" to my ears, with the sounds enveloping all around your head. It has stronger texture and smoother/less crisp transients.
Pairing Sensitivity:
I also do want to mention that although Sagga is not as source sensitive as the Infinity MKII, you will need a powerful DAP/source to drive these. I ultimately preferred the MAX over R8 & DX160 due to its' stronger technicalities and slight refinement to the mids and texture. Despite the better MAX pairing, I still felt texture and timbre across the mids and highs could have been a bit stronger (re: I love my emotional, textured mids/highs).
Conclusion:
Although Sagga does not resonate with me as much as Infinity MKII did, I would find it hard for it to be redundant in anyone's collection. It should also be able to satisfy bassheads' needs more than the Infinity MKII. It is tough to nail the technical-versus-musical dance, yet Sagga finds its own way of properly doing so. More dry than wet, more flashy than natural…if that makes sense?
I usually prefer a warmer, technical signature that is airy without being too crispy. I value soundstage, texture, realism, detail. I usually prefer W-shaped sigs. Infinity can be bright from some pair-ups, but I have found my personal sweet spot through its' pairing with R8 Turbo.
In short, Sammy has created another unique IEM. I am curious how the magnetostatic drivers plays out over time (i.e., Sagga, Bomber, and Supreme MKII). Sagga's bass is fun and unique, with overall strong technicalities. It would be interesting to play with some tube sources and higher quality silver/gold cables to try and get even more out of this new driver.
TL;DR: Sagga is a unique IEM with an interesting deep, yet fast bass (mix between BA and DD). It falls quite short on overall texture and realism for the mids and treble. It has strong technicalities in its' staging and imaging, which IMO helps it compete with similar priced IEMs (as long as its slightly dry/bright leaning, semi bass-head sound signature suits your preferences).
It needs a powerful source to sound best and I do wish I had more cables/a tube set up to try other pair up synergies.
Last edited: