Latest reviews
TWS adapter iBasso CF01: air kiss
Pros
:
Sound, convenience, design, build quality, price.
Cons
:
There is no way to adjust the volume on the device.
TWS adapter iBasso CF01: air kiss
Hi friends!

It's no secret that audiophiles have a fair amount of retrograde: many of us sigh languidly at the sight of vintage Japanese audio equipment, but at least a small vinyl collection is considered to be a must have for any self-respecting and unwritten tradition of our international community of high-quality sound lovers. However, today, let us carefully blow away the romantic veil from the past, like dust from a record, and turn our eyes forward. Moreover, we have a wonderful reason for this. An extremely relevant device from my favorite iBasso - TWS (true wireless stereo) adapter - CF01 came to visit us.

This device is a compact wireless receiver capable of receiving a digital signal via Bluetooth sent from your smartphone, tablet or laptop, processing it and transmitting the already analog signal to IEM connected to the CF01. Such a scheme is ideal for those who want to listen to good quality music on the road or during sports, using modern streaming services (TIDAL, Spotify, Deezer and others), but, of course, not only.

I must say right away that I was delighted with the new iBasso development. And, as it seems to me, CF01 will not leave anyone indifferent, now I will explain why.
Text: Alexey Kashirskey (aka Hans Barbarossa)

Specification
Bluetooth chip: QCC3020
Bluetooth version: Bluetooth 5.0
Bluetooth protocol support: SBC, AAC, aptX
Connection range: about 10 meters
Output power: 9mW@32ohm
SNR: ≥98dB
Playing time: 4.5 hours (earhook) + 20 hours (charging box)
Charging time: 1.5 hours (earhook) + 2.5 hours (charging box)
Charging interface: Type-C
Waterproof level: IPX5
Appearance, kit and ergonomics
You can see the very graceful forms of the receiver right away on the printed white dust jacket, with which we begin our acquaintance with the device. Here, in addition to the photograph, there is also the name of a well-known brand, the model index and the designation of the type of activity - TWS Bluetooth IEM adapter. Detailed specifications for numbers lovers are given on the back.
Under the wrapper, we find a black box with an embossed brand logo. We open its lid and discover a wonderful plastic black box, which is both a reliable storage and a convenient charger. Inside it, the CF01 itself is comfortably located: two stylish and comfortable "sticks" located behind the ear, to which headphones are attached. The kit also includes a short USB-C cable for connecting to the power adapter, as well as an instruction book and warranty documents.
Frankly, I liked this case so much that I was trying to write one review only about it and the second one about the adapter itself. Well, really, this is a small miracle, in which the three most important components are perfectly intertwined: design, ergonomics and technology. First, the case just looks gorgeous, like some kind of James Bond accessory. Secondly, everything is thought out in it to the smallest detail: in addition to the CF01, there is also a place for earphones connected to it. I took off the adapter, threw it with the IEM into the case - and the device itself was magnetized to the charging connectors. Moreover, charging can be carried out both from an outlet, through a cable with a power adapter, and from a wireless (Qi wireless) charger. A CF01 charge lasts approximately 4-4.5 hours, a case - for 20 hours.
I hardly take my eyes off the case, dear to my heart, and move on to the adapter itself, especially since it caused no less strong feelings in me. CF01 is built on Qualcomm QCC3020 chip with Bluetooth version: 5.0 and support for AAC, SBC, aptX audio protocols. The device does not work with LDAC and aptX LL / HD codecs, but in my opinion it is not necessary.
These "Sticks" CF01 are made of metal and plastic and have a small tail-wire with a connector at the end for attaching IEM, which (this is important!) must have MMCX connectors. Moreover, CF01 can work as a pair, acting as a stereo adapter (left / right), and separately (right or left, mono) - as a separate headset. The device also has a microphone with external noise suppression, so you won't have any problems with calls and phone calls. During testing, the quality of sound transmission, both on my part and on the part of the interlocutor, always remained at a fairly high level.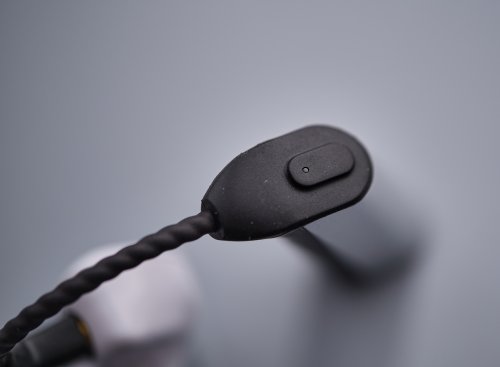 Contacts for connecting to the charging case are located on the bottom of the CF010, and on the top there is a button and a small blue LED. By pressing a button, you can both control audio playback from your smartphone (start / pause / skip to the next track), call the voice assistant, and work with calls (answer or reject). There is no possibility to control the signal volume in the adapter. This is perhaps the only drawback of this device.
The connection with the smartphone takes place without any problems. You need to set up pairing once, and then CF01 will always be detected automatically. Well, at least that's how I did it.
Of course, we must also mention the presence of protection against moisture according to the international standard IPX5, which will save the CF01 from the effects of sweat, precipitation and other minor troubles of this kind. It is worth remembering, however, that if the IPX5 can protect the receiver itself from, say, rain, then an extremely unpleasant story can happen to your IEMs if it gets inside the water. Therefore, protection is protection, and no one canceled caution and prudence.
Now we put CF010 over our ears and turn on our favorite music.
Sound
Signal source: Huawei p20 pro smartphone.
For listening we used IEMs: iBasso IT00 and BGVP DMS.
Despite the fact that for the test I connected two IEMs models (see above), I spent the main audition with the iBasso IT00, and taking this opportunity, I can strongly recommend assembling this pair: IT00 and CF01. In my opinion, it looks great, sounds great, and the IT00 IEM is also quite affordable. By the way, we recently wrote a review about these IEMs, in case you suddenly missed.
In any case, the sound will mostly depend on the IEM connected to the CF01, but the adapter itself performs its functions (DAC / amplifier / headset) without any problems. Therefore, my analysis of the sound this time, for the most part, will be nothing more than a description of the capabilities of the IT00 IEM itself paired with the CF01. The only thing that distinguishes the style of the IT00 in collaboration with the CF01 in comparison with the "wired" version is the introduction of a slightly more emotional component.
The sound of the duo IT00 + CF01 is quite balanced, with a well-developed low-frequency range, smooth and sufficiently informative mids, as well as an accurate, unobtrusive, but slightly simplified high-frequency range.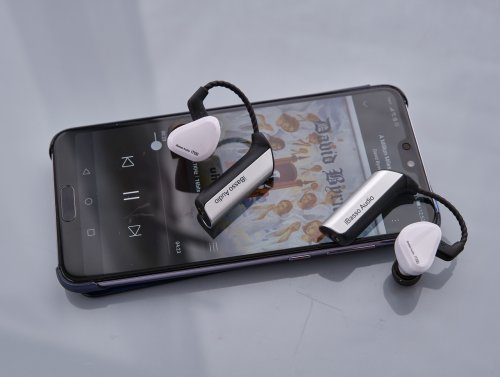 The audio canvas is drawn quite spaciously, contrastingly and naturally.
It is a neutral and at the same time emotional way of delivering sound, while having a smooth and natural form. Here the balance is skillfully maintained between serious academic techniques and the preservation of the graceful expressive component of the music. We also do not hear any obvious imbalances in the tonal balance, everything is clear, smooth and to the point. The manner is extremely clean and well balanced.
Also worth noting is the overall smoothness and decent sound detail. Compositions are conveyed cleanly and in detail, here each sound is clearly outlined in space. Good resolution and quite decent speed characteristics are good news.
The bass is quite accurate and nimble, with good control and high-quality texture processing. It is served extremely smoothly, smoothly and precisely. Quantitatively, it is not much, but there are no questions about the quality of working out, it is on a par with the rest of the frequency range. It is smooth, embossed and very comfortable.
The drum kit sounds clearly and quite sharply, and the midbass goes almost on par with the middle.
The mids are clean, smooth and natural. Here, each musical image is endowed with its own bodily basis. This is an extremely melodic manner, where all sounds or instruments are in their correct place in space. Strings, wind and vocal parts sound pleasant and graceful. Smooth, a little restrained, but at the same time expressive.
The sound canvas is drawn harmoniously, reliably, with a spreading stereo panorama, in neutral warm colors. It is a well-balanced, smooth and at the same time emotional performance, where all the elements of the composition sound precise, large and multifaceted.
High frequencies are delivered in a clear and comfortable manner. Although they are not aggressive, they nevertheless attract a little attention. There is a bit of simplification here.
In general, both to the device (CF01) of this form factor and to the IEM (IT00), I have no complaints in terms of sound. Naturally, connecting by wire to a better source will have advantages in sound quality, but in terms of convenience and ergonomics, the CF01 is definitely ahead.
Conclusion
I have never hidden my sincere sympathy for the developments from iBasso, and now I also once again realized that we and the engineers of this company look at the bright audiophile future from the same angle. There is no doubt that streaming services will continue to grow in popularity and that such miniature wireless gadgets will soon gain a significant share of the audio market. And the CF01 receiver, without a doubt, has every chance of becoming the gold standard by which the corresponding products of other brands will be judged.
And if we get away from the pathos, then in any case it turns out that the CF01 is an extremely interesting device with good sound, chic design and an excellent functional case. Listen to your favorite music and be always in touch - iBasso CF01 takes over both the first and the second.
Well, one more undoubted plus is the affordable price. At the time of this writing, the device cost $140. Considering all the undeniable merits of the CF01, I find this price more than adequate. The only thing that I would like to see in future versions of the receiver for me personally is the option with a 2pin connector for connecting my custom monitors (CIEM).
iBasso CF01 Bluetooth Adapter Review – Jim Carrey Has Become The Cable(less) Guy
Pros
:
Comfortable, light, good build.
Neutralish sound – doesn't colour frequencies, and potrays the connected IEM as it is.
Excellent sound quality.
Charging case can fit large IEM inside, has airbags to cushion precious IEMs and magnet to secure them.
Up to 24h playback with charging case. Supports wireless charging.
Dedicated amp for better headroom, dynamics.
Strong and easy BT connectivity and range. No dropouts for BT.
Has a mic to take calls.
IPX5 water resistance.
Cons
:
No volume control.
No LDAC or aptX LL/HD.
Hisses with highly sensitive IEMs (generally not noticeable when music starts).
MMCX only (but u can use 2 pin to MMCX adapters with no issue).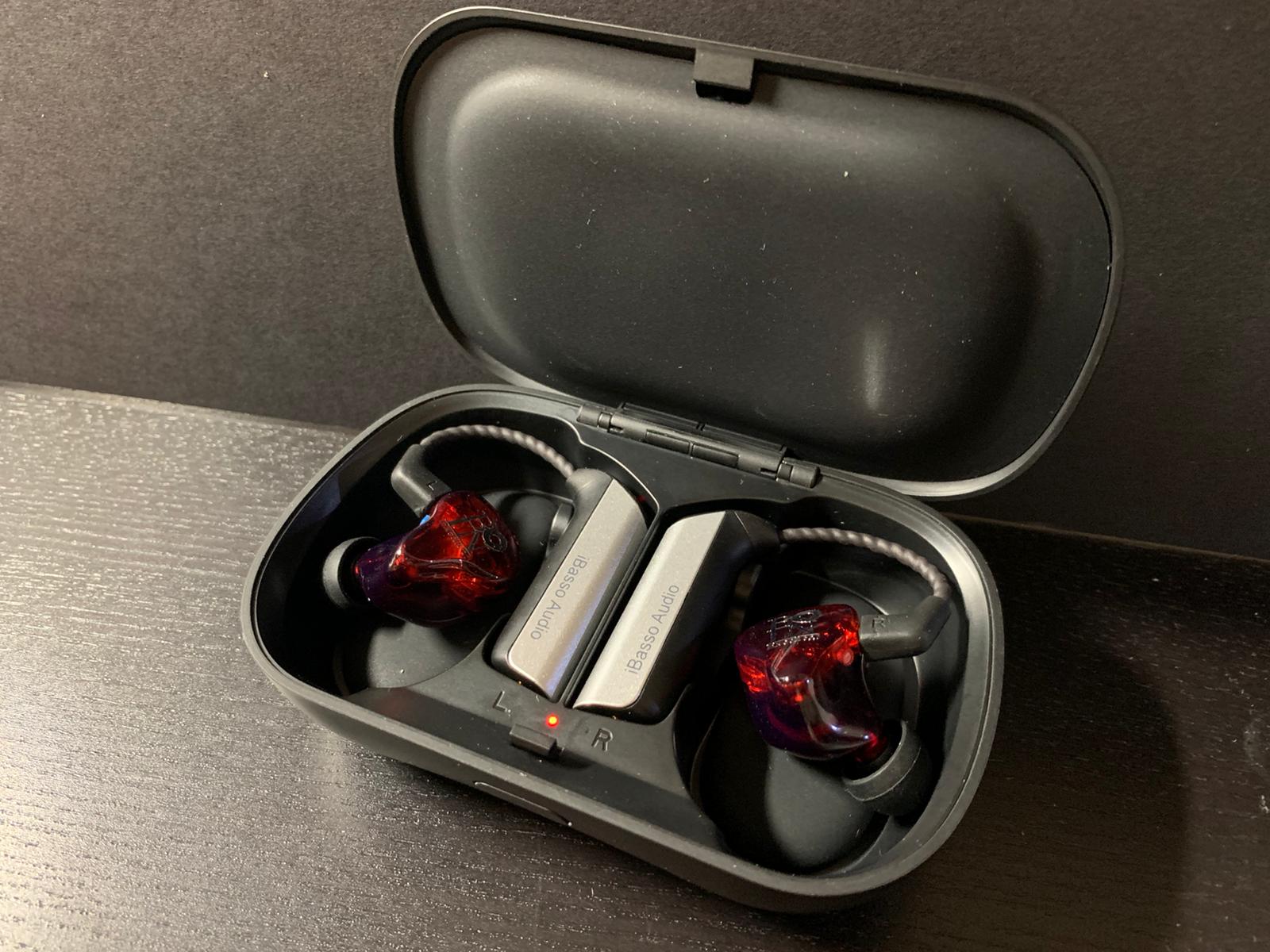 DISCLAIMER
I would like to thank Paul from iBasso for providing this review sample, my views are my own. It can be gotten at $149 USD at multiple sites/shops.
EXECUTIVE SUMMARY
The iBasso CF01 is a really nifty bluetooth wireless adapter that allows one to bring their favourite detachable IEMs on the go. Its sound quality is superb, coupled with an innovative charging case, good BT connectivity and headroom, and up to 24 hours playback, this is one wireless gear that didn't make me miss my cables too much.
SPECIFICATIONS
Bluetooth version: Bluetooth 5.0 (Qualcomm QCC3020)
Bluetooth coding: SBC, AAC, aptX
Wireless range: 10 meters
Frequency response: 20 Hz – 20 kHz
Output power: 9 mW @ 32 ohm
SNR > 98dB
Audio decoding: 24 bit 192 kHz
THD + N < 1% (20 Hz – 10 kHz 1mW)
Playtime: 4.5 hours (adapter) + 20 hours (charging case)
Charging time: 1.5 hours (adapter) + 2.5 hours (charging case)
Waterproof level: IPX5 (sweat and rain resistant)
Tested at $149 USD
ACCESSORIES
In addition to the BT adapter, it comes with:
1) Charging case, which incorporates many innovative ideas:
It is very roomy and can fit big IEMs.
It has a well designed upper and lower "airbag" to provide cushioning and extra protection for your precious IEMs.
The charging case has magnets to accept the iBasso CF01, so even if one holds the charging case upside down or at an angle, the iBasso CF01 (and connected IEM) remains securely stashed inside.
The charging case can be charged via wireless devices/pads or via USB-C.
2) USB-C charging cable
BUILD/COMFORT
The iBasso CF01 is very comfortable, light and ergonomic, no issues using it for hours, you even forget sometimes it's in use. The wire guides are quite flexible (neither too stiff nor too floppy) and build quality is sturdy. The buttons are found on the top of the iBasso CF01 when it is worn in the ear.
The iBasso CF01 has IPX5 water resistance rating, and that potentially means it may be used for exercise or in the gym.
Unfortunately, the iBasso CF01 only comes with MMCX connectors, but I managed to use some aftermarket 2 pin-MMCX adapters with no issues, when pairing it with 2 pin only IEMs. They cost around 2 bucks from places like Aliexpress and don't really degrade the sound quality, so worth a shot if you wanna try 2 pin IEMs on the iBasso CF01.
FUNCTION
The iBasso CF01 powers on when taking it out of the charging case. The left and right sides pair up automatically when taken out of the case, and I had no issues with pairing it with multiple BT devices, all devices recognized the iBasso CF01 on the spot.
Putting them back inside the charging case switches them off and starts charging them. Pressing the power button on either side of the iBasso CF01 for 3 seconds can also turn on or off the iBasso CF01 on their respective sides. Pretty foolproof in terms of function.
The iBasso CF01 has a mic and can take calls, with very good sound quality for calls. To answer calls, short press the power button. To reject the call, press the power button for 1 second. There's an option to use a smartphone voice assistant (if your phone has such as function), by pressing the power button 3 times consecutively.
When playing music, pressing the power button pauses it. When music is paused, pressing the power button restarts it. Double pressing the right side power button skips to the next song, while double pressing the left side power button goes back to the previous song.
There's no volume controller on the iBasso CF01 unfortunately, but I guess one can always change the volume at the source, though that limits convenience somewhat.
Connectivity is excellent, I have not a single drop out whatsoever in the past 1 month that I've been using them. The BT range is about 10 meters or so, assuming no walls/obstructions are in the path.
The specs claim that the charging time is 1.5 hours (for adapter) and 2.5 hours (for charging case) and that playtime is 4.5 hours (adapter) per charge. I think it is thereabouts with my usage at moderate volumes. The specs also state a 20 hour playback with charging case and it seems correct, I've used it for about 3 days (6ish hours or so per day) before needing to charge it.
TECHNICAL ASPECTS
The iBasso CF01 uses the Qualcomm QCC3020 TWS chipset, which is supposed to provide the most up to date wireless features (as of the time of writing). It has BT 5.0 with support for aptX, SBC and AAC, but unfortunately doesn't support LDAC or aptX LL/HD.
For the purposes of this review, I paired the iBasso CF01 with the Audiosense T800, Blon Cardinal, iBasso IT00, Nicehck M6, Toneking Ninetails and Westone W30. The iBasso CF01 is quiet with lower sensitivity IEMs, but does have a slight hiss with highly sensitive IEMs, but this hiss is not apparent when music starts playing. The iBasso CF01 has a dedicated headphone amp and that provides good headroom for most IEMs. Other than power, this amp gives better dynamics too, though this might explain a slightly lower battery life (4.5 playtime on 1 charge) compared to say the TRN BT20S (at about 5 – 6 hours), when both are played at moderate volumes.
Soundwise, the iBasso CF01 is excellent, it provides a neutralish and transparent sound, with no colouration of frequencies, and as such this allows the IEM connected to it to paint its true sound signature without embellishments. I did note a very slight subbass and higher treble roll off, I don't think these extremes of frequencies are too noticable on the go or outdoors TBH. Soundstage is slightly bigger with the iBasso CF01 compared to a lower powered source such as a smartphone.
I'm a hardcore cable guy, and this nifty little device has made me marvel at how far wireless gear has come in just a few years. With the iBasso CF01, I didn't really miss my cables much to be honest, and the convenience it brings is very good in some situations, such as doing housework, exercising or for on the go use.
COMPARISONS
Even among wireless gear, I generally prefer BT adapters (like the TRN BT20S and TRN BT20), rather than TWS buds, as I'd like to use my favourite detachable IEMs (with famililar sound signatures) on the go, and hence these BT adapters allow me to reuse the IEM. Plus I think that TWS buds are limited sooner or later by the BT tech or battery life (with repeat charges), so at least the IEM can be kept even if the TWS bud dies/gets outdated.
So I previously bought the TRN BT20 and TRN BT20S for this purpose, they are cheaper than the iBasso CF01, but do not come with a charging case. There's a newly released TRN BT20S Pro that has a charging case and swappable 2 pin/MMCX modules (though different modules are sold separately). I would very much like to buy the TRN BT20S Pro one day to compare with the iBasso CF01, as both have a charging case and I'll gladly update this review thereafter if I get the TRN BT20S Pro.
However, do note that TRN's QC is sometimes not the best and my TRN BT20 and TRN BT20S wireless sets are both dead after just a few months of use. As such, I would have really liked to have done a thorough A/B testing of these TRN gear vs the iBasso CF01, but off the top of my head, the TRN BT20 and TRN BT20S adapters lose to the iBasso CF01 in BT connectivity and slightly in sound quality. The TRN BT20S had a bad hiss with highly sensitive IEMs, worse than the iBasso CF01. Battery life is perhaps a bit longer on the TRN BT20S. Comfort and fit is better on the iBasso CF01 than the 2 TRN wireless gear. These 2 TRN models (not the TRN BT20S Pro) don't come with a charging case too, and headroom and dynamics aint' as good as in the iBasso CF01.
Of my other TWS earbuds, the TFZ BV2 has worse battery life, worse sound quality/connectivity, with frequent drop outs. The Tronsmart Apollo Bold has added ANC, but it has slightly worse sound quality/connectivity.
CONCLUSIONS
The best compliment I can give a wireless gear like the iBasso CF01 is that it didn't make me miss my cables too much. Even Jim Carrey will become a cable(less) guy with this nifty set. The iBasso CF01 packs good sound in a good build, has a charging case with innovative ideas, doesn't colour any frequencies, and has good BT connectivity and a dedicated amp inside. Having IPX5 rating for water resistance tops off the icing on this set, as it may potentially be used for exercise or in the gym, which is one of their better uses for a wireless gear compared to wired sets.
While I would have wished for a volume control and LDAC function, and a 2 pin option (though this can be easily fixed with a 2 pin to MMCX adapter), this is just nitpicking, and I am very happy with the iBasso CF01 for my wireless needs and the convenience it brings to the table.
Last edited:
Truly excellent sound quality - give your favourite IEM the bluetooth treatment
Pros
:
Excellent balanced sound quality. Comfortable. Good battery life. Can go loud. Wireless charging case.
Cons
:
No remote volume control. No LDAC.
Introduction
In my opinion bluetooth has come a long way in the last couple of years and I really feel that we have reached a point where it's becoming increasingly difficult to tell the difference between a wired and a wireless connection.
Through a combination of review units being sent out and my own purchases I really shouldn't have, I appear to have amassed a rather embarrassing amount of wireless headphones. Here's the list (mostly based on my personal preferences from best downwards):-
Sony WH1000xm2
Without a doubt these are my favourite full sized bluetooth headphones. Now I come to think of it, it's the only full sized bluetooth headphone I have in my collection currently. I love their sound character and they can go loud, feature excellent controls and go for a long time on a single charge.
Sony WF1000XM3
Sonically to my ears they share a similar sound signature to the larger Sony counterparts. I love the active noise cancelling and I think they sound superb. It's fair to say that these are my favourite true wireless earphones at this point in time.
Lypertek Tevi
A very pure set of true wireless in-ear monitors which focus completely on sound quality and battery life. These sound great and have an excellent feel in the ears - the only thing that lets them down is the very stiff buttons.
Mavin Air-X
Another brand which definitely focusses on what's important in a set of bluetooth earphones - sound quality, range and battery life. The Air-X definitely hits the spot for me. The only criticism I could level at them is the tips fall off too easily because the stems are too smooth.
Apple Airpods
I know, I know, I've just lost some cred but to be truthful I think that they sound excellent and are ideal for listening to music in bed as you can lie on your side quite comfortably with these in.
The CF01 is a Bluetooth Adaptor which is designed to connect directly with your favourite set of mmcx enabled earphones. The electronics then simply wrap around the back of your ears pretty much out of sight. You might think that this would become somewhat cumbersome but in actual fact they feel great and are no more visible than a regular set of earphones.
CF-01 - Initial Impressions
The CF-01's are made from a combination of metal and plastic which gives them a really cool futuristic - almost industrial look to them. I could easily imagine someone mistaking them for hearing aids - just really cool hearing aids that give you special powers. They feature just one multi-control button on each bud which offers the usual set of controls - nothing special there. Unfortunately you cannot control the volume from the device - that's a shame. A short braided cable comes from the top which terminates in a really tightly fitting MMCX plug. That's it. Just add your own favourite compatible tips and you're good to go.
The adaptors come with a USB Type C charging case - just like you would get on many sets of TWS type earphones. The case is significantly bigger than any of those though - but for good reason - it stores your buds along with the electronics - excellent touch. To make things even better though, the lid is held in place with a button so it can resist being sprung open when attempting to hold some of the larger IEM's out there. That's a real nice touch. I did expect it to be somewhat fiddly getting these devices back in the case but it's actually just as easy as any other TWS headphone out there - the magnets just help them find their place - easy peasy.
Functions and Bluetooth
There's really not much to say about these headphone adaptors - they just work. Bluetooth range is excellent - easily coping with the upstairs bathroom test. Connection is also rock solid - I've yet to experience any break ups at all and the power output is very impressive indeed. The singly button controls are reasonably easy to find and what's nice is that you don't affect the fit when you use them. The headphones power on and off when you remove and replace them in the case.
Battery life appears good - although I've not really had the chance to test this out properly yet. iBasso lists the following on the rather nice packaging:-
Bluetooth Version: Bluetooth 5.0
Bluetooth Coding: SBC AAC aptX
Wireless Range: 1 0 m
Speaker Frequency response: 20Hz-20kHz
Output Power: 9mW@32ohm
SNR: ?98dB
Audio decoding: 24bit 192kHz
THD+N: <1% (20Hz-lOkHz ImW)
Playtime: 4.5h (adapter) + 20h (charging case)
Charging time; 1 .5h (adapter) + 2.5h (charging case)
Waterproof level: IPX5
Sound Quality and Fit
A quick qualifier. Whilst I do consider myself to have reasonably good hearing - I'm also 57 years old and can't kid myself that I have the ears of a 19-year old. With this in mind, I do like a flat, fairly uncoloured sound signature when critically listening (think Etymotic ER4P) but when I'm more active I do like a smidge of extra bass. I avoid using any form of EQ - not because I'm a snob or a 'flat Earther' - it's just that I use both my phone and my Sony Walkman A55 MP3 player. The Sony doesn't support eq function when using bluetooth. I tend to focus on getting the right tips - always happy to try the ones supplied with the units first but also not afraid to tip roll when necessary.
I naturally paired the CF01 with their IT00 iems and tried them out for a couple of hours. This combination sounds superb. Utterly flat and indistinguishable from a wired connection (at least from my poor, tired old ears). I then wanted to test the IT00's using the supplied cable so I then fitted my trusty Magaosi K3 Pro IEMs to the CF01 and I haven't looked back since. The sound quality on these adaptors is utterly remarkable. There's no hiss, no colouration to the sound and the volume in buckets. I have to say that this pairing is like a match made in heaven - without a doubt this is one of the best sounding bluetooth headphone system I've ever heard.
Now don't get me wrong. I still love my Sony's and my Tevi's and my Mavin's - I suspect that I always will. The Sony's offer much better external noise cancellation than the CF01/Magaosi Combo (from now on just referred to as the CF01). The Mavin's and the Tevi's are far more convenient to carry around and feature proper waterproofing and the WH1000xm2's are just fabulous. But from a pure sound quality perspective, the CF01's are utterly sublime. The fit is good but I wish there was a half centimeter more length to the cable which connects the electronics to the earbuds. With the IT00's the fit is perfect but with the Magaosi's, the cable felt just slightly too short.
I think the Magaosi K3 Pro add a slight bass 'bloom' to the sound - not enough to spoil the overall neutrality, just enough to give them a bit of 'zing'. In other words, this combination isn't ruler-flat but this is because of the buds I'm using - not the CF01's themselves.
To be honest, there's really nothing major to criticise with this device. There are some things I would like to have seen - for example LDAC codec support, a slightly longer cable, remote volume controls, but in many ways this is just nitpicking because they sound so damned good just as they are.
Conclusion
I would normally break the sound character down and discuss in detail the bass, mids and treble - but with this device it's really pointless - it appears to be ruler flat, has great power output and basically will sound as good as whatever headphones you decide to connect to them. If you have a set of wired IEM's which use the MMCX connector, don't hesitate if you want to experience bluetooth sound at its best. Very highly recommended.
Comments
I've still got them - and I still think they're brilliant. Unfortunately it would appear that these are no longer on the market but if you see a used set for a reasonable price I wouldn't hesitate. Here's my current bluetooth collection:-

Sony WF1000XM4 - I absolutely love these.
Sony WH1000XM2 - Again - I rate these very highly.
Tronsmart Apollo Bold - Still a bit of a bass monster but great for low level listening in bed.

I still think that the iBasso combo beats them all from a pure sound quality perspective.