Introduction:
I seriously can't imagine anyone reading by now who
hasn't
heard of Fiio.
They started out by bringing audiophile gear to the masses at budget prices, and have continued to increase the quality and diversity of their offerings in the years since.
Having been gaining praise for their flagship level DAPs and upper mid-tier IEMs, they've followed this up with almost nonchalant brilliance by introducing the USD $59 FD1.
My sincere thanks to Sunny and the team at Fiio, for providing me with a review unit to keep in exchange for an honest review.
Photos
: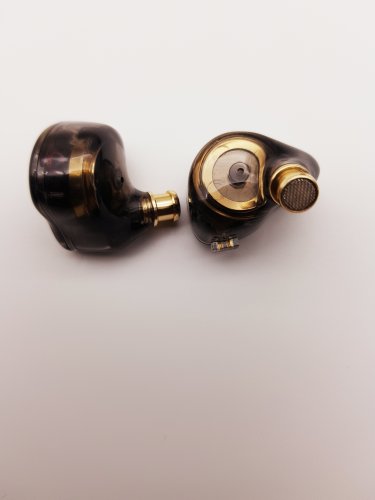 Unboxing, packaging and accessories
:
The packaging is exemplary for this price point; it is able to outdo the packaging and accessories of IEMs 5 times its price.
The carrying case is a marvel of design and beauty and the included cable puts to shame the offerings of even some TOTL stock cables.
It's a dark copper colour, with flawless braiding, classy and understated in appearance.
It comes in 3.5mm only, which I think is a reasonable choice, given the likely listening habits of users at this price point. Of course, Fiio have a range of other aftermarket cables available too. And the appearance of the IEMs themselves, like the cable, is a delight; sophisticated and understated.
The Fit
:
They have a very good insertion depth for me personally, and as a roughly medium sized IEM, are very comfortable and I have been able to wear them all day with no discomfort or fatigue.
There's nothing for me to fault here.
The Sound
:
So, as ever, I'm going to start my review with critical listening to a variety of tracks, in order to draw forth impressions of how these IEMs sound with different genres of music.
Listening was done on a Sony WM1Z, on the 3.5mm single-ended output.
For convenience and giving me (and hopefully you) some point of reference, I'll be using many of the same songs I used in a previous review.
Tanita Tikaram – Little Sister Leaving Town (16-44 FLAC)
This is a song that features a bassline from what sounds like an acoustic double bass; on the right kind of IEM, this is infused with authority and rumble.
There's a medium amount of rumble and slam here, plenty enough to satisfy, without becoming bloated or overbearing. It's a very nice balance, I have to say, especially at this price point.
This song also features delicate percussion which dances around the more prominent thumps of the bass and main drum. On some IEMs, that extra percussion can get lost somewhat in the mix, but here the hi-hat, cymbals and all other percussion is distinct, clearly separated and audible.
Then comes the string section; cello and violins sound lush, with a warm timbre.
Similarly, so do the vocals; Tanita Tikaram has an unusually deep and husky voice for a female vocalist, and again, the FD1 presents all of these things in a rich and engaging way
Her vocals are front and centre, slightly forward in the mix.
The Divine Comedy – Tonight We Fly (16-44 FLAC)
A boisterous piece of classical-pop fusion wizardry, this song features clattering drums, fairly rapidly-played classical stringed instruments and the ever-so-refined vocal stylings of Neil Hannon.
The drumbeats have just a hint of slam and impact (they are not mastered strongly in the song to begin with); the FD1 does a good job of differentiating the snare drum from the hi-hats. It does fairly well with the stringed instruments which come in seconds later, but slower transients and slower decay mean that the edges of the notes aren't as crisp and separated as they could be. Still, the timbre has a nice tinge of warmth and is pleasantly realistic.
Marit Larsen – Faith & Science (16-44 FLAC)
In this song, I'm looking for how the IEM handles thumping percussion, mastered in a modern fashion with impact and prominence.
Good grief!
After the rather neutrally mastered drums on the previous track, this one is like the sonic equivalent of Knight Rider employing the Turbo Boost function.
The FD1 is fantastic here, providing head-shaking slam and impact, leaving me dazedly wondering whether I left my brains with car keys in the fruit bowl in the hallway (note for potential burglars: I don't have a car. Or indeed a fruit bowl. Donations welcome).
Note that this is in no small part down to the way in which the track is mastered, but still, I've heard IEMs still sound anaemic on this track, so it's quite remarkable what the FD1 can achieve here.
Alanis Morissette – All I really want (24-192 HDTracks FLAC, 2015 Remaster)
This is a pretty dense song, musically speaking, with its thumping drumbeat, guitars and various effects. It can sound a bit stodgy and congested without good gear to open it up and bring clarity and separation. I'm delighted to report back that the FD1 lifts its chin scornfully at such a 'challenge' (whilst laughing in the face of danger, naturally)
The soundstage of the FD1, whilst not TOTL huge, is fairly wide and deep. Aided by well-executed separation and imaging, it effortlessly handles all the various instruments here.
This is a track with a lot of little sounds going on in the background; little guitar squeals, wah-wah, vocal echoes, keyboards etc, all in addition to the standard instruments.
The FD1 is able to separate these all out too, and allows me to focus on specific aspects of the song at will.
Buena Vista Social Club – Chan Chan (24-96 HDTracks FLAC)
This song, I have to say, is very similar to the previous one in its complexity.
I think that the FD1 does well here. There's a lot that can go wrong on this track for an IEM at any level, never mind the entry level.
Sure, compared to $1.5k+ IEMs I've heard, the FD1 isn't presenting the bass, acoustic guitar and other instruments with the same degree of hi-res timbral accuracy, but for an IEM at this price (and frankly, even if it were three times the price), it performs outstandingly well.
Imaging, layering, separation are all technically accomplished and backed up by a slight organic warmth and musicality
CHVRCHES – Leave a trace (24-48 HDTracks FLAC)
Just a quick track to see how this does with a very modern style of pop-rock.
This song is heavy on the synths and driving electronic bass. The FD1 has that organic warmth and balanced and impactful low end which together sound so good with this song, making the notes and rhythm incredibly engaging.
Röyksopp – Monument (T.I.E version, 16-44 FLAC)
Interesting. When I tried this song recently with the $300 DUNU DK-2001, I noticed the crunching synth riff very strongly. Here with the FD1, I'm finding that the drumbeat seems to stand out more, driving the song powerfully forward. That synth riff is crisp, precise and heavily textured. The vocal seems very slightly recessed (this may be in the mastering of the track), but still with captivating timbre.
Gregory Porter – Consequence of love (24-96 HDTracks FLAC)
Lovely warm organic timbre, in part from the mastering of the track itself along with the sound signature of my Sony WM1Z DAP, all the instruments are separated out and I'm impressed by the layering and imaging. Detail retrieval on this high-res track is astonishingly good, and the vocals.. Wow..
Any fan of Gregory Porter (I'm a recent convert after seeing his Tiny Desk concert) will be aware of his gorgeous voice, but it's remarkable how well the FD1 presents it; the texture and timbre is exceptional for an IEM at this price point; heck, even for an IEM at 4 times its price point.
Gomez – We haven't turned around (16-44 FLAC)
This song opens with a deep cello flourish, which this IEM presents, again with remarkably faithful and engaging timbre. Similar result with the smoky, gravelly texture of the vocals.
So much detail coming through. A joy.
Extreme – Decadence Dance (24-48 HDTracks FLAC)
:
This can be a tricky track for even the TOTL IEMs in my collection.
It's quite dense, with a lot of shrieking, squealing guitars, combined with fairly lightly mastered bass and drums. So it's easy to end up being presented in a slightly sharp or fatiguing way. I love this song, but for my treble-sensitive hearing, it tends to work best with IEMs that have smooth treble and warmth in the lower mids, along with a thumping low end.
So, preamble aside, the FD1 does.. decently well.
I am not wincing or running for the hills. The separation seems decent, although not so good as with other tracks. The guitars are just, just about kept in check, and the substantial (but well-controlled) low end of the FD1 gives enough meat to the drums and bass to flesh the track out nicely. Oh, the little drum solo just happened. That was epic! Good job FD1
Alison Lau – Handel's Lascia la spina (24-96 HDTracks)
:
This classical opera track opens with an intake of breath from the musicians.
On TOTL IEMs especially, this can be clearly and intimately heard; on other IEMs, it can be almost imperceptible. Here with the FD1, it's audible and a nice touch; not in the league of the big boys (or girls) but again, impressive for the price point.
Another test is where the stringed instruments swoop low from 14-16 seconds into the song. Again, it doesn't quite capture the all of the depth and richness that can be gotten out of this part, but it does commendably and engagingly well. Also of note is that the vocals are again front and centre, never wince-inducingly sharp (a risk with this track) and they do capture very well all of her vocal acrobatics.
Miles Davis – Blue in Green (24-192 HDTracks FLAC)
:
Really, I have to take my hat off to the FD1 (note to self: buy a hat); it does so well here.
I'm focusing on the timbre of the brushed percussion, and how well it can be discerned, how it presents the trumpet (any sharpness?) and the timbre of these, along with the bass and piano. It's just faultlessly done on the FD1; far better than I'd expect of any IEM at this price or indeed at a significantly higher price.
Comparison
:
iBasso IT00 (USD $79):
I'm hearing the bass of the IT00 to deeper, with more rumble and impact; the FD1 is tighter and more controlled. The low end of the IT00 is more dense and with a palpable mid-bass lift. There's a slight V-shape, in contrast to the more reference-style tuning of the FD1.
The mids on the FD1 are comparatively more forward and reference style (but very engaging and rich still); IT00 goes for a more fun and energetic tuning - although still with a touch of that nice shimmer that's a bit of an iBasso speciality - with a bit less treble presence, extension and sparkle than the FD1.
Overall, I'd say that despite their similar price points, they are rather different IEMs tonally, and each will have its own fans

Conclusion
:
The FD1 offers simply incredible value for money.
It's thus far the best budget IEM I've heard.
The low end is quite fast, tight and without any bloat, but it also has a really satisfying amount of power, slam and rumble when the track calls for it.
The mids are very well done, with a tinge of richness and warmth; engaging and very good at presenting timbre faithfully.
The treble is controlled, smooth, but with excellent presentation of micro details.
Soundstage is above average, and it strikes a very pleasant balance between separation and intimacy.
Technically, it really is astonishingly accomplished for an IEM in the USD $50 - $200 range.
It presents vocals front and centre. It handles both male and female vocals really well; engaging the emotions and bringing out the timbre and texture, especially on rich, gravelly male voices.
The design again is remarkable for this price; I love the golden gleam of the dynamic drivers, coming through the smoky translucent shells. The fit is extremely comfortable.
Again, I'm not prone to hype, but I have found nothing that I could reasonably fault in the FD1, and can only wholeheartedly recommend it as an outstanding choice at an improbably low price point. Fiio, (and for those about to rock), I salute you