The FILL 
Wireless
 is a very capable and a genuinely nice Headphone. It offers pretty good Sound with the help of the Active DSP but...it is in serious trouble because of it's price and rivals. 
Let's talk about the 
FIIL
Wireless
 in detail - 
Comfort 
- FIIll calls the 
Wireless
 an "Over-Ear" Headphone, this is going to be my main point of criticism. I understand why Manufacturers avoid to make bigger Earpads for Consumer Headphones, they want to reduce the footprint, at the same time the sacrifice of Comfort isn't a smart move for a Headphone clearly marketed for Travel and other portable applications. 
The Pads are just not large enough to accommodate my ears and I'm pretty sure they won't fit 80% other people in the world too. The cavity is very shallow as well. 
Comfort is a major thing for a Portable Headphone and the 
FIIL
Wireless
 just wasn't able to impress me here. 
The Earpads are made of the same Pleather used the Brainwavz Earpads and other similar Pads like on the Audioquest NightHawk. This Pleather has become an industry standard and for good reason, it doesn't heat up as much and if fairly smooth and nice to the skin. 
The Headband is padded very modestly put so far it hasn't given me any trouble and seems to be adequate. 
Build Quality - 
The Build of these Headphones is very questionable, they felt very solid for a Plastic Headphone in the initial week of use. After that they started to squeak and lost the articulation tension. 
The hinges are also plastic, I'm not sure if the Plastic will survive unless the Composite used is in accordance of the stress-strain curve. 
The Paint is very nice and is finished well, doesn't feel like a cheap paint job, it also has sparkles embedded in the paint. 
The Headband is also Plastic and has a tight clamp, feels a little brittle too.
I'm sure the Materials should be adequate in the long run but they did skimp on the build. 
Sound - 
Note - Sound was evaluated in 
Wireless
 mode ONLY.
Manufacturers have an inherent advantage while designing 
Wireless
 Headphones, DSPs are something you can get away with here but not with high-end Headphones due to Audiophile idiosyncrasies, no doubt the 
FIIL
 sound very good. 
Bass is not over-inflated or bloated, it's very well controlled and sound tight. 
They easily could have over-done the bass but it's tuned very carefully, I think they did a very good job getting a decent curve to satisfy a large number of users. 
The response does lack some Mid-Bass energy but that's something most users won't complain about. 
It's a consumer Headphone, it has to appeal to Consumers so there is no doubt the 
FIIL
 is having a HiFi signature. It won't be as apparent due to the balanced bass response but it is something to note. 
The Treble never felt overly tizzy but at the same time it is accentuated a little, as I mentioned before - HiFi sound. 
The 
FIIL
 won't impress when it comes to imaging due to the Chamber size but it is still better than what it would be without any DSP corrections. 
Overall Fidelity was on point, didn't sound overly grainy or harsh which is very impressive. 
NC - 
The 
FIIL
 has Active NC as well. 
Now, I would just say this is a bonus feature, the NC doesn't compete that well with my QC25. The Destructive Interference Frequency range is good but at the same time the Bose NC is on another level, I wouldn't buy the 
FIIL
 for the NC only, Bose invented the technology and they have the exact range for the cancellation, it's very hard to compete I'm sure given the Patents so,  the NC on the 
FIIL
 is very respectable and much better than the Beats NC. 
Connections and Hiss
 - 
I used the 
FIIL
 with mostly 3 Devices, my Desktop PC, Nexus 5X and Macbook Air. I had no issues with connection with either of these. 
The range is very, very good. All Devices have different receivers have different ranges, I was able to go downstairs in my house and not loose connection while the 
FIIL
 was connected to my Desktop PC, on the other hand my Nexus 5X disconnected after I left my room. Macbook Air was in-between. 
Overall, the connection on the 
FIIL
 is solid and won't be a matter of concern for most. 
The 
FIIL
 has a major issue of Hiss when used 
Wireless
. There is no way around it, this issue is also present on the Beats Studio 
Wireless
 but I'm not sure about the Bose QC35. 
Nevertheless, it's annoying but isn't audible while you have anything playing. 

You charge the Headphones via Micro-USB and they can be used in wired mode with a 3.5mm cable (Android and iOS) cables are included in the box. 
Features and Battery Life -  
There Earcups act as a touch-pad for gestures such as Volume : Up-Down and Track : Next-Previous. 
In order to be successful at executing these gestures you need to swipe your fingers from the very ends of the sides for the respected gestures. It works but you need to be very precise and slow.
You can also hold at the respected position and it will continue the function till you remove your finger.   
There is a Multi-Function button at the bottom which serves as a Power button as well as a switch for the NC. 
You can charge the Headphones via the Micro-USB, I really would have preferred a USB-C to be honest. 
The Logo on the sides illuminate for extra douchiness. 
Another thing I wanted to mention was a Sound you hear when you turn on the Headphones, it's very loud and annoying. I hate it. 
(Too reduce confusion, that sound is intentional to let you know that you have turned on the Headphone)
Battery life is excellent, I got around 15 hours out of it with the LEDs on here and there.  
They are good enough for normal commute but I wouldn't take them on a long flight, the reason I like the QC25 is because of it's AAA battery replacement system. Those AAAs last 16-18 hours, they bust out, I put a new one in. No need to charge and wait! 
Bose is better for Air Travel, no doubt about that at all. 
Driver and Maintenance - 
Luckily, you can remove the Earpads for the occasional wash, the Pads just click in. 
More info on the Driver here - http://www.head-fi.org/t/202122/the-headphone-driver-pics-thread/435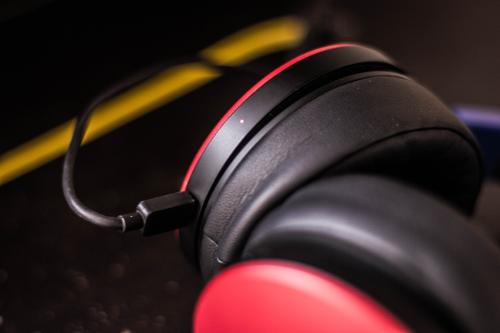 Conclusion - 
The 
FIIL
 is a good departure from other options that's for sure. At price range of ($259) there is stiff competition from others, spend the same and get a QC25 or spend extra $100 and get the QC35 both of which are better if NC and Comfort is first priority. 
FIIL
 offers a better Sound but has it's own fair share of problems. 
Overall, it's a good Headphone and I highly recommend it but...be aware of the shortcomings. 

Video Review -