Joined

Mar 31, 2011
Posts

817
Likes

3,834
For discussion on all things DUNU, please visit the Head-Fi master thread:
https://www.head-fi.org/threads/dunu-discussion-impressions-master-thread.961127/
DUNU launches ZEN, an inward reflection on the path forward
ZEN is designed around ECLIPSƎ, DUNU's next-generation paradigm for dynamic drivers.
DUNU prides itself on being constantly at the cutting edge of audio technology. Last year, inspired by the 50th anniversary of the lunar landing, DUNU launched
LUNA
, one of the world's first and only pure beryllium foil dynamic driver in-ears. As a project developed from an unconstrained budget, in a quest to extract an unprecedented level of performance from one of the most exclusive driver materials available for high-end audio, LUNA's driver was fabricated with a complex, composite assembly technique, utilizing separate materials for the dome, surround, and attachment points for the voice coil, for which DUNU was awarded an exclusive patent by the
CNIPA
(ZL20202008721.5).
(Some information is redacted for privacy reasons)
​
Following LUNA's success, DUNU set a goal to extend these innovative dynamic driver construction techniques across the company's entire earphone product line. With ZEN, DUNU introduces the ECLIPSƎ driver platform, a collection of exclusive, next-generation driver technologies. Combining the trickle-down driver fabrication techniques derived from LUNA, an ultra-powerful ring type motor assembly, and refined voicing methods, ECLIPSƎ is a next generation paradigm for dynamic drivers.
A magnesium-aluminum alloy dome with a specific W-shaped morphology serves as the centerpiece of ZEN's 13.5 mm ECLIPSƎ driver and allows ZEN to transcend performance standards at its price point. Furthermore, it is coated via high temperature, filtered, pulsed cathode arc deposition with nanoporous amorphous carbon (nanoDLC).
nanoDLC greatly augments the strength of the alloy dome by filling microscopic pores in the metal with non-hydrogenated, tetrahedral carbon (sp
3
-hybridized), at levels previously unachievable through plasma-enhanced chemical vapor deposition (PECVD) techniques classically used on polymer substrates. With nanoDLC, the sound reproduction surface on the ZEN yields physical properties that inch ever closer to pure diamond.
Chief engineer Andy Zhao, never one to settle on his laurels, designed a machine milled, ring-type, neodymium-based magnet assembly that achieves over 1.8 T magnetic field strength at the voice coil, one of the very highest figures achieved across the industry so far. The basis of this ring-type design will serve as the template for all ECLIPSƎ models to come.
With voicing cues taken from extensive feedback relating to LUNA, ZEN signifies the next step of evolution in DUNU's tuning approach. Whereas LUNA utilized a very purist, traditionally-minded voicing philosophy, ZEN combines a series of response-shaping dampers in conjunction with DUNU's proprietary Air Control Impedance System (ACIS). ACIS, a bass reflex technique first implemented in the DK-4001, helps reinforce bass frequencies below 100 Hz, providing ZEN with a robust sub-bass response that doesn't bleed into other frequencies.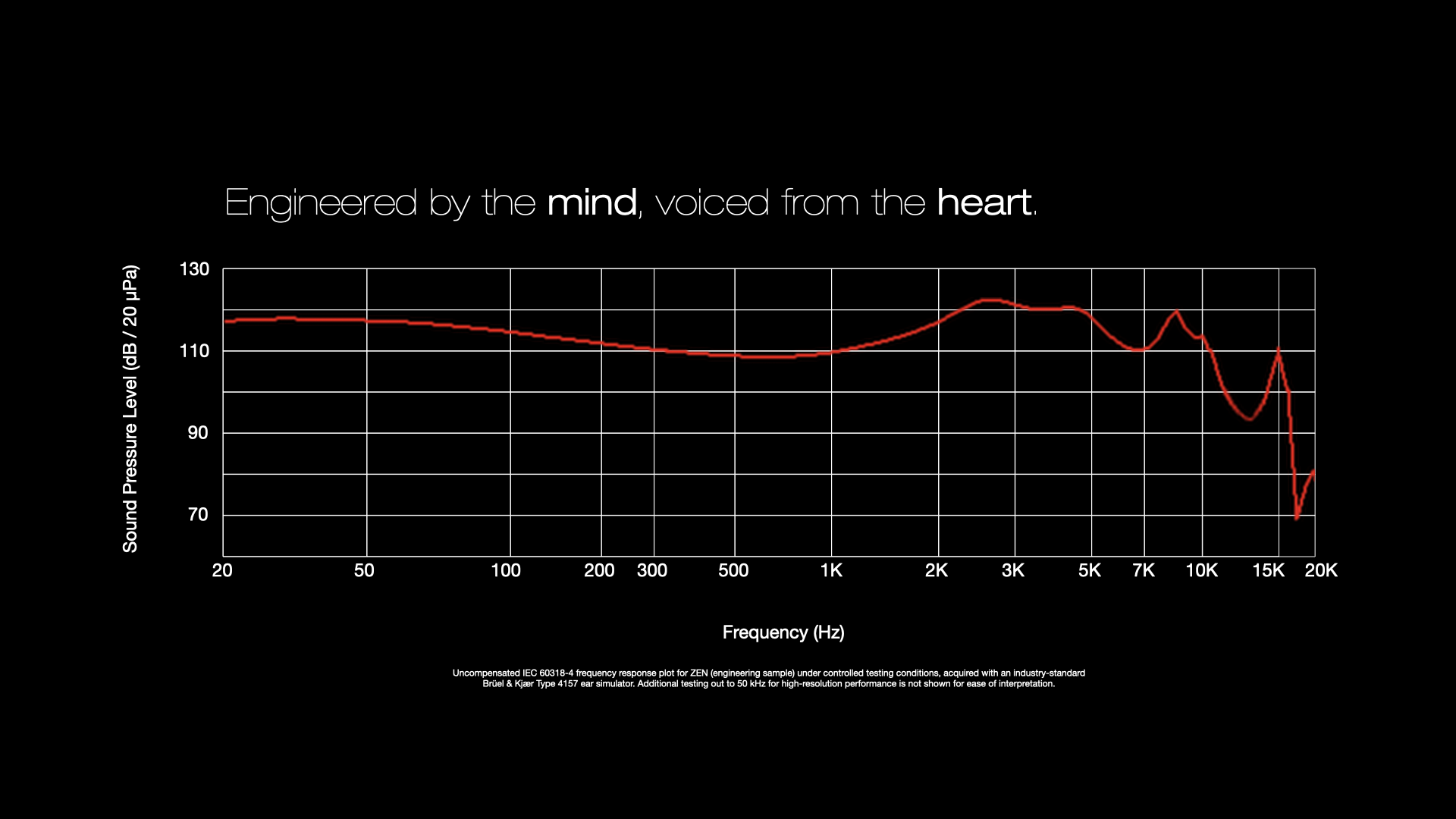 Taken together, ECLIPSƎ has allowed ZEN to supersede company expectations for what is possible at its price. "ZEN will appeal to audio lovers who desire a product that nears the level of technical performance set by LUNA, but at a more broad-based entry point," says Kevin Sun, Global Director of Business Development for DUNU.
On the exterior front, ZEN is a continuation of partnered discussions with industrial designer Moses Xu to express a cohesively themed design brief. This is DUNU's third such collaboration with Xu, reexamining the curves and lines that have defined DUNU's product identity over the years for a minimal reduction of those shapes.
Translating the concepts on the drawing board to the physical form meant a return to a medium very familiar to DUNU technicians. Machined from durable, monolithic 316 stainless steel and PVD finished in a scratch-resistant, understated wet black coat, ZEN is a stolid, yet expressive — reflective of ZEN's overarching product philosophy.
Usage-wise, ZEN continues DUNU's tradition of bundling a premium cable with the convenient Quick-Switch modular plug system as well as a generous fit kit of different ear tips. ZEN's designated cable is the DUW-03, an 8-core silver-plated copper cable first bundled with the Studio SA6, now finished with MMCX connectors. Aside from the standard 3.5 mm TRS single-ended plug, a 2.5 mm TRRS balanced plug and 4.4 mm TRRRS balanced plugs are also included.
At an MSRP of $699.99 US dollars, ZEN will go on sale with authorized DUNU dealers worldwide as well as directly from DUNU's official website before the end of the year.
Media Resources
Last edited:
It's a good time to go #PRO. Our next generation of in-ears powered by ECLIPSƎ are here! Learn more on our official website. Stay updated on DUNU at their sponsor profile on Head-Fi.