Joined

Jul 8, 2010
Posts

59
Likes

10
Hi everyone.
I've spent the last week or so looking for a set of cans to bring to college this fall.   
I've never really been a "headphone guy," as I much prefer listening to speakers (I have a pair of M-Audio Bx5as that I enjoy very much, and plan to take with me to college). However, I understand the necessity of having a good pair of headphones to wear around my dorm.  
This headphones would function in following settings:
Use late at night in my dorm room when I cannot use my speakers because my roommate is sleeping/studying.
Playing games (CSS, SC2, etc.) when I don't want people to know I'm playing games.
Listening outside as I'm studying under the trees (and want better SQ than Apple's earbuds).
Listening to music in the library while I'm working on schoolwork.
Listening to music on the plane as I travel from home (east coast) to school (west coast).
As such, I've decided that I'll need a pair of CLOSED headphones. They will be UNAMPED; my source is a macbook pro.   
Portability is a bit of an issue. I don't want two sets of headphones--just one. I want to be able to carry these around in my backpack to bring around campus (if I have to) or to be able to conveniently store them on the plane. I'm not looking for IEMs.  
-------------------------------------------------------------------------------  
I've narrowed my search down to two sets of headphones (although other suggestions are still welcome).  
*My budget is $125 or less, and obviously I'd like to keep that as low as possible--that's why I'm seriously considering the RX900s, even though the Shures appear to be superior.  
-------------------------------------------------------------------------------  
1. JVC RX900 - $55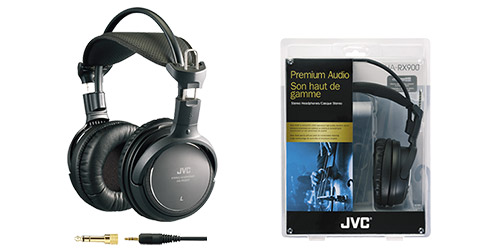 Originally I wanted a pair of RX700s, as I wasn't looking to spend that much and $30 seemed like the perfect price for the set of starter cans I was after. After all, I don't even know how much I'll be wearing these, as my speakers will often suffice. However, the RX700s are hard to come by at the moment and run $45. For $10 more, I can buy these--complete with softer ear pads, a more durable headband, slightly better bass and a wider sound stage.  
Pros:
Semi-open design is great for gaming/movies.
Half the price of the Shures. 
Better set of starting cans?
Can be modded (sounds like fun!).
Cons: 
Bigger and more bulky than the Shures--less portable.
Not sure if I'd want to wear these outside my dorm; available settings are halved.
Slightly more sound leakage than the Shures because of the semi-open design.
Long (13') hardwired cord.
Lack any kind of folding mechanism.
2. Shure SRH840 - $120
I've heard some amazing things about these cans in the <$200 price range. When I saw that I could pick these up from Northern Sound & Lights for $120 shipped, I got really excited. I like the look of these headphones, and they appear to offer a greater foray into audiophile sound.  
Pros:
(Much?) better SQ than the RX900s.
More comfortable than the RX900s.
More portable than the RX900s--they fold, cord is detachable, etc.
Great deal for only $120.
No problem wearing these in public; all settings utilized.
Closed design=Very little sound leakage.
Cons:
Twice the price of the RX900s.
Too much $$$ for my first set of cans?? (Especially if I don't use them often...)
No mods (that I am aware of). 
Closed design=Smaller soundstage=Not as good as the RX900s for games??
-------------------------------------------------------------------------------  
Well, what do you guys think? I can't make up my mind... I really need some advice.  
Thanks.