Joined

Feb 21, 2007
Posts

7,346
Likes

2,881
USB backlash!
That's how I'd characterize the sentiment I've heard over the past year or so from a decent number of forum dwellers. Which I find very interesting... because if we go back maybe 5 or 6 years prior, we find people were
thrilled
about the advent of computer audio made easy. Thanks to advancements in asynchronous USB technology and dedicated software from Amarra, PureMusic, Audirvana, etc, folks were claiming their computer rigs could rival or even exceed megabuck CD transports, for a fraction of the cost - and with far more convenience involved.
No doubt people are still totally sold on the idea of file-based playback. Having a huge library at your fingertips is now default, not luxury. Going back to spinning discs? Not an option for most.
At the same time, there seems to be a growing discontent against USB as a method of audio transmission. The way I see it, there are a few reasons for this. First, USB quality can vary by device. On some DACs it may be the very best sounding input, while in other cases it takes dead last. Factor in the variability of transport quality (wasn't async USB supposed to solve this issue?) and it becomes hard to predict what you might get with any given computer or music server/streamer plus DAC.
That's not the only issue though. Dealing with drivers can be problematic, especially when an OS update breaks your system functionality (especially if your DAC is no longer in production, making new drivers unlikely). Random gremlins can rear their head in the form of static and pops/clicks/etc - troubleshooting anything of that nature is no fun at all. Lastly, software setup can be a pain, particularly when trying to enable DSD playback - ostensibly a major reason why you chose USB in the first place.
What's a music lover to do?
USB to SPDIF converters (often called Digital to Digital Converters, or DDC for short) came along and solved some of those issues. They obviously won't save you from setup hassles or random audio gremlins, but if your DAC sounds better via SPDIF, a good DDC can help make the most of things. From the classic Audiophilleo to the newest from
Singxer
and
Matrix Audio
, there's plenty to choose from if this is your preferred solution.
There do exist a few file-based playback devices that do away with the computer all together. Models from Soundaware, Aune, and QLS, among others, handle SD card or USB-drive playback and output a clean signal via coaxial, Toslink, etc. The Soundaware models in particular have become popular in some circles, owing to their excellent sound quality. This solves all the problems listed above and can be a good alternative for those who won't suffer an actual PC anywhere near their music rig.
Cayin Audio
enters this segment with their new iDAP-6 playback device. Designed to visually match (and stack with) their
iDAC-6 and iHA-6
, the iDAP-6 has most everything one might expect from a device such as this. SD card reader, plenty of USB ports, a large display, intuitive controls, and a plethora of outputs - all with exceptional sound quality to make the most of your DAC. At $799, this thing seems very reasonably priced considering the results it brings.
With so many features on board, where to begin? Extras like Bluetooth, Airplay, and UPnP-based wireless playback (all featured on the iDAP-6) take a back seat to straight forward file-browsing from a USB drive. I simply plugged in a 256GB Sandisk and got to listening, using Cayin's own matching DAC and amp plus an HD800 (with balanced cable from Effect Audio) to complete the setup.
My initial link from player to DAC came via the tried-and-true coaxial connection. I used the relatively low cost but high performance Better Cables Blue Truth to form a bond capable of 24-bit/192kHz PCM as well as DSD64. That meant all my SACD rips were ready to go, as well as my favorite hi-res PCM and good old fashioned Redbook quality too. No, it won't play DSD128 or above over coax, but that's not a huge problem for me considering the amount of music out there in double or quad DSD.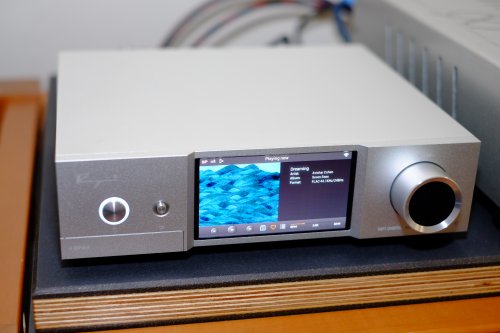 The resulting sound was excellent. Surprisingly so, given the price of the iDAP-6. I'm used to far more expensive transports such as the Aurender X100L ($3500), BMC PureMedia ($5390), and my trusty SimAudio Moon Orbiter universal player ($7200). Despite the huge price delta, I wasn't missing anything at all with the iDAP-6 in the driver seat. I got all the resolution, detail, and articulation I could ask for, with an convincing sense of heft and a precise soundstage with particularly good depth - as only a really good transport can help unveil.
The SimAudio Orbiter is a great comparison. The astronomical price can be somewhat disregarded as the device is over 10 years old by now. At 33 pounds, it's a substantial playback device, among the very best disc-based spinners I've encountered. With an exceptional power supply and a heavily modified Pioneer Elite transport mechanism on board, this thing is the real deal. I chose it as what will possibly be my very last physical media player after a recent search where I found it compared favorably from some heavy-hitters from Esoteric, Ayre, and McIntosh. I particularly like the fact that it features so many digital outputs - where most others have coax and optical, the Orbiter adds AES/EBU and BNC as well. The latter two are my preferred connections so I'm happy to have them on board.
The little Cayin is dwarfed by the SimAudio in both size and weight. Aside from that, it stacks up rather well. It's got a similar array of outputs, plus we get I2S over HDMI which is compatible with the PS Audio Stellar Gain Cell DAC and the Wyred 4 Sound DAC2v2 SE Limited Edition I have on hand. It supposedly allows for native DSD transmission up to DSD256 (if the DAC is willing), but I haven't had a chance to test that out yet. I2S over HDMI is not standardized so there's no guarantee every DAC will work with the iDAP-6. Cayin says they will include that type of input on a DAC of their own at some point down the road.
On SQ, the Cayin sounds pretty much identical to the big Simaudio. I switched around from the Cayin DAC to a few others on hand from Resonessence Labs, Yulong, and the above mentioned PS Audio and Wyred devices, and my conclusion held fast. Based on prior experience, that puts the Cayin is up there with disc-spinners of yesteryear costing many thousands of dollars. Which I suppose makes sense considering the hardware on board here. There's a nice PSU, dual femto-clocks, and quality components carefully laid out through the entire design. Turns out, it's just less complex/expensive to do really good file playback as opposed to spinning a disc.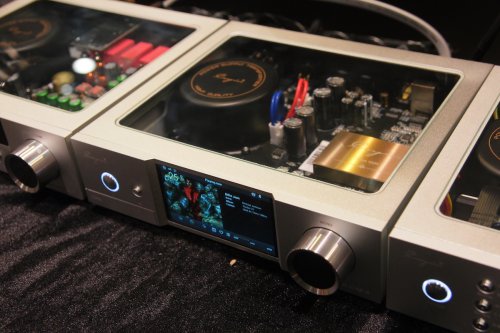 The iDAP-6 user experience is pretty straight forward. Nobody will confuse this thing for an advanced Roon interface, but it gets the job done in a simple, direct fashion. Everything is accomplished by spinning and pressing the knob, along with a dedicated "back" button. It's perhaps not the most intuitive thing in the world, but you quickly get used to it. I do wish the "back" button was on the right side of the panel, closer to the multi-function knob. But that would unbalance the whole thing.... there's simply no room for it.
On the plus side, Cayin's display is large and crisp, making small fonts easily readable. If you've used Cayin's portable players, or any number of other DAPs from Questyle, HiFiMAN, iBasso, Cowon, etc, the iDAP-6 is along those same lines. Those comfortable with organizing their music by folder will feel right at home.
And that's where I have to stop for now. I simply haven't had the time to get the device connected to my WiFi, stream music from my NAS, play directly to my Bluetooth headphones, or any number of other options on board. According to the manual, the USB output should work with most DACs, so apparently this isn't just for folks who hate USB audio. But that's just one more feature I have yet to try. Thus far I'm thrilled with its performance via coax and AES, so anything else will be icing on the cake.
Further to come as time allows.
Last edited: