Item information
Added by
Views

1,917
Reviews

4
Last update
Rating

4.25 star(s)

4 ratings
General Information
Latest reviews
Pros
:
- Rich and engaging low-end
- Musical and smooth presentation
- Natural timbre
- Good accessories
Cons
:
- Slight lack of high-end extension
- Average separation
- Fit can be a problem for smaller ears
Disclaimer:
I would like to thank Stealth Sonics for providing the demo units for this tour and Jackpot77 of Audio Primate for getting me on board.
Stealth Sonics is a fairly new player in the IEM market-based in Singapore, I've not heard about them until recently when Jackpot77 of Audio Primate introduced me to their lineup. The U4 is their midrange offering featuring 4 balanced armature setup in a 4-way crossover. Their design is quite bold and unlike anything I've seen before, with swappable faceplate.
In the box:
IEMs
1.2m 3.5mm cable
1/4" adapter
Aeroplane adapter
7 Set of tips
Carrying pouch
Cleaning cloth
Carrying case
Additional faceplates
Allen key (for faceplate removal)
Build quality and accessories:
Let me preface this a little, oftentimes, we associate quality with weight, if something is reassuring the buyer it's solid and that he got his money worth, which often isn't the case but it definitely is something we think about.
Having said that, the U4 is light, very light. It feels as if there's nothing inside. The build itself is solid and doesn't feel like it will break, but the sheer weight of the U4 makes them feel cheap. It's understandable this is to help with comfort but it doesn't scream quality.
The case albeit big, is well made, has more than enough space to fit all the accessories inside and the addition of the carrying pouch means you can use that when you don't need the whole case.
The cable is nice and light doesn't tangle much and has barely any microphonics.
The swappable faceplates, while they don't differ sonically, it gives at least a bit of customisation to those who like/dislike carbon fibre.
Fit and comfort:
The U4 is on the larger side, and while light, can prove a bit difficult to use for people with smaller ears. However, for others it's very comfortable, the almost nonexistent weight makes them disappear after a while even though they stick out of the ear a fair bit.
Sound:
A warm, relaxed and smooth signature. Focusing on bass and fatigue-free listening.
Bass:
When first listening to the U4 I thought it has a dynamic driver inside, the bass is impactful, rich and woolly. Unlike most BA IEMs which have quite a dry and "quick" presentation, the U4 gives the bass a slight resonating quality which helps make the bass more natural and fun to listen to. Technically the bass has a very good extension with good detail and texture.
Midrange:
The midrange is smooth and has quite a natural warmth to it, instruments sound full without adding too much thickness or significant loss in detail. The detail is still there but you have to listen to it. On songs like "Fleetwood Mac - The Chain" the vocals (especially female) are sweet and inviting rather than being perfectly accurate tonally. The overall timbre again while not being perfectly accurate helps the U4 maintain it's smooth and musical presentation.
Treble:
The treble is the only drawback of the U4 to me, while it has a decent amount of clarity and air it feels lacking in extension. This isn't as big of an issue due to the generally relaxed nature of the U4 but should be noted. Otherwise, the treble follows the bass and midrange in its smooth and non-fatiguing presentation and warmth. For me, it lacks a bit of bite especially when it comes to cymbals.
Imaging and soundstage:
The imaging is good but separation feels a little lacking which can partially come from the presentation of the U4. The smoothness can blend the instruments together a little too much at times. The stage has decent depth and average width, bass extension and presentation largely help with the former.
Conclusion:
The Stealth Sonics U4 is definitely an interesting IEM, what it loses technically it gains with natural and pleasant frequency response and presentation. I would love if Stealth Sonics could make them smaller and improve the fit especially for people with smaller ears. I can definitely recommend the U4 with the caveat of knowing what to expect. I'm quite looking forward to more IEMs from Stealth Sonics.
Pros
:
A smooth, warm, forgiving signature
- Full-bodied, rich and meaty lows
- A clear, bell-like upper-midrange
- Excellent packaging, accessories and build quality
- Swappable faceplates
Cons
:
Not the most linear or transparent-sounding frequency response
- Stage expansion and separation aren't clinical
DISCLAIMER: Stealth Sonics loaned me the U4 in return for my honest opinion. I will send the unit back following the review. I am not personally affiliated with the company in any way, nor do I receive any monetary rewards for a positive evaluation. I'd like to Stealth Sonics for their kindness and support. The review is as follows.
Stealth Sonics is a Singaporean in-ear manufacturer that's been gaining more and more attention the past couple years. Although they probably aren't the first names you'd think of when you think
Singapore
, they have been garnering tons of positive responses through artist endorsements, region-wide loaner programs and appearances at CanJam, where I first encountered their brand. Today, I'll be reviewing their 4-driver universal U4, as well as taking you behind Stealth Sonics' myriad of in-house technologies that've made their monitors as pleasing, musical and technically-proficient as they are.
Stealth Sonics U4
Driver count: Four balanced-armature drivers
Impedance: 13Ω @ 1kHz
Sensitivity: 114dB @ 1mW
Key feature(s) (if any): IsoStealth, SonicFlo, Stealth Damping, Stealth Kompozit, Klarity Valve
Available form factor(s): Custom and universal acrylic IEMs
Price: $499
Website: www.stealthsonics.com

Build and Accessories
Stealth Sonics' packaging is impressively mature; resembling something a seasoned veteran of the trade would put out. The outer sleeve is covered all-round with hi-res images. I'm particularly impressed by the glossy accents they've dotted throughout the matte artwork, which wonderfully accents text, as well as sections of photos like the faceplates. It really adds three-dimensionality and dynamism, which tend to be underrated in packaging and presentation. Underneath the sleeve is the main box, which is lined with a gorgeous, silken carbon fibre and the
Stealth Sonics
logo embossed on top.
Unfolding the box via a magnetic latch, you're greeted by the in-ear monitors and a carrying case – neatly organised and recessed within foam cut-outs – as well as a
Thank You
card in a pocket to the side. Next to the in-ears, you have an extra pair of blue, chrome-finished faceplates that you can swap the default ones out for to achieve a different aesthetic. The included zipper case is lined with faux leather; robust, but very light. This makes it more ideal for on-the-go use than the heavier, metallic-infused cases I've experienced in the past. And, its size allows it to house at least two pairs of IEMs too.
Inside the case are the included accessories. In total, you get 7 pairs of tips, which include silicone tips, foam tips and bi-flange tips. You also get airline and 1/4″ adapters. In addition to that is an extra cable with an in-line microphone for use with mobile devices. And finally, you also get a microfibre cloth and a smaller soft pouch for light storage of the in-ears. Now
this
is what I call an accessories package! I absolutely admire Stealth Sonics for going all out here, while others'd typically consider it an afterthought. The competition should take notes, because they've knocked it out of the park.
The in-ears themselves are very robustly built. Between the almost-rubber-like shell, the blue inlay and the faceplate, the layers are seamlessly flush with zero wiggle, sharp edges or adhesive traces. Stealth Kompozit makes the shells softer to the touch, which'll make it more resistant from bumps or scratches. It also congeals to the ear quicker than acrylic does. The U4's striking, sci-fi aesthetic may not be for everyone. Personally, I think it's unique in a very good way. Again, if you wish to, you can always swap out the carbon-fibre faceplates for the chrome-finished blue ones with the included tool.
The earpieces sit comfortably and securely in my ears. The smooth, rounded shape allows the U4 to distribute pressure very equally throughout the ear. But, it's worth keeping in mind that these are rather shallow-fitting in-ears. If you tend to find it difficult to achieve a seal with shallower in-ears, you may have to resort to using the bi-flange tips. But, all in all, Stealth Sonics have excelled when it comes to presentation, accessories and build. Even at this price tier, they've packed in a plethora of goodies with stunning attention-to-detail, and I'd love to see nothing more than for others to follow suit.
Stealth Sonics' Wealth of Tech
On their website and marketing, Stealth Sonics feature a staggering amount of proprietary technologies, which include innovations toward acoustic design and shell durability. Stealth Sonics generously gave me the opportunity to speak to their head engineer about what all this tech was, and how they contributed towards the U4's. Here's what he had to say:
IsoStealth
"Isolation is basically the key thing in sound, especially in lower frequencies. So, if you don't have isolation, you lose that. You don't get to enjoy all the lower-end of the spectrum.
So, what we did was, we took an average of people's ear impressions. This was possible thanks to our sister company, My Ears, who've been taking impressions for a very long time. We used those statistics and data to find one standard deviation – which is roughly 67% of the population – and have our product's size and shape adhere to that.
We especially focused on the outer pinna; the part where the IEM actually goes into the ear and sits on the lobe. We wanted it sealed as much as possible. The data (demographic) that we had were mostly Western with a little bit of Asia as well. So, we designed the shell according to that. The whole idea behind it is if we were able to seal the pinna as much as possible, we would be able to achieve incremental isolation of 10dB, and that's a lot."
SonicFlo
"While IsoStealth takes care of the lower frequencies in terms of isolation, SonicFlo takes care of the higher frequencies. As we all know, the drivers in IEMs pump out sound through tubes. These tubes carry that energy into your eardrums and that turns into sound.
But, if you pump that energy through your average, circular tubes, you don't get to hear the higher harmonics. Why? It's because of principles called resonance and cancellation. For example, whenever a sound engineer goes to a concert hall, they try to make sure no surface reflects equally. Because, if they do, one of two things will happen: Resonance or cancellation. You'll lose out on some of that sound energy.
So, that's precisely the idea behind SonicFlo. We use asymmetrical sound tubes to pump the air or sound through. Because there's a lack of reflection now, the higher harmonics – the hi-hats, triangles – don't get muddied out and disappear, so you do get that feeling of, "Wow, I'm hearing everything." This will not affect the low frequencies, because the amplitude isn't big enough. So, the lows won't be affected by these asymmetrical tubes."

Klarity Valve


"The Klarity Valve promises to ease discomfort. How? In our ear, pressure is balanced via our outer ear and the Eustachian tube. Every once in a while, your body will equalise that pressure. Now, when you have an IEM or an earbud in your ear, the drivers are pumping air into your ear, which builds up pressure over time. What the Klarity Valve does is it allows that pressure to escape through the IEM. If there's ever too much pressure in the ear and it pushes back against the nozzle, the Klarity Valve will release it. So, it eases discomfort and reduces ear fatigue.

Now, let's talk about why you need a large nozzle. Air, like water, is a fluid. Imagine a gardening hose. If you reduce the cross-sectional area of the gardening hose and you maintain the same amount of pressure pushing the water out, the velocity of the water shooting out of the hose will increase. Suddenly, the water has more power and impact, and it carries enough energy to even be considered damaging. So, even though the material conveyed is the same, the speed of the fluid is different. This is Bernoulli's theorem.

The same applies to IEMs. If I were to listen to something via a smaller nozzle and a bigger nozzle, the information will still be the same; you'll still hear the sound. However, the smaller nozzle will deliver it at a higher velocity for the same given amount of drivers and air being displaced. So, it impacts your eardrum at a much higher velocity than the larger nozzle. Because we don't want the sound to impact the eardrum in a damaging way, we've made the nozzle of the U2, the U4 and the U9 quite pronounced compared to the other brands. It's almost three times the size."
Stealth Damping

"Stealth Damping allows us to give you crispier bass. How does that happen? On the faceplate of the universal, you'll see something that looks like a turbine with a brass tip. Now, really, it's only the weight of that thing that's important; the turbine is just for design.
What it does is this: Think of a bass signal on an oscilloscope; let's say the drummer hits the bass drum. What you'll see is a spike, then you'll have a trail; a decay trail. Now, assume that decay doesn't decay as quickly as you want. What happens is that trail will build, and it'll accumulate into what we call boominess. Because of that, you begin to lose all the other frequencies; the boominess masks them and takes over.
So, by adding a weight – that we've specifically measured (with a bit of tolerance) – to the IEM, the weight is allowed to absorb only the low-frequency sounds. It's mechanical in nature. This allows the bass response to decay very quickly. When that happens, you hear a more crisp, clear bass, which also allows you to push it even further without diluting the other frequencies at the same time."
Stealth Kompozit

"If you look at our shell and feel the material that makes contact with the ear, you'll find a rather strange material that isn't used in the market really. It's soft, yet resilient; solid. This is a nanocoat that we've employed from the audiology industry. The audiology industry had developed this for older people, because they have to wear their hearing aids for a
very
long time; 8 to 10 hours. So, comfort was very important, and we brought this over to our IEMs.

That comes default with our universals. For our customs, we give options. We can finish them in a variety of materials. For example, we can finish the customs in medical-grade silicone, which is softer. We can also finish them in acrylic. We can finish them in plastic too. So, there's no standard when it comes to customs. It's all up to the user's requests."

Presentation
The U4 is thick, pillowy and L-shaped; emphasised on the low frequencies. However, this emphasis spans even higher up the range; short of the low-mids. So, what it contributes are strongly full-bodied instruments, as well as a rich, warm and syrupy timbre. That richness is undercut slightly by the sparkle of the top-end, even if the general treble region has been kept relatively laid-back. The mids have a great linearity, bridging the lows and highs seamlessly. Despite being neutrally positioned, the high-mids shine through all that warmth, giving vocals authority; toe-to-toe with that
big
-sounding bass.
​
Spatially, the U4 is an admirable performer. The stage – although not necessarily out-of-head – is never stuffy, congested or claustrophobic; a wonderful achievement, especially given the presence of the bass. The U4 also manages impressive composure for a signature with this much body. A black background is constantly visible behind all the warmth, and you can follow along where everything is in the track fairly well. Obviously, considering how full-bodied everything is, clinical separation and micro-detail retrieval aren't at the top of the U4's priorities. Nevertheless, by virtue of top-end extension, control and midrange resolution, the U4 is a notable technical performer in spite of its rich, warm and
fat
tonal balance.
Bass
The U4's star player, its low frequencies are full-bodied, rich and energetic. Though, unlike most other L-shaped sigs, the bass here is more melodic and silky in timbre; emphasising the sound and presence of a bass note, rather than focusing all its energy into impact. The result is a bass that's very musical and listenable too. It doesn't steal the spotlight from the lead instrument by rattling the listener's skull with mounds of sub-bass. Rather, it complements those mids to form rich, warm and well-rounded instruments. Finally, the region sports excellent extension, coherence and linearity, so it never ever rolls off whenever it alternates between mid-bass hits, sub-bass rumbles and upper-bass melodies, and vice versa.
Given these technical achievements, the U4's low-end is quite resolving as well. Layering perhaps isn't as taut as it could possibly be given how much body they've given the lows and given the more laid-back nature of the top-end. However, Stealth Sonics have certainly given the bass more authority than I would've expected – allowing it to have a nice balance between presence and control – most likely by virtue of their proprietary technologies. The tone of the bass is delectably warm and smooth, making it – again – more ideal for easy listening than analysis and taking apart. Instruments like bass guitars and kick drums bloom and intermingle, for example. So, if that's the timbre you're looking for, the U4
will
deliver.
Midrange
Past the low-end lift, the U4 dips throughout the lower-mids. What this does is add headroom, clarity and definition to instruments so they don't become too full or too harmonic. That role is already performed by the bass, so the low-mids take a step back. As a result, instruments are clear-sounding, clean and refined with just the right amount of wetness to sound natural, without becoming congested or mushy. There's then a steady lift towards 2-3kHz to ensure vocals have the presence and authority required to stand out from the lows. This is capped off with wonderfully clear upper-mids.
The 4-5kHz range is my favourite bit of the U4's tuning. A lift there gives vocals this vibrant, glowing quality that allows them to strongly
pop
as the commanding lead instrument. The best part is that the lift sounds effortless and
perfectly
in line with the rest of the U4's signature. It's not a lift that attempts to forcefully pull the upper-mids forward and away from the lows and highs. Rather, that clarity blends seamlessly with the rest of the ensemble and completes those full-bodied notes with a zingy, vibrant glow; like a squeeze of lemon juice in a rich, hearty stew. Tori Kelly's
First Heartbreak
is as resonant as ever on the U4. Pair that with doses of air, and you have well-rounded, organic,
effortlessly
clear mids.
Treble
That 5kHz lift seems to have bled over a tiny bit into 6kHz, as the U4's low-treble can have a touch of brightness to it at times. It's largely track-dependant. For example, it's non-existent on Tori Kelly's
First Heartbreak
, but then it rears its head through the guitars on the very next track:
I Was Made For Loving You
. And, it's rife on Nick Jonas and the Administration's brightly-mastered and energetic
State of Emergency
. So, it's a bit of a hue that may or may not appear, but in any case, it shouldn't be of any concern, since it never crosses over towards brittle or sibilant territory; just a bit of colouration is all.
In order to ensure smoothness, the U4 dips its middle-treble moderately. With cymbals and hi-hats, there's a very slight smoothening or feathering effect that comes from a 7-8kHz dip. This is ideal if you like your percussion a touch gentler-sounding, though it may not be ideal if ultra-clarity is what you're looking for. Nevertheless, enough energy is injected in to the upper-treble for a clear and resolving response. The U4 is not mushy or muddy in any way, which I continue to be impressed by given its tonal balance of choice. And, wonderful treble extension allows those transients to come through against a black, stable background with admirable spatial qualities, commendable stereo spread and well-paced decay.
General Recommendations
The U4's L-shaped signature makes it ideal for those who enjoy smoother, thicker-sounding in-ear monitors. Its bass is a specific highlight; for better or worse. Shown below are the U4's strongest traits, so see whether or not it's ideal for you:
A smooth, warm and forgiving signature:
The U4's risen low-end gives it a rich, pillowy signature that softens and fattens instruments. At the same time, its top-end is kept smooth and forgiving, whilst being decently extended as well. So, if you're sensitive to top-end glare and you're looking for a sub-$1000 in-ear to fit the bill, the U4 is a very likely candidate.
Full-bodied, rich and bountiful lows:
If you enjoy a warm, full-sounding bass and you prefer your lows more melodic than skull-rattling or punchy, the U4's bass response will please. It possesses a linear lift up until the low-mids, which gives its bass a
sing-song-y
quality, rather than a rumbly one. If this is your ideal sort of presentation, the U4 is a desirable option.
Upper-mids that are both clear and well-founded:
Despite the U4's low-end emphasis, a cleverly tuned upper-midrange and low-treble gives higher-pitched vocals a vibrant, crystalline quality. Female vocals sing with sweetness and shimmer, which is rare in these sorts of signatures. This is ideal if you want
both
rich, hefty lows and radiant, airy instruments.
Obviously, the U4's tilted signature will be less appealing to those who prefer the opposite. This certainly isn't a bright or sparkly-sounding IEM. If the attributes below are ones you prioritise most, the U4 may not be the ideal monitor for you:
A crisp, clean, treble-emphasised presentation:
The U4's emphasis on fullness and harmonic richness naturally prevents it from sounding compact, tight and ultra-fast. It's a mellower, more pillowy in-ear more ideal for
big picture
listening than analysis of the minutia. So, if you're a critical listener yearning for utmost detail, the U4 isn't the ideal monitor for you.
Vastness, expansion and clinical separation:
Again, the U4's thicker, richer instruments take up quite a bit of space. While this makes it easy to get immersed in the U4's euphonic presentation, it's not ideal if your preference is large amounts of space and tighter notes. If you want a spacious, atmospheric presentation, there are more suitable options out there.
A lean or neutral low-end:
At this point in the review, it's become awfully clear that the U4's bass is quite strongly shaped. It's a plentiful bass won't hesitate to make its presence known. Again, it's a well-executed colouration that plays well with the rest of the frequency response. Nevertheless, it still isn't for those who prefer neutral, thinner or brighter tunings.
Select Comparisons
Jomo Audio Haka (S$599)
The Haka and U4 strike similar tonal balances – a soft neutral with a lightly warm hue. But, the latter has the bolder low-end. The U4's bass presence is fuller, gutsier and more prominent, while the Haka's sits back for a cleaner, more relaxed profile. In terms of sub-bass extension and content, however, the Haka does deliver, so it's no less fun when listening to genres like EDM or modern pop. The U4's more excited mid-bass increases its musicality, while the Haka is more linear. Along with similarly laid-back upper-mids, the Haka has greater depth, while the U4 is more engaging and
in-your-face
.
This difference in exuberance also comes from the U4's 5-6kHz peak. Treble notes are brighter and more rounded, while the Haka's are wispier, softer and more feathered. This means the Haka is the more forgiving piece, while the U4 accepts being a little
rough-around-the-edges
in order to achieve its energy. Spatially, the Haka will sound airier due to its tighter, more compact notes. The U4's larger images fill up the image more, but it does compensate with a sufficiently vast stage and a stable background. Imaging-wise, the Haka is slightly more coherent because of its single-armature configuration.
Nocturnal Audio Avalon (S$629)
Compared to the U4, the Avalon is a much crisper-sounding in-ear monitor with leaner instruments and a brighter sense of attack. Tonally, its transients are on the brighter side. Although this bolsters its detail retrieval and helps highlight the smaller nuances, it
can
get fatiguing over time. Its dynamic range may begin to falter in extended listening sessions. The U4's warmer, thicker, more pillowy timbre will come across less revealing, but it is much more forgiving and easy on the ear. So, the Avalon is ideal if you're after raw, clinical detail, while the U4 is if you're after warmth, smoothness and bass.
Verdict
The U4 is a refreshingly unique entry in the sub-$1000 category; one that neither shies away from a gluttonous low-end response, nor allows it to overshadow a vibrantly clear upper-midrange. Its decidedly L-shaped colouration won't appeal to everyone. But, the riveting accents Stealth Sonics have sprinkled in through their proprietary technologies ultimately make the U4 a more compelling buy than its similarly-coloured competitors. Take into account the excellent build quality and accessories you get for the money, and that value only continues to propel. The Stealth Sonics U4 is an admirable execution of
warm, forgiving and bass-y
, enthusiasts of which will be hard-pressed to find a better alternative for at $500.
Stealth Sonics U4
Disclaimer
I would like to thank Stealth Sonics for providing the demo units for this tour and Jackpot77 of Audio Primate for organising the UK tour and letting me participate even though I escaped back to the continent last year. No incentive was given for a favourable review. This was originally posted as a single review, but adapted to fit the proper Head Gear sections, therefore certain sections will be the same as for the U2 (
link
) and U9 (
link
) reviews.
Links:
https://stealthsonics.com
https://www.facebook.com/stealthsonics/
Preamble
Stealth Sonics is a company based in Singapore and while a relatively new player in the IEM market, has had a decade or so experience in audiology/music technology in Southeast-Asia. I first came across them around the NAMM show in 2018 where Stealth Sonics launched their new IEMs. I enjoy occasionally browsing around to see what is new and what might peak my interest and Stealth Sonics certainly did the latter when I saw their universal IEMs. A bold design that made a statement: StealthSonics has Style. That is style, but then with a capital 'S', quite possibly it even needs to be italicised as
Style
. Whether or not it is your cup of tea is another matter altogether, but there is no denying that Stealth Sonics sets itself apart from the crowd. It is an extravert styling with bold colours and design elements, some of which are also functional (more on that later). For me, I am about as extraverted as a particularly agoraphobic hermit crab, so not quite my cup of tea although I do appreciate it when companies have their own unique
Style
.
It is not just the
Style
that sets Stealth Sonics apart. They have some really innovative ideas too. For one, their custom shells are coated with a proprietary lacquer that makes them extra hard. So hard that they can survive quite a large drop on a hard floor and that is not something I have seen very often. The universal shells too have some nifty design elements of which the Stealth Damping technology is the most noticeable because it looks like someone stuck a turbine engine to the faceplate. It is meant to help create a tight and clean bass response. The faceplates can however be removed to extend the bass, or replaced to make your universal Stealth Sonics IEMs look even more eye-catching.
Unboxing
The tour package contained the full retail packaging of the U4 to give an example of what you can expect when buying any of the three universal IEMs. So while I can only show the U4's unboxing, the experience should be the same for the U2 and U9 as well.
The universal Stealth Sonics come in a relatively big box covered by a sleeve with on the outside a picture of the IEMs and specifications. A bit more information can be found on the inside of the sleeve as well. The box itself has a carbon-like look and feel to it and opens up to display the universal IEMs in all their glory. Alongside can be found replacement faceplates. In the case of the U4 these are glossy blue, and I believe the U2's are red and the U9's black. Standard on all three are carbon-look faceplates. Below the IEMs is a generous size case, which contains a second cable with a mic, a bag with various ear tips (foam, silicone and double flange), adapters, an allen key for the faceplates, a microfiber cloth and a pouch. Overall a very healthy selection of accessories.
I believe that the regular cable is an SPC, although with all three IEMs it has a different colour: black for the U2, blue for the U4 and silver for the U9. The mic cable appears to be a pure copper one with clear insulation.
Build quality and fit
As I indicated earlier, the Stealth Sonics CIEMs have a uniquely strong build quality thanks to a special lacquer that strengthens the shells. The universal IEMs do not seem to be far off in that respect with a very durable feel to them, but it is a little deceptive because they are extremely lightweight. This low weight is purposely done to improve wearing comfort because Stealth Sonics aim at achieving long listening sessions (6-8 hours) without inducing signs of fatigue. Comfort is essential here and I do find that the low weight helps the IEMs to disappear while I wear them. The shell material below the faceplate also feels very soft and is very comfortable when wearing. The fit though was a little tricky for me to get right and I ended up using Final tips one size above my normal to get the best seal and most secure fit. I am not sure if I got the optimal fit, but time constraints meant that I could not spend too much time tip rolling. The reason it is a little tricky is because the stems are quite thick and short, so the fit becomes relatively shallow.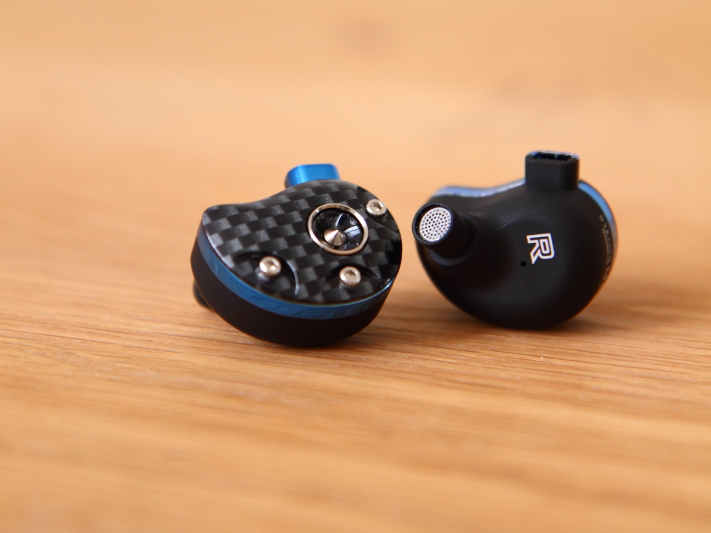 The included cable is quite a good one and comfortable to use, although the long ear guide did occasionally push and pull a bit more than I am used to because the cable did not settle around my ear. The cable's ear guides made the cable "float" (as it were) just above my ears because the shape of the bend is held very well, rather than something suppler that settles on the ear. Other than that it is certainly a quality stock cable that I think most people will be very happy with.
As mentioned, Stealth Sonics aim to achieve long, fatigue free listening sessions for their (C)IEMs and have fitted them with what they call a 'Klarity Valve'. This is a type of pressure relieve valve that helps minimise pressure build up during use. The vent of the valve can be seen on the inside of the shell, just alongside the 'L' and 'R' indicators of the monitors. I have had issues with pressure build up in the past and I find that the Stealth Sonics IEMs are about as comfortable as using IEMs with APEX/ADEL modules. I did not get any uncomfortable pressure build up and was quite happy to have the IEMs in my ears for longer periods of time.
Source
All listening was done with the Cowon Plenue 2 from the SE out.
U4 - The warm and smooth one
Drivers: 4 BA (1 x Low, 1 x Mid, 1 x High, 1 x Super-High)
Crossover: 4-way
Frequency response: 18Hz - 23kHz
Sensitivity: 114dB at 1mW
Impedance: 13 Ohms at 1kHz
THD: <=1% at 1kHz
Price: US$499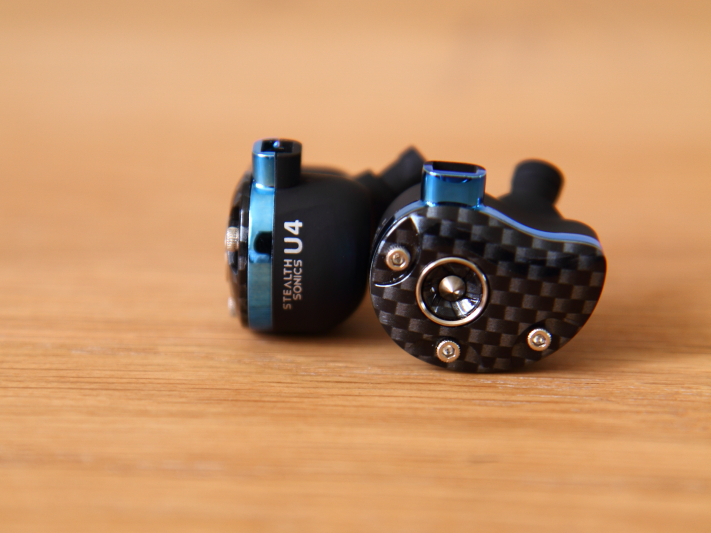 Presentation
The U4 are presented by Stealth Sonics as having "the flattest response possible" and I think here we might have some Babylonian confusion going on because I would personally associate a flat response with neutrality and the U4 are anything but neutral. The U4 are warm, lush and very smooth, perhaps a little too much so. The U4 have an unmistakable veil that takes a while for your ears to adjust to. Once adjusted it is a signature that is incredibly easy going and about as fatigue free as it can get. The U4 present the listener with thick notes and a woolly smoothness that is really rather pleasant. It does come at a cost of some transparency and separation is nothing special, but it does work well to produce a signature that you can listen to all day without any issues. While I was going through different types of music I found that with down-tempo EDM, such as Carbon Based Lifeforms, the listening experience was incredibly mellow and I could just slowly drift away in the music. It would not surprise me if performing artists will appreciate this signature for their stage monitors, as details are still there and there is enough air to avoid congestion, but the smoothness helps to make the U4 a practical tool. Of course audiophiles might be more critical, but they are an annoying bunch of anal-retentives with their reviews and unpicking signatures rather than just enjoy the music... Oh yeah... *embarrassed cough* Let's move on, shall we.
Bass
The U4's signature is dominated by its bass and that is perhaps not so surprising once you learn that Stealth Sonics used the biggest, baddest BA driver they could find to produce it. Especially with the faceplate off the bass is capable of the sort of low-end growl that I would normally associate with dynamic drivers. With the faceplate on (Stealth damping enabled) the bass is really quite impactful and it gives great weight to, say, a kick drum.
Because the bass is so dominant, it does colour the signature all the way up and I feel this is what causes the perception of 'veil' across the signature that will be a matter of preference whether or not it is acceptable. For bass heads I think that without the faceplate the U4 produce a really satisfying bass and I dare say I wish Stealth Sonics had tuned the U4 with that bass in mind. In fact, after the U2, this experience with the U4 leads me to question whether or not the Stealth damping technology is the right solution. It definitely tightens and cleans the bass, but also seems to physically constrain it from resonating naturally, and the U4 have an awesome natural resonance there. Faceplate off, the U4 have a formidable bass performance that can compete with much more expensive IEMs.
Mids
Where I might differ in opinion on the flatness of the response, I do fully agree with Stealth Sonics that the mid range of the U4 is silky smooth. Instruments have a full sound and the warmth passed on to them by that incredible bass results in a natural-warm tonality that is incredibly easy going. Works great for mellow blues, although it does come at a cost of some details. Details are not entirely lost, but the U4 don't push them towards the foreground either.
Vocals are more balanced compared to the U2, as I find that with the U4 male vocals get the natural throatiness they need and there is more weight to them as well. Female vocals do get some sweetness added to them, but I personally don't mind that and is again fully in line with the mellow character of the U4. Even the sound of the brightest soprano reaches your ears like fluffy clouds, and the U4 manage it while maintaining very decent clarity at the same time. In that sense I feel that Stealth Sonics have found a balance that works well. Smooth and fatigue free while maintaining enough detail and clarity to ensure nothing is missed.
Treble
Like every aspect of the U4, the treble is as smooth and easy going as it comes. It feels a little attenuated, but with the extension needed to add enough air to counter the warmth of the bass. But the bass reaches even to this end and the treble is convincingly on the sweeter side, lacking some sparkle and natural brightness in (for instance) cymbals or brass instruments. I do like some sweetness to the treble, but when I listen to Tchaikovsky's Nutcracker I find that the sparkle is missing to add to the wintery/Christmassy atmosphere I love so much.
Here again I suspect that this is an intentional choice by Stealth Sonics to cater to the needs of the performance artist rather than the audiophile. The sparkle is there for the listener to pick out, but is not emphasised to avoid fatigue. I think this is a good choice. I often use IEMs to isolate myself from the environment while I work and as such can wear IEMs for very long periods of time, easily 10 hours a day, and for sessions this length of time the U4 would definitely be among my preferred IEMs regardless of price.
Conclusions
Stealth Sonics have come up with a very nice trio of universal IEMs. The U2 have a signature that is engaging and fun, and I am disappointed I did not have the Final E5000 around anymore because it I suspect the U2 would give those a fair bit of competition. The U4 feel to me like great quality stage monitors that offer the complete package, a smooth and fatigue free signature combined with a very light weight and all the advantages of the Klarity Valve to make them as comfortable as it gets for long, very long listening sessions. The U9 offer clarity and detail at a very high level, while maintaining smoothness and accuracy in the reproduction of instruments. Where the U4 feel like stage monitors, the U9 might lean more towards studio monitors, although without foregoing musicality.
Stealth Sonics offer all their IEMs with a healthy selection of accessories and pack their IEMs with unique technology and styling to set them apart from the masses. At their respective price points the U2, U4 and U9 are interesting propositions, especially for those who prioritise practical aspects such as durability, comfort and a fatigue free listening experience. I feel Stealth Sonics have done an excellent job to create such a complete package and look forward to what they will do in the future.