Penon Neo and Fiery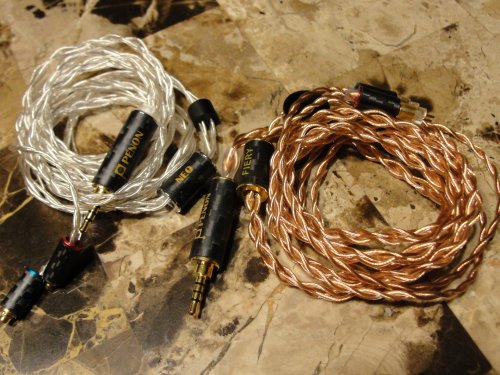 Today we are venturing into iem cable land and if your of the mind that cables are a waste of money than this review will not in any way influence you. Get off my lawn guy. Better go read about a new player or something.
First I would like to thank Penon for the review samples the Neo and Fury can be purchased
here
. I don't have ways to measure the cables so I don't I am more of a if I hear what the cables do than I will most certainly report the findings. I test out the cables simply using them on several of my most sensitive iems. Andromeda S, Solaris and Penon's own Spheres. I have a good understanding of these earphones since I actually listen to them daily so anything new I can hear in the way of a cable changes is how I go about reviewing cables. So with that in mind. Here it is.
Neo
Pure Silver Series : Neo HiFi Audiophile IEM Earphone Cable
Defined Bass, Excellent Clarity


4 shares pure silver braided cable


Carbon fiber material plug and splitter


Gold-plated plug


Weight:15g
And Fiery
Penon Fiery Flagship Single Crystal Copper HiFi Audiophile IEMs Cable
Material: 4 shares 19 cores high purity


The solder joints is silver-contained tin


Carbon fiber metal splitter and slider


Interface: MMCX, 2PIN 0.78mm


Plug: 2.5mm balanced, 3.5mm audio


Length:1.2m


Weight:23g

Being a fan of earphones and headphones there are clear cut camps when it comes to cables. Either you have heard some effects of cables on your earphones or you haven't. Audiophilia is funny in that I see guys spending a huge sum of cash to buy an expensive in ear. And for some reason a cable will make it that much better sounding than what the designers have introduced in the market. I am guilty of this myself. Lol. I see it all the time. That is crazy talk but in the end it is the very pursuit of sound enhancing perfection of your favorite earphones. You read the high end earphone threads on headfi all the time and people say they use this or that cable and next thing you know your out another $300- $1000 plus just for a cable.
I am of the opinion great performing cables exist and they shouldn't cost a lot. There are 2 dedicated threads on headfi that are dedicated to such cables.
Here
and
Here
.
I was reached out from Penon to have a good look at what they do which included a very nice sounding iem called the Sphere you can read my take on them
here
. And the cables they make for audio enthusiasts.
As a cable believer and an avid music lover I can understand the infatuation with cables and what they do for your earphones. My cable craze all started with the need to buy 2.5mm balanced cables to use out of my various DAPs. Most earphones almost never include a balanced cables so I started getting them. I noticed a lot of these cables even the cheaper ones ended up making the earphones they are attached to sound even better than what the manufacturers would throw in as an included cable. While these 2 cables aren't necessarily cheap they do represent good value in the scheme of things in the cable industry. Both cables are of a high quality in workmanship design and function using some solid proven material for cables. Silver for the Neo and higher end copper for the Fiery.
The Neo is a pure silver 4 core design that is thin in appearance and I think the more surprising of the two cables. It actually looks a bit thin for my liking but when you connect the cable to a higher end iem like the Andromeda S. There is nothing thin about the sound quality. Details, depth and imaging stands out better vs Andromeda S stock Litz SPC cable.I noticed due to the better precision of the sound, bass had slightly better definition and sounds a touch tighter as a result. These aspects were subtle but noticeable. The included cable that came with the Andromeda S is a higher quality Litz cable with a comparable cost point to the Neo and I would put that cable on similar footing in performance as the Neo but considering the Neo was what I chose for balanced out. In balanced the slight sound enhancements equated to a better more engaging sound overall.
It was when I connected the cable to Penons own Shere Iems was when I noticed a big difference. Much better definition and clarity to the sound. More expansive and deeper sounding as a result with a punchier bass note. Slightly smoother in tone while actually imaging better Neo matched up extremely well with the Spheres.
Switching to the Fiery. Which is a higher end single crystal copper cable. What looks like a litz configuration on the cable itself. It was no surprise these cables came to play. I noted on my Sphere review that I feel copper cables adds an element of musicality to your favorite iems and this is exactly what I got with the Fiery. Compared to the stock cable. The sound of the Fiery is clearly heard. Cleaner better defined mids. Bolder yet tighter bass end. Better imaging. Cleaner sounding. Smooth yet detailed treble. Fiery cable is actually fairly predictable it would perform this well..You don't name a cable by the name of Fiery if it is going to be limp. Lol.
This cables comes to play. It has a more substantial build compared to the thinner Neo cable in comparison. Neo wins in pliability due to be a physically softer nature of the thinner silver cores. While the Fiery does hold a bit of a memory on the wires, natural for copper cables, this cable is easy to handle and fairly soft. Gives a slightly warmer yet detailed warmer take on the sound of phones it is attached to. Certain iems that require an injection of harder hitting bass, fullness to the mids while smoothing out the treble touch should look into getting the Fiery over the Neo.
If you want the cleanest, clearest transparent transmission of sound the Neo is a good option.
The connectors of both cables and terminations are both of a high quality. I have had no issues connecting and disconnecting each cable with the test subjects as many times as I have.
So my review of these cables were a bit more difficult than I have to admit due to the fact how many times I had to change cables going back n forth critically listening to each slight subtle changes in sonics. For the most part the sound designs of the earphones they were attached to are still there. The sound changes I have described are very subtle and in comparison to the stock cables the earphones came with. I do notice higher end iems that I used my AndromedaS and Solaris both did not show substantial differences in the way of sonic enhancements in comparison to their included stock cables due to them both having higher end cables they come with. In all honesty I would say these cables are best used on cheaper to mid fi category of earphones and you will have great results. Now if you want a good cable for balanced applications for your higher end phone. These cables will do the job admirably and not degrade any sonic ability of your highly resolving earphones.
Bonus. These connector adapters were provided from Penon so I could try the cables with various types of iems and I have to say these work out much better than I imagined. They connect easily and are easy to take off. Allows more flexibility if you own more than a few iems. They can be bought
here
. Provides a way to use your Neo and Fiery on an earphone that don't support that particular connector. Excellent 5 star product I have to say.
Cables have become an increasing need due to the advancement of todays DAPs with balanced out configurations. Penon has been a great resource for cables and earphones for the enthusiasts. If you have never ventured onto their site
here
. It will be worth your time to brows their vast catalog. I would like to thank Penon for allowing me to check out some of their higher end cables. Both cables are of very good quality and sound performances to match. Thanks for your time and as always happy listening.