Quick impressions: Penon Sphere
Pros
:
Masterful warm-balanced refined timbre
Fit, comfort and inoffensive though engaging presentation offers hours of zero-fatigue listen
Greatly executed midbass for a 1-BA
Good bilateral extension (with preference to the bass) for a 1-BA
Above avg technicalities
Cons
:
6 Ohm impedance making it very difficult to pair appropriately
A warm source might be overkill
I've had the opportunity to audition a privately owned pair for a few days to build my own impression upon.
I tested them with my usual local-stored 16 / 24 bit – 44.1 / 96 / 192K music collection.
Sources:
Lotoo PAW 5000
Questyle QP1R
Laptop -> ifi nano iUSB3.0 (w/ iPower PS) -> Uptone USPCB -> Chord Mojo
Laptop -> ifi nano iUSB3.0 (w/ iPower PS) -> Uptone USPCB -> Apogee Groove -> iBasso T3
Key specs, and structural feedback
Single BA
2 pin .78mm connectors
Very low impedance: 6 Ohm
High sensitivity: 118dB
Extremely well designed and sized, reasonably lightweight, they are no doubt amongst those that most "dematerialise" into my ears once put on. They also offer very good passive isolation.
Pairing issues
6 Ohm is no joke in theory, and it is not in practice either.
LP5000's almost 2 Ohm output impedance is a no-no here. Same for my portable amp of choice the Auglamour GR1 (2.4 Ohm Zout). In both cases a definite veil on the bass can be perceived, no stories about that – and I'm particularly sensible to that.
But that goes entirely away when powering is entrusted to the Mojo (Zout 0,075 Ω!) , the QP1R (0.15 Ω) or my little kid the iBasso T3 (0.5 Ω): all, although with quite some difference on sound coloration, do bias the Spheres appropriately and make their nature come up as it really is – like it or not.
Sound impressions
In my experience BA drivers are a short blanket, so to say. Their inherent issue is a relatively limited range extension. You can either "pull" them towards the bass
or
towards the trebles, not both. On Sphere, Penon really did the maximum possible. The result is a
bass-preferential extension, with "just some" sacrifice on the opposite end
, sign of a very good extension work done.
Bilateral extension is good, but the single most outstanding Sphere quality is – without the shadow of a doubt – its
warm-balanced elegant "satin" timbre
. Bass, mids and trebles are each on their own given personality and verve, while the ensemble is very well calibrated to avoid any segment to overstep others at any time. Paired to the right source (which is not so easy as mentioned above) Sphere becomes a difficult to beat companion when someone's up for hours of relaxed
and
engaging listening. A really,
really
well done job.
Looking a bit more in detail,
sub-bass
is just a tad rolled off but is there, quite fast and most of all smoothed.
Midbass
is modestly elevated, keeps the typical BA speed but is given an almost-DD-level body, this being the second best part of the product in my score table, after the timbre.
Vocals
are slightly forward, bodied, supremely natural, male and female alike.
Highmids
and
trebles
are well calibrated, with enough air and sparkle to play their role when called for but stay FAR away from sharpness, sibilance and all that.
Indeed, as I mentioned above,
high trebles and the last octave
is where the blanket shows its limited length on Sphere – and this, in addition to pesky pairing due to dramatically low impedance, is the sole other "limitation" I would note on the Sphere.
Stage
though not the most holographic I heard is quite sizeable nonetheless, especially deeper than wider, and
imaging
is executed very well on it also thanks to
separation and layering
which is above average in general, which becomes very good if we remember we're talking about a
single
BA driver.
A few words about pairing are in order to conclude: a musical+warm source like QP1R maximises Sphere's smoothness, if that's what you like; choosing an edgier and more analythical source like Mojo on the other hand impacts on Sphere's balance, letting trebles "breathe" more, which might be preferrable on some genres; finally, Groove's pair is the most effective for my taste, due to its unrivalled bass control paired with a musicality similar to QP1R, which two things make Sphere keep its original balance point, but lose a little bit of warmth that results in a globally more sparkly presentation especially when playing genres like jazz.
Pros
:
Bass quantity and quality, clear, extended trebles, super ergonomic shell design, package content, price performance ratio,
Cons
:
Stock cable might be better.
Before starting this review, I would like to share technical aspects and package details.
Also, I would like to thanks to Penon Audio for this great opportunity. Here is the link of the Sphere:
https://penon-official.com/product/sphere-iem/
Specifications:
Driver: Balanced Armature
Frequency Response: 20Hz-20000Hz
Impedance:6Ω@1kHz
Sensitivity:118dB/1mW
Passive noise reduction: 26dB
Earphone interface: 2Pin 0.78mm
Plug:3.5mm
Cable Length: 1.2M
Package Details:
Sphere IEM
Stock Cable
6 pairs of silicone eartips
Wooden case
Test Equipment:
Astell & Kern AK120
Opus #1
Emotiva Big Ego
Package, Design & Isolation;
Penon Sphere shares the same famous red and blue colored box as the other Penon products and the unboxing experience is also similar. There is a rounded wooden carry case, velvet pouch, cleaning tool and silicon tips inside the package. Package contents are not the best but it is fairly enough for not to complain about it. Actually, that wooden case is way better than the most companies' cheap nylon case.
Sphere's design looks simple but it is elegant with its black shells and blue sparkle Penon-Sphere name on the faceplate. There is no other color option but I assume many people like it a lot. Right faceplate has Penon logo on top and left has Sphere name. Sphere uses 2pin 0.78mm industry standard socket, so it is suitable to use with after market cables. Shell design is simply geourgeus. Its small and custom like design provides fantastic fit and you can use without any pain for long long hours.
The stock cable looks simple and it is similar with other brands' stock cable. Cable material is SPC I believe but not sure for that. It is 4 braided which I am guessing it has 30awg size and its material is pretty soft and ergonomic. It has metal L-shaped 3.5mm jack and metal y splitter. There is not much to say about it. It is good and simple but Sphere deserves a better cable I believe.
With the proper tips, Sphere provides great isolation, and it blocks all the noise that comes from outside. I've used it outside many times and Sphere did a fantastic job to isolate outside noise. Stock tips are does great job, but I always find mandarin tips are better for my ears. Ergonomic design and size of the shell is fantastic.
Sound:
Sphere has a slightly warm and balanced sound character. The musical and natural sound structure makes it very pleasant to listen. I've experienced many single ba driver earphones, and they were lack in bass quantity, but Sphere has surprisingly strong and deep bass. It's a pleasure to see that bass doesn't lose its control to disturb other frequencies. The mid frequencies are slightly laid back but quite balanced and the detail level is pretty high. The vocals are surprisingly clean and slightly forward. Treble is another frequency that I found successful in Sphere. Both extension and level of detail are impressive for a single ba driver. I don't know what driver model and brand that they used, but Penon seems that they push all the limits of the armature driver. In the period of popularity of hybrid and multi-drivers iems, Penon reminds that the single-driver earphones are also perform very well. The perception of the soundstage is quite spacious. Although it is not possible to talk about such a wide and deep stage, it offers spacious instrument separation. Overall, Sphere is a very impressive earphone, especially for the price. It might be the best single armature driver earphone I've listened to.
The treble is neither too bright nor too laid back. The extension and the level of details are certainly very successful. No sibilance or sharp presentations which it makes easy to listen. As I said, the balanced structure of the sound character is reflected in the treble. The instrument separation is successful and the distinction is sufficient. You can clearly hear every single instrument. There's no wildly detailed presentation, but it's certainly impressive. Especially when I remember Sphere has only one driver.
Mid frequencies are slightly laid back and vocals are relatively forward. Due to the softness of the overall presentation, the mid frequencies are velvety smooth and easy to listen. The instrument sounds are natural and are not thicker or thinner than they should be. The distance between the instruments is also very easily distinguishable. Especially vocals have a very clean and smooth presentation. So, I listened to a lot of vocal songs and I really admired Sphere's vocal presentation.
Bass is another frequency area where Sphere is extremely successful. The bass goes deep enough for many genres. It is not hard to say that I get fulfilling results, even though with EDM music. Of course, it is not strong and powerful as like as dynamic driver, but it certainly has kept your rhythm with your feet. I would also like to point out that the armature driver does not have those dry, dull presentation, it has natural and soft strokes instead.
The soundstage is not very wide, but it certainly does not have a closed presentation. The instruments and vocals are playing in wide area. And the background of Sphere is quite clean and dark.
Comparison:
Sphere vs Final Audio B2:
Final Audio B2 is the new earphone from Final Audio's line up and it has also one armature driver like Sphere. Both earphones are beautiful in different ways. B2 feels more premium and elegant in hands with its metal body while Sphere has acrylic simple design, but Sphere is also beautiful iem. Both earphones provide good ergonomics but Sphere is much better and comfortable into ears. Sounds; B2 sound is mildy forward, slightly dark and rolled off on both bass and trebles while Sphere is natural, slightly V-shaped and bright in tonality when I compare with B2. Sphere trebles has more sparkle and extended better and also clearer. B2's trebles are rolled off and it is slightly veiled. Instruments separation is more audible and better with Sphere. Mids are more forward and pronounced with B2 while Sphere has slightly laid back and centered on stage. B2's lush and smooth sound making vocals more intimate and romantic. Bass is better in terms of control and dynamic on Sphere and also more in quantity. B2's bass is rolled off and it is not as deep as like Sphere. Soundstage is wider and airier on Sphere while B2 has more intimate due to its forward mid presentation.
Cable Rolling:
Rhapsodio SGD2.98 MK2:
SGD2.98 MK2 is warm and smooth cable which is great match up with bright earphones. Sphere matches good with SGD2.98 MK2 and It mostly improve bass frequencies with harder beats notes. It hits harder and goes deeper. Overall sounds become warmer and bright atmosphere on the treble's switches to smooth and lush atmosphere. Mids notes becomes little bit bolder and It adds some weight on mid-bass. Soundstage is wider and it has more depth than the stock cable.
Effect Audio Eros:
Ares is one of my favorite cable from Effect Audio and is safe choice for most earphones. Sphere and Ares are matches great; I like the synergy between those two. Bass become tighter and more controlled, quantity is same or maybe slightly better, hard to understand. Mids are clean and clear, vocals have more forward and dramatic presentation. Treble is more tamed but still clear and extend pretty well. Soundstage is noticeably better both wide and depth. Overall, I like Ares and Sphere matches.
Penon Audio Leo Plus:
Leo Plus is silver plated gold-silver-palladium alloy cable from Penon Audio. I haven't tested with other earphones yet but it matches with Sphere really great. It improves all frequencies top to bottom. Trebles are more pronounced and detailed; it extends better in every way. Also, instruments separation is much better and more distinguishable. Mids are more forward, thicker and it adds some body. Bass goes little bit deeper, but the biggest improvement is much more controlled and tighter with Leo+. It also improves soundstage both depth and width. Overall, Leo+ is great partner for Sphere.
Verdict:
When Penon Audio start to make cables, I wasn't sure about their sound quality and I had some suspicious about their success, but they did a great job. They've released many good cables which I am using with some of my TOTL earphones. After the success of the cable they decided to release their new IEM, and I knew at the moment that I've heard it will be good iem. Sphere is very impressive earphone and its retail price is bargain for its sound performance. All the frequencies are alive and dynamism is so good to listen. Gambling with the 1 balanced armature was a little bit risky for the first product, but they did a great job. Sphere is great earphone bottom to top and it deserve some attention at this price range.
Pros
:
Solid construction 2pin smaller resin shell, Punchy dynamic bass. Slightly mid forward, clean detailed treble. Smooth, rich, refined sound. 26dbs of isolation. Comfortable and light, 2 pouches and a very nice wood canister.
Cons
:
Stock cable. A bit plain looking.( Could be a good thing actually) No foams included.
Penon Sphere
This one was a surprise to me and in the most interesting way. I have had a few single BA earphones in the past and the way things goes now a days. The more the better right? You don't want a single hamburger patty. Why have one when you can have 3 with cheese.
As conventions goes there is an ever increasing movement in audio land that more gets you more, somehow better sound. I mean if you had a choice to lets say get a 6BA iem and or a single BA iem. Both tuned well enough. Which one would you go for? Better yet how about an interesting hybrid with the added element of a dynamic for bass. All 3 phones costing the same. And you know nothing about the phones, which one you gonna go for?
Be honest. Your not gonna look at the single BA earphone right? See that is too bad cus what if I told you that single BA earphone is the best sounding out of the 3..
How good can a single BA earphone sound? How can something that uses a single measly BA sound complete? There has to be a sacrifice somewhere in the sound. Well whatever your thoughts are about what can be achieved using a single full ranged Balanced Armature driver you can throw out the door here.
I recalled the first time I threw them in my ears. I was simply dumbfounded. Couldn't find the right words to explain it. They sounded soo right. Soo complete. I kept on taking them out of my ears and kept looking at them. WHAT!? How can this be!?
Before I get into the review I would like to thank Penon for the review sample of the Spheres. These were provided for the purpose of review and can be purchased on their site
here
. I have no affiliation to Penon audio. I was reached out to due to having a funny name on the nets. I also have no affiliation to Dietz nuts. That is a meat company. These are my views about the Penon Spheres.
Penon Spheres comes in an attractive package that is unique to Penon as they include what looks like a wood carved canister for early purchasers by the way so I have no idea now many will get the wood canister. Inside the canister are the earphones and cables. The rest of the box contents had 2 different types of pouches and one of them a smaller square button up type that includes 2 sets of silicone tips. Love the wood canister by the way. It is something you don't get with earphones. The package is compact, to the point and classy at the same time. On first inspection the Spheres themselves is a smaller semi custom resin design that is not too unfamiliar to earphone enthusiasts. The size of the phones itself is actually one of the smaller shells for this design.
Being physically smaller means these will fit most ears comfortably. They sit over the ear with minimal amount of external noise, microphonics or otherwise. Add to the fact since the earphone design is a solid piece of resin. You get at least 26dbs of passive isolation. Which I can confirm after doing my isolation tests. My test isn't too scientific, a bit dangerous though. I drive with my iems in the ears. I have a good understanding of how good a phone can isolate if it blocks out external noise of the car and traffic. Spheres are excellent noise blockers. One of the best I have actually. I know, I know. That isn't safe. Hey I have a long commute to work what can I say and my car audio don't cut it.
The build is sturdy,solid and light so it is very comfortable to use. These make for perfect out and about phones due to the great isolation and build.I am gonna be honest here and say that I am not a fan of the cables that came with the Spheres and the tips are just ok. The included set of tips one set in particular is very similar to the Mardarin Symbio type tips so those are very nice. The included cable is very average in form and function. I was told by the designer of the Spheres the cables while it does show the sound design of the phones, agreed with my take that better cables make them sound even better than they already do. As a disclaimer I did do the bulk of my listening of the spheres using the stock cable.The cables and tips fall into the category of "good enough."
Specification
Driver: Balanced Armature


Frequency Response: 20Hz-20000Hz


Impedance:6Ω@1kHz


Sensitivity:118dB/1mW


Passive noise reduction: 26dB


Earphone interface: 2Pin 0.78mm


Plug:3.5mm


Cable Length: 1.2M
Package
SPHERE IEM


6 pairs of silicone eartips


Wooden case (ONLY available for the 1st batch )
Evaluation of the Penon Speres was done using a variety of sources: Ibasso DX160, Shanling M5s, Cayin N5ii,Shanling M3s, Sony ZX300a and my IFI black label.
Onto the important aspect of the Spheres. The sound. I have to admit I was guilty of having a limited perception of single BA sound.I know most single BAs I have heard usually have good mids but lacks for the outer extremities when it comes to sound. Spheres on open listen came at me with a bold, airy fluid sound, that was smooth, rich, dynamic, and had an impact in the bass area that was honestly surprising. This sound can't come from a single BA phone? I mean I haven't heard a dual or 3 BA earphones that does what these spheres do. This much gusto to the sound and not just your average sound either. It has refinements in just about every region of the sound.
Forget about what you thought a good single BA implantation might sound like, instead let's focus on what matters. We don't spend our hard earned cash in audio to get something that isn't a complete sound right?. This is in fact what you get. I think it was the completeness of what I was hearing that caught me off guard. I own 6BA 12 and even a 14BA earphone sets.. How can such a mature detailed engaging sound come from just one of em.
The sonics emanate from a single bore in the nozzle of the Spheres with a BA filter in the middle of the nozzle. The sound projection these throw out in the ear has a large spacious well balanced and most importantly a full bodied sound. A sound balancing that is effortless in its portrayal of vocal harmonies and instruments a like due to the slight mid forward yet balanced signature of the Spheres. Add a sprinkle of excellent punchy dynamism from the bass and clean articulate treble in the mix and you get a sound that is not usually associated with single BA iems. I never knew sound could be this complete from a single BA. Sphere have changed my perception of what can be achieved with a single BA driver.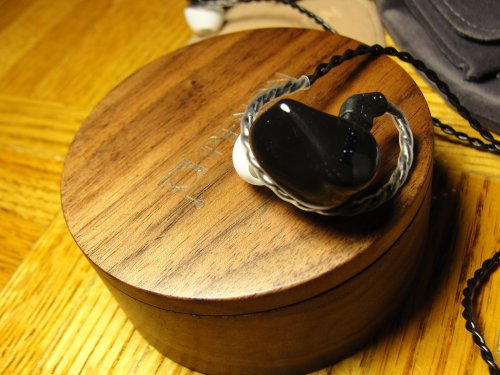 Spheres sound absolutely musical while having a good fundamental balanced Fr that sounds superb to listen to. Enthusiasts that enjoy themselves, vocal performances be it male or females will fall in love with the sound of the Speres. It has to be one of the better iems for vocal music I have heard on anything. The tuning is masterful and has an excellent mix of musical, technical, clarity and dynamism added with a sprinkle of air and you get the spheres.
Speres have a low impedance so they are easy to drive out of just about everything. Unlike most sensitive iems these are quite forgiving of bad recordings. Possibly due to the smooth musical nature of the sound but makes for a very enjoyable sound that you can listen to for hours on end with no fatigue.
Treble detail is also done exceptionally well for a single BA. Spheres incorporate a slight lift of the lower treble frequencies to inject a bit of detail with treble that easily extends in the brilliance part of the upper treble which injects some air to the sonics. Treble comes clean and well defined notes in the region. Extension is actually good for treble but sounds just a shy thin in the heart of the treble region otherwise you will hear your detail where it should be. It is quite the accomplishment actually. Considering multi BA earphones incorporating anywhere from 1-4BAs just dedicated for the highs sometimes don't get this part right.
The stage and projection of the sound on the Spheres add to the musical element. A larger spacious environment to work with within the head. The sound stage while medium large in scope dont have any form of confinement or incoherent issues multi BA and hybrids are guilty of. The height and depth of sound is another aspect that is very surprising on the Spheres. This aspect is best enhanced with aftermarket cables.
Music has excellent well defined depth with a very even tonality which gives the Spheres a fluid yet airy type of sound. Layers of your music sounds more open than closed and for that the sphere excel in engagement factor.
This completeness of sound would have had me guessing if there was a dynamic driver in the shell and a high end one at that. For Penon to pull this sound from a single BA I found myself having a whole new respect for what Penon has achieved for the Sphere.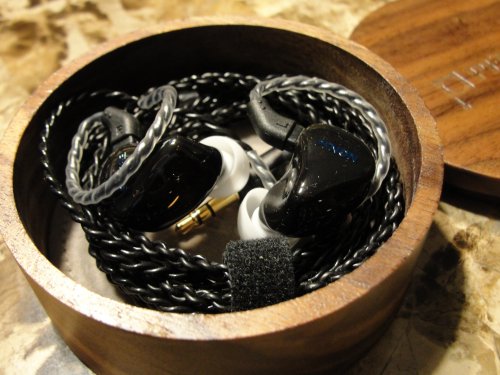 In the world of huge driver counts on fancy looking earphones with the cost to match. Penon is doing something that truly exemplifies what can be achieved with a single driver and some finesse with tuning. While listening to the Penon Spheres critically for flaws and weaknesses. Sure these aren't gonna have the same textured rumble of the well tuned dynamic or shoot for the stars in the treble but you know what? They more than make up for it with above average isolation comfort and best of all an excellent mature sound quality. If your gonna make one earphone in 2 years. I suppose it has to be good.
Extra: So this section I would like to reveal to owners and potential buyers of the Spheres. In an exchange of back no forth with the Penon rep. I was told the cable while of a good quality is not exactly the best for maximizing the sonics of the Spheres.
If your of the belief that cables does absolutely nothing for your sound and are just used to connect to the drivers to get the sound then this portion is not for you. However if your the type of enthusiasts that throws on one of your own cables out of the box and throws the stock cable in the case to never see the light of day. This portion is for you.
Neutrality and detail: Silver, SPC Silver plating, silver coating cables will inject a bit of extra treble shimmer and inject a cleaner definition to the sonics of the spheres. Will lean out the forwardness a touch in the process but gives a natural expansion of sonics with greater clarity cleaner notes, blacker space with better imaging. Neo cable shown here from Penon.
Musicality and depth: Copper cables, OCC, UPOCC, Single crystal copper. My favorite pairing with the spheres. Excellent choice for guys that want their mids full and juicy while not sacrificing any of the detail. Copper imo is the way to go with the Spheres. Fiery cable shown here which injects not only better definition but more punchier take on the bass end. If more musicality is your jam. Copper cables for the win.