Item information
Added by
Views

15,428
Watchers

2
Reviews

3
Last update
Rating

5.00 star(s)

3 ratings
MusicMaker Phantom III / Shockwave III
General Information
5 way hybrid, 1dd and 4 BA per side.
Latest reviews
Pros
:
Overall SQ, Build Quality, Clarity, Soundstage Presentation
Cons
:
Can be a bit bright
About Me:
I prefer IEMs over full size because of portability and comfort, though I have owned and own a a couple full size cans. I am a 29 year old music lover, i listen to all genres from R&B to Rap, to Rock/Heavy Metal, to Jazz, Oldies, Country, Blues, etc. If its music I will give it a listen!
My gear used for testing is in my sig and my profile
My main tracks & albums for reviewing are:
Chris Jones - Long After You're Gone (FLAC)
Toto - Africa (FLAC)
Sade - Best Of (Album) (FLAC)
Lindsey Stirling - Crystallize & Electric Daisy Violin (FLAC)
Michael Jackson - Rock With You & Thriller (FLAC)
Tamia - You Put a Move on My Heart (FLAC)
No Doubt - Hella Good (FLAC)
Phil Collins - Face Value (FLAC)
System of a Down - Toxicity & Aerials (FLAC)
Nirvana - Smells Like Teen Spirit (Remastered FLAC)
Ed Sheeran – X (FLAC)
Five Finger Death Punch - Bad Company, Crossing Over, Hard to See & Undone (320)
Eagles - Hotel California [Acoustic] (320)
Incubus - Aqueous Transmission (320)
Trifonic - Good Enough (320)
Santana - Maria, Maria & Smooth (Ft. Rob Thomas) (320)
Willie Nelson - Crazy (2001 Digital Remaster) (AAC 256)
Rusko - Everyday (Netsky Remix) (320)
Blackmill - Miracle (Album) (320)
Rittz - Next to Nothing (Album) (320)
Alina Baraz & Galimatias - Urban Flora EP (320)
Gareth Emery Ft. Christina Novelli – Concrete Angel & Dynamite (320)  
Today I'm reviewing the MusicMaker Shockwave III. Special thanks to
@TwinACStacks
for letting me borrow his pair for this review. He and I are both big fans of MusicMaker since they seem to almost always produce quality products. This one, at over $200, is no exception. The SW3 looks beautiful and sounds beautiful. These were burned in for 350 hours by Twin.  
I've owned the MusicMaker TK12 and T7; own the TK13, FengYin and have the TKH1 on their way to me.  
Build Quality
:  
First off, its design. These have gained the nickname KEGGERS, simply because it obviously looks like a beer keg! The housing has weight but is no doubt solid as a keg. I don't see these falling apart anytime soon.  
The strain reliefs at the housing are small and simple. They seem to provide enough to get the job done but no more that would detract from the look. The cable is self is supple, not holding to much memory but appears to be very sturdy and won't tear.  
These are large and have some weight to them but are comfortable. I prefer to wear them over ear, helps with the weight a little bit. The isolation is superb frankly, put some music on and feel the "shock waves".   
Sound
:
WOWZA. If you aren't aware these are a 4 BA + 1 DD PER SIDE. Of course all of that means nothing if not implement correctly. These have a wide 3D soundstage. The sound will envelope you. The details flow out like a crisp Ale on tap. They can be a bit bright it is nothing too bad though compared to other. IEMs I've heard. Auvio tips (sold in the USA only) will help tame that a bit.
Bass: It's present, almost to the front but never overstepping its boundaries. It digs deep and it's textured, a good amount of oomph but never boomy.
Mids: Detailed, slightly held back with a push in vocals. This is basically what many call the W-shaped sound sig that is common with MusicMaker IEMs IMO.
Treble: Crisp and detailed with good extension and sparkle. They have a good amount of air, making it all seem to just float around your head in massive amount of space.
To sum it up, these are the most expensive earphones I've ever heard and they did not disappoint. The sound is one of entertainment that will leave you wanting more. You will be smiling the whole time. You want bass that hits you in the face? Check. Mids and Highs that provide massive amounts of detail and clarity? Check. Overall gorgeous sound stage/head stage presentation? Check.  
I do feel these will pair best with a warm to neutral source, anything bright may push it over the edge.   
Now to send these back to Twin...I am saddened...
Pros
:
Light, excellent construction, Extremely balanced sound and detail with surprising Sub Bass Extension
Cons
:
Maybe just a Tad large but actually smaller then their sibling TK12, Require LONG Break In. Other than That I can find NO Faults.
http://www.aliexpress.com/item/2016-New-MrZ-Tomahawk-Music-Maker-III-5-Units-4-BA-With-DD-In-Ear-Earphone/32609950666.html
These are the Brainchild of Audio Genius Mr. Z, Linan Zhong and My Purchase was made from Easy Earphones on Ali Express.
Disclaimer: I am a hobbyist only. I am NOT affiliated with any sellers or manufacturers for items that may be used in my review, nor am I provided with any samples for endorsement or reviews. I purchase all of my own gear. These reviews reflect my personal opinions and should not be used as a basis for purchase. As I am sensitive to higher frequencies, your impressions may vary from my own. I will try to offer comparisons as long as I have something similar both in price and construction to compare. If however at any time I am provided a sample for review I will disclose this fact immediately on a disclaimer. Please also note an absence of graphs unless they are included in the Seller's links. Although they are a great tool for determining what kind of EQ or other characteristics a particular IEM or Headphone should have, all too often my own experience upon listening with my ears, tells me something different. Sometimes radically so. Therefore I will leave the scientific data, analysis and comparisons to more qualified and experienced reviewers.
Some Preamble:
 A fellow Head-fier Skullophile and I had both previously ordered another Musicmaker earphone, the TK12 also known as the HCKA2. We were so impressed with the MusicMaker TK12 that we both purchased, (rather quickly I might add), this one, sight unseen, ears unheard. Apparently the Bigger sibling of the two. Noting that this IEM, (or incarnations of), have been available on the Asian Market for some time, many of the reviews on TaoBao after google translation, indicate that these 5 Driver IEMs reach peak performance around 350 Hours of burn in.  
As this review is being done with <100 hours it may be subject to detail changes....        
Here they are in all their Majesty:
KEGGERS 
They need some Power
Here is what you get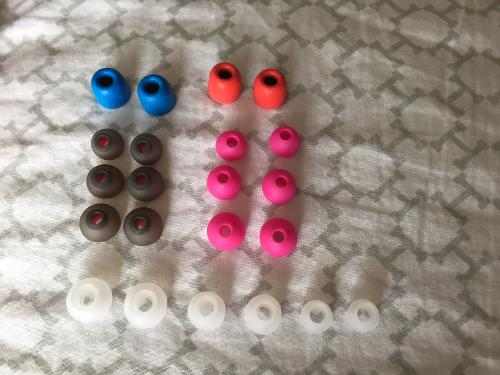 Unlike the TK12 these have ports
Looking Down the Bore of some Non-Stock Auvio Eartips. Wide Bores Highly recommended on these IEMs
ALL Musicmaker Earphones from Mr. Z have this marking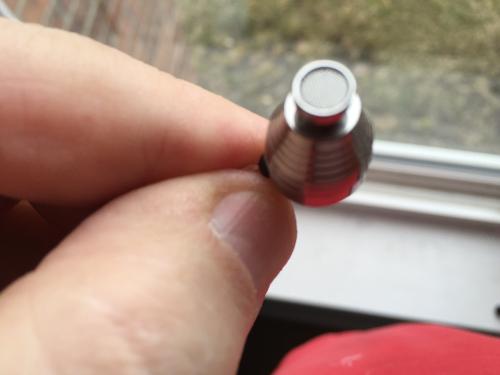 Specifications:  They are available using the link to the seller posted at the top of the page      
Construction: 
These are a Hybrid of 1 dynamic driver plus 4 Balanced Armatures, with a special nozzle configuration with internal divisions. Unlike many multi Driver IEMs being offered these have an internal 3 Way Electronic Crossover network in each earpiece. They appear to be made out of Polished Stainless Steel supposedly with some type of Titanium alloy, with a grommet like standoff / access hole for the Cabling in the Body, which the cable itself appears to be of a higher quality silver coated stranding type.  There is a Bass port on the rear of the body. The cable Y's a nicely finished and detailed splitter and junctions at that point to the main cable which terminates in a straight plug finished the same as the splitter In a brushed Aluminum with Thumb grips. The plug end also has a fortified Neoprene bendy connection with the Cable. Very Nice touch. Even with the Small standoffs from the body the whole presentation is one of Durability and excellent construction. BTW these IEMs bear the Musicmaker Logo on the rear of the Housings, as do all of the Mr. Z products. Included in this marking is a small L or R designating Left from Right.      
Source Details: 
For this particular review I used my XDuoo X3 both amped and unamped through a Fiio E12 Mont Blanc portable amp and a Schiit Audio Vali headphone amp. Line out from source to both amps. My Files are all at Least 320kbps to 96khz high resolution files. I used this source in all comparisons. Noting no real apparent differences using the different amp sources.      
Source Material:
The following is a list of songs that I used in this review. Some I use all the time, some less frequently. They all contain some type of frequency, Detail, or EQ that make them suitable for reference.    
Ai Takekawa-- Beyond the Moon
Emma Lock-- Never Fear (extended Version)
Christina Novelli-- Concrete Angel (short version)
SOAK--- Immigrant Song
Vivaldi--- SPRING (Four seasons)
J.G. Bryson-- Let the Pipes Play (Full pipe organ album 1st cut)
John Mayer-- Clarity/ Home Life
Steve Winwood --- Valerie/ Arc of a Diver  
I also added the following songs for their sonic attributes:  
Christina Novelli -- Concrete Angel (extended Version)
Jonny Lang-- Wander this World The FULL ALBUM
Ayreon – 01011001 Album (1st cut)
Robert Plant – Far Post
Albert King -- Remastered Born Under a Bad Sign
General Sound Quality:
ARE YOU EXPERIENCED?
A famous Musician once asked this question. NOW, I can truly say: "I am." 
This is the feeling that you encounter when you start listening to the cohesiveness, resolution and Soundstage that envelops the listener. Another Head-fier commented: it's "…like a perfect sphere around my head…"
Truly with The Shockwave III, you don't merely listen to the Music, You Experience it. I can recall a similar experience in the listening Room of a Local High End Hi-Fi shop, Alma's on Woodward Ave. in Royal Oak Michigan. I "auditioned" some next-level equipment that I could NEVER afford. I believe it was a pair of Mark Levinson Mono Block Amps through 4 (front/Rear) B&W Nautilus 800 speakers with vinyl on a VPI high end Turntable. The album was Weather Report's "Mysterious Traveler." At the time I thought to myself "Can it get any better than this?"
Up until now this was the epitome of my Audio Experience. I had the same thought and experienced this same thing Last night on a 7 hour listening Session with the Shockwave III.
These are the First IEMs that I could truly call End-Game in my personal experience.
I was consumed from the first listen. The resolution, detail, depth, bass quality and extension of other frequencies are simply superb. The sense of positioning and detail and shear expanse of the Soundstage is enormous. In fact, I agree, it's 360 Degree enveloping.  
Also to be noted: 
These IEM's are not as particularly forgiving as their sibling TK12 is. The better the Quality of the Source and Material the better the Shockwave III will sound.    
Bass:
It's truly special. Unobtrusive unless it's needed then it is Fast, Punchy, controlled and extends down into the very Sub labyrinths of the Earth's own bowels. It Growls like a True Subwoofer. I have a 1000 Watt B&W Home theater Sub that has nothing on this except for the thump on the Chest you get with an In-room Sub reaching hellish depths. If Mr. Z's designs get any better, his next Flagship may truly do it.    
Mids:
I find the Mids, very pleasant to listen to but they could be a bit more forward. Recessed? Well maybe a little but they work perfectly with the other frequencies. the overall presentation is one of BALANCE. Plus the Bass is so controlled it doesn't intrude or mask the Mids. I notice the Male vocals tend to be more pronounced or forward than the female maybe due to a little mid thickness.
Treble:
Highs are well extended with no harshness or peaks. I personally have noticed no Sibilance or any artificial timbre to the Treble. Not even with Soak's "IMMIGRANT SONG" at substantial volume. If there ever was an artificial or sibilant sounding vocal, this is about as good of an example as there is. Even on the Altered version of Jame Blakes "LIMIT TO YOUR LOVE" his voice comes through as it was recorded, although it's been obviously altered from the Original version, with no perceivable artificialness other than what was intended.  
Soundstage:
I simply CAN'T improve on Tamal's Description:
"Seriously, the sound stage is impressive, like a perfect sphere around my head Holographic soundstage and imaging"  
I absolutely agree. It's huge and 3D.  (It reminds me of a much more extended Bette 10mm type 3D imaging on the soundstage).
It's simply
an EXPERIENCE.
Comparisons:
Firstly, you owe it to yourself to read the reviews already done on The TK12 (HCK A2) to get an idea of it's sound.
The only earphone in my current stable that even remotely has a Chance against this Titan is it's own smaller brother: the Musicmaker TK12. I'm not going into a long drawn out frequency by frequency comparison here. Instead let me compare them THIS way to let you get a FEEL for their differences;
TK12:
It's the Fur Trapper up in -40 degree Quebec who just came in for his yearly spring supply run and to sell his furs, raise some hell, get some food, maybe a hot bath, a Bottle and a wench for the night after clearing out the bar in a Brawl. He wakes up in the morning with a serious hangover, pays off his debts for the previous night's damages, takes his supplies and heads back up into the Frontier until next spring. Hard Man, Hard Life, Bigger than life, living a Coarse life.....
                                                                                                                               V.S.
SHOCKWAVE III
It's the Older Scottish Rancher, (probably a retired statesman or parliamentary representative), whom has just spent the Day out in the Highland Winter mending fences and stockades. He has finally got all of his live stock in, fed and boarded for the night's worst. He is exhausted. After eating he is relaxing By the Huge Stone Fireplace, in a huge overstuffed chair with legs up on the footstool, with a single malt Scotch and perhaps a Meerschaum pipe loaded with Captain Black tobacco. He is reflecting on the day's events and feeling a deep personal satisfaction as he prepares to read the Political pages in the London Times. At his feet is his favorite Collie dog curled up and enjoying the warmth of the fire and his beloved wife nodding off to sleep in an adjacent Chair.
Hard Man, Hard Life, Bigger than life, and
TOTALLY REFINED…
Conclusion:
Simply the FINEST sonic presentation I have personally heard from an IEM to Date.
EASILY
worth the price of admission, and then some. Yes, I realize there are many out there yet that I haven't heard as yet, that is another price of admission to this hobby. (Addiction)    
But for Now, I am Very Content. In Fact, all I really feel the need for is a Single malt and a Fireplace and I'm all set. To hell with the London Times....        
SO, HAVE YOU EVER BEEN EXPERIENCED?
WELL..... I HAVE.
Pros
:
Massive Stage, Bass, Resolution, Sparkle, Value
Cons
:
Spike in upper mids, Large housings
About me:
I am a hobbyist, not affiliated with any audio company. I have been trying iem's and headphones for about 8 years now and have tried 
countless pairs. These are my honest opinions about this Iem.    
Introducing the MusicMaker Shockwave III
5 driver per side hybrid, (1 dd + 4 ba).    
I got mine from Shenzhen HCkexin Electronic Technology on Aliexpress but Mistertao (Taobao) and Easy Earphones on Aliexpress has them as well.
Here are the links:  
http://www.aliexpress.com/store/product/2016-New-HCK-S3-In-Ear-Earphone-DA-Hybrid-5-Drive-Unit-Headphones-DIY-HIFI-Hi/1825606_32604922125.html?spm=2114.10010108.100007.6.3kNLWd  
http://www.mistertao.com/beta/pages/item/36397321173.html  
http://www.aliexpress.com/item/2016-New-MrZ-Tomahawk-Music-Maker-III-5-Units-4-BA-With-DD-In-Ear-Earphone/32609950666.html?spm=2114.01010208.3.1.eiB1En&ws_ab_test=searchweb201556_9,searchweb201644_3_505_506_503_504_301_10020_502_10001_10002_10017_10010_10005_10006_10011_10003_10021_10004_10022_10009_10008_10018_9999_10019,searchweb201560_3,searchweb1451318400_-1,searchweb1451318411_-1&btsid=a1471105-9a67-4f46-814f-538fcb24f148    
The back story:  
A fellow Head-fier TwinAcStacks and I were so impressed with the MusicMaker TK12 that we both pulled the trigger on this one, the older brother.
Mine arrived first so here we go:  
This will all make more sense if you first read at least one of the three reviews out there about the MusicMaker TK12.
These improve resolution and micro detailing, depth, tighter & better bass quality and top end detail & extension over their little brother.  
Specs     
Sensitivity: 99dB / mW​

Applicable type of music: classical symphonic concert type​

Impedance: 20Ω​

Frequency range: 5-40000Hz​

Color Category: dark blue white purple pink ...​

Wearing styles: ear​

Headphone type: Wired​

Whether the microphone: without wheat​

Headset service: shop three packs​

Plug Diameter: 3.5mm​

Headphone plug type: straight type​

Headphone output audio: portable audio-visual​

Cable length: 1.2m​

Headphones category: HIFI headphones Headphones​

Brand: Tiankui​

Model: Shock III​
Linan Zhong's store on Taobao translates they are two-channel low-frequency,1 midrange, a high-frequency channel, a UHF channel.​
I have no reason to doubt this but to me it ​
sounds like a massive dynamic down low, 2 mid, 1 high and 1 ultra high.​
Detatchable version is available (probably won't include a cable), just message the Ali seller if buying from Aliexpress.​
Burn in: Taobao reviews say that around 350 hours of burn in make these things sound their best. In honour of that I burned mine in for 24 hours and am still going.  
Looking at the graphs now on Taobao of the Shockwaves FR, you can see a huge spike in the upper mids. Don't worry it dosn't sound anything as bad as it looks.
Pictured below are some wide bore KZ tips which saved the day. Without wide bore tips the shockwaves sound like your singer has a very bad lisp. But with them
the sound opens up and while the spike in the upper mids remains, sibilance is not a problem. Comfort is ok, they are quite large housings but 
they have not caused me any discomfort.  
Wide-bore sleeves
Accessories
The usual accessory set. Medium bore tips should not be included imho. Comes in a nice HZsound wallet.  
Sound
In one sentence these sound like a bassheads version of the T-Peos H-300.  
Bass that is everything great bass is, extremely well textured, well extended, slams hard (when called for), it's all there in more amounts than anything I own. Like an IE8 turned half way up 
but not loose at all. Bass is enhanced and gorgeous. You can hear everything the bass player is doing. This much bass might be a shock to some but I came from the TK12 so there was hardly any adjustment time needed. This must be why it's called the Shockwave, you listen to something like RE-272's then switch to these and you will get a thunderous bass shock wave pushing lots of air right onto your eardrum. For some this sounds bad but for some this is paradise. They sound like they have their own sub which adds a 3 dimensional effect, all the while executed very well and not suffering from driver cohesion issues that i can hear.  
Mid's are very, very clear and detailed just like the T-peos H-300 and do their best to stay above the bass, but no matter how thick the mids, the bass still throws some blanketing over the lower mids.
While the H-300 is thin sounding the Shockwave is quite the opposite.The mids present very thick notes to try to keep up with the bass and not be too V shaped. They do a stellar job at this but to enhance clarity the creator, Mr Z has tuned in a spike in the upper mids. Sibilance has not reared its ugly head since finding the right wide bore tips. The mids are some of the cleanest mids I've heard, making the UE900 sound veiled and also small in comparison.  
Highs are very well extended and sparkly. They shimmer and decay beautifully with cymbals crashes. Very hard to fault highs this detailed and extended. There is quite a lot of the highs, along with the mega bass, giving the impression of these being V shaped. The mids are great in their own right but get over shadowed by the bass and highs somewhat. Maybe the dynamic will settle down a little and that would flatten them out somewhat. But I'm happy if they stay the same as they are.  
Cable is nice but pink and quite thick, luckily there is a removeable cable option.
Soundstage
Huge just like it's little brother, taller and more depth. Seems to have the edge over the T-peos H-300 as well which is no slouch in the stage department.
Instrument separation is holographic and this thing renders the edges of notes beautifully. Everything is spaced out nicely and vocals are well centered and take place right in the middle of my brain.
Stage width gets a special mention and sometimes when a guitar is far off to the right of the stage the Shockwave makes it sound like the source of the sound is inches out of the head.
Tone of the mids and highs is similar to the T-peos making them slightly cooler than neutral. The T-Peos is sibilance prone but the Shockwave is right on the edge. I have not heard any sibilance since the tip rolling but the spike in upper mids runs pretty hot and is edgy for sure.  
This is an Iem that holds nothing back. It just relentlessly spits out powerful sounds and this is good because the sound is oh so detailed and engaging. While the TK12 persues easy listening the Shockwave III slaps you in the face with details galore and massive bass. While the TK12 tries to not be too little or too much of anything the Shockwave III tries to give massive amounts of everything. It makes for a spectacularly entertaining listen. What it does, it does extremely well. Its not just five drivers thrown Willy Nilly in each side. It's a very carefully tuned and skillfully made iem.  
A note on portablilty; The Shockwave sounds great out of my Fiio X5 or together with my O2 but sounds downright terrible and under powered from my Cowon J3.  
Value
Pretty much speaks for itself, I'm not sorry I bought it. There is nothing else out there like this one. The TK12 is the closest thing that I know of.
Two gems that have been unearthed.    
Size comparison, Altone 200, LZ-A2, Shockwave III, TK12.
They are about the same size as the TK12's.
Thanks for reading!
Comments
There are no comments to display.