Latest reviews
The best dynamic driver earphones!
Pros
:
-sound quality
-build quality
-ergonimic
HIFIMAN SVANAR
INSTAGRAM:
LINK
Prelude:
HIFIMAN is a company that hardly needs any introduction, they are one of the leading audio manufacturers on the market and constantly prove their position as a leader. They are constantly working to release better and better equipment and have a lot of their own technologies. Recently I had the pleasure of reviewing Svanar Vireless, the TWS from hell, which is a continuation of HIFIMAN's vision in the field of uncompromising audio. The headphones costing USD 499 made a stunning impression on me, which you can read about in my separate review. However, let's go back to SVANAR in the wired version. These are headphones priced at USD 1999, so they hit a very high target when it comes to in-ear headphones.
Unboxing:
In fact, this will be the weakest part of the entire review, while the headphones themselves are made really well, made of a combination of aluminum and brass and gold-plated, unfortunately when it comes to accessories, they are average. The tips are just ok, but I recommend buying something from symbio, for example, the stock cable is acceptable, but the headphones benefit a lot with better cables. Here we are happy to have a 0.78 mm socket, but it has a deep implementation, so you need to have cables with a longer plug, and this does not guarantee that another cable will work properly. The headphones themselves come in a beautiful dust-covered suitcase, which is a very nice aspect, but I would like to slightly improve the accessories and metal case. At this price, every detail is important and if I am greeted by luxury, I expect it in every aspect. It's nice that HIFIMAN included an extra pair of 0.78 plugs so we can make our own cable if we want. The comfort of the headphones themselves is really great, as is their build quality. I'm talking about the headphones themselves, not accessories.
Ergonomics:
The Svanars have a shape reminiscent of personalized headphones, but they fit perfectly in my ear, the comfort they provide is so comfortable that I completely forgot about them during long listening sessions. What is very important, the insulation is also at a very good level, well above average.
Test material:
During testing, I used high-quality hi-res files and TIDAL with my own playlist. Lots of jazz, pop and metal music.
Sound:
Hifiman knows how to tune headphones and has shown it many times, and it is no different in the case of the flagship Svanar model based on a single dynamic range in topological technology.
Bass:
First of all, what I noticed is the extraordinary lightness and agility of the bass, it is musical and very engaging, you can hear it clearly, but its texture is highly developed. I like its slightly warmed and engaging character. It has all the advantages of high-class dynamics, is natural and fits perfectly into the overall sound. Hifiman Svanar are headphones with a W-plane sound, so the bass does not detract from the quality of individual bands. The bass has the right speed, it's not super fast, but it doesn't linger in the background. Its warmth makes the sound of svanar very engaging. The delicate coloration of the mid-bass adds a sense of realism. The bass goes low, but the boost point is definitely in the midbass and this is the intended effect.
Midrange:
The midtones are very resolved and each instrument is practically a separate musical zone, this is due to the very holographic stage. The depth and breadth of the musical presentation are similar to the impressions of a listening studio; it is not a presentation that forcibly stretches the stage, it is rather a sweet and addictive intimacy. We will especially appreciate it in jazz or pop. The vocals are very resolved, natural, as if they were sung live. It's amazing how natural these headphones sound. They don't try to bombard us with information, instead they show it as it is. The tonal balance is truly impressive and the midrange sound quality is probably the best I've ever heard in dynamic headphones.
Treble:
The treble is resolving and completely natural, it is not plastic or cold, it is rather a sound consistent with nature and what I expect from headphones, each instrument sounds engaging and encourages further listening, and nothing is harsh or unpleasant. The high tones have good resolution and are really pleasant to listen to. The instruments are perfectly depicted and very resolved, of course the micro dynamics are not at the same level as in the case of multi-armature units, but the realism and timbre are at a much better level. The high tones are so natural and palpable that it is hard to resist the impression of experiencing live music. It is worth noting here that the Svanars showed their full potential only when connected to higher-class equipment, which in this case was the EF600 from Hifiman.
Comparison:

HIFIMAN SVANAR ($199) VS HIFIMAN SVANAR VIRELESS ($499)
This is certainly the most frequently searched combination, because both headphones are so close and yet completely far from each other. The advantage of the wireless variant is the presence of R2R modules that drive them perfectly and make the Bluetooth svanars incredibly close to the wired ones. In some aspects they can even be considered better. However, the wired version of Svanar has the advantage that we can pair them with any device and, for example, with the EF600 they gain incredible potential and show a certain advantage. Which headphones we choose depends on whether we want the convenience of wireless ones by agreeing to a certain compromise, or whether we can afford a solid DAC and AMP to properly use the potential of wired Svanar headphones.
Summary:
Hifiman svanar are headphones whose main disadvantages are based on the basic selection of accessories and not the headphones themselves. The sound we get for 2000USD is analog, dense, natural and literally absorbing. Their strengths are primarily imaging, scenic possibilities and beautiful tuning balancing between balance and the beauty they bring. If we like warm and engaging tunings full of information and details, these are undoubtedly one of the best dynamics on the market. 0.78 sockets require some synergy in the selection of cables, but those with larger plugs fit without any problems (I mean length). The sound stage is ellipsoidal, which means we can hear music practically everywhere. Svanars also like electricity and feel great with better devices. In this case, I used the EF600 from hifiman for testing and it actually allowed me to get much more out of the headphones. These are headphones that, of course, have their drawbacks, one of them is the stock cable, but overall, their sound and what they offer make up for these minor shortcomings by taking us into the world of music that is colored in such a way that we can literally get lost in it. Hifiman is a company that really knows how to tune equipment and has once again shown who rules the market. I hope that in the next version they will correct minor shortcomings with the equipment and we will have the undisputed king of mobility.
Last edited:
Hifiman - SVANAR : Effortless Enjoyment Guaranteed!
Pros
:
+ Superb Build
+ Very Comfortable
+ Superb staging
+ Superb Resolution & Separation
+ Great Bass
+ Good midrange
+ Great energetic treble
+ Pairs well with most dongles and portable players
+ Comes in a very nice box
Cons
:
- The cable is below par compared to others in the price range
- No balanced 4.4mm included
- Lack of good ear-tips
- The Joining of the upper part & lower part of the shell is not very smooth... this is more of a visual issue though... has no impact on performance
Hifiman - SVANAR : Effortless Enjoyment Guaranteed
!
Summary:
Launched in June'2023, Hifiman launched their newest flagship IEM with a new Single Dynamic Driver using their new Topology diaphragm architecture. The Svanar is a symbol of elegance and that is what we expect from it in terms of musical performance. Coming at a price range $1999, the SVANAR comes with Brass chamber with 24K Gold plating which according to Hifiman is important for better sound experience. The SVANAR is indeed an excellent performer, allowing users a effortless musical experience - just like the Swan swimming effortlessly in water.
Introduction:
Let's quickly dive into the details without making the introduction very lengthy. The SVANAR features 1 topology diaphragm based Dynamic driver and brass chamber with 24k gold plating. The cable that it comes with is pretty ordinary and quite below par with what is found from IEMs of similar price range.
The SVANAR is priced at $1999
.
Design & Build:
The shells is very ergonomic and the rear-half of the shell is made of aluminum covering the brass front chamber with 24K gold plating. The shells are quite light-weight and very comfortable. I have found them very comfortable throughout long listening sessions.
It is described as the following on the website:
Specifications:
The SVANAR comes at $1999 price tag and the specifications are as below:
https://store.hifiman.com/index.php/svanar.html
The Box & Accessories:
The following are found in the box:
SVANAR IEM
Hard Carrying Case
2 Pin 0.78mm to 3.5mm Cable with Silver-Coated Crystalline Copper Wire
4 Pairs of Ear-tips (2 Double Flanged, 2 Triple Flanged)
Ear-hooks
Owner's guide & warranty card
The Cable:
SVANAR comes with a 2 Pin 0.78mm to 3.5mm Cable with Silver-Coated Crystalline Copper Wire. It's quite thin and not as soft and flexible as one would expect. Also, it doesn't come with a 4.4mm balanced connector out of the box.
Hence, I have tried to pair it with some of the 3rd party cables that I owned. I have tried pairing with quite a few cables and found the best pairings with
@EffectAudio
CODE-23 and Cadmus 8W, both of which came with 4.4mm balanced termination.
With Kinera x Effect Audio ORLOG:
With Effect Audio CADMUS 8W:
With Effect Audio CODE-23:

In my experience, I have found the best sonic performance when paired with the CODE-23 cable and that combination has remained my favorite till date. Though the cable might be a bit thick and not as flexible, the music performance that the pairing yields is simply awesome!
NOW LET'S TALK ABOUT THE SOUND....

Items Used for this Review:

DAC/AMP & Dongles:
@Questyle
M15 Dongle DAC/AMP,
@Cayin
RU7 Dongle & C9 Portable Amplifier
Portable Players / Sources
:
@Cayin
N7, N8ii,
@Questyle
QP2R
Streaming Source:
QOBUZ
Tracks Used:
The tracks I have used can be found from the below playlist that I have used and generally use for most reviews...
Pairing Performance with different sources:
Dongle DAC/AMPs:
SVANAR had the best pairing with
@Questyle
M15 &
@Cayin
RU7 dongles. But, I have found that it pairs well with other dongles like
@MOONDROP
DAWN PRO etc.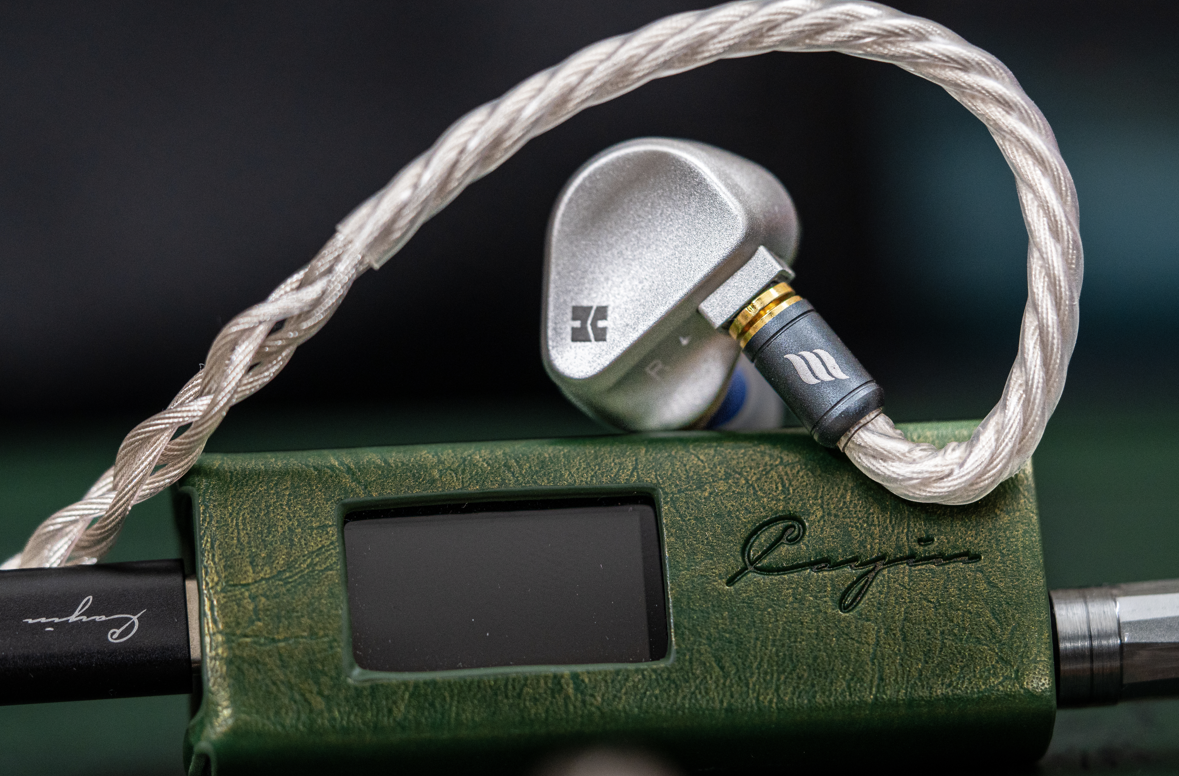 Portable Players:
Obviously the SVANAR had the best pairing with the
@Questyle
QP2R & specially Cayin N8ii since that comes with Class-A amplification and a new DAC which is super resolving and not to forget the Nutubes! The BEST pairing however came with Cayin C9 + N7 with Class-A amplification enabled. That just took the performance of the SVANAR to the next level.
Ear Tips:
I have tried many different ear-tips with the SVANAR, starting from Spinfit W1, CP500, CP100+, JVC Spiral Dots+, Final Audio Black & Transparent ones.
But the best fit and isolation for my ears had been AZLA SednaFit Short Transparent ones. I have hence used them for majority of the review.
SVANAR Sound Impressions in Short:




The BASS:

The bass performance of SVANAR is amazing. From the little nuances of the sub-bass to the rumble and slam of the mid-bass, everything seemed very balanced. The Bass experience came with enough muscle/body and power and the thump & slams were adequately felt. The attack & decay were both very enjoyable. Tracks like: "Hotel California

(Live on MTV 1994) – Eagles

" and "Fluid

- Yosi Horikawa

" are quite immersive.

The MIDS:

The midrange of the SVANAR is quite open and clear with ample amount of texture and details. There's no bass bleed and the midrange is quite textured and full-bodied. Vocals are very immersive and both male and female vocals come with good texture and feel very real. Instruments felt very natural and real with high accuracy and the separation between them is also great. The transients were accurate & adequate and very very enjoyable. In tracks like: "

Anchor - Trace Bundy

", "

A dog named Freedom – Kinky Friedman

" and "

Ruby Tuesday – Franco Battiato

" it's really easy to get lost into the music as it comes with ample detailed transients, texture, excellent vocals and details.

The TREBLE:

The Treble is quite energetic on the SVANAR though some may feel that it could be slightly more airy. It has the right amount of details and energy and is in no way harsh or peaky. Treble in tracks like: "

Paradise Circus – Massive Attack

", "

Mambo for Roy – Roy Hargrove

" and "

Saints and Angels – Sharon Shannon

" feel very immersive and enjoyable from the treble perspective.

The SOUNDSTAGE:

The Staging capabilities of the SVANAR is superb and quite surprisingly great. In fact, it might be amongst the best in the price range. It comes with the right amount of width, height, depth and is well defined and just as much as the track requires. It just proves the point that Hifiman had made the right implementation here.

Tracks like: "

The Secret Drawer – Bela Fleck and the Flecktones

" or "

She Don't know – Melody Gardot

" or "

Bohemian Rhapsody (live aid) – Queen

" sound amazing & enjoyable. This is amongst the strongest trait of this IEM.

Imaging & Timbre:

The Imaging & instrument separation performance on the SVANAR is stellar and sense of location is spot on with high accuracy. Tracks like: "

Rotterdam (Or Anywhere) - The Beautiful South

"or "

Hello Again - Howard Carpendale & The Royal Philharmonic Orchestra

" just shine through. The Timbrealso feels very natural.
Comparisons:
Please note that I have to make comparisons from 2 different perspectives here. Firstly from a price perspective I have compared the SVANAR against the Audeze LCD-i4 priced at $2495 which is slightly above the SVANAR priced at $1999. Secondly, I have compared SVANAR against another Single DD IEM which is Softears Twilight which happened to be the best Single DD IEM in my possession before the SVANAR.
HIFIMAN SVANAR vs Audeze LCD-i4:
Though price ranges are similar, but the architecture of the IEMs are very different. While the Audeze LCD-i4 is a Planar Driver based IEM, the SVANAR is a Dynamic driver based IEM. Each architecture has it's strength & weaknesses, but here we will see what we get for the price paid.
Price:
The SVANAR costs slightly lesser than the MCD-i4 and hence gets the edge here.
Build, Comfort & Features:
Getting a good fit with the LCD-i4 is very difficult and it is not also very comfortable for longer sessions. The SVANAR on the other hand is very comfortable and it's easy to get a good fit with it.
Bass:
Though the LCD-i4 has the best bass amongst any Planar IEM I have come across till date, it is not enough to beat the performance of the SVANAR. The Bass on the Svanar is much more refined.
Mids:
Though the midrange on the SVANAR is great and there is really nothing to complain about, the midrange on the LCD-i4 is just on another level with better texture & muscle. Everything feels slightly fuller and more textured.
Treble:
This is where the SVANAR really excels and the overall experience is very enjoyable. Note that the LCD-i4 is not lagging behind by a long way here. But the SVANAR is just more energetic.
Soundstage, Imaging and Separation:
The staging on both SVANAR and LCD-i4 is equally amazing and class-leading. However, SVANAR has ever so slightly better separation.
HIFIMAN SVANAR vs Softears Twilight:
This is just the opposite case of the previous. Here both IEMs come with Single DD architecture but the prices are different. The Twilight comes at $930 while the SVANAR is priced at $1999 which is double the price of the Twilight.
Price:
The Twilight and hence gets the edge here.
Build, Comfort & Features:
Both IEMs are very lightweight and it is easy to get a good fit. both IEMs are very comfortable also. However, the SVANAR is slightly more ergonomic in terms of the curves in the shell. Also, the SVANAR comes with a bass chamber with 24K gold plating which is unique and the topology diaphragm is also unique to the SVANAR. The nozzle of the Twilight goes in deeper while the SVANAR nozzle is shallower.
Bass:
Though both of these IEMs feature dynamic drivers, the bass experience on the SVANAR is more refined and detailed. The Twilight does great for its price though.
Mids:
The midrange on both of these IEMs are just great, but the SVANAR provides a bit more refined experience with finer details and slight more texture and the transients feel better.
Treble:
This is where I think both IEMs do well and there is nothing to complain.
Soundstage, Imaging and Separation:
The staging on SVANAR is amazing and class-leading, while the Twilight staging is also great for it's price, the SVANAR just feels overall better.
Conclusion
:
The SVANAR experience is great and also feels effortless. the overall musical experience is very enjoyable and amazing and beautiful like the swan that it represents.
I would recommend it to people who can afford it at this price range.
Comfortable, balanced, and fun... but light on tips
Pros
:
Outstanding packaging and presentation
Smooth, balanced sound signature with excellent, cohesive tone
Very wide, spacious sound signature — truly impressive for an IEM!
Exceptionally well-made and gorgeous
Very good imaging and positionality (head-stage and immersion)
Cons
:
Fairly sparse accessories
Cable is fine, but rather basic for this price
No balanced cable option
Hi Everyone! I'm the tech editor over at MMORPG.com, a gaming site that also covers technology. I am a music lover and big audio enthusiast, so make a point to cover lots of headphones and IEMs. I do a specific column for really premium gear called Golden Ears, which I covered the Svanar for. I have been lurking on Head-Fi for ages but figured I would share my thoughts here too since you're all into the hobby like I am already

Anyhow, enough about me. Onto Svanar!
Specifications​
Current Price: $1,999 (Audio46)
Frequency response: 5Hz-35kHz
Impedance: 60Ω
Sensitivity: 100dB
Weight: 13g (excluding cable)
Physical Attribute: Topology Diaphragm 9.2mm Dynamic Driver
HIFIMAN Svanar - What a First Impression…​
Over the last ten years I've written for MMORPG and other tech publications, I've been lucky enough to try a lot of gear (I'm nearing 800 tech reviews just at MMO these days), and the HIFIMAN Svanar is easily one of the fanciest, best presented products I've ever touched. What first appears to be a normal, if a bit heavy, slip-cover box soon reveals itself to be a leather-bound wood, emblazoned with metal plaque on the top. It absolutely looks the part of a $2,000 pair of earbuds with this kind of packaging.
Inside, you're greeted with the earbuds and accessories, well laid out in pre-cut foam inserts. The buds are protected inside the case in their own foam layer, so there's no risk of movement as they travel. To the right is a box with five pairs of silicone ear tips. To the left is the cable, as well as a pair of optional ear hooks and extenders for the 2-pin connection if you need a little more length to use them comfortably.
Beneath all of this is the owners manual and warranty card. HIFIMAN ships its pricier products with these glossy manuals that can double as small coffee table books. It's the kind of thing I would expect to find included with a luxury car and, again, is fitting for the price tier the Svanar is placed at. Let's take a closer look at everything you're getting.
The case is made of metal and has a soft foam layer on the bottom to keep things from getting scratched. It's the same style of case
Mangird
and other brands have been using for some time and is decent enough, though not quite as nice as the zippered cases
we've seen from Yanyin
and others. The earbuds ship with the above foam insert included in the case, but they need to be removed if you want room for the cable too.
The tips are well presented but too sparse. HIFIMAN has leaned into two and three-flange design here with only a single pair of standard silicone ear tips. Those have a wider bore, which cuts down on bass, and are only in one size. I'll talk about this more in the fit section, but I think the company took a leap here not including any standard tips. Perhaps the designers assumed anyone purchasing IEMs at this price would have their own? They would likely be right. But still, I would have liked to have seen quite a few more tip options, even if these do accomplish the goal of being comfortable and very well isolating.
The cable is good, but I could see enthusiasts wanting to upgrade this for something a bit fancier looking. HIFIMAN says they use only the "finest silver-coated crystalline copper wire" but hides that behind a standard black rubberized sleeve. It sounds great, for as much as a cable can impact sound quality, and is both soft and completely non-microphonic. Functionally, it's very good.
HIFIMAN didn't completely ignore aesthetics either. The Y-split and chin cinch are both mirrored metal, and the former is etched with the brand name. The 3.5mm termination is also quite heavy duty with a chonky L-shaped adapter. There's no modularity or balanced alternate, though, which is surprising as these earphones definitely scale with more power, ala a balanced amplifier.
Here's a look at everything together. The earhooks work well, I might add, though I didn't really find them necessary. The earpieces are well designed and balanced to fit securely, and I could never see myself doing a workout with a $2,000 pair of earbuds in, getting covered in sweat. Nice addition if you have fit issues, though!
Moving onto the earpieces themselves, HIFIMAN took inspiration from the contours of a swan (which is actually what Svanar means in Swedish). It's an elegant connection to make, though I wouldn't have made it myself. The contouring isn't that far off from other earphones that use a Universal IEM (UIEM) design, which is contoured based on collected data on the shape of the human ear. The application here is very comfortable, though, so the changes to the design they went with are very welcome. It is genuinely one of the most comfortable IEMs I've worn, which is especially noteworthy given their relatively heavy 13 gram weight.
The earpieces are broken into two halves on the exterior. The outer portion is milled aluminum with a matte finish to avoid fingerprints. The inner half is a copper zinc alloy coated in 24-carat gold. It's a duality of minimalism and luxuriousness. They're low key (and low profile) enough that if you do choose to wear them out of the house, they won't attract attention, with an inner half that feels almost like the Svanar's little secret.
The mix of materials and intricately designed contouring applies to the internal design of the Svanar too. The rear cavity uses an aluminum alloy while the opposite side (the interior of the copper/zinc alloy) uses brass. Mixed metals have a direct impact on sound resonance in acoustic engineering and HIFIMAN leverages that here to tune the sound of these earphones into one that's balanced and resolving, yet smooth.
In its marketing materials, the company also states that it took inspiration from the arrangement of the Moscow State Theather with is recessed orchestra pit and diffusion ceiling. This,
the company states
, results in an extended soundstage. It's marketing goes on to describe how they translated this into the Svanar: "optimized by a new algorithm, a phase-conducting structural design, and an earpiece that is supported by custom-developed materials," its internal chamber aims to bring the same listening experience into your home.
And while, no, no in-ear monitor is going to sound like a world-class orchestra theater, it does deliver a great soundstage and imaging that's genuinely impressive for an IEM. More on that in the listening section.
As you might have gathered from the image above, the Svanar uses a single dynamic driver. That flies in the face of the trend of other top-tier IEMs that seem set on packing as many drivers as possible into their shells. But, while it's possible for multi-driver IEMs to sound exquisite, it's not about the number or type of drivers, it's about what the acoustic engineers do with them. Using only a single dynamic driver also means these IEMs can be smaller with an easier fit, something that's not always the case with hybrid or tri-brid IEMs.
The earphones use HIFIMAN's proprietary topology driver technology to tune the sound. You can read the company's breakdown in the image above, but the short version is that each driver has been coated in nanoparticles with a specific pattern. The utility of driver coatings has long been established as a way to add rigidity and speed to dynamic drivers, but HIFIMAN takes it to another level, positing that different materials in different patterns has a unique effect. What those are for this particular model isn't disclosed, likely a trade secret, but every time I've heard a HIFIMAN topology driver, I've found something to realy enjoy about it.
With that in mind, let's take a closer look at fit and get into how they sound.
HIFIMAN Svanar - Fit and Comfort​
Comfort was at the forefront in the design of these IEMs, and their swan-inspired shape is indeed very comfortable. Over the month or so I've had them in for testing, I've spent many hours with them in my ears and they have never left me sore or fatigued. The contouring is quite well done and prevents hot-spots. HIFIMAN also did a very good job of balancing their weight and leveraging the outer ear for support. The nozzle fits comfortable and doesn't press unduly on the ear canal, making these a very pleasant wear.
As always, be sure to take the time to find the proper ear tips, and that may not be possible with the included silicones. At this price, I think a much wider assortment of tips was called for, including foams, as the flanged tips that make up the bulk of what's included aren't comfortable for everyone. That said, I almost always have issues with this kind of tip and actively avoid them. The smallest double flange worked perfectly and didn't both me at all, so it's worth giving them a try because they might just surprise you.
HIFIMAN Svanar - Listening Impressions​
First things first, you should know that you'll need a bit of power to drive these earphones to their fullest. Nothing crazy, but with 60 ohms of impedance and 100dB of sensitivity, they're less sensitive than many competing IEMs on the market. For my testing, I used a mix of the
Questyle M15
and the
Fiio K9 Pro ESS
.
Starting with a look at the graph (courtesy of
Elise Audio
), we can see a U-shaped tuning with good sub-bass extension and a bit of mid-bass emphasis before bottoming out at about 700Hz. The frequencies then rise in the upper-mids and have some peaks above 8K (which is where couplers become less reliable). This tuning points toward big-bodied low end but with a good amount of treble air, which could translate to perceived detail.
I listened to these earphones for weeks ahead of looking at a graph and can say that this is very close to what I have been hearing. The bass reaches low and is capable of good rumble and impact. The driver is speedy, so there's plenty of texture to bass notes, which gives music a good sense of tactility. The low synths in Chillstep (like Inner Fire by BlauDisS) have a sub-woofer like quality to them, but it's not overpowering. The driver is fast enough to handle the machine-gun double kicks of Bleeding Mascara by Atreyu. Though the production on that song is terrible, so the mid-bass sounds woofy — not the fault of the Svarar, however, as My Curse by Killswitch Engage sounds clean with all the pound and impact you could ask for.
The mids are very nice, though I think this is a set that really leans into instruments above all. Male vocals in particular take a slight step back behind guitars, strings, and drums. Female vocals, like Adele on Set Fire to the Rain, are more forward and sound particularly nice alongside instruments. Someone Like You is another particularly beautiful listen with its blend of vocals and piano. It's not a vocals-first set, but this balance in the mids makes them sound particularly smooth without the sense that you're losing detail in the process.
The treble is particularly well done, balancing detail, air, and sizzle with a roundness that keeps sibilance at bay. I didn't find these fatiguing in the slightest, but HIFIMAN has tuned them to draw out cymbals even whe they're in the background. Set Fire to the Rain is a great example of this, as the background splashes are drawn out and seem to slide in underneath the rest of the mix. The treble goes a long way to making these earphones sound as balanced as they do… they're slightly warm, but also very clear and enjoyable.
The use of a single dynamic driver also makes listening sound particularly cohesive. It's the kind of thing you're only likely to notice if you've listened to a lot of different earphones that mix driver types. While I love hybrid and tribrid driver IEMs, the Svanar is a great example of why a single dynamic driver can be uniquely enjoyable. Even though multi-driver IEMs blend the frequencies together almost imperceptibly, the final result has a different timbre, a crispness or etchedness that comes from using balanced armatures and electrostats alongside a dynamic driver. They can all be good, but it's a different flavor, and the Svanar presents its listening experiences with a unity that's very nice.
But how about soundstage, after all that talk about being inspired by the Moscow State Theater? Whatever designs HIFIMAN has implemented here work very well. The soundstage is exceptionally spacious for an IEM. It's always wide, but every now and again it surprised me with sounds that genuinely sounded outside of my listening spaces. Usually, instruments or audio cues in games that began suddenly or during particularly quiet moments. Even with these eye-openers excluded, the soundstage is wide but also tall. There's a great sense of space with these.
That sense of space also applies to layering. Every layer has room to breathe, you can hear exactly how your songs and games come together and pick out all of macro and micro details. Details retrieval then, is quite good. I found these earphones to be quite resolving, but being detail-hounds isn't what these earphones are all about (as we can tell from the warmer tuning). They're not as detail-centric as the
Thieaudio Monarch Mk II
or
Prestige
in A/B listening sessions, but they are more full-bodied and smooth without the sense that you're really missing out. Different flavors for different listeners.
And because we have to, how are they for gaming? Now, you'd never buy these just for gaming, but if you're spending this much, I think it's perfectly reasonable that you might want to use them for gaming too. On that front, I think they're fantastic. Their spaciousness is perfect for both single-player games where immersion rules. For multiplayer, their imaging and excellent layering (clarity) are very good. The slightly recessed mids may dial back footsteps slightly but I still had no trouble hearing them.
Overall Impressions and Final Thoughts​
The HIFIMAN Svanar are exceptionally expensive but also exceptionally good. From their presentation and design to comfort and acoustics, I thoroughly enjoyed these earphones. HIFIMAN could stand to throw in a few more extras, but they manage to impress pretty much across the board. Their aim, a balanced sound that's full-bodied but detail rich, is easy to listen to and enjoy across multiple genres and styles. Svanar was never for everybody, but if you can afford it, or even try them out at your local audio store, there's a lot to love here and my appreciation only seems to grow over time.