Winner
Pros
:
Android fast streaming, no frozen screens.
Easy downloading apps/google play and easy updating apps .
Robust craftsmanship.
Wide ,detailed, layered music.
Turbo mode.
Clear sharp video.
Battery endurance
I have owned the HYBI R8 for a week . I upgraded from the AK SA700. The R8 hands down is the WINNER on downloading apps. Google play is already installed and loading other apps is effortless and fast. Updating apps via your google account is quick. So far I have been streaming music and videos via TIDAL. Videos are sharp and clear and do not freeze.
The R8 is paired with 64 Audio U12T . Music is wide ,detailed and layered. It is easy to vision musicians and their positions with the R8 wide staging. Enabling Turbo Mode enhances imaging and separation. Currently utilizing se 3.5mm port . Bass has intoxicating thump. Midrange and highs are hypnotic.
I already had a good experience with customer service with HIBY company. I emailed them and inquired if i could use Turbo Mode via 3.5mm se port. I heard back from HIBY in less than 24hrs. No restrictions on which port to use Turbo Mode. Note I will be using the bal 4.4mm port soon. Submiited Leonidas Heritage II to Affect Audio for ConX and 4.4mm upgrade.
I yet been able to discharge the batttery to 0%. I usally stream music/videos 4-5 hrs and battery has not reached 50%.
I like the Robust build of the R8 which houses the hi end components. The leather cover is a plus.
I touched base with Andrew/MusicTeck ( purchased Leonidas II cable for AK SA 700 ) and informed him i was interested upgrading from the SA 700. I informed him my budget was $ 2000.00. He suggested HIBY R8 or Shanglin M8 since currently i use a DAP for streaming. I selected the HIBY R8 for its Android 9 base.
Thanks Andrew for the personal customer service you provide.
I know I've yet tap to all of the HIBY R8 musical capabilities its like rediscovering the form, harmony and emotion from music!
HiBy R8 – The Complete Flagship DAP
Pros
:
Fastest Android DAP on the market (as of 3/2021)
Fully open, optimised Android 9 with Google Play
Flagship-level sound quality with excellent note weight and control
Very balanced, reference-like tuning with superb technicalities
Full connectivity options, wired and wireless
Powerful output options with Turbo mode
Premium build quality and packaging
Cons
:
Can get hot when used under certain conditions
Some users report QC issues with battery, software (excellent after-sales service)
Volume wheel sensitivity not to everyone's taste
Could use more generous built-in storage for the price
Introduction
I've been thinking about how to best write this review for a while, ever since I first experienced HiBy's new flagship DAP towards the end of last year.
Since then, every other major Chinese DAP manufacturer has been playing catch-up with HiBy, and today the market for high-end ($1000-plus) portable music players is already getting crowded.
Marketing 101 stipulates that, given a crowded market, the success of a
premium
product is directly related to how different it is, what unique features it offers, or even what it looks like, so that the relatively small pool of potential buyers sits up and takes notice,
singles it out from the crowd
, so to speak.
While the R8 does have some distinguishing features that make it different to the others, its biggest differentiator –
a 4G sim card
, the first such feature in a DAP of any description – isn't actually a feature at all, given its not available outside China and a small handful of Asian countries.
Of the features that do count, for western users anyway, at the time of its launch it was the first high-end DAP to incorporate the double-whammy of a relatively modern processor/system-on-chip (Snapdragon 660) with a relatively modern Android platform (version 9), making it the fastest and most up-to-date Android DAP on the market.
But perhaps I'm looking at it the wrong way, and it's not just
one
feature that makes the R8 different to the others. Rather, it's the
combination of features
that make it, in my opinion, the most complete flagship DAP available today.
A premium package
Given its launch price of $1899 (for the non-4G, all-aluminium, 64GB 'western' version), the R8 more than doubles the cost of HiBy's previous flagship DAP, the R6 Pro. This puts it firmly in the upper price bracket of the DAP market, with only the likes of Lotoo, Sony, Luxury Precision and Astell & Kern offering higher-priced models, a list which includes exactly
none
of HiBy's traditional mainstream Chinese competitors.
Of course, this pricing suggests the R8 has a seriously ramped-up spec, which it does (
see the next section for a breakdown of the tech specs
), but more importantly, HiBy made every effort to position the R8 as a premium
package
. This is not just another player update, but rather the foundation of a high-end portable audio system.
Most modern DAPs, especially expensive DAPs like the R8, are well presented in quality packaging. Some come with multi-layered carboard boxes, others with wood cases and leather accessory holders. Most come with decent leather protective cases and even screen protectors.
The R8 is a step-up from all that. Inside the sizeable but otherwise nondescript black box is a well-made, genuine leather, classically-styled briefcase, complete with belt buckles and carry handle. That's right,
briefcase
. Why would you want a briefcase for a portable music player you're just going to slip in your pocket or throw in your backpack for the train ride to work? Because you're not going to do that with the R8, or at least, HiBy is using design cues to suggest that's
not
what the R8 is all about.
Opening the case reveals the player inside a custom cutout tray. Alongside the player, an aluminium placard with 'HiBy R8' etched into it tells you what you just bought, in case you didn't know. The only other visible accessory is a pull tab on the pre-applied screen protector on the R8 itself (a very nice touch, often missed by companies wanting to cut costs). Turn the player over and you'll find a second pre-applied screen protector on the glass-backed casing, even though the casing is made of Corning Gorilla Glass and should be fairly impervious to damage anyway. I do wish the screen protectors were glass and not film, but that's a minor gripe.
Lifting the top tray (using tabs on either side of the tray) reveals a second tray with a similar player cutout, only this time instead of the player it houses a genuine leather case for the R8. If you were one of the first 100 buyers, you'll be greeted with an exclusive limited edition Dignis case (which, judging by Dignis case prices for other premium players, is valued at around $200). If you buy an R8 today the case will be HiBy's own original leather case, with a different design, colour and finish, but still attractive and well-made.
Alongside the case, two circular cutouts hold the R8's connector cables: a high-quality HiBy-branded USB-C to USB-C cable for charging and data transfer, and a HiBy-branded USB-C to coaxial digital cable for connecting the R8 to an external DAC.
But wait, there's more. HiBy included a third tray (in a separate box), which features covered cutouts to hold spare tips, connectors or loose IEMs, four small cutouts for extra MicroSD cards, and two more round cutouts (similar to the cable cutouts) to hold two sets of IEMs attached to their cables.
In other words, this
briefcase
is not just a fancy presentation gimmick, but rather a premium storage
and
carry case for your (possibly entire) portable audio system.
A premium player
At first glance, the R8 exudes quality. Made from a solid block of CNC-milled aluminium, it is not small or light, measuring 143 x 81 x 20mm and weighing in at a pocket-busting 466g with the Dignis case. That's significantly bulkier and heavier than the stainless steel R6 Pro, which itself was quite a hefty, albeit more pocketable DAP.
I therefore wouldn't call the R8 easily portable, although strictly speaking it's still portable rather than transportable. It's not a desktop-replacement DAP (like iBasso's DX220 MAX or Sony gargantuan DMP-Z1), but given its size and power, can very easily do double-duty as one.
The design of the DAP itself is a departure from HiBy's previously rounded aesthetic, being more angular and aggressive (or 'masculine' as HiBy calls it). That said it's not nearly as angular or sharp-edged as Astell & Kern's obtusely-shaped DAPs, and its slightly rounded edges mean it can be used comfortably without a case.
This is not a random design choice, and is grounded in how the R8 functions ergonomically. For example. The four push-buttons on the right side of the player (power on/off, previous track, play/pause, and next track) use the angled sides of the player to prevent you from accidentally clicking them while making it easy to find and click them by feel.
Between the buttons, a slot-like LED shows the various states of the player, whether it's charging, or which bitrate it's playing (the LED can be turned off in settings if you prefer not to use it). HiBy has also moved away from push buttons for volume, using a Lotoo-like knurled alumimium volume dial on the top of the player, protected from accidental activation by the angled edges of the player. The volume dial isn't very sensitive, and takes a touch or two to activate, which I believe is a design choice. I like it, but some may prefer a more sensitive dial.
On the left side of the player, a single sim-tray opens up to reveal a MicroSD slot, which is hidden away when the player is in its case. I personally prefer the sim-tray design, especially since I hardly ever swap out my SD card (
more on how I use and manage my music library with the R8 later
). The bottom of the player is where you'll find all the active ports: two headphone ports (3.5mm single-ended and 4.4mm balanced), two dedicated line-out ports (SE and balanced), and a USB-C 3.1 slot for charging, data transfer and external DAC use.
The back of the player, despite being glass covered, is also its heat diffuser, and can get fairly warm when playing music, video, streaming, or driving power-thirsty headphones. That said, the R8 doesn't get uncomfortably warm, even when charging, and both leather case designs (Dignis and HiBy) include an alumimium heat shield that allows for good ventilation and heat dispersion when the player is used screen-up, as it normally would be.
Which leaves the entire front face of the player as the screen, an outstanding 5.5", 1080P IPS retina touchscreen at that. No, it's not going to compete with the ultra-punchy OLED screens used in modern high-end smartphones, but it's a very impressive screen befitting a premium DAP, with good contrast, excellent touch sensitivity, natural and accurate colours at all viewing angles, and an almost edge-to-edge display that's easily visible in bright light and daylight.
If the exterior of the R8 is heftily-impressive, what's on the inside is even more so. The spec sheet of the R8 includes:
Dual AKM AK4497EQ DACs with support for native DSD512 and 32bit / 768kHz PCM
Snapdragon 660 octa core 14nm LPP process SoC with CPU frequency up to 2.2GHz
HiBy OS, a highly-customised version of Android 9 (Pie) complete with built-in Google Play Store support, Direct Transport Architecture (that allows for native hi-res playback), and 16X native MQA rendering support
Qualcomm 8x Kryo 260, Adreno 512 GPU, 4GB RAM, 64GB ROM and up to 2TB SD storage
Custom high-density 38Wh ATL 10,000mA battery for up to 13 hours playback with QC 4.0 support
Four independent power supply circuits for digital, DAC, preamp and amplification
Up to 1088mW output power into 32ohms from the balanced headphone port
Turbo mode for even more driving power (up to 16W) for over-ear and less-sensitive IEMs
Four ELNA SILMIC II audio capacitors and exclusive HiBy-designed OP02 opamps
10 tantalum gold-plated capacitors, 18 high ripple-suppression-ratio LDO regulators, and 35 Panasonic Hi-Polymer POSCAPs (I have no idea what all this means but it sounds impressive)
Dual 45.1584MHz and 49.152MHz oscillators with femtosecond precision, controlled by a dedicated, custom FPGA chip
2.4/5GHz dual band WiFi, Bluetooth 5.0, two-way Bluetooth (transmit and receive), including HiBy's own UAT protocol, LDAC and AptX HD
Without getting too technical about the already technical spec list above, it's fair to say that, even at a glance, the R8 packs a seriously premium array of high-end components (including the largest battery of any modern DAP) which sets it apart from budget players that primarily use off-the-shelf parts to keep costs low. That doesn't automatically mean it will sound or perform as well as it should
on paper
, but at least you know you're not just buying a packet of chips in cuisine clothing.
A premium experience
Package, specs and smoking good looks (in the eye of this beholder) aside, this is the part of the review where the rubber meets the road, so to speak. I've broken down the in-depth analysis of the R8 into four sections: speed, software, sound quality and stability.
Depending on your own preferences, these criteria may be more or less important relative to each other, but to me, they are all
equally
important when it comes to creating a
complete
experience
in a flagship DAP. No single feature is the
only
important factor, not for me, and not when you're paying this much for a premium product.
A great sounding player can still deliver a poor experience if the UI or software is too slow or laggy, for example, or the software might lack certain features that you need, or the combination of software and hardware might be unstable under certain circumstances. So let's take a closer look at each of these aspects in turn, and see how the R8 stacks up in real-world use.
Speed
When it was first announced, the headline feature of HiBy's new flagship was the newer (relatively speaking) Snapdragon SoC, which promised to make the R8 the fastest Android DAP on the market. That promise materialised when, on its release, the R8 was indeed shown to be faster than any other Android DAP, and not by a small margin either.
There are a few ways to measure an Android device's real world performance, one of which is AnTuTu Benchmark – a free tool you can download and run on your own device from the Google Play Store (or sideload from APKPure if your device lacks Play Store functionality).
My R8's AnTuTu score of
188140
, using the latest version of the software, can be seen in the screenshot below. To put this score in context, the R8 remains the fastest Android DAP on the market, based on the AnTuTu scores of its three closest flagship competitors (taken from published reviews, not my own measurements):
iBasso's DX300, with its similarly-specked SoC and 2GB more RAM, is almost a dead heat at 177936;
FiiO's M15, with its older Exynos SoC and even older Android 7.1 platform at 108448; and
Shanling's M8, which is actually newer than the R8 but sports a lethargic (by modern standards) Snapdragon 430 SoC running Android 7 at 74651.
To put these scores in context, however, the R8 is only moderately faster than my LG V30+ smartphone, which on the one hand means that it's the first DAP I've used that's finally caught up to the speed of a modern smartphone, but on the other, my idea of a
modern
smartphone is a 2017 LG.
That said, the R8 is still the fastest Android DAP today, which is an important consideration if you're buying a DAP that is already behind the curve in terms of the latest Android hardware and software platforms. FiiO's M15, for example, was the standard bearer for Android DAPs less than six months ago, yet is already showing its age, while HiBy's new R6 2020 DAP matches the R8 in speed and software specs yet costs $1000 less, suggesting the R8's platform is already the minimum you should expect from a modern flagship.
When it comes to speed, CPU and graphics are only one part of the equation. If you're thinking of doing anything with your Android DAP that involves networking or the Internet, you'll also need fast, stable Wi-Fi support.
The R8 is equipped with a dedicated dual-band 802.11ac Wi-Fi antenna. Comparing the Wi-Fi performance of my LG phone I found very little difference with the R8 – if anything, the R8 even edged out the phone when it had line of sight to my wireless mesh nodes.
I can't say for sure how the R8 compares to the other flagships in terms of Wi-Fi speed, but this is a big step up from the previous HiBy flagship, the R6 Pro, and the combination of fast 5GHz Wi-Fi and its class-leading SoC makes the R8 every bit as capable a streamer as a modern smartphone.
Software
At this point the review is going to digress away from most of the other mainstream reviews. Instead of treading the same ground and describing the standard software configuration, apps and options out the box, I'm going to instead jump to how I've configured the R8 for my own use case.
This is important for two reasons: the basic configuration, while fully featured, is just that –
basic
. You get an optimised and customised (but otherwise intact) Android 9, all the Google Play Store and Services pre-installed (no need to sideload anything from APKs or stand on your head to register the Play Store correctly), vanilla applications (like a basic file manager, photo manager, web browser and clock), and HiBy's own music player and media manager, HiBy Music.
The second reason is that none of these maximise the power and potential of the R8 as an open, optimised Android DAP, at least not by my definition of
maximise
. For example, the first thing I did on booting up the R8 for the first time was jump into settings and disable the apps I don't need, including (shock-horror) HiBy Music. It's not that HiBy Music is bad software, far from it, but in my experience to really make the most of the functionality of this (or any other open Android) DAP, you should install a more advanced third-party playback application, of which my pick would be USB Audio Player Pro (
more on this later
).
So that's why this review is going to be a little different. I'm not going to run through the various screens and settings options for you – there are plenty of other, excellent reviews that already cover these, and I'll reference these at the end of this review. Instead, I'll walk you through how I've set up the R8, how I use various apps for everything from wireless file management to remote streaming, and even how I've totally changed the look and feel of the R8 to better suit my preferences.
OS and UI tweaks
Let's start with look and feel, because otherwise you're going to stare at my screenshots and wonder why your R8 looks so different to mine. One of the benefits of using a DAP with open Android is that you can change how you interface with it using a launcher application. My launcher of choice is
Nova Launcher
, available as either a free or premium (Prime) version.
Nova gives me complete control of the R8's interface, from the apps and widgets that appear on the home screen, to the way notifications appear on the lock screen, and even how I group and arrange the apps on the player. Once installed, every single interface element is controlled from the Nova Settings app. I won't go into great detail here, other than to say your choices are almost limitless. From the shape, size and colour of icons (I use an excellent third-party icon pack called
Lines
to get the minimalist look I wanted) to the app drawer, launch bar, folders and other UI elements, it's now all under your control.
One thing I will mention here is
gestures
. The R8 already comes with that most useful of modern Android features,
Tap to Wake
, which as the name suggests allows you to double tap the screen to wake it from sleep. Ever since I first used this feature on the FiiO M11 I was hooked, and will never buy another smart device, Android or otherwise, that doesn't have it. Strangely the R8 doesn't include the reverse feature,
Tap to Sleep
, but fear not: a few clicks in Nova's gestures options and Tap to Sleep is yours.
File management
The R8 is essentially an Android computer with fairly advanced hardware, so why not use it like you would any computer and manage you incoming and outgoing files direct from the DAP. While a basic file manager is included with the R8, you'll really want a more advanced app if you want to take full advantage of the R8's capabilities. My rec for a full-featured file management app is
Solid Explorer
, which among other things, allows me to manage my entire music library wirelessly over my home network.
Ever since installing Solid Explorer, I no longer need to remove the SD card or attach the USB cable for file transfer. Everything I need to copy to or from my music server or network can be done wirelessly from the R8. Solid Explorer gives me SMB access to my desktop Macs, workgroup access to Windows PCs, and remote access to NAS, FTP and Cloud storage, including Dropbox and other services. All of it can be done securely, and even encrypted, just as you would from any other computer.
Instead of describing how I use Solid Explorer, I've included a
short video
below that shows me accessing my main music library on a Mac mini server and copying a number of music directories to the R8's SD card.
With fast 5Ghz Wi-Fi support and gigabit wireless mesh network at home, copying files to and from the R8 is much faster than doing so the old USB 2.0 way, and almost as fast as connecting the R8 directly with USB 3.1. I can also access and play music files remotely from Solid Explorer, but for that I use the remote playback capabilities of UAPP instead (
see the 'Music management and playback' section below
).
Streaming
Most people choose Android DAPs for their streaming capabilities, and the R8 is one of the very best in this regard. Not only does it support the highest level of hardware MQA decoding (16x) for Tidal users, it also supports bitperfect playback from hi-res streaming platforms like Qobuz and Amazon HD.
As a native Android player with built-in Play Store support, you have access to any of the major streaming apps out the box, including Tidal (which I personally use), Qobuz, Amazon HD, Spotify, Apple Music and YouTube Music, among others. If any of these apps support offline playback on Android, you'll be able to use that feature with the R8, and even choose where to store your offline files (internal storage or SD card).
One of the benefits of using a fairly modern Android version with a fast SoC is evident from how quickly the latest streaming apps load and run on the R8, as I've illustrated in the
video below
. Tidal is not the world's fastest app, but the experience is as smooth as seamless as it is on my smartphone, which is to say excellent. Searches are instant, and scrolling through large playlists is lag-free.
I can't stress enough how big a difference a smooth interface makes to the overall experience. This was always a potential bottleneck with older, smaller DAPs, with their lower-resolution screens and underpowered SoCs. That's no longer the case with the R8.
Music management and playback
I mentioned earlier that I use
USB Audio Player Pro
as my music management and playback app of choice. Not only is the app worth every cent, you can also use it across all your open Android devices, as long as they support Google Play.
Without going into great detail, I've listed the main the reasons I prefer UAPP to any other music app below:
It supports bitperfect, native Hi-Res playback, bypassing Android's limited audio layer and interfacing directly with the DACs in the R8.
It supports native DSD playback on the R8, unlike some players that convert DSD to PCM.
It's is a very mature, very responsive and very stable application, with a clean, uncluttered, modern interface (including nifty features like background colours that match the cover art of the playing album), lock screen controls (including ambient display notifications on the R8), and refined English-accurate menu and navigation structure.
It features superb media management, including automatic updates to the main library when adding or removing music files, metadata editing, extensive album art support regardless of file type, and finely-tuned sorting capabilities, including Album Artist that many OEM music apps still seem to lack.
It's fast, very fast. Everything from loading your library to playback to scrolling and database updates is superbly optimized on the R8.
It's versatile. UAPP integrates Tidal (with full 16x MQA support), Qobuz and YouTube Music, giving you access to your favourite streaming service with its native playback engine. It also features advanced playback controls and effects, including optional ToneBoosters professional PEQ, Crossfeed and Morphit plugins.
It's scalable. UAPP supports playback using external DACs, which turns the R8 into a high-end digital source for your desktop system, but also supports built-in DLNA and network music playback support, so you can access any of your local shares (including Plex libraries) directly from the UAPP interface.
Suffice it to say, UAPP helps me make the most of the R8's audio hardware and networking features and turns it into a fully-fledged music playback and management system second-to-none. Since I also use UAPP on my smartphone, the experience is consistent regardless of which device I use to listen to music.
Other software and applications
While I have other applications installed on the R8 that can be used for music playback (including Tidal and Plex), I generally don't venture too far away from UAPP for most of my listening. The R8 is also a very capable multimedia player, and even has auto screen rotation functionality should you want to watch movies and TV shows using Plex or YouTube the natural way.
Aside from UAPP,
Plex
is the only other app that requires Google Play Store support, which is why Play Store is essential to my DAP use case. While Plex isn't perfect (I mainly use it at home for TV and movie playback), it does have one invaluable music feature: remote support. Basically, this means that when using the Plex app on the R8, I can access my entire 3TB+ music library wherever I am in the world.
Unfortunately, the Plex app doesn't take advantage of HiBy's DTA for bitperfect playback, downsampling all my hi-res FLACs and DSDs to 44.1 PCM, but that still beats not having access to my music library wherever I go. I do get full hi-res and DSD support, though, when I access my Plex library at home using UAPP's built-in DLNA browser, as the
video below
illustrates.
Other than the main apps, the software features I use most on the R8 are built-in to HiBy OS (HiBy's name for its optimised Android 9 platform). These include:
MSEB: HiBy's homebrewed take on an intelligent EQ, which on the R8 is available as a system-wide EQ for any music playback applications, including streaming apps. Developed by @Joe Bloggs, MSEB makes it easy to tweak the music to your liking with intuitive sliders that affect everything from overall temperature to bass texture, note thickness, vocals and sibilance, without requiring a PhD in EQ theory.
Instant screenshots: pressing the power button once brings up a menu with one-click screenshot control, making it easy for me to take screenshots for this review.
180-degree screen rotation: a new feature included with the latest firmware, this is more useful than you'd think, especially if you want to pocket the R8 and have the headphone ports facing up rather than down. One click from the quick access menu and you can flip the R8 for the road.
While it technically can do much more software-wise, from Telegram and Discord chatting to online shopping and even fitness tracking, I use the R8 exclusively as the premium music player it was designed to be, but with all the supporting services and remote access capabilities I can only get from a fast, connected Android device.
Sound quality
If you jumped straight to this section from the intro, I encourage you to go back and read everything that came before if you really want to get a feel for what the R8 can
really
do. If all you care about is sound quality, you might be buying features with the R8 you'll never need or use.
That said, the R8 wouldn't be getting my rec if I didn't think it lived up to its primary purpose as a premium music player, so I'll get right to the point. If you want flagship-level sound quality in a portable platform, the R8 delivers.
Once again, unlike mainstream reviews, I'm not going to directly compare the R8 with other flagship players. I'll make some reference to other DAPs I've personally used or owned, but I don't have any with me to check like-for-like playback qualities. For that I refer you to some excellent reviews below, the best and most comprehensive of which is Alex's (
@twister6
) industry-benchmark review, complete with detailed comparisons to other DAPs.
An important note at this juncture
While I've become a lot more appreciative of the role a high-end source like the R8 plays in the sound quality chain, describing the sound of a source is like describing the colour of water. What you're hearing is first, foremost and mainly determined by whatever you have plugged in to the DAP,
not
as much the DAP itself.
Just like water reflects the colour of the sky, so any good DAP should primarily reflect the sound of your IEMs (or headphones). Yes, it will influence what you hear, depending on how well the DAC and amp have been implemented, but in my opinion, just like crystal clear water, a great DAP gives your IEMs the best possible foundation – clean power, low distortion and low noise – and lets them do what they do best while getting out of the way.
I used a variety of IEMs with the R8 over the past two months, ranging from the entry-level BLON BL-03 to ultra-high-end IEMs from 64 Audio and Empire Ears. If you're after a DAP that's more coloured or tuned to emphasize certain qualities in your IEMs, the R8 might not be the best choice for you. With that in mind, the R8 does have its own sonic characteristics, both tonally and technically, that are consistent across the IEMs I used, so let's take a closer look.
Tonality
The R8 is about as close to a
reference
source as I've heard, but thankfully not in a flat, analytical way. By
reference
I mean that the R8 adds very little to the character of the IEMs you use with it, but what it does add is done in a very subtle, refined and transparent way.
For example, there's definitely some extra meat on the bass, more so sub bass, which – if it's present in the music and within your IEM's capability – gives a little extra kick, a touch more rumble, and a very natural decay. There's no extra boost that I can detect in the midbass, maybe the slightest hint of warmth when paired with more neutral IEMs, but no more than that.
The midrange is rendered precisely and very clearly, not any fuller or thinner than you'd expect from your IEMs. Listening to how the R8 renders vocals and instruments that centre on the midrange reminds me of how I heard my IEMs with another flagship reference DAP, the Lotoo Paw Gold Touch. I think it's how transparent and clear the vocals and supporting instruments come across, especially with IEMs that I know to be very transparent themselves.
Treble is where the R8 gives a nod to HiBy's 'house sound', which has been advanced and improved here. HiBy's approach has always been to render music with a more natural, 'musical' tonality, and that's most apparent in the R8's treble which, while being more detailed and extended than it was with the R6 Pro, for example, is still more relaxed than the typical clinical, overemphasized treble that some high-end DAPs go for in their singular pursuit of detail.
Another thing I've picked up in my time with the R8 is that it's not a pushy DAP. By that I mean it's not going to stamp its character all over the music, for better or worse. If anything, it actually has a fairly relaxed tonality. It can be dynamic with the right IEMs, but it's not going to bring the alcoholic punch to the party on its own.
That said, neither is it bland. I find the R8 delivers music with great authority, with excellent control. Where IEM's like 64 Audio's Nio or Empire Ears' Legend X might be prone to losing control of their uber-powerful bass drivers with some lesser DAPs (or even quality warmer-tuned DAPs), the R8 controls them with a firm but deft grip. Not once have I heard the bass on either IEM as too loose or flabby or thick with the R8, nor the treble too nonchalant.
Technicalities
Where the R8 presents a bigger departure from the R6 Pro (and all the other midrange DAPs I've heard to date) is its technical ability. At first listen the word that came to mind most often was
refined
.
The R8 delivers whatever it's playing at a very high technical level, but not in a jarring, wow-factor way. You'll hear music with a wider, deeper stage, for example, especially compared to less capable DAPs, but it's not done in an unnatural way, and if your IEMs are inherently intimate, then intimate they'll stay. On wonderfully spacious IEMs like 64 Audio's Tia Fourte, the stage is as magically wide as you'd expect, with the R8 easily capable of rendering the full depth, height and layers in the music.
While the tonality is slightly north of neutral, and natural rather than analytical, the R8 makes the most of its quality internal components to squeeze tremendous detail from almost every IEM I've used with it. Even the 'lowly' BLON scales up nicely.
It doesn't fake detail, nor does it warm up the sound too much to smooth it over (despite the dual AK4497 DACs' reputation for their smoother character). Make no mistake, the R8's sound is silky smooth, but not at the expense of resolution.
If you have an IEM that revels in minutae microdetails, then that's what you'll hear. If you use a thicker, meatier IEM, the R8 won't stand in your way or dilute its impact in any way. But unlike some DAPs, it won't add this character on its own, nor artificially boost what's not already there – it's up to your IEMs to do most of the work.
Noise and power
One of the criticisms I've heard levelled at the R8 (and the R6 variants before it) was a tendency to push the noise floor just a touch too high, especially with very sensitive IEMs. While I have my own feelings about the merits – or lack thereof – of super-sensitive IEMs like Campfire Audio's Andromeda and Solaris, I can honestly say the R8's noise floor is the 'blackest' I've heard with the IEMs I've used with it (and with previous DAPs).
No question, the R8 is a very powerful DAP. With more the 1 Watt of power at 32 ohms out of the 4.4mm balanced output (which translates to significantly more wattage at the 3-, 6-, 10- and 14-ohm sensitivity of my IEMs), there is far more headroom than anyone would actually need for IEM use. But in my experience, it's very clean power, even in Turbo mode (which was designed for full size headphones, but somehow makes my IEMs sound better too).
If you're into numbers and measurements, the R8's absolute noise floor is lower in both single-ended and balanced modes compared the R6 Pro, despite having more power on tap.
One caveat to this
: there are many who I know and trust that have keener hearing than mine who can sniff out even the faintest hiss from IEMs than I ever could, so don't take my word as gospel. But even they would agree that using the R8 single-ended
without
Turbo all but eliminates any hiss, even with pointlessly oversensitive IEMs (there, I said it).
Pair-ups
In case I haven't made my point clearly enough above, the R8 is an ideal match for just about any IEM (and probably most full-size headphones too). But that's not to say it'll be ideal for your IEMs.
If you're looking for a DAP to counterbalance one or other characteristics – for example, if you have a very bright-leaning IEM and want a DAP that would naturally tone down its brightness (with a slightly rolled or thicker treble response), the R8 isn't that DAP. Likewise, if you have an IEM that's a bit too bass light for your liking and want a DAP to fill in the missing octaves down low, there are probably better options than the R8.
That said, if you're looking for a DAP with a very linear, transparent but still natural sound, that's the R8. It will effortlessly elevate any IEM to its full sonic potential without changing anything about it, making the most of what it already has without embellishing. IEMs that scale well with a better DAC or amplification will definitely benefit from what the R8 has to offer in both departments.
To illustrate the point, here are some examples from my personal experience:
64 Audio Tia Fourte
– this is 64 Audio's current flagship hybrid IEM, and is renowned for its resolving power, wide stage, microscope-like detail retrieval and precision imaging. It's also a fairly bright-leaning IEM, albeit being balanced overall, and the R8 doesn't mask any of these traits. Play a poorly recorded track or something that's mastered too thin or bright, and you'll get the unforgivingly harsh sound you'd expect with the Fourte. But play a reference recording and the R8 gives Fourte every nuance of the recording. You'll literally hear
everything
the Fourte is capable of, and nothing that it's not.
Empire Ears Legend X
– probably the best bass you'll ever hear with an IEM, if you consider big, bold, natural, resolving, textured and infinitely deep bass as 'the best'. But Legend X is so much more than bass; it's a highly technical, refined and natural IEM in its own right, across the spectrum, and the R8 plays it like a master conductor. If you're looking for a wild basshead experience with the Legends, you're probably not going to find it with the R8. It's far too polished and disciplined to let the bass run loose. Nor will you hear any treble spikes the Legend X is said to have with some sources. I haven't heard the Legends with another DAP, and frankly, I don't need to.
64 Audio Tia Trio
– this is the 'wild child' of the 64 Audio lineup. It has a bashful energy to it that makes Fourte blush. It's a party animal, and while some would want to control its base instincts, the R8 is happy to let them loose. Still, the smoother, more relaxed nature of the R8 gives the Trio exceptional range with well-recorded music, while its bass response with high-energy EDM is palpably visceral. Excellent synergy here, if the Trio is your cup of tea.
BLON BL-03
– it's not going to win any technical awards, I know, but the BLON has one of the very best tonalities of any IEM I've used, $3600 Fourte included. It's such a warm, organic, balanced tuning that makes almost any track from any genre sound superb. It's also far more forgiving than any of the flagship IEMs in my collection, probably a combination of its smoother tuning and lower resolving power, but connected to the R8, it sounds so much better than its cost of entry suggests. Pair it with a balanced cable and it even scales up superbly, to a point of course.
Stability
In the frantic rush to get new products to market, this is the one aspect of modern DAPs that I feel is too often overlooked by many, not least by otherwise experienced audiophiles. What's the point of having a super-fast, feature-laden, superb sounding flagship DAP if it constantly glitches, the software is incomplete or limited, it fails to charge properly, or doesn't give you the seamless experience you should demand at this level?
This is where stability comes into play. I appreciate that, as a niche product in a niche market, most DAPs are going to be compromised in one way or another. Even the R8, with its fairly modern architecture, still lags behind mass-produced modern smartphones with the latest processors and upgradable Android operating systems.
But none of this is an excuse for releasing an 'unfinished' device. If anything, using slightly older SoCs and more mature operating systems should add up to even better stability, but in my experience, that's not the case. Even HiBy has had its fair share of disappointing issues with previous DAPs, the R6 Pro's notorious EMI issues being one example, the original R6's oddly high output impedance another.
Though neither of these are strictly stability issues, both impacted user experience. That's how I personally define stability – the lack of anomalies or issues that negatively impact the user experience. In that regard, touch wood, the R8 is by far the most stable DAP I've used to date. Everything seems to work as intended, from the very first bootup. Apps install and work flawlessly, basic features like gapless playback and bitperfect support are there from the start, streaming services function as expected, and I'm yet to encounter a spelling mistake or grammatical error in the display of a song title or interface element.
As polished and refined as it sounds, so the R8
appears
to be very stable. That said, I've seen anecdotal evidence that some units do have stability issues. I've personally seen an R8 with a corrupted display, requiring a full system reset to fix it. I've heard of another that reboots sporadically, one with backlight bleed, and one that drained its battery overnight. None of these issues are unique to the R8, and HiBy (and its resellers) are on the ball when it comes to technical support.
My own R8, thankfully, has never been anything but stable. If I had to nitpick, HiBy forgot to grammar-check its English firmware update notifications, but I only noticed that because of how jarring they are compared to the overall polish of the rest of the UI.
I don't for a minute excuse any of the issues above as one-offs, but at the same time don't accept that this is just the nature of living on the bleeding edge. In any other premium product category, basic quality control issues would never be tolerated as much as they are in this
hobby
, and as users we have a collective responsibility to hold DAP makers to a much higher standard.
As long as HiBy continues to be responsive to issues that do arise, and the R8 continues to be an impressively resilient device, I'll continue to recommend it for its stability as much as I do for any of its other qualities.
Verdict and closing thoughts
With the HiBy R8, it feels as if the flagship Android DAP has finally come of age. Some will argue that summit-fi DAPs like Astell & Kern's SP2000 have been delivering a premium Android-like experience and top-shelf sound at the highest level (and price bracket) for longer, but even they can't offer the fully open, virtually limitless Android 9 experience of the R8. In fact, only one other current flagship DAP I know of supports open Android 9, iBasso's DX300.
Not only has the software caught up to modern smartphones (more or less), now the hardware has too (more or less). The R8 (and DX300, to be fair) don't quite scale up to the latest smartphone platforms, but because their system software is slimmed down and optimised, their real-world performance should be very close to that of phones with nimbler hardware. What is certain is that no other flagship DAP, not even the SP2000, comes close to the processing power of the R8 and DX300.
You could argue neither the software or hardware are really important, and sound quality is the only criteria a DAP should be judged on, to which I'll say you're either wasting your money on an Android DAP, or seriously compromising on the experience (and benefits) a true flagship DAP should deliver.
If sound is your only barometer but you still want the benefits of a modern Android system, save your money and buy a high-end portable DAC/amp that uses your phone as a source. If Android isn't important at all, there are some excellent non-Android flagships that are equally fast and full-featured, like Lotoo's superb PAW Gold Touch.
The R8, for me, transcends every other Android flagship DAP in delivering the most complete package of them all, including:
Premium hardware and build quality, inside and out
The fastest Android hardware platform in a DAP
The most modern open Android system in a DAP
The latest wireless connectivity, from high-speed, dual-band WiFi to Bluetooth 5.0 and all major hi-res and low latency codecs, including HiBy's 1200kbps UAT
The largest battery of any current DAP
Built-in hardware sensors for screen rotation, tap to wake and tap to sleep
A colour-accurate 1080P retina display
Flagship-worthy sound quality, from tonality to technicalities
Generous, premium packaging, storage and protection accessories
A stable software experience with frequent and responsive firmware updates
A reference-grade tuning that doesn't impose on the sound of your high-end IEMs
Does it have any shortcomings? Certainly. There's no such thing as the 'perfect' device, especially in such as fast-evolving product category. Quality control has been questioned by some, and there's no question HiBy could have pushed the envelope even further with its included accessories or storage options for the asking price.
That said, the R8 puts a marker in the ground for where flagship DAPs should be in 2021. Some might prefer the sound profile of other DAPs, but that's as true for the lofty SP2000 as it is for any number of mid-fi or lower-end DAPs. None of those DAPs, truth be told, hold a candle to the R8's combination of versatility, functionality, power, sound quality and stability.
Going forward I expect newer DAPs to overcome some of the R8's limitations and exceed its capabilities, at even lower price points. That's the nature of the beast. But for now, the R8 presents the most compelling example I've seen of the complete flagship DAP, an example that many others – including HiBy – will no doubt follow in the months and years to come.
Recommended reviews (for DAP comparisons and other pairings)
Twister6
– HiBy R8 – Turbo Charged! (
the
standard for portable audio reviews)
Headfonics
– HiBy R8 Review
Headfonia
– HiBy R8 Review
Last edited:
Turbo-charged!
Pros
:
high output power (BAL out), super-fast Android performance, high capacity custom battery, Turbo mode to boost output voltage, large 5.5" HD display, MQA 16x and DSD512 support, system wide MSEB, luxurious collection of accessories.
Cons
:
price, large size, some hissing with sensitive iems (BAL out).
---
The product was provided to me free of charge for the review purpose in exchange for my honest opinion. The review was originally posted on my review
site
, and now I would like to share it with my readers on Head-fi.
Manufacturer website: Hiby (
https://store.hiby.com/products/hiby-r8
). Available for sale directly from Hiby or other retailers like
Musicteck
.
---
Intro.
What is considered to be a flagship in today's saturated market of DAP releases? Price is no longer a deciding factor, especially when comparing one brand to the other. The sound quality can scale up even in the entry and mid-fi level DAPs thanks to new DAC chips. And, if you are looking for extra features, any Android DAPs got plenty. So, how do you earn the flagship status and get the attention of audiophiles without reinventing the wheel? According to Hiby, you just have to push the envelope, tick all the boxes, and offer
something different
and
unique
to stand out from the crowd.
Back in February when I visited CanJam NYC '20, that "something different" was at Musicteck table where Hiby was showcasing their upcoming flagship DAP with a "unique" Turbo boost mode and a sim card (4G LTE). That DAP did fuel the interest of people wanting to combine a smartphone with a flagship quality DAP. The sim card in R8 wasn't intended for voice calls, only for data use. And ironically, sim card option is not even available yet for use outside of China due to 4G LTE compatibility. But, even without it, Hiby's latest R8 flagship can still tick most of the boxes for demanding audiophiles.
So, let's take a closer look at what I found after spending the last month testing, pairing, and comparing the new Hiby R8 DAP.
Unboxing and Accessories.
To say that R8 unboxing experience is unique would be an understatement. Prior to receiving this DAP, I have seen a few on-line pictures, but I was still in for a big surprise when I opened a large black carboard box with "HIBY R8" and "DESIGN BY HIBY" printed on top and the side. Clearly, Hiby wanted to stand out with a premium unboxing experience, and they certainly achieved it with a retro looking leather suitcase scaled down to a briefcase size inside of that packaging box.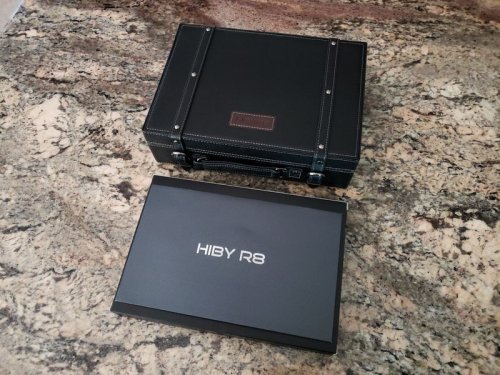 We are talking about a really cool vintage style leather briefcase with 2 belt buckles and a handle. Inside of a briefcase you will find 2 organizer foam trays covered in soft velour material, and another bonus tray in a separate box. It did take me a minute to figure out the purpose of that extra tray. When you open the briefcase, you see the top tray with just R8 DAP and a metal "HIBY R8" tag plate. Two small tabs on the side of the tray allow you to lift and remove it to reveal another tray underneath with a leather case and 2 organizer compartments with high quality usb-c charging/data cable and another custom usb-c/coax cable.
Once you remove the DAP from the top tray, and put the leather case on, you can use the bottom tray to keep the DAP in a case along with cable accessories. Then, you can discard the original top display tray and replace it with a bonus organizer tray which had two oval shaped openings to store IEMs with cables and a secure magnetic flap on top of it. Also, there were two small organizer pockets for eartips, adapters, and other smaller accessories, both with a magnetic cover (one solid, one mesh), and another long pocket to store and organize 4 micro SD cards.
And of course, there is a leather case. My review unit arrived with a custom genuine leather Dignis case. According to Hiby, the first production batch of
100
R8 DAPs will come with a bonus Dignis leather case, while after that another leather case will be provided. I can only speak for the case I received. It is a high-quality form-fitted leather case where R8 slides in from the bottom, keeping all the ports open and easy to access, cutout on the right side to access Power and hw playback control buttons, and cutout at the top for a volume wheel with a leather guard over it. The back of the case has a large cutout with a metal mesh grill and number 8, corresponding to R8 model number. The cutout on the back is not just for decoration, but also to provide extra cooling for the chassis of the DAP.
If you are traveling and have enough room in your luggage, this leather briefcase is probably all that you need to carry R8 along with a few pairs of IEMs, accessory cables, extra eartips, and micro SD cards.
Design.
Hiby R8 is a BIG dap, but unlike MAX I recently reviewed, R8 still falls into portable category. With dimensions of 143mm x 81mm x 20mm and weighting at 426g (466g with a case), R8 is almost the same weight as SP2000 SS, just a little bit thicker and taller in size. On the other hand, while MAX is thicker and a little bit taller than R8, with a weight of 700g it is considered to be transportable. I think what keeps R8 in a portable category is not necessary its size, but its weight, right at the borderline along with SP2k SS/CU and WM1Z DAPs.
While the chassis around the top, bottom, and sides are aluminum alloy black, the front and the back are glass. The focus of R8 front is a big 5.5" IPS 1080p HD display. While a film screen protector is already applied, and a bonus one included with accessories, the glass itself is 5th gen corning gorilla, so we are talking about a scratch resistant high-end glass display. The touch screen supports multi-finger gesture and my favorite –
double-tap
to wake up the display.
While it is a basic rectangular shape DAP with a glass touch screen dominating the front, Hiby tried to add custom design touches to give it some personality. The sides have an angular facet cut so it is not flat, and even with a leather case on you can still feel the unique shape of the sides. There, on the left side you will find a tray for micro SD card (up to 2TB) which you open by using a provided pinhole-push tool to eject the tray, a mechanism typical of smartphones and the same as in R5 and R6 Pro. With leather case on, micro SD card is covered. The 4G LTE model will have sim card tray next to micro SD as well.
On the right side, you have evenly spaced power button at the top (long press for power on/off with on-screen confirmation, short-press for screen on/off), LED multi-functional status light, and Play/Pause and Skip buttons. All buttons have a nice tactile response. Power button is a little bigger, while playback buttons are narrower, but still big enough and spaced far apart to press without worrying of hitting button next to it. Buttons have a very interesting angled design to complement the shape of R8 chassis with one side sticking up a little bit higher.
The LED light is RGB and indicates not just when power is on (pale blue) or when charging (pulsating red, with faster pulsating when quick charging and slower pulsating for regular charging), but also format of the audio playback with blue (48kHz and under), green (64k-192kHz), orange (over 192kHz), and white (DSD files). At the top in the upper right corner you have Alps digital encoder volume knob with a diamond cut pattern around it for a secure grip when turning, click action as you turn it, and guards on each side to keep the knob recessed with a top edge of the DAP. With leather case on, the top of the volume knob also gets covered.
At the bottom you have
4.4mm BAL
(
0.8ohm, 5.9Vrms,
1088mW @32ohm
) and
3.5mm SE
(
0.4ohm, 3.1Vrms,
300mW @32ohm
) headphone ports to the left, and 4.4mm BAL and 3.5mm SE Line Out ports to the right. Each port has a dedicated functionality without a need to switch between HO/LO. In the middle at the bottom you have USB-C multi-function port for charging, data transfer, USB DAC in and Digital Out, and also Coax Out with included custom cable. This USB port is reinforced with a gold-plated framing around the inner edges.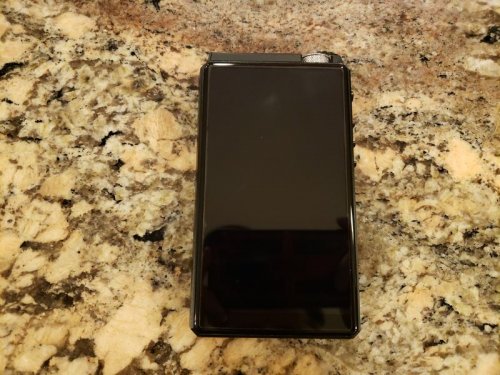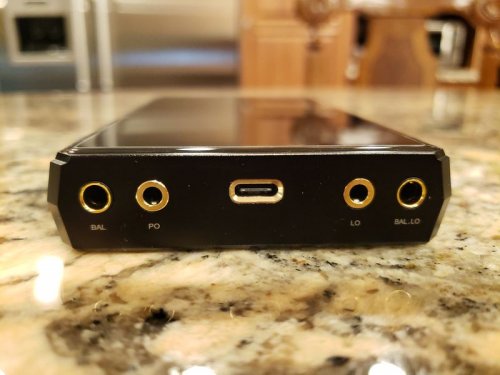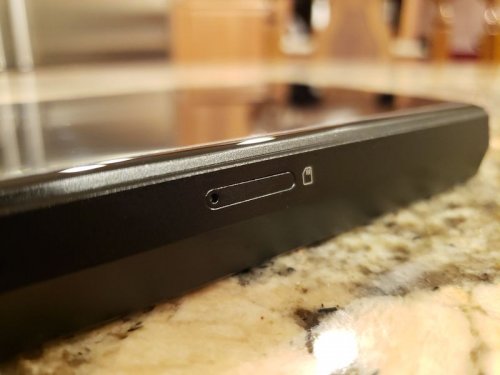 Under the hood.
R8 packs a lot of goodies inside under the hood. To start off, it features a fast Snapdragon 660 SoC 8-core processor running at max 2.2GHz clock rate, with 8x Qualcomm Kryo 260 Gold/Silver architecture and Adreno 512 GPU. The non-SIM version I receive comes with 4GB of LPDDR4 RAM, 64GB internal storage, and micro SD card expansion up to 2TB. The SIM card 4G LTE version of R8 has more RAM and double the storage required to accommodate more advance functionality of that SS version of the DAP.
The spec looks very impressive, considering my 2yr old Galaxy S9, which I find to be pretty fast, has Snapdragon 845 and both have similar CPU benchmark scores. My Galaxy phone just has a more powerful GPU, but overall, I find R8 to be even faster and more responsive than my Galaxy S9 because R8 Android 9 OS is more optimized without all the junk running in the background like on my phone. Oh, and to put it into a better perspective, AnTuTu 3D benchmark overall score for Hiby R8 was almost 75% higher than FiiO M15, and 3x higher than its R6 Pro little brother.
In the audio-heart of the device you will find two AKM AK4497 DACs, which enable support of all common and popular lossy and lossless file formats, up to 32bit/768kHz PCM and DSD512. Plus, R8 supports MQA hardware rendering up to 16x to future proof the DAP for use with hi-res Tidal masters whenever those become available. I'm a little surprised Hiby didn't go for the latest AK4499 DAC, but nevertheless, 4497 is still a very powerful flagship quality DAC. Plus, you have other top-grade components, including audiophile quality OPA1612 and OPA1622 opamps, MUSES8920 opamps, and even some custom OP02 opamps (per Hiby's own spec). Furthermore, it has dozens of audiophile quality capacitors, including 4 ELNA SILMIC II
47uF
large audio capacitors.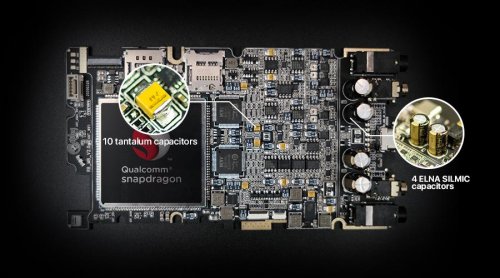 As already mentioned, R8 features a big 5.5" IPS display with a 5th gen corning gorilla glass. It's a beautiful
1080p HD
display with
1920x1080
resolution,
16:9
widescreen aspect ratio and
400ppi
high resolution pixel density - definitely a high-end display spec. Plus, it features oleophobic coating, and implements a sensor under the display to detect
double-tapping
to
wake up
the screen. It is a great feature where you turn the display on by double-tapping on it, so you don't have to constantly look to press power button.
Other listed features are dual-band WiFi with a support of 2.4GHz and 5GHz, Bluetooth 5.0 with a support of all hi-res codecs, including aptX HD, LDAC, and UAT, two-way Bluetooth to pair up with wireless headphones/speakers and to be able to pair up with your smartphone as a receiver to function like a wireless BT DAC/amp. Also, as already mentioned, USB-C port is multi-functional for charging, data copying, USB DAC functionality, Digital out, and SPDIF output to bring out Coax signal with the included custom cable.
And speaking of charging, R8 features a big custom 38Wh battery, 10000mAh/3.8V, and support of Quick Charging QC4.0 standard. I was definitely able to notice a lot faster charging while using my laptop USB-C PD charger. The internal ckt is partitioned and independently filtered into 4 power supply sections for Digital, DAC, Pre-amp, and Amplifier circuits. Plus, you have a separate control to enable
Turbo Mode
which boosts the voltage of amplifier power rail, enabling the output of over 1W from the balanced headphone port. In my battery test with the best-case scenario using average sensitivity IEMs in med gain from BAL output with WiFi/BT off, and display mostly off while paying a mix of mp3/flac files, I was able to get
11hr 40min
of playback time with
Turbo boost on
and
12hr 40min
with
Turbo boost off
. Of course, once you enable Wifi/BT, spend more time navigating display, and use more demanding headphones at higher volume level, the time will go down.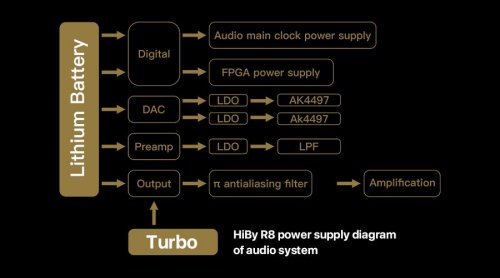 OS / GUI.
I usually spend a little too much time talking about details of GUI, while here we are dealing with a popular HibyMusic app which many are already familiar with. Thus, no need to repeat myself. All Hiby Android DAPs come preloaded with HibyMusic app, regular version of which you can download and install on any smartphone or tablet device for free. Of course, being the open Android DAP with preinstalled Google Play, you can also install any app as long as you can find it in Play store. Though, you have to be aware that some devices or geographic locations have limitations set by Google of what you can download and install. If you ran into such problem, you can always use APKPure to download and sideload apps.
But there are some exception. For example, Netflix was not available when I searched Google Play (US) from R8. Then, I found and installed a version from APKPure, but it still failed to start due to device access error. Otherwise, I had no issues downloading and installing Qobuz, YouTube, and found no issues on Google Play to be able to locate Spotify, Tidal, Amazon HD, etc. Actually, the HibyMusic which comes pre-installed with R8 is not just a regular free version, but their Professional Edition version.
Relative to Android Settings, straight from the pulldown Notification bar you have access to Audio Settings menu shortcut where you can change Digital Filter (7 filter types), Enable/Disable Turbo mode (to boost amplifier voltage), change the Gain (Low, Middle, High), Select plugins (those have to be downloaded), access global MSEB (MageSound 8-ball DSP sound effects – very effective for sound shaping), select DSD gain compensation, Channel balance adjustment, and Max volume cap setting. All these settings are system wide and should work with any audio application. Meaning, for example, you can apply MSEB dsp sound effects to any audio app.
There are a few other interesting things which some might not be familiar with. For example, under Battery setting there is Idle Shutdown feature where you can set a timeout to shut down the DAP after idling for predefined period of time. Hiby has it in their other Android DAPs as well, but not everybody remembers to enable it which comes in handy when we treat the DAP like a smartphone and forget to turn it off. Also, when you long press the Power button, you have option for Power Off, Restart, or to take a Screenshot which some might find useful as well.
Sound Analysis.
I analyzed R8 sound with Odin, U18t IEMs, and Empyrean while playing a variety of my favorite test tracks, such as Agnes Obel "The curse", Sandro Cavazza "So much better" (Avicii remix), C-Bool "Never go away", Ed Sheeran "Shape of you", Alan Walker "Darkside", Galantis "Hunter", Iggy Azalea "Black widow", Indila "Boite en argent", Dua Lipa "Love again", Counting Crows "Big yellow taxi", David Elias "Vision of her", and Michael Jackson "Dirty Diana". I let R8 burn in for 200hrs before starting my sound analysis. People have different opinions about the effect of burn in, but to my ears out of the box the sound was thicker and warmer in mids, while after about 200-250hrs it opened up and became more transparent.
I prefer to describe the DAP sound based on the comparison to other DAPs and pair ups with different IEMs/headphones since the DAP by itself doesn't have a "sound". What we hear is how it sounds through IEMs/headphones connected to it or the difference relative to other sources using the same pair of IEMs/headphones for monitoring the sound. As a result, this section of the review usually summarizes what I find in the follow up Comparison and Pair-up sections.
I hear R8 in many pair ups and comparisons to have a neutral tonality with a stronger (a little more impactful) low end response, more revealing and transparent (less colored) mids/vocals, and more natural (a little less sparkle/air) treble. It's an interesting combination which makes the sound natural yet still revealing. The Turbo switch, which boosts output voltage of internal headphone amp, plays an important role in a number of pair ups where the tonality can go from being smoother and a touch warmer (with turbo off) to more transparent and revealing (with turbo on). That will certainly depend on pair up synergy of R8 with your IEMs/headphones, but I found it to be consistent in many pair ups, benefiting more full-size headphones.
Also, depending on pair up, I noticed in some cases the improvement in speed and control of the bass (faster attack and shorter decay with
turbo on
) and rendition of the treble (adding more sparkle and airiness with
turbo on
). This improvement was more noticeable with full size higher impedance and planar magnetic headphones. But the sound also scaled up with some IEMs when turbo was enabled, though here you have to be more cautious when dealing with sensitive IEMs and the type of music you are listening to because the background
waterfall hissing
could be an issue for some. For example, it is not bad with EDM, top40, pop, rock, and r'n'b, but when it comes to instrumental or classical tracks with less busy arrangements where you have single instrument playing at a time - background waterfall hissing will be more noticeable.
Overall, I do hear the sound to be layered and dynamic, and the background was relatively black with many headphones and earphones, except for pair ups with sensitive IEMs where I had to turn off the Turbo mode or switch to 3.5mm port. The soundstage had a good width and depth, on par with many other flagship DAPs, not exactly holographic or exaggerated, but more natural and realistic. And the same goes for imaging, relative to the tuning of earphones/headphones, the sound never got congested and the positioning of instruments/vocals was quite convincing.
Turbo on/off
In the following Pair up section of the review I will cover each example with turbo mode off and on to describe the difference in sound as I'm hearing it. Also, turbo mode sound change does apply to 4.4mm balanced and 3.5mm single ended.
4.4mm vs 3.5mm
While in some DAPs the difference in tonality and technical performance has a wider gap when going from BAL to SE, here is was surprisingly close. There is a touch more transparency from the balanced port, but the soundstage expansion is nearly the same and so does the overall tonality. The big difference here is in output power which going to affect pair up synergy and could result in sound variation. Also, single ended 3.5mm output is friendlier with sensitive IEMs.
Pair up.
The sound of a DAP is based on pair up synergy with different headphones. Afterall, you are hearing the sound of headphones connected to the Source. In this section of my review I will go over how various earphones and headphones pair up with R8.
Empire Ears Odin (4.4mm)
turbo off: wide spacious soundstage, balanced signature with a smoother tonality, especially in upper mids and treble, making the sound more natural, more musical, a little more laidback, though the bass is still powerful with a deep rumble, mids are very detailed and layered, and treble is resolving as well.
turbo on: wider soundstage, more holographic expansion, balanced signature with a more reference revealing tonality, improvement in micro detail retrieval, better layering and more air between layers, more treble sparkle and air.
some waterfall hissing when idling or at low volume or instrumental less busy parts of the song, less noticeable at normal listening volume, and more noticeable in turbo mode. Even less noticeable from 3.5mm.
Venture Electronics Sun Dice (4.4mm)
turbo off: VE Sun in this pair up sounds very natural and open, with a wide soundstage. Bass has a soft analog texture, more laidback and less aggressive, but still with a noticeable presence, especially in sub-bass. Mids/vocals are natural, detailed, very organic, a little thicker but still with plenty of clarity. Treble also has plenty of clarity and sounds very natural. No issues at all driving these 180ohm earbuds.
turbo on: noticeably wider soundstage, and mids are brighter and more resolving.
no hissing.
Empire Ears Legend X (4.4mm)
turbo off: wide holographic soundstage. The signature in this pair up is L-shaped with a very deep and textured elevated sub-bass and fast and lifted mid-bass punch. The bass is still well controlled, but its quantity does push mids/vocals into the background. Those are still clear and detailed but more in the background, and treble is crisp and airy. Analog bass slam of LX DD cannons is a spotlight here due to their overwhelming quantity. No hissing.
turbo on: call it a "magic" button, soundstage gets even wider while still retaining its 3D holographic quality. But the biggest change here is mids that come more forward, balancing more linear with the bass. After switching to turbo, there is no going back to listen to LX without it.
no hissing.
64 Audio U18t (4.4mm)
turbo off: wide/deep soundstage. The sound signature here is balanced, bass has a nice punch and not bad sub-bass rumble, though not as pronounced since I hear more mid-bass punch. Mids are forward, layered, very detailed, not analytical, but approaching it with their micro-detailed level. Treble is crisp and airy.
turbo on: soundstage as wide/deep, maybe just a little more 3D after the switch. Mids have a bit more presence here, even more body, making them sound a little fuller. Treble is still crisp and has a little more air now.
faint waterfall hissing when idling or at low volume or instrumental less busy parts of the song, hardly noticeable at normal listening volume, and more noticeable in turbo mode. Even less noticeable from 3.5mm.
Dunu Luna (4.4mm)
turbo off: the soundstage is wide/deep on a holographic 3D level. The tonality is more revealing, more micro-detailed, with the sound being more layered and faster. Bass is fast and articulate, I do hear sub-bass rumble, but it is a bit distant; instead, mid-bass is the low-end star here. Mids are more revealing, layered, and micro-detailed, a little more forward, and treble is crisp, airy, and extended, but not harsh.
turbo on: only a slight change in mids, being a little more revealing and slightly more forward.
faint waterfall hissing when idling or at low volume or instrumental less busy parts of the song, hardly noticeable at normal listening volume, and more noticeable in turbo mode. Even less noticeable from 3.5mm.
Vision Ears Elysium (4.4mm)
turbo off: very wide holographic soundstage expansion. The tonality is natural, revealing with a deeper sub-bass rumble and faster mid-bass, natural organic layered mids with a more textured analog tonality and great retrieval of details, and crisp airy treble while still being well controlled.
turbo on: the soundstage is still 3D holographic after the switch, mids are a touch brighter, which is OK, but treble got crisper and a little harsher. This is probably one of the few pair ups where I preferred turbo mode off due to treble.
no hissing.
Campfire Audio Solaris '20 (4.4mm)
turbo off: The soundstage is wide/deep, a very spacious sound, approaching holographic level. The signature is W-shaped, with a balanced emphasis on lows, mids, and treble, maybe having just a little more emphasis on mids, bringing them forward. Bass is deep with a strong punch and deep sub-bass rumble, mids are natural, detailed, revealing, treble has a little extra sparkle.
turbo on: mids have more clarity and slightly more forward, and lower treble is a little brighter, but still not harsh or splashy. This is another example where I enjoyed turbo mode being off.
noticeable waterfall hissing when idling or at a very low volume or instrumental less busy parts of the track, less noticeable at normal listening volume, and more noticeable in turbo mode. Reduced from 3.5mm.
Meze Audio Empyrean (4.4mm)
turbo off: Plenty of power to drive these planar magnetic cans, the sound is balanced, natural and very detailed. You get a textured analog bass, natural detailed mids, and natural sparkly airy treble. Good pair up, but mids are a little smoother with vocals being slightly laidback.
turbo on: setting it to high gain and switching turbo on transforms sound into a more spacious 3D holographic soundstage with a faster sound, punchier bass, more revealing and better layered mids, and overall, more transparent sound. Definitely driving Empyrean to their fuller potential.
no hissing.
Beyerdynamic T5p 2nd (4.4mm)
turbo off: The overall sound is very balanced, also natural and detailed, bass is deep and textured, though a little bit softer and not as punchy. Mids have a natural retrieval of details, not too smooth, but a little more relaxed and organic. Treble has a good sparkle, sounds natural and detailed. Soundstage is wide and expanded, but the depth/height of the soundstage has more intimacy, bringing you closer to the stage.
turbo on: bass shines when you switch turbo on, going deeper, with a punchier mid-bass, better layered and articulation. Also, mids/vocals gain some clarity and focus, and treble gets a little more air. Furthermore, soundstage gets more depth. Turbo more is "it" in this pair up.
no hissing.
Audio-Technica ATH-R70x (3.5mm)
turbo off: These demanding 470ohm open back headphones are not easy to "satisfy" since they are very source picky. You have to push them harder. Here, the sound is open, wide, not super wide, natural, detailed, bass is deep, with a nice sub-bass rumble and softer mid-bass punch, mids/vocals are natural, smooth, a little laidback. Treble is smooth and natural.
turbo on: like a different pair of headphones and you do need to keep in mind that I'm using 3.5mm SE output in this pair up, with a faster punchier sound, sub-bass rumble is deeper, mid-bass punch is faster, overall bass is more articulate, mids/vocals are more open, more revealing, more layered and detailed, and treble scales up significantly with more sparkle and airiness. In addition to turbo on, I also switched to high gain.
no hissing.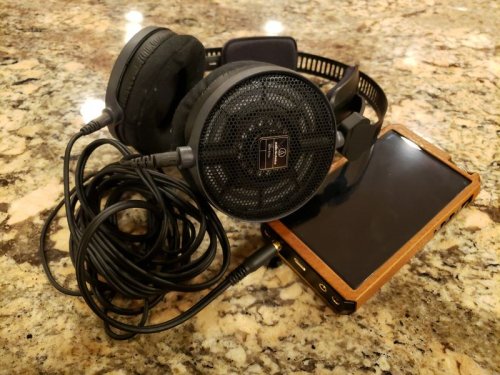 Comparison.
In this test, I was using Meze Audio Empyrean and EE Odin to listen/compare DAPs. Each of these DAPs, besides a difference in tonality and pair up synergy, has their own Pros/Cons when it comes to features, all of which should be taken into consideration depending on your priorities if you need streaming or not, which balanced termination you prefer, how much output power do you need, battery, etc.
R8 vs iBasso MAX
– I recently compared these two in my MAX review, but afterwards I put another 50+ hrs of playback time on R8 while running battery tests, thus any changes between these impressions are due to additional burn in time. R8 has a wide/deep soundstage expansion, but MAX is still a little wider. Bass response is very similar, once the turbo mode of R8 is enabled, perhaps with MAX being just a little faster in attack. Mids tonality is very similar too, though MAX has just a touch fuller body while R8 is a little more transparent and slightly more revealing. I hear treble to be similar as well. The vertical sound dynamics is close too, with MAX being a little more expanded in comparison to R8. If you are going to focus on sound performance alone, these are close enough in sound tonality with MAX having some advantage in technical performance. MAX also handles "quieter" very sensitive IEMs. But the gap widens by a lot when you compare Android performance where R8 is ahead by a noticeable margin (OS speed and Wifi/BT performance). Also, another advantage is R8 having dedicated hw playback buttons.
R8 vs Lotoo PAW Gold Touch (LPGT)
- In this comparison soundstage expansion is very similar, with both width and depth being close. Also, vertical dynamics expansion is close enough, thus both share a similar technical performance. But I do hear difference in tonality. The bass response of LPGT is softer, especially in mid-bass when compared to R8 which has a faster punch with IEMs/headphones I used in this comparison. Mids are very similar, being more transparent and closer to reference (more revealing) quality. With treble, again, I hear the difference where LPGT has a little brighter sparkle while R8 "sparkle" is a little smoother and more natural. So, for example, Odin mids with LPGT sounds more forward while with R8 the overall sound is more balanced. Of course, have to keep in mind, R8 is an open Android DAP while LPGT is audio playback only device.
R8 vs Sony WM1Z
- A lot of similarities in this comparison. Both have a very similar soundstage expansion, perhaps with R8 being just a touch wider. And overall technical performance is very similar when it comes to dynamics and layering of the sounds. Bass rendering is slightly different in this comparison where 1Z has additional sub-bass weight with a slower mids-bass, while R8 bass has faster and more articulate punch. Mids/vocals presentation and tonality are similar when A/B comparing with the same pair of IEMs/headphones. Treble is similar as well; I just hear a little more sparkle/air in R8. And again, keep in mind that R8 is an open Android DAP while WM1Z is audio playback only. One interesting observation, after handling R8 and MAX, WM1Z no longer feels heavy.
R8 vs A&K SP2000 SS
- Relative to IEMs/headphones used in comparison, I hear a very similar soundstage expansion, maybe with SP2k being just a little bit wider. Also, similar to MAX, the technical performance is close enough, but SP2k still has an edge when it comes to vertical dynamics and sound layering. They are close, but SP2k is a little better. With lows, both have a fast and articulate bass response, though R8 has a little stronger punch and a bit more sub-bass rumble. Mids are very similar, being closer to natural reference quality, with SP2k being a little brighter and dryer. I also hear similarities in treble, perhaps with SP2k being a touch brighter while R8 being a little more natural and smoother. Relative to their OS performance, R8 pulls ahead with a fully open and faster Android OS where you don't have any limitation which app you can install.
R8 vs R6 Pro
– Last, but not least, I had a few people asking me how does R8 compares to its little brother R6 Pro. Of course, they are in a different category, but I'm sure some would like to know while considering the upgrade. Relative to full size headphones and IEMs, when going from R6 Pro to R8 (turbo on) I do hear a wider more expanded holographic soundstage and improvement in vertical dynamics where you can hear more air between the layers of the sound in R8. The extra voltage boost does make a difference in improvement of technical performance, while tonality difference is not exactly night and day. There are other subtle differences, for example, with R8 bass sounds more textured with dynamic drivers, noticeable in full size headphones and hybrid IEMs with DD bass. Also, a much faster Android performance (R8 has AnTuTu score 3x higher than R6Pro), more premium build quality, balanced Line Out, etc.
Other Wired/Wireless connections.
In this section of the review I will go over various wired and wireless connections I tested and verified with R8.
Digital usb-c out
Here, it is an easy plug'n'play functionality with everything working as is. First, I used
Lotoo S1
and it was recognized without a problem. I was able to control the volume from S1 and R8. The sound was a typical S1 signature with a fuller body more natural tonality. Then, I connected
micro iDSD BL
which got recognized without a problem using a cheap USB-C OTG adapter. Volume can be controlled both from iDSD and R8. The sound is a typical iDSD sig with a more natural musical tonality.
Coax out
With a provided micro USB to coax cable, you just plug it in, connect, and it works as is. I was using
micro iDSD BL
and everything was recognized without a problem. Actually, the sound was much better with Coax vs Digital out, having a wider soundstage, better dynamics, and even improved retrieval of details.
Line Out
This connection was tested with
Romi Audio BX2
amplifier. Looks like Line Out output of R8 is not fixed, and you do need to adjust R8 volume to raise the "pre-gain" input level going into BX2. BX2 tonality is super transparent, and as I result, I can hear R8 DAC output (LO) being a little more revealing and a touch brighter in tonality. This suggests that R8 own internal amp adds a little more body to the sound, but still not a lot of coloring. Also, with R8 + BX2 the output has a super black background, even with ultra-sensitive IEMs. This is an ULTIMATE desktop quality setup which can drive even my most demanding oBravo HAM Signature headphones (full size hybrid 40mm AMT + 57mm DD) to its full potential.
USB DAC
Using my ThinkPad T480s w/Win10Pro, I didn't have to install any drivers, R8 was recognized right away. If you are still on Win7/XP, Hiby will provides drivers to support it. While connected, volume can be adjusted either from my laptop or from R8. Also, USB DAC screen on R8 has shortcut to access Audio Settings so you can change the digital filter, turbo mode on/off, gain change, and enable MSEB dsp effects while using R8 as USB DAC. Also, you have shortcut to Bluetooth to pair up with R8 wireless while it is connected as USB DAC. This can give your laptop the ability to use high res wireless codecs through R8, such as aptX, LDAC, or UAT. Regarding the sound quality, as USB DAC or directly from R8, it sounds very similar when playing the same song with the same pair of IEMs or headphones.
Bluetooth Wireless
I was able to connect easily with any wireless pair of earphones and headphones I have access to. Highest supported codec was always selected by default. The connection was good over 50ft away from R8 in open area, and I was able to control playback from wireless earphones/headphones. This was also a great opportunity to test Hiby latest
WH3 TWS
earphones. Solid connection at 55ft away from R8, remote playback control is effortless, and I was using HibyBlue app loaded on R8 to adjust crossover in order to fine tune the WH3 sound.
Conclusion.
I mentioned a few times in the intro of the review about R8 being able to tick all the boxes. Of course, we all have different requirements with different set of "boxes" to "tick". Some want the best audio performance, while others willing to compromise in favor of faster system performance. Some want a source optimized for IEMs, while others desire power for full size more demanding headphones. Some want a bigger display, while others prefer optimized WiFi/BT performance. Some care about local files audio playback, while others need reliable streaming and Google Play support out of the box. It is hard to make everybody happy, to have one device to satisfy all the needs, but Hiby did push the envelope with R8 to get closer without cutting too many corners.
Hiby R8 is super-fast, and not just per my subjective option, but based on benchmark scores of being the fastest Android DAP at the current moment. It can handle not just IEMs but also some demanding headphones using its turbo-charged (literally) balanced output which can deliver up to 1W of power. It runs optimized Android 9 OS, has system wide MSEB dsp effects, supports DSD512, future proofed with MQA 16x, has a solid WiFi and hi-res BT. It is designed with high quality audio components, has a big display, solid build, and very unique packaging and accessories. In my opinion, R8 did not earn its flagship status just because it is the most expensive DAP in Hiby's lineup. I see it as a flagship because it can challenge other big-name summit-fi audio players.