Item information
Added by
Views

761
Comments

6
Reviews

1
Last update
Rating

4.00 star(s)

1 ratings
Latest reviews
Turbo-charged!
Pros
:
high output power (BAL out), super-fast Android performance, high capacity custom battery, Turbo mode to boost output voltage, large 5.5" HD display, MQA 16x and DSD512 support, system wide MSEB, luxurious collection of accessories.
Cons
:
price, large size, some hissing with sensitive iems (BAL out).
---
The product was provided to me free of charge for the review purpose in exchange for my honest opinion. The review was originally posted on my review
site
, and now I would like to share it with my readers on Head-fi.
Manufacturer website: Hiby (
https://store.hiby.com/products/hiby-r8
). Available for sale directly from Hiby or other retailers like
Musicteck
.
---
Intro.
What is considered to be a flagship in today's saturated market of DAP releases? Price is no longer a deciding factor, especially when comparing one brand to the other. The sound quality can scale up even in the entry and mid-fi level DAPs thanks to new DAC chips. And, if you are looking for extra features, any Android DAPs got plenty. So, how do you earn the flagship status and get the attention of audiophiles without reinventing the wheel? According to Hiby, you just have to push the envelope, tick all the boxes, and offer
something different
and
unique
to stand out from the crowd.
Back in February when I visited CanJam NYC '20, that "something different" was at Musicteck table where Hiby was showcasing their upcoming flagship DAP with a "unique" Turbo boost mode and a sim card (4G LTE). That DAP did fuel the interest of people wanting to combine a smartphone with a flagship quality DAP. The sim card in R8 wasn't intended for voice calls, only for data use. And ironically, sim card option is not even available yet for use outside of China due to 4G LTE compatibility. But, even without it, Hiby's latest R8 flagship can still tick most of the boxes for demanding audiophiles.
So, let's take a closer look at what I found after spending the last month testing, pairing, and comparing the new Hiby R8 DAP.
Unboxing and Accessories.
To say that R8 unboxing experience is unique would be an understatement. Prior to receiving this DAP, I have seen a few on-line pictures, but I was still in for a big surprise when I opened a large black carboard box with "HIBY R8" and "DESIGN BY HIBY" printed on top and the side. Clearly, Hiby wanted to stand out with a premium unboxing experience, and they certainly achieved it with a retro looking leather suitcase scaled down to a briefcase size inside of that packaging box.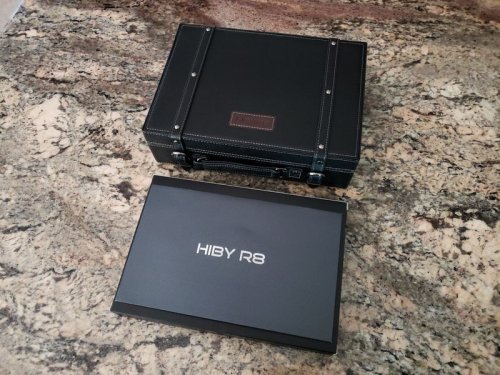 We are talking about a really cool vintage style leather briefcase with 2 belt buckles and a handle. Inside of a briefcase you will find 2 organizer foam trays covered in soft velour material, and another bonus tray in a separate box. It did take me a minute to figure out the purpose of that extra tray. When you open the briefcase, you see the top tray with just R8 DAP and a metal "HIBY R8" tag plate. Two small tabs on the side of the tray allow you to lift and remove it to reveal another tray underneath with a leather case and 2 organizer compartments with high quality usb-c charging/data cable and another custom usb-c/coax cable.
Once you remove the DAP from the top tray, and put the leather case on, you can use the bottom tray to keep the DAP in a case along with cable accessories. Then, you can discard the original top display tray and replace it with a bonus organizer tray which had two oval shaped openings to store IEMs with cables and a secure magnetic flap on top of it. Also, there were two small organizer pockets for eartips, adapters, and other smaller accessories, both with a magnetic cover (one solid, one mesh), and another long pocket to store and organize 4 micro SD cards.
And of course, there is a leather case. My review unit arrived with a custom genuine leather Dignis case. According to Hiby, the first production batch of
100
R8 DAPs will come with a bonus Dignis leather case, while after that another leather case will be provided. I can only speak for the case I received. It is a high-quality form-fitted leather case where R8 slides in from the bottom, keeping all the ports open and easy to access, cutout on the right side to access Power and hw playback control buttons, and cutout at the top for a volume wheel with a leather guard over it. The back of the case has a large cutout with a metal mesh grill and number 8, corresponding to R8 model number. The cutout on the back is not just for decoration, but also to provide extra cooling for the chassis of the DAP.
If you are traveling and have enough room in your luggage, this leather briefcase is probably all that you need to carry R8 along with a few pairs of IEMs, accessory cables, extra eartips, and micro SD cards.
Design.
Hiby R8 is a BIG dap, but unlike MAX I recently reviewed, R8 still falls into portable category. With dimensions of 143mm x 81mm x 20mm and weighting at 426g (466g with a case), R8 is almost the same weight as SP2000 SS, just a little bit thicker and taller in size. On the other hand, while MAX is thicker and a little bit taller than R8, with a weight of 700g it is considered to be transportable. I think what keeps R8 in a portable category is not necessary its size, but its weight, right at the borderline along with SP2k SS/CU and WM1Z DAPs.
While the chassis around the top, bottom, and sides are aluminum alloy black, the front and the back are glass. The focus of R8 front is a big 5.5" IPS 1080p HD display. While a film screen protector is already applied, and a bonus one included with accessories, the glass itself is 5th gen corning gorilla, so we are talking about a scratch resistant high-end glass display. The touch screen supports multi-finger gesture and my favorite –
double-tap
to wake up the display.
While it is a basic rectangular shape DAP with a glass touch screen dominating the front, Hiby tried to add custom design touches to give it some personality. The sides have an angular facet cut so it is not flat, and even with a leather case on you can still feel the unique shape of the sides. There, on the left side you will find a tray for micro SD card (up to 2TB) which you open by using a provided pinhole-push tool to eject the tray, a mechanism typical of smartphones and the same as in R5 and R6 Pro. With leather case on, micro SD card is covered. The 4G LTE model will have sim card tray next to micro SD as well.
On the right side, you have evenly spaced power button at the top (long press for power on/off with on-screen confirmation, short-press for screen on/off), LED multi-functional status light, and Play/Pause and Skip buttons. All buttons have a nice tactile response. Power button is a little bigger, while playback buttons are narrower, but still big enough and spaced far apart to press without worrying of hitting button next to it. Buttons have a very interesting angled design to complement the shape of R8 chassis with one side sticking up a little bit higher.
The LED light is RGB and indicates not just when power is on (pale blue) or when charging (pulsating red, with faster pulsating when quick charging and slower pulsating for regular charging), but also format of the audio playback with blue (48kHz and under), green (64k-192kHz), orange (over 192kHz), and white (DSD files). At the top in the upper right corner you have Alps digital encoder volume knob with a diamond cut pattern around it for a secure grip when turning, click action as you turn it, and guards on each side to keep the knob recessed with a top edge of the DAP. With leather case on, the top of the volume knob also gets covered.
At the bottom you have
4.4mm BAL
(
0.8ohm, 5.9Vrms,
1088mW @32ohm
) and
3.5mm SE
(
0.4ohm, 3.1Vrms,
300mW @32ohm
) headphone ports to the left, and 4.4mm BAL and 3.5mm SE Line Out ports to the right. Each port has a dedicated functionality without a need to switch between HO/LO. In the middle at the bottom you have USB-C multi-function port for charging, data transfer, USB DAC in and Digital Out, and also Coax Out with included custom cable. This USB port is reinforced with a gold-plated framing around the inner edges.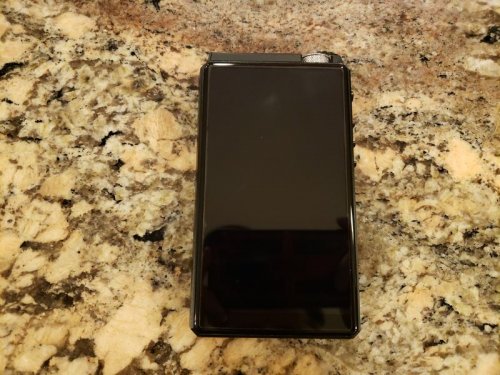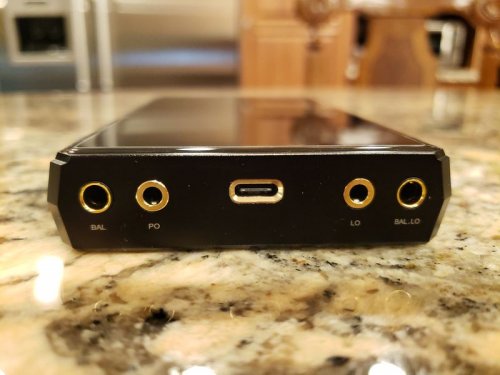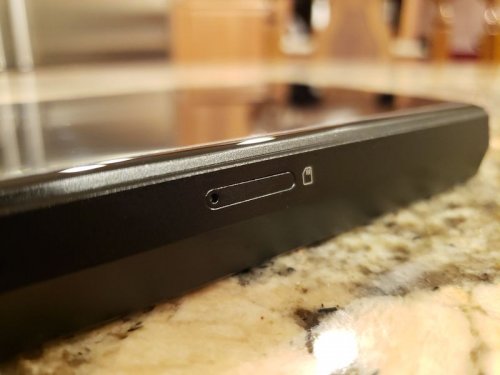 Under the hood.
R8 packs a lot of goodies inside under the hood. To start off, it features a fast Snapdragon 660 SoC 8-core processor running at max 2.2GHz clock rate, with 8x Qualcomm Kryo 260 Gold/Silver architecture and Adreno 512 GPU. The non-SIM version I receive comes with 4GB of LPDDR4 RAM, 64GB internal storage, and micro SD card expansion up to 2TB. The SIM card 4G LTE version of R8 has more RAM and double the storage required to accommodate more advance functionality of that SS version of the DAP.
The spec looks very impressive, considering my 2yr old Galaxy S9, which I find to be pretty fast, has Snapdragon 845 and both have similar CPU benchmark scores. My Galaxy phone just has a more powerful GPU, but overall, I find R8 to be even faster and more responsive than my Galaxy S9 because R8 Android 9 OS is more optimized without all the junk running in the background like on my phone. Oh, and to put it into a better perspective, AnTuTu 3D benchmark overall score for Hiby R8 was almost 75% higher than FiiO M15, and 3x higher than its R6 Pro little brother.
In the audio-heart of the device you will find two AKM AK4497 DACs, which enable support of all common and popular lossy and lossless file formats, up to 32bit/768kHz PCM and DSD512. Plus, R8 supports MQA hardware rendering up to 16x to future proof the DAP for use with hi-res Tidal masters whenever those become available. I'm a little surprised Hiby didn't go for the latest AK4499 DAC, but nevertheless, 4497 is still a very powerful flagship quality DAC. Plus, you have other top-grade components, including audiophile quality OPA1612 and OPA1622 opamps, MUSES8920 opamps, and even some custom OP02 opamps (per Hiby's own spec). Furthermore, it has dozens of audiophile quality capacitors, including 4 ELNA SILMIC II
47uF
large audio capacitors.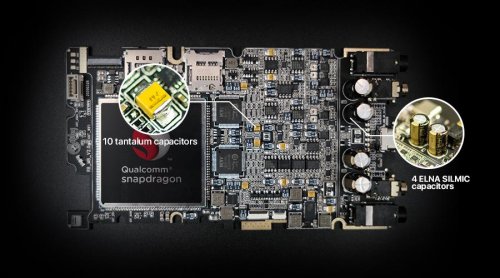 As already mentioned, R8 features a big 5.5" IPS display with a 5th gen corning gorilla glass. It's a beautiful
1080p HD
display with
1920x1080
resolution,
16:9
widescreen aspect ratio and
400ppi
high resolution pixel density - definitely a high-end display spec. Plus, it features oleophobic coating, and implements a sensor under the display to detect
double-tapping
to
wake up
the screen. It is a great feature where you turn the display on by double-tapping on it, so you don't have to constantly look to press power button.
Other listed features are dual-band WiFi with a support of 2.4GHz and 5GHz, Bluetooth 5.0 with a support of all hi-res codecs, including aptX HD, LDAC, and UAT, two-way Bluetooth to pair up with wireless headphones/speakers and to be able to pair up with your smartphone as a receiver to function like a wireless BT DAC/amp. Also, as already mentioned, USB-C port is multi-functional for charging, data copying, USB DAC functionality, Digital out, and SPDIF output to bring out Coax signal with the included custom cable.
And speaking of charging, R8 features a big custom 38Wh battery, 10000mAh/3.8V, and support of Quick Charging QC4.0 standard. I was definitely able to notice a lot faster charging while using my laptop USB-C PD charger. The internal ckt is partitioned and independently filtered into 4 power supply sections for Digital, DAC, Pre-amp, and Amplifier circuits. Plus, you have a separate control to enable
Turbo Mode
which boosts the voltage of amplifier power rail, enabling the output of over 1W from the balanced headphone port. In my battery test with the best-case scenario using average sensitivity IEMs in med gain from BAL output with WiFi/BT off, and display mostly off while paying a mix of mp3/flac files, I was able to get
11hr 40min
of playback time with
Turbo boost on
and
12hr 40min
with
Turbo boost off
. Of course, once you enable Wifi/BT, spend more time navigating display, and use more demanding headphones at higher volume level, the time will go down.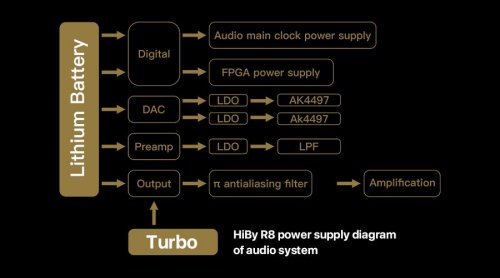 OS / GUI.
I usually spend a little too much time talking about details of GUI, while here we are dealing with a popular HibyMusic app which many are already familiar with. Thus, no need to repeat myself. All Hiby Android DAPs come preloaded with HibyMusic app, regular version of which you can download and install on any smartphone or tablet device for free. Of course, being the open Android DAP with preinstalled Google Play, you can also install any app as long as you can find it in Play store. Though, you have to be aware that some devices or geographic locations have limitations set by Google of what you can download and install. If you ran into such problem, you can always use APKPure to download and sideload apps.
But there are some exception. For example, Netflix was not available when I searched Google Play (US) from R8. Then, I found and installed a version from APKPure, but it still failed to start due to device access error. Otherwise, I had no issues downloading and installing Qobuz, YouTube, and found no issues on Google Play to be able to locate Spotify, Tidal, Amazon HD, etc. Actually, the HibyMusic which comes pre-installed with R8 is not just a regular free version, but their Professional Edition version.
Relative to Android Settings, straight from the pulldown Notification bar you have access to Audio Settings menu shortcut where you can change Digital Filter (7 filter types), Enable/Disable Turbo mode (to boost amplifier voltage), change the Gain (Low, Middle, High), Select plugins (those have to be downloaded), access global MSEB (MageSound 8-ball DSP sound effects – very effective for sound shaping), select DSD gain compensation, Channel balance adjustment, and Max volume cap setting. All these settings are system wide and should work with any audio application. Meaning, for example, you can apply MSEB dsp sound effects to any audio app.
There are a few other interesting things which some might not be familiar with. For example, under Battery setting there is Idle Shutdown feature where you can set a timeout to shut down the DAP after idling for predefined period of time. Hiby has it in their other Android DAPs as well, but not everybody remembers to enable it which comes in handy when we treat the DAP like a smartphone and forget to turn it off. Also, when you long press the Power button, you have option for Power Off, Restart, or to take a Screenshot which some might find useful as well.
Sound Analysis.
I analyzed R8 sound with Odin, U18t IEMs, and Empyrean while playing a variety of my favorite test tracks, such as Agnes Obel "The curse", Sandro Cavazza "So much better" (Avicii remix), C-Bool "Never go away", Ed Sheeran "Shape of you", Alan Walker "Darkside", Galantis "Hunter", Iggy Azalea "Black widow", Indila "Boite en argent", Dua Lipa "Love again", Counting Crows "Big yellow taxi", David Elias "Vision of her", and Michael Jackson "Dirty Diana". I let R8 burn in for 200hrs before starting my sound analysis. People have different opinions about the effect of burn in, but to my ears out of the box the sound was thicker and warmer in mids, while after about 200-250hrs it opened up and became more transparent.
I prefer to describe the DAP sound based on the comparison to other DAPs and pair ups with different IEMs/headphones since the DAP by itself doesn't have a "sound". What we hear is how it sounds through IEMs/headphones connected to it or the difference relative to other sources using the same pair of IEMs/headphones for monitoring the sound. As a result, this section of the review usually summarizes what I find in the follow up Comparison and Pair-up sections.
I hear R8 in many pair ups and comparisons to have a neutral tonality with a stronger (a little more impactful) low end response, more revealing and transparent (less colored) mids/vocals, and more natural (a little less sparkle/air) treble. It's an interesting combination which makes the sound natural yet still revealing. The Turbo switch, which boosts output voltage of internal headphone amp, plays an important role in a number of pair ups where the tonality can go from being smoother and a touch warmer (with turbo off) to more transparent and revealing (with turbo on). That will certainly depend on pair up synergy of R8 with your IEMs/headphones, but I found it to be consistent in many pair ups, benefiting more full-size headphones.
Also, depending on pair up, I noticed in some cases the improvement in speed and control of the bass (faster attack and shorter decay with
turbo on
) and rendition of the treble (adding more sparkle and airiness with
turbo on
). This improvement was more noticeable with full size higher impedance and planar magnetic headphones. But the sound also scaled up with some IEMs when turbo was enabled, though here you have to be more cautious when dealing with sensitive IEMs and the type of music you are listening to because the background
waterfall hissing
could be an issue for some. For example, it is not bad with EDM, top40, pop, rock, and r'n'b, but when it comes to instrumental or classical tracks with less busy arrangements where you have single instrument playing at a time - background waterfall hissing will be more noticeable.
Overall, I do hear the sound to be layered and dynamic, and the background was relatively black with many headphones and earphones, except for pair ups with sensitive IEMs where I had to turn off the Turbo mode or switch to 3.5mm port. The soundstage had a good width and depth, on par with many other flagship DAPs, not exactly holographic or exaggerated, but more natural and realistic. And the same goes for imaging, relative to the tuning of earphones/headphones, the sound never got congested and the positioning of instruments/vocals was quite convincing.
Turbo on/off
In the following Pair up section of the review I will cover each example with turbo mode off and on to describe the difference in sound as I'm hearing it. Also, turbo mode sound change does apply to 4.4mm balanced and 3.5mm single ended.
4.4mm vs 3.5mm
While in some DAPs the difference in tonality and technical performance has a wider gap when going from BAL to SE, here is was surprisingly close. There is a touch more transparency from the balanced port, but the soundstage expansion is nearly the same and so does the overall tonality. The big difference here is in output power which going to affect pair up synergy and could result in sound variation. Also, single ended 3.5mm output is friendlier with sensitive IEMs.
Pair up.
The sound of a DAP is based on pair up synergy with different headphones. Afterall, you are hearing the sound of headphones connected to the Source. In this section of my review I will go over how various earphones and headphones pair up with R8.
Empire Ears Odin (4.4mm)
turbo off: wide spacious soundstage, balanced signature with a smoother tonality, especially in upper mids and treble, making the sound more natural, more musical, a little more laidback, though the bass is still powerful with a deep rumble, mids are very detailed and layered, and treble is resolving as well.
turbo on: wider soundstage, more holographic expansion, balanced signature with a more reference revealing tonality, improvement in micro detail retrieval, better layering and more air between layers, more treble sparkle and air.
some waterfall hissing when idling or at low volume or instrumental less busy parts of the song, less noticeable at normal listening volume, and more noticeable in turbo mode. Even less noticeable from 3.5mm.
Venture Electronics Sun Dice (4.4mm)
turbo off: VE Sun in this pair up sounds very natural and open, with a wide soundstage. Bass has a soft analog texture, more laidback and less aggressive, but still with a noticeable presence, especially in sub-bass. Mids/vocals are natural, detailed, very organic, a little thicker but still with plenty of clarity. Treble also has plenty of clarity and sounds very natural. No issues at all driving these 180ohm earbuds.
turbo on: noticeably wider soundstage, and mids are brighter and more resolving.
no hissing.
Empire Ears Legend X (4.4mm)
turbo off: wide holographic soundstage. The signature in this pair up is L-shaped with a very deep and textured elevated sub-bass and fast and lifted mid-bass punch. The bass is still well controlled, but its quantity does push mids/vocals into the background. Those are still clear and detailed but more in the background, and treble is crisp and airy. Analog bass slam of LX DD cannons is a spotlight here due to their overwhelming quantity. No hissing.
turbo on: call it a "magic" button, soundstage gets even wider while still retaining its 3D holographic quality. But the biggest change here is mids that come more forward, balancing more linear with the bass. After switching to turbo, there is no going back to listen to LX without it.
no hissing.
64 Audio U18t (4.4mm)
turbo off: wide/deep soundstage. The sound signature here is balanced, bass has a nice punch and not bad sub-bass rumble, though not as pronounced since I hear more mid-bass punch. Mids are forward, layered, very detailed, not analytical, but approaching it with their micro-detailed level. Treble is crisp and airy.
turbo on: soundstage as wide/deep, maybe just a little more 3D after the switch. Mids have a bit more presence here, even more body, making them sound a little fuller. Treble is still crisp and has a little more air now.
faint waterfall hissing when idling or at low volume or instrumental less busy parts of the song, hardly noticeable at normal listening volume, and more noticeable in turbo mode. Even less noticeable from 3.5mm.
Dunu Luna (4.4mm)
turbo off: the soundstage is wide/deep on a holographic 3D level. The tonality is more revealing, more micro-detailed, with the sound being more layered and faster. Bass is fast and articulate, I do hear sub-bass rumble, but it is a bit distant; instead, mid-bass is the low-end star here. Mids are more revealing, layered, and micro-detailed, a little more forward, and treble is crisp, airy, and extended, but not harsh.
turbo on: only a slight change in mids, being a little more revealing and slightly more forward.
faint waterfall hissing when idling or at low volume or instrumental less busy parts of the song, hardly noticeable at normal listening volume, and more noticeable in turbo mode. Even less noticeable from 3.5mm.
Vision Ears Elysium (4.4mm)
turbo off: very wide holographic soundstage expansion. The tonality is natural, revealing with a deeper sub-bass rumble and faster mid-bass, natural organic layered mids with a more textured analog tonality and great retrieval of details, and crisp airy treble while still being well controlled.
turbo on: the soundstage is still 3D holographic after the switch, mids are a touch brighter, which is OK, but treble got crisper and a little harsher. This is probably one of the few pair ups where I preferred turbo mode off due to treble.
no hissing.
Campfire Audio Solaris '20 (4.4mm)
turbo off: The soundstage is wide/deep, a very spacious sound, approaching holographic level. The signature is W-shaped, with a balanced emphasis on lows, mids, and treble, maybe having just a little more emphasis on mids, bringing them forward. Bass is deep with a strong punch and deep sub-bass rumble, mids are natural, detailed, revealing, treble has a little extra sparkle.
turbo on: mids have more clarity and slightly more forward, and lower treble is a little brighter, but still not harsh or splashy. This is another example where I enjoyed turbo mode being off.
noticeable waterfall hissing when idling or at a very low volume or instrumental less busy parts of the track, less noticeable at normal listening volume, and more noticeable in turbo mode. Reduced from 3.5mm.
Meze Audio Empyrean (4.4mm)
turbo off: Plenty of power to drive these planar magnetic cans, the sound is balanced, natural and very detailed. You get a textured analog bass, natural detailed mids, and natural sparkly airy treble. Good pair up, but mids are a little smoother with vocals being slightly laidback.
turbo on: setting it to high gain and switching turbo on transforms sound into a more spacious 3D holographic soundstage with a faster sound, punchier bass, more revealing and better layered mids, and overall, more transparent sound. Definitely driving Empyrean to their fuller potential.
no hissing.
Beyerdynamic T5p 2nd (4.4mm)
turbo off: The overall sound is very balanced, also natural and detailed, bass is deep and textured, though a little bit softer and not as punchy. Mids have a natural retrieval of details, not too smooth, but a little more relaxed and organic. Treble has a good sparkle, sounds natural and detailed. Soundstage is wide and expanded, but the depth/height of the soundstage has more intimacy, bringing you closer to the stage.
turbo on: bass shines when you switch turbo on, going deeper, with a punchier mid-bass, better layered and articulation. Also, mids/vocals gain some clarity and focus, and treble gets a little more air. Furthermore, soundstage gets more depth. Turbo more is "it" in this pair up.
no hissing.
Audio-Technica ATH-R70x (3.5mm)
turbo off: These demanding 470ohm open back headphones are not easy to "satisfy" since they are very source picky. You have to push them harder. Here, the sound is open, wide, not super wide, natural, detailed, bass is deep, with a nice sub-bass rumble and softer mid-bass punch, mids/vocals are natural, smooth, a little laidback. Treble is smooth and natural.
turbo on: like a different pair of headphones and you do need to keep in mind that I'm using 3.5mm SE output in this pair up, with a faster punchier sound, sub-bass rumble is deeper, mid-bass punch is faster, overall bass is more articulate, mids/vocals are more open, more revealing, more layered and detailed, and treble scales up significantly with more sparkle and airiness. In addition to turbo on, I also switched to high gain.
no hissing.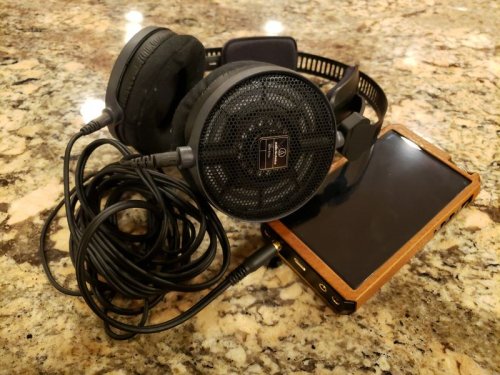 Comparison.
In this test, I was using Meze Audio Empyrean and EE Odin to listen/compare DAPs. Each of these DAPs, besides a difference in tonality and pair up synergy, has their own Pros/Cons when it comes to features, all of which should be taken into consideration depending on your priorities if you need streaming or not, which balanced termination you prefer, how much output power do you need, battery, etc.
R8 vs iBasso MAX
– I recently compared these two in my MAX review, but afterwards I put another 50+ hrs of playback time on R8 while running battery tests, thus any changes between these impressions are due to additional burn in time. R8 has a wide/deep soundstage expansion, but MAX is still a little wider. Bass response is very similar, once the turbo mode of R8 is enabled, perhaps with MAX being just a little faster in attack. Mids tonality is very similar too, though MAX has just a touch fuller body while R8 is a little more transparent and slightly more revealing. I hear treble to be similar as well. The vertical sound dynamics is close too, with MAX being a little more expanded in comparison to R8. If you are going to focus on sound performance alone, these are close enough in sound tonality with MAX having some advantage in technical performance. MAX also handles "quieter" very sensitive IEMs. But the gap widens by a lot when you compare Android performance where R8 is ahead by a noticeable margin (OS speed and Wifi/BT performance). Also, another advantage is R8 having dedicated hw playback buttons.
R8 vs Lotoo PAW Gold Touch (LPGT)
- In this comparison soundstage expansion is very similar, with both width and depth being close. Also, vertical dynamics expansion is close enough, thus both share a similar technical performance. But I do hear difference in tonality. The bass response of LPGT is softer, especially in mid-bass when compared to R8 which has a faster punch with IEMs/headphones I used in this comparison. Mids are very similar, being more transparent and closer to reference (more revealing) quality. With treble, again, I hear the difference where LPGT has a little brighter sparkle while R8 "sparkle" is a little smoother and more natural. So, for example, Odin mids with LPGT sounds more forward while with R8 the overall sound is more balanced. Of course, have to keep in mind, R8 is an open Android DAP while LPGT is audio playback only device.
R8 vs Sony WM1Z
- A lot of similarities in this comparison. Both have a very similar soundstage expansion, perhaps with R8 being just a touch wider. And overall technical performance is very similar when it comes to dynamics and layering of the sounds. Bass rendering is slightly different in this comparison where 1Z has additional sub-bass weight with a slower mids-bass, while R8 bass has faster and more articulate punch. Mids/vocals presentation and tonality are similar when A/B comparing with the same pair of IEMs/headphones. Treble is similar as well; I just hear a little more sparkle/air in R8. And again, keep in mind that R8 is an open Android DAP while WM1Z is audio playback only. One interesting observation, after handling R8 and MAX, WM1Z no longer feels heavy.
R8 vs A&K SP2000 SS
- Relative to IEMs/headphones used in comparison, I hear a very similar soundstage expansion, maybe with SP2k being just a little bit wider. Also, similar to MAX, the technical performance is close enough, but SP2k still has an edge when it comes to vertical dynamics and sound layering. They are close, but SP2k is a little better. With lows, both have a fast and articulate bass response, though R8 has a little stronger punch and a bit more sub-bass rumble. Mids are very similar, being closer to natural reference quality, with SP2k being a little brighter and dryer. I also hear similarities in treble, perhaps with SP2k being a touch brighter while R8 being a little more natural and smoother. Relative to their OS performance, R8 pulls ahead with a fully open and faster Android OS where you don't have any limitation which app you can install.
R8 vs R6 Pro
– Last, but not least, I had a few people asking me how does R8 compares to its little brother R6 Pro. Of course, they are in a different category, but I'm sure some would like to know while considering the upgrade. Relative to full size headphones and IEMs, when going from R6 Pro to R8 (turbo on) I do hear a wider more expanded holographic soundstage and improvement in vertical dynamics where you can hear more air between the layers of the sound in R8. The extra voltage boost does make a difference in improvement of technical performance, while tonality difference is not exactly night and day. There are other subtle differences, for example, with R8 bass sounds more textured with dynamic drivers, noticeable in full size headphones and hybrid IEMs with DD bass. Also, a much faster Android performance (R8 has AnTuTu score 3x higher than R6Pro), more premium build quality, balanced Line Out, etc.
Other Wired/Wireless connections.
In this section of the review I will go over various wired and wireless connections I tested and verified with R8.
Digital usb-c out
Here, it is an easy plug'n'play functionality with everything working as is. First, I used
Lotoo S1
and it was recognized without a problem. I was able to control the volume from S1 and R8. The sound was a typical S1 signature with a fuller body more natural tonality. Then, I connected
micro iDSD BL
which got recognized without a problem using a cheap USB-C OTG adapter. Volume can be controlled both from iDSD and R8. The sound is a typical iDSD sig with a more natural musical tonality.
Coax out
With a provided micro USB to coax cable, you just plug it in, connect, and it works as is. I was using
micro iDSD BL
and everything was recognized without a problem. Actually, the sound was much better with Coax vs Digital out, having a wider soundstage, better dynamics, and even improved retrieval of details.
Line Out
This connection was tested with
Romi Audio BX2
amplifier. Looks like Line Out output of R8 is not fixed, and you do need to adjust R8 volume to raise the "pre-gain" input level going into BX2. BX2 tonality is super transparent, and as I result, I can hear R8 DAC output (LO) being a little more revealing and a touch brighter in tonality. This suggests that R8 own internal amp adds a little more body to the sound, but still not a lot of coloring. Also, with R8 + BX2 the output has a super black background, even with ultra-sensitive IEMs. This is an ULTIMATE desktop quality setup which can drive even my most demanding oBravo HAM Signature headphones (full size hybrid 40mm AMT + 57mm DD) to its full potential.
USB DAC
Using my ThinkPad T480s w/Win10Pro, I didn't have to install any drivers, R8 was recognized right away. If you are still on Win7/XP, Hiby will provides drivers to support it. While connected, volume can be adjusted either from my laptop or from R8. Also, USB DAC screen on R8 has shortcut to access Audio Settings so you can change the digital filter, turbo mode on/off, gain change, and enable MSEB dsp effects while using R8 as USB DAC. Also, you have shortcut to Bluetooth to pair up with R8 wireless while it is connected as USB DAC. This can give your laptop the ability to use high res wireless codecs through R8, such as aptX, LDAC, or UAT. Regarding the sound quality, as USB DAC or directly from R8, it sounds very similar when playing the same song with the same pair of IEMs or headphones.
Bluetooth Wireless
I was able to connect easily with any wireless pair of earphones and headphones I have access to. Highest supported codec was always selected by default. The connection was good over 50ft away from R8 in open area, and I was able to control playback from wireless earphones/headphones. This was also a great opportunity to test Hiby latest
WH3 TWS
earphones. Solid connection at 55ft away from R8, remote playback control is effortless, and I was using HibyBlue app loaded on R8 to adjust crossover in order to fine tune the WH3 sound.
Conclusion.
I mentioned a few times in the intro of the review about R8 being able to tick all the boxes. Of course, we all have different requirements with different set of "boxes" to "tick". Some want the best audio performance, while others willing to compromise in favor of faster system performance. Some want a source optimized for IEMs, while others desire power for full size more demanding headphones. Some want a bigger display, while others prefer optimized WiFi/BT performance. Some care about local files audio playback, while others need reliable streaming and Google Play support out of the box. It is hard to make everybody happy, to have one device to satisfy all the needs, but Hiby did push the envelope with R8 to get closer without cutting too many corners.
Hiby R8 is super-fast, and not just per my subjective option, but based on benchmark scores of being the fastest Android DAP at the current moment. It can handle not just IEMs but also some demanding headphones using its turbo-charged (literally) balanced output which can deliver up to 1W of power. It runs optimized Android 9 OS, has system wide MSEB dsp effects, supports DSD512, future proofed with MQA 16x, has a solid WiFi and hi-res BT. It is designed with high quality audio components, has a big display, solid build, and very unique packaging and accessories. In my opinion, R8 did not earn its flagship status just because it is the most expensive DAP in Hiby's lineup. I see it as a flagship because it can challenge other big-name summit-fi audio players.
Comments
Specifications
| Model | HiBy R8 |
| --- | --- |
| Operating System | Andriod 9.0 |
| CPU Model | Snapdragon 660 |
| CPU Architecture | Kryo260 Octa-core |
| CPU Max Frequency | 2.2 GHz |
| GPU | Adreno 512 |
| DAC | AKM AK4497 x 2 |
| WiFi | Support 2.4GHz, 5GHz |
| Bluetooth | Bluetooth 5.0 |
| USB | USB 3.1 |
| Display Size | 5.5 inches |
| Colors | 16 million true color |
| Topology | IPS |
| Resolution | 1920*1080 |
| PPI | 400 |
| Touchscreen | Multitouch |
| RAM | 4GB |
| Internal Storage | 64GB |
| External Storage | Up tp 2TB + via 1 micro SD card |
| Colors | Aluminium alloy black |
| Dimensions | 143*81*20 mm |
| Power Supply | 5V⎓2A / 9V⎓2A |
| Battery | 10000mAh/3.8V |
| Charge time | <5H (0%-100%) |
| Firmware Update | OTA |
| Text Size | Adjustable |
| Third Party Apps | Unrestricted access via Google Play and apk download |
Just found out the noise will be too much for my Odin's. Non starter. Oh well, looks like a great DAP.
Really? I have an Odin and I had not read anything about noise, but then again, I haven't been following the recent posts since the R8 was available for purchase.
Alex mentioned it in the DAP's thread. He and I hear a bit alike and I'm sensitive to any noise