Item information
Added by
Views

8,393
Watchers

7
Comments

1
Reviews

2
Last update
Rating

5.00 star(s)

2 ratings
General Information
Latest reviews
Pros
:
Extreme sonic performance for portable device
Good user interface and ergonomics
FiiO player reads all audio formats as well as playlist formats with no issues with any regional symbologies
Cons
:
Runs very warm during normal operation
Construction is beautiful but fragile
Side buttons easy to push simply by holding device in hand, need to use HOLD switch to avoid occasional unwanted track jumps
Excellent product, but it needs 30+ hour burn in to start to perform.

My first impression was mixed - pleasant soft sound signature (mellow, full bodied but too dark sound). In comparison with M11 Pro, M15 demonstrated inferior bass control. Detail retrieval and separation was also not as good as with M11 Pro. M15 had narrower sound stage and lower sound stage accuracy.
In other words, my first experience was not promising, considering that M11 Pro sounded outstanding right out the box.

After 30 hours of burn-in at medium volume using different headphones connected balanced, everything changed dramatically.
2nd time I listened to M15 it delivered terrific separation, musical flow, lots of detail and very wide soundscape. Superior to M11 Pro in every aspect.
Tonality also seems right after burn-in. In comparison, M11 Pro sound is dryer, less tonally rich. Now M15 sounds more like my reference system (Denafrips Pontus + Drop AAA-789), when at first it was more like not the best tube amp.

Comparing with M11 Pro - M15 is much more resolving DAC/DAP, it has properties of hi-end stationary equipment in small package - effortless musical flow, micro/macro details, dynamic contrasts, lots of air, stable space, seemingly absolute instrument separation and no noticeable digital glare, like listening to truly high-end DAC.
Some tracks, like Beija Flor by Jim Hall Quartet, deliver dramatic difference between M15 and M11 Pro making M11 Pro not engaging in comparison (make you wish to push stop and return to M15).

Difference between M15 and M11 Pro is not as noticeable with IEMs as with e.g. HD800 or Ananda, even with IEMs like Westone ES60.
M15 is still better, especially in tonality, but it does not justify 2x price, unlike with stationary headphones.

M11 Pro is an outstanding product on its own, I think it created new reference of performance for portable audio at reasonable price. Now M15 sets reference for performance and also value for those who are looking for best possible portable sound.
Even if your budget allows you to consider more exclusive products you need to experience burned-in M15 before making decision.
Last edited:
Pros
:
Great design, great material selection and attention to detail
- Fastest response times of any DAP
- Advanced GUI that is easy to use and navigate
- Widest soundstage I ever experienced in a DAP, amazing depth and airiness
- Great tonal balance across the board
- Great Bluetooth codec support
- Excellent micro-detail level that is rivaling high-end desktop DACs
- Super clean and transparent sounding
- The most extended frequency-response
- Noise-less headphone out, works great even with sensitive IEMs
- Among the fastest transient response in a DAP
Cons
:
Still no Google Play Store support
- You can never know the exact volume position with it
Who would thought that at their flagship year from its inception, FiiO would announce at their Winter Launch Event in an
One More Thing
stunt, their highest performance and highly anticipated M15 DAP. What was quite unusual even for FiiO is that instead of just showing it to the world and telling everyone you will need to wait for another 6 months before you can buy it, it was available right away with preorders starting the next day. I still remember that I waited for more than 6 months for a M11 PRO after its announcement and I'm glad that didn't happen with M15.
Checking all their announcements on 28th of December, all those Facebook posts, graphs and even few video interviews with the development staff, was very clear to me how much care, time and effort was put into making this wonderful device.
It is known that for a DAP to look, work and perform at very high standards, you don't just need to throw all the best chips inside it and hope for the best, that all those will create a bond between each other. Part selection is crucial, part matching is even more crucial and FiiO seems to be playing in their labs with M15 for more than a year and a half. AKM released the AK4499 reference boards about one and a half year ago (Topping confirmed my findings) and since then, FiiO must be tuning, re-tuning, changing the PCB multiple times, improving and so on until they came up with the M15 you see today.
FiiO has a long history of making great portable DAPs and it is not really new to this game, I actually consider them one of the granddaddies of the post-iPod era, making affordable portable DAPs, DACs and headphone amps and moving forward this wonderful industry instead of just killing it for good. Others followed in their footsteps and even without Apple on board, DAP market seems to thriving and growing by the day.
In the following review I will explain you why I feel that way and my true feelings about this one.
A Matryoshka like Unboxing
M15 came in a huge box that normally a desktop unit should came with. Ripping it apart, swimming in all that foam, I find another card board, it's much smaller and it's FiiO branded. Opening that up, I see again some foam and there is the 3-rd box, it's finally the M15 box with rainbow like patterns. Pulling by a soft fabric another fourth box appears, black at color with M15 stamped on it. Opening that up, another (fifth) incredibly looking wooden box appears and I felt like opening those Russian matryoshka dolls. This one is made from real wood, I believe it is carved from walnut wood and has just a FiiO logo carved on it. I never had the same unboxing experience with any high-end product I ever tested and I can only congratulate FiiO for a really thought-out and amazing unboxing experience.
Underneath M15, there is a small space where you can find the pin for opening the memory card tray, a 3.5mm to coaxial adapter in case you want to use the M15 as a digital transport for another DAC, there's a USC Type-C cable for charging, data transfer or for using M15 as a USB DAC. There's an extra glass screen protector, I believe M15 has already two of them applied on the front and back from the factory. All the paperwork is in there too, sadly I didn't find any TPU case or any leather case, in this regard it is very much in line with the M11 PRO package. M15 feels really like a gem and I'm not feeling really safe with it in my pocket without some kind of basic protection. Those glass protectors can be considered as basic protection already, but I would like to protect that shinny aluminum as well. I urge FiiO and DD HiFi releasing those leather cases for M15, otherwise I don't feel like leaving my home with M15 in my pocket.
Design & Build Quality
When you look at all products made by FiiO and then taking a glance at M15, it's clear that FiiO wanted to distinguish this one from the herd of their affordable products. All those sharp and shiny edges of M11 and M11 PRO were dropped and replaced with smooth lines, rounded edges, semi-circles that are offering a very humane design that is very comfortable to hold in the hand and that is pleasant to touch and operate.
I feel that FiiO was inspired a bit by another DAP from the land of the rising sun (
Cough Sony WM1Z Cough
) but that is OK, everybody is doing this nowadays in the smartphone business and I really don't mind a good-looking device. I like a lot the looks of M15, it is really pleasant to hold, at 307 grams or 10.8 ounces it is on a heavier side but it adds a pleasant heft to it, feels really serious and well made once you hold it.
On the back, it has that fancy carbon fiber look that M11 PRO carries as well, the golden Hi-Res Audio and Hi-Res Audio Wireless logos are still underneath the glass, its face is covered only by a huge sheet of glass and it is almost free of any ugly bezels. It is slightly bigger and heavier than any DAP they made so far, but considering all the tech inside it is actually small and lightweight by my standards.
As with their newest DAPs, every button has a firm press and nothing is wobbling around. The analog volume wheel turns a bit slower and I need to apply a bigger force to turn it which I like and as a result it should not turn by itself in the pocket of my jeans. However, I will say that the decision of putting the volume wheel on top of the device, sticking out to the rest of the body was not a great idea. Because of that, you cannot change its volume single handed as I was doing on M11 and M11 PRO and in the pocket a higher pressure will be put on the wheel which might damage it in the long run. Maybe FiiO didn't have enough internal space and decided to move it on top? We will probably never know it and this is really my single rambling about it in terms of looks.
Layout & Buttons
This is the first DAP by FiiO where all the buttons were moved on a single side (on the left) and operating it is easier than ever. All the standard buttons as play/pause, next, previous, power On/Off are present, for the first time I see a hold button and there's also a programmable button that is not labeled on the outside. You can program it to add a song to favorites, play next song randomly, delete the current playing song, switch filters, switch equalizer, enter BT receiving mode or enter USB DAC mode, I like this one! On the bottom, you can spot just a single MicroSD card slot and the USB Type-C. Yes, just a single card slot, exactly how M11 PRO has, I already explained you why the second slot was dropped in my
M11 PRO review.
On the top, you will see that beautiful volume wheel that has a pleasant blue light around it while it is charging, you can customize that light, you can turn it On or Off during normal operation or change its brightness. There is also a trio of headphone outputs, FiiO is already notorious for offering great flexibility with all of them. First one is a single ended 3.5mm (1/8") output, the rest are more powerful balanced outputs coming in 2.5mm and 4.4mm flavors. If you want to unleash the full potential of M15, I do recommend using only the balanced outputs.
Display
It has the same display assembly FiiO used on their M11 and M11 PRO units. It's a multitouch 5.15" IPS display with a 720P resolution. It looks bright, sharp and vivid enough for me. Contrast is good, black and white levels are above decent and the viewing angles are nice thanks to that IPS panel. Do note that a bigger display or a higher resolution one will consume a lot more power and a low battery life is the last thing you would want in a high-end DAP. If you check the power consumption of your smartphone, you will observe that a big display is consuming a lot more than that powerful 8-core SoC that is powering it, so I believe a 5.15" inch display is big enough for comfortable music or web browsing and small enough to let the battery be focused on other, more important stuff like audio decoding and signal amplification.
Battery
Here's a fun fact: FiiO M9 DAP has a 2350 mAh battery, M11 has a bigger 3800 mAh batter, M11 PRO has a much bigger 4370 mAh battery and M15 has a humongous 7490 mAh battery inside. It was mandatory putting a bigger one to feed a much bigger and complex audio circuitry, it added to the weight but it also added few precious hours to the battery life and I'm very glad that FiiO put a really big one inside it. Due to that big battery capacity, I strongly recommend using a quick charger with it, otherwise charging time can take up to 4 hours or more.
From a modest 9.5-hour battery life of M11 PRO (on the 3.5mm output), battery life increased to more than 15 hours which is absolutely great. In real time tests with a 90 dB SPL the battery of course drops to about 12 hours on the 3.5mm jack and to about 9 hours of the balanced outputs. A trip to my parents' house is on average an 8-hour drive and with a M11 PRO on the balanced out connected to some big-planar-magnetic headphones I never could finish an 8-hour listening spree without a power bank near me, but with M15 I will not need it anymore.
Another cool fact is that M11 can go to sleep for 50 days, M11 PRO for 55 days and M15 will go lullaby for 75 days! FiiO again raised the bar and we have another sleeping beauty champ on our hands. I personally always turn-off all my devices when I'm not using them, but if deep-sleep is important to you and you hate those boot times, then M15 is probably the best at saving battery life for very long periods of time.
Under the hood of M15
M15 is using the same fast and reliable 6-core Exynos 7872 SoC that M11 and M11 PRO are using too. At this moment, this is the fastest one in any DAP at any price. RAM size remained at 3GB and built-in ROM memory remained at 64 GB too, this is where you can save all your favorite tunes.
This particular SoC is the sole culprit FiiO is still at Android version 7.0 and is not supporting Google Play Store. However, on its main menu you can find an Applications bubble from where you can install the most important apps as music streaming ones, other apps like BandCamp, SoundCloud or even third party APK markets like APKPure or CoolAPK. From the last two you can freely download and install most of the apps Google Play Store can offer to you, including games and so on.
At the heart of M15, two flagship AK4499 DAC chips will take care of the digital processing. So far, AK4499EQ is the single commercial made chip that challenged and even surpassed some of the specs of the mighty ESS 9038 PRO DAC chip. Compared to the former flagship of AKM (AK4497), the newest one doubled its pin numbers, increased in die-size, power consumption increased as well and, in the process, digital to analog processing improved a lot as well. AK4499 are not your regular voltage-driven chips, these ones are mostly current-driven and two of them are putting a heavy burden on the battery itself. These chips were made for desktop, AC powered devices and not for portable use, they will consume a lot of electrical power and will dissipate a lot of heat. I know that FiiO went an extra mile and reconfigured the PCB just to be sure that M15 will not get hot and will work an extended amount of time without overheating. FiiO is really proud about those chips and they have all the rights to do so, as in my opinion they implemented them really well. Around those chips, FiiO used two NDK femtosecond crystal clocks to squeeze even lower noise than that of M11 PRO, add a third generation of FPGA clock algorithm and its audio circuitry is looking better than ever.
In terms of power delivery, FiiO went really overboard with this one, under the hood it carries not two, not four, not eight but ten frickin' op-amps (two OPA2211, four OPA1612 and four OPA1622) for a power output of 800mW in 32 Ohms or 280mW in 300 Ohms on the balanced jacks.
Another first in FiiO's portfolio of DAPs is using a dedicated USB receiver from XMOS, the latest generation XUF-208 that would make the USB DAC function operating faster, more reliable and freer of any noise from your PC.
There is also something very high-end, that FiiO never used until now: high polymer capacitors that so far only Sony used in their $3200 WM1Z DAP and in their $8000 DMP-Z1 transportable DAP. All those capacitors have a total power reserve of 6660 μF! Even few desktop headphone amps have a lower power reserve than that, so I'm already imagining myself what M15 could deliver in terms of slam and lighting fast dynamics.
There's a full MQA decoder inside, it fully unfolds MQA files in 8X mode, however at this very moment those files are supported only in FiiO Music App. If you install Tidal, it will unfold them in 2X mode but FiiO informed me that soon 8X mode will be supported even by 3-rd party apps as Tidal and others.
Going wireless, M15 supports 2.4 and 5 Ghz Wi-Fi bands, plus all those fancy Bluetooth codecs as AptX-HD and LDAC. It can work as a Bluetooth sender or receiver. Thanks to a newer BT chip it will not only send data in AptX-HD and LDAC codecs but will receive it at the same speed, with the same codec support.
It needs to be said that M15 is the first DAP in their portfolio that is using a 100% analog volume wheel and as of right now, M15 is not showing on screen the exact volume position. I wish that in a future firmware update, FiiO could add this feature that could save my hearing and few blown drivers of my sensitive IEMs.
Graphical User Interface (GUI)
I will just mention that, this is the same GUI FiiO is using on M11 and M11 PRO, I think it is user friendly, it is reliable and works really fast. I just updated to FW 1.0.1 and so far, I didn't encounter freezes or reboots. GUI is polished and I didn't encounter slow downs even when playing DSD or 32-bit Hi-Res PCM content. If you have a strong wi-fi connection nearby, then streaming Hi-Res files works as a charm too.
I see that from the drop-down menu FiiO added some additional stuff, first of all is the "Over-ear headphone mode" that increases the current output of the output stage and as a direct result the output power is doubling. You should enable it only with power hungry headphones really, for sensitive IEMs that would be an overkill. Instead of just two modes like Pure Music Mode and Android Mode, FiiO added another two ones: USB DAC mode and Bluetooth Receiving mode.
Sound Performance
I. Connected to sensitive IEMs
M15 has the total-harmonic-distortion by about 50% lower compared to M11 PRO and about 6 times lower than that of the regular M11. Noise floor dropped as well and separation increased on both the single ended and balanced outputs. As a direct result, I actually never heard the super sensitive FiiO FH7, Simgot EN700 PRO and the Moondrop Starfield IEMs so alive, so open and so ass kicking on any other DAP. After engaging low gain mode, disabling over-ear headphone mode and pressing play, I was mesmerized by the complete silence in some passages, there is just nothing between them, just a pitch-black void with notes that are born out of thin air.
I recommend listening to
Shitoshito (Raining Quietly)
by
Helge Lien Trio
and just before the 1-minute mark everything just pops around you in a very natural and non-offensive way. The same song sounded almost as good and as enveloping on M11 PRO, but regular M11 on the other hand was really far away to the other two. The album titled "10" by the same band, revealed nuance and microdetails that I am normally hearing only on a serious desktop setup. Note placement and depth were an amazing surprise to me as I can't quite believe that I am listening to a portable battery powered device. Double-bass rumbled so hard without losing its grip, I am normally experiencing this kind of sound only with proper desktop power, M15 feels like laughing in the face of danger with an effortless presentation like this one.
I can't say where I was volume wise, since M15 will not show you the exact volume position, however volume wise there was plenty enough even for the most demanding ones. Even on the single ended output, M15 can drive very heavy loads with ease, so multi-driver IEMs do not pose even a slightest problem for it. Headroom was bottomless, music was flying in all directions, air filled in the room with that dark Norwegian jazz.
Probably the most important aspect is that M15 created a lot of emotions for me, it could make me nervous, sad or happy or just on top of the world. M15 is really effortless sounding and everything it does seems like a child's play for it.
II. Connected to portable over-ear and on-ear headphones
Connecting some old-school portable over ears like Sennheiser Momentum 2 or Meze 99 Classics to it felt like squeezing the last drop of performance out of them. Both M2 and 99 Classics have a warmer tint, and are on the slower and leaner side of things. You can wake them up with some proper desktop power, but out of all portable DAPs I've tested so far, only M11 PRO could make them nimble, fast and articulate. M15 is making them like that too but is adding an additional layer of information on top, opens-up the soundstage and everything just becomes deeper and even more effortless sounding.
If I would never listen to M15 I would never write this: I liked M11 PRO a lot but the low-end was great only in terms of quality and not a lot in terms of quantity. Bass always felt fast and nimble but was not going to Mariana Trench levels and sustain was not one of its stronger points. With M15, I am feeling guilty, like opening the Pandora Box, so this is how a proper bass line should be maintained and should vibrate.
M15 is the first DAP offering such a big power reserve and when you listen to some powerful and impactful tunes you just feel M15 delivering an incredible amount of sound pressure level (SPL), it almost makes you feel like going lower volume wise. The sonic impact it creates is just incomparable with other portable units. The name of the game is not detail retrieval or speed as it was on M11 PRO, but effortless, bottomless and powerful this time around.
Driver control was simply the best so far, dynamics were crushing my skull, sound became so big that I thought I exchanged those Momentum2 with some bigger headphones without noticing it, but that wasn't the case, M15 was just making them sound bigger, ballsier and more imposing as ever.
Volume wise, can't say really, but I presume at about 60 to 65% % it was already very loud even for me. On high gain and engaging over-ear mode, background remained as black and noiseless as ever and headroom was again bottomless even on the 3.5mm headphone jack.
I believe that all portable headphones, be it over-ear, on-ear, IEMs, dynamic, balanced armatures, hybrids and everything in between sounded as good as those can be on a serious desktop setup.
III. Connected to desktop low sensitivity headphones
From all DAPs made by FiiO, not a single one was really made for driving desktop headphones. M15 is the only one with such a big power reserve not only in terms of Watts, but also in terms of electrical capacitance (μF), meaning it can push a lot of power in an instant without losing its grip and sustain on some low intensity sounds. Even software wise, only M15 has that "Over-ear headphone mode" that was clearly made for driving heavy loads as desktop headphones.
Instead of using some gentle dynamics, I decided throwing M15 in a den of 3 wolves: Hifiman Arya, Erzetich Phobos and Quad Era-1, all three are planars and are mostly current driven. All of them never really worked on portable devices, with just an honorable mention that M11 PRO worked decently with two of them.
For fun, I felt like testing the 3.5mm output first and Quads were first on the test bench. With them I couldn't reach maximum volume, it was way too loud. I did some experiments with and without the "Over-ear mode" and once it is engaged I'm feeling that the room is filling with music, I feel that bass goes lower, I feel more emotion out of all my tunes, I feel a much higher involving factor with my music and I feel connected to it. Without it, music becomes dryer, a bit lifeless and not that engaging anymore and it's not just the volume, everything takes a serious hit.
With it engaged, my smile again appeared on my face, dynamics rushed it instantly. When I started listening to my usual bass tracks, I felt how my ears started waving, slam improved tremendously to unrecognizable. Quad ERA-1 were fully driven to their maximum potential even on the 3.5mm jack.
Next was the XL-sized Erzetich Phobos, with huge 106mm planar drivers and with a low 45 Ohm impedance, it needs a lot of current to be driven properly to their fullest. At about 8o to 85% volume position, Phobos was throwing an extended soundstage that was going beyond all other headphones from my stable. M15 was just decompressing my music, pumping a lot of positive energy along the way. I again observed that low intensity sounds started filling my head, bass was going lower and kicked in full force. I would never guessed that I am listening to them from a battery powered device. As with Quads, Phobos were driven to their fullest and I'm extremely happy about that because when I'm traveling, I tend to carry a smaller desktop setup and a pair of desktop planar headphones with me but that soon will change with M15 at my side.
When I switched to Hifiman Arya, I felt that dynamics were still good, but volume wise I felt that I needed to switch to balanced drive, since 3.5mm jack was already maxed out. A headphone adapter is coming my way and I will be testing soon both balanced outputs with it, but until that happens it is clear to me that Arya will not be properly driven on the 3.5mm jack.
Connecting dynamic headphones as HD660s from Sennheiser was an easy task for it and since M15 is having a fuller and more impactful presentation, it made them more enjoyable and harder kicking. Dynamics felt limitless, even explosive sounding with some particular music, a lot of headroom remained on the volume pot. M15 amp section reminded me a lot about the Kinki Studio THR-1 that is having the same sound signature, with the same effortless and hard-hitting nature.
IV. Connected to Wireless headphones and speakers
M15 paired excellent with EH3NC wireless headphones and going to Bluetooth Device Control in the FiiO Music app I could change any setting of EH3NC on the go and sync them directly with M15. Both worked as a team together, had a stable BT connection and walking outside with M15 in my pocket, I never lost a beat so really no complaints here.
My KEF LS50 Wireless loudspeakers connected instantly to it and I could stream Hi-Res content directly from M15 to LS50W seamlessly. I even tried Bluetooth connection with them and while walking with M15 in my hand, my apartment felt too small because I couldn't lose connection between those two.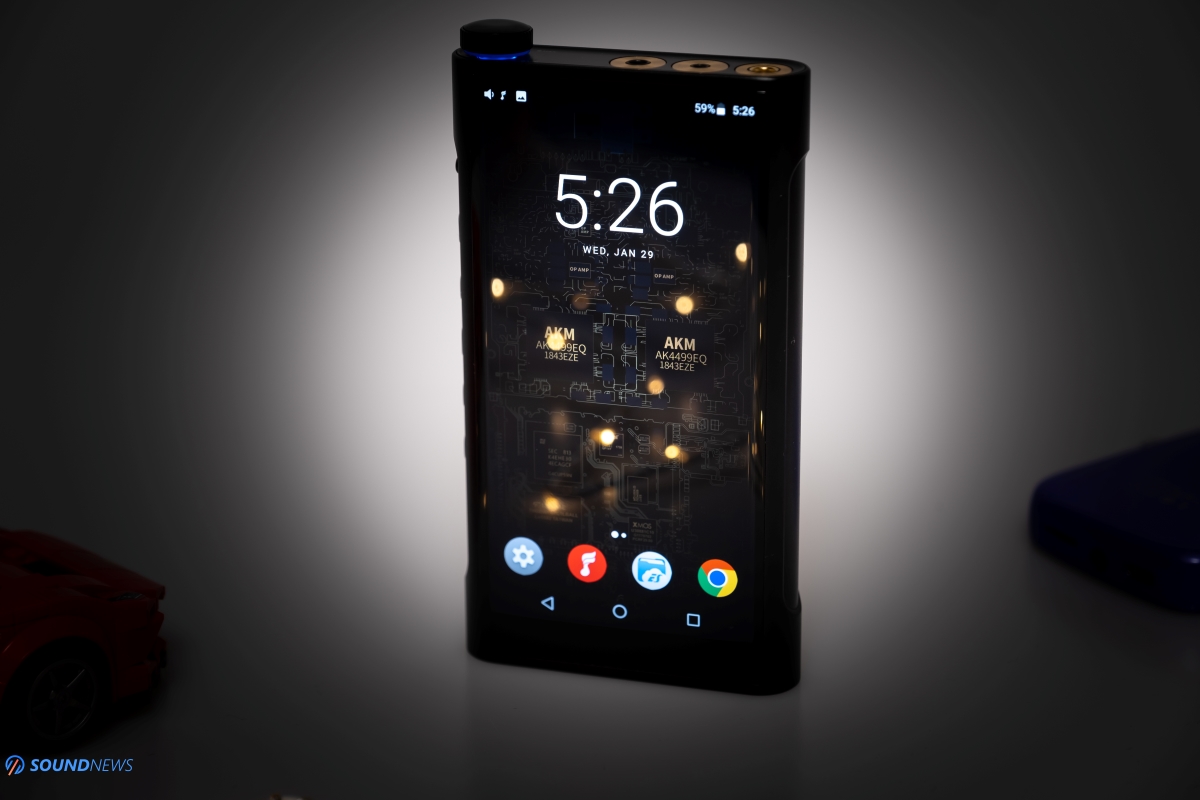 V. Soundstage Size & Depth
M11 PRO was already quite impressive with that large soundscape that stretched wide open especially with IEMs but less so with my bigger cans. M15 is even more spacious, more enveloping and it again reminded me a lot about some desktop units that I am testing of late. I believe for an audio source to achieve an open wide soundstage, the power delivery should be instant and top-notch. That huge capacitance and power reserve made some of those notes flying almost to abyss. I really don't need stressing myself to hear that openness and airiness around me. An open-wide soundstage with impressive layering will always lead to some impressive pin-point imaging and depth and this is exactly what happened here. I don't want to sound like a fanboy, I didn't listen to all the best DAPs of this word, but from the small batch I listened to, M15 is the widest sounding and the deepest of them all.
VI. Transient Response
Here's the thing, M15 has 28 capacitors inside and 5 of them are quite fat and juicy. If you would just unbox it and took a listen, you would not be impressed by its speed and impact. Those capacitors need at least few hours in settling down. For the best results, I recommend 48 or better yet, 96 hours for a full burn-in before making any real judgement. At first, M15 was sounding too warm, too full-bodied, mellower and slower but as time passed by, it started showing fast executed notes, I've felt air moving around, it started keeping up with my music. Those mellower and slow transients were nowhere to be found anymore, M15 started sounding nimble, lighting fast and immediate.
VII. Detail Retrieval
I am sure that those femtosecond clocks, newest generation of FPGA and of course that dual AK4499 setup played a big role in achieving a super clean sound, free of any distortion or harshness. M15 is extremely transparent sounding, clean and grain free even with not so impressive recordings. When I started discerning additional levels of information compared to any other DAP, I knew there is something special about this one. Even some of my favorite songs as
White Limo
by
Foo Fighters
that was recorded on a 100% analog Studer A827 recorder with a Neve preamp and mastered on a 100% analog board, becomes almost unlistenable because I'm hearing way too much truth, way too much of it that should be hidden from the listener.
I ran home as fast as I could, I plugged in my reference Element X DAC and took a listen to the same song and that was the moment when my jaw hit the floor. After volume matching with a MiniDSP E.A.R.S. system both the M15 and Element X, I was quite shocked that M15 provided the same amount of detail retrieval: tiny air vibrations of _Gothar_t were there, guitar amp being engaged on
Bulls On Parade
was easily heard too, tiny whispers on some Radiohead songs were also there.
M15 can replace a high-end DAC without losing anything really except for balanced line-outputs. M15 is resolute and extremely clean sounding and I am quite stunned how much portable DAPs have evolved of late.
VIII. Frequency Response
With M15 I don't really need to mention a lot about frequency response. Simply because it is straight as a line, it is very extended on both sub-bass and upper treble. It is against those dry and V-shaped sounding sources. M15 possess the deepest bass I've heard in a DAP with the right control and grip. Bass is always layered, it always breathes, it's impactful and it rises my mood level in an instant after pressing on that rounded play button.
Midrange is always natural sounding, velvety like, with deep, soul-reaching voices, having a natural decay of everything. String based instruments and even voices have a really nice vibration, all the voices have a very distinctive pitch and tonality. Midrange is just spot on, it's pleasant and life-like.
Treble is phenomenal, super extended even past top-octave, lots and lots of details can be spotted in there with absolutely zero brightness levels. It is a bit bright sounding at first, but after about 48 to 96 hours those capacitors will be fully burned-in and will be offering smoothness and micro-detail information that even an expensive DAC could envy it.
IX. Comparisons
It was mandatory comparing it with the former flagship so here we go.
FiiO M15 ($1300) VS FiiO M11 PRO ($650)
I will skip all the specs, tech and everything and will just focus on the most important aspect: sound quality.
The truth is that when comparing both, it really depends what exactly is connected to them. If I test only with my IEM collection, then the difference shrinks quite a lot. Both devices have power to spare and both will provide gobs of power even for expensive multi-driver designs. With FH7, M11 PRO is always fast, clean, super articulate, has a wide soundstage, sometime is too clean sounding somehow, very straight as a line, very linear and sometimes sharp sounding. With M15, FH7 is sounding a bit wider, I hear a fuller bottom-end, it slams me harder, midrange is also having more life in it and it brings emotions to the table. Treble is more or less the same on both devices. The clear difference is there, but the transient response is identical on both.
Moving on to portable dynamic headphones and the difference becomes bigger. M15 is not only harder slamming, but has even a better grip over the headphone drivers. The same infinite sub-bass was heard, with a soul-touching midrange, with the right amount of vibration and natural tonality. M11 PRO is a bit shorter when it comes to string and voice vibrations, it is less involving, it is more upfront and not as deep and wide spread. The difference between both devices is becoming bigger.
And when I move to the big boy category driving some desktop planars, then there is really no contest. M15 just kills the M11 PRO on every single aspect. It is wider sounding, deeper, have a much better control, sounds alive, articulate, possesses incredibly dynamics, slams like a hammer. It will even show an additional layer of detail in the bass, midrange and treble. M11 PRO is boring sounding by comparison (only with big cans), shy in dynamics and will have a lesser musical involvement.
So, I tell you again: it depends on the headphone you are listening to. If you wish to remain at IEMs only, then they are close to each other and if you want to use a wider variety of headphones them M15 delivers its best no matter the headphone.
It was also mandatory comparing the M15 with another DAP from another mother, they look almost like twin brothers and here we go.
FiiO M15 ($1300) VS Sony NW-WM1Z ($3200)
Disregarding the huge price difference, all the tech specs and everything, I will move directly to sound performance and before you ask, yes, WM1Z is the volume uncapped version (the best version).
Power wise, there isn't a contest here, only on the balanced out WM1Z can impress a critical listener, otherwise the 3.5mm jack barely can move even my portable headphones. I never understood the design philosophy behind this decision, higher battery life? Give me juicy dynamics any time of the day.
WM1Z is also having a big reserve in capacitance and that can be felt almost immediately, it is moving air fast and it is filling the room with it quite nicely. M15 is just a tad wider sounding, with a bigger presence everywhere, I just feel more sound around me, like a musical mist spreading to my ears. M15 is a bit more involving , it just moves my body and tickles my brain a bit more. WM1Z is impressive in terms of soundstage and depth, so far it was the king in this department and yet, M15 is beating it at its own game.
In terms of tonality, WM1Z feels a little bit weird at first, it's incredible in terms of bass and treble and just OK in the midrange department. It has that V-shaped sound signature that
I adore
so much, Not. M15 is bottomless in the bass, super extended in the treble but also meaty and present in the midrange. M15 feels like a complete package in terms of frequency response, and WM1Z like a very good attempt but still
not quite my tempo
. Detail retrieval is actually incredible on WM1Z, but again, not up there with M15. I hear microdetails on Sony, but I need to close my eyes and be in my Zen state to hear them, with M15 all those are so obvious, I just don't need to be in a Zen state anymore.
When it comes to driving power, M15 is unbeatable and will drive some of the big cans to their fullest. WM1Z can only dream about that, even on the balanced out. There is one thing where WM1Z is the undisputed champion: battery life, it is doubling it compared to M15.
King is dead and long live the new king.
Conclusions
M15 is without a doubt a high-end DAP from any point of view. It is currently having the best technology, the best audio processing power, the biggest battery capacity, the highest driving power, the lowest total harmonic distortion and the list goes on.
M15 is definitely a statement product, feels mostly like a trophy, FiiO did their homework extremely well, they learned from past mistakes and I feel this is their best attempt at revealing and launching a product in the same time. M15 is really a big departure from all their products, even to M11 PRO it feels like a huge leap forward is so many ways.
As a statement product, M15 is not cheap and is not targeted at everyone. If you want only the best no matter the cost, then M15 is right up your alley, it will cost you $1300 but in my honest opinion it delivers more than its cost. As for its competitors from the likes of Sony or A&K, I have only three words for them: watch and learn.
PROS:
Great design, great material selection and attention to detail
Fastest response times of any DAP
Advanced GUI that is easy to use and navigate
Widest soundstage I ever experienced in a DAP, amazing depth and airiness
Great tonal balance across the board
Great Bluetooth codec support
Excellent micro-detail level that is rivaling high-end desktop DACs
Super clean and transparent sounding
The most extended frequency-response
Noise-less headphone out, works great even with sensitive IEMs
Among the fastest transient response in a DAP
CONS:
Still no Google Play Store support
You can never know the exact volume position with it
ASSOCIATED EQUIPMENT:
Sources: Xiaomi Mi9T Pro, Corsair One i160
DACs: Matrix Audio Element X, KECES S, Burson Conductor 3, Audio-GD D28.38
DAPs: FiiO M15, M11 PRO, M11, Sony NW-WM1Z, Shanling Q1
Headphone amps: Benchmark HPA4, Kinki Studio THR-1
IEMs: FiiO FH7, Simgot EN700 Pro, Moondrop Starfield
Wireless headphones: Sennheiser Momentum 3 Wireless, FiiO EH3NC
Portable headphones: Sennheier Momentum 2, Meze 99 Classics
Full-sized headphones: Erzetich Phobos, Hifiman Arya, Quad ERA-1, Sennheiser HD660S
Loudspeakers: KEF LS50W
Interconnects: QED Reference XLR, Aune AL3 XLR
Power Cables: Isotek EVO3 Premier (x2)
Balanced Power Conditioners: PLiXiR Elite BAC 400, KECES BP-600