Item information
Added by
Views

2,319
Comments

4
Reviews

2
Last update
Rating

4.50 star(s)

2 ratings
General Information
Latest reviews
Empire Ears ODIN
Pros
:
Super detailed, Coherent tribrid, Balanced, No coloring of sound
Cons
:
Price, No lip on nozzle
Empire Ears ODIN

ODIN
Bloom Audio
MusicTeck
A Little Technical Stuff:

Specs
1 – Sub-Bass
1 – Bass
2 – Low Mid
2 - Mid
1 – Mid High
2 - High
2 - Ultra High
108 db SPL @ 1kHz
5Hz – 100Khz Frequency Response
3 Ohms @ 1kHz Impedance
-MRSP:
Universal fit $3399.00
Empire Ears, an American company based out of Norcross, Georgia. These guys have a longstanding reputation for their cutting edge technology and sound quality. Owned by Founder and CTO, Dean Vang, and the front-face of the organization, VP Jack Vang, Empire Ears is well-known throughout the audiophile ranks as a significant IEM developer in the IEM industry.
I am featuring the long-awaited TOTL release from Empire Ears, The ODIN. I want to thank Dean and Jack for allowing me to have one of the first units in the wild for review. Humble thanks!
Empire Ears ODIN is a TOTL Tribrid IEM. Empire Ears being no stranger to Audio Rabbit Hole as I have reviewed two of their previous TOTL releases,
Zeus XR
and
Legend X
.
The Zeus XR set the standard in transparency and resolution, and the Legend X as their audiophile bass focused offering. Both are technical marvels and are at the Master level in their class.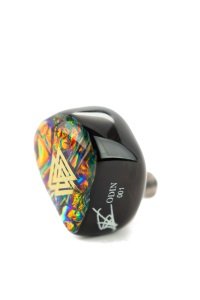 When Jack asked if I would like to write a review for the new TOTL release, the ODIN, I was excited to hear it and, of course, agreed.
The Vang's released a couple of TOTL IEM's the prior year, the Valkyrie and Wraith. I took a break from Empire Ears, and while Jack and I have always had passing conversations, I took a pass on these two offerings, skipped a year. I believe it is good to do that sometime, walk away from a brand that I have reviewed a couple of times so that I am not only reviewing those brands and thus showing favor.
I am selective in the amount of product I take on to review. It is a lot of effort if done correctly. I have had much encouragement to go the YouTube route, and I just don't have the desire. To be very honest, I used to turn down so many products that many companies have stopped asking, first world problem I know. I am not sure how long my desire to write reviews will last. Audio Rabbit Hole has provided me my own; no holds barred, review at my pace site. When a hobby interferes with "real " life, then it becomes a problem.
The ODIN has been discussed for a long time and has been on the workbench longer. It comes at a time when the exorbitant prices have become King. I am fortunate to be able to position my self to hear, own, and sell many of the latest offerings. However, the majority of consumers aren't as fortunate. It requires lifestyle changes, saving up, and selling items to make the latest and greatest purchase. I genuinely feel bad for the individuals that don't have an opportunity to even try this out before purchasing. A blind purchase of $3399 is a massive leap of faith in a brand. It is a leap that not many take. It is the Audio Rabbit Hole, and we all succumb to it but at different levels.
What can you expect for your price of admission? We will check out the ODIN and let you know what your ticket buys you. I introduced the ODIN here
ODIN Introduction
and posted my "reviewer's notes" here
ODIN Initial Thoughts
Let's take a more in-depth look at this TOTL offering from Empire Ears. I will say this is the best all-around Empire Ears IEM that I have heard. It is only my third, but as previously stated, this is the third TOTL from the boys from Norcross.
A little food for thought. I would encourage consumers to spend their fist full of cash on the companies that are spending the finances and time on developing and utilizing new tech. Many companies, shamelessly "borrow" tech and wrap it in a pretty facade and sell it. There is no R&D; there is a limited investment. It is like paint by numbers, not creating your art on a blank canvas. If you are an art lover, do you purchase the color by numbers painting, or do you buy the Bob Ross original? God rest his soul.
A Little Marketing Hype word by word from their site:

THE END GAME
The universe needs icons. Those extraordinary few that stand clear of the rest. For these individuals who inspire greatness, only the purest formulation of Empire Ears will do. An icon like no other. A IEM that stands alone - so superlative as to be named after the god of wisdom, poetry, death, divination and magic. Odin has arrived. Its beauty leaves no room for doubt. Its power cannot be reasoned with.
Unquestionably, Odin sits at the pinnacle of the Empire Ears bloodline as our most legendary flagship in-ear monitor ever.
PURSUING EXTRAORDINARY
"ODIN is designed to make the most of every moment each listener spends in its company, promising instants of sheer listening euphoria. While conventional IEMs focus on simply reproducing sound, ODIN authoritatively delivers the exacting emotion of every nuance recorded through its extraordinary 5Hz-100kHz frequency response range. These inspirational, dreamlike moments are made possible by the utilization of the three best IEM driver technologies currently available, the most advanced crossover system in the industry, the most potent components we could possibly get our hands on and the masterful tuning by our founder, my father and CTO, Dean Vang.
ODIN is the personification of Empire's DNA at its most extreme - in design, performance and breadth of capabilities. ODIN rediscovers the true meaning of engagement between listener and IEM."
Jack Vang
VP of Empire Ears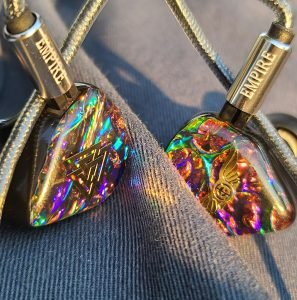 A TRINITY IN UNITY
ODIN is the most powerful and exclusive IEM in Empire's history. Boasting three of the industry's most advanced driver technologies, ODIN is truly a standout tribrid flagship IEM with an uncompromising performance ethos focused on delivering the purest connection between listener and IEM.
Dual W9+ Subwoofers - Sub Bass, Bass
Our signature W9+ dynamic driver brought serious performance to the IEM world by combining the breakthrough of an enclosed woofer in a tuned bass-reflex system. Elevating the W9 design formula to its highest level, the W9+ boasts a larger internal coil diameter, more linear excursion envelope along with a more capable suspension to handle peak-to-peak excursion while mitigating distortion. W9+ extinguishes any limits the previous design had and delivers unparalleled bass on all fronts.
Five Precision Balanced Armature Drivers - Low Mid, Low Mid, Mid, Mid, Mid High
ODIN comes equipped with 5 proprietary balanced armature drivers to deliver the signature midrange that the world has come to know and love from Empire Ears.
Four Electrostatic Drivers - High, High, Ultra High, Ultra High
ODIN masterfully manipulates quadruple electrostatic drivers in unison with our proprietary EIVEC technology to effortlessly reproduce a remarkable 5Hz-iookHz frequency range. The ultralight moving membrane within Odin's electrostatic drivers give the most accurate transient response, resulting in unparalleled clarity, separation and detail.
synX: Legendary Crossover Network
Genetically dissimilar from the rest of the IEM world, our synX crossover network truly stands out with countless bespoke methods and technologies protecting it as a unique masterpiece. A marriage of 3 different driver technologies become symphonized by a unique, proprietary 7-way synX crossover network designed to maximize performance from each and every driver.
EIVEC: Mastering the Electrostatics
The lightning-quick electrostatic drivers accommodates ODIN's wide frequency range while remaining balanced and compact. A single bespoke transformer unites the quadruple electrostats via our proprietary EIVEC technology to all of the other components while eliminating any signs of phase incoherence and distortion.
ARC: Resonance Mitigation Technology
ARC (Anti-Resonance Compound) is a proprietary conformal coating that virtually eliminates unwanted vibrations and resonance from within IEMs. ARC effectively increases the mass of the components it's applied to: every driver, crossover, and sound tube. This gives the internals more solidity while serving as a dampener to absorb the unwanted resonance instead of reflecting them out of phase. With A.R.C. clarity is increased substantially, bass is deeper, and the IEM becomes more efficient.
WHAT'S IN THE BOX:
I usually write this portion out. I figured this review; I might as well show you. Empire Ears were doing a limited release that they titled the Founder's Edition and then the standard retail version. My unit is a hybrid of the two. The significant difference between the two different sets is, the Empire Ears Team autographs the packaging, Dean's signature is on the IEM shell, and there is a numbered plaque, showing you what serial number you have. Thus the Founder's Edition. There is no difference in the case, IEM, or cable, only the items I highlighted. Below see the photos.


Unboxing and Accessories:
One word, Premium. Empire Ears always has a premium feel with the packaging and pack-ins. There are times I feel like I don't need stickers, wiping cloths, and the regalia. This time I felt good with it, it is a money's worth thing, I guess. It is a lovely package. Premium.
The ODIN, being Universal fit only at this time, does include a compliment of Final E tips. A logo-emblazoned wiping cloth. A metal, pill type, round canister with the Empire wings, the word ODIN and Empire is adorning the lid of the canister. Two stickers, one that has the 2-E's and another with the wings and Empire, are written on it. Usage pamphlet and a card with Dean Vang's photo and a quote letting you know the effort he put into his Labor of Love.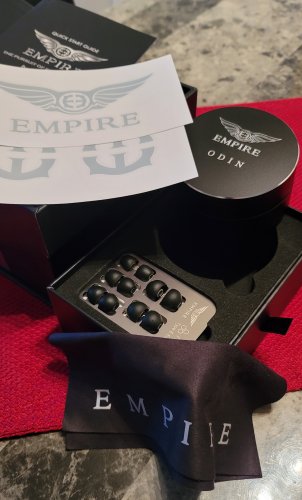 Since this is a Universal model, it includes a package of Final Audio "E" type tips. A Custom design would not need the eartips.
The other items in the package include the IEM themselves, with their Bifrost faceplate and the Stormbreaker cable. I will touch on the IEM in the section below, but I would like to touch on the Stormbreaker cable a little bit.
The stock cable, named Stormbreaker, is a Top Tier cable, valued at $1299 for the cable alone. For the
The first time, Empire Ears collaborated with bespoke cable manufacturer PWAudio and PENTACONN of Japan to manufacture the cable for the Odin. It is a handcrafted cable comprised of a proprietary USA-sourced OCC Copper Litz configured in a quad conductor, dual gauge design wrapped in an elegant black carbon jacket.
Stormbreaker is standard equipped with a CNC silver Valknut y-split featuring a .78 2-pin
connector with a 2.5mm balanced termination. 2.5 to 3.5mm & 4.4mm Empire adapters are
available. The cable is a Dual Wire UPOCC Litz Copper, with a 26AWG/24AWG Dual Gauge Quad Connector.
I love the black carbon jacket and the look of the cable. It feels durable, and those familiar with the PW Audio 1960 cable will feel right at home.
The Stormbreaker is a much better stock cable than the Ares II that was stock with the Legend X. Worthy of a TOTL package such as ODIN.
Build Quality and Fit:
My Universal ODIN came in emblazoned with a black shell and the new Bifröst faceplate. Bifröst is an ultra-exclusive, one-of-a-kind faceplate designed to optically simulate the mythical rainbow bridge between Midgard and Asgard, the realm of the gods. The Bifröst features nine individual polymer layers in three proprietary lamination steps, and each lamination is unique in its ability to filter and reflect specific wavelengths of light. This results in a faceplate that will produce breathtaking color transitions as the viewing angle changes --literally shifting before your very eye.
The Bifröst is masterfully handcrafted in the USA by an award-winning chemist that currently
holds two patents in polymer science for high solids coating chemistry.
That is more than you ever wanted to know about a faceplate. I do want to say this design is FIRE! I have seen multiple ODIN's and each looks unique. It is truly a showpiece and one of the most stunning stock, non-custom designs I have seen.
The shells are large, and I could see where they could be annoying in small ears. I had no problems, as the fit is better in my ears than the Legend X. YMMV and probably will. The nozzles are short, and I have issues with the stock Final E tips staying in place on the nozzle, I find myself digging them out of my ears after they are a little slick from wax, Ewww.
The ODIN is not immune to driver flex. The crinkling sound you hear when you are inserting the ODIN is driver flex. While this won't damage your IEM, it is present.
Empire Ears, this is the third review I have written on Empire Ears product, and the third time I have mentioned, put a lip on the nozzle. Many consumers enjoy custom tips on Universals, and this is not going to happen with your nozzle design. After I spend some seasoning time, I enjoy tip rolling, and there are vast options, just not that I can use with your IEM's. It is limiting, it is a $3399 IEM, and I don't want to be limited.
The build quality is superb. There are no blemishes, and the faceplate and shell seams are smooth and seamless, except, of course, for the color change.
Review Set-up:
I want to touch on some seasoning and review set-up methodology.
Whether you believe in seasoning(burn-in) or not is your prerogative. That said, if a manufacturer recommends it, what is the problem with following the recommendation? One would think for $3399, you would want to achieve the best results.
For the most part, the days of manufacturers providing a cheap Plastics1 cable are a memory. I always ask the developer, what cables and tips they utilized to tune the IEM, and I listen with those items, at least through my seasoning time frame.
In the case of ODIN, the IEM is tuned with the included Final E tips and the Stormbreaker cable. I listen to this and write my review based on stock.
Aside from the tuning aspect, not everyone that purchases an IEM is going to have the same ear tips or the same cables as I do. However, if you are buying an ODIN, you will have Final E tips and a Stormbreaker. Therefore, it truly doesn't make much sense to use other eartips or cables when seasoning or writing a review without hearing the pack-ins. I want to be able to clearly state what you can expect to hear with the price of admission.
The review is written utilizing multiple sources. Astell & Kern SP2000, Lotoo Paw Gold Touch, QA361, Samsung S20 Ultra, and Samsung Note 20 Ultra with an iBasso DC01 DAC.
Moving on to the sound section….
I have been rather vocal about quick listen to impressions, so I waited to write my full review but posted initial impressions or reviewer's notes. My initial reviewer notes and out of the box impressions generally morph in the case of Dynamic Drivers and Estats. I will show you some of my initial impressions and where we are today after close to 100 hours.
+ Nailed balance and coherency, not lacking sub-bass
+ Not sub-bass that tickles your inner ear, not molar rattling, quantity and quality are balanced and top-notch, not lacking, no bass cannon, all bass frequencies distinguishable
+ Very wide stage, deep stage, above average, not largest, some holographic properties on good quality recordings, accurate stage for so much air
+ Not forgiving of low-quality tracks, no cover-up
+ Present mids, pleasant forwardness, details in mids, natural tonality (X like)
+ Easily driven, no hiss on SP2000, more volume sound swells
+ Coherency has to be discussed with a Tribrid and can improve with seasoning, ODIN has excellent synergy, so I am expecting more with time.
+ Non-offensive treble, not harsh, clarity not sharp, nuances
+ Goosebumps with Southern Avenue, female vocals
+ The Rippingtons Lost Highway, rumble bass deep, impactful, déjà vu to X
That was then, and this is now;
The ODIN is a balanced listen. The balance is across the board, meaning as the drivers settle down, there is not any frequency that shows coloration. If I were to share what frequency has more of an attention grab, I would say the mids. Zeus lovers will love the clarity and resolution that you hear throughout the entire range. Legend X lovers will love the deep rumble that is present; if it exists in your track, you are enjoying. The overall signature is founded on its layering, air, and transparency. As we delve into the frequencies, it is essential to understand that this IEM has Empire Ears triplet DNA. Wraith(based on reading), Zeus, and Legend X. The ODIN is not a smooth, warm listen such as an EarSonics EM10. It is an attention grab. While it grabs your attention, it isn't fatiguing or sterile or clinical. Those traits lean towards a dry and uninteresting listen. I know that I have also encountered IEM's, which gave the brain detail overload. The ODIN has balance, so the nuances and detail are just an essential part of the landscape.
Dean Vang did an excellent job tuning the ODIN. He walked a fine line between natural and analytical. This IEM falls to the side of natural and delivers its tone in a dynamic and precise manner.
The ODIN is not necessarily a genre-specific IEM. One reason for this is the fact that ODIN can dig into a track and extract all frequencies. From Infected Mushroom to Hiromi, all music is realistically rendered.
Does the ODIN need power, no? Does the ODIN scale with proper gear and power, oh yes. I found the power assisted the stage, and brought out the best in those monster w9+'es for bass delivery.
The stage is wide and deep and showcases some holographic floating of notes. As time has passed, the stage has opened up to reveal even more potential than out of the box. The stage is one of the biggest I have heard, which places it above average when compared to other TOTL offerings. There were swirling notes at times when listening to Pink Floyd Animals, nothin like flying Pigs on the wing.
Tears in Heaven, Unplugged shows a Clapton guitar plucking front and center with his vocals about two rows back and his background vocalists placed to the rear of Eric. That is the precision you can expect to have that level of pinpoint accuracy. On that specific song, his vocals are a tad recessed, and some male vocals appear as such, not all-male vocal tracks, only on some recordings.
With the copious amounts of air and transparency, the space around instruments and the notes they play is very apparent. The air lends itself to the precision and visualization of the placement of the musicians on the stage.
I am moving to the treble of the ODIN. I want to preface this by saying I have not had great experiences in the past with estats. They were either incoherent or sharp and honky. I remember one estat IEM where the treble appeared on its island as if it belonged in its own shell, is not the case with the ODIN.
I will touch on coherency later, but the treble has a synergy that lends itself to the overall balance. The treble is delivered by four Electrostatic Drivers - high, high, ultra-high, ultra-high. It extends to the fringe with a clear sparkle. The treble was superb from any source. Regarding harshness or sibilance, the ODIN will reveal the song as it is. If the quality of the file is poor and biased toward harsh, the ODIN will not correct that, nor should it. On the Dire Straits song Sultans of Swing, the cymbals can sometimes be offensive and not have natural decay or tonality. Odin delivers the most natural tone and decay to those cymbals I have encountered.
Bass is potentially the frequency that most folks were awaiting impressions. After the Legend X came out with its thunderous W9 drivers, consumers were hoping for an IEM with that bass quantity but the transparency and clarity of the Zeus. While I don't consider myself a basshead, I loved the heavy bass of the Legend X. It did tame down with a lot of seasoning and became more balanced, but its quality was superb while the quantity may have remained too much for some. Not to be redundant, but it is vital with the description of all of these frequencies to repeat, season your drivers.
The bass is delivered by dual W9+ Subwoofers, which represent the Sub Bass and all other Bass regions. The dual W9+ probably conjures a vision of Legend X V.2, but the amount of control and restraint that these have been tuned with is impressive. These drivers can rumble, and do when that sub-bass frequency appears in the track. The bass of ODIN will not color any of your tracks. If it is in the song, it is in your ears, with snap in the mid to upper bass and a guttural rumble in the sub. None of this bleeds into the mids, and the quality takes the Legend X and kicks it up a notch.
Control in the bass is the name of ODIN's bass. I do not listen to enough classical, but for those of you that do, you are in for a real treat. All of your bass and percussion instruments are represented. Infected Mushroom Nothing to Say will give you a bass quantity representation that will make you smile when listening to EDM. Enough on quantity, I think everyone knows with dual W9+ drivers there will be more than enough presence.
The quality of the bass is difficult to match. The air I discussed previously is not just relegated to the treble and mids. The quality of the bass will deliver the goods without lacking in air, layering, and transparency. Details abound in the bass regions, fantastic tuning. This speed becomes very apparent with an almost perfect decay, to my tastes. Power, details and snap, sums up the bass.
On to the last frequency;
Out of the gate, I encountered some upper mid and lower treble lift and forwardness. I can't recall the track, but it wasn't fun. I can be easily offended by upper mids that are too forward. During my critical listening phase, this got my attention, and I stayed focus on this. Fortunately, I never encountered that again. It is one of the faults of not allowing proper seasoning time and posting quick impressions.
Mids are the final part of this signature. They are also urgently crucial in the overall coherency. The mids are delivered by, 5 BA drivers in a two low mid, two mid, and one mid-high configuration. The mids, while presented forward with the one track, pre-seasoning. I feel the mids, on the whole, have a slightly recessed feel. I think this is to provide balance throughout, with W9+'es on one end and Estats on the other. Knowing there is a lift in the upper mid-range and with the lower mids providing the fullness, filling in spaces, if the centric mids were too forward, it could create a sound overload(jumbling), and the potential loss of transparency. There is not mid recession equal to a V-shaped IEM, but there is a slight pullback.
All of the above mid talk here kind of comes off as unfavorable, but on the contrary, there is enough detail and layering that it exposes all areas of the mid-range due to how detailed the sound is. I review, and I focus on critical listening. I found listening to ODIN, I enjoyed taking a break from being critical just to enjoy music, and the mids were a significant part of the reason. If you enjoy the Zeus, the mids of ODIN will not let you down. It is the mids that provide enjoyment to a release such as CSN&Y, Déjà vu. The mids as a complete range are well thought out. With ODIN, it is clear that there are lower mids, center, and upper mids. I am blown away by the detail throughout.
The ODIN sticks the landing with regards to coherency. To be a tribrid, three different driver types, and have the synergy and the ability to sync at this level is a testament to the time and tech inside the shell. ODIN features a 7-way crossover system that Empire Ears claims are unique to their brand. They call it their synx crossover network, and it is designed to maximize every driver. One of the largest culprits of incoherency, the Estat highs, utilizes a single transformer to unite the quad electrostatic drivers. Empire Ears calls this tech, EIVEC.
I want to mention a couple of albums that don't generally appear as reviewer's playlist tracks as a rule. If you have not heard the entire release of Little Feat, Waiting For Columbus, it is my favorite Live album. ODIN creates and experience with this album, and will showcase the staging and air that can be in a live release.
Southern Avenue and their Freshman release Southern Avenue, showcase the raw power of the female vocals. With their rockin', bluesy, R&B feel, I had the hair on my arms rise when I gave the ODIN power, a come to Jesus moment.
Ear Tips
I have kept this review stock, meaning no tip rolling, no cable rolling. I would like to add to the sound section of this review that I still have not cable rolled, so sorry I can't help you with that, but I have begun tip rolling. There are so many variables when ear tip rolling. You could write 1/3 of the review on nuances in the sound with all of the variations.
I have become quite accustomed to the narrow bore, stock, Final E tips. I already know that the sound quality kicks butt with them. One of the more popular brands of ear tips available today is the Azla Sedna line. They have a myriad of different sizes and styles available.
For the sake of writing too much, I generally use L tips, with some of the Sedna tips I use ML. I want to mention that the Sedna tips are an acceptable option for ODIN. The ODIN has five sound tubes, and if you look at the narrow bore Final E tips, you can see that the sound will be constricted, and the ear tip forces the sound to narrow and exit through a narrow bore. The Sedna tips are all wide bore tips, and therefore there is a clear path between sound tubes and exit hole. Again, the Final E tips were the tip used when the ODIN was tuned.
I have tried the Sedna Earfit Xelastic, the OG Sedna, and the Sedna Earfit Light Short. With the Xeleastic tips, I have to step down a size to the ML, but the others I can use the large.
Listening to the wonderfully produced pop artist Dua Lipa and Don't Start Now, to compare the tips, I wanted to offer up some thoughts. The OG Sedna appears to create a larger bass experience, featuring more rumble and impact.
The Earfit Lights have a touch less bass impact and rumble.
The Xelastic tips delivered the most bass. The mids and treble for all of the tips were, for the most part, did not display change.
I could see myself swapping between the different tips depending on whether I was having a specific genre-specific marathon for the day. All of the Sedna tips stayed in place on the nozzle. I did not find myself in a fishing expedition to retrieve a tip from my ear.
Pairings
I have found that the ODIN pairs well with any of the sources that I tested the ODIN. Knowing that the signature is detailed and transparent with an upper mid-lift, it would probably be best for the listener to avoid a brighter source. For a tribrid IEM, it is easy to drive at 3 Ohms, although my preference is to generally use the 2.5mm balanced output of most of my sources, which is usually going to provide plenty of power for most IEM's.
The ODIN scales so well with the power. The A&K SP2000 was one of my favorite pairings and the ability to showcase the stage at its widest and provide a smoother signature. The A&K delivers such a quality tone and timbre that I haven't found any odd pairings. No Hiss, black background, holographic
The QA361 delivers a high level, almost desktop quality sound. It also provided an incredible stage but wasn't my favorite because, with the ODIN, it erred on the side of bright. ODIN with its non-colored sound and the QA361 would be a fine choice if it was your reference DAP, and you did not have others. No hiss, black background, holographic
Finally, I listened with the Lotoo Paw Gold Touch. Between the LPGT and the SP2K, you could almost flip a coin, one having a more natural delivery and the LPGT being more reference. Same broad stage, the bass was a bit more punchy than the SP2K. I think this would come down to preference, and you can't go wrong with either. No hiss, black background, holographic.
Comparisons

Legend X
ODIN has Legend X DNA. Keep in mind, my X was well-seasoned, and my review was one year after I received it, much to Jack's chagrin, and I found it to become more balanced. The stage of the ODIN is wider and more holographic. Where the upper mids of the ODIN are more forward, the X is more pulled back and smooth. The bass of ODIN does share some characteristics. While the X bass is always apparent, the ODIN rumbles when called upon, without the coloration. The bass is more detailed in the ODIN, showcasing its layering and texture. The overall signature of the ODIN is more balanced and detailed. The X has an extension in the treble on edge. ODIN is more reference while the X is more colored. Either of these IEMs is technically the best at their respective talents. If you owned both, you would have all of your musical moods covered.
Vision Ears Erlkonig
I don't want to make this comparison, mainly because it is difficult, because we are talking about two King's of the Hill. I know people are waiting for it, so here it is. I won't pick a favorite; draw your conclusions. I will say I am leaving for 10-day support for work, and both will be going with me. I also want to say that I would think that Empire Ears would respect the Erlkonig, and if VE has heard ODIN, there would be mutual respect.
Erlkonig has 13 BA drivers, four for bass, four for midrange, four for treble, and a 'super' tweeter. It appears with each Erlkonig built; there is a temporary driver shortage. It has a 5-way crossover and a 105dB sensitivity with a 16ohm impedance. Erlkonig is somewhere near 1K more in price, and has been discontinued.
Erlkonig has safe tuning, and there is no sleight of hand tricks to their tuning. It is a straight-up BA. There are four adjustable tuning settings, and I always have used the #2 setting. All of my comments are going to use that setting, or I will be here another day's worth of writing and comparing each setting. Erlkonig has control throughout its entire range, the bass is detailed and rich, while the ODIN has better snap and layering, with more air separating the bass frequencies. The Erlkonig sucks you into the music with its seamless and natural ease. The ODIN sucks you in waiting for the next bit of detail or nuance to be heard.
The Erlkonig has one of the most pleasant midranges I have encountered. I do give Vision Ears credit; they know midrange. The ODIN midrange has the upper range lift, but it is balanced across the signature.
Erlkonig has more color to its signature, but delivers the details and in a different fashion and isn't lacking. Both are technical giants. I would expect a high level of coherence with a straight BA set-up, but it is 13 drivers. ODIN isn't far off in its driver count and utilizes more crossovers. Its synergy is impressive.
I do know if I was only able to have one which one it would be, but fortunately, I am not there yet.
I posted a photo of Erlkonig and ODIN in the same image on Head-Fi, and one reader said that it is a car purchase in that photo. I chuckled and then thought there is truth in that statement, but I ain't never seen a Brink's truck following a hearse, or as one of my favorite YouTube reviewers says, "Who wants to be the wealthiest guy in the Graveyard?
You might want to own this IEM if:

+ You want Incredible balance with proper seasoning

+ You prefer a transparent, detailed signature that rumbles when called upon

+ You want some the of the most refined tuning and coherency available

+ You want TOTL technical abilities

In Closing
Folks, this is the most extended review I have ever written. I am sorry for that; my methodology is generally between 3 and 4K words; this one is closer to 6K.
I don't cable roll, so if you are looking for that, it isn't going to happen. I use cables for the comfort of ergonomics. Not saying I don't get the benefits of specific pairings, but it isn't my thing.
I skipped a year with Empire Ears and was really excited to review their newest TOTL.
ODIN is a technical marvel, with its tribrid design, and it never skips a beat in its coherency.
There is an immense amount of transparency, layering, and detail throughout the entire spectrum. The sub-bass is rumbly and yet still has a snap in the mid-bass. The treble has a natural decay hearing cymbals crashing with the highest level of realism I have encountered.
The Bifröst faceplate is on FIRE; it is the most striking looking stock design I have owned. The autographs from Dean and Jack make for a personalized experience.
The Stormbreaker cable is a $1299 stock offering, and while the total package weighs in at a seriously heavy $3399, it is nice to see you are receiving expensive upgrades for your money.
This is my favorite Empire Ears IEM, and that is saying a lot considering the Legend X held that distinction since release.
Last edited:
The Mashup of Greatest Hits!
Pros
:
Tribrid design with 2DD W9+ woofers, 5BAs, and 4 ESTs, balanced sig with a natural reference tonality, holographic soundstage, exclusive faceplate design, bespoke PWA 1960 cable.
Cons
:
Price, driver flex (DD).
---
The product was provided to me free of charge for the review purpose in exchange for my honest opinion. The review was originally posted on my review
site
, and now I would like to share it with my readers on Head-fi.
Manufacturer website:
Empire Ears
.
---
Intro.
What does
Stormbreaker
,
Bifrost
, and
Valknut
have in common? If you are a fan of Marvel movies, you will probably recall
The Avengers Endgame
and the universe around thunder-God
Thor
. If you are a fan of Empire Ears, all these references come together in the design of their latest flagship
ODIN
, named after the prominent one-eyed God of Norse Mythology. Ironically, there has been so much anticipation and so little details about ODIN, that some people started to question this release as being a myth. But now, it is finally here. The dynamic father-son duo of Dean and Jack did take their time to perfect the design and the tuning, and when I started listening to ODIN it felt like they captured the best ideas of previous EE flagships in one.
While it is not uncommon for EE to be creative with IEM names, here the symbolism behind every
Norse Mythology
theme reference has a special meaning.
Stormbreaker
- the included bespoke PWA 1960 cable as one of the secret weapons of the design.
Bifrost
- the exclusive multi-layered faceplate design which looks like the mythological rainbow that connects Asgard (world of Gods) and Midgard (world of Humans).
Valknut
- the symbol of 3 interlocking triangles used in the faceplate artwork and y-split which could refer to a tribrid design of three types of DD, BA, and ESTAT drivers. And all this is combined under a name of the highest of all Norse Gods –
ODIN
.
Reading about the legends of Norse Mythology is entertaining, and so does watching Marvel movies that smashed a lot of box office records. But, will Empire Ears ODIN flagship tribrid IEM live up to its legendary mythological name? Let's find out in the following review.
Unboxing and Accessories.
It looks like ODIN arrived in exactly the same premium packaging as I have found during unboxing of Wraith. It's not the most extravagant packaging, but it still creates a pleasant unboxing experience with a premium touch. Dressed in an elegant white "tuxedo" with a silver-wings bowtie, the exterior cardboard sleeve and the box underneath feature Empire name and logo at the top. The sleeve also had ODIN name and signatures of both Dean and Jack, but signature will be only featured on a handful of early releases, referred to as "founders edition". Under the magnetic flip cover, you will find IEM shells placed securely in a foam cutout with Stormbreaker PWA cable snaked around them, and a small thick cardboard "Thank You" card. The rest of accessories are underneath in a slide out drawer which you access from the side. This was an unboxing experience typical of opening a jewelry box.
The accessories include a puck-shaped metal round storage case with a threaded top and a rubber lining. The top had laser etched Empire logo and name, along with ODIN model name. While the case is not exactly pocket friendly, it will make one heck of a cool paperweight on your desk. Also, included were a set of premium Final Type-E eartips (SS, S, M, L, LL) in a metal holder, branded with both Empire and Final logos. Furthermore, there was a cleaning tool, a cleaning cloth, and two sets of cool EE stickers.
Cable.
Named after Thor's secret weapon, his enchanted axe,
Stormbreaker
cable is a bespoke brand name PWA 1960 2-wire cable with
4-conductor
design. This is actually a well-known popular cable by Peter Wong (
P
eter
W
ong
A
udio), and this particular exclusive Stormbreaker version ($1,299 retail value) was customized specifically for ODIN.
The cable uses 26AWG wires and FEP jacket for a positive signal and 24AWG thicker wires and PVC jacket for a negative signal. The wires are insulated and combined under a tightly braided black carbon fiber sleeving which has a nice touch and still feels very flexible. Don't expect a see-through jacket which exposes every string of the wire. This cable is not about pretty looks but a performance, using UPOCC Litz Copper premium wires presumably sourced from Cardas.
Since positive and negative signal wires are combined under the same sleeve, you can only see Left and Right wires, thus a name of 2-wire cable, but underneath you have 2 separate conductors on each side. The cable I received has a plug with 2.5mm TRRS balanced termination with a heatshrink for enhanced grip. Actually, on the packaging box I saw a checkbox with 2.5mm and 3.5mm, so I assume you can order 3.5mm terminated cable as well. Connectors are standard 2pin 0.78mm, with Empyre name and corresponding L/R marking. Also, the earhook portion of the cable has a pre-shaped clear sleeve, for comfortable and secure fit without a need of memory wire.
But the visual highlight of the cable is a silver Valknut y-split and a small silver chin slider. The y-split 3 interlocking Valknut triangles were custom made by PENTACONN, which apparently makes more than just 4.4mm plugs.
And if you have a source with other than 2.5mm balanced jack, EE also offers an optional 2.5mm to 4.4mm and to 3.5mm adapters. Despite their DIYish look, these are high quality PWA built adapters, and 2.5mm to 4.4mm one I received with review sample was quite transparent in comparison to some of my other adapters that color the sound.
Design.
Similar to Wraith, ODIN features
11 drivers
, but this is a tri-hybrid (tribrid) design with 2DDs, 5BAs, and 4ESTs. On paper it does look like a combination of Wraith and Legend X:
2x DD W9+ drivers (sub-bass and bass)
2x BA low-mid drivers
2x BA mid drivers
1x BA mid-high driver
2x EST high drivers
2x EST ultra-high drivers
But there are some noticeable changes. 9mm Dynamic Driver, referred to as W9+ (Weapon IX+) has been updated and noted by "+" suffix. This enclosed woofer in a tuned bass-reflex system now boasts a larger internal coil diameter to improve its sound performance. The 5BAs are proprietary drivers, and Sonion quad EST drivers are the
next gen
update with a different tuning and all new
single transformer
design. Abbreviated as EIVEC (Empire Intelligent Variable Electrostatic Control), this single transformer is designed to drive efficiently four EST drivers.
Another change in the design is all new
synX
crossover with
7-way
Crossover Network designed specifically to handle tribrid combination of drivers in ODIN design. The main function of ODIN synX is to control and to balance the frequency response of all 11 drivers, keeping the tuning of DD/BA/EST in a coherent unison.
Last, but not least, is A.R.C. resonance control tech, utilized in all EE iems. Its initials stand for Anti-Resonance Compound which is a proprietary coating that eliminates unwanted vibrations and resonance within IEM. Basically, this compound serves as a dampener to absorb the unwanted resonance.
With all this tech and 11 drivers, including 2 dynamic and quad EST with a separate transformer, ODIN shell size is still relatively compact for universal design. The acrylic shell material is smooth, the short nozzle slightly flares out at the top for a better grip with eartips, and you have 5-bore opening at the tip of the nozzle for separate sound tubes. Similar to what I have seen in Legend X with its dual W9 drivers, here you can also find 3-pinhole vent on the side of the shell. And also, similar to LX, expect a driver flex (pop) when you put these in your ears.
But the highlight of the shell design is
Bifrost
faceplate, exclusive to ODIN. According to EE, to optically simulate the mythological rainbow between Asgard and Midgard, Bifrost faceplate features nine individual polymer layers built in three proprietary lamination steps. The visual multi-layered effect is beautiful and does look 3D. On top of that, right shell features artwork of Empire golden wings and left shell features Valknut 3 interlocking triangles symbol associated with ODIN, the same matching symbol as in y-split of the cable.
I tried to capture the artwork of the faceplate in pictures, the best I can. But I still think it looks a lot better in person.
The fit.
Sound Analysis.
I analyzed ODIN sound performance paired up with P6 and LPGT while playing a variety of test tracks, such as Agnes Obel "The curse", Sandro Cavazza "So much better" (Avicii remix), C-Bool "Never go away", Ed Sheeran "Shape of you", Alan Walker "Darkside", Galantis "Hunter", Iggy Azalea "Black widow", Indila "Boite en argent", Dua Lipa "Love again", Counting Crows "Big yellow taxi", David Elias "Vision of her", and Michael Jackson "Dirty Diana". With two DD sub-woofers, I gave ODIN plenty of burn in time, and started analyzing the sound after about 100hrs of standalone playback. I used AZLA Sedna eartips in this analysis.
I hear ODIN to have a balanced signature with a natural reference tonality. The reference part of the tonality comes from a high level of clarity, resolution, and detail retrieval down to micro-detail nuances with a little more focus on mids. The sound is dynamic and layered with plenty of air between the layers, separating instruments and vocals to distinguish every small element in sound. The natural part of the tonality comes from a precise tuning of upper mids/lower treble peaks to avoid analytical harshness.
Basically, the naturalness of the sound doesn't come from organic smoothness. ODIN mids are tuned to reveal details, not to smooth it out, but it is done in a very precise and controlled way without a single offensive peak. And on top of that, you have dynamic bass slam, tight and fast, well controlled and layered, noticeable but not overwhelming like in Legend X. It has a similar bass quality from the extended sub-bass rumble to a rounded mid-bass punch, but with a more linear tuning relative to mids and treble, making the overall sound signature more balanced and more coherent.
Soundstage is very spacious, reaching holographic level with a very wide left/right spread. Obviously, it will be source dependent on how wide the soundstage will spread, but the actual tuning of ODIN will not be a bottleneck when it comes to holographic soundstage expansion. And the same with the sound imaging, going along with holographic soundstage expansion, you will find a very accurate positioning of instruments and vocals in space. It is not just convincing, but actually very accurate in my opinion, allowing you to pin-point every element in 3D space.
Starting with bass, despite being "weaponized" with two Weapon IX+ (W9+) dynamic driver sub-woofers, the bass has impact and extension of dynamic driver, but surprisingly a tighter and more articulate control closer to BA performance. Sub-bass extends down to a deep rumble, elevated but not overwhelming. And the same with mid-bass impact, being strong, rounded but not overwhelming, definitely above neutral. This is not L-shaped tuning like in Legend X. The bass has power, but it is tuned for audiophile "bassheads" who want to hear and to feel the bass without losing the focus on microdetails of mids or sparkle of treble. Also, tip rolling had a noticeable impact, no pun intended, on scaling of the bass quantity.
Mids are revealing, layered, well separated, and micro-detailed. Lower mids are just a touch north of neutral, still contributing to the body of instruments and vocals, and making sure the transition from bass to mids is more linear. Upper mids are revealing and a little forward, but in a more natural way. As I already mentioned, don't expect smooth warm mids/vocals. Instead, I find them to be more reference and colder, but they are not dry, quite micro-detailed and layered with a focus on every little nuance in sound, reminding me
a lot
of the original Zeus and how well mids were tuned in that IEM.
Treble is something I was worried about when I approached ODIN. With the same quad-EST config as Wraith, recently I rediscovered Wraith treble after pairing up with some powerful sources to make it shine (otherwise it was tamed down). In ODIN, treble comes alive without a need for a powerful source. You can enjoy the well-defined natural sparkle of extended moderately airy ODIN treble from any source. And I didn't sense any sibilance or harshness no matter what tracks I threw at it. The tuning is not forgiving, and ODIN is not going to smooth out or mask imperfections, but I also found it didn't accentuate any harshness or sibilance either.
The tuning of ODIN works well with every genre of the music, no matter what I tried to challenge it with – these IEMs were able to keep up with everything.
Eartips selection.
Regardless of ODIN being universal IEM design, the selection of eartips is crucial to any in-ear monitor and will affect the sound, especially the bass impact depending on the seal. Due to a large opening of my earcanals, I usually go for the largest size eartips to get a better seal. Also, please keep in mind, eartips impressions are subjective and based on anatomy of your ears. Plus, relaxing the seal has a tradeoff of lowering the bass impact while eliminating the driver flex.
And, one important thing with ODIN eartips selection, you have 5 sound tubes brought out to the tip of the nozzle, firing straight into your earcanal where the sound gets mixed. When you have eartips with a large bore opening, there is no obstruction. But if the bore opening is narrow, there will be some kind of a reflection which going to have the effect on the sound, could be subtle or more noticeable. Below, Sedna on the left and Type-E on the right.
Final Type-E
– With LL size tips, I hear elevated sub-bass and mid-bass while the signature still remains relatively balanced, but you can really feel the sub-bass rumble coming off W9+ woofers. Mids are still clear and detailed but a little smoother, perhaps due to the effect of elevated bass. When I switch to L size tips, the seal is slightly relaxed and bass quantity goes down by a few dBs, though now I hear upper mids a little brighter.
SpinFit CP100
– Here, due to a softer material of the eartips cap, the seal is similar to being somewhere between Type-E LL and L, resulting in a more balanced bass quantity and also more natural mids/treble tonality. The sound with SpinFit CP100 really felt like being right in between of sound tuning of type-E LL and L.
Symbio F
– with either L or M size of these latest foamies from Symbio, the sound tuning is very balanced, the bass impact is elevated, but not exaggerated. Even with a tighter seal of L size pair, the sub-bass rumble was more controlled, though mid-bass impact punched through stronger. With M size tips, the sub-bass and mid-bass sounded more linear. With either of the tips, mids were more natural, still layered and very detailed, but a little smoother and with a bit less air between the layers. Treble was natural and still with plenty of clarity and even some sparkle and airiness. I personally preferred M size here which gave me a more balanced natural revealing sound and less driver flex.
Symbio W
– these Symbio hybrids shifted the sound more toward mid-forward presentation with bass punching through nicely, but not as hard and with a little less rumble. Mids were very clear and natural, less analytical. Treble was crisp and well controlled as well.
JVC Spiral Dots
– these original "dots" turned the sound of ODIN to be even more mid-centric, with perception of bass quantity getting closer to neutral. Perhaps, this was due to a very large bore opening of these eartips. I wasn't too crazy about this pair up.
AZLA Sedna
– balanced sound signature with a deep and more elevated bass impact, more transparent layered mids, and crystal-clear treble. With Sedna having a wider bore opening of the inner eartips tube, nothing blocks the tip of ODIN nozzle and its sound bores, bringing more transparency to the sound. Switching to Light version of Sedna, which has a softer cap, attenuated bass impact, bringing it just a bit down so you can have more focus on mids/treble. With original Sedna, I was using L at first, but then stepped down to ML to improve comfort and to lower bass impact just a touch.
Cable pair up.
I'm aware that some people don't believe in cables and have very strong opinions about it. It's not my intention to trigger the argument, and instead I would like to share what I hear during my testing. What makes sense to me, a metal wire is a material with physical properties of resistivity, conductivity, purity, and unique geometry, all of which put together act as a filter between your source and headphones. Variations of these physical properties can affect the conductivity of analog signal, resulting in a sound change, from a subtle to a more noticeable level. If the talk about cables upsets you, feel free to skip this section.
vs PWA 1960 4wire
(8 conductors) – was looking forward to this comparison since switching from 4wire to 8wire typically changes (lowers) the impedance of the cable. 4wire (8 conductors) version brought mids/vocals more forward which created a perception of bass losing some of its power. Bass didn't lose impact, just with mids being more forward I'm hearing bass being a little lower in quantity relative to a stock 1960 cable (2wire/4conductors). Personally, in this comparison I preferred stock cable.
vs PlusSound PPH8
- and again, I hear mids/vocals being a little more forward here, but also bass is slightly attenuated as well. And this is not just a perception of more forward mids pushing bass lower, here I can actually hear bass being slightly attenuated down, and also mids/vocals being a little brighter in comparison to stock cable.
vs Eletech Iliad
– similar to above two pair ups, I hear bass being more attenuated, and as a result of that, mids/vocals being more forward and a little brighter in comparison to a stock cable. Also, treble sounds brighter as well.
vs EA Code 51
- very similar sound in comparison to stock PWA cable, except I'm hearing mids/vocals being slightly more forward and brighter.
vs EA Leo II octa
- very similar sound in comparison to stock PWA cable, except I'm hearing more bass impact, especially more sub-bass rumble.
vs EA Horus X
- very similar sound except mids/vocals are a little brighter here.
If you have a collection of replacement cables, it is always fun to cable roll, see which one pairs up better or has fine-tuning effect you like the most. But in case of ODIN with its stock Stormbreaker PWA 1960 2wire (4 conductors) cable, the upgrade is not really necessary. PWA 1960 cable has been around for a long time, and I reviewed its 2wire and 4wire versions three and a half years ago. It is still quite popular, and regardless of how people feel about high end cables and their pricing, some audiophiles are willing to pay $1k for a regular 1960 2wire/4conductors cable. Thus, in reality, the retail price ($3.4k) of ODIN includes the price ($1.3k) of a premium bespoke cable.
Comparison.
The comparison was done using ODIN with a stock balanced PWA 1960 cable, AZLA Sedna eartips, and P6, LPGT, and SP2k SS sources, volume matched in every comparison. I also noted the cables used with other IEMs in comparison.
vs EE Legend X
(w/Ares II) - ODIN soundstage is wider, spreading more L/R. Despite both having dual W9 DD drivers under their hoods (ODIN has updated W9+ version), the quantity of sub-bass and mid-bass in LX is noticeably higher, putting it into more L-shaped tuning territory while ODIN being more balanced. ODIN is not bass shy, but its bass it tighter, more articulate, and less overwhelming. Mids in LX are more natural, smoother, and with a presentation pushing them slightly back, while ODIN mids/vocals are more forward, more transparent and layered, and with more reference quality retrieval of details. When it comes to treble, LX is brighter and with more airiness while ODIN sounds more natural and less aggressive in comparison. Both have a similar driver flex.
vs EE Wraith
(w/Cleo) - Wraith has a wide soundstage expansion, but ODIN is still pushing it wider, creating a more holographic space. Differences here are quite noticeable in every segment of FR (under consideration of sources I used). A more neutral BA bass of Wraith is no match for the powerful rumble and slam of ODIN's W9+ DD woofers. Wraith mids have a fuller body and more organic smoother tonality while ODIN mids/vocals are more transparent, brighter, and more reference quality in comparison. With treble, the comparison wouldn't be as fair since I found Wraith quad ESTs needing a very powerful source/amp to come alive, while ODIN quad ESTs can reach that level with just an average power DAP. When comparing both from P6 or other DAPs, Wraith treble is more tamed down, while ODIN treble has more presence, definition, and better extension.
vs VE Elysium
(w/Code 51) - both have a very similar holographic soundstage expansion, definitely matching the width and the depth. With bass, Ely actually has surprisingly good quality for BA driver, but it can't match the quantity of ODIN sub-bass rumble and mid-bass slam, and overall bass of ODIN is more articulate and tighter. Ely's mids are more natural, still very detailed and revealing, while ODIN mids are more layered and with a more reference sound characteristics. Both have great rendition of mids/vocals, just done in a different way. Both have a clear and fast EST-driven treble, Ely is brighter and more vivid, while ODIN treble has more controlled peaks and relatively more natural upper end extension.
vs 64 Audio Fourte
(w/PPH8) - while Fourte soundstage is wide, ODIN still spreads a little wider L/R. Both have dynamic driver bass, but ODIN bass is faster, tighter, more articulate, and has a little more impact in comparison to slower bass of Fourte. Mids/vocals are quite different as well, with Fourte mids pushing a little back and being more colored and less transparent in comparison to ODIN mids with a more forward presentation, more transparency, and better layering and separation of the sounds. While using different driver type (tia vs quad EST), their treble actually sounds very similar to my ears.
vs FirAudio M5
(w/Scorpion 8wire) - ODIN soundstage is wider in this comparison, spreading more L/R. M5 has a powerful DD bass with a very similar impact as ODIN, maybe even a little more impact (M5), but it is slower and less articulate, while ODIN bass is tighter and faster. Mids/vocals in M5 are smoother, with a thicker body and being more organic in comparison to a more transparent (less colored) and layered mids of ODIN. Also, while both have a revealing and well controlled treble, ODIN has more air and better extension.
vs MMR Thummim
(w/Plato) – I was able to add this comparison in the last minute since I got the opportunity to audition Thummim loaner for a week. Both have a wide soundstage expansion, approaching holographic level, though I found ODIN to be wider which I suspect due to less bass impact and more transparency in mids. Which leads me to bass comparison where Thummim has noticeably higher level of sub-bass rumble and more mid-bass punch. When it comes to low end rendition, Thummim is bass heavy like floor standing speakers while ODIN has a more articulate layered bass. Lower mids of ODIN are more neutral with a well-controlled amount of body while Thummim has a thicker fuller body lower mids. In upper mids/vocals, ODIN is more layered and more transparent, while Thummim is thicker, warmer, more organic and colored in tonality. And with treble, they actually quite close in comparison, though a more balanced signature of ODIN brings up more sparkle while warmer smoother signature of Thummim tames down the perception of it.
Pair up.
ODIN has low impedance (3 ohms) and average sensitivity (108 dBm) spec. In this testing, I paid close attention to pair up synergy with various sources, including extra focus on hissing if one is detected. Of course, there will be some variations depending on signature of the source, but overall, it paired up well with everything, even high output impedance R6. Here are my brief pair up notes.
w/L&P P6
- holographic soundstage, very spacious transparent sound, balanced signature with a natural reference tonality. Punchy bass with a deep rumble. No harsh peaks. No hissing.
w/Lotoo LPGT
- holographic soundstage, spacious transparent sound, balanced signature with a more reference brighter tonality. Punchy bass with a deep rumble. No harsh peaks. No hissing.
w/A&K SP2000 SS
- holographic soundstage, spacious transparent sound, balanced signature with a more natural reference tonality. Punchy bass with a deep rumble. No harsh peaks. No hissing.
w/Sony WM1Z
- holographic soundstage, spacious transparent sound, balanced signature with a more natural reference tonality.
Very
powerful bass impact with a deep rumble. No harsh peaks. No hissing.
w/iBasso MAX
- holographic soundstage, very spacious transparent sound, balanced signature with a more reference brighter tonality.
Very
powerful bass impact with a deep rumble. No harsh peaks. No hissing.
w/Cayin N6ii E02
- holographic soundstage, spacious transparent sound, balanced signature with a more reference brighter tonality. Punchy bass with a deep rumble. No harsh peaks. Some
hissing
.
w/iBasso DX160
- holographic soundstage, spacious transparent sound, balanced signature with a leaner brighter tonality. Punchy bass with a modest level of rumble. No harsh peaks. No hissing.
w/Lotoo PAW6k
- wide soundstage with a little more depth than width, balanced signature with a more natural transparent tonality. Very powerful bass impact with a deep rumble. No harsh peaks. No hissing.
w/A&K SR25
- holographic soundstage, spacious transparent sound, balanced signature with a more reference tonality. Very powerful bass impact with a deep rumble. No harsh peaks. No hissing.
w/Hiby R3 Pro
- wide soundstage expansion, balanced signature with a brighter more revealing tonality. Punchy bass with a good sub-bass extension, but not as deep. No harsh peaks. No hissing.
w/Hiby R6
– I was really curious to check out how 3ohm ODIN will pair up with 10ohm OI balanced output of original R6, and to my surprise – no issues! The soundstage was still holographic, very spacious sound, balanced signature with a more natural transparent tonality. Powerful bass impact with a deep rumble. No harsh peaks. No hissing.
w/Samsung Galaxy S9 smartphone
- wide soundstage expansion (but not holographic), balanced signature with a brighter more revealing tonality, though less resolving. Very powerful bass impact with a deep rumble. No harsh peaks. No hissing.
w/P6 + Romi Audio BX2 amp
- holographic soundstage expansion, spacious sound, balanced signature with a more reference natural tonality. Very powerful bass impact with a deep rumble. No harsh peaks. No hissing.
Conclusion.
Hopefully, after reading this review, it will make more sense why I referred to ODIN as EE's
Mashup of Greatest Hits
. Listening to this latest Empire Ears flagship sounded to me like Zeus, Legend X, and Wraith had a baby who took the best of each parent and purified the combined DNA. I can hear a reminiscence of a powerful Legend X bass, but it has more control, improved articulation, and more balanced lower quantity. I can hear the transparent, layered, reference quality of Zeus mids, but it has a more natural tonality with plenty of clarity, no coloration, and excellent retrieval of details. It has a supercharged treble with quad ESTs like in Wraith, but this time I can hear its fast, clean, extended response without a need for a powerful source.
And I want to leave this review with one final thought. Empire Ears has been known for years to involve their fans at CanJam shows around the world into crowd-tuning of their upcoming releases. It is almost like a tradition where Jack pulls you to the side at the table and lets you listen to a bunch of unmarked IEMs, to find out which one you do or don't like, and what sound changes you would recommend. With ODIN, it turned out to be different, less crowd-tuning to
please everybody
and more Dean-tuning to put his own vision and sound preference into a pair of his new flagship "babies". Not gonna deny, I was a bit critical in the last EE review, but ODIN is by far my favorite Empire Ears IEM out of everything I heard and tested from their line up to date!
Last edited:
Comments
My Granny is going to LOVE these! They match both her giant mother of pearl earrings, AND her humungous gold Chanel necklace! I can't wait until the version for men comes out!