INTRO:-
Flat Impedance Balanced Armature Earphone, Fibae. This is what Fibae Stands for.
I don't think there is anyone in this world of audiophiles who are not aware of the Polish giant Custom Art's Fibae series of earphones. Known for their level of precision with BA based earphone, they make some of the most evolved and refined sounding earphones in the industry. Their earphones range from single BA Fibae 1 at $350 to 8 BA Harmony 8.2 for $1250.
In their pursuit to achieve most out of minimal resources they came up with the magnificent Fibae Black. Even though the Fibae Black has a single BA driver to work around. This single BA based earphone utilizes pressure optimizing design with their flat impedance design to extract the best out of the limited resources and man!! does it succeeds..
The Fibae Black has a starting price of at around $510 or 450 Euros, it comes in both custom and universal trim. the universal trim comes with only black color option.
I would like to thank Custom Art for this review unit.
You can place your order here, in both universal and custom trims.
https://thecustomart.com/shop/acrylic-products/fibae-black/
ACCESSORIES & PACKAGING:-
It has the exactly same set of accessories as the Fibae 3.
The Fibae Black comes in a gift box style Box with two carry cases inside it. One is a hard sided zipper case to keep the earphone when not on the move, the other one, a Pelican 1010 case, meant for travel use which will keep the earphone safe under unfavorable circumstances.
There are 3 pair of tips inside a small tips case in S/M/L sizes and a pair of double flange tip. Dehumidifier, wax pick tool and the welcome document sums up the list of things out of the box.
BUILD QUALITY:-
The Fibae Black has 3D printed acrylic shell.
Just like every other Custom art earphone, the build quality of the Fibae black is outstanding, it has a slightly bigger body compared to the Fibae 3 and it feels a bit more stable in the ear too.
There are many customization options available, some are with extra cost, you can chose different cables and one with Mic too. There is option to have the Fibae Black with MMCX connectors too, in case you don't like the more secure feeling of the 2pin design. The Acrylic shell is very sturdy, the back plate fusion is flawless and unless you decide to drop the earpieces on solid floor (deliberately trying to break them). There is only one bore in side.
There is no vent in the shell, a BA don't need one at all. The nozzle has nice depth to it and its very easy to change tips.
CABLE:-
Finally the cable has changed, finally. In one of my videos on YouTube I had pointed out that 3 brands, one from china and two from Poland (one is custom art) use the exactly same cable, which can be bought for $20 max. I am not saying that cable was bad, but for a premium looking earphone a not so attractive cable doesn't do much justice.
Talking about the new cable, it looks very good, the clear layer of rubber looks more premium compared to older one. Yes the new cable is marginally more bouncy, slightly less supple and a bit more microphonics but it looks more premium and up to the class. The crystal clear Y splitter and cable slider give the Fibae Black more character.
To be honest, this new cable is supple enough, it doesn't have much memory either and tangling is only induced by the metal inserted cable guides.
You can opt for cable with Mic if you want to use it with mobile devices, I am not sure what type of cable that is.
COMFORT, ERGONOMICS AND SEAL :-
All of their custom earphones have very good fitment with plenty of customization. Their universal earphones, like the one I am reviewing too have a very comfortable feel to them.
It is exceptionally comfortable for a $500 earphone, many other earphone in this price range have bigger footprint. The smaller size, and ergonomically design makes it a very comfortable earphone for everyone. Another thing which helps is the weight, which is very light thanks to light weight shell material.
the Fibae Black has an aptly deep nozzle making it more stable and secure. Fibae Black fits like a dream inside my ears. One of the most comfortable earphone in this price range. No bothering edges at all.
CAUTION:-
don't use earphones where you have to be aware of your surroundings like driving and walking on the road, stay home and enjoy your music or at gym.
SOUND QUALITY:-
The Fibae Black is tuned for the both sides of the audiophile world. An audio enthusiast, a stage artist and a mastering artist will admire the Fibae Black equally. It delivers delicacies of music without going too hard at them, without peaks or sibilance of any type, with a soothing approach delivering a very clear and true to the nature tonality.
In their words the Fibae Black is:-
"Designed as a statement, breaking rules and going against the current.
With only single Balanced Armature FIBAE Black produces sound unmatched by any IEM within its class and above. Pressure Optimizing Design allows for extremely precise control of frequency response, improving soundstage and separation capabilities, without issues arising from crossovers or multi-driver constructions.
Natural smooth sound with fast-paced deep bass, forward mids and smooth extended highs. Tuned for correct tone and enjoyment without sacrificing extension on both ends. It's one of our most versatile IEM yet combining musicality and precision. FIBAE Black is the perfect choice for daily use."
There is little to no coloration and the signature is very neutral, just like the Fibae 3, but the notes have slightly better weight and depth to them making it more enjoyable. It has a very flat spectrum too, more even compared to the Fibae 3.
the Fibae Black is properly burned for 120hrs I am using stock tips, Plenue R and Plenue D for this review.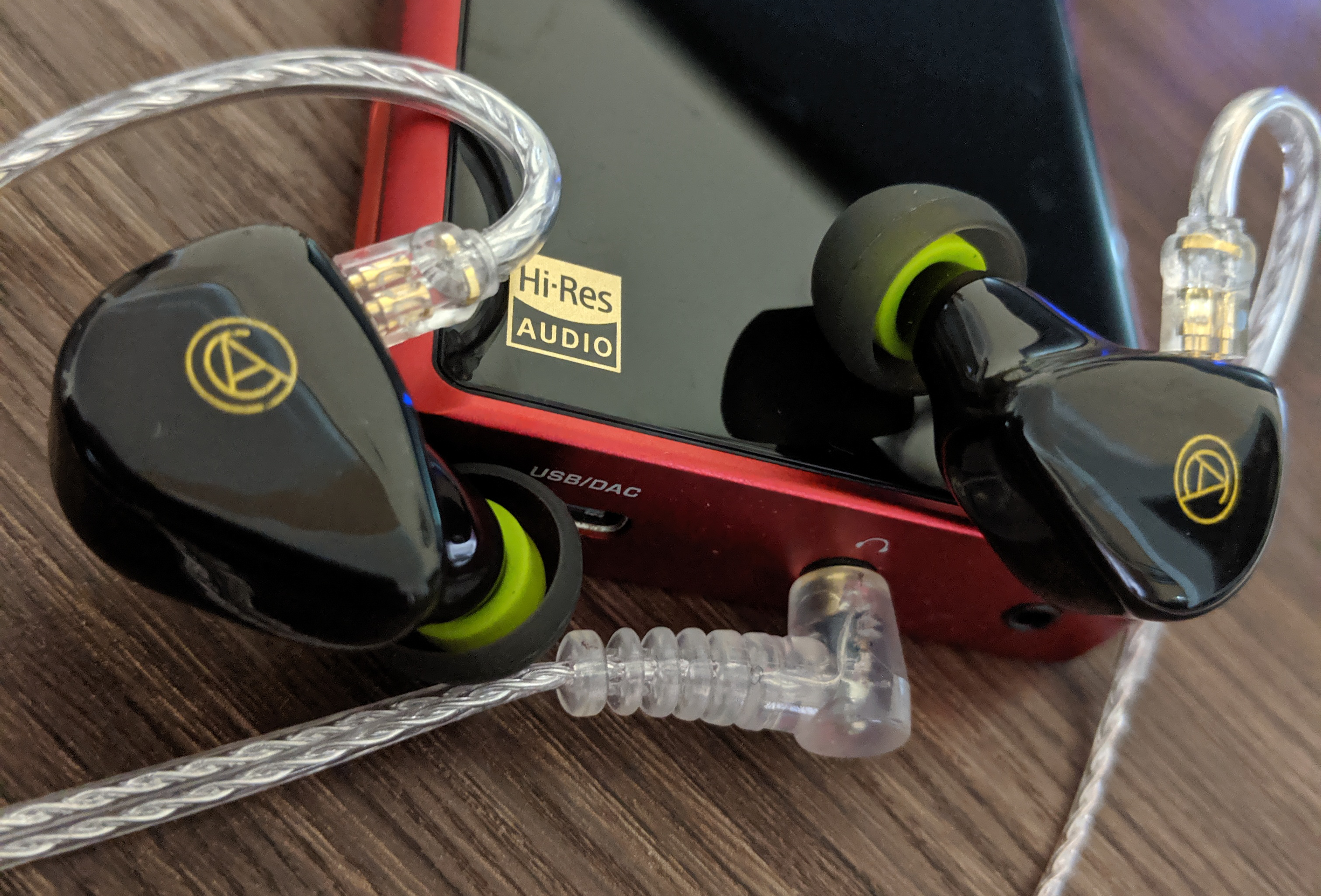 TECHNICALITY AND MATCHABILITY:-
The Fibae Black is very easy to drive out of any portable device without much problem, even when using some capable mobile phones, you will still be able to get most out of it, but a dedicated dap will always bring out the best of it. 108.5db sensitivity means it can get very loud too. Amping is not necessary but if you have one, you can use one and you will find a bit more energy up top.
Given that the 5.2ohm impedance value, its prescribed to use a low output impedance source.
BASS:-
The Fibae Black relies on its only BA driver to do the heavy lifting, and it delivers without any problems. It doesn't have a typical BA type bass one can experience with earphones like the ER-4P and Q-jay. The body and impact size is very good, far more respectable when compared to the flatter ones. It definitely is not in the line with the bassier ones like the EE bravado, Black's bass has slightly smaller body than the Shozy Pentacle I reviewed very recently.
If the Fibae 3 was riding on the sub-bass power, the Fibae black rides on a more fuller and full bodied bass size. The Fibae Black has bigger bass size from every perspective compared to the Fibae 3. It deliver equally good sub-bass impact and extension but has bigger slam and moves more air. If a single BA can do this.. Why was the Fibae was unable to do this, maybe because of the different tech implementation. Be informed that the Fibaes I am talking about here are some of the best earphone when it comes to sub-bass extension. The Fibae black has better sub-bass extension when compared to the 64audio U3, Nocturnal Avalon and even slightly better than the Pola.
It goes as deep as 20hz, it delivers better sub-bass compared to most in this price. The Decay is fast, marginally slower than the ER-4P or the q-jays, slightly slower decay gives notes a bit more weight and authority as they make their presence felt. It has better precipitation compared to the flatter ones.
The Amount of control and composure shown by the Fibae Black is class leading. It has one of the most polished and matured bass presentation I have seen. There is no jitteriness to it. And the amount of details and precision shown by this single BA based earphone is praise worthy. The Fibae 3 has slightly slower decay, the Black has rectified that with a better decay speed, it feels more accurate now.
Mid bass is as fast as the sub-bass, it maintains very good tempo, it has equally good depth, it make its present felt with good amount of air, the upper bass to maintains good amount of energy exhibiting good control.
There is no sacrifices made when it comes to the balance between presence of bass and the level of details it delivers. The level of accuracy, resolution and amount of resolving details is up to class. The amount of balance exhibited across the bass spectrum by the Black is admirable.
MID RANGE:-
the upper bass nicely blends into the lower mid range. There is very good amount of energy there. It is one of the most mature transaction even for $500. Earphones tend to get shaky there, custom art has been very good in this region. It sounds more forward and a bit fuller when compared to the Fibae 3. The whole mid range has very good smoothness and presentation to it. It doesn't have any type of discomfort to it, in fact the Fibae black is one of the most pleasant sounding earphone when it comes to mid range. Notes have a slightly warm feel to them thanks to the thicker and marginally slower decay, they give the Fibae black's mid range plenty of body.
The vocals are as musical as they get, they have exceptional texture to them, it sounds very much like a dynamic driver, notes have fantastic body, they sound very detailed and male vocals excels with a very throaty and textured feel to them. One of the richest vocal notes with a very polished notes finishing to them. Female vocals sound equally impressive, they have very good amount of detail to them, it's just sublime.
The instruments too have very good amount of details to them, but guess what.. this is where the Fibae Black lacks a bit of bite, it just want to pamper you with its lovable tonality and presentation. Others with more drivers does better with super fine details and transparency. Something like the NOC Avalon churns out more details in expense of tonality and smoothness. Upper mid lacks a bit or energy compared to the vocal region. It still has very good amount of energy with the instruments.
The level of layering, instrument accuracy and separation is up to the class but I have seen better, it can be more cleaner. The Fibae Black has more rounded stage size compared to the Fibae 3, the fibae 3 has a conical feel to it, the Fibae Black equally complimenting width depth and height, it still is slightly deeper than wider or taller but its more even. the stage size is very good, in the ballpark of 64audi U3.
HIGHS:-
The transaction from upper mid to lower treble is smooth with no spike of any type. There is good amount of energy there which holds true for the mid treble region too. There is good amount of spark and energy to them. From there the problem of having a single driver starts to show. The treble extension is above average but it starts losing energy after around 11k. It doesn't feel as endless as the Fibae 3. It still is very good, just not Fibae 3 good.
Treble is the weakest point of the Fibae Black, no doubt there, but it still has very good layering and separation. Instrument placing is very good with good amount of air in between. With the bigger than average stage size, the presentation is delightful and fatigue free. The resolution and imaging is up to the class too.
The spectrum wide width to notes thickness catches up to treble too, the thickness results in to hair slower decay. That thickness does wonders for bass and mid range but it doesn't work wonders for treble region as it makes the notes slightly blunt. They don't feel as sharp or as transparent as most earphones in this price range. By doing this they definitely have got rid of any type of sibilance though.
There is very good amount of details but it lacks some super fine details.
COMPARISION:-
VS Shozy Pentacle :-
The pentacle has similar sound signature but the notes are slightly shallower and lack a bit of sharpness. Both have similar bass body and air but the Black feels more involving. Mid range is slightly less attacking and is not as cohesive as the black. Treble of the Pentacle has slightly better extension and energy. Stage size is slightly smaller but is decent.
The Fibae Black feels more engaging and Technically better.


VS Fibae 3 and Eternal Melody EM-5H:-
CONCLUSION:-
Magnificent, yes that is the word for the Fibae Black, there are no two ways about it, it is one of the most versatile and efficient earphone I have ever come across. What it delivers is just outstanding, nothing is really comparable to the Fibae Black except the other Fibaes like the Fibae 3.
The Tonality and timber is just exceptional, it is very light still heavy, it doesnt bite still the impression is not easy to forget. The bass notes are fantastic, mid range has very good amount of details, vocals are one of the best, treble is slightly lacking, but when you look at the whole picture, the lack of treble extension is dwarfed in front the strong points.
The Fibae Black is a one of its kind earphone.
You can't buy the Fibae Black for the sheer amount of details, it is not a studio tool, it is more tuned for enjoying the music. It still have very good amount of details and clarity though.
If you want to enjoy your music without being very critical about it, go for the Fibae Black, you will not regret a bit.
That's it here, enjoy your music. Cheers.