INTRODUCTION:-


I don't think the Custom Art Fibae 3 needs much of an introduction, still.. The FIBAE - "flat impedance balanced armature earphone" 3, housing 3 Balanced Armature drivers now leads the Fibae series with 1 and 2 under it.
They also have the triple BA PRO 330 v2 and EI.3, and their Flagship Harmony 8.2. All of these earphones have received heaps of praise from both reviewers and customers. (They have launched a single BA earphone Fibae Black very recently). All of their earphones are Custom made and are available in both Custom fit and universal fit just like mine (universal fit upon request). You can pick Silicone and Acrylic shell with Custom fit.
After the immense success of the Fibae 1 and 2, they introduced the Fibae 3 as their middle weight street fighter, with a price tag of 525 Euros, it takes on earphones like the EE Bravado, Campfire Jupiter, NCM NC5 v2, Shozy Pentacle and Eternal Melody EM-5H.
I will compare the Fibae 3 with a few other earphones, Shozy Pentacle, Shozy Neo BG 5, NCM NC5 v2 and EM-5H to name some.
You can get one for you from here:-
https://thecustomart.com/shop/silicone-products/fibae-3-silicone/
https://thecustomart.com/shop/acrylic-products/fibae-3-acrylic/
If you are from Asia, you will prefer this:-
https://music-sanctuary.com/products/custom-art-fibae-three-acrylic
ACCESSORIES & PACKAGING:-
The Fibae 3 comes in a gift box style Box with two carry cases inside it. One is a hard sided zipper case to keep the earphone when not on the move, the other one, a Pelican 1010 case is meant for travel use which will keep the earphone safe under unfavorable circumstances.
There are 3 pair of tips inside a small tips case in S/M/L sizes and a pair of double flange tip. Dehumidifier, wax pick tool and the welcome document sums up the list of things out of the box.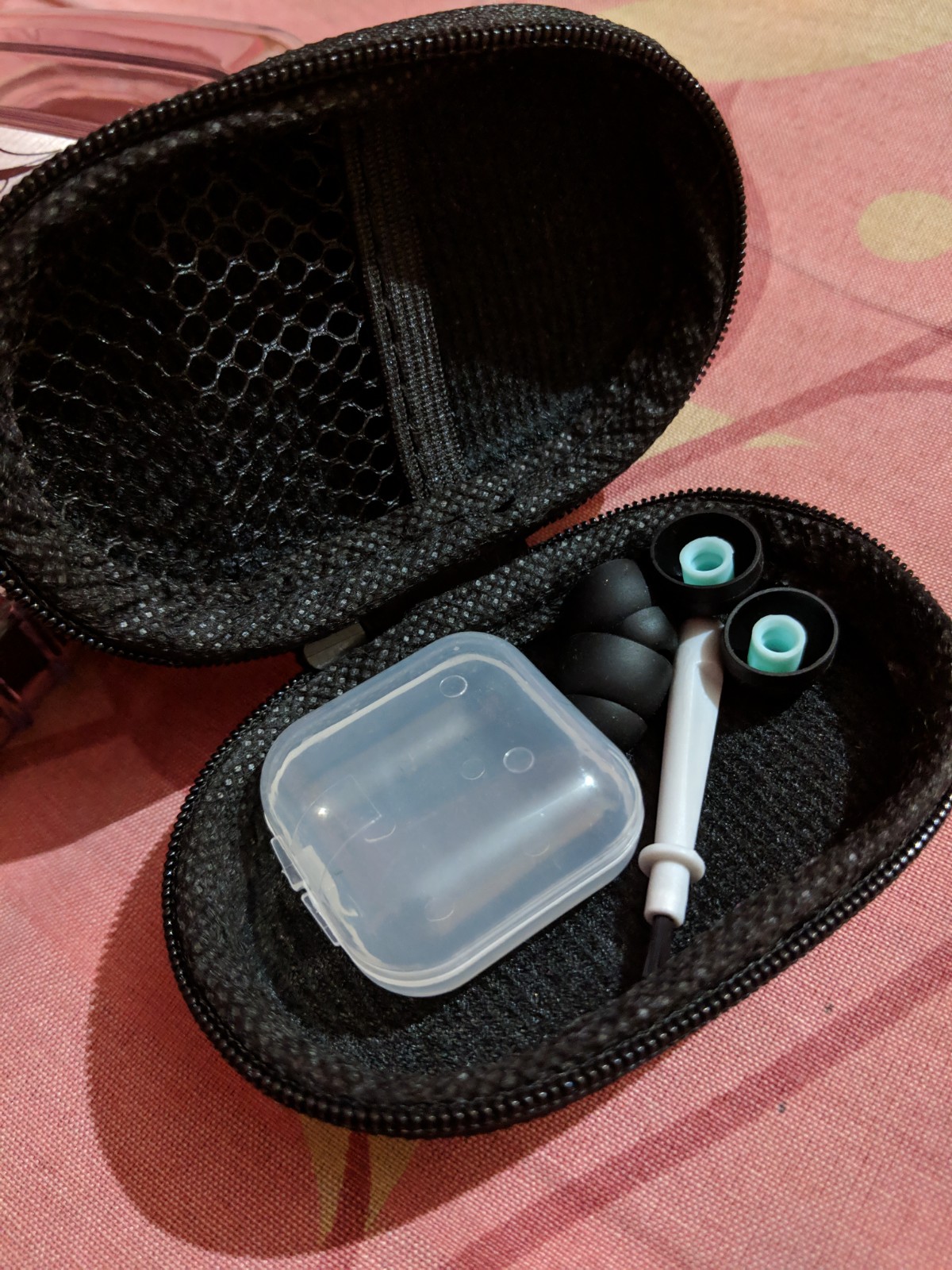 BUILD QUALITY:-
Build quality is one of the biggest positive of the Fibae 3, which holds true for all the Custom Art earphones too.
There are many customization options available, some are with extra cost, you can chose different cables and one with Mic too. The Acrylic shell is very sturdy, the back plate fusion is flawless and unless you decide to drop the earpieces on solid floor (deliberately trying to break them). On the inside it implements a two bore design, one for Bass and mid and other for highs.
There is no vent in the shell, a BA don't need one at all. The nozzle has nice depth to it and its very easy to change tips.
CABLE:-
Custom art has a couple of cable color options. They have Black and grey color cables with both MMCX and 2pin socket. You can chose a mic cable too for extra money. Mine is the grey 2pin cable.
The 3 core braided cable has nice feel to it, there are no unnecessary layers of rubber on it, hence it's not bouncy at all. It's very supple and doesn't tangle easily either. There is no microphonics to worry about. The cable guide is metal inserted which keeps shape once shaped to ones comfort.
COMFORT, ERGONOMICS AND SEAL :-
All of their custom earphones have very good fitment with plenty of customization. Their universal earphones, like the one I am reviewing too have an comfortable feel to them.
It is exceptionally comfortable for a 3ba earphone, Even some single BA earphones have bigger shell size. The smaller size and ergonomically design makes it a very comfortable earphone for everyone.
Last time I reviewed the NCM NC5 v2 I complained about the Nozzle length, the Fibae 3 has an aptly deep nozzle making it more stable and secure. Fibae 3 fits like a glove to my ear without any discomfort even after hours of usage.
CAUTION:-
don't use earphones where you have to be aware of your surroundings like driving and walking on the road, stay home and enjoy your music or at gym.
SOUND QUALITY:-
The Fibae 3 is tuned more for the consumers than for mastering use. It is meant to enjoy the delicacies of music without going too hard at them, without peaks or sibilance of any type, with a soothing approach delivering a very inoffensive sound signature.
"FIBAE 3's tuning is a result of a
carte blanche
approach. Researched and newly developed drivers deliver reference sound without sacrificing punchy lows as well as improved presence of highest frequencies without adding harshness or sibilance. FIBAE 3 shares highly musical and engaging character of its bigger brother – Harmony 8.2. Consequently, this triple-driver IEM offers smooth, balanced midrange and high coherency that Custom Art is known for.
FIBAE 3 emerges as a new paradigm with only three Balanced Armature drivers that provide class-leading extension across the frequency range."
There is little to no coloration and the signature is very neutral, let put it like, its 95% like the ER-4P, but the notes have better weight to them making it more juicy. It has a nearly flat sound signature with a mild W shape to it.
Properly burned for 120hrs I am using stock tips and Plenue R and Plenue D for this review.
TECHNICALITY AND MATCHABILITY:-
The Fibae 3 is very easy to drive out of any portable device without much problem, even when using some capable mobile phones, you will still be able to get most out of it, but a dedicated dap will always bring out the best of it. 110db sensitivity means it can get very loud too. Amping is not necessary but if you have one, you can use one and you will find a bit more energy up top.
Given that the 7.3-8.2ohm impedance value, its prescribed to use a low output impedance source.
BASS:-
The lower end of the Fibae 3 is handled by one dedicated driver which is aided by a full range driver, yes the full range driver might be a mid range driver while contributing something to other two drivers, but we can't say that for sure.
The Bass region is not only very well defined and paced with plenty of precision but also has the poise of a matured tuning of the driver.
When compared to earphones like the NCM nc5 v2 and Empire Ears Bravado the Fibae 3 can be considered flat. But in front of the real flat folks like the ER-4P and q-jays the 3 is very potent. From a neutral point of view, It doesn't lay flat on its back when a bass note arrives, it moves good amount of air with a sizeable slam. The body is not huge but is nicely rounded and meaty enough to keep me seated.
The biggest plus over the flatter ones is the sub-bass rumble, it has the most amount of energy and forwardness in the lower region. The Fibae 3 has very good extension and sub-bass presence, going as deep as 20hz, it delivers better sub-bass compared to the nocturnal Avalon. The Decay is very fast, marginally slower than the ER-4P or the q-jays, slightly slower decay gives notes a bit more weight and authority as they make their presence felt without vanish into thin air.
Mid bass is where things get as snappy as the ER-4P, its very fast as the notes size is smaller compared to the sub-bass notes, it is still present and moves a bit of air, thankfully it is not as dry as the 4P. Things get flatter even as things move to upper bass.
There is little to no sacrifices made when it comes to the balance between presence of bass and the level of details it delivers. The level of accuracy, resolution and amount of resolving details is up to competition. The amount of control exhibited by the Fibae 3 over the mid-bass and upper bass is rarely seen in this price bracket.
Even though the Fibae 3 is a bit sub-bass minded, it delivers a very detailed and textured presentation with equally better transparency. What impresses me the most is the effortlessness, it doesn't feel like being held back.
Yes the bass is not huge by any means, but if you came for that.. the Fibae 3 will not leave you looking for it, just done expect much rumble.
MID RANGE:-
The first thing to notice with the mid range is the amount of maturity it shows with notes, its exceptionally paced with plenty of maturity with a nicely polished feel to them. The mid range sounds very lush and delivers one of the cleanest and smoothest notes with very good instrument distribution and density, sibilance and aggressive notes are nowhere to be seen.
If you look into specs, the full range driver does all of the hard work here and it delivers like a champ. Coming out of the same full range driver it delivers one of the most flawless transaction from upper bass to lower mid range. The mid range is slightly more forward that the bass region, giving it a more fuller and full bodied presentation and W shaped sound signature. Notes have a more natural tonality thanks to accurate notes width, sharpness and decay, notes don't hound, it doesn't bite, it just wants to cuddle.
Vocals are comparatively smoother with good enough texture to them, there is plenty of details from the word go. Male vocals sound accurate and soothing with a nice throaty feel to them, female vocals too have equally good tonality, sharpness, accuracy and smoothness to them. Both male and female vocals sound equally composed, there is no extra energy to make things uncomfortable unlike the Avalon, which can push some more spikes into the mix.
Instruments too have very good amount of details and transparency to them, picking up micro details is not a problem at all, but instruments do lack the pop thanks to the smoother presentation. Yes it doesn't have the sharpness of the Nocturnal Avalon, which sounds slightly more transparent and cleaner. Upper mids are exceptionally balanced with the vocals and rest of the mid range with very good weight to notes. There is no sibilance at all.
The level of layering, instrument accuracy and separation is up to the class and easily beats the 64audio U3 and Earsonics ES3 with its more vivid and clearer presentation. The stage size has a cylindrical feel to it, it has exceptional depth with average height and width, aided by sonicality, the Fibae 3 can throw cues farther than most of the earphones mentioned.
HIGHS:-
The Fibae 3 delivers one of the most inoffensive treble notes. The is very good amount of energy and extension to them, but any type of spikes are kept out of the equation. The lower treble is nicely under control, but the energy increases as it goes deeper into the spectrum. The smoother notes presentation has not left the scene. Level of detail is very good.
Transition from upper mid range to the lower treble is exceptional here too with exactly same amount of energy to them, lower treble delivers very good clarity, resolution and details.
Let it be pianos, trumpets or cymbals, they have the required amount of sharpness and the finishing of the note along with the presentation, which is very good. Let it be the resolution or imaging, the Fibae 3 delivers.
Needless to say that separation and layering is up to the mark with plenty of air and space between instruments, with the bigger than average stage size, the presentation is delightful and fatigue free.
Slightly thicker and rounded notes do make the Fibae 3 sound a bit less cleaner and transparent.
COMPARISONS:- (videos)
Vs NCM NC5 v2 & DUNU DK-3001:-
Vs Shozy Pentacle, Nocturnal Avalon, EE Bravado and Eternal melody EM-5H:-
CONCLUSION:-
With a smoother and near natural approach to the notes, the Fibae 3 delivers a effortless sublime experience. It has plenty of maturity to the notes, there is not a single spike in the whole spectrum. Not a single thing feels out of place with a beautiful imaging. Let it be, tonality, timber, weight of notes, presentation, balance, sonicality, or imaging, it excels at many things. There is clumsy feel to it at all. It slightly lacks with details and sharpness.
Yes, it cannot compete with detail hogs, The Fibae 3 sounds Veiled compared the the EM-5H, Nocturnal Avalon and Shozy Pentacle. And that how the Fibae 3 is tuned. It's not for monitoring use but for enjoying the music with very good amount of details and smoothness.
If you and to enjoy your music with exceptionally accurate tonality and timber without a single spike in the spectrum coming your way, if you just want to sit back and enjoy the music, there is nothing that beats the Fibae 3.
I hope you guys had a nice time reading the Review.
Cheers, have fun, happy Christmas, enjoy.