Item information
Added by
Views

16,802
Watchers

7
Reviews

21
Last update
Rating

4.62 star(s)

21 ratings
General Information
Latest reviews
Small box that rocks (updated 04.02.2021)
Pros
:
+ Versatility (pre-amp function, high & low gain, sound filters)
+ Tech specs
+ Energetic, exciting, fast, detailed and open sound (source and drivers dependent of course)
+ Neutral sound with a hint of warmth (with V6 Classic opamp)
+ Bass has good heft yet not too much (with V6 Classic opamp)
+ Price is more than fair for perceived quality and performance
+ Built
+ Solid connectors (inputs & outputs)
+ Almost no hiss with sensitive IEMs or ones prone to hiss (BA-only)
+ Last but not least, nice communication with Burson
Cons
:
- Very small display (not a deal breaker)
- Low gain is….very low
UPDATE 04.02.2021
After my initial impressions back in September 2020, Burson offered me to get an opamp upgrade for the Playmate. I had the choice between 2 x V6 Vivid or 2 x V6 Classic. As I found the Playmate a tad bright with the stock opamp, I went with the V6 Classic, which brings a welcome warmth into play and improves the bass response with my IEMs and my new full size headphone, the ATH-WP900.
The V6 Classic opamp and its characteristics

The opamps are very easy to replace. Opening the Playmate chassis is not difficult at all, but requires care and precision. Once the board is exposed, you can remove the stock opamps from the DAC section and the amplification stage. Yes, you can switch 4 opamps in total. Missing a bit of "oomph" in its stock iteration, I decided to replace the stock opamps from the amplification stage and the DAC section as it is.
I plugged my Macbook Pro and my Denon CD-Player to the Playmate and let these guys warming up a hour. I grabbed my IEMs, which I already used for the initial review. I automatically noticed an improvement in the low-end and in the global sound signature. From brightish to warm neutral, I was very pleased with what I heard in general. The V6 Classic add more horsepower under the Playmate's hood and sees the sport seats being replaced by leather ones.
For the extra USD 85.-, you can bring the Playmate to the next level, quite easily and without any hassle. I strongly recommend the upgrade to anyone owning the first iteration of the Playmate. Indeed, the Playmate 2 hit the market in November last year, with a whole new look, but it does not make the Playmate 1st gen. obsolete. It would be a mistake to believe it, because this small box still rocks, and more than ever actually.
Now that I have experienced how 2x V6 Classic opamps in the amplification stage impact the sound, I am wondering if adding another 2x V6 Classic in the DAC section would bring the Playmate to the top of its potential... Let's see.
In any case, there is no reason to
not
upgrade the score from 4 stars to 4.5 stars. The V6 Classic are that good.
Once more, bravo Burson!
------------------------------------------------------------------------------------
ORIGINAL REVIEW FROM 20.09.2020
Burson asked me if I would agree on listening to their Playmate. They sent me a loan unit I have to return to them after the exercise. Thanks for this opportunity Burson, highly appreciated.
AFAIK, I received the basic version, no remote control, with stock 4 x NE5532 Opamps. Standard price : USD 399.-. Against a bit of extra cash, you get a remote control and V6 Vivid Opamps. No idea how the V6 OA upgrade sound, so no comparison here.
Weblink:
https://www.bursonaudio.com/products/playmate/
Pictures taken from the www:
It was May or June, when I accepted to have a Playmate sent to me and I only got the unit on the 25th of August (COVID-19 oblige). Some things have happened in-between in my private life and I now have not as much time as I would like to for this review, unfortunately. Still, what follows are true words and not rushed impressions.
Disclaimer:
In my reports, I don't repeat or go through the « pros and cons » mentioned above once again. These solely serve as a rapid summary. If you want to read what a parrot could write, please look elsewhere. Thanks for your comprehension.
CONCLUSION
Starting with conclusion sometimes is appropriate. If you are on the market for a portable versatile USD/DAC/AMP/PRE solution which offers a clear and detailed sound, I seriously would consider the Playmate, especially at this price point and level of built. One can live very happy with this device, as long as the slightly digital and brightish sound signature can be counterbalanced by musical and warmish headphones or IEMs that are not too power hungry.
I almost could end my impressions here actually, a lot have been said already. It would be a bit dishonest, though. Indeed, why 4 out 5 stars? If I could give a mark based in %, I would give a solid 83 out of 100 (price to performance ratio applied).
I COMPLAIN
The biggest « con » here is that, even with IEMs, you feel that the Playmate is going deep searching for its power to properly feed your drivers. I listen at normal levels, I think. Okay, maybe just a bit above average, but not
very
loud. It's difficult to express, this sensation that the extra power is missing when the tune you are listening to calls for it. This is sometimes frustrating, especially with tracks you know better than yourself. The enjoyment is there, but not as much as I have with the separate portable devices I own (Calyx M, Dethonray DTR1 + HA-2 and Phatlab Chimera). If I had to split hairs, I also would mention the very small display, but I cannot imagine someone not pulling the trigger because of that.
I PRAISE
Such a small package with all these features at reasonable price is really interesting. Overcoming the aforementioned shortcomings is not a big deal, especially if you are working in home-office at the moment (and for the months to come). A Playmate might become a best friend. Easy joke maybe, but not considered what you get for less than USD 400.-. I have been impressed about the detail retrieval and this with all of the IEMs and headphones used. The Sabre Dac-chip and its implementation surely have something to do with it, but I am impressed in that regard nevertheless. This lively and uplifting sound presentation is the biggest « pro » in my opinion. Playing your files through the Playmate is a pleasing experience. As stated before, I have experienced better, but sometimes, just enjoying music as it is largely is sufficient. No need to be on head-to-head modus all the time. Playing back your files, the Playmate can do it well.
THE GOOSEBUMPS
The Final E5000, this IEM we like or hate, is my way to go with the Playmate. Hard to drive, dark and warm sounding, rolled off treble, etc… You might have read everything about these small bullets from the legendary japanese company. The Playmate, on high gain, volume level set at 35-40, feed them just right, taming the subbass, slightly opening the stage and cutting a bit of the « fat » from the mid section, bringing more treble and (artificial) air into play. I highly recommend this pairing as I have enjoyed it very much.
ON A SEPARATE NOTE
I have tested the Conductor V2+ two years ago and was impressed about the transparency and built quality it offered. The Playmate looks and feels like a « baby » V2+, but we still hear the gap between both devices. It's close, but it's there. To be honest, the Playmate made me considered buying an used V2+… There should be good deals around nowadays.
BUY IT OR NOT?
USD 400.- is no pocket money, but it buys you an all-in-one solution that allows a quality playback of your music, from a dap, a cd-player or your computer. If your budget is limited to this segment, then I would give the Playmate a try, it's worth it. If you have the double $ at hand, there are better options out there, because in my opinion, separate modules (amp & dac) still make a difference nowadays. Finally, amateur of full-bodied and warm signature will have to think about synergy with their drivers, headphones or earphones.
LAST WORD
Good effort Burson, you have created a potent all-in-one device. I wish the amplification section would have been more « robust » in its way to drive phones. For the rest, there is little to complain about at the price point and given the available features.
Listening equipment:
MacBook Pro
Audirvana
Denon DCD 1510AE
Marantz CD-60
ATH-MSR7B
Final E5000 (favorite pairing, on high gain)
BLON 03
Sony N3
P-EAR-S SH2
Etymotic ER2XR
Some albums played (and enjoyed) while listening to the Playmate:
Alpha Blondy / Masada (African pop)
Dykehouse / Midrange (Instrumental pop/rock)
Thomas Köner / La Barca (Ambient, Field recordings)
Alva Noto / Xerrox vol. 4 (Electronic)
The Sight Below / It All Falls Apart (Electronic)
Yagya / Rigning (Dub Techno)
Massive Attack / Blue Lines, Protection & Mezzanine (Trip-Hop)
Dire Straits / On Every Street (Pop/Rock)
Roxy Music / Avalon (Pop/Rock)
Simple Minds / Best Of (Pop/Rock)
NAS / Illmatic (Rap/Hiphop)
Pink Floyd / The Later Years Box (Pink Floyd)
A-HA / East Of The Sun, West Of The Moon (Pop)
Kate Bush / Hounds Of Love (Female Vocalist)
Jono McCleery / Pagodes (Male Vocalist)
Johnny Cash / The Legend (Johnny is one of a kind)
…and Sting, Aaron Neville, Aphex Twin, Manu Katché + some OSTs (Blade Runner, Interstellar, Inception, Hannibal, Twin Peaks)
Last edited:
Pros
:
Precise and lucid sound-imaging.
Ideally balanced vocals and midrange.
Cons
:
Digital-hash / tension in treble without external USB-filtering
Poorly implemented volume control
Introduction and background
Burson Audio contacted me with an opportunity to review the Burson Playmate Amp/DAC combo. Although I originally had no intention of trying any recent Burson products, I decided to oblige because I'm always up for trying out new equipment. I've previously owned a Burson Soloist several years ago which was a favorable experience, but had since moved on to various tube and hybrid amps. Recently I've returned to a more solid-state emphasis with focus on balancing subjective performance with value. I went into this review with an initial slight bias against the newer Burson equipment because it appeared to be such a departure from their older design principles. However, I ended up pleasantly surprised with the Playmate.
The review-loaner unit did not include any discrete or other op-amps, so I was not able to compare op-amp changes. Also, the RCA pre-amp outputs were defective, so I was not able to evaluate it's pre-amp outputs.
I try to keep my profile generally up-to-date with past equipment owned for the context of my equipment experience. I've been in the hobby almost 10 years, having joined Head-Fi in 2011 and have attended several meets over the years to audition various equipment.
Compared equipment
Headphone:
Sennheiser HD-650 (Spider and rear-foam removal mod with 2 pieces of Sorbothane on magnets only)
Source:
Lenovo P71 workstation laptop
Qobuz streaming.
DAC/Amp Combinations:
Grace M9xx
iFi iDSD Micro (Silver)
RME ADI-2 DAC FS (4493) Headphone output
ADI-2 DAC + Headamp Gilmore Lite Mk. 2
ADI-2 DAC + Monoprice/Cavalli Liquid Platinum
Photos:
Impressions
I'm admittedly not the most talented with eloquent qualitative descriptions, so much of my review will deal in explaining what I personally preferred while attempting to articulate why I preferred it. First, I thought the Playmate clearly outclassed both the iDSD Micro and Grace M9xx for my preferences. The Playmate renders a spatial dimensionality to music that neither DAC/amp combo are capable of, resulting in what I find to be a more accurate rendition of music across effectively all genres. To be honest, I spent very little time comparing these two to the Playmate because I universally preferred the Playmate to both.
Adding the ADI-2 DAC to the mix is where things started to get interesting. The ADI-2 DAC retails for $1149, so it may not seem like a fair comparison to the Playmate. Comparing the two as DAC/Amps directly, the RME seems to have a superior sense of space, separation, and black background. Adding the Liquid Platinum to the RME extends the sense of space even further with deep bass extension, and adding the Gilmore Lite Mk. 2 adds precision transient definition, power, and even blacker background.
In many of the typical subjective descriptors of audio, the Playmate falls behind the more expensive combos, except for two critical areas. The precision and cohesion of the sound image, and the presence of the true midrange (i.e. female vocals). The soundstage isn't particularly large. In fact, it's much more of an "in your head" sound. However, it manages to pull off the very rare feat of presenting a lucid spherical image of sound within the mind. Yes, I realize that language sounds a bit flowery, but that's the best way I can think to describe the effect. Female vocals in particular are exquisitely presented, with just enough presence and body, being neither overly warm or too cold sounding.
This is not to say that the sound is flawless. At times, the sound can have a digital-hash/tension to the treble. My old iFi USB purifier (original model) mitigated this considerably, which is interesting because I usually find it does more harm than good with well implemented USB sections. This could indicate poor RF-noise filtering on the USB input. This is also supported by the observation that it seems to sound better later at night when the power grid typically has less load and noise. Additionally, I found the "low" PLL setting to sound preferable to high, where the latter seems to suppress some pace and microdynamics. While the bass is generally punchy, it doesn't seems to extend as low as even the RME headphone output without EQ.
With the COVID-19 pandemic as of this writing, I think I've been given more time than originally planned to review. I've gotten to spend about a month with it now. What I'm finding is that I keep wanting to go back to listening to it, even with my "fancier" equipment. This is telling, although I do think there's a strong personal preference at play here. I find the combination of lucid sound-imaging and balanced midrange presence to be addicting. I've never been one to like to overhype things, but I think I'm genuinely enjoying music more out of the Playmate than out of my other Combos. If it weren't for the fact that I've become attached to the features of the RME, I'd probably just buy a Conductor 3x just to see what it's capable of. Also of note is that all of this evaluation has strictly been with the stock 5532 op-amp. I haven't even gotten to delve into Op-amp rolling yet.
Still, I don't think this is going to be for everyone. If you have experience with past Burson Products like the Soloist and thought the treble was too harsh or Bright, you probably won't like the Playmate. It's still consistent with my past experience with the Burson house sound. I for one like the presentation, but everyone's tastes are different. I don't think it's too bad in that regard, but it's not really smoothed over either. People who prefer the sound of something like the Violectric V200 (I don't) may not like the Burson. I don't have an unlimited tolerance for treble nastiness, although my current use of the HD-650 may mask treble aggressiveness. My Hifiman HE-4xx have been collecting dust for awhile because I really dislike their treble presentation.
Overall, I'm so enamored with the Playmate, that I plan to acquire a Burson Fun for use with the RME ADI-2 DAC. I feel compelled to narrow down if the "magic" I was experiencing is related to the amp section or the DAC. I am hoping it is the former. Considering that Burson has had flagship amplifiers (without a DAC) in the past, I suspect they will eventually release something in their current Reference or Performance range (hopefully fully balanced). If the Fun and said theoretical future amp retain the positive qualities of the Playmate, I could genuinely see the latter being "endgame" for my preferences. If you're shopping for an AMP/DAC combo in the $500 range, or even up to $1,000, I suggest putting the Playmate on your shortlist, with the caveat that I think it would really benefit from some kind of USB filtering like those from iFi or similar. ~$400 USD plus shipping ~$100 for the USB iPurifier still represents are strongly competitive value for under $600.
Other (non-sound) gripes:
I've expressed this personally to Burson, but for good measure, I find the implementation of the rotary encoder used for volume control to be poorly designed or implemented. When adjusting the volume, the selection will often be confused as to whether it is reading an up, down, or it won't read a notch at all. I might have written this off as a fluke with my unit, but I've read similar reports of other units, to include the Conductor, having the same problem. In contrast, the RME has a similar-feeling notched rotary-encoder for volume control, but it's implementation is smooth, natural, and otherwise flawless. It's implementation actually enhances the user experience rather than detracting from it.
Some users have reported that it doesn't bother them too much, but I personally find it very annoying and disruptive to the user experience. I hope that this will be improved up with future models. This is really my biggest nitpick out of the whole review, so if you're most concerned with sound-quality value, and this isn't a dealbreaker, then I highly recommend it. Because I like the sound presentation so much, I would probably be willing to deal with it, simply because I don't know if I could find an acceptable alternative in another brand. On the other hand, the Fun uses an Alps potentiometer, so if I acquire one of those, then this would be a moot point anyways.
Last edited:
Pros
:
Fantastic clarity and details. The mid range stage has excellent stage size. Notes have fantastic accuracy and precision. Plenty of power.
Cons
:
The treble stage could have had a bit more natural expansion. Slightly dry.
INTRO:-
Not all of us are aware of Burson audio. They don't push their products through fancy sellers and barely do much promotion on their own. But this is supposed to change as I have got a review unit from them. Hailing from Australia since 1996 their inception and they started their sales from 2005. Critically acclaimed by all the reviewers I personally haven't heard a lot of buzz about their products. They make
In their words:-
"Burson Audio is an Australian audio manufacturer making products with no op-amps and all discrete circuitry for a lavish musical experience."
Head over here to know about their circuit design:-
https://www.bursonaudio.com/about-us/discrete-circuits/
The playmate I am reviewing here is a very versatile thing on its own. It is a 2w Class A desktop headphone amp and can be used as pre amp if you pair it with some other DAC. You can connect your mobile phone through an OTG data cable.
The Playmate uses the flagship ES9038 DAC chip and you can opt for two types of op-amps. The Basic NE5532 op-amps set costs $399 and comes in only one color, Black. The V6 Vivid set costs $540 and has two color options, Black and silver. (You can always choose yours from their sets available separately).
I would like to thank Bhav from Burson audio for the unit.
Check the Playmate out:-
https://www.bursonaudio.com/products/playmate/
I do not have a lot of DAC in the arsenal but I do have a two to compare the playmate with.
PACKAGING AND ACCESSORIES:-
The package of the Burson Playmate is one of the best you can find. It is nicely packed with proper padding to protect the playmate from any damages. All the cables are places inside a card board box.
The playmate is nicely placed in the middle and you will find a Type-B to Type A USB cable. There is RCA cable to connect it with other DAC amps or speakers. The last cable inside the box is thee optical toslink cable.
BUILD QUALITY:-
DACs used to be huge, the one I have seen in my childhood they were used with a lot of speakers but the home setups too were not small either. Most of them used to be nearly 8 times in volume of the playmate. With a dimension of 210mm x 145mm x 45mm the playmate is not huge, it doesn't hook on to a lot of speakers either, but what it does is it delivers a lot of power to very demanding headphone.
Build quality of the Playmate is very solid, it doesn't feel very dense to the hand. It is kind of heavy at around 1.5 kg and the weight is nicely distributed across the board. There are no loose parts on the body, all the bolts are tight and the Playmate feels very sturdy. The rubber shoes on the base of the playmate have very good traction and don't let it slide easily.
The digital display on the playmate is okay but could have been slightly bigger. It is hard to see the letters clearly from a distance of around 4ft.
Another complain I have with the playmate is that the volume knob doesn't respond to every step, it doesn't feel accurate as it needs extra steps to specially when moving the dial very fast, it doesn't register every time. It nit picking but yes, it's a small flaw.
SPEC TALK:-
I have already mentioned that I am not a desktop kind of guy, I like to take my music where ever I go so these heavy stuff seldom manage to seduce me. But the thing about these things is that, they have the power!!These desktop things have plenty of power to handle heavy stuff like Planar and full size power hungry headphones. I have had a hard time finding a very demanding earphone as they are mostly designed to be power efficient and carried around.
I know most of us don't use their AMPs for speakers but if you have a nice set of multi driver speakers, you should invest on a DAC amp to get the best out of them. The Playmate has an impedance of 15ohm and it is on the easier side for a preamp, it preps the signal to be processed well by next stage while cutting out the noise and distortion. Smaller speakers have a lower impedance of just 4ohm and 8ohm but good quality speakers with multiple drivers will definitely respond better with refined source and more power.
Let's move on to the output most of us are going to use, the 6.5mm headphone one. And the output impedance is just 2ohm which means it can drive nearly everything to without much problem except a few very efficient IEMs. (Just to be clear, please don't but a desktop stuff for IEMs) I have tried a handful of headphones with the Playmate and they respond with more agility and precision.
Moving to the power output the Playmate does 1800mw at 16ohm, 2000mw at 32 ohm, 500mw at 100ohm, 300mw at 150ohm and 100mw at 300ohm.
The Borson Playmate can virtually drive anything with a headphone jack that can be inserted in to its port, let be your LCD XC or HD800 the playmate can drive them with ease.
The decoding power of the SABRE ESS9038 is top class. It can do 768kHz up to 32bits and can play Native DSD 64 / 128 / 256 / 512 without any problem.
Another thing which Burson Audio takes pride is in their MCPS technoloty.
In their words:-
"If the SABRE32/ESS9038 chip is the soul of Playmate, then the Burson
Max Current Power Supply
, MCPS, is the heart that brings Playmate to life. Debuted in the Burson Play, our proprietary MCPS overcomes the deficiencies of both traditional transformer-based linear power supplies and conventional switching power supplies. It redefines the size and performance ratio and it is the reason why Head-Fiers fell in love with the Play instantly.
With the Playmate, we have a further enhanced MCPS. It delivers even cleaner power. Tuned to Class-A, the Playmate shines from a pitch-black background."
Head over to the product page to see all the specs.
Variations:-
The playmate was available with more variations but as of now you can chose between basic NE5532 op-amp which I am reviewing the Playmate with and the V6 vivid. The V6 Vivid is fairly more expensive ($540) and I assume it delivers better clarity that the basic one. I dont have the V6 Vivid with me but one can expect a different sound signature too. Where the stock one sounds slightly cold maybe the V6 sounds more energetic and lively.
If you opt for the V6 vivid you will get a remote.
OPERATIONS AND I/O OPTIONS:-
As I said earlier the playmate is very versatile. To use it with a win 7 PC it needs the driver which can be downloaded from
here
. You don't need anything if you have win 10 or Apple system (I haven't tried it with MAC OS).
Let me get the portable part out here, not really portable at all but somehow portable in the sense that you can use this with your mobile phone or audio source.
Connecting with front USB:-
So.. How to do that? You set your device's USB output to audio out from developer options. (IOS doesn't need anything but a simple lightening to type-c adapter) Get yourself a USB type-c to USB A cable (PD cables don't work) connect it with a OTG adapter and you are good. Now press the little button on the right side of the huge volume knob. The option is input, press the volume knob and dial it anticlockwise which is come down to USB-F (USB front) amd you are ready to go!! Yippee!! It's not transportable but you can use your portable device with it.
PC Use:-
There is a socket in the back to connect a 4pin power cable found in the lot of wires coming out of out PC SMPS. You can mount the playmate inside your PC. As my unit doesn't come with any brackets or screws I assume the primary use of the Playmate is not supposed to be this.
Other options:-
You have two input and two output options with the playmate. You either use the rear RCA socket to connect it to another DAC where the playmate works as a preamp (you can use it with speakers too) or you use the front 6.5mm headphone out. Input options are either toslink or USB. It would have been out of the world to have BT connectivity with it but it is what it is.
Operations:-
First of all there is power button on the back, very very important cuz this thing gets hot!! I am in India, I dont have AC in my room and the temp can get over 45 C so.. It is not this hot but it's hot. You need to give it some rest every now and then. You can stretch it, but not here with 14 hrs days and hair melting heat.
The operation is pretty basic. Press the small button aside the volume knob and you have the whole menu at your disposal. Rotate the knob clock wise to browse through the menu and press it to enter the menu, rotate it again to see the options and press in the option you feel you would like to choose. I have made a video to show you guys the menu.
SOUND QUALITY:-
The ESS9038 chip inside the playmate is the top of the line DAC chip from Esstech, one of the most renowned audio chip makers. It has 32-bit mobile audio DAC with unprecedented dynamic range and ultra-low distortion with both synchronous and asynchronous sample rate converters. With support for up to 768 kHz PCM and DSD256 the Playmate can handle anything you throw at it.
There are a handful of options with the playmate when it comes to op-amps. If you feel that you need to change the chip to extract even more out of your Playmate all you have to do is to head over
here
and get yourself their upgrade op-amp chips.
The Playmate with its flagship grade components delivers fantastic clarity and details with immaculate notes presentation. It is just right on the money. The tuning is exceptionally balanced with a bit of emphasis on vocals. The tonality and timber are as neutral as it gets, maybe a bit drier than expected. If you find the tonality is slightly on the metallic side you can try changing the filter, brickwall sounds dry and metallic while reserved is slightly less. Nevertheless the Playmate has a tendency to sound dry and a bit cold which will not pair well with certain kind of headphones and DACs.
BASS:-
The Playmate is fairly linear when it comes to bass response. It is not flat but is not very voluminous. The sub-bass have nice extension and the rumble is good if the track has plenty of it. The mid bass is slightly more voluminous and delivers fuller and meatier notes giving the lower end acceptable amount of weight. The decay speed is admirable for someone who likes more details, accuracy and precision over the heft. it is fast and leaves no bloating or wooliness even on a bass heavy track. The faster and more defined notes give the lower end very good resolution and clarity. What bothers a bit is the lack of body. It could have been a bit more fuller. The bass notes do not have a lot of body to them but have good amount texture. One can definitely pair with well balanced headphones like the Fischer audio M12s enjoy the delicacies with pin point accuracy but it is not much fun when trying to drive the bass inclined AKG K371.
Another point where it is slightly bothering is that the playmate doesn't really respond a lot to DSPs. Nevertheless the amount of details delivered by the playmate is top notch.
MID RANGE:-
The Burson Playmate is one of the cleanest, most transparent sounding DAC I have used before. It just delivers some of best clarity and details. It doesn't try to bring extra smoothness in expense of bite or attack. Notes have fantastic definition and accuracy. The delivery is effortless and the imaging is exceptionally precise and very clean. The clarity and transparency along with a tad faster decay do make things slightly dry. Notes have good body, the finishing is accurate and with plenty of control over the notes. Notes have nice sharpness to them but are not very energetic or sibilant. The ability of details retrieval is outstanding, if your headphone is decent you will not miss a single details, even micro details have exceptional clarity and transparency. Paring the Playmate with something prone to sibilance might kill the cat.
Vocals have fantastic clarity and definition with plenty of texture and details. Let it be male or female vocals, both have very good depth and finish. Male vocals have nice throaty feel where female vocals have nice sharpness. The upper mid range has a hair less energy but the transparency and clarity is superlative. Notes have a bit of sharpness to their finishing but it doesn't have any sibilance to worry about. Layering and separation of instruments is excellent. There is a lot of air and space between the instruments.
It would have been nice if it had a bit of fuller notes paired with slightly less sharp finishing.
HIGHS:-
After coming from mid range the treble region feels kind of dull. There isn't much emphasis here, the energy is slightly lacking and the presentation is not as forward. It kind of feels like the instruments are playing at a greater distance compared to the mid range. The directional cues are not as vivid. Notes are good with sharpness but still not up there with the mid range. Details are very good but don't come out with equally good enthusiasm. The treble extension is very good but the less than average stage size makes it sound clumsy and closed in. There is not much space or air here. It feels like it is fighting for air, doesn't matter which headphone or earphone I use it doesn't sound better than it is with the Creative E5.
The problem is not related to details or clarity but it is on the stage and energy. The stage could have been bigger, the instruments could have had better distribution.
STAGE:-
When listening to the Playmate I tend to think what if it had a slightly bigger treble stage where the instruments have had better space and air between then. Things would have been even more impressive forgetting how the other sources perform. Compared to the Playmate none has bigger stage size. The mid range stage alone is big enough to subside each of them. It has fantastic air and space between instruments and the placement is very vivid. The expansion feels very natural with fantastic width, height and depth but the treble stage kind of makes the Playmate lose some points.
In general the stage size and the projection depend on the end equipment. The IEM and headphone does play a huge part but the playmate in general has good expansion outside the head. The Vocals are placed inside the head, mid range is half in half out while the treble is out of the head.
Sound altering options:-
Not many reviewers will warn you about this but in the menu there is option called "Emphasis". When it is off the notes are sharp and have more than average bite and attack. The transparency is super high. The finishing on notes is sharp and pin pointed. The whole sound quality is tuned to deliver accuracy and precision. Turn it on you will be treated with more subdued notes, losing some attack and bite.
In the Filter Menu there is another option to reduce a hint of sharpness and that is Filters. Brickwall will deliver the sharpest notes and CMFR will reduce some sharpness. Your choice, choose what you like.
For Gaming:-
The Playmate has a 3.5mm microphone socket just aside the 6.5mm headphone jack. You can attach a mic which has good clarity and details. It works fine with headsets too. The vast mid range stage helps a lot with directional cues which give a big advantage when playing MMORPG games.
Are there better options? At least for mic? yes.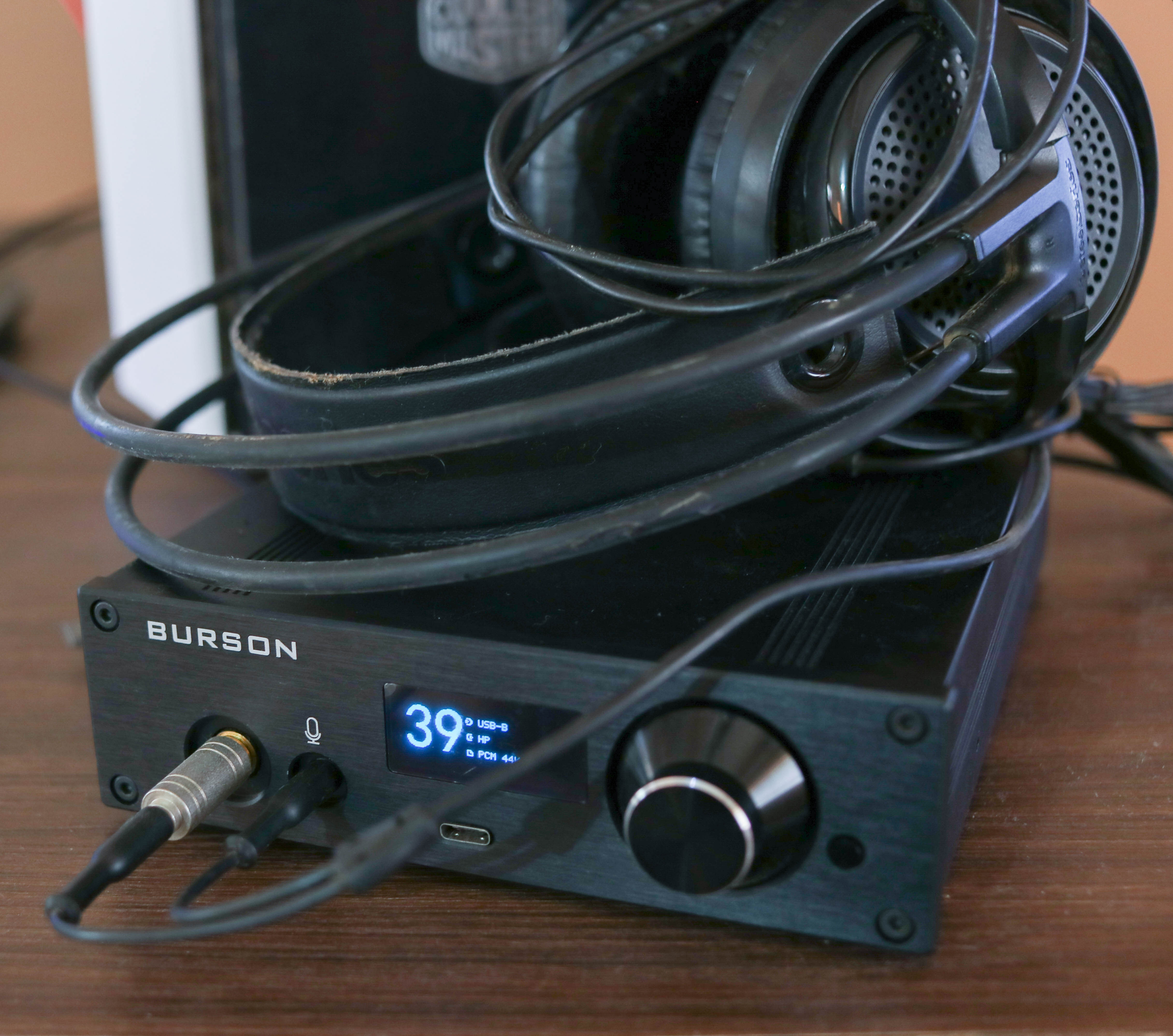 COMPARISON:-

VS Creative E5:-
The smaller and smarter E5 is the jack of all trades, you name it and it can do it. It doesn't have TOTL chips inside but it is not bad considering it has a exceptionally well developed software which enhances the usability and mic is built into the body of the E5 which makes any headphone game ready.
When it comes to sound the E5 has slightly bigger bass response, the sub bass is slightly rumblier with mid bass having a bit more body and slam. The mid range is clumsier and less forward. The micro details are a bit lacking while the notes lack a bit of definition too. There isn't as much texture either. Notes are a bit thicker with lesser depth which makes it sound a bit lush. Treble of the E5 has more naturally expanded stage while notes have better transparency and energy. There are some peaks that might make it a bit uncomfortable.
Functionally there is competition, sound wise there is no competition too. The E5 is a master which has all the tricks under its belt where the Playmate simply drowns the E5 with shear amount of details and clarity.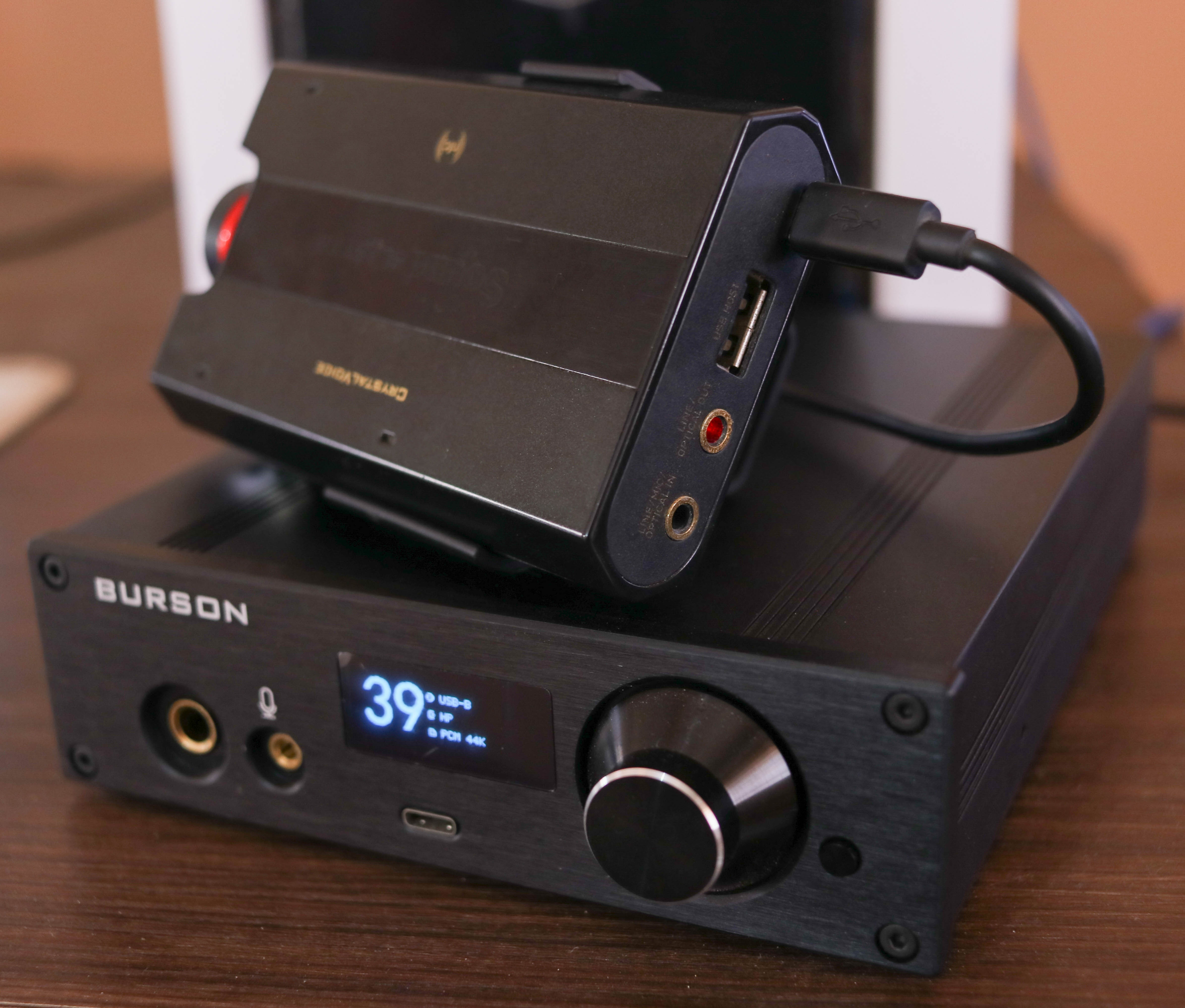 CONCLUSION:-
If you are more of a purist and love to enjoy the technical bits you will love the Playmate to the core. It has the delicacies that you might not have experienced with this much of distinction. If you forgive the treble region a bit the rest of the spectrum is marvelous. The transparency and clarity is exceptional and the level of details is outstanding.
The Playmate is not for the casual user. If you like to be on the move, not much into headphones, you think you are an audiophile but don't think you need a desktop setup, please stay away. The playmate is heavy, immobile and doesn't have an easy option to connect portable devices either, so if you are not nose deep into music, please don't make yourself sweat unnecessarily.
If you love your desktop setup, you love headphones over IEMs, you love precision over fun, the playmate is tailor made for you.
Last edited:
Comments
There are no comments to display.