Disclaimer:
I would like to thank Mr. Mark and HIFIMAN for providing a review unit of the Edition XS. Rest assured that my impressions written in this review are my own personal thoughts and opinions and in no way influenced by outside parties.
I am not an expert in this hobby nor claim to be an audiophile. I just love listening to music and am fond of writing articles.
Introduction:
The Edition XS was released to serve as the middle ground between the cheaper Sundara and the more expensive Ananda. It utilizes "Stealth Magnets" and a "NEO Supernano Diaphragm," with the former becoming a shared characteristic across a few models in their headphone line. Sensitivity is at 92dB while impedance is rated at 18 ohms. The Edition XS is sold for 499 USD, which puts it in mid-tier or budget-tier price range, depending on who you ask.
Phone/laptop -> Zen Blue V2/HUD100 MK2 -> Topping L50 -> Edition XS

I am glad to say that the Edition XS does not require a desktop amplifier to be satisfactory to listen to. With slow music that does not utilize lower bass to sub-bass frequencies, there is no significant difference to warrant the need to "amp" the headphone, given that your listening volume is relatively close to mine. However, if the music you listen to is not as stated and your listening volume is higher, amping the Edition XS would result in modest improvements across the frequency region and its technicalities.

Topping L50 at high gain, between 8 and 9 o'clock (main amplifier used). HUD100 MK2 at 18/100 (for testing efficiency)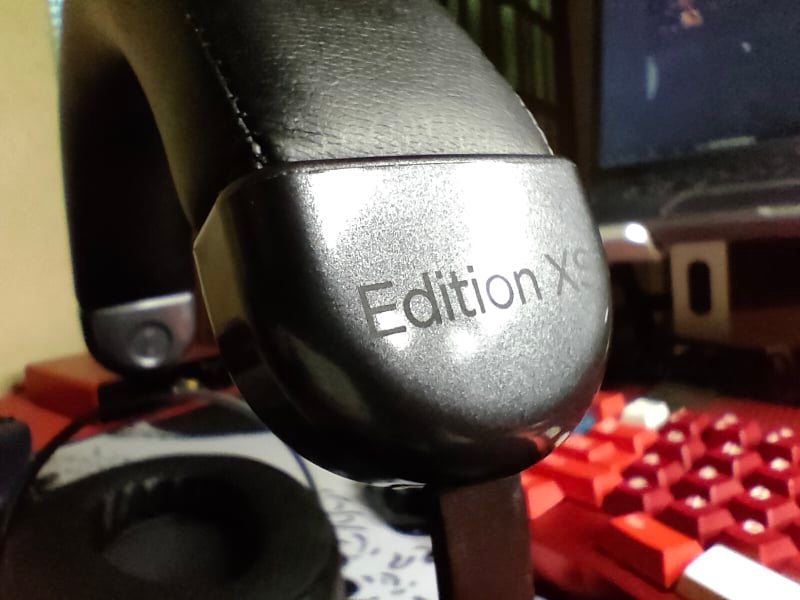 Build and Comfort:
The cup is basically the same design as the Ananda, with the only difference being the headband used, similar to the Deva and HE400se. Everything except the grill and the cup holder that swivels thingy is plastic. There, my dear folks, is where I have a problem with the Edition XS. I've tried two other budget HIFIMAN models, namely the HE400se and the Deva (wired). Those are essentially built the same as the Edition XS, whilst being ~350/300 USD cheaper respectively. The Edition XS feels the same as the other two. When you shake the cans themselves, there are squeaks here and there, particularly in the part where it swivels.
However, while the build is rather mediocre for its price, it does allow for godly comfort, at least against the five total headphones that I've tried. The cup, and in extension the earpad, is egg-shaped. The earpad, when looked at directly, would appear flat. But, the front-end has a very subtle contour. Add that to the fact that the earpad hole does not touch my ears, and it's like the headphone isn't even there. The swivel is satisfactory to adjust to your head's shape. The headband is well-padded and does not hurt the top of your head even with longer sessions (YMMV). Length can be adjusted in a multitude of steps. And lastly, it is surprisingly light for a rather big headphone. Clamping force is light though, so do take note.
Cable is dual 3.5mm to 3.5mm. Length is standard and is rubber-sheathed. It is very supple, does not tangle and no microphonic is heard. This is the best stock cable from the four total HIFIMANs I have/had.
Package:
¼" adapter. Paperwork. Stock cable.
Now, onto sound:

For this review, the headphone was left stock, without mods, with a listening volume of low-medium to medium.

----------

Bass:
neutral. Extension bests the HF580 (same driver as Aiva), and while isn't as abundant quantity-wise, is satisfactory for most music. With rap/hip-hop, it does leave you wanting for more physicality. The quality, meanwhile, is the most phenomenal of the headphones I've tried – IF you want to analyze every minute detail, reverb if present and change with the bass note. It reproduces bass in its purest form, laying it bare for your ears to critique. There is no "blur" along the edges nor does it struggle with control in fast/consecutive hits, thereby avoiding intruding into the succeeding frequency region. This basically just makes it sound like what a planar driver can do, for those that have tried a headphone with such LOL. I won't deny, I remember using similar descriptive statements in my past planar headphone reviews. And while that is truly the case, with how the Edition XS articulates bass is how a neutral planar headphone sounds like, it does so in the most exquisite manner. Now, if you desire that engaging tuning, do stay away from the Edition XS. It cannot, in any way, provide that energetic and fun bass without any form of EQ.
Midrange:
again, neutral. What is interesting, however, is that with every genre I have listened to using the Edition XS (I go from KPOP to Alternative and Electro; basically everything under the sun), it never sounded thin, even with the lack of midbass warmth to add body to the sound. With string instruments, every tiny detail is heard by the ear without specifically looking for it. I just have one gripe – it decays too fast for my liking. You know that feeling of getting hooked into the playing of Carlos Santana? That caressing touch? That, does not happen with the Edition XS for me. Notes just sound too abrupt in a sense, more so than the other planar headphones I have listened to. Now, I do understand it is all preference but I had to get this out for everyone reading this review. Regarding vocals, there is no bias with both genders so no problem there. It sounds like what a neutral pair of headphones should sound like. Not much to talk about. Both are placed comfortably – not too forward where it becomes shouty nor too far back and becomes difficult to hear. It is worth mentioning that the pre-to-upper midrange dip isn't as apparent as what the graph suggests, even when compared to something like the Sundara. There is, however, an "almost there" sibilant voice as how I would describe it (read: gives out the start of the
ssss
but doesn't go all the way), most present with poorly mixed tracks.
Treble:
exhibits brightness but is relatively neutral. Couple that with the technical prowess of the planar driver, the neutral bass response, and the detailed midrange and we have ourselves a headphone made for analysis of music. To avoid an overly clinical or "sterile" presentation, what I would do is pair it with an amplifier that can be subjectively described as velvety or warm. However, at the time of writing this review, I only have the HUD100 MK2 and Topping L50, both of which have been described to be bright-neutral. The Edition XS reproduces the treble region with clarity, thanks in part to the previously mentioned tuning. All the characteristics of a planar headphone regarding treble still do apply with this headphone.
----------

Timbre:
Like what I've mentioned, compared to the other four planar headphones I've tried, this noticeably has the fastest note decay of them all, making it sound less natural than it should be.
Soundstage, Imaging, and Separation:
If you've tried the Deva or have read reviews of it, imagine if its soundstage was perfected. That, is how the Edition XS does staging. Exceedingly lifelike presentation, thanks in part to its tuning, imaging prowess and separation capabilities. Wherever any sound comes from, you will notice it in a very hyper-focused manner. I have never encountered any track that gave the Edition XS trouble with imaging and separation. It's a can't miss in terms of technicalities.
Detail-retrieval:
Most detailed transducer I've listened to. The combination of the tuning and the technicalities bring out every macro and microdetail in the music, thus providing a hyper-realistic listening experience, excluding the occasional brightness of the headphone. It made me hear detail that I never have obviously noticed in songs I thought I knew by heart.
----------

Conclusion:
Transparent – that's the word that best describes the HIFIMAN Edition XS. Is it the best headphone sub-500 USD? I cannot say as I have only tried four others apart from the Edition XS and all of them are at the very least a hundred USD cheaper. This is also the first transducer I've tried that crossed the 400 USD mark. However, if you really want a neutral headphone that is able to reproduce sound in a lifelike manner, albeit with the occasional brightness and
almost
sibilance, then the Edition XS is for you. Using the HIFIMAN Edition XS is like consuming music in a very discerning manner – you
taste
and appreciate all the good parts but at the same time perceive the undesirables.
****If you have other questions/concerns with the headphone mentioned, feel free to message me****​