Review of Little Dot MK-III Headphone Amp/Pre Amp
03/23/08
Review equipment listing:
Creative Zen Vision (First Version)
Microsoft Zune 80
ASUS Notebook A8JS
PC w/Creative X-Fi Music Extreme w/5 ¼" IO Drive
Zero 24/192 DAC/Head Amp/Pre-Amp
Sennheiser HD-580, HD-600 and HD-650
Model ST-630 Laser Temperature Gun
Pioneer 1978 SPEC System
DBXII-128 Noise Reduction Unit
Technics RS-1700 ¼ Track Reel to Reel
Technics RS-1500 ½ Track Reel to Reel
Out of box experience:
My new LD MKIII shipped on Tuesday the 19th and received it on the following Tuesday! EMS shipping from China is extremely fast and reliable! The box was in great shape and I started un-boxing immediately. The MKIII was cradled in poly-foam surrounds that take up the entire inside of the box. The default tubes were in there sockets safe and sound. The contents of the box were; the MKIII, a retail package of RCA cords, a ¼ headphone adapter, three tiny blue jumpers, a standard power cord and the English user's manual.
Specifications:
Frequency response: 12 hz~100 Khz (-1dB)
THD+N: 0.15% (80 mW @300 ohm)
Power Output:
350 mW @ 300/600 ohm
300 mW @ 120 oh
100 mW @ 32 ohm
Variable Gain: 3,4,5, or 10x
Recommended Load Impedance: 32 ohm~600 ohm
Pre-Amplifier Output Impedance: 10K ohm
Pre-Amplifier Gain: 3-10x (also controlled via gain switches)
Pre-Amplifier Voltage: 10V RMS
Pre-Amplification circuit includes both driver and power tubes
Driver Tubes: 2x GE5654 NOS
Power Tubes: 2x Soviet 6H6PI NOS
Average Power Usage: 30 watts
High quality aluminum chassis
Dimensions (Metric): 270mm deep by 175mm wide by 123mm high
Dimensions (English): 10.6 inches deep by 6.9 inches wide by 4.8 inches
Weight: 3 Kg or 6.6 lbs
Impressions on initial power up:
Once I had the MKIII out of the box and sitting on my workbench, the first thing I checked was the gain "dip" switches. These are located inside the amp, but are accessible from the bottom of the MKIII, threw access holes. According to the owner's manual, mine was set on a gain of 5. I'll be using 300ohm Sennheiser headphones for this review, so I put all switches in the "off" position for a gain of 10. I first plugged in power, then connected my Zune80 to the MKIII and plugged in the HD-650 headphones. I switched the power to "on" and the power LED, which I asked for a green one, lit up and the tubes started to glow. I selected an album from my Zune80 and started the playback. It was obvious immediately that the factory burn-in and testing had put some hours on the default tubes. Warm and spacious sounds filled my head as I took a closer look at the MKIII. I have read many comments by owners of the MKIII about its good looks, but didn't really appreciate those comments until I actually had it in front of me. This little amp looks fantastic! Matte black for the body of the amp, brushed aluminum for the faceplate, and a matte black back plate. The tube sockets are surrounded by brushed aluminum rings, which reflect the tube glow in that golden color we all love so much.
A naked MKIII
The one thing I was not visualizing correctly about the MKIII was just how thin it is in appearance! The body of the amp is only 1 ½" high! This gives the MKIII a sleek and sexy look for sure. Considering the listed dimensions, this amp has a fairly small foot print, which will please many who wish to use it for a desktop headphone amp. Listening closer to the sound, tells me this amp is much more refined than what I was expecting. The dynamics I am hearing are just astounding! The bass is deep and full, the mids are warm and welcome and the highs are improving quickly as this first 2 hours goes by. The default tube selection in the MKIII is actually very nice. The 6H6N-PI power tubes are known for their accuracy and the NOS GE 5654 driver tubes are the "standard" for sound in this type of tube. Even though my mind is running through a list of tubes I want to try in the MKIII, I must confess I really do like the default sound very much. It works well with a wide variety of music (tested and verified) and this is undoubtedly why they were chosen as the best low cost tubes to provide with the MKIII.
A song has just started I rather like, so I grabbed the volume knob and ran it up to the 12 o'clock position. Good Lord! It isn't loud, it's FULL! The lowest bass is actually vibrating my HD-650s on my head! The mids are flat, smooth and dynamic while the highs are clear and showing only the slightest need for more hours. While the highs still lack the definition to reveal the slight nuances I know are in the music, they are not digital sounding at all. If I had to describe the overall sound at this point, I'd say it was analog sounding, without the noise! A quick change to my HD-600s confirms my assumption about the highs. Some more hours are needed, so I'm switching to my computer as a source and running coaxial out to my Zero DAC to drive the MKIII. I've spooled up 6 albums and turned on repeat all. I'll run 6 sessions of 8 hours, and this will give it 48 more hours of burn-in.
Impressions after 48 hour burn-in:
At this point, the MKIII has improved greatly. The bass had tightened up some, the mids are even clearer than before and the highs are much more defined and revealing. The nuances that were absent at first, are now noticeable and improving. I get the feeling that the tubes are done maturing, but the MKIII itself isn't done yet. I was thinking about the picture on the Little-Tube site, that shows those nice big Rubycon capacitors and I guess I can see why it would take more time to mature the MKIII.
Running the volume up again, tells a different tale than it did 48 hours ago. The "full" sound is larger. The sound stage is very pleasing and three dimension details are all laid out in proper positioning. Everything is stable and accurate. I can see why some users wait for a long time before rolling different tubes into the MKIII. I have decided to continue with burn-in sessions until I reach the 120hour mark. I'll monitor them every few hours and cool off the MKIII every eight hours, until I am done. I have to tell you, I'm very excited about this "Little-Dot's sweet spot" called the MKIII. I forgot what I was doing and got lost in the music. At some time or another, I fell asleep and was woke up by my wife, who was laughing at me. I asked her what was so funny, she said, "You were playing your drums in your sleep, quite nicely too!" Why does she always catch me in these embarrassing situations? I haven't played drums in 25 years.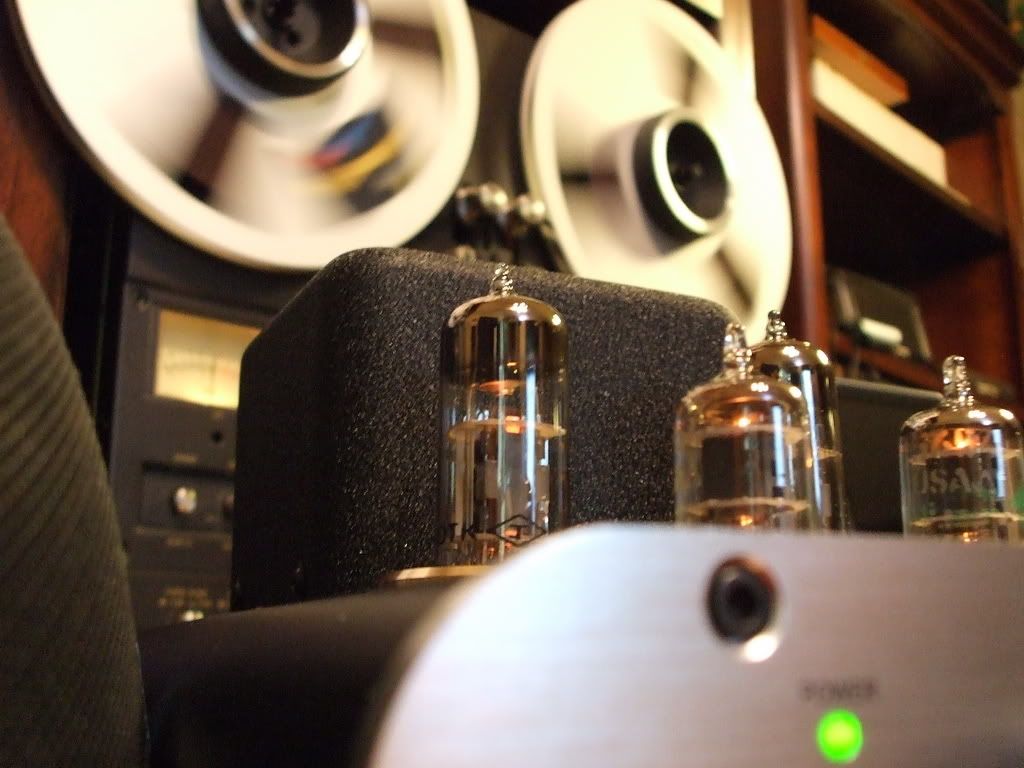 15 Days Later. The Flu and my ears. Burn-in Complete:
I caught the 2 week flu. Damnit! I am so sick, it's like torture! My ears have been plugged and messed up for over 12 days! Every time I tried to listen in on the burn-in in progress, I couldn't make out much of anything. All I could do was keep track of the time and continue as planned. On the 13th day, my ears unplugged completely. They were over sensitive and upset about being plugged for so long, so I didn't torture them with headphones. Instead, I ran the MKIII's pre-amp output into my Sonic Super-T amplifier and listened to speakers instead. What a quality sound! Every bit as dynamic as you'd expect, but with that smooth tube midrange sound! This was like heaven for my poor ears. It is obvious Little-Dot has kept to their word and designed the pre-amp out to be as wonderful as the headphone out. This makes me smile, big time! I will use this feature with my mini system a bunch.
I'm declaring the burn-in complete. I'll still have to wait a day or two for my ears to normalize, but in the mean time, I'm doing all the testing of the pre-amp output with the systems I have here in my home office/lab. The second test involved hooking the MKIII to my Vintage Pioneer Spec system. Again, the results were excellent. Having that warm midrange sound really is something special! I tried a variety of different music and different volumes with this setup and one thing was apparent throughout the testing…The MKIII is very clean and clear. No noise was present during any of the testing. This speaks volumes about the quality of the components in the MKIII and the designs outcome. With excellent dynamics and presentation, usually one could expect to find some level of noise to pull this off. Not with the MKIII! I am beginning to understand the "full picture" of this unit and its popularity with audiophiles. At this price point, the MKIII "shines" like a new silver dollar. Little did I know, the MKIII was hiding its true potential from me. It would take another 2 days before I ran into this "hidden" potential. Follow along with me as I tell you about the next set of discoveries I made.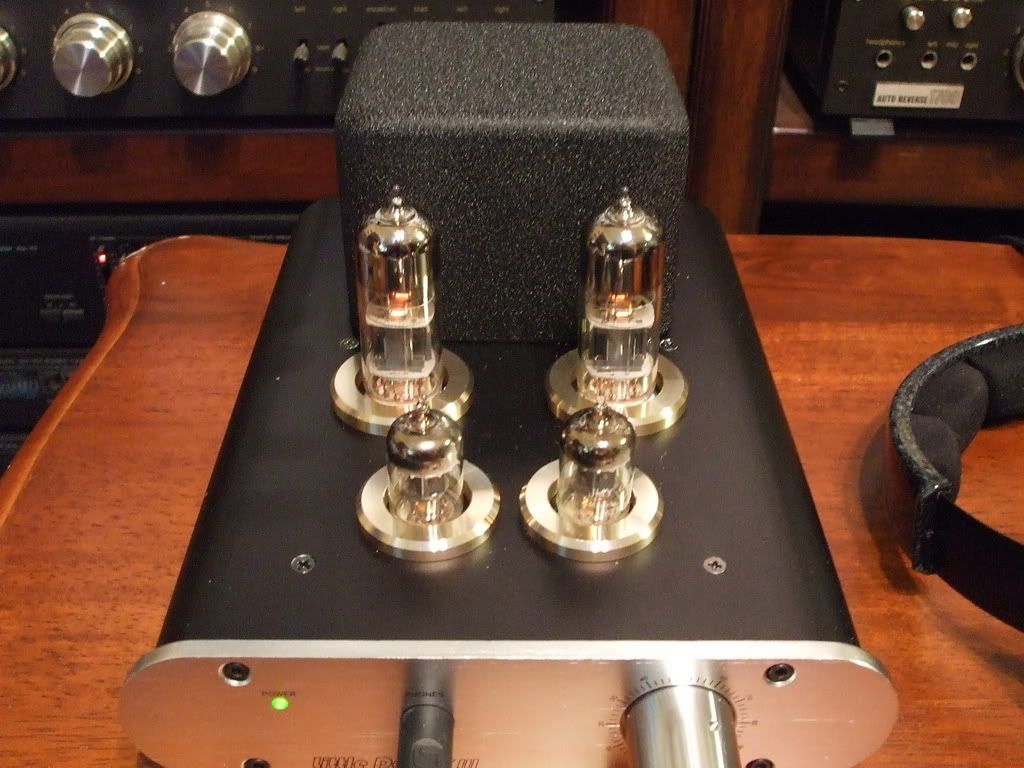 With the MKIII driving my SPEC equipment, I ran the ½ track Technics RTR output to the MKIII via the pre-amp, and back into the pre-amp through AUX1. I was listening to Steve Miller's Hotel California at 15ips. Man o' man, does this ever sound great! My DBXII-128 has removed the tape noise and the noise floor is just not present. With the default tube selection in the MKIII, the sound stage is much better with the pure "analog" sound than with digital. The whole album is just fantastic! But, I must move on and get to tube rolling right away. I just can't wait any longer. With my ears are back to normal, I decided to go ahead and do some tube rolling. Since the MKIII is set to run driver tubes in the EF95 family, I'll start there:
I tried the following EF95 NOS tubes I have that are already mature, in this order:
6Zh1P-EV Russians
M8100 Mullards
JHY-6AK5 Hytrons
JHS-6AK5 Sylvanias
JAN-5654 GE 5-Stars
5654 Amperexs
GB-5654 Sylvania Gold Brands
While all of these tubes were an improvement over the default driver tubes, three sets were so outstanding, I had to go back and re-evaluate them. I'll provide a little detail with each of the three that were outstanding, so you can follow my thoughts.
First were the Russian 6Zh1P-EVs. These inexpensive little gems are a rock and roller's dream! The dynamics and punch they provide is very addictive! Extreme lows with punch, mids that are flat and accurate, and highs that drive the music into a toe tapping experience! I just love them!
Second was the JHY-6AK5 Hytrons. Even though these are rare to find, I paid very little money for them. They are dated 1943, so you can imagine my delight when they arrived.
The presentation with these tubes is incredible! A super sound stage with so much accuracy across the entire spectrum, it takes your breath away! I could run this set as my daily tube set and most likely never change them out!
Third was the GB Sylvania Gold Brands. These (if you can find them) are the second most costly tubes I own, and for a real good reason. While every tube has some property that makes them nice to own (most of the time), the GBs have multiple properties that make them such a sought after tube. The bass is tight and accurate, while maintaining punch and drive, the mids are the best warm and smooth mids I have in an EF95 tube. The highs are truly to die for! Such incredible detail while maintaining the presence of fine nuances is absolutely rare! I actually discovered new sounds with these tubes that I have never heard before. I was totally shocked!
But that is not the whole story! The sound stage takes on a new meaning with these tubes. Not only do they provide a nice wide sound stage, with width and depth, they also provide the greatest sound stage property of all, height. I know for a fact that you must have a really great tube amp in order to have this property reveal itself, and here I was, experiencing it with the MKIII and these wonderful tubes! I'm not taking about the echo off the walls of the recording studio, I'm talking about the lead vocalist standing 5'5" and the drummer/vocalist sitting at 3'10"! I'm taking about the stair stepped stage of the orchestra and how the trumpets are on one level and the trombones are on another level. WOW! This is something I would have expected out of my MKIVse headphone amp, but here it is with the MKIII!
Just when I thought I had found audio nirvana with the MKIII, I installed the blue jumpers for the EF92 family of tubes and tried the following:
M8161 Mullards
6CQ6 Mullards
EF92 Amperex Bugle Boys
WMT W77s
While all of these are an improvement of the default driver tubes, one stood out as an over achiever. The EF92 Amperex Bugle Boys. These are also rare to find, but what a tube! If there was ever a tube that defined what "tube" is supposed to sound like, these are it. Extremely full spectrum, mids to die for, low bass that "insists" you follow the bass player! Addictive in a major way!
While I prefer the sound of EF92 tubes more than EF95 tubes, I also realize that this is due to the music I listen to regularly. As an example, Pink Floyd is incredible with the EF92 tubes, and even Black Sabbath sounds excellent with EF95 tubes. That is a wide example, but you can see the "span" of possibilities is indeed wide with these two families.
Another example of the MKIII's extreme abilities is to listen to an album from Rush, called "Signals". A song on it is called "New World Man", which many older guys & gals will remember because it was on the top ten in 1982. With a normal quality headphone amp, nothing will stand out during this song. Everything sounds in its place and you toe tap your way through the song. With the EF95 Gold Brand Sylvanias in the MKIII, there is a background synthesizer that is playing a midrange set of notes constantly throughout the entire song. You hear it all by itself in the beginning of the song, going doo doo, da da, doo doo, da da, doo doo, da da running perhaps 6 chords total over and over again. I am not kidding you when I tell you it sounds like it is coming from the lower right quadrant of your brain! The entire sound stage is wonderful and wide, and here is his strange but necessary synthesizer playing from the bottom of your skull. When you close your eyes, you discover that the sound is actually coming from a speaker on the sound stage, located behind you and to the right, about 4 feet from you. It is not just a vision; you can "feel" its presence there. This is just too cool! It is also very interesting and very revealing! It adds a whole new dimension to the MKIIIs arsenal of impressive quality and craftsmanship characteristics. I tried to duplicate this new dimension using my MKII with the same tubes and same source. It doesn't have it or reveal it! So, I tried to duplicate it with my MKIVse. It has this same characteristic only more so! Perhaps I have found the "smoking gun" of quality measurement? Could be!
Tube rolling the MKIII has left me drained. I feel totally spent and perhaps a little shocked. The last thing I expected was to find the MKIII performing at this level! When I would close my eyes and listen to all this outstanding music, then open my eyes and see I was plugged into the MKIII, I would think, "Naw, can't be!" Well, it was and is, and I am extremely pleased.
I put the default tube set back in the MKIII and ran it for 4 hours, so I could take a maximum temperature measurement and put it in the review. (Temperatures in Fahrenheit) Here are the results:
Area Tested MKIII Temps
Front Case 95
Body 113
Front Tubes 125
Rear Tubes 225
Transformer 113
Power and the MKIII:
We Americans love power. If it sounds like power, if it looks like power or it grunts like power, chances are we have one. This very need took me down a path with my new MKIII I had not planned on. It is listed that the MKIII can use the highly regarded EH-6H30PI Gold power tubes, so I ordered a set. I never gave any thought that they might hurt my new MKIII, so when they arrived, I put them in and pressed on as normal. Or, so I thought. The sound improvement from this high end tube was (too my ears) very substantial. The entire audio spectrum has become more dynamic and bass has doubled its punch, mids are warmer and highs have even more realism to them. I spent 4 days rolling the EF95 and EF92 tubes into the MKIII, to evaluate the impact the EH-6H30PI was having for all tubes. This is when problems started to surface. At HeadFi, Ethebull had been following my latest ranting on HeadFi and ordered some 6H30PI tubes like I did and he started experiencing problems. It turns out that several users were following along, so when we talked with Little-Dot about the problems that was happening, we were told that it was due to a 64ohm resistor in each channel of the MKIII (and MKII) that needed to be changed to a 120ohm resistor, if we wanted the 6H30PI to run stable. I was also told the change was posted on HeadFi. I finally found it. Somehow, I had just missed it back in August of last year. I felt like a real jack ass. I notified everyone immediately and tried to apologize for heading them down a one way road, and then sat back to think this problem through. I could forget it, and press on as normal, or I could embrace it and see where it took me. Grunt, grunt!
Before long, I had my soldering tools out and was removing the 64ohm resistors and soldering in the 120ohm replacements. I decided that even though it meant I could NOT go back to the original 6H6NPI tubes, I would get the additional benefits from the 6H30PI Gold tubes. The "power" thing had me in full grasp! I have no regrets on doing this modification. It has shown me that the MKIII can step beyond its regular design and produce excellent results with a better power tube.
I don't recommend this modification for everyone. While it is cheap to do, it is involved and you must have some skills to pull it off. The tubes are more expensive and some might argue that there are diminished returns with this type of modification. I would say this: The MKIII performs so well with the stock power tubes, why mess with it. You are going to be totally delighted with the MKIII and this is as it should be.
If you get the "grunts", look for the mod on HeadFi.org.
Lasting impressions:
First, I would say that the MKIII is a very worthwhile upgrade over the MKII. The gains in all aspects of this great tube amp are more than noticeable. Quality and craftsmanship have made this wonderful amp a real pleasure to own. With such an excellent price point, most people are going to be able to afford the MKIII. The MKIII has found its niche in the Little-Dot MK series line-up. It sits squarely in the "sweet spot" seat, right between the MKII and MKIV.
Negatives:
I looked and looked and looked. None could be found. Again, this speaks volumes about the design and craftsmanship put into the MKIII. I really do believe that Little-Dots emphasis on quality before shipping has set a new "High Standard" in this area of the headphone amp market. Others will be hard pressed to follow this high standard. Sadly, many don't come close.
Conclusion:
Little-Dot's MKIII is another winner. The challenge to make a "sweet spot" headphone amplifier is a huge and complex task! Little-Dot has exceeded my expectations in almost every possible category that can be reviewed! Their efforts show not only in how the MKIII looks, it is very apparent in how it performs! Headphones off to Sword Yang, David Z.P. and the Little-Dot crew, for an excellent headphone amp/pre-amp, the MKIII. Somebody give these guys a metal!
Dave McLaughlin
LD MKIII owner and
Audiophile since 1977