Joined

Dec 17, 2019
Posts

34
Likes

42
Location
Okay, so I had been desirous of modifying my 58X headphones for awhile to make them look closer to the prototype that was reviewed by Jude (Head-Fi), Steve Guttenberg (CNET), DIY-Audio-Heaven, et. al.
I reached out to Head-Fi forum member DivineCurrent who had inspired me to take the next leap after reading
his post
from last year. He gave me a few pointers, which I'm grateful for.
In order to try and match the foam Sennheiser uses behind the cup, and so as not to ruin the foam that came with the headphones, I purchased these:
https://spares.sennheiser.com/en-us/catalog/sparepart/578879
I cut them at around 45 mm or 1.8 inches (roughly) in diameter. Initially, I tried to 'poke' or gently slide the foam discs I had created into the little crevices around the rear of the driver. Without any luck doing that it occurred to me that I had seen a video a long time ago from Tyll at Inner Fidelity where he demonstrated disassembly of the 580/600/650.
Dissasembly, Spring Repair, and Reassembly of the Sennheiser HD 580, HD 600, and HD650
Using that as my guide, I was able to pop out the 'sucker end' of the "lollipop" as Tyll refers to it and slide the foam discs into place and gently snapping the "lollipop" back into place. On the left side, I pulled it out to far and had to use tweezers to get the coiled wires back into place... that was a little stress inducing. But on the right cup, I was much more gentle and did not have that issue.
Here are pictures of the finished product.
Now...the important question is... "
does it sound any different to me?
"
No
, still the same '
neutralish
' 58X sound as before. No variations at all. But I didn't want to change the sound anyway.
Does it look cooler?
Oh hell yea.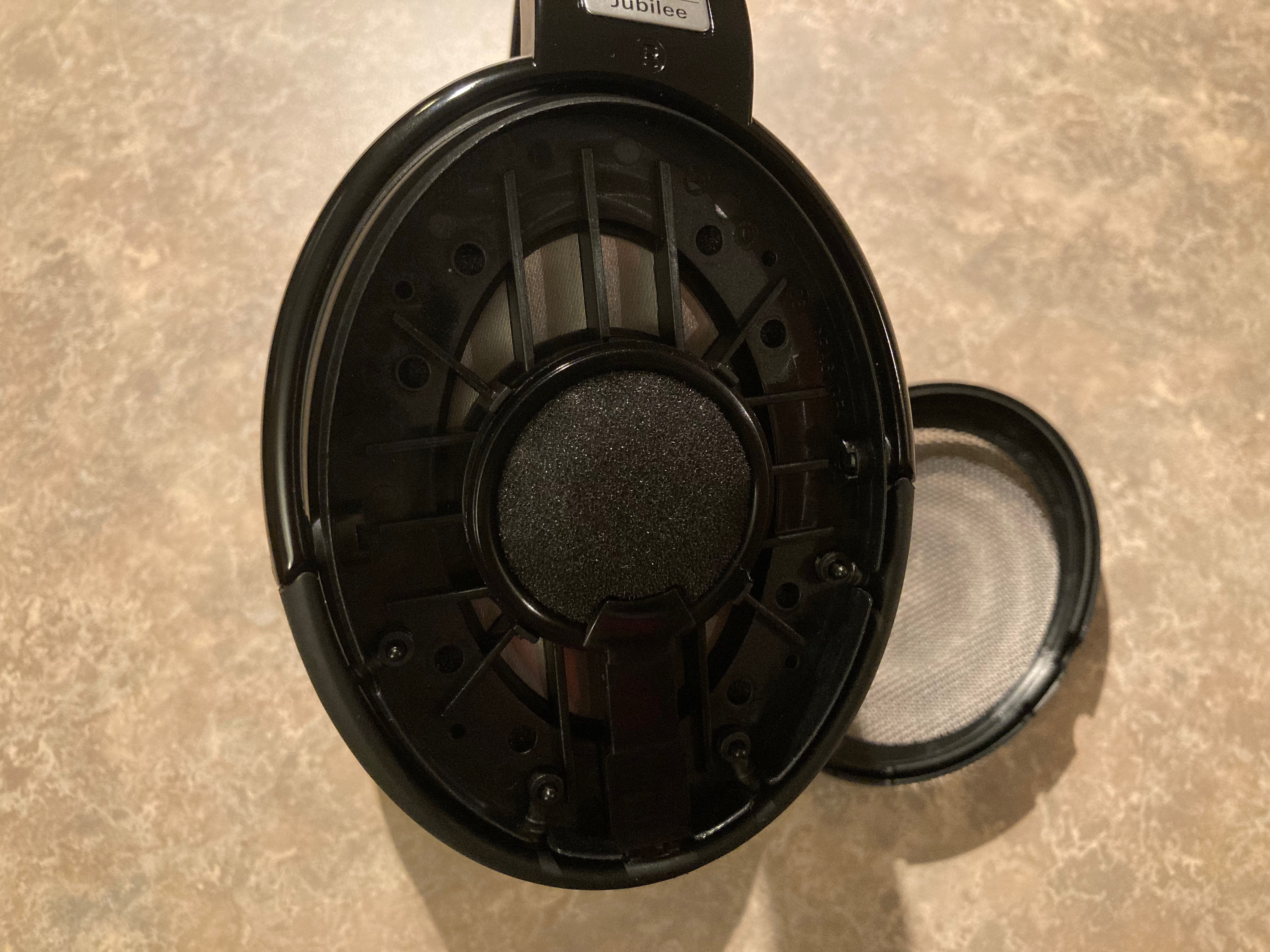 Thanks DivineCurrent and Tyll Herstens, wherever you are in your camper van.