Joined

May 24, 2008
Posts

2,808
Likes

14
Hello, it's me Felix again and today i'm doing a review on the Comply Foam tips, and i'll put it also against the newly designed foam sleeves by shure, the Black Foam.
Here's a couple pics to show and introduce the Comply Foam tips...
Now First off on performance...Compressing...
NOw, both the Comply and Shure are both very easy to compress and when pressed they nearly shrink down to 1/4 of the size, and it's quite amazing even though it's foam. Both Compress quite easily, however the Shure's do give a bit more resistent, while the comply is easier to compress and actually feels like the little holes in the foam are completely filled with the surroundings of the holes (hard to explain, you'll definitely understand when you get a pair or two)
Before Compressing...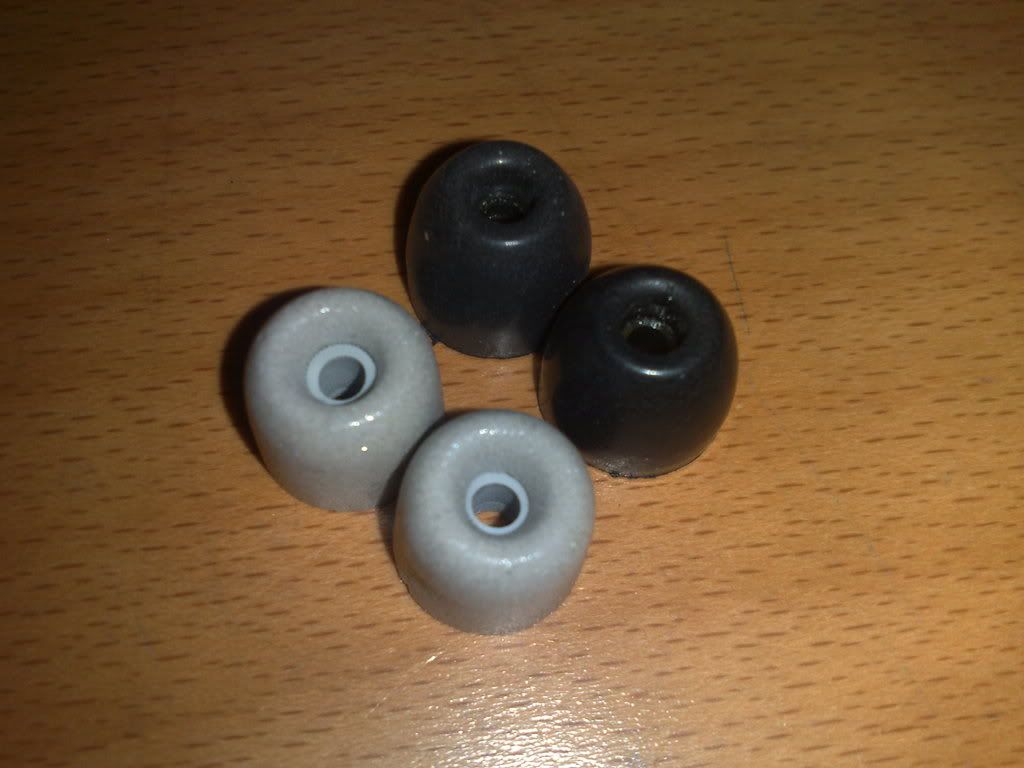 And After Compressing (taken with my right hand while compressed with my left)
Next...The Ease of Using them...
Ok, so often, admit it, not everyone feels like foam that day and might want to go to silicone or triple flange for their own purposes and sound signature. How easy is it to remove the tips and put them on? well, i would say, this one goes to comply...BY FAR. The Shure is not hard to put it, it may just be a difficult to take off at the beginning, in fact, it's so stuck on the first time you put it on that you might think you would rip the soundtube out of the earphone completely trying to take it off. On the Other Hand, the Comply is Notorious on this one, it's so easy to put on and take off. it's so silky smooth. I believe this is due to the fact that Comply uses a slightly less stiff material for the inside, so the tube is able to mold over the secure ledge that shure puts on the sound tube. but i guess it wouldn't matter as much if you were using a pair of Westone Um1/ Um2/ or the new 3.
Here's a couple fit pictures of them on my Shure Se530's
Comply...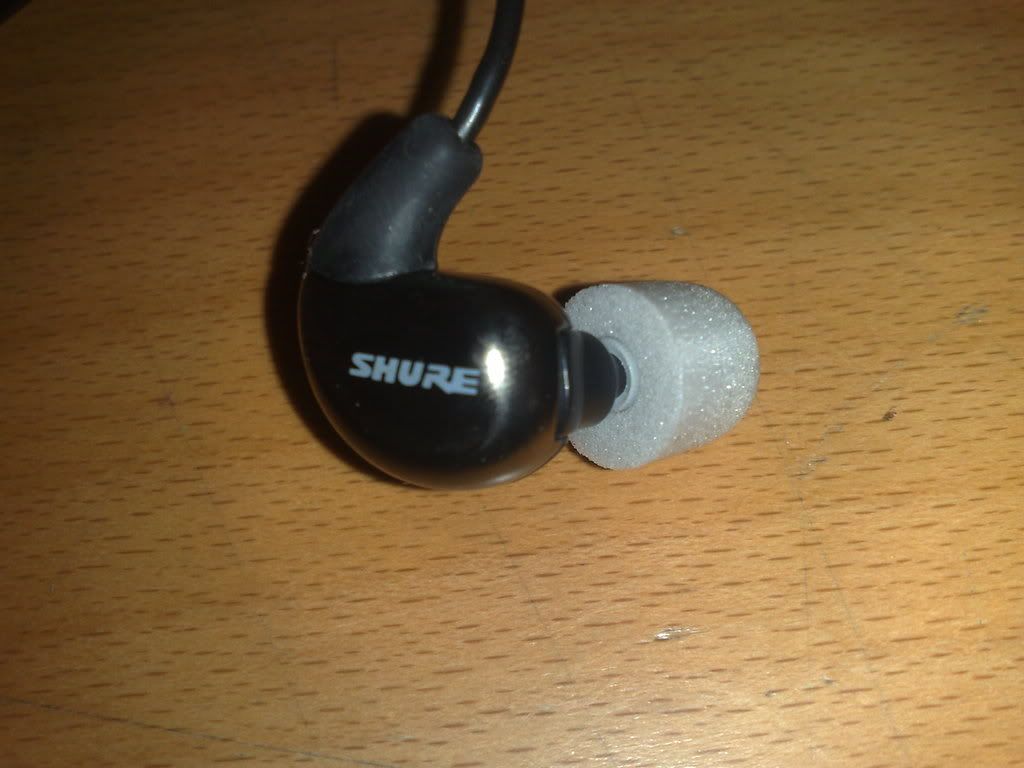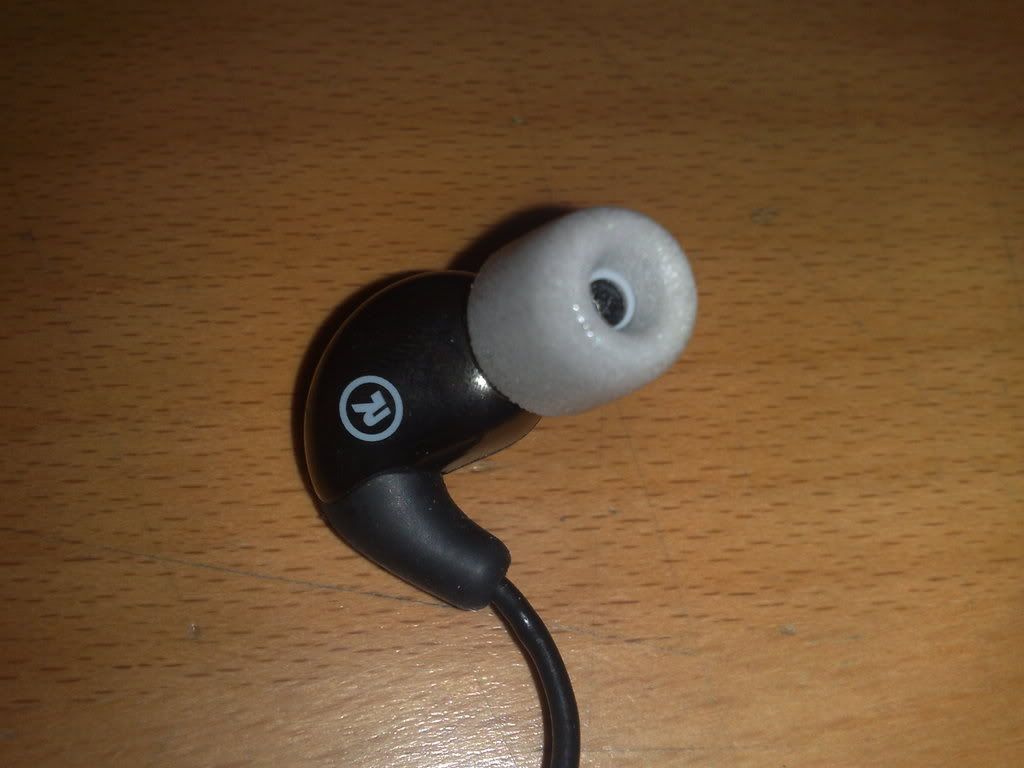 Shure...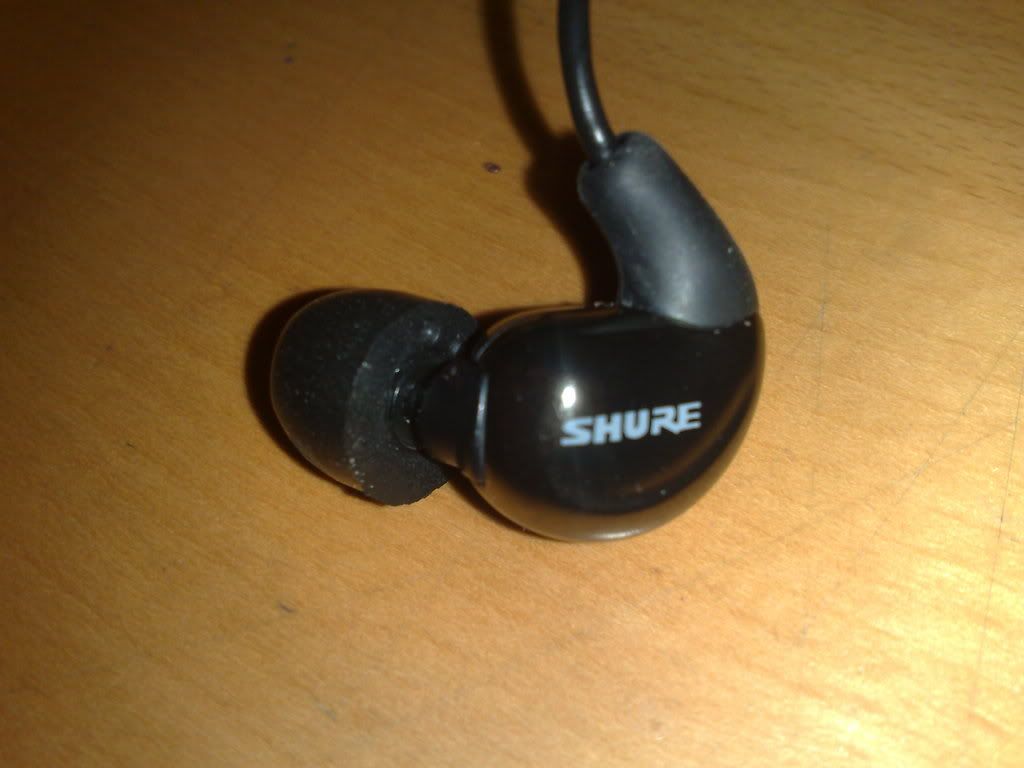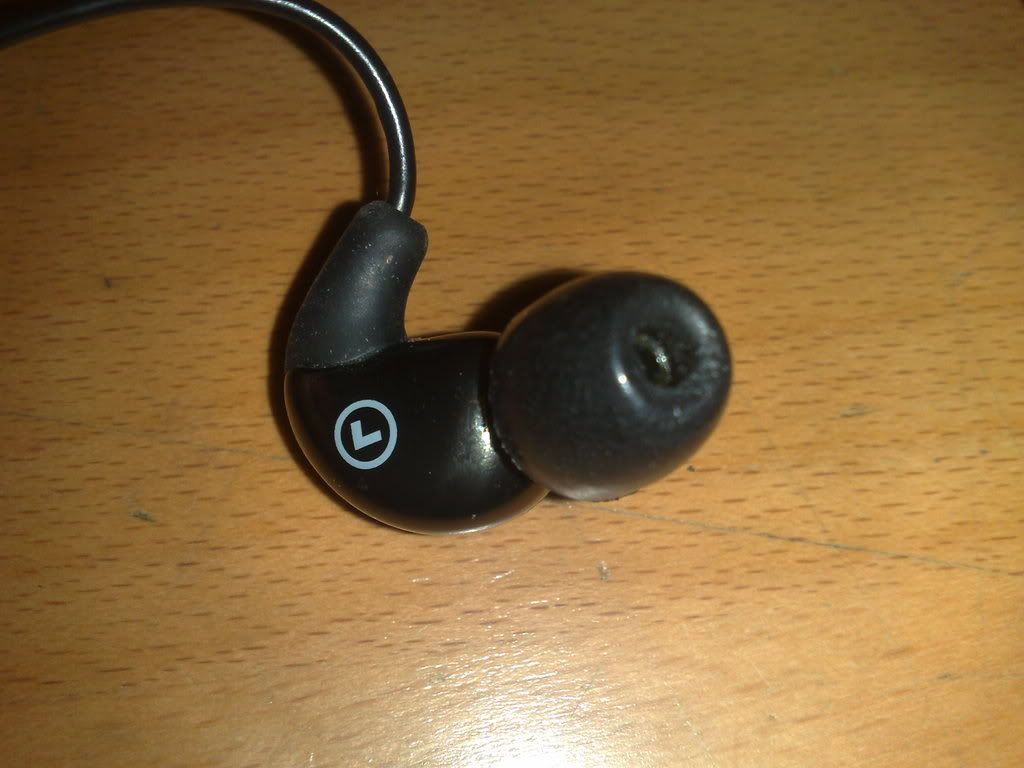 [size=large]With Each other...[/size]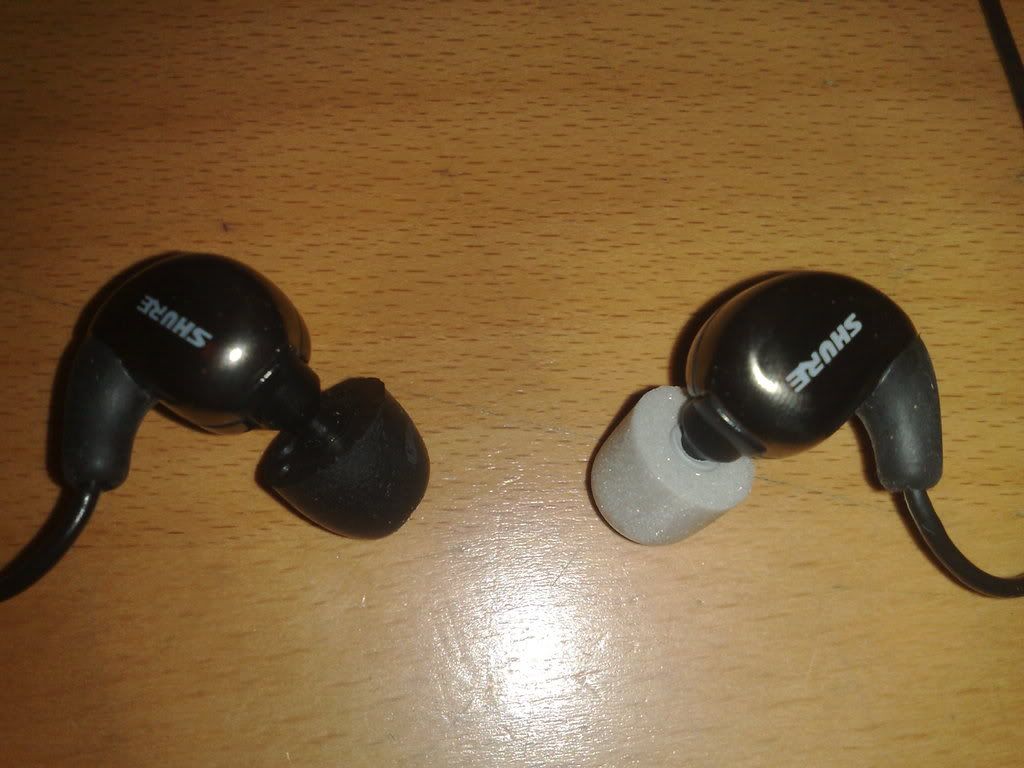 Durability?
Well it's hard to tell between the two, to make sure my durability was right, i used Three Pairs for this testing...but sadly. My Camera Had Problems and wouldn't take pictures, so i apologize for no pictures.
The Coating on the Shure's stayed on longer than the Comply's but the foam on the comply lasted longer. So... i would say. it's a tie this round. *by the way, i used them, washed them, dry them, used them, washed them, dry them, in the same temperature water, with warm water or warm soapy water to test the durability on these. i also rubbed them on my clothes to see if the twisting and turning when putting in your earphones affected the durability. in the end, both eartips came to my high standards)
[size=large]
Comfort?
[/size]
YES COMFORT! this one was super duper duper hard...i can say that, the Comply take longer to put in as you have to hold it there until it warms up a bit so it expands in your ear to fill it with love filled softness. In the Shure, you can compress and put into your ear, and instantly get some soft fluffy feel in your ear. I can wear both for hours without irritation. However, i myself prefer the Comply a bit more just because it's a tad softer. but i would still say both are superb in comfort
[size=large]
Sound:
[/size]
They both make a very nice seal. So in the end the sound experience was fantastic, nolow frequencies were lost, so you get the full punchy and full body bass you get from a pair of triple flange, the Warm mids that you're suppose to get, it's all there. However, since the Shure black-Foams were a bit denser, it tended to keep the detail of the high Frequencies a bit more present compared to the comply.
i would say overall, the Comply made the music a bit more balanced and flatter, and the Shure's kept it to the way that it's emphasized on highs on my Se530.
Conclusion:
I would say, both Ear tips are EXTREMELY nice to wear, and both are FANTASTIC ear tips...what can i say. I highly recommend both.
At my high standards though, i would just a tad recommend the comply higher since i just prefer the extra softness you get when it warms up, i would pay the extra little 5 dollars for 5 pairs... hehe. HOwever, don't mistaken, like i said i would highly recommend both.
[size=large]UPDATE: COMPLY TX W/ WAX-GUARD[/size]
Jeff was kind enough to get me a pack of these for review. Honestly, these are a Beautiful Design. In terms of quality, these are just like the usual Comply's. The Wax-Guards are made of Foam, so it expands and compresses accordingly to the tubing. The Wax-Guards do differ in size, as they tend to be placed in various positions in the tubing, some deeper into the tubing, and some more to the outside, but that didn't matter, as they just did their job at keep stuff out of the nozzle.
Sound quality, and everything wise, these were just like ordinary Comply's, comply claims that you lose -2dB in terms of Sound, but to me that's basically nothing, and i wasn't able to tell the difference. If you want some Foam tips that also protect your Earphones, take a look at these!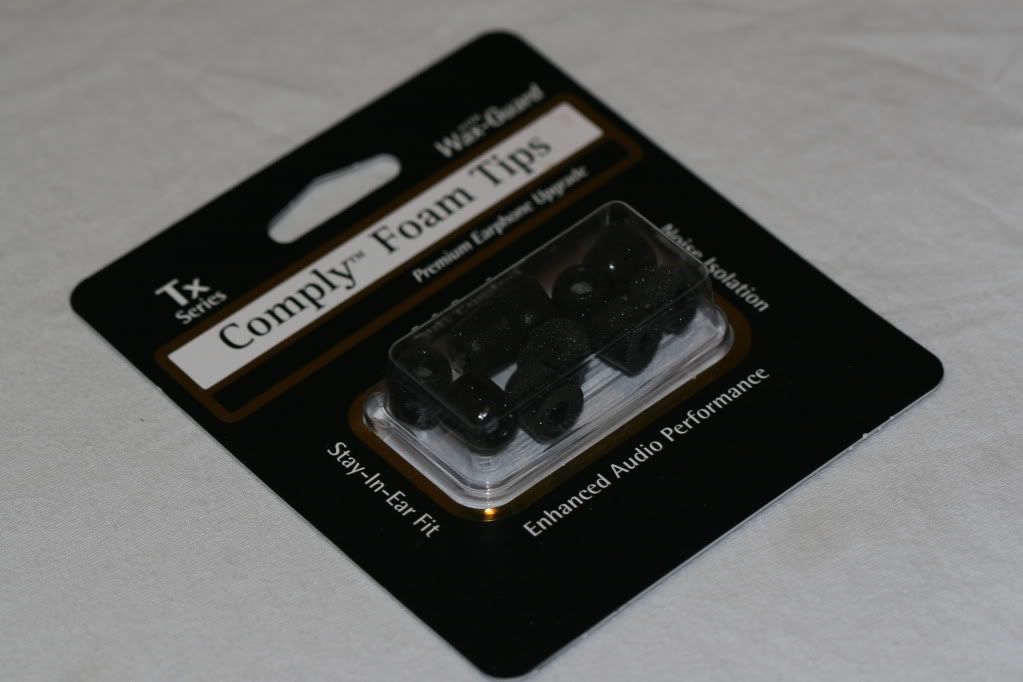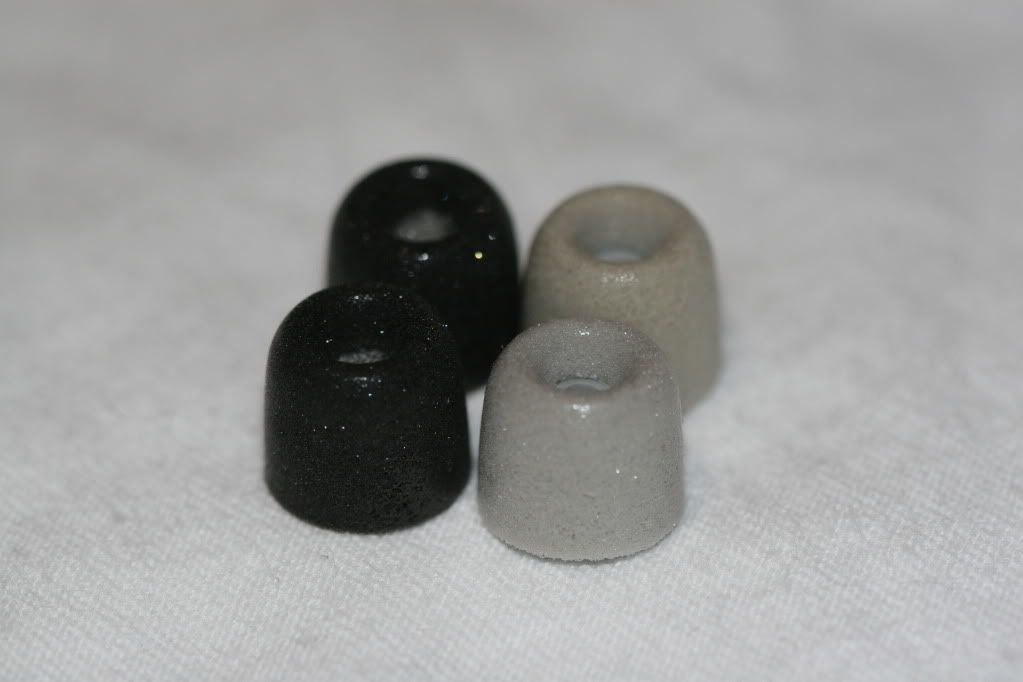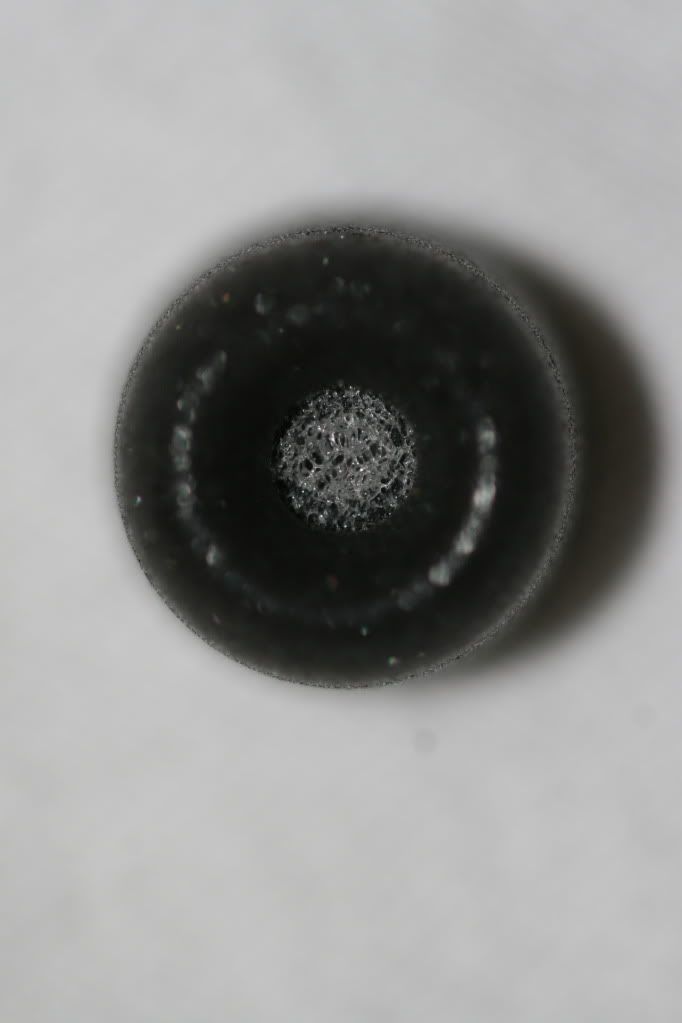 Hope this has helped, and good luck on choosing!
Felix Yau