The Best Sennheiser IEM
Pros
:
Refined Sound, Natural Timbre, Pinpoint Imaging, Soundstage, Instrument Separation, Detail Retreival, Air, Price.
Cons
:
Bass is boosted. V Shaped signature, so not balanced. Not a straight forward MMCX cable. Microphonic cable.
Purchased from Amazon for $299.95
DAP : Hiby R5
Music : Various top 40 80's music, Heavy Metal playlist, and Squirrel Nut Zippers.
Comparisons : Sennheiser IE800, Sennheiser IE40 Pro, Kz DQ6, SFR MT300, and Dita Truth.
Let me start by being up front. I'm a Sennheiser fan boy. Always have been. I've owned every Sennheiser IEM from the CX150 through the CX215 and CX300 II all the way up to the 880, IE80, and finally the IE40 Pro and IE800. I also own the HD599 and owned the HD600, 58x, and HD280 PRO, so I know my Sennheiser sound. With a few hours into these newest IEM's, the IE300, I can emphatically say they are the best Sennheiser IEM's they've ever produced.
Yes, even better than the IE800, which remains their flagship earphone. Apparently, Senn took the 7mm XWB found in the IE800 and IE40, and refined it? From the sound of it, YES THEY DID. These are a very refined listen. They remind me of the sound coming from my HD599 cans more than they remind me of any previous Senn earphone. They have much more controlled highs than the IE40, and are as refined as the IE800 highs. Where they separate from the IE800, aside from crushing it in in fit and comfort, is the pinpoint imaging. The soundstage is as wide, but the imaging is world class. Better than just about any IEM i've ever heard, and i've heard over 100 from $5.00 to $1,000.
With great air and instrument separation, the placement of instruments in their place is just a revelation. What a treat! Mids are balanced, but not forward. These are mildly V shaped, with present bass that's never bleeding into the mids, but that have weight, impact, presence, and moderate speed. As I mentioned, there's have a very 3D presentation, with plenty of depth and height. These are very refined and mature sounding. The Sennheiser veil isn't very present here at all, certainly not like the IE800. The mids are more forward than the IE800, and the bass a touch less. Above average air and instrument separation. Timbre is also above average, but not what i'd call world class, but that's because the treble, though very refined and present, isn't overly extended, and there's no peaks, that would give the illusion of overly transparent highs or weighty timbre. It's just right.
Extension is excellent and so is timbre, and realistic (don't listen to those who said the timbre isn't realistic..they are WRONG). It's just not overdone and very tasteful. The cable is so much better than anything else offered by Sennheiser. Why oh why did Sennheiser not use this cable on the IE800?! or even the IE40 pro or it's siblings? If they had, they might have had an earphone as popular as the CX300, which put Sennheiser on the IEM map in the early 2000's. Comfort is supreme. The components are attractive, well built, and smallish. I'm really impressed with the build quality here. The sound is fun, coherent, clear, refined (have I mentioned that yet? lol), with strong bass response. Ok, time to go listen to more 80's music with these! Later!
Last edited:
All About The Bass!
Pros
:
Rich & Smooth Bass
Lush Mids
Wide Soundstage
Well Extended Treble
Great Build Quality
Excellent Fit & Comfort
Cons
:
Lacks Energy & Sparkle in Treble Region
Slightly Recessed Mids
Lack of Upper Mids Extension
Insufficient Layering
Mainstream Sound(Pro For Some)
Disclaimer
Sennheiser IE 300 IEM has been provided to me for review purposes by Sennheiser, India. I neither work for them nor related to them in any way. All impressions shared by me are subjective to my listening capabilities and the gear used by me. You can purchase Sennheiser IE 300 IEM from Sennheiser, India. Further details about IE 300 can be found in Sennheiser, India website link provided below:
https://en-in.sennheiser.com/ie-300
Product Description


Sennheiser IE 300 comes in a nice box, showing off an enlarged picture of IEMs on top of it. Unboxing is pretty straight forward experience, lifting upper lid revealing the IEM surrounded in a foam material, and its carry case in its own space. You also get the standard manuals on top of the carry case. Inside the box, you get 6 pairs of tips including foams and cleaning tool. Carry case is small and can hold the IEM and spare tips sufficiently, though I wish it comes in a little bigger size.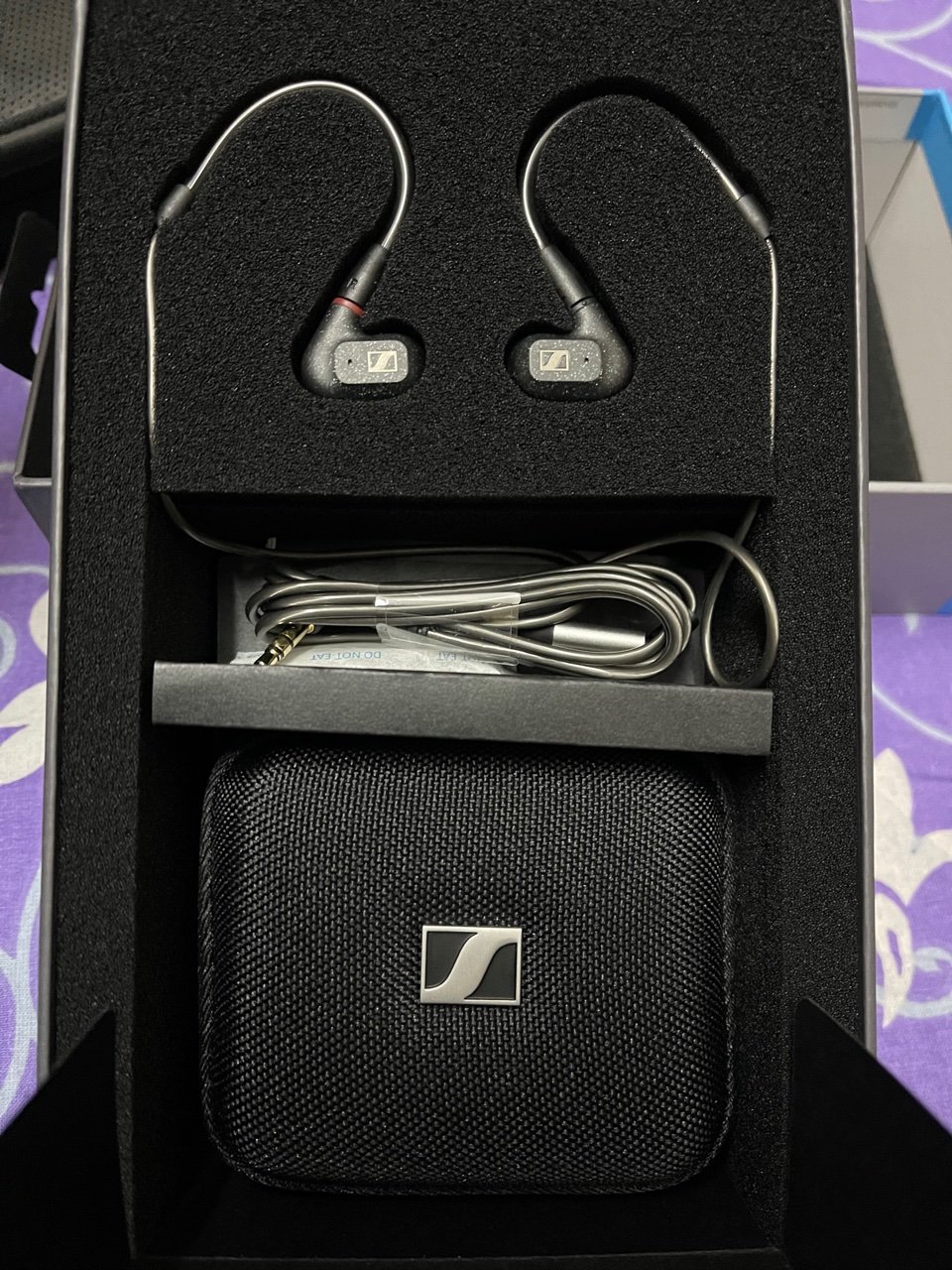 IE 300's shell is made of thermo-plastic resin material and it's of small size, in turn providing excellent fit and comfort. Even though the earpieces are made of plastic, they feel solid and premium with neat design to go with. Provided cable is just okay though. Cable connection at IEM end is of MMCX type. MMCX port is quite recessed, and one can only use Sennheiser made cables for now. Cable noise and movements are pretty much audible even while playing music.
IE 300 uses a German made 7mm XWB-transducer. It's rated at 16 ohms with THD<0.08%. It can be driven easily by a smartphone, but a dongle DAC minimum is advised to bring the best out of it.
Gear Used
Cayin N6ii DAP with E02 module was used to test IE 300.
Sound Impressions

Bass
IE 300 has excellent bass performance both in quantity and quality. Right from the start of music playback to the end, you are presented with a full bodied and rich bass. Bass goes deep, has good texture and thicker notes, has faster attack speeds and slow decay. Sub bass is good and has decent rumble with slight lack of details. Mid bass is good and overall sounds punchy and well controlled. All my bass test tracks including Lorde's Royals, Julia Michael's Issues sounded punchy and well controlled.
Mids
Mids sound natural and lush. I found mids to be slightly recessed. Upper mids lack extension. Tonality and timbre are clean and natural. Female vocals sound natural and slightly lack energy. Same goes for male vocals. Male vocals sound full bodied, clean and natural. Detail retrieval is good. Diana Krall's "Sway" and "Let's Fall in Love" sounded very good, though I wish her voice could have been slightly forward and with more energy.
Soundstage
Soundstage has very good width and good depth representation. Imaging is very good. Instrument separation is very good, though thicker notes result in compromise in layering. Layering isn't as pronounced as it should be, giving an impression of slight congestion in busy tracks. Soundstage isn't an out of head experience, but wide enough to be not called as an intimate listen. Overall detail retrieval capabilities are very good. Soundstage width and depth has been portrayed good in songs like TOOL's "Chocolate Chip Trip", Fleetwood Mac's "Dreams(2001 Remaster)" and Anette Askvik's "Liberty".
Treble
Treble is very well extended in IE 300. It doesn't sound harsh or fatiguing. In my testing I felt it had little less energy and sparkle than what I like. Cymbals sound natural, crisp and clear. Laurie Anderson's "Born, Never Asked" sounded very good, but with less energy and sparkle.
Overall, sound quality is very good, but lacks that oomph factor that can make this IEM a stand out offering from Sennheiser. It has the typical mainstream v-shaped sound signature.
Comparisons

Vs Drop x JVC HA-FDX1
FDX1 is a very popular single DD IEM offering from the collaboration of Drop and JVC. JVC offers three filters for FDX1 to alter its sound. The changes in sound are minimal in nature, largely taming its shouty upper mids and metallic nature, which is the case with its default white filter. I used the blue one, which has the most dampening. Pitting this against Sennheiser IE 300, immediately shows the different tuning methodologies used by JVC and Sennheiser. JVC is very neutral sounding IEM compared to the warmth of IE 300. FDX1's bass lacks that punchiness of IE 300's bass. FDX1's bass is just above neutral and clean. Whereas IE 300 is full bodied. Detail retrieval, imaging, layering and instrument separation are slightly better on FDX1. Mids are on warmer side with IE 300, with thicker and richer notes compared to FDX1's clean, natural and forward mids. Upper mids extension is better on FDX1. Soundstage is wider in IE 300 and slightly deeper in FDX1. Both FDX1 and IE 300 have very good treble extensions, but FDX1 wins in having that extra bit more energy and sparkle. Overall, if you like a neutral, clean sounding IEM, then FDX1 is hard to beat in its price range, and if you like to have an engaging, and fun sounding IEM, Sennheiser IE 300 is a very good one at it and in fact can be a very good companion IEM for any neutral IEM.
Verdict
Overall IE 300 is quite an engaging IEM, with very good bass, lush mids, and well extended treble. Even though it performs well enough in all things that matter, but it still lacks that wow factor. Sound signature is on safer and on little laidback side, may suit casual audience more than impressing audiophiles who are spoiled for choices in this price segment. Yes, price is on little higher side, $300/INR 29,990, but for that you are getting arguably one of the better, if not the best IEM in fit, and comfort, apart from having good overall sound quality. So, in the end, do I recommend it wholeheartedly? Yes, for pure fun listening sessions, totally keeping technicalities and critical listening aside.
Sennheiser IE300 - follow-up to the ie80s?
Pros
:
very musical signature with great imaging and non-fatiguing treble
Cons
:
cable transmits most movements to earpieces, lacks a little detail compared to hybrids in same price class.
disclaimer: I was approached by a Sennheiser representative about doing a review of the new IE300 and also helping to create a playlist of songs that showcase the IE300's strong points. I have no financial interest in Sennheiser or any of its resellers, nor have I been compensated (other than the earphone being provided) for the content of this review. If you have an interest in the IE300, please visit Sennheiser's site, or they are available now from most better resellers.
Because of the playlist request, this review is a bit longer than some. I have tried to keep the format the same as my standard with the exception of the playlist section that details the tracks I recommended be added to it and the reasoning for each.
Unboxing / Packaging:
The Sennheiser ie300 comes in a lift-top box with a large graphic of the earpieces on front and some of the marketing points on reverse. Lifting the lid reveals the earpieces with cable attached in a foam surround at top and the bulk of the cable and case in a cutout in the lower portion. The rest of the kit is hiding in the case with 6 pairs of tips (3 each SML silicones and foams), a cleaning tool, cable tie, warranty card, and manual. Overall, its a fairly complete kit and the case is nice and solid so should provide good protection. The inside of the case also has a mesh pocket for keeping spare tips and the cleaning tool handy without having them fall out every time you open it.
Build/Fit:
The earpieces are small-mid sized and made of a thermo-plastic resin with an outer shell, an inner plate that covers the rear portion of the shell and a round nozzle/driver housing that fits into the front section of the outer shell. The outer shell has a raised plate with the Sennheiser logo and a single vent to the rear of the logo. The right earpiece has a red ring around the mmcx to identify it and the left has IE300 cast into the inner plate. Nozzles have both a forward and upward rake which helps with insertion depth but isolation is only average with silicones and foams offer a bit of improvement in isolation but change the signature enough that I preferred the silicone tips. I did have a tough time finding a tip that fit well. Luckily the nozzles are standard sized with a pronounced lip so choices abound. I ultimately settled on the Azla Sedna M/L which gave a more consistent seal than the tips provided. Once the seal issue was worked out, these are a comfortable iem for long wear with the caveat that the cable transmits a lot of vibration directly to the earpieces and I can't recommend these for gym use without at least a cable swap. I have seen no information on waterproofing on this model so it may be best that gym use is avoided anyway.
Internals:
True to their roots, Sennheiser uses an updated version of its 7mm extra wide band dynamic driver they have made famous in previous in-ears. The current version is rated at 16Ω but remember that Sennheiser rates their sensitivity at 1kHz/1Vrms so the 124dB rating is not the equal of the dB/mW rating used by a lot of other measurements. In my own testing I found the IE300 sensitivity to be roughly 103 dB/mW. (Remember the margin of error on my calculation is ±4 dB as my system is pretty rudimentary compared to some). Still the important thing regardless of how its measured is that the IE300 is easy enough to drive that it does well when paired to things like Hiby R3 pro Saber or the 1st generation Cayin N3, and should be usable with a smartphone or tablet although a dongle may help here to give a bit more potency. The driver also sports a rear resonance chamber designed specifically for it to help prevent unwanted reflections. A helmholtz resonator in the nozzle assembly is also used to tame unwanted resonance according to Sennheiser documentation.
Cable:
The cable starts with a 90º jack of the type I prefer with a good strain relief and a heavy para-aramid (generic name for Kevlar) coating on the single strand that exits. The splitter is brushed aluminum with a plastic V relief on the lead in and matching black plastic chin slider above the splitter. Perhaps oddly, wires above the split retain the same size and weight of the single wire below rather than going to a smaller lighter design. Cables terminate with heavy earhooks with memory wire and mmcx connectors in black plastic housings with R and L marked on the side of the housing. I'll say it right up front. I'm not a fan of this cable. It is very durable for sure, but trades pliability for durability and the resultant product has a bad habit of transmitting every bit of movement directly to the earpieces despite the over-ear design. Part of this is also due to the memory wire ear-hooks that are always loosening up over time and fail to hold their shape. I wore the earpieces for 2 hours and had my wife help me measure from rear of the earpiece to the front of the base on the earhook and over that 2 hour period it had loosened up by 6mm. This was tested during a period where I was seated, and walking inside the house, not strenuous exercise so I have to think this is going to be accentuated by higher activity levels.
Sound:
Let's set the stage appropriately before we go into sound details. This is the replacement for the ie80s with its tunable bass and is not a pure reference in-ear. Those looking for this to be the ruler flat frequency response of a true reference can quit reading now. This is a shallow V with emphasis in the sub-bass and lower treble ranges much like its predecessor when set to its most bass heavy setting. The good news is it distorts less than the ie80s on its most bass heavy setting and has more detail comparatively.
Bass:
Sub-bass is emphasized with a center point at roughly 45Hz and roll-off only evident below about 25Hz. Sub-bass textures are good, but not great as some minor detail is lost in its delivery in favor of quantity. From that peak, mid-bass drops back fairly quickly and loses all emphasis as it crosses into the lower mids. Mid-bass textures again are good but not class leading and driver speed shows a slower decay than attack which contributes to warmth but does make the bass bloom on pieces where the bass is a little loose anyway. I found the bass tuning good for pleasure listening but a bit too warm and a little boomy for critical listening. One of the criticisms of Sennheiser has been the lack of bass on many of their models. That was clearly something the IE300 was designed to address as if anything, it has a bit more than absolutely necessary and is certainly a departure from what many have grown to expect from the "Sennheiser House tuning".
Mids:
Lower-mids flow well from the mid-bass without any obstruction and only minor mid-bass bleed and even with the lack of emphasis, the lower-mids don't sound recessed and deeper vocals have good note weight and timbre without the classic Sennheiser veil. Guitar growl is good with enough ragged edge to be believable as well. True mids follow the same pattern, good detail and clarity with enough energy to be well voiced if not emphasized. For an in-ear tuned more toward popular genres, the IE300 does well with string quartet pieces and piano concertos where mids are dramatically emphasized. The IE300 isn't mid-centric, but does a good job of handling pieces that are with good energy and speed. Female vocals are on the same plane with lower voices and both cut through the instrumentation without the feel of an artificial lift that so often comes with that.
Treble:
Unlike a lot of the Vs in this price range, the lower treble shares the same lack of emphasis with the mids and we only see the climb back foward begin as we leave the lower treble and move into the 4-5kHz range. Lower treble has enough energy to provide good detail but is non-fatiguing and fairly polite. While true treble is emphasized, there is a drop off before we reach the 9kHz range that keeps the IE300 from getting really fatiguing. Snare rattle is good with crisp edges but cymbals need a bit more energy than provided some of the time to be completely realistic. This is a tough balance as with sparkle comes fatigue most of the time. The move of the boost from lower treble to true treble does create a little brittleness in higher vocals at times so tracks that are a little on the hot side anyway may show this and mild sibilance as a result. Final roll-off is above the limit of my hearing (roughly 14kHz) and does give the IE300 an open top-end with no feeling of being closed in or limited.
Soundstage / Imaging:
Soundstage is wider than deep with some sense of height and is on the intimate side which shouldn't be a shock for a closed back in-ear model, but what will surprise is how good the instrument separation and imaging is. Seating the orchestra is very straight forward with clear positions and no overlaps or missteps. Movements around the stage are easily identified and positions are tightly defined so this might even be an in-ear gamers would find usable. I found no big donut hole in the center stage like most iems and even sounds directly from the rear are represented well. Layering is quite good as well with compression only evident on extremely complex passages and then only in the lower mid-bass range and sub-bass.
Playlist:
This was a neat idea to put together a playlist that accentuated the good points of the ie300. You'll find a lot of strings and vocals in my contributions to the list as those are the things I find the ie300 does with great aplomb.
First up on my list was tracks that feature the dynamics of the ie300 as well as its string tonality. For this I chose two pieces (3 movements) that I think really exemplify what the ie300 is capable of.
The Peer Gynt recording of Edvard Grieg's "In the hall of the mountain King". This piece has more dynamic range than most and gives the ie300 a chance to really show off the distance between the quiet passages while retaining detail and the elevated passages without loss of control of the low end.
The Pentatone recording of Mussorgsky's "Pictures at an exhibition" (Carlo Ponti and the Russian National Orchestra) movements 14 (The Hot on Fowl's legs) and 15 (The Great Gate of Kiev). Here again, soaring highs and nearly dead quiet lows in the passages give this work a lot of range and a lot of complexity of strings to show off the timbre and texture of the sound as well as the black background the ie300 can deliver.
Next up was timbre and tonality with the previous Mussorgsky piece lending itself well to show off strings.
The Telarc recording of Rufolf Serkin, Beethoven Piano Concerto #1. Serkin is among the world greatest pianists and a joy to listen to on a good system as he can coax every last bit of power out of the stronger passages and still make the quiet moments nearly inaudible. If the piano doesn't speak to you in this piece, it likely never will on that device.
For male vocals, I moved to more popular genres and settled on Lindsey Buckingham's "Go insane" from Fleetwood Mac's The Very best of collection. This song was originally on Lindsey's album of the same name, but I much prefer the stripped down acoustic version found on "The Dance" DVD and later released on "The very best of Fleetwood Mac" collection. This version lets the vocal really shine and the acoustic guitar tonality is on full display was well.
For female vocals, I picked another powerful vocal from Beth Hart. I could have used any number of her recordings but ultimately settled on "Damn your Eyes from the "Black Coffee" recording with Joe Bonamassa. Having Joe playing guitar never hurts, but Beth's vocal's and the orchestration play as big a role in making this track special as anything contributed by Joe. This tracks until about 3/4 of the way through to really see the vocal range into the upper octaves so may not be appreciated if you only listen to the first minute. The good news is Bonamassa's guitar will keep most involved to that point. "Lullaby of the Leaves" off the same album is another powerhouse vocal and could have easily taken this spot as well as it shows off her range and has a more gentle tone. Looking back, I'd probably have been better off using Lullaby, but….
My last two contributions are tracks that show off stage depth and both are tracks I use for reviews quite frequently. The first is Keith Richard's "Runnin too deep" off Main Offender. This album is largely forgotten today which is a shame as it represents Richard's at the height of his career and creativity and didn't do well on the charts probably due to poor marketing and the selection of the two weakest tracks as singles. Runnin too deep shows off Richard's at his finest and has a depth to the stage that few studio tracks can match. The other song I use was recorded in a cathedral using a binaural mic so we expect to hear all the echoes off the walls. The track of course is one I've used as long as I can remember, the Cowboy Junkies "So lonesome I could cry" from the Trinity sessions.
Thoughts / Conclusion:
The $300 price bracket is arguably one of the most hotly contested spaces in the market so the IE300 enters the ring with more than a few challengers vying for the same dollars and some of them are quite good so why should one consider the IE300 in this mix? The Sennheiser name will do it for some as they have an enviable reputation for quality builds and excellent customer service. The IE300 is well built and with the cable using what amounts to Kevlar in the coating, it should last extremely well. For those more interested in sound than build, the IE300 offers a shallow V with good musicality and enough detail to keep your interest without a lot of fatigue or harshness. The biggest thing that would make me select the ie300 over others though is its excellent imaging. A lot of hybrids struggle to keep movements synced as different drivers contribute parts of the signature and this is where the single dynamic has a distinct advantage. The IE300 presents a very cohesive sound with movements being easily pinpointed and tracked and a very wide stereo separation really contributes to the overall enjoyment of the music more than some will realize until they try something with above average imaging and separation like the IE300. The latest from Sennheiser is a worthy successor to the IE80s in many ways and while it lacks the tuning options of the ie80, it has a better more listenable base signature that helps offset the need for those same options.
Bass - 7.5/10
Mids - 7/10
Treble - 6.5/10
Soundstage - 7/10
Imaging - 8/10
Sennheiser IE 300: Premium EDC
Pros
:
Good detail and clarity – Bassy but not bloated, bright but not fatiguing – Comfortable with great build and material quality
Cons
:
Weak isolation with silicone tips – Noisy cable – Mids could benefit from more emphasis
Greetings!
Today we're checking out the all-new Sennheiser IE 300.
Sennheiser is a brand that needs no introduction. They've been around since 1945 and have created some of the most memorable and respected products in the industry, many of which have become staple recommendations for sound engineers, budding and seasoned audiophiles, and general music lovers around the world.
The new IE 300 is a replacement for the venerable IE 80s eschewing that model's classic shell design and bass tuning feature for a single signature and newly designed, highly ergonomic shell. Inside is an updated version of Sennheiser's 7mm XWB (Extra Wide Band) transducer backed by a new membrane foil and unique resonator chamber resulting in a more natural sound and a reduction of unwanted resonances.
Coming in at just under 300 USD, the IE 300 finds itself in a very competitive segment. Does it have the chops to compete? Let's find out, shall we?
What I Hear
While I don't agree with marketing materials in that the IE 300 delivers a balanced sound, I will agree that is is very refined. The IE 300 doesn't shy away from treble or bass and delivers listeners with a bombastic, high energy presentation. Not until you step up to the 500 USD Polaris II from Campfire Audio have I found another v-shaped earphone that is quite as smooth and detailed as Sennheiser's newest.
The IE 300's treble feels very nimble and light with a somewhat lean weight. Notes are very tight and well controlled with excellent definition. The upper ranges of this earphone are free of splash, looseness, and any general sloppiness that can be very distracting on King Crimson's "Cat Food". The IE 300 has plenty of upper end emphasis that gives it a very shimmery, sparkly presentation. Despite being quite bright, it somehow manages to avoid crossing the line into discomfort, retaining a refined smoothness that is quite uncommon in my experience.
Dropping down into the mids, you're greeted with solid detail retrieval amidst a similarly lean presentation as the treble. It fills out the deeper you go resulting in full-bodied male vocals, especially apparent if you use the IE 300 for podcasts and commentary-based content. The IE 300 is fairly revealing and not particularly forgiving with poor quality and/or flawed material. A satisfying warmth is present keeping both male and female vocals sounding natural, and an accurate timbre presentation that permits the accurate delineation of specific instruments. Sibilance is well-managed with tracks like The Crystal Method's "Grace" and Aesop Rock's "Blood Sandwich" seeing their more aggressive moments tamed. My only issue with the mids is that they are recessed and could benefit from some EQ to bring them more in line with surrounding frequencies.
The IE 300's low end is quite strong with plenty of emphasis in the mid- and sub-bass regions. The presentation carries notably more warmth, weight, and density than the treble and mid regions, yet remains quite quick and punchy. Visceral feedback on the deepest notes is aplenty, while mid- and upper-bass regions carry gobs of punch thanks to this little 7mm driver's excellent control. It is very articulate with quick bass lines and has no issues keeping up with the rapid double-bass found throughout Havok's album, 'Time Is Up'. Texture isn't half bad either with the IE 300 finding a welcome balance of refined smoothness and raw detail.
Another strong point of this earphone is the sound stage. From my first listen, I have been enamoured with the way the IE 300 envelops you in sound, be that music, movies, or video games. Vocals sit away from the ear by default, pulling the staging with it. From there effects and instruments expand. Even with a fun EDM track that doesn't really do much with imaging and spatial cues, such as Metrik's "We Got It (ft. Rothwell) (S.P.Y Remix)", the IE 300 manages to surround you with the track, completely avoiding the 'in-the-head' feel provided by other products. Pitting the IE 300 against something more dynamic, such as Supertramp's "Rudy", you get a feel for it's accurate imaging and excellent channel separation. Instruments are effectively separated and busy tracks are well-layered. I find the staging is wider than it is deep which does limit the IE 300 slightly with heavy instrumentals, such as the Witcher 2' s OST or Gyakuten Meets Orchestra (orchestral renditions of Phoenix Wright: Ace Attorney tracks).
Overall I'm quite pleased with the IE 300. I like that while bright, it's not particularly tiring. While bassy, the mid-bass presence isn't overwhelming and everything is handled well. Although the mids are recessed, vocals and instruments sound natural and aren't drowned out by surrounding frequencies. On top of that, it is technically competent and has a fantastic sound stage. Those wanting a more neutral and/or balanced sounding earphone should look elsewhere while anyone wanting a refined v-shaped sound in this price range should have these on their radar.
Compared To A Peer (volumes matched with Dayton iMM-6)
ADV GT3 w black filter (299.00 USD):
The single dynamic GT3 also has a v-shaped sound, though one that is less exaggerated than the IE 300. Bass out of the IE 300 is slower and warmer with more mid-bass emphasis. It provides just as much, if not more visceral feedback on the deepest notes along with additional punch and weight to the mid- and upper-bass. The GT3 pulls ahead in terms of texture and control. Leading into the mids, they are slightly more present and weighty on the GT3 but have a cooler tone which puts it on the back foot when it comes to sounding natural with proper timbre. Treble out of the IE 300 is skewed towards the brilliance region which has notable more shimmer than the GT3. The ADV lacks in brilliance, making up ground in terms of raw detail and clarity. The GT3's sound stage is positively intimate in comparison. The IE 300 is wider and deeper with more space between notes. Even so, I found the GT3 to more accurately image while giving up little to nothing in terms of separation and layering.
If you're looking for a technically impressive single dynamic and don't mind a less natural sound, the GT3 will probably be a better fit. A tuning setup that doubles down on this doesn't hurt. Otherwise, I found the IE 300 a more enjoyable, versatile listen.
BGVP DM7 (299.00 USD):
The 6 armature DM7 is more balanced with a midrange that sticks out more thanks to reduced emphasis in both bass and treble regions. While I do enjoy the mids of both products, they accomplish this in different ways. The IE 300's is warmer and more natural but gives up a significant amount of presence and detail to the DM7. Bass out of the BGVP is notably leaner and less prominent. It lacks the visceral feel and punch of the Sennheiser's single dynamic, though it provides more texture and is even more capable when it comes to rapid, complicated passages. Treble out of the IE 300 is leaner and more airy with a lot more shimmer and energy. They go head-to-head on detail and clarity with the DM7 having an edge. The sound stage presentation on these two is quite different. While the DM7 is no slouch in terms of staging size, the Sennheiser feels quite a bit wider and more open, though it falls behind in depth. Imaging accuracy is more precise out of the DM7 and it does a better job of layering busy tracks, while the Sennheiser keeps up just fine when it comes to ensuring individual instruments remain clean and coherent.
If you're looking for a balanced, solidly technical earphone with a small boost to the low end the DM7 would better meet your needs than the IE 300. If that sounds boring and you prefer big bass and sparkly treble set within a wide stage backed by good technical capability, go with the IE 300.
In The Ear
The IE 300's shells are plastic but they in no way look or feel cheap in the hand. From the initial product photos I figured the reflective specks within the plastic would look chinzy, but in real life it gives makes the IE 300 look like a modern, professional piece of audio equipment. Not unlike the impression I got from the glorious matte black paint Dunu used for the DK-3001 Pro. The three part design (nozzle, rear panel, and main body) is well put-together without any ill-fitting pieces, rough edges, or other such imperfections that would suggest cost costing or low quality materials. The face of the earphone contains a single pinhole vent set beside a recessed, gun-metal chrome Sennheiser logo. On the inner face the right earpiece is completely blank, while the left has the model name moulded into the plastic. Up where Sennheiser has opted to use MMCX instead of the proprietary 2-pin system from the IE80s, you find a red plastic band indicating the right channel. On the left is a black band with a small bump to aid those with a visual disability in determining channel. Overall the build quality is fantastic leaving the IE 300 as one of the best built, plastic bodies earphones I've used.
The cable is nice save for one notable flaw. On one hand, I really love the brown sheath which has a distinctly old-school look to it, hearkening back to the types of cables that were common in 2014 when I entered the hobby. While stiffer than many of the multi-strand braided cables offered with competing products, the cable included with the IE 300 is extremely resistant to tangling, doesn't retain memory of bends or kinks, and is topped off with memory wire that actually works. You bend it, it stays. It's great! I still prefer preformed ear guides, but memory wire that actually nails the 'memory' portion is pretty cool. Rare too. The other hardware is solid as well, from an extremely tiny, well-relieved 90 degree angled jack to the classy aluminum wrapped y-split and plastic chin cinch, something that would have been a sin to omit. Why? Well, if I didn't use that cinch to tuck the cable tightly around my chin, cable noise was very intrusive. While sitting it wasn't much of an issue, but go for a walk or jog and every bump or rub came through loud and clear unless that cinch was being used.
Comfort is a huge win for the IE 300. That plastic shell is quite small and slim, very lightweight, and thanks to the low profile design, unflappable during heavy movement. The memory wire is quite effective in keeping the cable neatly wrapped around the ear without worry of it bouncing up and over, something that can be an issue with lightweight and/or stiffer cables if they're lacking such wire or preformed ear guides. The IE 300 is one that I can comfortably wear for pretty much as long as I want without any risk of hot spots or general discomfort settling in. Isolation doesn't quite fare as well, at least with the silicone tips in place. When using the IE 300 in noisy places, like the local coffee shop, added volume was needed to drown out those chatting around me. Thankfully the added bass and treble Sennheiser baked in works wonders in such an environment so even with some sound leakage, you still have a good listening experience. That said, I recommend swapping over to the foam tips if isolation is key since they improve the experience a notable amount.
Overall a very premium feeling, well built earphone with excellent ergonomics and comfort. It's let down only by below average isolation with silicone tips and a noisy cable, though you can mostly address both of those concerns with the included foam tips and chin cinch.
In The Box
The IE 300 arrives in a fairly large lift-top cardboard box adorned with Sennheiser's familiar blue and grey colour scheme. On the front you find an image of the IE 300 itself along with the usual branding and model information. Down the left is a list of contents and specifications, on a the right a QR code, while the back contains a list of features and product highlights in six different languages.
Removing the lid you find the IE 300's earpieces, with cable attached, neatly and safely stored in a large foam insert, half of which is covered by a cardboard flap. Lifting the flap you find the rest of the cable neatly wrapped alongside a hard, clam shell carrying case. Lifting out the cardboard flap you find one of Sennheiser's typically dense user manuals. In all you get:
IE 300 earphones​

MMCX cable with 3.5mm plug​

Single flange silicone ear tips (s/m/l)​

Foam ear tips (s/m/l)​

Cleaning tool​

Carrying case​
Overall a fairly basic accessory kit, though everything is of excellent quality. The case is compact but spacious with more than enough room inside for the earphones and spare tips, along with either a compact DAC like the Shanling M0, or maybe a Type-C dongle such as the EarMen Sparrow or Cozoy Takt C. Both sets of included ear tips are quite unique thanks to foam inserts and soft, in-built grill with a design mirroring that found on the earpiece nozzle itself.
Final Thoughts
The IE 300 has shown itself to be an excellent companion for daily driver duties. The v-shaped signature provides an exciting listen that helped keep me energized and entertained throughout the day. The light, low profile shell looks great and is extremely comfortable. The included carrying case is small enough to fit in most pockets, yet large enough to hold most of your gear; ex. small DAP or type-C dongle, earphones, spare tips. The IE 300 also offers good technical capability in terms of quick, well-textured bass, natural sounding mids, and detailed, airy treble. This is all set within a reasonably deep, very wide sound stage that images well and does a good job separating individual instruments.
Isolation is weak when using silicone tips though, and the cable won't win any awards for noise as it transmits plenty when rubbing against your shirt. Thankfully Sennheiser included a chin cinch which mostly negates this issue. The short nozzle could also be an issue for some. If you're not opposed to using third party tips, something like the Spintfit CP145 can alleviate this issue while retaining the signature of the included silicone tips.
Overall I find the IE 300 a very compelling package. If you enjoy bombastic bass and radiant treble, the smooth, lively sound of the IE 300 is quite enjoyable and plenty versatile. There is very little I can find fault with here.
Thanks for reading!
- B9
Disclaimer
A huge thanks to Everett with Sennheiser (Evshrug on Head-fi) for reaching out to see if I would be interested in reviewing the IE 300, and for arranging a sample for the purposes of review. The thoughts within this review are my subjective opinions and do not represent Sennheiser or any other entity. At the time of writing the IE 300 was retailing for 399.95 CAD / 299.95 USD:
en-ca.sennheiser.com/ie-300
/
https://en-us.sennheiser.com/ie-300
Specifications
Frequency Response: 6Hz – 20,000Hz​

Sound Pressure Level: 124dB (1kHz, 1Vrms)

Impedance: 16ohms​

THD: <0.08% (1kHz, 94dB)
Gear Used For Testing
LG Q70, FiiO M3 Pro, Earman Sparrow, Earmen TR-Amp, Asus FX53V, TEAC HA-501
Some Test Tunes
Supertramp – Crime of the Century
Slipknot – Vol 3 (The Subliminal Verses)
Daft Punk – Random Access Memories
Aesop Rock – The Impossible Kid
King Crimson – Lark's Tongues in Aspic
King Crimson – Starless and Bible Black
Infected Mushroom – Legend of the Black Shawarma
The Prodigy – The Day is My Enemy
Steely Dan – The Royal Scam
Porcupine Tree – Stupid Dreams
Last edited:
Pros
:
Fun tuning. Nice impactful bass. Deep soundstage. Lightweight and comfy.
Cons
:
Brighter top end. Sibilance issues(for me). Those looking for an accurate sounding IEM may not find these as enjoyable. Recessed mmcx connectors. Cable feels cheap for a $300 IEM. Doesn't attempt to shoot above its price point.
I've never had the chance to try any of Sennheisers IEMs other than the IE 80. I honestly didn't like the way those sounded so I was interested to see how the new IE 300 sounds compared to a rather saturated market when it comes to IEMs in that $150-500 range. While I have good things to say about the IE 300, I also have some grips as well. The IE 300 is using a single dynamic driver. It also uses a recessed MMCX connector like Sony uses on some of their high end stuff. The IE 300 retails for $300 USD.
Quick shoutout to @Evshrug and Sennheiser for sending the IE 300 to test and review. While I always appreciate the chance to test and review products sent in from manufacturers, it never affects the rating of my review.
The IE 300 can also be picked up from the Sennheiser's store here: https://en-us.sennheiser.com/ie-300
Onto the review of the IE 300! My personal preference is a dynamic hybrid iem where I get good hitting bass and have a detailed treble with decent mids. When it comes to an over ear headphone I prefer a spacious sound with a deep low end, the mids to be more forward and the highs to be a little bright with some sparkle. I listen to a lot of genres but I hover in the classic rock, blues and edm music with some rap here and there.
Gear Used​
IPhone 12 pro with headphone adapter, iFi hip dac, Lotoo PAW S1, iFi micro iDSD Signature, SMSL SU-9 feeding the SP400 amp.
Looks and fit​
The color scheme of the IE 300 kinda reminds me of the older HD 600 full size cans. I like the looks honestly. The fit is fairly nice and while I couldn't get a proper fit with any of the included silicone tips, I had no issues tip rolling and finding something that worked. I didn't try the included foam tips but I'm confident they would work just fine. The IE 300 is really lightweight so I ran into zero comfort issues for longterm sessions.
Packaging and accessories​
These come in a nice retail packaging that feels very "big brand name". Inside the box are the IE 300, stock cable, user guides, IEM cleaning tool, hard fabric travel zipper bag and some tips inside said bag. This is fairly standard and I had no complaints.
Sound(overall)​
These final impressions were done off a mix of the iFi hip dac and the SMSL SU-9 connected to the SMSL SP400. These are what the IE 300 sounds like to my ears. This was also using the CP360 eartips from spinfit. Things like ear tip selection and DAC/amp selection will produce different results and impressions vs what my ears hear on my specific gear.
The low end of the IE 300 is definitely elevated and comes in deep with hard impact. It doesn't sound overly bloated but it does creep into the mids more than I prefer. I would say the low end is one of the main selling points of the IE 300. With some music genres I really enjoyed the low end focus. Yet on some others I found myself wanting just a hair less bass. The mids sound fine for the most part. I've unfortunately been testing these along other IEMs such as the ZEN/EST 112 from DUNU which has a better balance overall. I think the mids sound a bit recessed but I believe this to be something that has to do with the soundstage depth. While I had no real complaints with vocals, I felt at times they sounded a little veiled with the overpowering bass. The lower to mid treble is fairly boosted like the low end. Everything sounds super splashy yet I can still hear some decent detail retrieval up top. I'll admit I can be a little treble sensitive vs others but I found myself in constant situations where I had to lower the volume as I was hit by what felt like a sibilance cannonball. I do believe the main reason for this has to do with the ear tips. The stock silicone and foam tips actually have what looks like thin foam at the opening where the nozzle would end. I wasn't able to get a good seal with the silicone tips and I tend to not bother with foam tips normally as they lower the treble for me anyways. I'm taking a guess these possibly may not come off as bright if a good seal on the stock tips can be made.
Soundstage/Imaging​
So the soundstage came off a little strange at first to me. It sounded like a wide and deep stage at first but after listening for a while I noticed the width was about average but the depth gave off a sense of a big stage. This was against other IEMs that I knew had wide staging. I think this sounds fine though some things like vocals and instruments can sound recessed at times.
Cable rolling​
I do love cable rolling but I instantly ran into probably my biggest complaint about the IE 300. This uses a "recessed" MMCX connector. So none of my MMCX cables fit and I had to use the stock cable. While I get the concept of the recessed MMCX connectors(recessed 2 pin is my favorite) I don't see a need for it when it comes to MMCX. Fortunately for the IE 300, I'm fine with the IER-M9 from Sony using recessed MMCX(Sony fanboi) so I can't give Sennheiser crap for doing the same thing. So I ended up having to use the stock cable for my review which is my next big complaint.
Stock cable​
The stock cable IMO is junk. It's super thin, the connector sleeve looks like it will break or short from normal daily use and I personally don't like memory wire in my ear guides. It could simply be that I've been pampered by Chi-Fi cables but I was confused when I saw the cable that came with the IE 300. While the cable is fine, I think with the competition in the $300 range, the cable shouldn't look and feel this cheap. Because of the recessed MMCX connectors, it's not super easy to get new cables should these break or someone wants something that looks better cable wise.
Tip rolling​
I mentioned earlier that the stock tips and stock foam tips have a bit of dampening material that may help with the splashy treble. I rolled a few tips and found the CP360 spinfit tips to be my favorite pairing. Wide bore calmed the low end but made me want to die from sibilance and the small bore stuff made things too bloated.
IEM comparisons​
THIEAUDIO Legacy 4​
I had planned to compare the Legacy 5 since the price was the same. I however like the tuning of the Legacy 4 and don't see a point in the Legacy 5 still being available. The Legacy 4 had a better balance overall when I did side by side comparisons. I'll admit I had more fun listening sessions with the IE 300 however. I think the difference between these two will come down to whether you want a mid focused sound with better top end and lowend control(Legacy 4) or a thumping bass IEM with a splashy treble(IE 300). I think both do well at their price points but I think I would choose the IE 300 over the Legacy 4 if fun tuning is what you seek or you have some balanced sounding IEMs already.
IKKO OH10​
The OH10 is still one of my favorite IEMs to this day. The OH10 has a thick and thumping bass like the IE 300 though the OH10 sounds a little better detailed with less bleed into the mids. I enjoy the mids and decently detailed highs of the OH10 over the IE 300 personally. I find it hard to beat the OH10 for my personal preferences honestly. Both do low end well but both handle the highs differently. Staging is also different between the two. Wider stage on the OH10 but better depth on the IE 300.
DUNU EST112​
The EST 112 absolutely walks all over the IE 300 in terms of technical performance and tuning overall IMO. The shells on the EST 112 are huge and make for a chunky and difficult fit sometimes. The IE 300 wins when it comes to long term comfort. The IE 300 still wins in terms of bass, but the 112 has better control and speed when it comes to the low end. Mids sound much better and I enjoy vocals on the 112 over the IE 300. Treble is the biggest difference between the two. The treble is smooth and detailed on the 112 and I pick out things easier. The IE 300 sounds more intense but with less detail retrieval. I would say for the extra $190, the EST 112 is very much worth it over the IE 300. If you need something super lightweight and easy to pop in and out of the ear, the IE 300 is a much better choice over the EST 112.
DUNU ZEN​
The comparison of a single DD $300 IEM compared to a $700 single DD might come off as unfair but I still found the comparison interesting. The ZEN shows better detail retrieval and better control from the lows to mid treble. Where the ZEN sounds like a flagship IEM, it lacks that upper treble sparkle. The IE 300 does blast you with treble but It's fairly obvious that the ZEN sounds way better when I A/B the two. I would still pick the ZEN over the IE 300 any day. That being said I feel more comfortable walking around outside or in the office with the IE 300 since it doesn't cost nearly as much and I enjoy the fun tuning.
Amping Combinations​
*The IE 300 isn't hard to drive and I didn't see a real need for anything powerful to run these.*
Lightning headphone adapter​
This was actually a pretty good pairing. Things sounded around the same vs being amped. I still think a small portable would do well with the IE 300 however due to the added amp sound "flavor".
iFi hip dac/ Lotoo PAW S1​
Both the hip dac and S1 bring different things to the table in terms of their "house sound" before any EQ or device specific "boosts". I found that the Legacy 4 and IE 300 pretty much used the same amount of volume when paired with both portable amps. As such I'll be repeating the same thing I said in my Legacy 4 review. The hip dac pushes out more power but the L4/IE 300 really doesn't need the extra power and I only made it to about 11 O'clock via single ended before it was too loud. The S1 has a much wider range in volume so going up or down a few numbers in volume doesn't change things drastically. I'm pretty confident that I could easily murder both the L4/IE 300 off the hip dac if I accidently hit the high gain button or accidently adjusted the volume too high. Something to think about if looking for a portable source dongle. The hip dac has a slight warmth with better dynamics. The S1 gave the warmest sound with a nice wide stage. Both are great options for the IE 300.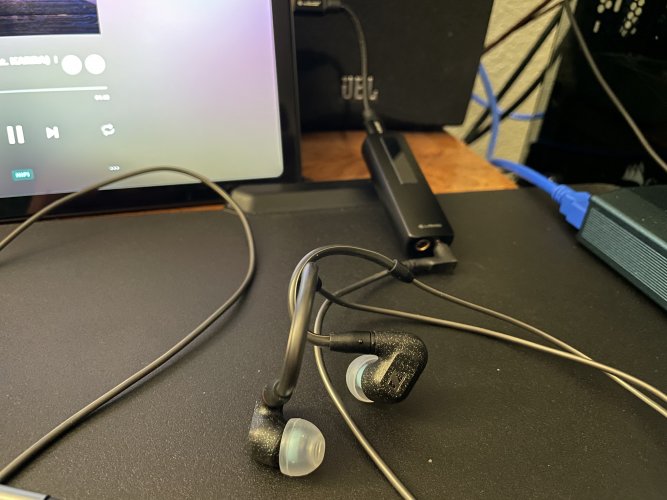 Amping thoughts​
This was easy to drive and it didn't scale at all past the portable gear I had. As such, I'd say something like a Lotoo Paw S1/other portable device or a desktop "stack" in the $200 and under range will feed the IE 300 extremely well.
Overall thoughts​
So do I like the IE 300? It's a mixed bag. I'm fairly neutral overall on the IE 300. I think I would call this sound signature a mix of safe/fun tuning and I honestly have no issues with the way the IE 300 sounds at $300. Plus I'll admit I'm using the IE 300 at work in a lab and outside for walks due to the fact I can pop these lightweight IEMs in and out of my ear without issue or re-seating annoyances.
I will be giving the IE 300 a recommendation as long as a fun tuning is what you're seeking
. Those looking for something that has a neutral sound or that plan to hunt for something that punches above its price tag will wanna look elsewhere. I enjoyed my time with the IE 300 and I think this a good release for Sennheiser. While I would have preferred something that tried to compete with the upper Mid-Fi IEMs, I think this will do well sales wise for them. I hope that later revisions or newer IEM releases come with better stock cables. Thanks for reading!
Last edited: