The Complete Package
Pros
:
Refined, versatile, and fatigue-free U-shaped signature
Authoritative and powerful, yet tastefully restrained low end
Very tasteful amount of warmth and body in the lower mids
Energetic upper mids that never cross the line into shoutiness or sibilance
Astonishingly well-extended and very even upper treble
Very good soundstage width and height
Great imaging, layering and instrument separation
Good resolution for the price
Great timbre
Excellent accessories
Very good build quality and isolation
Very comfortable
Cons
:
Gaudy paint job
Not the last word in imaging, soundstage depth, or resolution
Introduction
: Reecho Audio is one of the newer ChiFi companies which have appeared in the past few years; I remember first hearing of them in connection with the rather astonishingly-named "Insects Awaken" all-BA monitor. Last year I read some positive reviews of both their SG-03 and SG-01 budget single-DD offerings, but never heard either of them for myself. However I was intrigued enough to be pleased when the opportunity arose for me to review their new SG-01 OVA, a revised and repackaged edition of the original SG-01. While I cannot offer a comparison with the original model, in this review I will do my best to evaluate how it competes at the incredibly crowded $50 price point in which it finds itself.
I would like to thank Penon Audio for providing me with a sample of the SG-01 OVA in exchange for my honest review. The MSRP is $49 at time of publication, and you can purchase a copy for yourself
here
. The specifications are as follows:
Driver: 10mm N52 Graphene composite diaphragm
Cable: 5N 96 Core Sliver-Plated OCC Cable
Frequency range: 20Hz-20kHz
Impedance: 32 ohms
Sensitivity: 112dB*2dB
T.H.D: < 2%at 1kHz
Connector: 2Pin 0.78mm
Packaging & Accessories
: Right off the bat, Reecho manages to easily impress with its packaging and accessorizing given the modest $50 price bracket of the SG-01 OVA. The embossed box which greets us upon removing the dust cover is more reminiscent of packaging typically found in the $100-$300 price range rather than a budget model such as this. However, let's be honest: most of us forget about the packaging entirely right after the unboxing experience. What really matters to me — and, I suspect, to most buyers as well — are the accessories.
And the accessories are the first area in which Reecho really sets itself apart from the competition in its price range. At $50 you'll probably be receiving a canvas draw-bag for carrying and storage, if you receive anything at all; Reecho on the contrary includes a zippered hardshell carry case, which is slimmer than normal and thus easily pocketable. Even better, rather than the usual throw-in cable and generic eartips we here receive three sets of excellent tips in varying bore sizes, and an extremely nice SPC cable which is thin, lightweight, well-constructed, supple, comfortable in the earhooks, and possessing a working chin-slider.
All too often a budget model deceives us with the price point, since purchasing aftermarket tips and/or cables is almost a necessity to achieve proper fit and comfort. With this Reecho, on the other hand, I think practically everyone will be more than satisfied with the included accessories; I personally settled on the white wide-bore stock tips and felt no need to reach into my own box of aftermarket accessories for either tips or cable.
Build & Comfort
: But Reecho certainly did not skimp on the build quality as a result of splurging on included accessories. The zinc alloy shells feel very solid despite being relatively lightweight and extremely ergonomic. The 2-pin connectors are portruding, giving confidence in their longevity (flush connectors can be risky). Despite the double-vented shells, isolation is nevertheless above average, perhaps aided by the fact that the medium-small shells fill my ear cavity extremely well (so your mileage may vary). They sit flush with my ear, making them an excellent candidate for those who like to fall sleep with their IEMs.
Internally, the SG-01 OVA possesses an upgraded graphene composite driver and a stronger N52 magnet as compared to the original. Externally, the black finish of the original has been replaced by an iridescent electric blue that shifts to purple when it catches the light in a certin way. Me, I'm an understated kind of guy, I would have preferred the black, but the new finish is undoubtedly more eye-catching.
Signature
: The SG-01 OVA possesses a very nicely balanced W-shaped tonality. The emphasis leans a bit toward the quite high quality bass you are getting for the price (moderately elevated and slightly sub-bass biased, with absolutely outstanding extension for a budget IEM), but this does not at all overshadow either the mids or the treble. There is a mild amount of warmth in the lower mids, giving male vocals a nicely bodied presentation. Upper mids in their turn are slightly emphasized over the lower, giving female vocals and strings a nice energy and presence but staying shy of any sort of shoutiness. Lower treble inherits some energy from the upper mids before dipping a bit, but then the SG-01 OVA picks back up with quite a shocking degree of extension in the upper treble for a budget single-DD, easily surpassing many IEMs I have heard at multiples of this price point. This allows enough air to keep an open and balanced presentation despite the moderate emphasis of low end.
Bass
: Despite the balanced presentation, the bass is the heart of the SG-01 OVA's sound: it has a self-confident presence, able to convince with its authority and physicality of impact, yet always maintaining excellent control and restraint. It isn't the tightest or the fastest bass I have ever heard, but neither is it slow or wooly by any stretch; It has a full note weight, yet without bloat or bloom; in everything it strives to find the proper balance. Texture is very good for a budget DD. Attack is perhaps a bit blunted, while decay is extended enough to give a sense of atmospheric musicality to the presentation — yet it always remains nimble enough not to descent into any kind of boominess. All in all, I consider this a "fun" low end that nevertheless at no point surpasses the bounds of naturality.
Mids
: Although the U-shaped signature of the SG-01 means that the midrange is not the focus of its presentation, even so I really like the mids on offer here — and I say this as generally mid-centric listener. The mild warmth of the lower midrange allows male vocals and the "meat" of the instrumentation to achieve a body and fullness of note weight that is extremely pleasing. This is extremely judiciously counterbalanced by the somewhat lifted upper mids, bringing a zest to the presentation which keeps the warmth from bogging anything down. With this kind of tuning and in a budget-DD, details are of course not the focus of this midrange more musical than analytical; yet given these constraints, I never found resolution to be lacking either. And despite the energetic lift to the upper mids, shoutiness, glare and sibilance where absolutely nowhere to be heard; the SG-01 OVA is quite accommodating to both various musical genres as well as recording quality.
Treble
: The lower treble carries on the energy of the upper mids for a time, with a few dips around 5K and 8-10K, and then comes back with a frankly incredible amount of even extension and air in the upper treble for a budget single DD; well, frankly, for
any
single DD. Upper treble is traditionally the Achilles heel of this driver setup, but somehow Reecho has accomplished an amazing feat here and really hit the nail on the head with its treble tuning. And thanks to the judicious dips in the mid-treble, I never encountered any fatigue even over longer listening sessions. Yes, on some occasions the harmonics were a bit lacking in some instrumentation due to these dips, but choices must always be made, and Reecho has shown a deftness and refinement here that utterly belies the price point.
Soundstage & Technicalities
: Reecho keeps its streak going when it comes to technicalities, with the SG-01 OVA being undeniably extremely accomplished for the price. The soundstage is not only wide but also fairly tall — although unsurprisingly it struggles somewhat more with depth as do most IEMs at this price point. The imaging is quite good, not holographic but very focused and well-defined on both X and Y axes. Instrument separation and layering are likewise excellent, aided by the extension and air of the upper treble (though due to the slight warmth the amount of air between the instruments is not the widest quantitatively). Resolution is certainly respectable and nothing to complain about, although this is another area where it cannot totally break free of the constraints of a budget model, especially when it comes to the leading edges in the transients which tend to be somewhat on the blunt side. Timbre is really quite good, with only the slightest tinge of hollowness caused by the muted harmonics at certain points in the treble response. To sum up, as a whole and considering the price point and driver configuration, the SG-01 OVA is a phenomenal total package of technical performance.
Select Comparisons
:
vs. Tin T2 Plus
: The T2 Plus has long been my default $50 recommendation as an all-rounder, but the Reecho SG-01 OVA now thoroughly displaces it (unless someone is highly averse to a noticeable bass boost). Both the bass and the upper-mids/lower treble have somewhat greater emphasis on the SG-01 OVA, although the midranges are equally full and pleasing to me on both units. The SG-01 beats it on technicalities, especially when it comes to soundstage height and consequent 2D imaging capabilities, as well as layering. Both have excellent builds and stock cables, though the Reecho wins out as far as other accessories go and possesses much better isolation (it also avoids potential problems with the MMCX connectors on the Tin).
vs. Moondrop Aria
: The Aria is getting close to twice the price of the Reecho, but I would choose the SG-01 OVA in a heartbeat. The Aria has a bit more of a safe and polite tuning — especially in the treble — which likely manages not to offend, yet often on the other hand fails to engage. Especially over time it comes across as somewhat anodyne; the Reecho, on the other hand, is to me equally inoffensive yet undeniably more emotionally engaging. It also possesses markedly better imaging, which I found to be the major technical deficiency of the Aria.
Conclusion
: In case you fell asleep during the review, the tl;dr is that I am quite unexpectedly blown away by the Reecho SG-01 OVA. It really is the whole package: you get an extremely refined and versatile tuning combined with surprisingly competent technicalities for a budget single DD, in a very comfortable shell, with all the accessories you need, at an extremely attractive price point. Naturally it is not the last word in anything and has its few minor faults, yet for me it manages to absolutely redefine what $50 can buy you in an earphone these days. This is the second 5/5 rating I have yet awarded.
Last edited:
ChromaFlair
Pros
:
Fun (Don't we all want a little fun in life?)
Big sound
Color is blue or purple depending on your point of view, ChromaFlair paint
Playback is balanced from every source I tried
Authoritative and harmonically rich from a phone or even better from a DAP
Futuristic zinc-alloy/medium form-factor shape/design
Comes with a large selection of ear-tips which alter soundstage and tone X3
Cable-5N 96 strands of silver-plated OCC
Even, correct and complete frequency response
Unisex color
Perfect weight, perfect size, perfect nozzle with lip and permanent chrome screen
Scales up with better gear
Dynamic driver coherency
Dynamic driver cohesiveness
Relaxing all-day sound
Walks that line between detail-resolution and too much intensity
Cons
:
Has an offensive tonal response if you are a strict-staunch style of audiophile
Bass is on the borderline of boomy, luckily the correct side
Has normal full-range single DD response limitations, yet incredible sound per dollar
Not all the detail or resolution
Has pace issues depending source
The Special Edition Reecho
WOW, what is that thing? Have you ever seen a paint-job like that on an IEM? While my favorite color of IEMs tend to be variations of black, I don't mind this actually. I realize that Reecho Engineers had to prove that they were actually coming in to work and progressing things along. I mean how else would their bosses know they are actually doing stuff at the Reecho Labs? Pant the new ones purple/blue and turn some heads....they said. Get out the spray paint and let's get going!
Surly this would get attention, yes?
That the SG-O1 OVA has a special new 7 micron Graphene Driver. And a stronger N52 magnet to pull-and-push (like a motor) that 10mm noise maker. Remember, when you only have a single full-range driver any changes are multiplied exponentially. And that's what we have here, a simple zinc-alloy cavity combined with a 10mm full-range driver. The kicker is they went for a slightly less bass-centric tune. Looking to please the masses by simply accessing a more middle-of-the-road tune. The way they do that normally is with a different diver only, but here also they include a special new cable. I will get into the cable-tech later on. Also they are providing the whole package, by supplying a multitude of tips that are all different. Such gifts are truly gifts as no $49 IEM comes with this tip nonsense. What the tips do is use each specific design construction to tailor the sound. You want more imaging farther out in the stage and less bass you add the imaging tips, you want more bass you add the narrow bore bass tips. I myself don't use EQ so I am utilizing the DAP choice, tip choice, and finally the cable choice to dial in my music.
Get them right here:
https://penonaudio.com/reecho-sg-01-ova.html

In all honesty you don't need to read any more of this review. I mean you can if you want to, but the above is basically the whole shebang. Though if you do read on I talk about the sound quality a little more, I talk about any deficiencies you may encounter, and I talk about ear-tips, of all things. So if you are curious about ear-tips, be my guest and keep reading. But seriously for the money, if you like fun sound signatures and you want to spend under $50, this is probably the best thing out there. It's as simple as that. Head-Fi is full of over-calculating, over-investigating and multiple subjective takes on an IEM. And while $49.00 is a lot of money for an IEM, you could easily do much worse at many times more cost. While the Reecho SG-01 OVA is not perfect, its drawbacks are hidden in the best of ways, and still there is no dirt swept under the proverbial rug. The fit is exactly right, the weight is fine, the paint is something different, but most of all they have dialed in the sound a tad better. This is a game measured in microns, not feet. I'm not going to tell you this is the best IEM for you, only you can decide that. But for what it costs, and what it does....................this one is special. As generically tuned as the Reecho SG-01 OVA is................it makes buying it risk free as well as a no-brainer. If you read the Pros and Cons at the top and you read up to here, you have all the information you need to make an informed decision.



Redcarmoose May 31st, 2022
Reecho SG-01 OVA 10mm N52 Graphene Composite Diaphragm 2Pin 0.78mm HiFi In-ear Earphone
Well first of all I have never heard the original. But Dsnuts has, and he has said the Special Edition SG-01 a great improvement. Basically that this isn't any style of side-step or cash grab based on prior success.




Reecho SG-01 OVA


Description

Ergonomic design,with wear-resistant coating,durable and comfortable

Lightweight and strong zinc alloy acoustic cavity with clear outline and elegant style

Specification

Model:SG-01 OVA

Driver:10mm N52 Graphene composite diaphragm

Cable : 5N 96 strands of silver-plated OCC

Frequency range:20Hz-20kHz

Impedance:32Q

Sensitivity:112dB*2dB

T.H.D: < 2%,at 1kHz

Connector:2Pin 0.78mm

Cable length: 120cm

Plug: 3.5mm Gold-plated

Package

A) SG-01 OVA IEM

B) There is a small amount of paper works in the boxes

1) A warranty card

2) An instruction manual in Chinese and English

3) A drawing on how to position the IEM and cables to discover a true R and L connection

C) The 5N 96 strands of silver-plated OCC cable in 3.5mm (a 3.5mm cover for plug)

D) A nice clam-shell carrying case with zipper and rubber grip

E) A complete series of 9 sound changing ear-tips

Note: In use due to size restrictions, you will probably access use of only three individual ear-tip designs. Though though-out your experimentation with each tip, you will access three different soundstages, along with three different tonal characters. While neither one of the three is the best, you may find preference due to your own subjective and individual sound preferences. Normally this style of tonal and imaging modifications are to seek only one best tone for normal playback. Though here you may have more choices? Now I can't confirm you will be able to use all three styles, I was. This is the result of SG-01 OVA IEMs playback being more middle-of-the-road, less borderline to the extreme.
Sound:
Remember when I said the tune was middle-of-the-road.........like in the last sentence. LOL Well, that's still with the same wonderful V or U shape response. So this ends up actually very common today as manufactures are looking for broad acceptance by making the V/U shape simply less drastic. The trick here is that when doing that it naturally smooths things out bringing a more even, complete and correct frequency response. And what does a more even, complete and correct frequency response do? I brings with it detail sometimes. But not any style of detail, the correct kind, at times. Because you are directly changing the diaphragm character (7 micron graphene) and (N52) magnetic power of the motor.......thus the tune can access detail without the use of bright treble to do it. And………that's what we have here. Still if it's not your desired sound none of the details matter right?
My first impressions were really good. Basically I use the same album to test headphones in the beginning. It's a well recorded album and totally forgiving as far as test music goes. I want to gradually and carefully be lead to understand an IEM character. The reason being is 1/2 of this is phycological. If I was to give the SG-O1 OVA too difficult of music with-out even being fully burned-in, it could result in a view of the character which would leave me irreversibly opinionated. Just like people; if you meet a new friend under difficult circumstances, it may show a side of their character they don't normally reveal. It's not truly who they are, but a small segment of their adaptability. Though with the SG-O1 OVA I really had very little to worry about.
Sound quality metrics:
I have a basic review metrics that delineate a 3 tier method of discovering the core value of any IEM.
1) The finicky ones
2) The bad ones
3) The golden retriever ones (good ones)

Now in this hobby some may do reviews with more complexity. And the truth is I am basically an easy to please reviewer. But being easy to please doesn't mean I can't spot issues and incompetence. This IEM totally falls under #3. Why?
A) It has a generically good response
B) It plays with all the DAPs and iPads well
C) It plays many genres of music
D) It plays a wide range of file qualities
Now the hilarious part is the above IS the exact definition of the golden retriever. Now if you don't like the paint-color I would simply say get it anyway and see it in person. In truth the SG-O1 OVA was super difficult to get a picture of. When I opened the box the SG-O1 OVA looked really nice and the the ChromaFlair pant was fascinating. Though when I tried my hand at a photograph both the
reflection
and
refraction
where altered to the point of not actually getting a good shot. So in simple English, you haven't seen the SG-O1 OVA till you have it in your hands.
So anyway, back to sound:
The SG-O1 OVA tends to be a form of balance. In that while yes, there is that style of playback intrinsic to a full-range dynamic driver, there is a little tiny bit more. The more……the more you ask? Just a subtle extra detail in the highs and midrange that we are always looking for with full-range dynamic drivers. So what is it? It's simple treble and midrange detail for lack of a better description. But this will be way more clear when I start with the very first song I heard and the experience I interpited.
Anabasis
DCD
Anastasis
44.1 kHz - 24 bit
Here we are greeted with drums at the 9 second mark. For the first time I totally could hear how they are panned to the left and right. Now this I have never heard exactly this way on any IEM before. Could it be coincidence, that I just happened to totally hear the right to left panning? Of course it could all be coincidence. Could it be the exact frequency or lack of frequencies that did it? You bet. But you know from life, that whenever you learn a new experience, a subtle texture or character, that you will always notice it again in the future, right? That has maybe something to do with you don't know till you know, then you know. Because you don't know what you don't know until you know it. Ahh…..I'm drifting away here.
The kicker here is the extended treble. That could be the simple answer to our questions. And of course when wondering about where detail is coming from look at the treble, right? That and they somehow walk the line of sparkly and clear, but also not quite as delineated and individualistic of audio components as balanced armatures. The two driver methodologies are just that, two different animals and always respond accordingly. Now if even I find the case to be different, I will report it, but so far each driver style being balanced armature or full-range dynamic driver replays similar sound reproduction characteristics. Still a level of variation and skill is still able to be found. Meaning for the $49, this gets to a very special place in reproduction. Depending on the style of playback you are into, this could actually be the best $49 spent on a full-range DD. And this is not just me talking, others feel that way too, as these attributes are not something mysterious or hidden, they are plain as day. You put the SG-O1 OVA in your ears and you hear the difference. Truly burn-in really did a difference the first day. So pretty much right out-of-the-box your running with this thing!
To be able to witness this imaging and treble detail there has to be a canvas. Thus the SG-O1 OVA is wide and spacious. Were some IEMs are just competent at the right and left dimension, here we have a wonderful forward and back too. And the musical information takes hold of the multi-axis spacial aspect and expands things out into 3D form. Meaning the instruments and vocals have a way about them. So it's this merger of correct FR and well done technicalities. The bass is still somewhat heavy and authoritative, but that lays the foundation for the imaging to be seen. It's the contrast here, the vivid contrasts that allow for the feeling of 3D. You may or you may have not seen my review of the CCA CRA+. The CCA CRA+ is the perfect example of the issues that can be found with single DD contrasts. That's why that got a 4 star mark, and the SG-O1 OVA gets a total 5. Why? The contrast at hand for one thing. Where this is doing a thicker playback, the CCA CRA+ is doing stuff flatter. Do you know where I guess a big portion of this detail comes from? This is just a guess, but I'm pretty sure it is the result of the zinc alloy housing. Of course the sound profile is the end result of everything, like if you made a meal. The end result (the taste) is quantified by comprehension of everything. Still everything is a stack-up of attributes. And the SG-O1 OVA is swaging around with this zinc-alloy that IS making a difference. Less off resonances and a super black background is what we have.
The bass:
While still slightly on the slower side of pace, it's warm and welcoming. There is this thing? I actually don't even know how to fully describe this thing, but all full-range single DDs have it. Its opposite is what bass BAs do. Bass BAs will take the tonal bass output and scape it clean. The single full-range DD leaves it dirty. More congealed and together, missing pace! Such an enigma in sound is all across the genres, but slower genres show it less. It is that this audio separation of rhythm and bounce is compromised. But the plus is all the rest you are getting in the sound response package.
A) The tonality
B) The timbre
C) The cohesiveness
D) The coherency
E) The soundstage
F) The width both forward and back, side to side
The somewhat detailed personality the SG-O1 OVA has:
I'm doing my best to explain how I hear the SG-O1 OVA. This is real, and these are real concepts of sound reproduction. The fact that in many ways I'm simply reporting in (in writing) how I hear it.
Now the crazy part is the missing sub-bass meaning it may be there buried under the muck? But the joy is really slightly above that. Meaning again another response attribute of single DDs; that they seem to take a little of the top and a little off the bottom. It's such a small amount that it's inconsequential, though it's there and I hear it.
The regular upper bass while not the most resolving....once in a while beautiful synth syncopations fully exploit the component of upper bass texture. Such a phenomenon is special and something you will rememberer with your SG-O1 OVA listening experience. There was a time when this price bracket and this style of tune always came with a little woolliness. Not here and not anymore, almost. Let me clarify that, there is a smidge of woolliness but it's laying way down inside of the pace and simply has to do with what the (full-range single) DD is ultimately capable of.
The midrange:
Well what do we truly ask of the midrange, I mean what are one of the main responsibilities? The pinna gain area is critical. Due to that line that all IEMs walk, the human ear is incredibly sensitive to the female voice. More so than the male voice. So 9000 years ago if your young ancestors were outside the cave playing and a bear came your ancestors would not necessarily hear their Dad calling, but your ancestors would for-sure hear their Mom. That scream cuts through everything in our hearing spectrum. It's imperative to our survival as a living creature. But with IEMs it's a double edge sword. The regular full-size headphone doesn't have a pinna boost. The outside ear physicality (shape) does the amplification of those frequencies. With too little boost IEMs would sound boring and lifeless. With too much (even the smallest amount) it can make the area a problem for listening. Kinda like your Wife yelling at you, only less. But in both instances you will cringe, that's life. So because of the pinna area we have way less leeway to play around with. It's also maybe the area that individuals (knowingly or not) find to be the most comfortable. Meaning you think you are drawn to an IEM character of bass or treble, but it may be the area of least difference that your home actually lays. Now obviously this is a simple overview of pinna-gain, except the SG-O1 OVA has done things exactly right. And…….remember there is less really to talk about, yet it is the most important, even though many simply are unaware. It's in fact the areas directly close to the pinna gain hearing areas that will boost the most personality factors.
20Hz to 80Hz: Sub-bass
80Hz to 200Hz: Mid-bass
200Hz to 800Hz: Lower midrange
800Hz to 1,500Hz: Centre midrange
1,500Hz to 5,000Hz: Upper midrange
5,000Hz to 10,000Hz: Treble
10,000Hz+: Upper treble/"air"
1k to 3k is the generally regarded frequency range of the pinna gain. So due to our hearing the area directly near the pinna gain area both in-front and in-back are also very important. And remember this range of 1k to 3k is an arbitrary number. The fact that this is just simply someone's guess as to what the area is. Though understanding this area of hypersensitivity, seems to allow progress in making IEMs and getting the "balance" right.
Now while I have talked all about 3D space, the vocals in the mids do suffer from slight aspect of loss of forwardness, though at the price all is still sunny. This is simply the territory of DDs and often found in such designs. Here moderate note weight is expected and perceived, yet really any real heaviness is from the lower midrange. The charm here is in fact that the lower midrange is fully doing its duties; moving the music along in spite of its pace. If you want to call this a commercial/pedestrian tune, I will agree. Though I have to argue it's old-hat calling a thin detailed and sterile tune the quintessential audiophile tune. As times have moved on, and the SG-O1 OVA is allowing us to fully explore the meat and potatoes of the replay sound experience!
Anyone would call this tune audiophile, though it's up to you whether it's refined or fancy enough. It's a fancy for $49 and wins out over handfuls of more expensive IEMs, just due how complete the package is. There is an evenness and correctness far above the SG-O1 OVA price-point. Again a good tune is almost free, if you know what you are doing. Probably the completeness is what I am most enamored with?
The treble:
First off the three styles of silicone ear-tips give you the freedom of altering the soundstage and treble tone. Hence a narrow bore-tip will increase bass amount, thus revealing less treble perception. Remember when I called this a golden retriever? It's because there is no fires to put out. The SG-O1 OVA walks an even line. It's not even swayed that much by the included ear-tips. They work to alter the sound, but really any one of the three is fine. Meaning nothing is wrong and needs the ear-tips for correction, it's more about simply experiencing another aspect of the SG-O1 OVA's sound response. The treble is stronger in the mid-treble and lower-treble, leaving the most high-up highs of lower energy. Such a situation does provide less sparkle than some balanced armature drivers. Though the redemption happens with the clean imaging of the rest of the treble, the fact that we don't always need bright laser blasts to say we are enjoying an audiophile experience. But I will leave this….....…it was the character of the treble response of the SG-O1 OVA that made the biggest impact on me upon listening. The fact that it comes off more effortless than the treble of the single dynamic driver CCA CRA+! That it has the sound of the TINHIFI T1S full range single dynamic driver only super-sized in every direction along with treble. So of course those are $28.88 and $20.00 IEMs but still the are great selling ones. What I'm saying is………. Reecho took the darker sound profile of say the TINHIFI T1S, and added treble technicalities and treble frequencies and made it less dark. It's way more natural than the CCA CRA+. Of course it is roughly $21 more, but it's a real IEM.
The Cable:
While visually it looks like a twist, and it is twisted, except then the cable is sheathed. Being a 5N with 96 strands of silver plated OCC, it's nice. I did roll cables and found the SG-O1 OVA very responsive to both different DAPs and cables. Yet again, the same reality took place where this is tuned so likably that each change-out was simply met with success, it was never a question of having to fix anything. I will disclose that cable rolling was a joy, being the inverse (outside) mounted 2 pins made cable rolling almost done with closed-eyes.
Compatibility:
The change out to an iPad was actually even more balanced than with the Walkman 1A or 1Z. The iPad was shown to be more linear but also met with less soundstage and emotional involvement. Still if you wanted to use a phone or iPod you would be met with big and separated tone! Not issues of needing warmth. Also surprisingly it showed the differences in the change form 1A to 1Z, though somehow it showed the better aspects of each unit, allowing me to have a field-day with either. Of course in daily use the thinness of linear response use with make a person probably enjoy the DAP playback more, if they move up to such players. Probably the best part of the iPad response was the fact that the character brings relief to the vocals, hence excavating (in essence) the vocal tone out of the darker DAP signature. The harmonics and authority of simple iPad use is truly something…….and makes you wonder if the sound engineers were focusing on such use? What? Of course they were!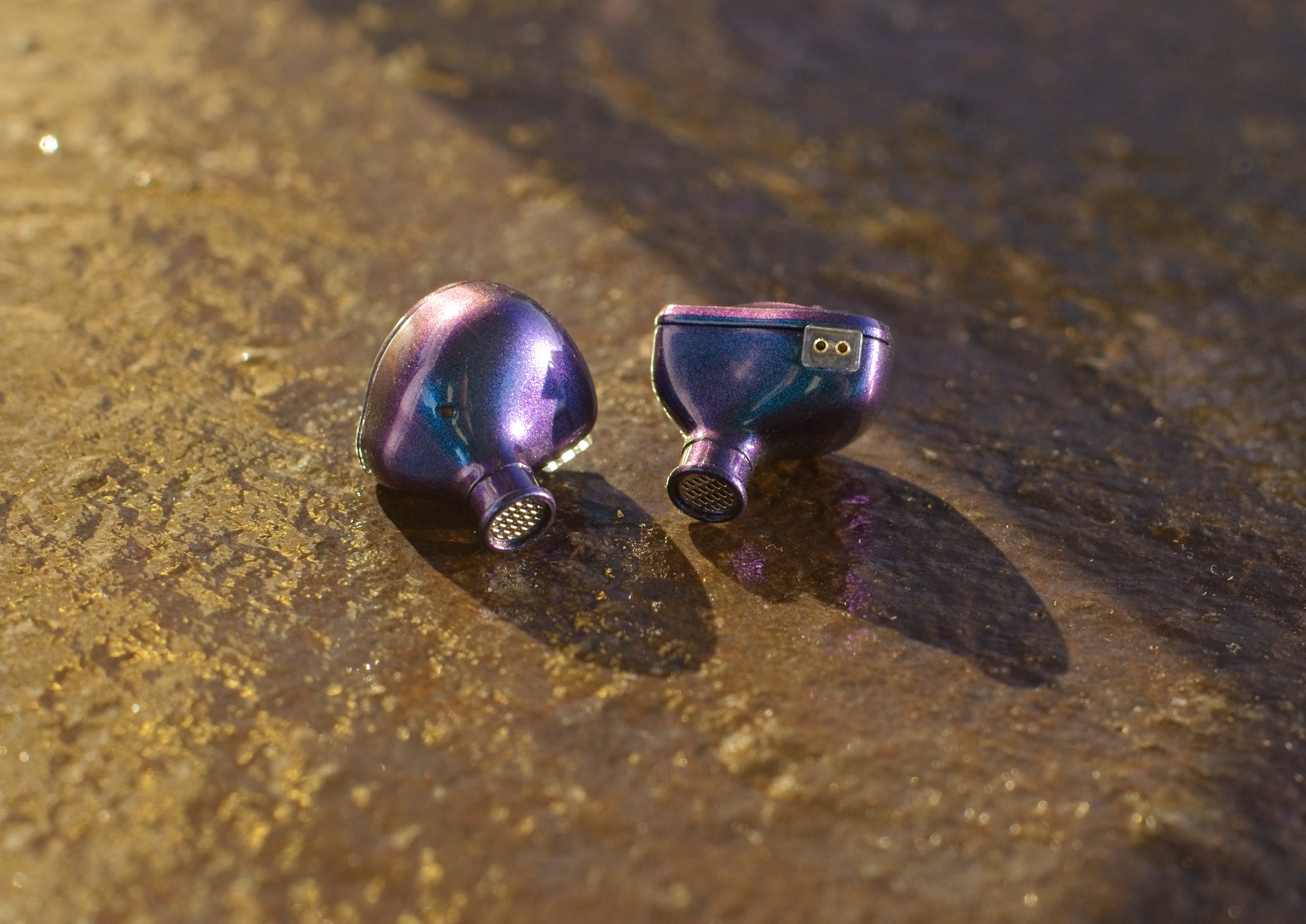 In conclusion:
Stomping all over the BLON BL-01s of the world, harming the Leá. I actually don't even have to do comparisons as a single sentence is in order here. In some aspects even the DUNU Zen should run for cover. I know that's saying a lot, but that's my job. Don't believe me, simply buy a pair and we can talk later. While still being troubled by the single full-range DD realities of such a driver, the Special Edition Reecho SG-O1 OVA is not perfect. Still this review jumped a head of reviews I had in progression due to it being such a winner. It was as easy as drinking a glass of water to disclose to you the SG-O1 OVA's true nature. Because when something is made well and performs its job, it's better off for everyone involved. I have never heard a Reecho before, but I can't guess there would be a better introductory IEM to explore what they are about than this "Special Edition"? I would strongly suggest if you were in the market for a $49 IEM to make the SG-O1 OVA your top priority. This style of tune has very little to do with subjectivity, unless you are that detail only style of listener. Then I would suggest to go look elsewhere, purple probably isn't your color anyway.



Disclaimer: These thoughts and ideas are of one individual, your results may vary.
Disclaimer: I would like thank Penon Audio for supplying the SG-O1 OVA as I possibly would have missed this one. Such writing is my own personal opinion, not swayed by other influences. I grade on a price-per-dollar scale, which means if it truly sounds good I grade higher, if it looks good and is built well........I take that into account, and finally if the IEM plays well from an assortment of sources it is rated accordingly.

This ends review.
Equipment Used:
Sony WM1Z Walkman DAP MrWalkman Firmware 4.4mm/3.5mm
Sony WM1A Walkman DAP MrWalkman Firmware 4.4mm/3.5mm
Sony TA-ZH1ES DAC/AMP Firmware 1.03
Electra Glide Audio Reference Glide-Reference Standard "Fatboy" Power Cord
Sony Walkman Cradle BCR-NWH10
AudioQuest Carbon USB
Apple iPad



Last edited:
Reecho SG-01 OVA edition. A revision of one of their best dynamic earphones.
Pros
:
Solid all metal build utilizing a zinc alloy acoustic cavity, new upgraded 7micron graphene composite 10mm dynamic, a stronger N52 magnet. Upgraded tuning and new silver-plated OCC cable. Tips that actually affect the sound to your liking, some of the best included tips for earphones. Smaller side of medium in size with superb comfort, no fitment issues. Absolutely superb sound quality. Benchmark for bass performance at the price level. Sub $50 earphones just don't get much better. A sleeper in the making no one knows about.
Cons
:
Underappreciated Reecho craftsmanship.
Reecho SG-01 OVA edition
One of the bigger surprises for me last year was the onset of some truly well-done budget offerings by Reecho. The SG-03 is an all-metal sub bass focused v shaped tuned earphone done right and even more surprising was the cheaper SG-01. Even though at $40 the SG-01 was their intro budget offering, the SG-01 turned out to be the better-balanced dynamic earphone vs the bass specialist SG-03. The SG-01 was for me one of the best budget IEMS I have heard all year. Just my opinion but not too many earphones for the bucks will give you the sound of these two earphones.
Fast forward to today and the SG-01 gets a newer version now called the OVA SG-01. This new single dynamic IEM has a few upgraded components as well as a slight tuning tweak to enhance the sonics of the new OVA version. The new OVA SG-01 now has an upgraded 7micron thick 10mm graphene composite dynamic as well as using a stronger magnet in the N52 vs the N50 used in the prior version. It also gets a new upgraded 5N 96 strands of silver-plated OCC cable for greater transparency. Tuning now has better optimization for its treble and mids while retaining similar bass ability of the older SG-01. The zinc alloy acoustic cavity is an all-metal build with a new electric blue color.
Standardly proclaimers. The OVA SG-01 was provided for the purpose of a review by Penon Audio. You can get yourself a set
here
. They have been burned in for a period of a week and are now ready for evaluation using my sources. IBasso DX300Max, Fiio M15, Shanling M6 pro, M5s, M3s, IBasso DX160, Sony ZX300, Fiio K3 2021, Ibasso PB3, IFI Black Label for amping.
The new OVA version even before burning in had a slightly cleaner sound tuning vs the standard SG-01 most evident in the treble area. Its treble has better articulation and definition while not more emphasized. The balancing is clearly there; the tuning is not all that different from the standard SG-01 but somehow these minor tweaks all come together and make for an upgraded version.
If you have never experienced a Reecho made earphone. The $49 OVA SG-01 is more than an introduction of their sound. It is what they can do with a nicely resolving graphene dynamic. As I mentioned in the original SG-01 review. These earphones have nothing to do with an intro level sound. Reecho now has a catalog of earphones they have made and even though the older SG-01 and the new OVA version are both well priced in the budget category. Drive them correctly with the right cable and tips and you will not think they sound anywhere close to the price you paid for a set. As much as prior budget single dynamics goes. These sound markedly more dynamic sounding than any of the Tin Hifi offerings being sold at this price as a frame of reference. Well that is unless you're into your no bass neutral bright signatures.
It goes without saying but budget offerings are not going to be known for their included accessories, however the OVA SG-01 and their prior SG-01s are the exceptions. You're not just getting a decent variety of silicone tips here, 3 sets or 9 pairs to be exact. But each set of tips actually has an effect on the sound of the SG-01 and are not just throw-in tips you are more accustomed to at this price level. It seems Reecho has done some actual tip rolling and listening on the behalf of the consumer to figure out what works best for the sound of the SG-01. These were the same set of tips provided from their prior SG-01. Why change a good thing right? Here is what I mean.
These three sets all have varying sizes of openings and varies in silicone thickness and make up from one another.
The most narrow bored gray colored tips are equivalent in nozzle opening and function to something like Sony hybrids and or Final E tips. These lessen the treble perception a touch bringing out a more forward mids presentation. Vocal tips? If you want the mids to be the focus of the OVA. These are the tips to try.
The medium bored colored stemmed tips, the stems of these tips are thicker in makeup but again moderate in opening. About the same as the very popular Symbio W tips with a similar shape. These produce the best focused bass presentation, mids are not as focused as the prior mentioned gray narrow bored tips and also has a moderate amount of treble emphasis. These are a happy medium vs the other two tips in what it does but also has the best bass presentation. Balanced bass tips?
Finally we have the clear wide bored silicone tips. These are very similar to Azla sendafit or JVC spiral dot tips. These seem to enhance the treble and slightly for the bass with the widest open mid range presentation from the OVA SG-01 hence giving the widest sound presentation as a side effect. Imaging seems to be the best out of the 3 tips used. These tips inject a bit of air and stage vs the other two. Transparent treble tips?
WUT!!??Actual tips that not only affect the sound but meshes with the SG-01 to your liking? No need to use your own aftermarket tips? Since when have you seen a budget offering actually include not one but 3 different sets of tips that optimizes the sound of the IEM it is attached to? That is quite refreshing to be honest. ( A note to other manufacturers. Tips don't cost much but here is a rare case where Reecho clearly gave it some careful thought with some trial and error. This does make a difference for the end user in a positive way. Kudos to Reecho for not just throwing in some random set of tips. )
Then there is the new upgraded OCC silver plated cable. A more transparent better quality cable vs their prior cable provided on the older SG-01. A more transparent cable, some added massaging for its tuning, an upgraded driver with a stronger magnet and you get a nice little upgrade on the original SG-01.
Going back and forth from the standard version vs the new OVA. The sound balancing/ tuning is identical but now with a slightly better treble and mids definition. Yes and this is going back and forth from the original SG-01 vs the OVA version using the same source, same cable and same tips. This being said I still think the original version easily holds its own for being $10 less but hey if you can afford $10 more. Then why not? Truth be told, you can get fairly close to the new OVA version just using a better cable and the right tips on the older SG-01. So the new OVA version is not drastically different. More similar than anything sonically.
The all metal shells are solid in form and build. The form factor is a smaller side of medium in physical size and so far the new color scheme seems to have a rock solid finish. No scratches or marks during casual use and putting the earphones into the case. The isolation is roughly average for metal builds but not the best when it comes to passive isolation. Overall there is not much to complain about for the OVA in build or form factor. If I remember correctly it was the cable that was included on the older SG-01 I had an issue with. The cable did nothing for the SG-01 sound. The new cable is clearly upgraded and is much more proper to the sound of the new OVA version. Quite thin in build and simple but some folks love their thin cables. As a side note, yes the OVA does well with your aftermarket cables.
Sound
OVA SG-01 is a balanced v with a u mixed signature. Which seems to be the house tuning for Reecho. Has a moderate upper mid presence that brings a clean yet natural tonal quality to the SG-01. Versatile in its balance and dynamic in its bass presence. The OVA SG-01s technical aspects are well above average at the price point. Sound separation, imaging, timbre and stage are all quite good in their abilities for using a single dynamic. The dynamic earphone has seen so many releases you might be saying. OK yet another one? But if they are tuned this well and have this type of balanced versatility. Then why not.
Trebles.
Treble presentation has a moderate amount of emphasis for the lower treble to mid trebles and then gradually lessens in emphasis toward the upper trebles. Trebles have good balance with surprising extension. To be honest the difference in treble emphasis from the original is really not much different. Where the difference that I can hear has to do with treble articulation. Treble now has a more realistic sustain and attack vs the prior SG-01. The treble on the new OVA has a bit more tonal range and I don't know if it is due to the newer upgraded dynamic or the upgraded magnet, maybe the combo of both. Either way, unless you're actually doing a head to head against both sets like I did. You are less likely to hear a clear difference. The differences only seem to appear on well recorded tracks with clean treble recordings.
Overall the treble detail is slightly cleaner vs the prior version and does not show much in the way of glare or sibilance. It does have a mild 8khz peak that some might take some issue with but it is nothing like the older Tin Hifi earphones where treble sticks out. Its treble character is ever so slightly on the bright side but again nothing to make you fast forward an EDM or your rock tracks. Its detail level for the treble here is clean, its articulation and transients as good as it gets in the price range. Besides that mild 8Khz peak there is really nothing to complain about on the treble end. Treble can sound airy and with a good rangy tonal character. Depending on how sensitive you are to the treble region the OVA SG-01 provides some really nice silicone tips to help lessen or open up that sound tuning of the SG-01 to your liking. Can't say that about any other earphone I have reviewed anywhere around this price range. None to be exact.
Mids
Much like the treble aspects having a bit more in the way of tonal range and definition, so does the mids of the OVA version. Its Instrumental timbre has good accuracy, lacking that final bit of weight and nuance of higher end in ears. For the price however, it is about as good as it gets for timbre. Vocals are done well showing an impressive dynamic range but due to a central mid dip has a mildly thinner note weight for some male vocals. Female vocals and stringed instruments seem to fare better for the OVA SG-01. Mids sound relatively spacious from left to right in your auditory presentation but lack a bit of depth hence not having the best dimensional sound. I suppose you can't expect that on a $50 earphone so for what it is, I will gladly take it. But this is more or less nitpicking. Mids have that emotive roomy quality you want to hear from a proper sounding IEM and the OVA has a good fundamental layering of the mid bands.
It has ample upper mid presence with no shoutiness. Has a moderate note weight combined with very good imaging. Its upper mids have more emphasis vs the lower mids in the tuning but nothing that will make you think the mids are too unbalanced or one sided. Its tonal character here is clean yet natural showing just a hint of warmth. The mid bands benefit from the upper mid lift of the OVA, which shows in the way of vocal and instrument highlights. While the mids does not have the dimensional sound aspect of a more resolving higher end dynamic earphone presentations, it easily makes up for this aspect with a rangy tonal quality that is about as good as it gets for the price.
Bass
Is the strong suit for the Reecho IEMs and here the OVA version has identical bass presence vs their prior SG-01. Bass leans a touch more sub bass focused vs mid bass but has equal parts of well timed impact and good low end sub bass rumble. The strength of the carbon based composite dynamic would be for its bass end and the OVA here shows good ability for the region. Here is where these budget Reechos really separate themselves from the rest of the dynamic crop in the price range. The bass end of the OVA is fantastic. It clearly shows versatility for any music with a low end emphasis.
It has enough bass to actually put the SG-01 into the fun category in sound but is not overly pronounced, it is well controlled and gifted. The bass end here has no business being at this price level. Truth be told I have earphones that cost way more that don't have this bass. If you're a fan of having good bass emphasis for your earphone sound tunings, the OVA is just the ticket. It's not too much and certainly not too little.
You don't have to worry about a wooly uncontrolled sloppiness or Un emphasized limp weakness. None of that applies to the OVA bass. If your tunes have bass, you're gonna get a very good textured impactful bass. You can't expect world class bass presentation from a $50 phone but you can expect good bass in all forms from the OVA. The bass end of the OVA is not the final word in speed, tightness or texture but hey what do you want for your $50? I can safely say the OVA SG-01 will actually be pretty much the best you can get for bass for quality and ability at the price point.
In the end
The OVA SG-01 is a revision of one of their more affordable in-ears. Its natural tonal character with well perceived dynamics does wonders for its sound presentation. It has a surprisingly technically proficient versatile yet fun tuning, has good energy and presence that lets you enjoy the vast majority of music types and genres. The OVA scales well to more powerful sources but is efficient enough to be run through with your phone.
Reecho has done something that most manufacturers ignore and that is the included tip selection that actually makes a difference. If you're looking for a budget set and are a fan of good bass, a versatile sound and are looking for something you can actually enjoy your music with without too much fuss, these are not only affordable but a good solid value at the price point. I can't recommend a set highly enough at the price. If I was to put a price value for the included tips alone, they are easily worth the asking price for the OVA SG-01 by themselves. Overall, this one is an easy recommendation to folks that take a stock to well tuned, well designed dynamic earphones at a very affordable price. As always, thanks for taking the time to read.
Last edited:
Natural balance OVAtion
Pros
:
-Beautifully balanced tonality with natural cohesion
-dense lush timbre
-spot on instrument and vocal tone
-well rounded warm bass with heavy impact
-good notes weight in mid range
-full bodied male and female vocal
-no sibilance nor harsh peaks
-decent macro resolution
-versatile and forgiving
-great construction
-safe tuning that is near impossible to dislike
-price value
Cons
:
-average technicalities
-average resolution
-average attack speed and control
-blurry imaging
-guilty pleasure bass bleed colouration
-lack of treble sparkle and air
TONALITY: 8.5/10
TECHNICALITIES: 7.6/10
CONSTRUCTION: 9/10
SOUND VALUE: 8.5/10
REECHO is a rather new earphones company that have been around for about 2 years, but that has been very prolific in IEM making with about 7 models offering that even include an earbuds that I own and find very impressive, the RC ONE. They mostly create hybrid and single dynamic drivers IEM, and their hybrid SG-03 seem to be their best seller, gaining good praise among budget audiophile.
Today I will review their second version of SG-01 serie, the SG-01 OVA, which is a single dynamic driver using a 10mm graphene composite diaphragm driver with a powerfull n52 magnet.
As a big fan of dynamic drivers IEM, let see if the OVA is special and stand apart of the rest of sub-100$ earphones offering.
CONSTRUCTION​
I'm a fan of all metal construction, and this is what Reecho offer, with a beautiful bhousing design that remind sea shell. The glossy bleu painting add light reflection richness, making the color go from dark blue to electric purple.
The housing is quite small too, as well as the nozzle is large and short but doesn't have fitting issue. 2pin connector feel solid and promise longer durability than MMCX if your obsess about cable swapping like me. Strangely, the mesh seem to collect dust or particule, that nit picking but something to note with this type of mesh.
When it come to cables, it's a decent basic silver plated one, it's not bad to the point of urging you update it even if yes the OVA will benefit from higher end cable, like the Tri Grace-S which improve balance and clarity.
For 50$, the packaging presentation is very impressive, though a bit puzzling since it's write YUSICON OVA and not Reecho SG-01 Ova on the front. Now, i'm not sure i've name these IEM correctly, but in Penon store it's sell under Reecho name, while on Ali Express you can find it under Yusicon brand. Anyway, as said package reflect higher price range, it's a big box and include a nice carrying case as well as generous amount of diversify silicone ear tips (9 pairs), including the famous yellow wide bore KB07 which is the best one for this IEM. All in all, we get more than asked for in term of whole package here and that's very appreciate.
SOUND IMPRESSIONS​
(Gear used: Tri Tk2, Tempotec E44, Xduoo Link2 Bal)
The tonality of OV
A is a gently bright V shape, thick and balanced as a whole, with warm round bass impact, smooth yet fowards mids and bright energy coming from full mid treble wich add crunch and bite to attack without feeling overly boosted. I'ts the kind of IEM we sometime find warm when big bass occur or bright when it's energic rock or jazz, but we never find it dark sounding, just not particularly clear or boosted in details.
OVA is the type of IEM that make you forget about critical listening technicalities and focus on musicality as a whole, since both balance and timbre are natural, we are in for an immersive and lively enjoyment.
The bass is very well done
, yet not a master of technicalities or sharp definition, it have a round heavy weighty slam to it, thick and muscular yet not boomy or artificial in resonance. It's the opposite of a boxy bass presentation, and perhaps technical limitation come from driver speed limit here or slight lift in upper bass-lower treble since it feel a bit sticked to the mid range, opaque in resolution and lacking proper separation. Still. It's so far from bad that we are into "mature guilty pleasure" here I would say, in the sens it's not boomy, not overly boosted, yet physical in impact and heavy in mid bass presence. Extension is not the most linear and have a compress sustain when it come to rumble that thicken the resonance and give more relief to vibrancy. Think about the bass of Tanchjim Tanya but a bit faster and better rounded in impact. Slight sub bass roll off would only be problematic for critical listening of acoustic bass line, which will feel a bit scooped in natural resonance, still it will not affect the tone which is natural as well as timbre which is dense enough. Cello sound full bodied and natural too, tough not very textured it's lush, natural and innofensive in tone and have enough 50hz vibrancy.
With the OVA, it's all about bass and mids interdependancy
, which embrace themself organically and deliver a natural appealing balance with great note weight and smooth timbre. I like those mids that doesn't feel forced or overly excited in upper mids yet grand in presence fullness. I know we are in good mids territory when piano sound both heavy enough in note weight and full enough in timbre, and this is the case with OVA, piano sound natural, not too warm in definition yet softed in higher harmonic edge. To achieve this type of versatile and full sounding mid range, their a trade of in clean clarity and sharp resolution since it's a bit warmed by extra low end harmonic boost, yet not dark as said or lacking in attack energy. In fact, timbral balance is very good both in male and female vocal which doesn't sound artificial, lipsy or overly focus on texture or extra body. These are "harman target" like vocal presentation but with a bit extra mid treble energy that add a bit of extra breathyness to female vocal, in an appealing way. I'm very impress by versatility of vocal performance here since while not agressively fowards, both male and female vocal have focus presence and never feel recessed, keeping the singer upfront of instrument but keeping it part of the music whole too. You focus on singer with the OVA, or main instrument of the band, so it's not an IEM that magnify clarity and imaging.
Ok, now, if i'm as much fascinated by bass and mid range, it's because their a trade off somewhere which is
treble
crispness and extension: it's softed in edge and roll off on top. Again, like the Tanchjim Tanya but a notch better. The OVA is all about macro-resolution lush cohesion, and resonance and decay of instrument seem dampened, polished in edge and texture in a tastefull way that doesn't affect tone naturalness or make the dynamic dull and overly lean. You know these vintage speaker that sound great but doesn't deliver high amount of micro-details or accuracy but still sound highly immersive, musical and addictive….the OVA deliver this kind of analog euphonic joy and it's not something we find often in Chifi IEM world. This mean their a hint more of low harmonic focus than high harmonic that will mostly affect sens of air between instrument as well as sparkle, snap and sustain decay. We can say it's a safe tuning choice, but at least it doesn't sound boring in dynamic nor ackward in instrument tone.
Now, after all this praising, it's time to go grumpy a little and this will
begin with the soundstage
presentation wich is just average in wideness and tallness while lacking in deepness due to thick opaque macro-resolution. It feel like i'm sit in a couch with 2 bookshelf speaker on each arm. I'm swallow in a thick dense stereo focused spatiality.
And it doesn't do good for imaging capacity
, which are very limited to say the least. It lack precision in instrument placement as well as proper space separation clarity. Overall resolution feel blurry and warm, which make instrument layers to close to each other and hard to pin point.
COMPARISONS​
VS NICEHCK YOUTH
Both are V shape but the OVA is warmer, thicker and more cohesive as a whole so better balance due to less boosted sub bass and treble making it less spiky V shape. Bass of OVA is better rounded and have more weight while the Youth have more rumbly boom and more tamed kick drum and upper bass. Yet, OVA low end mix more with the mids and thicken warm them yet feel less detached in impact than the Youth. Mids are lusher and more bodied with the OVA, less fowards in upper mids and less bright in resolution, here the Youth seem to have better separation and transparency but thinner timbre, lighter note weight and more reccessed male vocal. Treble is very different here, way more bright and extended with the Youth, definition is sharper, micro details better extracted making the OVA feel rolled off and dark on top. In term of spatiality and imaging, the OVA is notably inferior, both in sens of openess, instrument separation and airy clarity. Technical performance like attack speed and control is superior to with the Youth, to the cost of sounding more clinical or artificial too.
Let say tonality is very different here, OVA sounding more musical and organic in balance while Youth sounding more technical and V shape analytical. For vocal and timbre, OVA is certainly better.
VS WHIZZER HE01
Again, brighter V shape for the HE01, more focus on texture and a bit more boosted in upper mids. Bass is dryer, more textured and thumpy but less boosted and less thick in slam. It doesn't warm as much the mids too, so HE01 is more energic and vivid in clarity. Timbre is thinner and note weight is lighter in mids too, we have less pina gain with the OVA it seem but attack is slower and less controled even if less agressive and prompt to fatigue. Treble is quite similar, but a bit more snappy with HE01 so imaging is again a bit better, while soundstage is similar but a hint deeper airier.
Simply put, the HE01 is very similar in tonality but brighter way, as well, male vocal are a bit less present and fully bodied with HE01. Smoother or more vivid balance? This is your choice here, but OVA is more safely tuned and overall fuller sounding and more musical to my ears.
VS HZsound Hearth Mirror
The sub-100$ (and up) champion of technicalities can't be touch when it come to resolution, attack speed, transparency, imaging etc…making the OVA feel very limited in those department, but when it come to musicality, I can imagine lot of people prefering smoother balance of the OVA.
The OVA is notably bassier, the low have more body and slam, but it mix up more with mids, which can be a plus for male vocal since they are more bodied than Mirror but when it come to fast kick drum accuracy and impact definition the Mirror is less boomy and offer a more linear and extended sub-bass too. The mid range is thinner and dryer with the Mirror, warmer and thicker with the OVA, note have more weight too but a more fuzzy definition, while imaging and level of details is notably better with the Mirror, vocal are fuller and better rounded in warm timbral balance with the OVA, making it more mid centric than the Mirror yet less sharp in clarity. Mirror Treble is just incomparable here, way more vivid and detailed, faster and snappier in attack as well as more sparkly and airy, making the OVA feel very dark and abstract in resolution.
These 2 in fact complement each other very well, since the OVA focus on timbre naturalness and note weight and offer a warmer W shape with more boosted bass than crisp- neutral and analytical HZ Mirror. As expected, Mirror can't be dethroned as technical performance king, yet tonaly speaking the safer OVA tend to captive us more with it's vocal presentation as well as heavy warm bass hit.
CONCLUSION​
The Reecho SG-01 OVA is one of these IEM that is easy to love at first listen, yet continue to grow on you with the time due to an immersive and naturaly balanced tonality that focus on dynamic weight, bass slam and vocal presence. Tone is right for all instruments, with dense lush timbre and everything is stick togheter in a gently warmed resolution that doesn't forget to add extra treble bite to avoid a dark musicality that could lack energy.
We are in middle of fun and mature tuning with the OVA, which is a refreshing take on V shape tonality since mid range doesn't feel recessed, just thickened by bass.
This type of musicality will please fans of Tanchjim Tanya, Whizzer HE01, Blon BL03 and FIIO FD1, and while it will be a sidegrade in term of technical performance, it will be an upgrade in term of tonal balance.
Reecho proof to be a very competent IEM company when it come to tuning cohesion, as well as being competitive in sound value, it's the first IEM I test from this company but will sure continu to follow their evolution since the potential is there.
Highly recommended!
——–
PS: I want to thank PENON AUDIO for sending me the OVA after I manifest them my interest to review them. It's my first review for this audio distributor and i'm not affiliated or compensate in any way for this review. As always, i'm 100% independant of mind or any self-interest bias.

You can order the Reecho SG-01 Ova for 50$ and enjoy fast shipping from this trustable store:
https://penonaudio.com/reecho-sg-01-ova.html
For more honest and diversify audio products reviews, give a read to my No Borders Audiophile blog
HERE
.
OVAtion For Reecho
Pros
:
Readjusted tuning for a more transparent, clearer and more technical response.
- Extension of the upper range.
- Good, slightly powerful bass balance.
- Great response from all three ranges for a single dynamic driver at this price level.
- Very good accessories.
- High-quality construction, including colour-changing paint.
- Small size and great ergonomics.
- Huge price/performance ratio.
Cons
:
Occasional driver flex if very occlusive and/or large tips are used.
- Tuning of the high-mids and first treble more emphasised, may be a disadvantage for sensitive ears in this area.
- I would have preferred a copper wire.
Introduction
Reecho is going slowly but surely. The Shenzhen brand is back with a revised version of its previous model from the Star Gate series. This is the SG-01 OVA. Externally, only the colour seems to have changed. Internally, the dynamic driver used is 10mm, with a stronger N52 magnet and a 7-micron graphene composite diaphragm. The previous model used an N50 driver. The cable has also changed, the current model uses a 96-core silver-plated OCC 5N cable. In terms of packaging the change is also based on the external colour, because the inside and the number of accessories is similar. But what about the sound? Well, actually, it's a revision and will be discussed in depth in this review.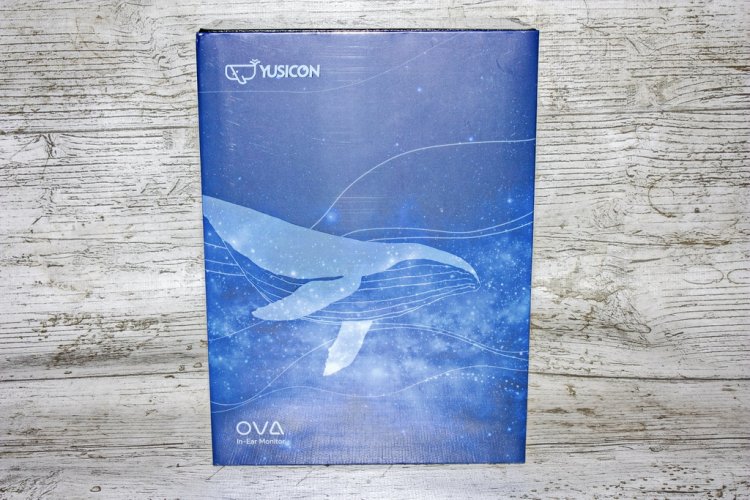 Specifications
Driver Type: 10mm N52 dynamic with 7 micron graphene composite diaphragm.
Frequency Response: 20Hz-20kHz
Sensitivity: 112dB ± 2dB
Impedance: 32Ω
T.H.D: <2% at 1kHz.
Jack Connector: 3.5mm SE gold-plated.
Capsule Connection Type: 2Pin 0.78mm
Cable Length: 1.2m
Cable Type: 96-core silver-plated OCC 5N cable.
Packaging
The Reecho SG-01 OVA comes in a relatively large, blue box with some dark turquoise tones. It simulates the sea and the cover features the silhouette of a whale. The dimensions of the box are 175x129x58mm. At the top left is a logo of a whale and the word "YUSICON". At the bottom left, it says OVA and indicates that these are In-Ear monitors. On the back side, from the middle down, are the specifications and the brand name. After sliding off the cardboard cover, the box is completely black and has the cover logo in the centre, in small gold letters. The logo is repeated inside a circle on the right side: this is a flap through which the box opens. The inside is the same as the previous model. In the upper half are the capsules embedded in a dense black foam rubber panel. Underneath is a small cardboard flap that repeats the whale logo. Underneath is the grey zippered case, inside the same foam panel. Lift it up to a lower level of dark cardboard boxes with a gold logo, containing the rest of the accessories. In a nutshell:
The 2 Reecho SG-01 OVA capsules
1 OCC 5N 96-core silver-plated OCC 5N cable.
1 zippered case.
3 pairs of white silicone tips, sizes SxMxL.
3 pairs of white silicone tips with coloured core, sizes SxMxL.
3 pairs of dark grey silicone tips, sizes SxMxL.
1 instruction manual.
2 warranty cards.
Successful packaging, no change. I still think that the level of accessories is remarkable, with 3 sets of tips and a good case. On this occasion, the cable is not covered with a textile layer and there is no microphone. The only downside is the size of the packaging, which is a bit big.
Construction and Design
The capsules are the same, so the description repeats itself. Well, to tell the truth, the colour is different, as well as surprising. Depending on how you look at them, the capsules are a medium-bright blue colour. But depending on the light, they change colour to another purple. This effect is very curious, and it's even entertaining to look for how they change colour. On the other hand, they have been manufactured in a light, all-metal zinc alloy, constructed by metal injection moulding. A CNC machine was used for the final finishing, achieving a very smooth and polished surface on the inside, as well as the wavy shape of its external face. The shape of the capsule resembles an equilateral triangle, with one side fairly straight (major side) and the other two more rounded (minor side and hypotenuse), which would end up forming a single curve. The size is medium to small, although they are relatively thick. The weight, although a light alloy has been used, is clearly higher than that of a resin or aluminium capsule. Not that they are heavy, but they are noticeable in the hands, because they are robust and forceful. At the apex of the flat rim is the transparent plastic surface plate, where the gold-plated 2Pin 0.78mm connections are located. This plate is rectangular with slightly rounded corners. Near them, towards the inner side, are the letters indicating the channel. They are printed in dark ink and are barely distinguishable. At the opposite end of this inner face, there is a small hole, plugged at the bottom by a white mesh. There is another hole in the edge of the capsule, on the side next to the 2Pin connector. The mouthpiece is approximately 5mm long. It starts with a diameter slightly larger than 6mm. Immediately there is a step that reduces the diameter to 5.8mm, ending in a 1mm thick rim, with a diameter of 6.8mm. Its interior is protected by a perforated metal grid in the shape of elongated ovals.
The cable is different, it's OCC 5N composed of 96 silver-plated cores. It has a transparent outer sheath and is slightly stiff. It's single stranded. The connector is 3.5mm SE silver plated, there is no choice of balanced plug. The connector sleeve is a smooth, shiny silver-plated, metallic cylinder with a small notch in the form of a recessed ring, close to the edge of the cable. The splitter piece is similarly constructed, but shorter. The same applies to the pin, which is a small cylinder with an oval opening inside, through which the wires pass. In this respect, the fit is average, as this part offers a slight resistance to movement. The cable has transparent over-ear guides and the 2Pin connector sleeves are also cylindrical, following the style of the other parts of the cable. The right side is marked with a red plastic base, from which the 0.78mm 2Pin connectors protrude, while for the left side, this base is transparent, but with a small blue mole on the smaller side.
A subtle variation in the capsule and a new, silver-plated cable which, in my opinion, is not suitable to compensate the sound of the OVA. The construction is very good, but you have to be careful with the metal capsules and their weight.
Adjustment and Ergonomics
No change in shape, fit and ergonomics is identical. The capsules are small/medium sized, smooth and soft. Their rounded shape gives them a very pleasant feel. The mouthpieces have a good length, but also a good diameter. The first allows a medium insertion, but the second limits the depth and will depend on each morphology, up to where it can be introduced. In my case, insertion with large tips is somewhat superior to shallow insertion. In this sense, the tips that come as standard play a fundamental role. They are not just any tips. The black tips have a long core, which allows a deeper insertion, they are the narrowest, both in inner and outer diameter. The white tips, with a coloured interior, have a medium length core, as well as an inner and outer diameter. While the all-white tips have a shorter core, but a larger diameter and are the widest, for a shallower insertion. In my case, the tips with the long core are the ones that fit the best, obtaining a better seal, greater insertion and a clearer, cleaner sound, with more detail.
It's clear that the SG-01s have very good ergonomics, with a very varied and versatile fit, as a result of their shape, as well as the standard tips. The only negative aspect is the weight, although it's not very heavy, the metallic construction increases this value over capsules made of resin. However, it's true that the great fit and firmness reduce this sensation once they are in our ears. In the end, this weight is not superior to other metal IEMS, which are so popular.
Sound
Profile
The profile persists in the idea of the W, but this time the central peak is the largest. The bass has been subtly lightened and the emphasis on the upper mids has been narrowed. Instead of the more linear treble, the classic control drop has been opted for in the early treble, with the intention of softening the initial drift of the high end, and then gaining extension and air. The result is a sound that, despite the clear initial control zone in the treble, has become more incisive, enhancing the visibility of the details and slimming down the body of the voices, although they are a little more exalted, both in their details and in their harmonics. The decisive improvement is in the upper treble. Reecho has managed to stretch the high range in a very commendable way for a sub-$50 dynamic driver. All this while maintaining a realistic and not at all shrill timbre, very well-defined and natural in character.
Bass
I seem to be repeating myself too much lately, but my musical preferences make the slight decrease in bass compared to the previous model a slight negative point. I can't deny my preferences and my little audiophile heart misses a touch more punch in this band for the new OVA. Although it's also true that other fans will applaud the refinement of this revision. At this point, the OVAs are approaching a more neutral low end with less impact on the overall sound. It still retains the linear tuning that starts from a deep sub-bass, reaching cleanly into the mid-bass. As a good dynamic driver, it has a juicy texture, very well controlled, pleasant, slightly softened, but retaining that tremor that makes it so attractive. The low end still allows us to enjoy the music focused on this band, albeit from a sweeter and more technical point of view, but with a hint of punch and power, capable of rumbling in our ears with some force. In that sense, the development isn't the fastest, but the decay and the aftertaste compensate for the speed. The bass lingers minimally over time, to add a trait of personality and superior presence to the sound. It seems delicately rubbery, but elastic in its disappearance. It's possible that this slight aftertaste gives it a less neutral feel in its perception. But for my liking, these are not bass-heavy IEMS. But neither are they innocuous in this respect. The good thing about all this is that they have achieved a balance at this limit, a bass tuning that may please many fans, which can be subtly altered with the use of tips (even the different types that come as standard, help in this sense), cables and, of course, warmer sources.
The result is a deep area, with a technique that allows a good approach to planes and a coherent layering, without artifice or unrealistic irregularities. The timbre has a very slight colder colour, something that can be observed in the pure LFO test. But it does not really affect the sound. This test, on the other hand, demonstrates the realism and purity of a well-designed dynamic driver for bass reproduction. So, it's all good things to enjoy in this new model.
Mids
Any change in the FR has an impact on the sound. And lightening the bass, however subtly, has an impact on the midrange. On this occasion, the emphasis of the mid-highs is more on the edge of brilliance and sibilance. Cooler sources and some tips may influence this, as well as the cable that comes as standard. For my interests, all this is easily correctable. But I would like to see this boldness in other ears. Although, as always, this feeling is always relative. The OVA have gained in transparency and definition, in exchange for offering a more excited and persistent fringe. I would have preferred a point of more smoothness in this area, in exchange for a more linear treble. But, in this sense, they went for an extreme edge and the move has worked out well for them. It's easy to flip a coin and lose, when your budget is less than $50 and you bring such a complete set of accessories. But, if you're making a revision, the normal thing to do is to play with fire and take a risk. There's already a sound, why not take it further? And so it has been. If the previous version was friendlier, here it has taken a risk and won by offering a more striking level of resolution, more eye-catching and persistent detail, as well as a clearer, more evident, powerful and focused sound. It's not quite an analytical model, but its technical level of detail extraction has to be taken into account, for its price range and being a dynamic driver. In this sense, the staging of micro nuances is at a very high level, quietly on a par with IEMS of more than 100$. The final refinement is another matter, but the result is there and it's not artificial or forced, these are not screaming BA drivers that bet everything on detail, damaging the timbre and realism. This is a full-range dynamic driver, suitably stretched towards the sub-bass and upper treble, in a way that makes other models above it in price blush. Clearly, the second half of the midrange can be all or nothing, but if it suits you, the OVAs are born winners. For the unadventurous, I'd say the risk is there, but it's worth it.
In contrast, the first half is softer. Starting from a bass that is firmly anchored at the lower end, there is a slight warmth that brings physicality and body to the male voices (the female voices already get their share of favour in the second half). The fullness is not complete, nor is it a forward part, but a mid-range in every sense of the word, right in the middle. The distance is quite adequate to appreciate depth, laterality and a remarkable height. This creates just the right concavity in the sound to appreciate a more open stage, which reaches further and expands more. When vocals are in the forefront, the OVA allow themselves to be softened and expanded on all three axes. There is clearly a tendency towards detail and texture rather than body, but the timbre remains natural and still well-balanced, retaining a clear, transparent, but true-to-life colour.
The instrumentation blends symbiotically with the voices, sharing the space, but without losing prominence or definition. There is a declared resolution to harbour a great descriptive sense, even in complex passages, something that further enhances the quality of this model. Superior.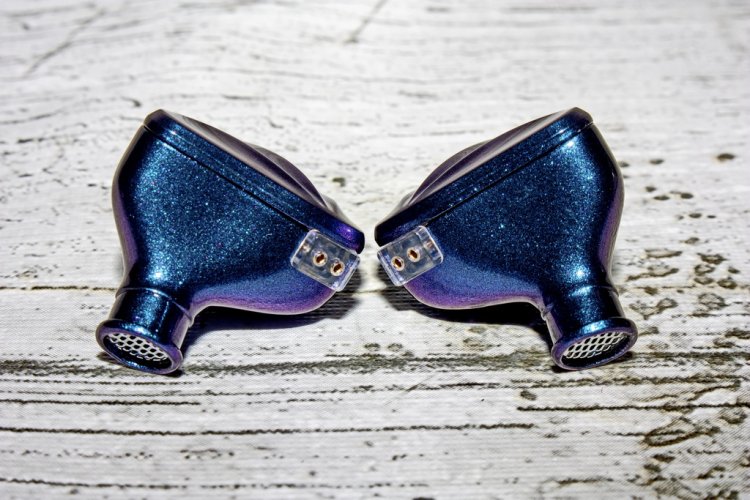 Treble
The upper zone borders on excellence. Although it starts with a clear control zone, something that sets it apart from the previous model, it's consolidated by a luxurious and extensive upper zone. It's clear that the early treble seeks to compensate for the emphasis in which the mids end, to avoid any greater evils. And this may offer some mini timbral gaps in the lower ranges. But this is clearly compensated by the extension of the second half, something that enriches the high tones with quality harmonics and precious, yet natural, details. The conjunction of this tuning redefines the concept of "crispness" for this price range. Even more so, when you consider that this is a single dynamic driver. The treble is also edge-profiled, something that will clearly delight treble lovers. It's perhaps a somewhat more oriental tuning, in this sense. But the risk is there too. The descriptive power and excitement is palpable, the area hides nothing and everything is shown. Admittedly, it can be a bit overwhelming and would not be my model of choice for long, leisurely listens. For everything else, though.
It's clear that the treble performance is worth noting, how a dynamic driver of this range is able to offer finesse, power, resolution and precision, without losing definition, nor sounding overblown or unnatural. It's true that it lacks a point of smoothness, but you have to look at the price and what the more expensive competition does: it's not always better.
Finally, I would like to highlight the air zone, as the culmination of an extensive range.
Soundstage, Separation
The scene is recreated concave and frontal, with a remarkable height and great laterality. The stereo effect is outstanding, to the point of escaping the head, but remains realistic and close to reality. The clarity and very good separation, reaffirmed by the high level of transparency, facilitates an instrumental and vocal recreation sustained by superior resolution and definition, giving it a positioning and distance between elements that justifies a high note. The amount of air only reinforces the spaciousness of the scene and the separation. The dynamic range appreciable with these IEMS deserves special mention, topping off a sound with a great dark background, great definition and the level of emphasis provided by its W tuning.
Comparisons
NS Audio NS3
This is not a new model, I reviewed it in September 2019, but it still holds a piece in my audiophile heart. They are the NS Audio NS3, IEMS made with a wooden outer face, which are very comfortable and lightweight. They cost $30 more, though. They also have a great, slightly warm sound with a soft treble. The first part of the curve has a remarkable resemblance, up to 1.5kHz, after which the mid-highs of the OVAs grow faster.
The differences in construction are large, but the ergonomics are subtly better on the NS3s due to the lighter weight and very smooth shape. Both penalise for the same reason though: short mouthpieces.
The second difference is obvious as soon as you compare them: the NS3s need a generous dose of power compared to the OVAs, they appreciate a source with a decent dose of power.
And the third difference is precisely in that second half of the sound. The OVAs are more splashy and emphasised in this area, with more prominent high mids and more extended highs. This characteristic makes the low end of the NS3s more clearly predominant than the OVAs, given that their net presence is similar. But it is a question of balance, the NS3s are warmer, with a more controlled treble and a slightly lower upper midrange. The NS3's bass is a little more punchy, slightly more visceral, which makes for a rougher texture, but also a little more out of control. The OVAs are subtly smoother and more controlled, also enjoying good roughness and texture, but within a more restrained and precise rigour. Recovery and decay is quicker in the OVAs and has less aftertaste, being a more agile and resolved bass, with greater definition. But the power of the NS3s has that point of madness that thrills.
In the midrange, the NS3s are warmer, something that is perceived in the male voices, more corporeal and fuller. While the female voices are not so clear and are perceived with a point of darkness that pushes them away a little. The greater emphasis on the OVAs gives a higher level of transparency, sharpens the male voices, enhances the female voices and the overall detail, being more analytical and technical, as opposed to the smoothness of the NS3s. There is a higher level of dynamics in the OVAs, as well as a more perceptible separation. The treble level is different, more explicit and visible in the OVAs, with superior emphasis and more overall presence throughout the sound. Their degree of definition and resolution is a notch above the NS3s. Meanwhile, the NS Audio veers towards the soft and restrained side of the high end, with a polite and visible sparkle. Their initial zone of control is more evident and the extension penalises harmonics that enhance the nuances and lacks the air of the OVAs. All of this makes the NS3 scene a little darker and slightly tighter, with less laterality and stereo feel, though with good stage concavity and height.
It is clear that whoever is looking for a warm version of the OVA has the NS3, but if the desire is for a model with superior clarity and transparency, better technicalities, more separation and wider soundstage, with a significantly lower price, the Reecho SG-01 OVA is at your fingertips.
Conclusion
Reecho has gone for a technical upgrade with the SG-01 OVA edition and increased the price to $49. That's a $10 difference from the base edition, which was already pretty good. What do you get in exchange for that difference? The construction is the same, only the paint (and watch out, because it changes colour depending on how you look at it) and the cable are the only changes. The accessories are excellent for the price range and the cable is improved. As for the profile, the bass has been lightened, the mid-highs have been emphasised and the treble has been "reorganised", adding a more palpable initial control zone, while the range has been extended towards the air zone. The result is a clearer, more transparent and technical profile. The bass still has a good presence, but the dominance has shifted to the mid to treble transition. However, one of the big bonus points is in the treble extension, which has been truly improved. Without a doubt, I think Reecho have taken a risk with their new offering. It is clear that the Reecho SG-01 OVAs offer tremendous value for money. If the initial version was a pleasant and musical set, here there is a greater boldness and added value in its sound. And in this difference lies the distance between the remarkable and the superior. And, in case there is any doubt, the OVA are in that superior range.
Sources Used During the Analysis
S.M.S.L Sanskrit 10th MKII + iFi ZEN CAN.
Hidizs AP80 PRO-X.
HiBy R3 Pro.
Earmen Colibri.
Earmen Sparrow.
xDuoo Link2 BAL.
Tempotec V1-A + Hidizs DH80S.
Tempotec Sonata HD V
ACMEE MF02s.
Ratings
Construction and Design: 91
Adjustment/Ergonomics: 90
Accessories: 90
Bass: 90
Mids: 93
Treble: 90
Separation: 94
Soundstage: 93
Quality/Price: 96
Penon Audio Store, offered me this model, in exchange for writing an honest review. I want to make it clear that all my opinions written in this review have not been conditioned by this fact, nor will I ever write anything that I do not really think or feel here. I will only write about my personal opinion in relation to the revised product.
Purchase Link
You can read the full review in Spanish here
Last edited: