DISCLAIMER: Musicteck (Lotoo's US dealer) loaned me the PAW Gold Touch in return for my honest opinion. I will send the unit back following the review. I am not personally affiliated with the companies in any way, nor do I receive any monetary rewards for a positive evaluation. I'd like to thank MusicTeck and Lotoo for their kindness and support. The review is as follows.
NOTE: This review was written with firmware version 1.1.1.1. Photos not of my own were provided by Lotoo.
Lotoo is an Asian manufacturer who develops digital audio players. Their PAW 5000 and PAW Gold players have attained legendary status among the audiophile community – regularly praised for their rigorous build quality, excellent EQ and explosive sound signatures. Despite the mainly button-oriented nature of those players – especially within a landscape of
touch screens galore
– they found favour among tons of enthusiasts worldwide. Now, after some fruitful down time, it seems Lotoo is ready to listen to the masses at large; announcing in 2018 the release of their all-new flagship DAP:
The Lotoo PAW Gold Touch
– sporting a price tag of $3199, a renewed sound signature
and
a full-fledged IPS touch display.
Lotoo PAW Gold Touch
DAC chip: AKM 4497EQ
Output power: 500mW @ 32 Ω
Audio I/O: 4.4mm balanced (also line out), 3.5mm single-ended (also line out)
Sample rate support: Up to PCM 768kHz and DSD512
Key feature(s) (if any): PMEQ II, ATE and XRC sound-shaping, proprietary Lotoo OS
Price: $3199
Website: www.lotoo.cn, www.lotoo.jp, shop.musicteck.com
Unboxing and Accessories
The packaging's outermost sleeve sports a gloss gold finish, emblazoned with the signature
Apollo
motif found on Lotoo's potentiometers. Shedding the sleeve unveils a black box, accented by the slightest touch of gold – indicative of the aesthetic the player possesses. Hoisting off the top lid reveals the device securely recessed within a foam cut-out.
Beneath it lies the Touch's full slew of accessories. Included with Lotoo's flagship player are three sets of extras neatly compartmentalised into individual mini-boxes. This is an approach I've seen implemented by Astell&Kern and Sony in the past, hinting at the pedigree Lotoo is doggedly pursuing. Comparisons aside, it's a genuine display of finesse.
The first mini-box contains paperwork – a user's manual and warranty card. This is also where you'll find the included micro-fibre cloth and two tempered-glass screen protectors. Again, the latter is a great inclusion that truly exhibits the lavishness of the product. Inside the second mini-box is a sleeved USB Type-C cable. Sheathed skilfully in soft, black paracord and sporting
Lotoo
-engraved, gold-plated connectors on both ends, the company clearly isn't skimping out.
The third compartment houses the Touch's gorgeous leather case. Chromatically, it evokes the device's aesthetic: All black and accented
exquisitely
with gold stitching around the rear. Visually, it's flash
and
finesse in equal measure, and it'll be difficult to top when aftermarket offerings start rolling in. The button indicators and logos engraved all around show excellent precision, especially the stylised
PAW Gold Touch
emblem on the rear; subtle
and
stylish simultaneously.
One of my only two knocks would be on feel. There's a slightly oily touch to it that isn't perhaps as smooth as offerings from MITER or DIGNIS. Clearly, this is a minor con given their prices. To Lotoo's credit, I'd say everything bar feel is on par with anything MITER, DIGNIS or musashino LABEL have produced. Secondly, despite the cut-out for the USB port, there isn't one for the SD card slot. It's a notable exclusion, but it's something Lotoo can easily remedy moving forward.
Build and Physical Controls
Stating the obvious, Lotoo's PAW Gold Touch is an exquisitely-built device. Although its blocky form may suggest a more utilitarian approach, the Touch gradually reveals itself as a champion of luxury and class. There's extreme finesse in how the player comes together. Despite hints of screws and seams here and there, the Touch's CNC-milled, aluminium-alloy shell may as well have been a unibody design – neither a rough edge, nor an uneven surface nor a loose joint in sight.
Visually, it's clear that they've maintained the same motif present throughout their previous releases. This is in form and colour, and especially along the volume wheel too. But, several more modern inclusions have made the cut as well. The Touch sports grooves along the sides for a more secure grip. And, curvature along the edges boost ergonomics as well. The chassis' matte-black exterior oozes class with flawless finishing. It's a sandblasted finish that's reminiscent of Apple's Macbook Pros or Sony's modern Walkmen. And, all this black only serves to accentuate the bling on
dat
volume wheel.
Quite literally the PAW Gold Touch's crown jewel, the Apollo Sun volume wheel is as nostalgic as it is gorgeous. It's shiny, shimmery, splendid
and
an awesome throwback to Lotoo's previous audio players as well. More impressively, they've managed to integrate it within a classy, suave and luxurious aesthetic without coming across corny. Accenting the wheel is a white LED ring at its base. The ring pulses to signify playback, but you can turn it off to conserve battery life as well.
Turning the potentiometer feels smooth, and it's recessed within the player sufficiently to prevent accidental turns. A neat feature I found on the
Settings
menu is the ability to determine which direction the wheel turns to indicate volume up or volume down. The wheel is on the looser side, with a fair bit of play in either direction before registering a click. This definitely isn't a dense, heavy wheel that you'd find on a dedicated amplifier, for example. But regardless, it's an incredibly solid-feeling, smooth-turning and visually stunning piece that deserves to sit atop the Touch's gorgeous body.
The PAW Gold Touch sports the classic set of physical buttons along the side of its chassis:
Power
,
Play/Pause
,
Previous
and
Skip
. Tiny bumps are present to indicate the first two buttons, making blind navigation a breeze. The buttons are beautifully machined and depress with a solid, satisfying, tactile click. And like the volume wheel, they sit securely within the chassis with zero wiggle as well. Also impressive in this regard are the 4.4mm and 3.5mm (also line out) jacks along the top. Among all my digital audio players, the Touch sports the most precisely machined and installed sockets I've experienced, leaving no air gaps or wiggle room. In addition, the gold, ring-y aesthetic is reminiscent of old vinyl records.
Considering what's become of screen sizes nowadays in both the smartphone and DAP worlds, I think many will find the PAW Gold Touch a reasonably-sized device. As someone who frequents an iPhone 6 Plus and Sony's WM1A, the Touch definitely felt
smaller
to me. Although I've gotten used to the larger text and album art that my other devices have made available to me, I love the form factor of the PAW Gold Touch for how comfortable it is in the hand, and how easy it is to operate as well. Despite the relatively smaller size, the Touch isn't a featherweight. But to me, it isn't
inconvenient
-heavy; rather, it's
substantial
-heavy – truly indicative of the Touch's exceptional build quality. If audiophiles out there are willing to lug around Sony WM1Z's and Cayin N8's in their pocket, I can't imagine Lotoo's Touch being too unwieldy for
anyone
.
GUI and Presentation
The PAW Gold Touch is an outstanding device the second it powers on, literally! Among the high-end digital sources available today, Lotoo's flagship boasts the fastest boot time I've ever experienced: A mere two seconds – no pre-loaded loading screens, no wavy lines, no rotating logos; pure
speed
. After the comically swift start-up, you're greeted by the main menu with a standard set of short-cuts. The last-played track prior to the previous shut down is there as well:
Within seconds of operation, it's clear that the PAW Gold Touch's start-up speed translates to responsiveness as well. There's never a perception of lag when operating the device, especially when alternating between menus, scrolling or loading up tracks to play. Functionality aside, one note I'd make towards presentation is the lack of motion blur. With Sony's WM1A (my main DAP), scrolling has a smoother look to it, as well as a more natural sense of acceleration and deceleration. By comparison, the PAW Gold Touch is a tad stutter-y. But again, this is purely a minor visual nitpick.
Where the PAW Gold Touch triumphs visually is screen quality. The tempered-glass-equipped IPS display is among the sharpest I've ever seen. In terms of image clarity and text reproduction, it's nothing short of impressive. Movement is – again – crisp due to the lack of motion blur. While I may perceive it as less natural-looking, some may prefer it. If there was anything I'd love Lotoo to work on, it'd be colour accuracy. The blacks in particular can be prone to backlight bleed and have some white peering through. Sony's WM1A possesses deeper blacks, increasing the perception of contrast. Then again, they
do
make TVs for a living. Regardless, it's another minor con, but one to perhaps consider in the future.
One massively impressive feature is the DLC (Diamond-like carbon) coating that Lotoo have applied onto the tempered-glass screen. In addition to increased strength, the coating has a fingerprint-resistant quality that's among the most effective I've ever seen. Simple wipes with a cloth or a shirt removes
all
fingerprints or oily spots instantly with zero traces of residue – no cleaning solutions or compounds required – restoring the screen to mint-like, pristine condition.
Like Sony (for example), Lotoo have gone ahead and produced their own operating system for the PAW Gold Touch – rather than adapting Android, which is the norm nowadays. Lotoo OS is the main reason for the Touch's speed, and it's a wonderful achievement from a company that doesn't necessarily have the pedigree that a Sony or Google has. Although the device does possess Wi-Fi for OS-updating purposes, it's worth noting that it does not support third-party streaming apps like Spotify or TIDAL; at least at the time of writing. If you require that, I'd suggest looking elsewhere. But, if you're a memory card purist like me, then the Touch will have lacked nothing – well, except any form of onboard memory, that is.
Navigation
The PAW Gold Touch sports a fairly universal navigational system. Like the Sony and Astell&Kern DAPs that have largely dominated the market, files on the Touch can be sorted by
Playlist
,
Artist
,
Album
,
Song
or
Folder
. In each menu, there are shortcuts at the very top of the screen that allow you to quickly add tracks to a playlist, or filter based on sample rate. Personally, I sort most often by
Album
, because it's easier for me to search via album artwork. Although the Touch offers a thumbnail-based GUI like the one shown in the image below, I was disappointed to find the shortcuts still occupied the top-quarter of the screen
and
the bottom-third of the thumbnails had the album titles on black bars layered on them:
Given the Touch's already-limited screen real estate, I would've loved it if the thumbnails entirely occupied the screen like Astell&Kern's implementation. I'm sure this is implementable via a software update somewhere down the line.
Also, you can toggle an option dubbed
Double-click
in the
Options
menu. This allows you to wake-up the Touch's display by double-tapping the screen. I found this feature particularly useful during stationary listening or in USB DAC mode.
If there's a specific artist, album or song you wish to look up, the Touch sports a
Search
function accessible by swiping down from the very top of the screen. This also brings down a menu that allows to switch between
Loop
modes, alter gain settings on both the 3.5mm SE and 4.4mm BAL outputs, and toggle
Bluetooth
,
Volume Lock
and
XRC
on or off.
Although the Touch's interface is relatively straightforward, I do feel navigation between menus could be a hair more streamlined. Sony's WM1A (for example) allows the user to jump rapidly between menus through shortcuts on a drop-down home menu. This isn't present on the PAW Gold Touch, requiring the user to either press the
Return
key multiple times – which, might I add, is positioned quite unnaturally at the top-left corner of the screen –
or
swipe upwards from the bottom of the screen to instantly return to the
Home
menu. Neither action is the most intuitive in the world, so I'd love to see Lotoo add these shortcuts to their pre-existing drop-down menu in a future update for swifter navigation.
Connectivity and Storage
The PAW Gold Touch implements USB 3.1 as its main means of data transfer and power charging. This means the best speeds possible, as well as a conveniently reversible plug. Unlike Sony's proprietary Walkman I/O, you also aren't forced to carry around an extra cable because of the ubiquity of USB Type-C. The Touch is also capable of functioning as a USB DAC. In this mode, the display shows a VU meter, as well as controls for XRC and EFX (discussed in Page 3). I admire Lotoo for including sound shaping even in DAC mode – a step above the implementations I've seen in other sources. There doesn't seem to be any input lag too, which is crucial when editing or mixing music, watching movies, etc.
Additionally, the Touch sports Bluetooth connectivity. As a result, it's also capable of turning into a wireless Bluetooth DAC. Unlike USB DAC mode, there is neither a VU meter nor an option for XRC. Perhaps this has something to do with the sample rate ceiling when transferring audio over Bluetooth. But, EFX remains available, which is unquestionably the more important feature. Unfortunately, for some reason, my Macbook Pro does not detect the Touch as a sound device. Bluetooth DAC on this laptop has worked previously on my Sony WM1A, so I must assume this is an issue on the Touch's end. However, the player does work with my iPhone 6 Plus. There is a slight delay when watching YouTube videos, but that's to be expected. Once again, Wi-Fi
is
also available, but it's only current use is firmware updates; no streaming yet.
The PAW Gold Touch sports a full-sized SD card slot for up to 2TB of potential storage. I was disappointed to find the lack of any onboard storage, but it's not a fatal flaw. Unlike my Sony WM1A, once the SD card is loaded up, you're allowed to instantly navigate its contents without any loading screens to sit through. This means you can play music instantly from
Folder
view while the Touch generates the necessary libraries for tag-based sorting (i.e.
Album
,
Artist
, etc.).
Battery Life
The PAW Gold Touch sports a 5500mAH battery for approximately 10 hours of use per full charge. This estimate comes from Lotoo themselves, and I can't say for certain what parameters were used to achieve that figure. Playing a mixture of FLAC and AAC files, battery sustenance is comparable to those of my Astell&Kern players. It's decent, but definitely pales in comparison to Sony's modern Walkmen, who've pretty much set the standard as far as battery life is concerned. My WM1A is capable of surviving 4-to-5-hour sessions for 2-3 days straight before requiring another charge. Charging is much faster on the Sony player as well. Approximately half of a full charge can be achieved within an hour's worth of charging. On the other hand, charging the Touch with a generic USB Type-C cable takes around 3 hours for a full charge.
Sound Impressions
More so than
any
digital source I've heard in the past, the PAW Gold Touch embodies
reference
with remarkable ease. The tone it flaunts is largely transparent – as indicated by the blank canvas it allows gear upstream to ultimately shade – and its technical foundations are nothing short of astounding. Its soundstage expansion isn't endgame, but the layering, separation and detail achieved within it remains some of the best I've ever heard. Without the aid of an agitated treble, the Touch relies on extension, speed and balance to bolster its resolution. As a result, the transparency it achieves is done so
effortlessly
; a well-practiced, smooth and
easy
routine. Unlike its predecessors, the Touch strays away from flash. But ultimately, the grace and sophistication weaved throughout its frequency response is responsible for its success.
The Touch's bass response is strikingly clear. Opting for a more neutral tone, it perhaps isn't as warm or sumptuous as Sony's WM1Z, for example. There's an emphasis on definition, separation and clarity, but that doesn't mean it's devoid of any fun, either. Linear extension throughout the sub-bass provides a healthy dose of impact. And, it rises (or drops) in accordance with whatever lies upstream. With dynamic drivers, it'll match their physicality and decay, but add no more. And, it keeps up with balanced-armatures, without coming across lean. But with both, there's always clarity and finesse. With upright basses or toms, a part of me may miss that
woody
warmth. Ultimately, what the Touch guarantees is
zero
bottleneck – a bass you can set with your IEM of choice from pristine to
hog wild
without compromise along the way.
This restraint then pays dividends as we progress further upwards. Without warmth emanating from the low-end – nor glare from the treble – the Touch's midrange remains largely neutral. Though, where it's least transparent throughout, an upper-midrange tilt
does
determine its inherent timbre. Instruments are neutrally-positioned within the soundscape, but they project strongly. There's an energy imbued within them that translates to an extra
zing
in vocals, an added
roar
in electric guitars, etc. But, the lower registers remain calm, which impede a
grunty
-er, heftier response. Male baritones won't have maximum gravitas, tom-toms and kick drums won't bellow as much as they'll
thwack
, and pianos will
ring
rather than
slam
. It's a more elegant delivery of
oomph
that contrasts the explosiveness of Lotoo's previous offerings.
But regardless, the Touch continues to deliver in the technical domain. Micro-dynamic energy is perhaps the best I've heard from a digital source, Tiny nuances pop without resorting to treble peaks. Rather, it's done via a pitch-black, stable background. So, those micro-details never feel forced. They play their role before vanishing without a trace. The player has an average sense of depth –
average
for a summit-fi flagship, mind you – but the layering it flaunts transcends that completely. Instruments are layered in front of and behind each other with pockets of clean air in between. The result is a three-dimensional soundscape filled with data to analyse
and
enjoy. There's a healthy amount of body to the mids as well. There's a meatiness to instruments; wetness to feather the line between transient and decay. As a result, clinical separation does not lead to
clinical sound
. Instead, it's a balanced, natural image with masterful technique underneath.
The treble is where the Touch is most refined. Sources I've heard often struggle in the top-end. iBasso's age-old DX50 came across agreeable, but dull. Sony's WM1A had articulate transients that suffered from a case of
digital-itis
. Lotoo's PAW Gold Touch manages to achieve a wonderful balance of both through technical ability and restraint. The Touch's top-end possesses heaps of headroom, but refrains from testing it the slightest bit. The result is a treble that's articulate, open and fast without seemingly lifting a finger. It's a
free
sound that can only be described as refined; second nature. Pair that with a smooth timbre and what you get is a smooth, elegant release of detail. The tone overall
is
neutral and lower-treble bite
does
stick out a hair. But, the sheer ease with which those notes are handled – along with the PAW Gold Touch's aforementioned technical skill – bill a treble response that's as effortlessly capable as it is stringently controlled.
Balanced vs. Single-Ended
Switching between the two outputs, I hear identical tonal balances. This is unlike my Project-K-modded Sony WM1A or my Astell&Kern AK70-Kai, where you're almost allowed two different signatures with the two outputs. In terms of timbre, note structure and positioning, balanced and single-ended are identical to my ears. On one hand, you don't get that one last morsel of customisability. But on the other, you're guaranteed consistency. I don't hear a change in loudness either. The differences I do hear are in expansion and layering, especially. The 3D layers on balanced that fanned out along the x- and z-axes sound almost smushed together on single-ended – not congested per se, but compressed into a single file.
On Snarky Puppy's
Jefe
, as the track builds from just drums and guitars to the addition of horns, synths, and percussion, you get the impression on balanced that each extra layer sits separate from the ones that came before. Essentially, you experience the satisfaction of hearing the track build in size. On single-ended, each successive track sounds like it was plopped squarely on the previous one. So, the track doesn't necessarily get bigger – it just gets more crowded. This is also evident in imaging. On balanced, you can hear the drums panned hard-left-and-right and the guitars at 10 and 2′ o clock, then the synths at 11 and 1, and finally the horns at the centre. On single-ended, it's noticeably harder to discern.
EFX
PMEQ
Manual equalisation has been a longtime staple of Lotoo's digital audio players. The PAW Gold and PAW 5000 were lauded in particular for how effective their EQ implementations were, despite their button-dominated UIs somewhat hindering ease-of-use. I've personally never used either of the previous PAW devices, but I have spent countless hours manipulating EQ on my various digital audio workstations – whether it be Logic Pro, Pro Tools or Cubase. As someone who's well-versed in those plug-ins, the PAW Gold Touch's PMEQ application was impressively familiar. It's a 5-point EQ, which to me is more than enough for anyone. Like professional EQs, the user is allowed to specify the target frequency, amplitude change and bandwidth. You're also allowed to specify the filter type – high-pass, low-pass or band-pass.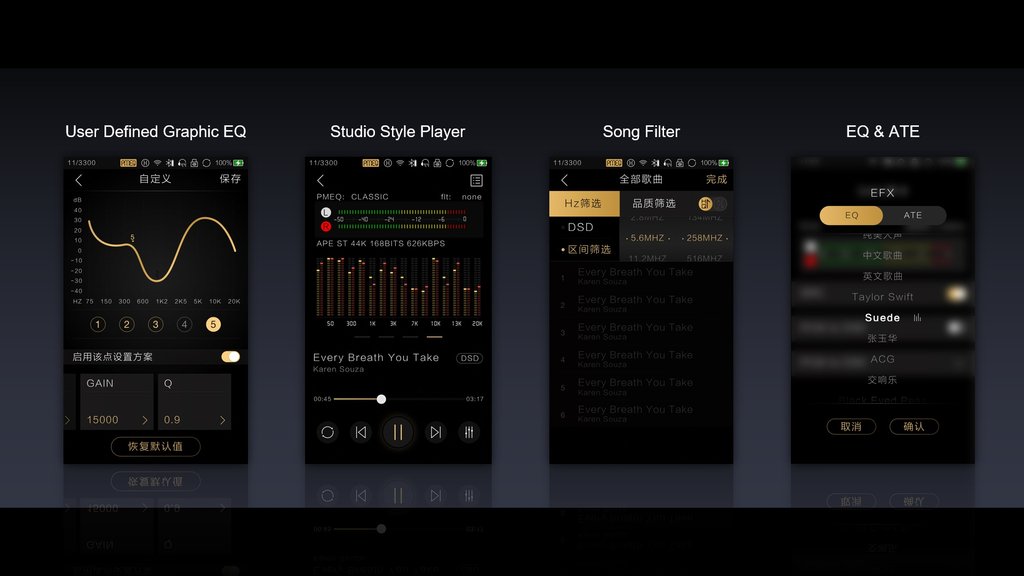 Despite the equaliser's impressive specificity and attention-to-detail, I was disappointed to find the touch screen (i.e. the DAP's namesake) wasn't integrated into the interface at all. Unlike Astell&Kern or Sony's – albeit sonically inferior – EQs, you're not given the option to
draw
your intended curve. Instead, you're forced to manually (and tediously) enter values into each parameter. To me, this is a missed opportunity in ease-of-use. But nevertheless, the sheer customisability
and
effectiveness of the equaliser remains marvellously impressive – only a few UI fixes away from being gosh darn perfect.
ATE
ATE (or Acoustic Timbre Embellisher) is another form of sonic customisation built into the PAW Gold Touch.
Brighter
attenuates the low-end, positioning it further back in the mix. The result is a cleaner, leaner signature with less warmth permeating the soundscape. I wouldn't call it brighter in tone per se, but it certainly is less full.
Sweet
is somewhat of a low-pass, where the upper-mids and treble take a step back. Notes sound thicker and fuller with greater bloom to the lower-mids. With both ATE filters, what's most impressive is that they seem to only alter the positioning of instruments.
Brighter
doesn't sound anaemic or insubstantial, neither does
Sweet
sound congested or rolled-off. It's all naturally done.
The vaguely-named
Dental
sounds like it rolls-off the uppermost registers, resulting in a fuller, more saturated stage. Mid-bass impact seems to receive a slight bump as well. Of the three, this is the setting I personally find least useful, but it may find its place with brighter transducers.
Style 701
(perhaps modelled after the AKG K701) heavily attenuates the mid-bass for a lean, neutral response – leaving the low-end more melodic and airy than impactful by any means. This converts my Custom Art FIBAE Black into a strict studio monitor, which I may find useful in the future.
Style 990
(perhaps similarly modelled after Beyerdynamic's DT990) is the complete opposite. It's a strong low-pass that emphasises low-end bloom over the rest of the presentation. It's more blubbery than
Dental
, but again, it may find its place among
bassheads
.
Near Field
brings the soundscape inside the head, creating an
inside-out
sort of sensation. My experience suggests this setting may involve some phase manipulation, but it does remind me of the Avantone and Focal near-fields I have in the studio. With reference-grade in-ears, this setting is preferred when I'm balancing vocals in a choir mix, for example.
Far Field
comes across more artificial to my ears. It sounds like attenuations in the mid-bass and upper-mids to create a perceivably more distant image, but it comes across less coherent and transparent. Nevertheless, ATE as a whole brings a slew of customisation to the table. Although some work more than others, I find implementation as a whole to be both effective
and
non-invasive. The current set is impressive as is, and I can only imagine more to come in the near-future.
Noise Floor and Power
Empire Ears Phantom
The Phantom is one of the most sensitive in-ear monitors in my collection. Although that means it can be driven out of any conceivable device, it is prone to hissing as well. On every source I've heard them through – whether it be mixing consoles, portable amps or high-end DAPs from Sony, Onkyo and Astell&Kern – the Phantom
will
dig into their noise floors. Although the faintest
whiff
of a hiss is audible through the PAW Gold Touch, Lotoo's flagship is perhaps the first source where I'd consider the noise
negligible
. Upon plugging in, the hiss blends into the background immediately. And when music starts playing, it's practically non-existent; even in pockets of silence. Given the Phantom's sensitivity, a volume of 25 out of 100 on high gain is where I tend to keep it, leaving
tons
of headroom for the Touch to perform.
Vision Ears VE6XC
Vision Ears' VE6XC is perhaps a notch below the Phantom in sensitivity. It's easy to drive and capable of sussing out hiss, but not to the degree of the Empire Ears co-flagship. And sure enough, the VE6XC does not hiss at all through the PAW Gold Touch. Whether music is playing or not, the noise floor is entirely indiscernible – a fantastic achievement for Lotoo. To achieve an enjoyable volume, the VE6XC requires 28-30 steps on high gain out of 100. Like the Phantom, the VE6XC is a dense-sounding monitor that benefits from the Touch's clean-yet-sophisticated neutrality. Out of Lotoo's flagship, both in-ears maintain the delicate, organic,
human
factor that make them what they are. But, the Touch allows them more headroom to breathe
and
play. So, you retain that charming musicality, now with zero restraints in the technical realm.
Custom Art FIBAE Black
Custom Art's FIBAE Black is a single-driver monitor. But among the custom in-ears in my collection, it's perhaps the most difficult to drive. The headphone outputs on both my Soundcraft monitor mixer
and
my Yamaha CL5 barely power it at max volume. But as if to boast its superiority, Lotoo's PAW Gold Touch pushes it without breaking a sweat. At 40/100 on single-ended mode and high gain, I get
very
listenable volumes with no hiss. As the name suggests, the monitor also comes equipped with Custom Art's FIBAE (
Flat Impedance Balanced Armature Earphone
) Technology. Essentially, it allows the monitor to maintain an identical signature no matter the source. As it entirely skips the colouration of the amp section, it makes for a transparent DAC evaluator. Through the Black, the Touch's transparency, resolution and dynamics truly shine through – offering an impactful sound, whilst maintaining excellent headroom and composure at all times.
MrSpeakers AEON Flow Open
MrSpeakers' AEON Flow Open is a relatively easy-to-drive headphone. Dan Clarke developed it to be mobile-friendly, after all. Obviously then, the PAW Gold Touch powers it with ease. On single-ended with high gain, 55 steps out of 100 is perfectly reasonable; akin to around 9 o'clock on my Cavalli Audio Liquid Carbon desktop amp. Compared to the Liquid Carbon, the PAW Gold Touch definitely gives the AEON Flow Open a freer, more open stage. After all, the Cavalli Audio amp emphasises dynamism and impact above all. So, if you own an AEON Flow Open and are looking for a source to boost its imaging and expansion, the Touch is a very viable option. With that said, the Touch doesn't quite give the AEON the warmth down low that the Liquid Carbon provides. So although the Touch is capable of making the most out of that planar bass impact
effortlessly
, it's a bit top-heavy in tone for my tastes. But, I'm sure others may enjoy this colouration.
Sennheiser HD800S
An amp-dependent headphone like Sennheiser's HD800S is perhaps the PAW Gold Touch's greatest test. Volume-wise, the Touch continues to perform – merely requiring 50 out of 100 steps on high-gain in single-ended mode to reach an acceptable loudness. Obviously then, this leaves quite a bit of headroom, resulting in a sound that comes across neither saturated nor forced. However, I do feel the headphones have more potential to spare spatially. The image the HD800S produces
is
well-layered, well-separated and detailed, but it isn't as open or free-sounding as it would be on top-flight desktop amplifiers. But of course, this was the expected outcome. Lotoo should still be lauded for their admirable performance. Like the AEON Flow Open, the tonal combo isn't necessarily my cup of tea. Although the Touch refines the HD800S's treble quite effectively, the top-end tilt does leave the headphone sounding lean and meagre down low. This is a combo that'll suit
trebleheads
more than others. But nevertheless, it makes a strong case for the Touch's raw power.
Select Comparisons

Sony WM1A (modded by Project K)
The WM1A is my current daily DAP, modified by Project K with enhanced internal wiring, electrical shielding and several other kinds of tweaks. Sonically, the player has transformed considerably, the specifics of which you can find
here
. The main hallmarks of this modded source is a thick, full-bodied, forward sound set against a vast, stable backdrop. This is where it first contrasts against the Touch. Lotoo's flagship player is comparatively more laid-back with a neutrally-positioned midrange. Sony's WM1A saturates instruments for a more energetic, involving and rhythmic presentation. The melodic elements here are fuller and more
in-your-face
, while the PAW Gold Touch holds back for refinement's sake.
Down low, the Touch delivers tighter, more concentrated hits. Bass notes feel denser and more compact. When the WM1A punches by comparison, wisps of warm air surround each jab. So, those notes may feel
bigger
, but they aren't as defined and transparent as those on the PAW Gold Touch. Where the WM1A's looser hits pay dividends is in stage cohesion and sub-bass rumble. The soundscape it produces has an ensemble feel because of the decay of the mid-bass. Some may call it
musical
, others may call it a touch
sloppy
. At the end of the day, you'll be the judge of that. Sub-bass rumble is more fun and concert-like on the WM1A, while it has more of a linear, transparent,
studio
feel on the Touch.
The treble is where the two players are furthest apart. The WM1A sources articulation from its lower-treble. With its full-bodied midrange, you get blunter transients with a wider sense of impact. Comparatively, the PAW Gold Touch's refinement and upper-treble-emphasis generates feathered transients with a softer sense of attack. Instruments aren't as bold here as they are on the WM1A. But, this pays dividends in headroom. The Touch possesses heaps of space for transients to pop in and decay. By comparison, the WM1A's saturation renders it vulnerable to sounding brittle with certain recordings. In addition, the Touch's superior coherence gifts it a more fanned-out, precise and spherical stage. The WM1A possesses the more musical, fun and immersive soundscape, but sacrifices a touch of finesse in return.
Astell&Kern AK70 (modded by MST Technologies)
Before being usurped by my Project-K-modded WM1A, my daily driver was Astell&Kern's ultra-compact AK70. Similarly, it was modified, but by MST Technologies in Japan. The alterations made were far more invasive than Project K's, involving word clocks, capacitors, op-amps, etc. The result was a neutral signature with excellent transparency, layering and stereo separation. You'd be right in assuming, then, that the AK70-Kai and the PAW Gold Touch share several similarities. Unlike the modded WM1A, they aren't thick-sounding players, neither do they saturate their stages. Rather, they possess lighter, more compact notes with a reasonably swift decay to boost separation, headroom and perceivable detail. These qualities make up the AK70-Kai as well, but a couple notable differences do distinguish it from Lotoo's PAW Gold Touch.
In terms of raw stage expansion, the PAW Gold Touch is the clear victor. Elements at 10 and 2 o' clock especially expand further, giving the soundscape a distinct spherical shape. The AK70-Kai hangs on in terms of depth, but the diagonal
and
horizontal extremes feel a bit more closed-in. The Touch also possesses superior micro-dynamic range. Nuances
pop
out of the background more, so they're more physically convincing. With that said, the AK70-Kai does impress when it comes to layering and separation. Despite having a less stable background, the Kai's faster decay allows more data to come through. Reverbs
seem
more prominent, because the fundamentals had already gone. Nevertheless, when it comes to transparency and resolution – despite the Kai's most cunning efforts – the PAW Gold Touch comes out squarely on top.
The key difference between the two lies in the top-end. The AK70-Kai possesses a calmer lower-treble for softer, more feathered articulation. This is partly why it's able to keep up with the Touch in terms of depth. There's more excitement to the PAW Gold Touch, as well as the room to do so. Conversely, the AK70-Kai's more intimate soundscape makes it lean towards a
wall-of-sound
-esque presentation. The advantage to the Kai is that its soundscape sounds more cohered and tethered together. The whole ensemble feels like a lively, singular unit. The advantage to the Touch is superior transparency, greater separation and effortless resolution. Finally, the Touch's excellent bass extension produces notes with greater solidity, physicality and texture. On the other hand, the Kai's slams sound airier and lighter by comparison.
Verdict
Lotoo's PAW Gold Touch is a monumental entry in the flagship space. Gallantly abandoning their button-clad comfort zone, the audio player veterans have shown that they can tango with the top dogs in build, aesthetics, software design and sound. Few interface quirks notwithstanding, this is a luxury product with the function and form to match. Sonically, it's one of the most well-executed iterations of
neutral
I've heard from a source. How well it executes
reference
without monotony and spaciousness without indifference is most impressive to my ears. In addition, the stunningly low noise floor, immense output power
and
plethora of sound-shaping options make one gorgeously complete package. $3199 is never an easy price to swallow, but Lotoo have absolutely made a case for it. As much as I long for all this to trickle down to more affordable options in the future, the PAW Gold Touch alone is a compelling buy for
any
discerning audiophile.