ISN Audio Rambo (earbuds)
Those earbuds can be bought in Penon Audio store (direct link)
A small point and look on the packaging: the box is rather modest but presents the product well with its pretty Rambo style logo on a generally dark blue color, and indicates the specifics of the product.
Inside there are of course the headphones (well wrapped in a plastic bag), a small plastic clip, a set of pairs of black foam, a little strap and a nice little case.
The cable is rather nice, it is soft but is a little memory (nothing very annoying in this area however). It seems a little fragile. The material used is 4-wire silver plated, which therefore remains fairly standard as what can be found in headphones in this price range. ISN Audio is a specialist of cables at very good prices, but which have recently produced very high quality cables at lower cost. Suffice to say that they master this area very well (having already been able to test the brand's S4 and C4 in particular).
The Y-splitter (with the name Rambo engraved on it) is rather simple but does the job, the same goes for the black jack (engraved ISN Audio this time). I chose mine in 2.5mm balanced plug, but also exists in 3.5mm standard.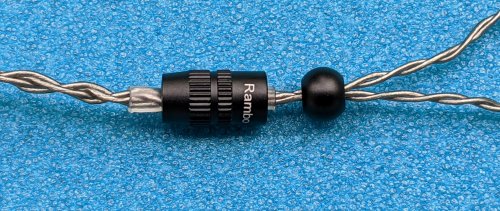 Note that the Rambos therefore use the very famous "PK" style shells (which Yuin was able to launch fashion), these shells generally include two holes in the rear « ventilation » of the speakers, but on the Rambos, one of the two holes is there, so only the tallest (and therefore the widest) hole remains.
I find that the only negative point on these Rambo is that the speakers are very large and therefore we do not find the usual comfort of PK style headphones (see photos to better understand, but overall nothing to do with speakers PK1 for example). Too bad, especially for small ears (larger ones should not feel discomfort).
Note that for this sound part, I burned my pair up to about 150 hours before proceeding to this final verdict.
Overall it is a very good surprise, although the sound is rather made for vocal (like most PK style shells) so high-mids rather sharp (without annoying the ear too much but which can be a little aggressive in some tracks) but I find a good homogeneity of the rest of the spectrum as well. Namely treble is a little "smooth" at the end but properly detailed without going into extreme detail either. The bass is a bit lacking in presence, especially on the subbass, which is almost non-existent, but we can still hear the presence of the mid-bass (if we focus a little). Clearly these are not the kind of headphones that will delight fans of electronic music, but rather instrumental and vocal. That said, the Rambos are a pair that can handle almost any style of music, which remains significant.
The instrumental separation is also quite good. The sound space is not narrow, it is intimate but remains deep. It sounds rather transparent to my ears, without too much coloring. We are not, however, on a completely neutral sound.
I highly recommend the mid-thick foams to fully appreciate these Rambo. Foams with thin thickness will forward too much the mids and trebles and there is already enough like this, soi it may quickly become tiring in the long run.
For the first headphones of the brand, I must say that I am rather amazed, these Rambo will bring your favorite music to life with flying colors. For those who like the prominent vocal and pop music style, these earbuds are for you. The price / quality ratio seems very reasonable especially in view of the performance that these headphones can produce, so congratulations to ISN Audio for this good surprise. Hoping to correct the shooting on the bass (especially subbass) and hope more detailed treble for the next version of the Rambo (2), which according to my sources is about to arrive quickly!
Thank you for reading my review, and as always, happy listening to all of you !
Cheers'
Jérôme