General Information
Define; PRAUTES: Live Together, strength and gentleness are perfectly combined​
(Coffman) Cypher Labs Prautes Headphone Amplifier​
Legacy Product (only 50 units were made)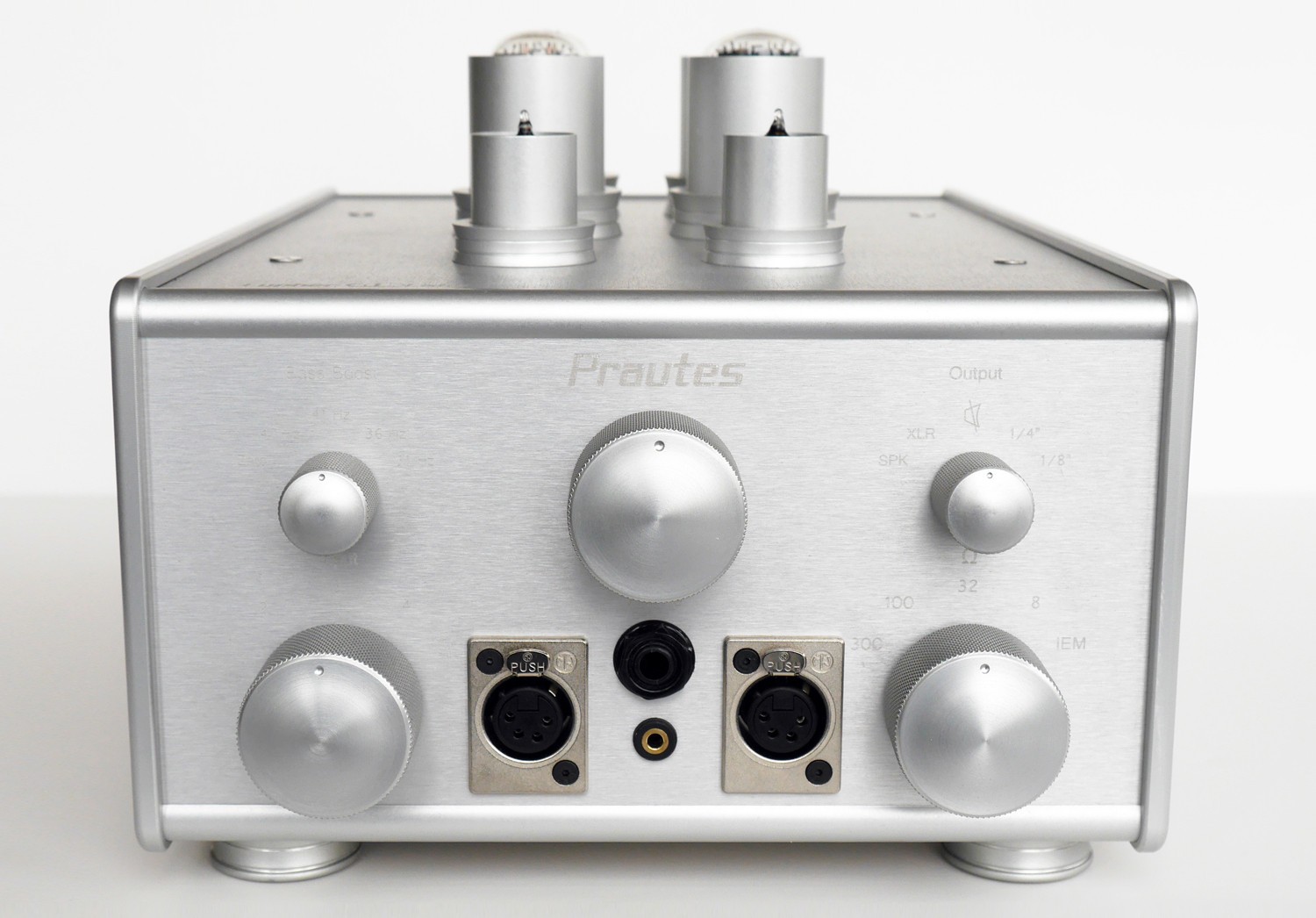 Cypher Labs Prautes Headphone Amplifier
The PRAUTES is primarily a headphone amplifier, although it can also power small speakers and provides a line-out stage.
A very subtle bass boost feature is included.
The PRAUTES uses a 2- 12AU7 tube gain stage to drive a 2 pairs of 50L6 (50L6GT) or 25L6 tubes in push-pull mode
Five separate output impedance settings are provided to match listening equipment.
Each of the four inputs are independent.
* High end vintage capacitors: cold war era 2 microfarad polystyrene
* High quality design and hand made attention to detail: Made in USA
Designed by Damon Coffman of Coffman Labs​
Product description​
The PRAUTES is primarily a headphone amplifier, although it can also power small speakers and provides a line-out stage. The controls are optimized for headphone output and the result is an unbelievable clarity, presence and expansive soundstage. The PRAUTES drives a wide range of headphone types and provides for impedance matching. A very subtle bass boost feature is included. PRAUTES defined: understood to be a reference to proper understanding and accurate action. PRAUTES AS DEFINED BY THE ANCIENT GREEKS expresses a character in which strength and gentleness are perfectly combined. The PRAUTES amplifier seeks to do just that-present music in a manner that delivers subtlety, image, detail, and excitement, all in an accurate manner that duplicates the live experience. The Prautes amplifier combines vintage tubes, military technology, and hand made USA components to create the 'PRAUTES' experience. The result is a legacy piece-one that is timeless and enduring. The PRAUTES uses a 12AU7 tube gain stage to drive a pair of 50L6 or 25L6 tubes (note in product serial number) in push-pull mode. This provides for more power than needed for almost all headphones-and can drive high efficiency speakers with about 2 watts. Five separate output impedance settings are provided to match listening equipment, including 8 ohm speakers, standard headphones, high impedance headphones and In-Ear-Monitors.
Controls​
Volume:
This heritage quality finely manufactured potentiometer controls the headphone, speaker and and line output
Input Switch:
Selects one of four line inputs
Input impedance on each input is 100K Ω
Tip: Use the 'Mute' position when changing input cables
Impedance (Ω) Switch:
Headphone and speaker settings
300 Ω: High impedance headphones
100 Ω: Standard for many Studio headphones
32 Ω: Standard consumer headphones
8 Ω: Speakers or very low impedance headphones.
IEM: In-Ear-Headphones
Bass Boost Switch:
Provides approximately +3dB boost with a variable roll-off point
The bass boost circuit gives a subtle increase in bass response. This control eliminates the high phase shift that occurs with typical tone controls. The boost amount is the same for all settings, but the frequency point of the boost ranges from 47Hz to 31Hz. This allows for very fine tuning of the bass response. Match this setting in coordination with the Impedance Switch to match the selected headphone, type of music chosen and your preferences.
Output Switch:
Selects output type
SPK: Output to rear speaker jacks—use 8 Ω impedance
XLR: Output to balanced XLR jacks
Mute: No speaker output — use for independent line output mode
1/4″: Output to 1/4″ (6mm) Headphone jack
1/8″: Output to 1/8″ (3.5mm) Headphone jack
Specifications​
Available Colors:
Black or Silver
Gain:
Line Stage: approximately 16dB
Headphone power: > 1 Watt, depending on load
Bass Boost:
31, 36, 41, or 47Hz boost of approximately 3dB (6dBm)
There are no extra active circuit elements are engaged!
Ground Lift Switch:
Use only if there is ground loop hum in your AC supply wiring.
Tube Complement:
Four 50L6 tubes are supplied for the output stage
Two 12AU7 tubes are supplied for the input/line stage
Annodized tube shields are provided to cover the tubes. The use of the tube shields is optional.
Frequency Response:
20Hz to 20KHz +.2dB to -.75dB into matched resistive load
Note: Can vary slightly based on tubes installed
Dimensions:
12 ½" D x 9 ½" W x 7 ¾" H / 32.5cm D x 23.5cm W x 19.6cm H
Weight:
16 pounds / 7.3 kilograms (not including AC power cable)
AC Power:
Depending on destination country the PRAUTES amplifier voltage setting is preset at the factory for 120v or 240v operation.