A new simple no-fuss amp from Cypherlabs that's compact yet powerful, and an extremely low noise...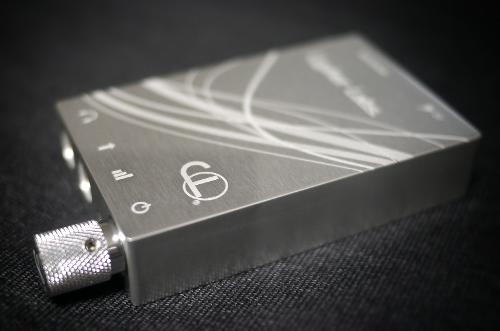 Cypher Labs Algorhythm Picollo
Portable Amps item created by AnakChan, Jul 7, 2014
Average User Rating:

4

/

5

,
Recent User Reviews
"Sweet high, deeper bass."

Cons - mico USB easily to get bad connection from carrying around.

got one bad connection and replaced. But still you have to carry it carefully.
 
Sound quality definitely improved. 


"Picollo from Cypherlabs: A simple, small, compact yet powerful amp with a very low noise floor"

Pros - Detailed sounding, compact, long lasting battery, powerful, very low noise floor, under 1 ohm headphone impedance out

Cons - A neutral bass gives it a somewhat dry analytical sound (could be a Pro if that's your preference though), smallish soundstage

Introduction


 
Cypherlabs' new Algorhythm Picollo is the latest addition to its portable component offerings. It's a no fuss simple single ended input/output amp that charges via a standard microUSB 5V port in the rear. It's claimed to last for more than 24+ hours on a single charge. No OpAmps were used but instead a discrete component layout consisting of 10 pairs of matched triodes.
 
More manufacturer specs can be found here: http://www.cypherlabs.com/products/algorhythm-picollo/
 
A big thanks to Cypherlabs for this tour demo which will make its arounds around Tokyo and (South) Korea!!
 


Design & Packaging


 
As can be seen with its other brothers, the Picollo is more compact than the Theorem & CLAS/Duet. It is however as thick as the original CLAS. It's a CNC machined aluminium case that's laser engraved. Unlike other portable amps where access to the internals are on the end plates, the Picollo is accessed from the base as shown below.
 

 
The Picollo comes in a storage storage case with ample space for earphones, cables, tips, etc.
 

 
It should be noted that the package includes 3.5mm mini-2-mini and a USB charging cable.
 


Sonics

The Picollo has a somewhat more analytical signature. It has somewhat neutral bass that's tight without excessive bloom nor warmth which to my opinion contributes to the overall analytical sound. The mids on the other hand are more forward and when listening to vocals, gives a very front row presentation. However despite a more upfront presentation, it doesn't give a sense of a personal nor involving experience. The listener still feels that artist is merely singing in front of him/her but not necessarily to him/her. The trebles extend clearly and smoothly with articulate detail, however can sound a little congested and aggressive (more about this next paragraph below about its soundstage).
 
The soundstage: Here's where to me I think the cost difference between the Picollo and the Duet/Theorem 720 comes in and why the Picollo is not meant to be an alternative to it's other older brothers. The Duet & Theorem 720 have a wider and deeper soundstage compared to the Picollo. For those who are beginning their audio journey (or in the middle, depending on how you look at it), it's a natural progression going from the Picollo to the Duet and/or Theorem 720 within the Cypherlabs range of portable products. So using the Duet or Theorem 720 as a baseline, the Picollo by comparison, has a somewhat smaller soundstage but it's trebles are as extended as it's older brothers and therefore can sound congested as mentioned in the previous paragraph, most notably on a busy track. This case seem to hold true when compared to the Hifiman HM-901 balanced amp module and with the Apex Glacier.
 
There is one advantage the Picollo has over the Theorem 720 & Apex Glacier (possibly Duet too but I don't have my Duet with me at the moment) and that's a very low noise floor. It's whistle clean quiet even with the most sensitive IEMs. Another benefit of the Picollo in general is it's headphone impedance of under 1 ohm which further makes it suitable for IEMs. With the Dita Truth, it sounds linear with no roll offs on either end of its frequency response.
 


Overall


 
The Picollo is by no means a cheap amplifier but for it's price, it performs quite as expected - it's detailed, has a welcoming long battery life (especially these days when most components last for less than 10 hrs!), it's compact with really low noise floor suitable for sensitive IEMs, but yet it's scalable to be powerful for the slightly more demanding headphones. Although it's not at the level of its older brothers, somehow I feel that it wasn't designed to be in the first place. The Picollo is more beneficial to earphones or headphones with warmer signatures such as the V-Moda M-100 where the Picollo can bring out more sparkle in their trebles. But if paired with treble focused headphones or eaphones like the Dita Audio's, then the overall sound can sound more dry and analytical. Therefore matching and pairing is somewhat more critical.
 
If one is looking at the Picollo as an enhancement from their current iDevice lineout to an amp, or from their DAP seeking more grunt or cleaner headphone out then the Picollo does a wonderful job as an upgrade. It also provides a decent stepping stone to the next level (of external DAC/Amps) as one learns to appreciate the audio journey.

User Comments
To view comments, simply sign up and become a member!