Item information
Added by
Views

1,298
Watchers

3
Comments

4
Reviews

2
Last update
Rating

4.50 star(s)

2 ratings
General Information
Campfire Audio Honeydew
Latest reviews
Campfire Audio Honeydew : The Bass Champ!
Pros
:
+Very Light & Comfortable
+ Fresh looks
+ Great Bass
+ Expansive Staging
+ Good Imaging
+ Good Accessories & packaging
+ Musical & Fun
Cons
:
- Recessed Mids somewhat
- Isolation not the best
Campfire Audio Honeydew : The Bass Champ!
Disclaimer
:
This review unit was sent by
@CampfireAudio
for the purpose of an honest review.
Everything mentioned in this review are purely my own based on my experiences with the IEM.
Introduction:
Recently Launched in 2021, Campfire Audio Honeydew is part of Campfire Audio's new line of IEMs targeted towards entry-level option for audiophiles, musicians, producers, and DJs. The Honeydew promises to deliver a big, juicy, bassy sound with great soundstage and is deal for Rock, Pop genres. brings more fun out of the music.
The Honeydew is priced at $249
.
Tech Features:
The Honeydew comes with the unmatched cohesiveness of a single full-range dynamic driver in a all-new ABS earphone body.
Honeydew's custom-built 10mm LCP diaphragm dynamic driver performance is characterized by a reference level bass response that is fast and detailed.
Music creators and listeners who crave punchy, detailed bass would find Honeydew delivering to their preferences.
It delivers great Bass with an expansive soundstage that is clear and detailed.
Honeydew was built for Bass lovers who prefer an expansive soundstage to provide a concert-like experience.
Specifications:
Specifications are as below:
5Hz–18 kHz Frequency Response
94 dB SPL @ 1kHz: 17.68 mVrms
17.44 Ohms @ 1kHz Impedance
Mellow Yellow ABS Body
Single Custom Full Range 10mm Dynamic Driver
Bio-Cellulose Diaphragm
Custom Beryllium / Copper MMCX Connections
Stainless Steel Spout
Design & Build Quality:
Campfire introduced a new shell design with the Honeydew. This new shape is much smaller and more ergonomic than some of their previous models, and that might come as a relief to some.
These IEMs resemble a piece of hard candy, especially with its hard yellow shell that they call "mellow-yellow."
It's a solid build that still uses the high-grade materials Campfire uses to make their more high-end IEMs.
The Honeydew sports a stainless steel spout and custom beryllium MMCX connectors along with many other interior elements.
This is likely Campfire's most comfortable IEMs and any ear tip will fit perfectly on the nozzle.
The body of the Honeydew feels firm and never distracts from enjoying the sound.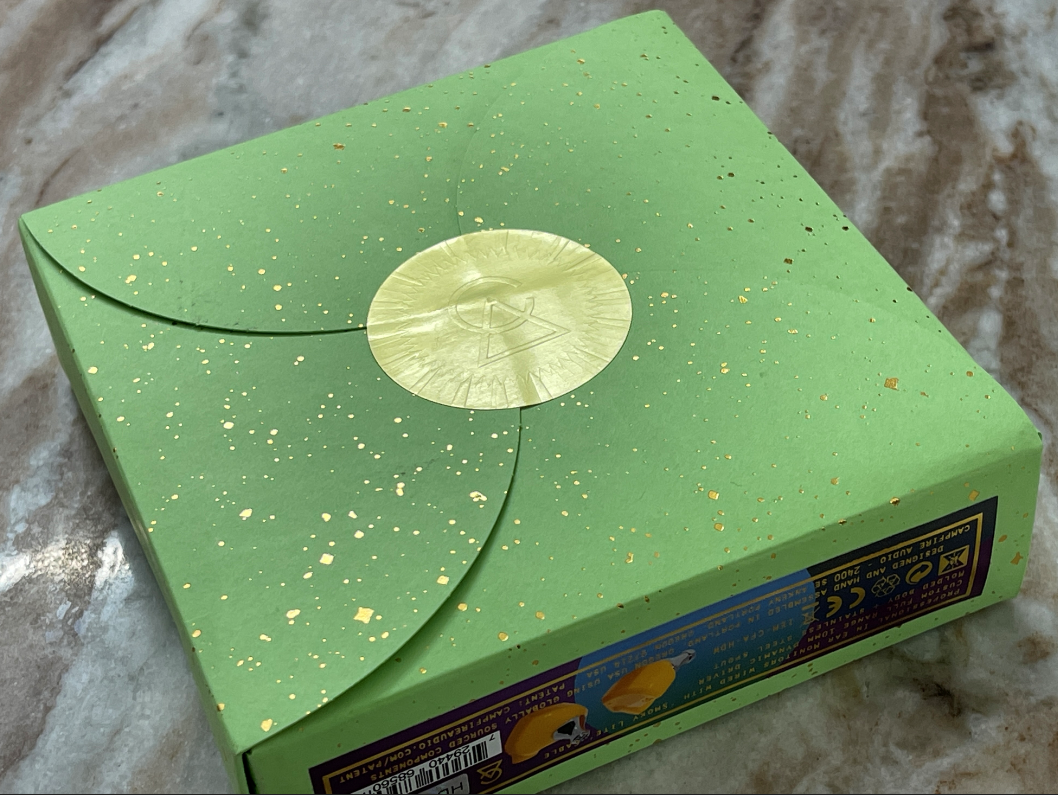 Packaging & Accessories:
The Honeydew continues the typical Campfire Audio packaging with new bright colors and a smaller size.
The theme is Green with the customary collage of colors and the Honeydew itself is on the front label.
Accessories:
Flip the box lid and inside you have the accessories inside a similarly colored cardboard tube and an all-new Vine Green colored canvas carry-case inside of which you will find the Honeydew and the Smokey Lite Litz cable. As always with Campfire, the accessory line-up is just beautiful as well as plentiful.
The full lineup of accessories closely matches the IO and is as follows:
Final e-tips (xs/s/m/l/xl)
Foam Marshmallow tips S/M/L
Silicone single-bore tips S/M/L
3 x cushioned pockets (for the monitors and foam tips)
Cleaning brush/pick
New Canvas carry case
Smokey Lite Litz cable
Campfire Audio pin badge
The Stock Cable:
The cable is the Campfire Audio Smokey Lite Litz Cable – Silver Plated Copper Conductors with Beryllium Copper MMCX and 3.5mm plug which is good soundwise and also looks wise. Really nothing to complain about here - all good.
Amp-ing Requirements:
Due to it's low impedance levels, this IEM requires does not any sort of amp-ing at all. However, it shines quite a bit when paired with a good & powerful source.
NOW LET'S TALK ABOUT THE SOUND....
Items used for this review:



DAC/AMP: @iFi audio

Micro iDSD Signature,

DAP/Source

: Cayin N6 Mk2 with E02 motherboard, Laptop & iPad

Streaming Source:

QOBUZ
Upgrade Cable:
Following upgrade cables used :
- CEMA Electro Acousti GS series: 4 core Au-Ag alloy 1% pure gold 99% pure silver cable
Moving forward... All sound impressions are using this upgrade cable as I found it to be much better than the stock cable.

Ear Tips:
I've tried tip-rolling with a variety of tips including Final Audio E Series (both Transparent Red & Black ones),
@SpinFit Eartip
CP100+ & CP100 and JVC Spiral.
I've found Final Clear RED ear tips to suit me preferences best and have used that mostly.
Tracks Used:
The tracks I have used can be found from the below playlist that I have used and generally use for most reviews... This playlist is acquired from many reviewers but mostly from
@Otto Motor
. Thank you.
Let's now talk about the quality of Sound....

The BASS:
This is the key element of the Honeydew's sound signature. There's a quite strong bass presence here, and it helps shape the IEM's slightly dark-ish tonality going forward. The bass is consistently resonant and impactful, creating a meaty response that emphasizes many different sound elements. You can feel every kick drum pounding, and every bass line dancing. The sub-bass is quite detailed and articulated. The bass is balanced in a way that it doesn't feel dark or heavy. There's a mid-bass focus that provides a strong impact, but doesn't step on the rest of the mix too much.
The MIDS:
The Mids on the honeydew are slightly recessed. This is the weakest link in this IEMs performance.
Some added warmth and some nice textural qualities are there with good amount of texture.
Synths appear with great fullness, and vocals cut through the mix with much-needed clarity.
The vocals sounded clear and natural and feels very immersive.
There's some light smearing moving from the bass into the lower mids, but never enough that it causes the IEMs to feel muddy.
The mids overall are slightly pulled back, but well-constructed
The Treble:
The Treble on the Honeydew is smooth with some shimmery details.
The Treble has ample clarity & texture but slightly darker. This is likely due to the overall Bass focused tuning.
The SOUNDSTAGE:
The Honeydew has a massive expansive Soundstage with a good width & height emphasis and also depth.
The soundstage is very wide, but the most impressive part of it is its height.
The Honeydew excels in creating a more whole image that the music can properly occupy.
The Honeydew isn't afraid of extending itself a bit more outward.
It might not have the same level of separation as their more high-end models, but the layering and spatial imaging are still well articulated.
Imaging & Timbre:
There is a beautiful solidity and balance to how the Honeydew delivers instrumental notes yet the staging is open enough to ensure neither vocal nor instrument is competing for the same space. You get a very immersive experience with excellent sense of positioning and layering.
The timbre is great - specially for the genres that is is focused on, Rock, EDM, Hip-hop, etc.
Comparisons
:
Campfire Audio Honeydew vs Sennheiser IE300 vs Unique Melody 3DT :
The $300 price bracket has become quite crowded in recent times with every other manufacturer targeting this price segment. This feels like the sweet spot of the pricing line where quality meets great price. I have 2 other contenders with me both of which fall into the similar price bracket and also has Bass focused tuning.
Considering the above, it seemed logical to me to pin the Campfire Audio Honeydew against
@Sennheiser
IE300 and
@UniqueMelody
3DT.
Rather than making this a 1vs1 scenario, I've put all 3 together and will rate them according to their strengths & weaknesses.
Bass:
As all of them are bass focused IEMs, the competition in the Bass department was quite fierce. Among many of the test track for Bass... I've found 2 great tracks by
Bela Fleck & the Flecktones
: "
The Secret Drawer
" and "
Star of the County down
"... where I could capture the differences very vividly. While the UM 3DT and Honeydew both have great details, The IE300 has deeper thump & is punchier. However, IE300 does miss out on some of the details due to it's added depth. The Honeydew has a better balance of the details and Thump than the other 2 and is the preferred IEM for me for Bass.
The rating would be...
Honeydew >>IE300>>3DT
Mids & Treble:
When it came to the Mids, due to its 3 DD architecture, the 3DT seemed to have better details and slightly better texture. Though in all 3 cases the mids are a bit recessed, the 3DT does a better job here with more details. In terms of vocals, the 3DT had slight advantage but the honeydew had ample details and felt more immersive. As these findings were consistent in all tracks, I'm not quoting any particular set of tracks here. the IE300 seemed to have slight peaks in the upper mids & treble while the other 2 did not. Hence, 3DT would be the preferred one for mids & treble.
The rating for the Mids & Treble would be...
3DT >>Honeydew>>IE300
Soundstage & Timbre:
When it comes to Soundstage, both Honeydew & IE300 comes with massive staging capabilities. While the width & height of the Honeydew seemed better, in terms of depth the IE300 was significantly better. Here the 3DT fell short due to it's shallower staging both in terms of width & depth in comparison to the other 2, despite having above average staging for the mentioned price bracket. In terms of Imaging, both Honeydew & 3DT excelled and the IE300 was also not far behind. in terms of Timbre I preferred the IE300 while the other 2 were great also. the IE300 just felt more natural and realistic.
The rating for the Soundstage & timbre would be...
IE300 >>Honeydew>>3DT
Conclusion
:
Having said all that - at the $249 price point, Honeydew delivers an incredible performance that gives you thick, powerful bass with details & clarity coupled with impressive all around performance. It's a great value-for-money considering it's build & comfort. So if you're looking for chill vibes and deep bass, Honeydew has just what you need. Highly recommended for people who prefer a bit more Bass.
Last edited:
Campfire Audio Honeydew
Pros
:
Bass
Fun
Price
Engaging tuning
Great soundstage
Looks cool
Great packaging
Made in USA
Basically a baby Dorado2020
Cons
:
Not for you if you're after neutral sounding IEMs
Isolation is not the best
​
Campfire Audio Honeydew is a second release from yesterday. This time it's an IEM with a single 10mm dynamic driver inside, and the price is set at $249.
Introduction​
That's the second IEM that Campfire Audio secretly released today, on the first day of summer. The first one is Campfire Audio Satsuma, which has a single BA driver inside. This time, it's a custom-built LCP 10mm dynamic driver. There's only one way to distinguish them by eye, the color. Honeydew is as yellow as Bumblebee from Transformers when Satsuma has a juicy, orange color.
Packaging & Build Quality​
No matter the price, the box must be perfect.
CFA Satsuma and Honeydew share exactly the same build quality and design. They are rather small and lightweight. The design is rather plain, but thanks to its interesting curves and those cool, bold colors they do look fresh and just fun. While not as premium looking and feeling as the Andromeda, IO etc, the Honeydew will be far less prone to scratches, so you won't have to baby them as much.
Inside the (as always) beautiful box, you'll find three soft sacks, the first one with a zip, and two others with pouches for each earphone to prevent scratches. Besides that, there are IEMs themselves, Smoky Lite cable, a set of Final E Tips in one pouch, and a pair of foam tips.
Comfort & Isolation​
I don't need anything else.
As I mentioned in Satsuma's review, I had some problems with a proper fit using Honeydew. Using Final E tips made me correct them in ears because even a slight change from the basic position caused big problems with the sound. Using foam tips made all these problems go away, but of course, fit problems are personal, so don't bother yourself too much about that.
The cable is nothing new for Campfire Audio – It is their Smoky Litz, that they have been using for years now, and it's a durable, comfortable and good quality cable. It's actually good to see that even though those two are really inexpensive for CFA, they haven't cut any corners when it comes to the cable.
Isolation compared to the Satsuma is slightly worse, that's caused by the hole on the faceplate, which is there to equalize the pressure. Honeydew lets through mainly sounds like engines or some very irritating female voices (for sure everyone has a friend with that kind of voice). Of course, when music is playing this problem disappears, and we can dive into the music.
Sound​
Nicely done, again.
The biggest difference between the Satsuma and the Honeydew is obviously the sound. As I wrote at the very beginning, the hero of this review is a baby Dorado 2020. Enhanced bass, great vocals, huge soundstage, and delicate treble.
Also, this time it's not so source-dependent like the single BA construction released today, so here we go with our standard format of review.
The bass
is powerful. It's also really powerful. And did I mention that it's powerful? But okay, it's not the only feature of lows in this case. They're powerful too.
Sorry, I watched too much Family Guy before, so I'm in the mood for prolonged jokes.
The bass is really clear and easily dominates the whole presentation, but it doesn't cover the mids, which is really great. I'm shocked with the speed because it's similar to the one from Vega 2020, even though they are about 4x the price of the HoneyDew.
It's also highly textured, so we can't say anything about smoothness or even being muddy. Compared to the FH3 with LC-C cable, which together cost about 40$ less than Honeydew I must say that it's easily outclassed by CA's newest product.
Matches my backpack perfectly.
The midrange
is also fantastic, I was expecting something like Vega 2020, which's pushed the vocals back, and I'm gladly surprised. We have highly textured mids, which are only delicately less important than the bass. Any hip-hop or pop music sounds perfect for me. Female voices are natural, without any void colorization, just with a little addition of vibrance. Doesn't matter if I'm listening to Dua Lipa, Billie Eilish, Die Antwoord, or Nina Simone. With male voices, it's delicately different, because low ones, like Louis Armstrong's, are on the front, then we have voices like Michael Kiwanuka in "Cold Little Heart" which places the vocal deeper, and as the last, but not least, The Weeknd, whose voice is a little nasal with EarMen Eagle, but Cayin N3Pro again placed it a little closer, in a more pronounced style.
As the icing on the cake, details. There are not many details as in the Satsuma, but in this case, that's not the point. Only fun counts in the Honeydew. And tell me, who cares about details when he's forced to sing by the sound?
I really like the color of the case.
The treble
is a very delicate section, which doesn't try to avoid the rest of the show. It's playing in the background and rarely gets to the front. When I'm trying to focus strictly on the treble I hear how sweetened it is. There are many details, but each of them has rounded edges, so if you're treble sensitive, there's nothing to worry about.
It also forgives all mistakes of bad mix and mastering, which is really helpful when some underground artist tries to make something crazy there.
On the other hand, in orchestral music, or even some metal, the treble seems quite boring, so if one of these is your favorite genre, the Honeydew might not suit you.
The soundstage
is another really good point of Honeydew. It's broad and shocks with the amount of air in it. Even if all sound sources are thick and powerful, they're not getting into one wave. They're all striking from their positions, so almost from all around us. Single DD constructions often have great soundstage, but this time it's even better. I think I can compare it to the Fidelio X2HR soundstage size, but it closes a little faster behind us.
The height is also great marked, violins in "The Imperial March" by John Williams are moving up and down all the time, making this song even better.
It's also a great IEM for gaming. It shows directions and distances really well, so it will help in competitive games. If you prefer some single-players with a lot of action, Honeydew will help you to be closer to that and to enjoy the gameplay even more.
Comparisons​
What's your choice?
Campfire Audio Honeydew vs. Campfire Audio Satsuma
Like I wrote in the review of Satsuma. Those IEMs are absolutely different. Honeydew focuses on a lot of fun, powerful (ha, once again) bass, the Satsuma is all about great guitars and vocals in small realizations. Using Cayin N3 Pro on Ultralinear mode, the Satsuma gets closer to the Honeydew on EarMen Eagle, but that's still nowhere close to that level of fun. Satsuma has a slightly better response in treble, and feels delicately drier, even if the Honeydew provides better texture in the mids and bass.
It's best to have them both on the board, trust me.
Campfire Audio Honeydew vs. FiiO FH3 with FiiO LC-C cable
I'm sad to say that, but Honeydew massacres the Chinese opponent. In terms of almost everything. Bass quality and quantity, texture, and details in the mids. Treble is quite debatable this time, because for some FH3 will be too bright with LC-C, and then Honeydew will be perfect, but for others, Honeydew's treble will be too delicate. One prefers apples, another one likes pears more. The only thing where FH3 wins is the material that the shell is made of. Metal vs plastic, I think that it's not really a surprise.
Campfire Audio Honeydew vs. Bqeyz Spring 2
Well, Honeydew is an exact opposite of Bqeyz Spring 2.
Honeydew is a pure fun provider, when Spring 2 lacks the fun. It has a great detail reproduction and really neutral presentation, with a Japan school of tuning. But you know, this monster bass in Honeydew is what I like the best.
If we would combine those two signatures', we would have a really neutral IEM, something like Fir VxV.
Pairing​
I've been using Honeydew with all sources that are specified under the review, and it's good with every single one of them. Using xDuoo XD-05Plus with the bass switch turned on, it is a powerful head massager.
For daily listening, I prefer Cayin N3 Pro with Solid-state mode on. It doesn't overwhelm with the bass, has a lot of texture and the soundstage is doing magic things.
Summary​
As yellow as the sun these days.
Campfire Audio Honeydew is a beast in its price range. I don't think there's a better fun provider at a similar price. Don't forget about everything else it has to show though, like excellent mids and really broad soundstage. As I wrote in the Satsuma review, it's the best first day of summer ever.
Highly recommended.
---
Gear used during this review for the sake of comparison and as an accompanying equipment:
Headphones – Campfire Audio Vega 2020, CFA Andromeda, Campfire Audio Solaris LE, Fir Audio VxV, Craft Ears Four CIEM, Dunu EST112, CFA Satsuma
Sources– Cayin N3Pro, EarMen Eagle, EarMen TR-AMP, xDuoo XD-05Plus, Cayin C9
Comments
Campfire Audio Honeydew is a beast in its price range. I don't think there's a better fun provider at a similar price.
I just came to Honeydew from the Meze Rai Solo, a IEM with a tuning that Meze calls "fun." After listening to Honeydew for a few days, I have some thoughts.
In short, I could not agree with you more here, Honeydew takes fun to a new level, despite being in the same price range as the Mezes. These things are such terrific commuter/bike ride/easy listening IEMs I honestly can't believe how much I'm enjoying them. Smooth, huge bass, great mids. What's not to like?
Got myself a pair last week. They are my first 'proper' IEMs, so I've been playing with the tip fittings and ear fitment. So far with only a few hours listening through them I'm really enjoying them

. I was looking for a pair of IEMs to wear in bed at night for quiet listening sessions which were both comfortable and did not emit noise externally. Both of those tests passed. The sound quality is what I was hoping for - plenty of deep clean bass, with a well controlled response for mids and highs. There's a lot less sibilants than some of my headphones but not at the expense of detail. I'm running them on a Mojo/Poly combo but they really don't need much power to operate well. My music tastes are varied but the Honeydews seem well suited to prog. In summary they are well worth the very reasonable price - IMO, naturally.