Tralucent Audio Ref 1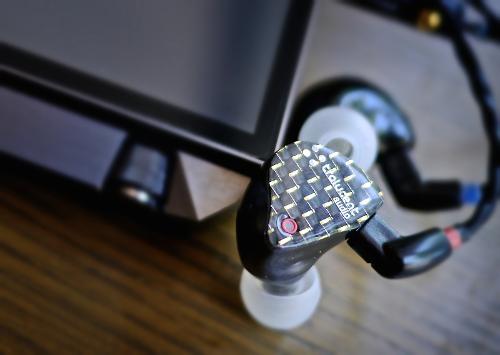 Tralucent Audio Ref 1
Universal Fit item created by AnakChan, May 24, 2014
Average User Rating:

4.16667

/

5

,
Tags:
Recent User Reviews
"This is an IEM? Are you sure?"

Pros - Addictive sound, Bass that has no place being in an iem, Out of head sound, sounds... Real

Cons - Sound sig wont be for everyone, too much bass for the feint of heart, pricey

Hi all,
 
I will prepare a proper review when I have some time and am not working.
 
In short however, these are superior to any IEM I have personally used for my tastes.
I listen to a vast range of music, but in particular live rock/acoustic/prog rock.
 
There is nothing like listening to Alice in Chains unplugged or Dream Theater and you can literally close your eyes and believe you are there.
 
These are nothing but disjointed thoughts at this stage, however as above, I will construct a meaningful review when I have a moment.


"Realistic Richness of Sound "

Pros - Deep quality bass; deep and wide soundstage; great timbre on the mids; controlled trebles; great speed; musical signature

Cons - Needs 200+ hours burn in; ruthless in revealing weaknesses in the music or source

Prior to owning the Ref 1, Tralucent Audio was primarily known to me for it Uber cable as well as its silver/gold cable. I own both cables terminated for Fitear customs.
 
I have had the Ref 1 for more than a month now. I opted for the Ref 1 to come with the Uber cable. The Ref 1 does in fact get better beyond 200 hours of use. There is no doubt that even before it is burnt in, the Ref 1's bass will wow the first time listener. However, with burn in, the timbre settles down and the quality of the bass shines through. And the Ref 1 is wonderfully musical.
 
 
Technical Details
 
As explained in AnakChan's review, the Ref 1 employs a pair of 9.2mm dynamic drivers in an isobaric design, together with a pair of balanced armature drivers. It is a 3-way, 4 driver, hybrid and isobaric IEM.
 
 
First Meeting with the Ref 1
 
The first time I heard the Ref 1, the thing which struck me was that bass - it was visceral, it was persistent and there was such deep sub bass which had no business in an IEM! But what struck me was that at the same time, the bass did not obscure the details or layers in the acoustic vocals I was listening to. And then when the bass was called upon, it hit and it hit hard. 
 
Although I am proud of myself that I overcame my initial panic and scrounging around to see if I had enough cash on me, and did not buy it immediately, I did eventually succumb.
 
 
Build Quality & Comfort
 
Prior to this, I had for the most part foresworn universals. Hence, there was some apprehension on how the build quality and comfort would be. I was pleasantly surprised that it was really quite comfortable with the Ortofon tips which came with the Ref 1. I did subsequently switch them out to Spin Fit tips which did fit my ears a little better. The housing of the Ref 1 sat in my ear quite nicely - they did not stick out and sat nicely against the conch of my ears.
 
As for build quality, there has some sweeping statements about number of users facing build quality issues. For myself, I cannot say that I have faced any thus far. Coming from Fitear customs where the build quality is par excellence, I do not find any occasion to have any complaints in this department.
 
The Uber cable is one of the best cables around. Much has been made of its ergonomic issues. While I do not go mountain climbing with the Uber, I must say that the fuss is a little overstated. Of course, it is everyone's prerogative if they place more emphasis on aesthetics or whether they simply want a cable that gives the best sound quality.
 
 
Music Genres & Sound Quality
 
As has been noted in my previous reviews, I'm an equal opportunist when it comes to music: as long as it is good music, I will listen to it. My music library currently stands at just under 12 TB and, according to JRiver, I have enough music to play continuously for the next 1.87 years before I run out.
 
What I find amazing about the Ref 1 is that, while everyone can rave about its bass and what quality there is once it is properly burnt in, it will do just as well with acoustic vocals, pop era, jazz vocals, piano music, strings or Mandopop. All because the Ref 1 has an almighty bass kick does not mean it is warm and veiled like some other IEMs that claim to have quality bass. The Ref 1 remains transparent and detailed. The Ref 1 is also very quick: it keeps up with some of the trance music I have in my library thanks to Awry. It also keeps up with groups like Keane and renders the piano so true.
 
While the Ref 1 shares its wide soundstage with its older sibling, the 1Plus2, the bass adds a dimension that most IEMs cannot compete with: a truly 3D soundstage. The Ref 1 has a very deep soundstage which enriches the entire listening experience. The bass gives body to the music and renders it more realistic. 
 
I do appreciate that the mids have great timbre, especially when strings are involved. It never fails to send shivers down my spine when I listen to YoYo Ma playing the cello on the OST of Crouching Tiger, Hidden Dragon. Vocals are also rendered very well indeed.
 
I do own some quality full sized cans. And I will confess that often times I actually forget I'm listening to an IEM rather than a full sized can.
 
There is one word of caution, however: the Ref 1 is quite ruthless about showing up the shortcomings of your music or your DAP. In that sense, it is very revealing.
 
 
Pairing
 
I have a modest collection of DAPs (I can hear my friends sniggering already...) and I have heard them with the Ref 1. What I will say is this: the Ref 1 does actually benefit from the driving power of some DAPs like the Hifiman HM901 and HM802, as well as the Calyx M. Of course, I do enjoy the Ref 1 off the balanced output on the AK 240 where you do get astounding details and separation. Those of you who own the divisive Tera Player will be happy to know that I think the Ref 1 is a even better match with it than the 1Plus2. 
 
 
Conclusion
 
For myself, I thank the day when Spkrs01 persuaded me to take a chance on the Ref 1. I went in with an open mind and I have been rewarded by the realistic and rich signature of the Ref 1. I agree with AnakChan: the signature of the Ref 1 is unique and not heard anywhere else. Not everyone may appreciate such a realistic portrayal of music, but it is something which has to be experienced at least once.


"Tralucent Audio Reference 1 – With Comparisons"

Pros - Wide soundstage and unique presentation, does what it does pretty well.

Cons - Cable gets loose easily; fit, sound signature may not be for everybody. Price.

Tralucent Audio Reference 1 – With Comparisons



 

 



I would first like to give a huge thanks to Head-Fi member, warrior1975 for loaning me his Ref. 1 and TWau cable for review.  I was interested in hearing what the hub-bub was all about regarding the Ref. 1.  I was interested further because most people who have heard it either love the musicality of the Ref. 1, or they do not like the musicality - there never seems to be any middle ground.  After listening to the Ref. 1, I now understand both sides of the opinions.


 


Here are some quick specs regarding the Tralucent Ref. 1:


 
Driver used: Isobaric/dynamic
(two dynamic drivers sealed moving in tandem in the same direction)
- TWFK BA drivers
- Filter less system
- Proprietary silver/gold internal wiring especially developed for the Ref. 1
- Smaller Shell
- JH/2 pin connectors
- 26.8 Ohm Impedance
 
 


Prices


 


Here are the prices of audio equipment used in the review:


 
Tralucent Audio Reference 1 With Stock Silver/Gold Cable:  $1,698 (purchased for $1,650)


Whiplash Audio TWau Reference Gold V3 (Silver) Balanced Cable:  $525 (purchased for $500)




Whiplash Audio TWau Balanced to SE Adapter:  Free with TWau Balanced Cable


Link to New Whiplash Audio TWau Reference Gold Plated Silver:  $525 (not used in review)
MEElectronics Eartips Combo Set

:  ~$10


 
Shure SE846:  $1,000 (or lower if you search online)
Headphone Lounge FBI Reference Silver Litz Cable:  $220 (or less/10% discount for repeat customers)
Sensaphonics Custom Sleeves:  $150 (not including impression and upgraded color fees)
Westone TRUE-FIT and STAR Combo Premium Audiophile Eartips:  $14.99
 
iPhone 6 (Space Gray, 128GB):  $849.99 or $399.99 with a 2-Year Contract
 
 


Software Applications Used


 
Spotify Premium – Extreme Setting and Neutron Music Player

- both for the iPhone


 
 


Tweak Mentioned in the Review


 


The Shure SE846 modded black filters.  The SE846 comes with black filters, and the stock black filter (warm) sounds too warm to my ears compared to the stock blue (neutral) and white (bright) filters.  Removing the foam damper from inside of the black filters results in the sound retaining the lushness of the black filters, but adds the benefit of the foam damper-less white filters.


 
 


Packaging and Accessories


 
The Ref. 1 comes with a Tralucent box, another Tralucent felt-like box, pouch, tips, a cleaning brush and a

mini (3.5mm) stereo jack

to ¼-Inch stereo jack adapter.  Thanks to warrior1975 for sending me the four pictures of the box and tips in the boxes, shown below:
 

 

 

 

 
Here are pictures of the boxes with tips and various cables.
 
The Tralucent box inside of a Pelican 1050 Micro Dry Case:

 

 

 

 

 
 


Aesthetics


 


The gold-lined carbon fiber with black surround housing of the Ref. 1 looks amazing in person.  Depending on which angle you look at it in the light, gives off a sort of three-dimensional sheen.  The look is very lovely.  The Ref. 1's gold-lined carbon fiber goes very well with the dark gold copper-colored TWau cable that was provided as well.  The cable is just gorgeous regarding its presentation - subtle, yet undeniably beautiful once you take a second look. 


 

 

 

 

 

 

 

 
 


Impressions


 


The Ref. 1's soundstage is wide.  I believe this partly has to do with the earphone housing and how the fit is deep, but does not go as deep or isolate as well as my Sensaphonics Custom Sleeves for the SE846, which have the look and feel of a silicone CIEM in comparison. 


 


The use of custom sleeves if the Ref. 1 ever partnered up with a 3rd party company would yield a more closed-in soundstage, more than likely.


 


From my first listen, the Ref. 1 sounds very colored, the mids and highs are just kind of blending in together and separating away from each other, pretty mixed regarding its presentation.  Reminds me of a rainbow, and a roller coaster - a U shaped presentation, with the highs and lows being accentuated the most.


 


The Ref. 1 sounds pretty clear, but colored clear.  However, there are clearer, more coherent sounding IEMs, which will be discussed in more detail later in the review.


 


From my very first listen, the Ref. 1 sounds artificial and does not sound in the slightest neutral.  Listening to it for a while, it sounds less artificial, but reveals its artificialness more if you have listened to more neutral IEMs such as the UERM.  However, if you like that type of colored sound, you may love it.


 


How I can best describe the sound of the Ref. 1 is that it sounds most like EQed 3D Surround Sound, and has a slight hollow sound, straight from the headphones – no source software EQ necessary for the effect.  


 


I feel that the Ref. 1 sound is the type of sound that can possibly grow on you.  At first it sounds very colored, definitely not neutral in its presentation.  Once you listen to it for a while, I can see why some people will absolutely adore its sound, and others will absolutely despise its sound.  What it does, it does very well.  It's kind of like with cars: you are probably aware that the

Koenigsegg

Agera R and the Bugatti Veyron are two of the fastest sports cars out there, but if you are more of a Rolls Royce type of person, you'll probably never like or prefer the Agera R or Bugatti Veyron, even though they are very capable in their own right.


 


I feel the treble goes pretty high, but not as high as IEMs such as the K10 and JH13 Pro that I've listened to.  The mids, in my opinion are the area that will and should get the most scrutiny.  You will love it, or you may not love it.  Simple as that.  The bass has weight and is lively in its presentation.


 


The Ref. 1 overall is definitely a love it, or dislike it kind of sound.


 


I have never heard an IEM quite like it, and that's a good thing, as a lot of IEMs have similar sound signatures. The Ref. 1 has its own very interesting and unique sound signature. 



 


Fit


 


The fit.  Oh my, the fit.  The fit is not horrible, but is not that great as well.  Thank goodness warrior1975 included a multitude of tips to use from various companies.  I stuck with the clear silicone smallest tips, as those were the tips closest to what I used with my SE846, which was the Westone STAR tip (silicone - small/green).  Since the earphone housing is not very large, it will fit inside more people's ears easier than say the comparatively large 12-driver Roxanne (Universal IEM version).


 
Shure SE846 with Westone STAR tip on Left and Ref. 1 with Clear Silicone tip on Right:

 

 

 
 


Cable Issues


 


I have read that there were issues with the stock cable of the Ref. 1 coming loose, and that the current "official" workaround is to use glue to 'fix' the issue.  For the price of these IEMs ($1,650), I feel that particular fix is simply unacceptable.


 


The cable issue alone knocked off at least half a star regarding my overall score.


 
The stock cable (right side) is loose - if I so much as look the wrong way, the cable moves inside the housing just enough so there is a loss of sound - not an intermittent loss of sound, but a complete loss of sound. I have to push the cable in and wiggle it around so the sound comes alive again.  The stock cable is not fun to use at all and gives me so many issues with the lack of sound emitting from the right side if I do not stay perfectly still, and have to

practically

 hold the right side of the cable and the earphone housing in a position where I can at least hear sound from the right earphone.  
 
Ref. 1 Stock Silver/Gold Cable:

 

 

 

 
Stock Cable is Very Loose Fitting on Right Side:

 

 


For these reasons, I scrapped the stock cable altogether and only use it when testing sonic differences with the SE846 and Ref. 1's TWau cable.  As a result of having to scrap the Ref. 1's stock cable, the Ref. 1 

begs

 to be changed and/or upgraded with a cable that fits a little bit better than the stock cable (but not as solidly as most other manufacturer's cables). This brings me to my impressions regarding the TWau cable.


 
 


The Ref. 1 with the TWau Cable


 


I feel the colored presentation the Ref. 1 with the Whiplash Audio TWau Reference Gold V3 (Silver) Balanced Cable (connected to TWau Balanced to SE Adapter) is somewhat tamed - still there, but not as prominent compared to the stock silver/gold cable.  Very similar, yet different sound signature compared to the stock cable.  The TWau cable smooths out the somewhat wild sound signature, accentuates the entire sound spectrum, and gives the Ref. 1 slightly more of an even keel soundstage to work with.  The imaging is more precise and the spaciousness and air of the treble is more apparent.  However, there is still a presence of the 3D Surround Sound effect and even sounds slightly hollow musically as well.  Even though the TWau cable does weigh more and is thicker than the stock cable, it is very comfortable, and the cables have not popped out of the earphone's sockets yet, however I do get intermittent sound drops in sound as I am trying to re-adjust the earphone housings in my ears.  I also like the soft overmolding/memory cable, which is one of the most comfortable I've felt around my ears.  I am not going to subject the TWau cable to any strenuous tests like working out or running, but for walking around, you should not have any problems with the TWau cable. 


 


Whiplash Audio TWau Reference Gold V3 (Silver) Balanced Cable:



 

 

 

 

 

 
 


Comparisons


 
I compared the Ref. 1 to the Shure SE846, which should be easily accessible online and at certain airport InMotion Entertainment stores in the U.S., as I feel it is a great IEM to compare with so the most people can have a reference IEM to go by when reading about both sound signatures. The Ref. 1 and SE846 sound signatures are similar in some ways, and dissimilar in other ways. 

 


Power to Drive the Ref 1


 


Compared to the SE846 (which has ~9 Ohm of impedance), the 26.8 Ohm Ref. 1 takes 3-4 higher volume clicks from my iPhone 6 to reach the same volume as the SE846, for reference. 



 


Bass


 


How low can you go?  I do like the bass that emits from the Ref. 1 is nice and weighty.  It does not hit as hard or as low as the SE846, but is full-bodied, which is also nice as well.  I love bass, and the bass is definitely great on the Ref. 1.  It does not feel too loose, and is not tight/taut like the SE846's bass can be, especially with the HL Silver Litz cable.  Both the Ref. 1 and SE846 have great lows, as the SE846's bass goes lower, is slightly tighter and is very versatile with various bass notes, while the Ref. 1's bass is weighty, goes pretty low, and hits with more fullness and heft.  There is no winner in this regard, as both have their own sub-bass note signatures - the 'better' bass regarding both IEMs really comes down to your individual preference.  



 


Mids


 


The mids, overall I feel are better executed on the SE846, as it is not as colored, and is coherent regarding its presentation.  The Ref. 1's mids on the other hand are all over the place in my opinion. Some songs, the mids sounds pretty good, and others, not so much. 


 
 


Highs


 


Regarding the highs, the SE846 and Ref. 1. are very similar, as both extend well (as I am using modded blacks with my SE846, but the white filters act in a similar way, elevating the frequency response (FR) +2.5 dB 1kHz to 8kHz from the blue filters and +5 dB 1kHz to 8kHz from the stock black filters).  With the SE846, I can change my FR to what sounds great to me, so I can say that with the stock black filters, I would like the Ref. 1 more regarding the upper mids and highs, but when I listen to it with the modded black filters, the SE846 sounds better.


 


Shure SE846 Blue and White Filters (foam damper inside blue filter is shown):



 
 


Sound Signatures


 


If you are searching for a more coherent and changeable FR sound, the SE846 is right for you, in my honest opinion.


 


If you are searching for a more colored and possibly lively unique sound because of the colorness, the Ref. 1 may be right for you, if you make sure to demo the Ref. 1 and other top of the line IEMs first – before purchasing.



 


My Fiancée's "Crude Assessment"™


 


An important comparison was performed as well.  My fiancée, who is not an audiophile, listened to the Ref. 1 with TWau cable and small clear tips, as well as my SE846 with HL Silver Litz cable and the Westone STAR (small/green) tips.  She spent a few minutes with each, and said, "I like yours better."  I asked her, "Why, how come?" She replied, "Well, yours sounds more crisp."  Afterwards, she called her comparative listening and findings a "crude assessment", whereas I believe it is an honest assessment especially since she has never listened to any top of the line IEMs before (other than my SE846 with the stock SPC cable one other time briefly.)


 
 


Is the Ref. 1 Right for you?


 


If you are not a basshead, the Ref. 1 is not for you.  Another earphone for you may suffice, like the UERM, K10 (universal version) or the JH13 Pro - all C/IEMs that are not as bassy as the Ref. 1.


 


If you try out the Ref. 1 and love it, then that is great.  If you don't love it, that is okay as well.  I feel that for the price, the Ref. 1 is only worth it if you have listened to various C/IEMs and have come to the conclusion that the Ref. 1's sound signature is truly for you, no matter what. 


 


With that said, I feel that the better buy is the SE846, for several reasons.


 


1.  You can purchase the SE846 for less than 1K nowadays, just check online and make sure to either purchase from an authorized seller and/or you have the original receipt - the Ref. 1 was purchased for $1,650.


 


2.  You can change the sound signature (FR) +/- 2.5 dB 1kHz to 8kHz using the various filters - with the Ref. 1, you cannot.


 


3.  The fit can be cumbersome with the Ref. 1, from finding the correct sizes-fit-all tips for you, and currently not having any way to shell the Ref. 1 in a CIEM body or a custom sleeve.  I read that there was a user who purchased a Westone UM56 Custom Adapter for his Ref. 1, but he said the earphone housing juts out too much, and after looking at his pictures, they do jut out of the ears.  The Ref. 1 with UM56 Custom Adapter looks kind of like Frankenstein's neck screws, and may not look the most aesthetically pleasing to be of good use out in public.  The SE846 has a better fit.  Even with the sizes-fit-all tips, I wasn't able to get the most optimal fit and seal with the SE846, so upgrading to the Sensaphonics Custom Sleeves allowed me to have the most optimal fit, seal and deep isolation that every IEM owner should experience.  To have that option available for the SE846, and knowing that the Ref. 1 does not have any viable and close-to-CIEM options for creating the best fit and seal makes the SE846 the 'winner' regarding fit by a mile, and then some.


 


4.  Here is a human outer ear diagram (from healthfavo.com) to help with the names of parts of the ear:


 

 
Since I feel you cannot workout with the Ref.1 and the stock cable, let alone walk around without hearing sound drops, using the $525 upgrade cable (or at least a better fitting cable) is a must.  I am not sure how you will feel about running or doing any strenuous workouts with an over $2,200 pair of earphone + TWau cable combination, and knowing the overall seal around the tragus, insicura and/or cavum will introduce sweat in the ears, possibly into your ear canal because the Ref. 1 is not custom-fitted to your ears.  Comparatively, the Shure's SCS had the best fit, seal and isolation out of all of the earphone silicon/comply tips that I have ever used, period.  After running for 4 miles, no sweat went past the crus helix, tragus, incisura and/or cavum areas of the ear.  Meaning, no sweat made it into the ear canal.  As a result the SCS is a gym rat/fitness aficionado's dream come true.
 
Shure SE846 with SCS on Left and Ref. 1 with Clear Silicone tip on Right:

 

 
Shure SE846 with SCS - Universal to Custom fit:

 
 


Summary


 
Given the very wide price disparity of the two, I would definitely want to demo the Ref. 1 and the SE846, or any other bassy IEM such as the Roxanne (when the screw is turned +10 dB) before dropping that kind of money.  I would have no issues recommending the SE846 because it does cost a lot less, has a sound signature that is not too far off regarding the Ref. 1, as the Ref. 1 is very unique in its presentation, but the SE846 is ultimately more coherent, controlled and euphoric in its presentation.
 


If you appreciate bass and long for the visceral weightiness of the sub-bass, the Ref. 1 may be a viable option, but for the price, there are just as great sounding, or better sounding IEMs on the market such as the SE846 or Roxanne (turned +10 dB).  If you are searching for a more coherently sounding IEM, I would look towards the K10, JH13 Pro, JH16 Pro or even the UE18 Pro, as all of these IEMs admittedly have a better overall sounding presentation in my honest opinion.  Happy listening, everyone!



User Comments
To view comments, simply sign up and become a member!
Quick Stats
Tralucent Audio Ref 1

,

6

votes
Author:
Category:
Views:

34
Images:

1
Reviews:

6
Comments:

0
Average User Rating:

4.16667

/

5

,

6 votes
3 DOORS DOWN • 3 PILL MORNING • 9 LEFT DEAD • 30 SECONDS TO MARS • THE 1975 • A.R. RAHMAN • A DAY TO REMEMBER • A PERFECT CIRCLE • AARON CARTER • ABBY BAND • AC/DC • ACE OF BASE • ACERA • ADRIAN MICHAELS • ADAM 812 • ADAM LAMBERT • ADRIAN ECCLESTON • AEROSMITH • AGAINST THE CURRENT • THE ALBUM LEAF • ALEX CLARE & BAND • ALLI ROGERS • ALICE IN CHAINS • ALICIA KEYS • ALISTAIR TOBER • ALT-J • ALTER BRIDGE • ANDERSON PAAK • ANDRE O'NEAL, EARTH WIND AND FIRE • ANDRE3000 • ANDREW YEO • ANIMAL COLLECTIVE • ANNA VISSI • ANTHRAX • AMON AMARTH • ARCHITECTURE IN HELSINKI • ARIANA GRANDE • THE ARSENIO HALL SHOW • A$AP FERG • A$AP ROCKY • AS I LAY DYING • AS TALL AS LIONS • ASHLEY SIMPSON • AUDIO • AVENGED SEVENFOLD • AVRIL LAVIGNE • AWOLNATION • BAD RELIGION • BAD THINGS • BARENAKED LADIES • BARRY MANILOW • BASTILLE • BC JEAN • BELA FLECK • BELLA THORNE • BETWEEN THE BURIED AND ME • BIGBANG • BIG TIME RUSH • BIG WRECK • BILLY CURRINGTON • BILLY ELLIOT TOUR • BILLY JOEL • BILLY OCEAN • BILLY TALENT BAND • BLACK FOOSS • BLANC FACES • BLINK 182 • BLOC PARTY • BLONDE REDHEAD • BLONDFIRE • THE BLOODHOUND GANG • BLUE MAN GROUP, ORLANDO • BLUE MAN GROUP, LAS VEGAS • BLUE MAN GROUP, MUNICH • BLUE MAN GROUP, NEW YORK • BOB SEGER • BON JOVI • BONNIE RAITT • BONOBO • BOSTON • BOUNCING SOULS • BOWFIRE BAND • BOYZ II MEN • BRAND NEW • BRANDY • BRANDY CARLILE • BRANDY CLARK • BRIAN MCKNIGHT • BRING ME THE HORIZON • BRITNEY SPEARS • BRUCE SPRINGSTEEN AND THE E STREET BAND • BRUNO MARS • BRYNN MARIE BAND • BRYSON TILLER • BUCKCHERRY • BULLET FOR MY VALENTINE • BUSH • BUTCH VIG • THE CAB • CADENCE • CAGE THE ELEPHANT • CARLY RAE JEPSEN • CARRIE UNDERWOOD • CATFISH AND THE BOTTLEMEN • CAVO • CEELO GREEN • CELINE DION • CELTIC WOMAN • CHAD GILMORE • CHARLI XCX • CHARLIE PUTS • CHEAP TRICK • CHELSEA GRIN • CHER • CHEVELLE • CHICAGO • CHILDISH GAMBINO • CHRIS HESSE, HOOBASTANK • CHRIS JERICHO • CHRIS ISAAK • CHRIS YOUNG • CHRISTINA AGUILERA • CHRISTINA PERRI & BAND • CHUCK AINLAY • CHVRCHES • CIRCA SURVIVE •
CIRQUE DU SOLEIL, IRIS • CIRQUE DU SOLEIL, KA • CIRQUE DU SOLEIL, MICHAEL JACKSON THE IMMORTAL WORLD TOUR • CIRQUE DU SOLEIL, VIVA ELVIS • CIRQUE DU SOLEIL, ZARKANA • CIRQUE DU SOLEIL, ZED • CIRQUE DU SOLEIL, ZUMANITY • CLEAN BANDIT • CLINT WILEY • CODY SIMPSON • COHEED AND CAMBRIA • COLE SWINDELL • COLIN JAMES BAND • COREY SMITH • COUNTING CROWS • THE COURTENEERS • CRAIG CAMPBELL BAND • CREED • CROWN THE EMPIRE • CRYSTAL FIGHTERS • THE CULT • THE CURE • CURT BISQUERA • D'ANGELO • DAN + SHAY • DANIEL POWTER • DARIUS RUCKER • THE DARKNESS • DARREN CRISS • DAUGHTER • DAUGHTRY • DAWES • DAVID LEE ROTH • DAVID NAIL BAND • DEAD BY SUNRISE • DEF LEPPARD • DEFTONES • DELTA GOODREM • DESTROID • DETHKLOK • THE DEVIL WEARS PRADA • THE DIAMONDS • DIERKS BENTLEY • DIRTY HEADS • DISCLOSURE • DISPATCH • DISTURBED • DIXIE CHICKS • DJ CASSIDY • DJ DON P • DJ N.I.N.O. • DNCE • DONNIE WAHLBERG, NKOTB • DONNY & MARIE • DOOBIE BROTHERS • DOWN WITH WEBSTER • DR FU • DRAGONETTE • DRAKE • DREAM • DREAM THEATER • DROPKICK MURPHYS • DURAN DURAN • THE EAGLES • EARTH, WIND AND FIRE • EASTON CORBIN • EDDIE VEDDER • ELIZA DOOLITTLE • ELLIE GOULDING • ELLY AND THE LAST GARAGE BAND • ELVIS COSTELLO • EMBER • EMBLEM3 • EMINEM • EMPHATIC • ENGLEBERT HUMPERDINCK • ENRIQUE IGLESIAS • ERIC BENET BAND • ESCAPE THE FATE • EVANESCENCE • EYE EMPIRE • FAILURE • FAITH EVANS • FAITH MARIE • FALL OUT BOY • FALLING IN REVERSE • FANTASIA • FATHER JOHN MISTY • FEIST • FIONA APPLE • THE FIT SWIMMERS • FIFTH HARMONY • FITZ & THE TANTRUMS • FIVE FINGER DEATH PUNCH • FLEETWOOD MAC • FLIPPIN' SOUL • FLORIDA GEORGIA LINE • FONESCA • FOO FIGHTERS • FOREIGNER • FOREWARNED • FOUR YEAR STRONG • THE FRAY • FRANK OCEAN • FRANK TURNER • FRENCH MONTANA • FRIGHTENED RABBIT • FUN. • FUTURE • GALLANT • GARBAGE • GARTH BROOKS • GARY ALLAN • GAVIN DEGRAW • GEORGE STRAIT • GHOST • GIBSON GUITAR STUDIO, LAS VEGAS • GLASS TIGER • GLEE LIVE TOUR • GLINT • GO RADIO • GODSMACK • GOO GOO DOLLS • THE GOSSIP • GRANGER SMITH • GREAT WHITE • GREEN DAY • GREYSON CHANCE •
GRIMES • GROOVEBOSTON • GROOVY7 • GROUPLOVE • GUNS N' ROSES • HALESTORM • HALFORD • HALSEY • HARVEY MARSHALL • HAWKSLEY WORKMAN • HAYDEN MARINGER • HEART • HELL YEAR • HERE COME THE MUMMIES • HILL KOURKOUTIS • HINDER • HOLLYWOOD UNDEAD • HOMBRES G • HOPE • HOW TO DESTROY ANGELS • HOW TO TRAIN YOUR DRAGON TOUR • HYPER CRUSH • I PREVAIL • ICONA POP • IGGY AZALEA • IMAGINATION MOVERS TOUR • IMAGINE DRAGONS • INGRID MICHAELSON • INTERPOL • INXS • IRATION • IRON MAIDEN • JACK JOHNSON • JAKE OWEN • JADE WARSHAW • JAMES TAYLOR • JAMES TORME • JAMIE FOXX • JANET JACKSON • JASON ALDEAN BAND • JASON BENGE • JASON BONHAM • JASON DERULO • JASON ISBELL • JASON WHITMORE • JAY SEAN • JC CHASEZ • JENNA ROBINSON, BIG APPLE CIRCUS • JENNIFER CHASE • JENNIFER HUDSON • JENNIFER STONE, WITH KESHA • JEREMIAH MCCONICO • JESSE MCCARTNEY • JIMMY BUFFET • JIMMY EAT WORLD • JOE.E • JOE JONAS • JOE NICHOLS BAND • JOEY BADA$$ • JOHN GRANT BAND • JOHN HIATT AND THE COMBO • JOHN MAYER • JOHN STAMOS • JOHN TEMPESTA • JOJO • JONATHAN KNIGHT, NKOTB • JORDIN SPARKS • JOSH DAY • JOSH GROBAN • JOSH GROBAN BAND • JOSHUA RADIN • JOSS STONE • JOURNEY • THE JOY FORMIDABLE • JOYWAVE • JUDAS PRIEST • JUDD HOOS • JUICY J • JULE VERA BAND • JULIO IGLESIAS • JULLY BLACK • JUSTIN BIEBER • JUSTIN TIMBERLAKE & BAND • KACEY MUSGRAVES • KAMILAH MARSHALL • KARMA • KARMIN • KAT DELUNA • KATE EARL BAND • KATY PERRY • KEITH SWEAT • KEITH URBAN • KELLIE PICKLER • KENDRICK LAMAR • KENNY CHESNEY & BAND • KENNY LOGGINS • KESHA • KIP MOORE • KISS • KLAYE SANDERS • KOOL & THE GANG • KORN • KROPP CIRCLE • LACUNA COIL • LADY GAGA • LALAH HATHAWAY • LAUREN WILEY, LES MISERABLES US TOUR • LAURYN HILL • LAWSON • LE REVE, WYNN LAS VEGAS • LEA MULLEN • LEE DEWYZE • LENNY KRAVITZ • LEON J • LEONA LEWIS • LIANNE LA HAVAS • LIBIDO • LIDO • LIGHTS OVER PARIS • LIL' KIM • LIL WAYNE • LIMP BIZKIT • LINDSEY STIRLING • LINKIN PARK • LIONEL RICHIE • LITTLE BIG TOWN • THE LIVING END • LOCAL NATIVES • LOU REED • LOVE AND THEFT BAND • LUCINDA WILLIAMS • LUIS MIGUEL •
THE LUMINEERS • M83 BAND • MAC MILLER • MACHINE GUN KELLY • MACHINE HEAD • THE MACCABEES • MAD HATTER STUDIOS • MADEON • MADLIFE • MADONNA • MAGIC! • MAJORS AND MINORS, TV SHOW • MANA • MANDY JIROUX • MARC ANTHONY • MARIAH CAREY • MARIANA'S TRENCH • MARILYN MANSON • MARINA AND THE DIAMONDS • THE MARKER • MAROON 5 • MARY J BLIGE BAND • MASTODON • MATCHBOX 20 • MATT & KIM • MATT MORRISON & BAND • MATT NATHANSON • MATT OCHOA • MAXWELL • THE MCCLAIN SISTERS • MEGADETH • MEGHAN TRAINOR • MEL B • MELANIE MARTINEZ • MELISSA ETHERIDGE • MICAPELLA • MICHAEL ANTHONY • MICHAEL BOLTON • MICHAEL FRANTI & SPEARHEAD • MICHELLE OSBOURNE • MIDNIGHT OIL • MIGUEL • MIKA • MIKE PORTNOY • MILEY CYRUS • MIKE MARLIN • MINDLESS BEHAVIOR • MIRANDA LAMBERT • MISS MAY I • MISSION TRANSMISSION • MODEST MOUSE • MODESTEP • THE MONKEES • MONSTER TRUCK • MONTGOMERY GENTRY • MOODY BLUES • MOTLEY CRUE • MY CHEMICAL ROMANCE • NAS • NEVEREST • NEON TREES • NEW EDITION • THE NEW SHINING • NICK FRADIANI • NICK JONAS • NICKELBACK • NICKI MINAJ • NICO VEGA • NICOLE SCHERZINGER • NINE INCH NAILS • NKOTB • NO DOUBT • NOAH BENARDOUT • NOEL GALLAGHER'S HIGH FLYING BIRDS • NORMAN BROWN • NOSTALGHIA • O.A.R. • OF MICE AND MEN • OLLY MURS • ONE REPUBLIC • OPERATOR PLEASE • OPETH • THE ORANGE EFFECT • OUR LAST NIGHT • OWL CITY • OZZY OSBOURNE • PALOMA FAITH • PANDORA • PAPA ROACH • PAPER TONGUES • PASSION PIT • PATRICK WOLF • PAUL BRANDT • PENNYWISE • PENTATONIX • PETER GABRIEL • PETSHOP BOYS • PHANTOGRAM • PHARRELL WILLIAMS • PHILLIP PHILLIPS • PHOENIX • PIERCE THE VEIL • P!NK • PITBULL • PIXIE LOTT BAND • THE PIXIES • POLARIS AT NOON • POP EVIL • POST MALONE • THE PRETTY RECKLESS • PRINCE BAND • PRINTZ BOARD • PROFESSOR GREEN • PUFF DIDDY • PUNCH BROTHERS • PVRIS • PUSCIFER • QUEENS OF THE STONE AGE • R. KELLY • R5 • RACHEL CROW • RAE SREMMURD • RAMMSTEIN • RANDY HOUSER • RASCALL FLATTS • RED LINE CHEMISTRY • RICI JO • RICKY MARTIN • RICO LOVE • RIHANNA • RISE AGAINST • RITA ORA • ROB THOMAS • ROBBIE WILLIAMS BAND •
ROCK OF AGES ON TOUR • RODNEY HOWARD • ROGER WATERS' THE WALL TOUR • THE ROLLING STONES • RUMMER WILLIS • RUSH • ST. VINCENT • ST. LUCIA • SALIVA • SAM HUNT • SAM SMITH • SAM WARSHAW • SAN CISCO • SANTIGOLD • THE SATURDAYS • SAVING ABEL • SCISSOR SISTERS • SCORPION • SCOTT STAPP • SEAN ALEXANDER • SEBASTIAN BACH • SEBASTIAN INGROSSO • SEETHER • SEGARRA • SEIGMEN • SELENA GOMEZ • SEVENDUST • "SGT. PEPPER LIVE" FEATURING CHEAP TRICK • SHAKIRA • SHARON AGUILAR • SHANE DUNCAN BAND • SHEILA E. • SHEILA MAJID • SHINEDOWN • SIA • SIGUR ROS • THE SILVER BULLET BAND • SILVERSUN PICKUPS • SIMMONE JONES • SIMONE BATTLE • SKIP DORSEY • SKYLAR GREY • SLASH BAND • SLAYER • SLIPKNOT • SMASHING PUMPKINS • SMOKIE • SOCIAL DISTORTION • SOIL • SOLANGE • SONATA ARCTICA • SONGA LEE • STAIND • STARSHELL • STEEL PANTHER • STEELY DAN • STEREO SHOUT OUT • STEVE AUGERI • STEVE RODRIGUEZ • STEVE VAI • STING • THE STONE ROSES • STONE SOUR • STRATOVARIUS • THE STRUTS • STRYPER • SUBLIME WITH ROME • SUEDE • SULLY ERNA BAND • SUM 41 • SYSTEM OF A DOWN • T.I. • T-PAIN • TALA • TAME IMPALA • TANK • TAYLOR BURRISE • TAYLORED • TEARS FOR FEARS • TEEL MERRICK • TEI SHI • TENACIOUS D • TERRY ILOUS OF GREAT WHITE • TESTAMENT • THEFT • THEOPHILUS LONDON • THE TEMPER TRAP • THREE DAYS GRACE • TIMBALAND • TIM MCGRAW • TIM OWENS • TIMBALAND • TINASHE • TOOL • TONIC • TONY SAVAGE • TOOL • TOTO • TRACE ADKINS • TRAIN • TRAVIS BARKER • TRAVIS TRITT • TREY SONGZ • TRILLIUM VEIN • TRISHA YEARWOOD • TRIVIUM • TWENTY ONE PILOTS • TWO DOOR CINEMA CLUB • TY DOLLA $IGN • U2 • UNION J • THE USED • VAIN • VAMPIRE WEEKEND • VAN HALEN • VANCE JOY • VINCE STAPLES • VIRUS • THE VOICE TV SHOW 2011, 2012 • VOLBEAT • WALT DISNEY WORLD • THE WANTED • THE WAR ON DRUGS • WARRANT • WE ARE THE FALLEN • THE WEEKND • WEEZER • WELL HUNGARIANS • WHITESNAKE • WIZ KHALIFA • THE WHO • WILD BEAST • WINTERSUN • THE WOMBATS • X FACTOR • X-JAPAN • YOUNG GUNS • YOUNG THE GIANT • YOUNGBLOOD HAWKE • YOUTH LAGOON • ZAC BROWN BAND • ZAYN MALIK • ZELLA DAY • ZZ WARD • AND MANY MORE...