Headphoneus Supremus
Administrator
Joined

Jun 21, 2001
Posts

2,990
Likes

2,161
Location
Hello Head-Fi'ers!
We know that our For Sale/Trade forums have become a popular place for Head-Fi'ers to buy, sell, and trade all kinds of personal audio gear. It's an exciting area of the site, and we love that it has become one of the most popular places to buy, sell, and trade this type of gear online.
As popular as the For Sale/Trade forums are, there was room for improvement. The team here at Head-Fi has been hard at work on an upgrade to our For Sale/Trade forums, and we are excited to finally share it with you. We're thrilled to introduce you to the new Head-Fi Classifieds!
Head-Fi Classifieds is more than just an upgrade, it's an entirely new purpose-built system coded from the ground up. The first and perhaps most obvious changes you'll notice are two new ways to browse listings -- grid view and list view. If you're a seller, these views allow you to more effectively display what you have on offer. If you're a buyer, finding what you need is now much easier.
The Grid View allows you to easily see everything available for sale or trade. List View gives you more information about these items at a glance. Switching between Grid View and List View is easy, requiring only one click.
Once inside a Classified listing, all of the listing's detailed information is presented very clearly: Price, condition, shipping destinations, photos, sale terms, and a way to contact the seller.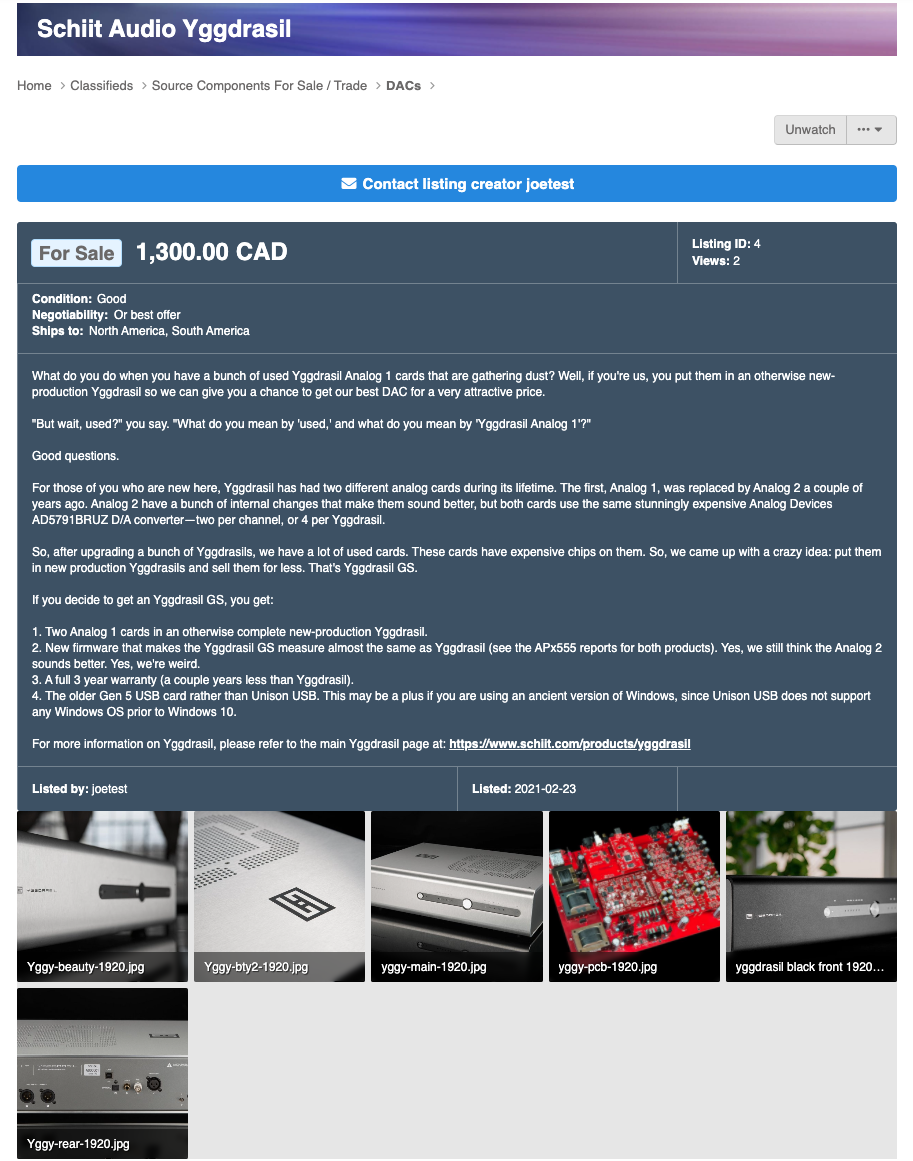 We know that there were some key features that disappeared when we transitioned to our new platform in 2017 that you wanted back. We did, too. With Head-Fi Classifieds, we've restored some of your most requested features in addition to providing some entirely new functionality.
Ready to bump your listing? Go for it. With the new system you don't have to post "bump" anymore -- a "bump listing" option appears whenever a listing's bump option is available. And since new comments on a classified listing will not bump it to the top, you won't have to worry about accidentally bumping early. That's right, no more bump violation messages from moderators.
Did you complete a sale and want to close your listing? The power is now in your hands. Using the easy options menu, you can easily close the listing as soon as you're ready. Fill in the required fields and leave feedback for the buyer; they can leave feedback for you, too. And no more bouncing around multiple pages to close a listing, everything is now in one location. Need to withdraw a listing? It's just another easy menu option. You're in control.
Additionally, you can see all of a Head-Fi'ers active listings and review their feedback by visiting their profile page.
Compared to the current For Sale/Trade forums, the new Head-Fi Classifieds system is a much better way to get your gear in front of community members looking for new things to purchase (or trade for), and a much more efficient way for buyers to find what you're selling.
Additionally, new and B-stock gear will occasionally be available for purchase from some Sponsors in the Head-Fi Classifieds.
So what does this mean for the current For Sale/Trade forums?
As this new area goes live and Head-Fi'ers can start posting to Head-Fi Classifieds, we'll be suspending the ability to post new threads in the current For Sale/Trade forums.
For those with listings in the current For Sale/Trade forums, we will give you some time to finish up any transactions, after which we will begin archiving all past For Sale/Trade forum listings
.
The For Sale and Trade forums have now been closed, and are no longer available
.
We know how important buyer/seller feedback is to the community, so we'll be importing all feedback from the current For Sale/Trade forums to the new Head-Fi Classifieds system. Once completed, all feedback will be in one easy-to-view location. This import of buyer/seller feedback will be completed a little while after the launch of Head-Fi Classifieds.
This has been completed, and you can find the Feedback on a user's profile.
We've been working hard over the last several months to bring this feature to the community, and we're thrilled to finally share it with you.
I'd like to thank
@HF_Ryan
,
@warrenpchi
, and
@AxelCloris
for the countless hours they've put into this project, as well as the day-to-day tasks that keep Head-Fi running.
Click here to check out Head-Fi Classifieds!
Have more questions? Check out the
Head-Fi Classifieds FAQ and Walkthrough
to see if we may have already answered them. If not, please ask in this thread.
EDIT:
updated to note that feedback has been imported, and the former For Sale/Trade forums are now closed.
Last edited: