Today I am reviewing the Yenona Studio Pro Over Ear headphones from Yenona Audio. Special thanks to Allen at Yenona for granting me a small discount in exchange for a review. 
I was made aware of these awesome, budget cans by
@Pharmaboy
. Have to give him a shout out as well.   
Link to product, as of 12/11/16 they are $49.99! Cheaper than what I paid by a few bucks, well worth it! https://www.amazon.com/Yenona-Adapter-free-Headphones-Monitoring-Isolation  
Let's start off by giving a brief background of myself, I'm currently 29 years old and have been listening to portable audio for about 16 years. In high school many kids had an early days iPod or some sort of MP3 player. I was rocking my good ole Sony Walkman CD player with some around the head over ear Philips earphones. I went through a few Walkman's and quite a bit of those Philips, they were cheap but I didn't know any better and loved em. Eventually by 2006/7 I upgraded to an iPod and moved through a few different gens until earlier this year when I moved onto a few different DAPs (Fiio/Xduoo/Opus), also about one year ago I started getting heavy into Chinese IEMs, thanks to this forum and AliExpress. This has been an expensive but great journey over the last year.   
As of current my desktop is a MacBook Pro with a Burson Audio Air via USB and my portable is an Opus#1 DAP. Both essentially have the same performance and essentially neutral sound sig.   
Now that that's out of the way let's get into these great budget cans. The Yenona are not made of materials like wood or aluminum/metal but they seem sturdy enough and cutting back a bit on the quality of materials has led to them to put some more money into the focus of the sound. That's what's most important to me, whats the point of super beautiful pair of phones that sounds like dookie, am I right?  
Some specs:
50mm Drivers
20hz-20khz Frequency Range
32 ohm
Sensitivity 110db +/- 3db
The pads are the main thing on these, big soft pillows that sit on your ears. Headphone itself is relatively light. The headband is nicely padded as well, Yenona is etched in the top with red stitchings on the edges. The outer shells have the Yenona logo, not sure what exactly it is but it looks cool! The cable itself is nothing to write about really, straight plugs, on side is 6.3 and the other is 3.5, the cable is also coiled on the 3.5mm side, and is red in color probably the weakest part of the phone.  
Now lets get into the most important aspect, the sound! These babies have a pretty well controlled bass, if any bleed its very minimal. The treble is well detailed, large sound that can get a bit bright but is never harsh. I listen to a pretty wide array of music and Yenona have performed well with everything I have thrown at them. I gave them a 150-200 hour burn in, consisting of JLab Burn In track and Drums & Breaks Spotify station. I mainly used this with my Opus#1, pairs fantastic IMO.  
Bass: Punchy and pretty well controlled, goes low but they are not bass cannons. Nor would I want them to be, that would cover up the other freqs. They have just the right amount of bass IMO. Midbass might have slight bleed but that is easily remedied by a pad change which I will cover later. 
Mids: Very well detailed and with a very natural sound. They seem to have a slight forward sound but it's not too for forward as to reduce the highs. A good amount of air provides a nice sound space, not a wide stage but nice staging none the less, slightly out of head. Vocals can get a bit strong but I've found it to be track dependent mostly.
Highs: Simply put, they are crisp yet they are smooth. The are detailed but non-fatiguing. Many companies will roll off their highs but Yenona has mostly kept them, giving way to some pretty good micro details in them that can get lost in other phones. 
Now, for the cons (and mods). Thankfully not to many and none that are of high importance. First off, the 3.5 on the right speaker is not good, it does not hold well, thankfully as said the 6.3 side is the one that plugs into the cans themselves and I use the 3.5 part of the cable for my DAP. Next, the treble can get a bit bright and bass can bleed ever so slightly, thankfully too this can be easily remedied by simply swapping the pads for HM5 pads. The thinner inner of the pad will allow for a bit more airy and clarity while pretty much cutting out that midbass bleed, downside is you lose the big cushion of the stock pads. Also, for about $15 shipped I got a custom 6.3 to 3.5 stereo cable from Cables For Less, I AB'd against the stock cable today and you get a slight boost in clarity and the bass becomes much more well defined. Special thanks to
@peter123
 for making me aware of the pad mod and sending me his extra pair of pads all the way from Europe!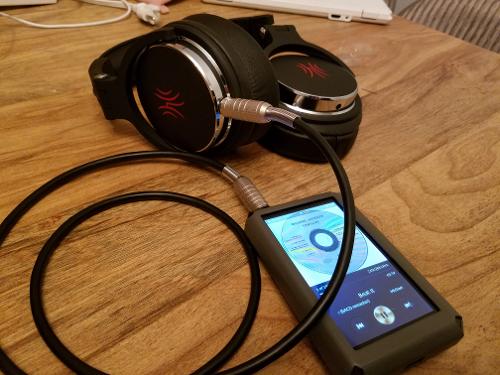 Overall, these cans are one my favorite purchases I've made so far from this site. In my top 5. Stock they are very, very good. With the couple of cheap mods they are extremely good. I will definitely be keeping my eye on Yenona's future products.