Item information
Added by
Views

6,096
Reviews

4
Last update
Rating

4.50 star(s)

4 ratings
Unique Melody UM Maestro 12 driver IEM
General Information
12 driver / 4 way crossover Universal IEM
Latest reviews
Pros
:
Smooth, Clear & Engaging
Cons
:
Universal Shell Size
Note: MusicTeck graciously provided the Miracle and Maestro samples for review. Originally published at CYMBACAVUM.
Based in New Jersey, MusicTeck is an official distributor for some of the best-known manufacturers of high-end in-ear monitors, such as Unique Melody, Vision Ears, AAW, InEar and Earsonics to name a few. When they contacted CYMBACAVUM to see if we would be interested in reviewing two of Unique Melody's in-ear monitors: the Miracle and the Maestro, of course we jumped at the opportunity.
Links to MusicTeck, their store and Unique Melody are located at the end of the review.
Unique Melody Miracle with stock cable
INTRODUCING THE UNIQUE MELODY MIRACLE AND MAESTRO
Hand Crafted With Love
UM in-ear monitors, both universal and custom, come in a small (4"x4"x3") black box that belies the size of the sound inside. The box greats you with an embossed Unique Melody logo, as well as the words, "IEMS INSIDE BOX" and "HAND CRAFTED WITH LOVE". Once you slide the inner box out, you find a smaller box containing UM's new hockey-puck-style carrying case and other accessories: airline adapter, 6.3mm adapter, cleaning tool, cleaning cloth and three sizes of tips (universals only) in both silicone and Comply foam. Also included is a card with serial number, manufacturing date, warranty period and UM contact info.
The monitors themselves are inside a velvet drawstring baggy, that fits very snuggly inside the hockey-puck carrying case. The carrying case is well padded but would benefit from being a little bigger, especially when the monitors are fitted with after market cables, which tend to be bulkier than stock cables. Both the Miracle and the Maestro come with a black PlasticsOne–style stock cable, which has a low profile, clear heat shrink Y-split and clear plastic tube neck slider. The cable is terminated in an old-style right-angle plug. This fatter plug is not smartphone case friendly. At the other end, the cable finishes in the standard two pin connectors that can fit the UM recessed housing sockets.
Unique Melody Maestro with Effect Audio cable, AK100 and Mojo
The universal monitors are finished in a glossy, black acrylic shell with black carbon fibre faceplates. The underside of the universal housings are inscribed with the model, serial number and either an L or R denoting the side. Customs will also include the owners initials. The nozzles appear to be Comply 500 series sized and are finished with a ridge to keep the tips from sliding off. The nozzle ending is open, without a screen or mesh to protect from debris or wax, so users should always keep the exposed bore tubes clear with the provided cleaning tool. The Miracle has two exposed bore tubes and the Maestro three. The shells for both the Miracle and Maestro universals appear to be the same all around size and they do stick out quite a bit when worn. They are anatomically ergonomic, though, so a very comfortable fit is easy to achieve.
MIRACLE SPECIFICATIONS:
6 Balanced Armatures
2 Low, 2 Mid, 2 High
3 Way Crossover
18 Hz to 19 kHz
114 dB SPL Sensitivity
15.9 ohm Impedance
Pricing starts at $1049
MAESTRO SPECIFICATIONS:
12 Balanced Armatures
4 Low, 4 Mid, 2 High, 2 Super High
4 Way Crossover
20 Hz to 20 kHz
109 dB SPL Sensitivity
20 ohm Impedance
Pricing starts at $1599
Miracle with hockey-puck carrying case
MIRACLE VS MAESTRO
The Miracle provided is the newer V2 tuning. Over the years, one of the minor complaints from users was of a slightly dry midrange. The V2 tuning was created to address this specific feedback. In addition, it has been said the Maestro was tuned with the American market in mind. UM also has other regional specific tunings for their flagship models.
In general, the Miracle is a bit thinner sounding with more lower treble sparkle and a bit more peaky in treble overall. The Maestro has slightly more bass and sounds fuller, with weightier notes and a smoother top end. Having explored the provided stock tips and rummaged through my personal arsenal, my preferred tip for both is the Mee Audio dual flange silicone tip. The slightly deeper fit achieved makes for a bit smoother sonic presentation.
Bass
Bass of the Maestro is even front to back with a nice boost over neutral. Bass sounds full with equal impact and rumble. Texture is very good- the bottom end is clean, natural and tight without an overly "speedy" feel. Extension is strong to about 40 Hz before beginning its roll off. By comparison, the Miracle bass is slightly lower in quantity but with a rise in deep bass. The Miracle's rumble slightly upstages it's impact, and texture, while very good, is slightly behind the Maestro's. Yet ,while the Miracle's bass sounds thinner than the Maestro, it's not lacking in any way and can be quite powerful when the track calls for it.
Midrange
Neither the Maestro nor the Miracle are what I'd call inmate in the midrange, although they are fully engaging. The Maestro midrange seems pretty neutrally placed- perhaps just a hair foward, but very clear and detailed. The full bass does a great job of staying out of the way- it doesn't make male vocals too deep and chesty. The same is true of the Miracle– male vocals are clear and detailed. Placement is just behind the Maestro's, with a slightly thinner note. When it comes to female vocals, both the UM models really shine and engage. Female vocals are energetic and demand your attention.
Treble
Treble on the Maestro is precise, crisp but overall smooth and fatigue free. The Miracle takes this same treble presentation and ever so slightly increases crispness and overall treble presence. UM tends to carry a house signature through their trebles with lower treble peaks around 6k. I found this in the Merlin and now in the Miracle and Maestro. Listening to some of my test tracks for sibilance, ringing and other treble piercing sounds, both the Miracle and Maestro tuning can slightly accentuate sibilance of some recordings, but a deeper fit mitigates this. I would expect the full custom to not accentuate sibilance at all, but simply render it as recorded. All in all, both models avoid over accentuating any recorded top end issues but they don't gloss over them either. Both remain crisp and generally refined, perhaps ever so slightly erring on the forgiving side (the Maestro more-so than the Miracle).
A Miracle Born
SELECT COMPARISONS
MIRACLE & MAESTRO VS ULTIMATE EARS REFERENCE MONITOR
Bass
The bass of the UERM is a knife of precision. Within double bass passages, it cuts with expert finesse, clean and precise with fantastic impact and timbre. The only real downside to the UERM bass is a slight lack of rumble in the deepest registers. Moving to the Maestro, bass notes are fuller with noticeably more rumble and longer decay. Those same double bass passages feel a little less clean and precise but have a more satisfying rumble and fullness to them. The Miracle on the other hand tends to fit in the space between the UERM and Maestro. It's leaner presentation feels a bit quicker than the Maestro but is not quite up to the speed of the UERM. Miracle bass impact seems on par with the UERM but also has noticeably more deep rumble and decay.
Midrange
UERM vocals are very effortless- they are my benchmark for neutral vocals that sound both open and intimate, flowing with the emotion of the performance. Midrange resolution is a UERM forte, with excellent low level detail resolution. Midrange timbre is also top notch- distortion guitars soar with air and bite with tangible crunch. Acoustic guitars sound incredibly detailed with balance between the pluck of the stings and reverberation from the sound hole. By comparison, the Maestro vocals are moved slightly forward for a more intimate performance. With vocal oriented material, the Maestro can be more engaging with hints of romanticism, while never straying too far from a neutralish performance. Vocal resolution can stand toe to toe. Acoustic guitars are a little fuller with more reverberation from the sound hole and distortion guitars are slightly smoother and more grounded. The Miracle's thinner note again seems to split the difference between the UERM and Maestro. The biggest difference is the Miracle vocals have the openness of the UERM but tend to accentuate sibilance slightly more than the other two.
Treble
The UERM treble is airy and sparkly, mainly due to a middle treble peak around 10k. This imparts the extremely open sound, that is seemingly without the borders that most closed iems tend to present. The treble is precise, highly resolving and tonally accurate, if a bit unforgiving. Extension is some of the best I've heard in higher end armature based monitors. Maestro treble can be a bit airy but is definitely much less so than the UERM. It's lower treble peak contributes towards a slightly weightier treble that maintains very good tonality. Overall it's treble is a bit smoother and noticeably more forgiving. Resolution is just as good, however, more subtle in presentation. Miracle treble falls more in-line with the Maestro than not. While somewhat airy, and more-so than the Maestro, it's just not anywhere to the degree of the UERM. The increase in crispness and brightness of the Miracle over the Maestro, presents details in a slightly less subtle way.
Soundstage, Imaging and Separation
The UERM produces a very wide and airy presentation from left to right. It has excellent air and space between instruments that is far above average. Presentation is wider than it is at height and depth, and instrument placement is more precise on the horizontal axis than it is at placement in depth. The Maestro presentation is also larger than average, and while it doesn't have the openness of the UERM, nor come close to it in width from left to right, it's proportions sound more evenly matched. As a result, the Maestro sounds taller and deeper than the UERM; it has less air around instruments but they are easier to place from back to front. On the other hand, the Miracle sounds a little wider than than the Maestro but not as wide and as open as the UERM. The Miracle isn't as tall or deep sounding as the Maestro and is more similar to the UERM presentation. Separation and placement are not quite as precise as the Maestro.
MIRACLE & MAESTRO VS PERFECT SEAL AR6
Bass
Bass on the AR6 sounds very linear and has excellent extension. Note thickness is close to the goldilocks zone, in that it doesn't sound too thick or too thin most of the time. Bass texturing is top notch with perhaps just a tilt towards rumble over impact. In comparison, the Maestro note is thicker with more impact. Texturing is not quite as detailed as the AR6 but provides a fuller bass presentation with slightly more natural decay and reverberation. The Miracle, on the other hand, has more accentuated rumble down low than either. Note thickness is similar overall to the AR6 but the Miracle's deep bass is noticeably bloomier with more decay for a slightly slower and more rounded bass presentation.
Midrange
The AR6 is every so slightly mid-centric with a tilt towards the upper midrange. This midrange tilt lends itself towards female vocals more-so than male. Intimately recorded male vocals can sound just a hair lightweight but resolution and clarity are fantastic. The AR6 really shines with female vocals, displaying great energy and focus. The AR6 doesn't over emphasis sibilance, nor does it gloss over it but rather presents you with the truth of the recording. The Maestro is also very clear throughout the midrange but has a very small tilt towards the lower and middle midrange. Male vocals can sound more intimate than the AR6 for a more evocative experience and slightly accentuates sibilance over the AR6. In contrast, it doesn't quite have the same energy in female vocals. Moving on to the Miracle, it has perhaps a hair more weight with male vocals than the AR6 but accentuates sibilance more than the other two. It likewise sounds a little closer to the AR6 when it comes to female vocal energy and focus but falling just short of the clarity and transparency of the AR6.
Treble
The AR6 treble is easy going with moderate air and brightness but not as bright as something like the UERM. Treble weight is a little on the thin side but is free of peaks, which lends heavily to it's fatigue free presentation. The Maestro's treble is not quite as present as the AR6 and while it's treble peak gives it a crisp nature, it has a more realistic and weightier presentation. Similarly, the Maestro also remains fatigue free. In comparison, the Miracle is the brightest of the three, with it's peak giving more overall treble presence. The Miracle treble isn't quite as refined as the other two, giving up just a little bit of grain. Treble weight is similar to the Maestro, albeit even crisper and brighter in presentation.
Soundstage, Imaging and Separation
The AR6 forte is that it has one of the most well rounded presentations in size and scope. Staging proportions are surprisingly lifelike with realistic space around instruments, lending to it an almost holographic image. It's not a grand presentation with class leading width but rather presents things like you are in the recording studio, with realistic and tangible proportions. The affect is more subtle than overt and noise from the outside environment can have a negative effect. In contrast, the Maestro and Miracle presentation is denser, noticeably fuller and more traditional in approach, which means the middle presentation happens more inside the head rather than in front of it. The boundaries are not closed in by any stretch, and the stereo image from left to right seemingly extends beyond the edges of the head. The effect of their staging is move overt and requires less concentration or less getting lost in the moment.
A Single Maestro
CONCLUSION
…improved refinement, fuller note, overall balance and improved spaciousness
Offering a universal version is a great option for those that would rather not go through the custom process. Despite being on the large side, both universals proved to be very comfortable over longer listening sessions, including comparison sessions, which require inserting and removing them numerous times.
The Miracle remains a timeless classic that still maintains the performance to compete with many of the newer models on the market. However, the Maestro really takes the Unique Melody sound to the next level. It's improved refinement, fuller note, overall balance and improved spaciousness makes for a superb top-of-the-line offering. It really is a true all rounder, sounding effortless and engaging with any genre thrown its way. It will be a favorite recommendation for those seeking for a high end monitor whose requirements match that of the Maestro's talents.
For more information on Unique Melody products, please visit the new reorganized official Facebook page:

https://www.facebook.com/UniqueMelodyInternational/

and updated website:

http://www.uniquemelody.co
Customers in the USA can visit

http://www.musicteck.com

for latest pricing and ordering information.
Last edited:
Pros
:
Balanced, refined sound. Holographic soundstage.
Cons
:
Large shells. Shallow fit.
INTRODUCTION
Unique Melody. It's a CIEM brand that's been around for awhile. In fact, the UM Miracle was one of the very first CIEM I'd ever heard of and is still regarded as a classic. Despite being familiar with the brand, I knew very little about them, much less heard them. So imagine my surprise when MusicTeck reached out to me and asked if I'd be interested in taking the UM Miracle V2 and UM Maestro for a test drive. Of course, I said yes. Since receiving them, I've gone from playing Mr. Mom to helping rapidly commission a brand spanking new production lab in a very short amount of time. This caused a delay in letting you all know what I think of these. My life isn't slowing down any, but I've decided that enough is enough. I'm going to make time for this review no matter what, and so here we are. Since these two IEM share a lot in common including excellent sound, shape/size, packaging, and accessories, I'm going to combine the reviews.
Links of interest:
MusicTeck's UM Page:
LINK
Unique Melody's new FaceBook page:
LINK
DISCLAIMER
There is no financial incentive for writing this review, and this is my honest opinion of the Unique Melody Miracle V2 and Maestro IEM. I hope my feedback is useful for my fellow Head-Fi members as well as for Unique Melody.
ABOUT ME
I'm a 44 year old father who listens to a lot of electronic and metal, although I do listen to a wide variety of music. I'm primarily a portable audio enthusiast and have been in the game since the venerable Shure E2C was first released. Bought one, plugged it into one of my many MD players, and have been hooked ever since. I do enjoy listening at home and am becoming increasingly interested in building up a nice desktop setup. As with a lot of people my age, my hearing isn't perfect but I've be listening for a long time and feel confident in assessing audio gear.
SPECIFICATIONS
MIRACLE V2
6 Balanced Armatures
2 Low, 2 Mid, 2 High
3 Way Crossover
18 Hz to 19 kHz
114 dB SPL Sensitivity
15.9 ohm Impedance
$1050
MAESTRO
12 Balanced Armatures
4 Low, 4 Mid, 2 High, 2 Super High
4 Way Crossover
20 Hz to 20 kHz
109 dB SPL Sensitivity
20 ohm Impedance
$1450
PACKAGING & ACCESSORIES
As usual, I'll go over packaging and reviews in pictorial format. Packaging and accessories are virtually identical.
PACKAGING
Both IEM come in minimal black square boxes with shiny black text. The whimsical nature of the text is a breath of fresh air in an industry that seems to be taking itself more and more seriously.
ACCESSORIES
In all, you get the UM IEM, a black metal carry case with the UM logo, four pairs of wide bore single flange tips, three pairs of foamies, 1/4" and airplane adapters (does anyone use those?), and a cleaning tool.
BUILD & ERGONOMICS
I'll attack this section in pictorial format, commenting on what I like and what I think could be improved as I go.
UM IEM WITHOUT TIPS (MIRACLE V2 ON TOP, MAESTRO ON BOTTOM)
UM IEM WITHOUT TIPS (MIRACLE V2 ON TOP, MAESTRO ON BOTTOM)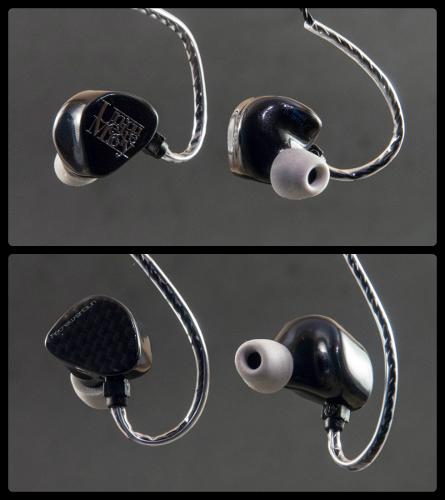 It should be pretty obvious from these pictures that both the UM Miracle V2 and Maestro are universal fit IEM. Of course, they also come in custom versions. If I were picking up a pair for myself, I'd most certainly go the custom route. Why? At this price point, why not just go ahead and take the plunge. And from what I've seen in the Maestro thread, the customs can be made with a smaller shell. The universal shell's large size was really pushing the limit for what my ears can take. I've been lucky enough to try the CustomArt and Empire Ears lineups recently, and both of those had significantly smaller shells at the same or higher driver count. They also had longer nozzles. CA & EE's smaller size and longer nozzles made for a more comfortable fit than I get with the UM IEM. The UM's short, wide nozzle prohibited me from using silicone tips. I tried the stock tips plus some from my collection, but they just kept slipping out of my ears. In the end, the only tip I could get to work for me to achieve a secure fit with good seal were the foamies. This did have some benefits, though. The combination of foamies plus the large shell provided some of the best isolation I've ever experienced. On the other hand, I started to feel "hot spots" due to the large shells. During longer listening sessions, I had to reposition the IEM to maintain comfort. My biggest suggestion to UM is to make the shells smaller. This would allow more people to comfortably enjoy them. I know it's possible. EE's 14-driver Zeus is smaller than the 6-driver Miracle V2. Please UM, make these smaller!
Connectors are recessed 2-pin. This makes them very stable and less prone to bending but also a total PITA to remove. I got them out once but decided not to go through the pain again for a pic. Should've snapped a pic while I had it out. Oh well...
Shells are glossy piano black. Miracle V2's faceplate has Unique Melody in a jumbled silver font. Maestro's faceplate has a carbon fiber pattern with Unique Melody in a very small silver font. Which look you prefer is obviously up to personal taste. I kind of like the design they went with on Miracle V2. The jumbled up writing captures more of that whimsical spirit we saw on their packaging.
Y-SPLITTER, CINCH, 3.5MM PLUG
The 3.5mm jack and y-spliter are clear shrink tubing. Before the y-splitter, you've got a 4-stranded braid. Above the y-splitter, you've got a 2-stranded braid. The 3.5mm plug is one of those ginormous ones that absolutely will not play nicely with a smartphone case, so if you use a smartphone with these you're probably going to have to shed that case first. All in all, it screams "boutique cable". I'd love to see UM offer a more modern, smartphone-friendly cable. Luckily, the cable is replaceable, so if you really want something different you can always buy a different one.
SOUND
As mentioned in the intro, I've had these for a long time and as such have given them plenty of listening time with DAPs from various manufacturers. I've also listened to all the typical music I enjoy, mainly electronic and metal with a smattering of jazz and modern composition thrown in for good measure. As I'm writing this review, I've been jamming them with the brand spanking new Shanling M5 DAP and my trusty Cayin N5. Neither combination doesn't disappoints. And if it wasn't obvious from up above, all listening was done with foamies which might make my impressions differ a bit from others who I've noticed tended to use the silicone tips that just wouldn't stay in my ears.
As I've listened to the Miracle V2 and Maestro, I've gone back and forth over which I prefer and come to the conclusion that I really like both. It's hard to pick one as the clear winner. The Miracle V2 have  a touch less bass and a bit more energy in the upper mids and lower treble. This makes them a slightly more energetic listen. When I'm up for a more involved listen, I turn to the Miracle V2. That's not to say that they're lean, reference, or overly energetic up top. They're still a well-balanced listen, with punchy bass and and treble that thankfully doesn't hit any of my hot spots. I'm becoming more sensitive to sharp / piercing treble peaks, so this is particularly important to me these days. Overall, the Miracle V2 are a very satisfying listen and were the IEM I was more immediately drawn to. Conversely, the Maestro are a more "refined" listening experience. Notes are a bit fuller / thicker, upper mids are more restrained, and lower treble is reined in a bit. All that said, these are not dark IEM, just a bit darker than the Miracle V2. Detail retrieval is still excellent and soundstage and spacial cues take a step up from the Miracle V2. Over time, I've come to appreciate the Maestro sound more and more and think I'd end up preferring these in the long run. 
When I first got these, I had the Empire Ears collection in house, so I was lucky enough to be able to listen to all of them. In my opinion, the Empire Ears collection can be split up into two categories. Cerberus and Spartan are distinctly different, being a more forward / energetic listen than the rest of the lineup. Hermes, Athena, Apollo, and Zeus were what I'd classify as a more "refined" sound, more along the lines of the UM Maestro. However, there are distinct differences in the approach EE and UM took with their higher-tier lineups. The EE IEM have a slight bit less bass and noticeably less upper mid and treble energy than the UM IEM. This made the EE IEM sound somewhat restrained in comparison to the more fun sounding UM IEM. I ended up preferring the EE IEM with more upper mid and treble energy, so the UM IEM were a good fit for me. 
I took these to work and let one of my buddies listen to them. He's not an audiophile per se, but his dad has built up a very nice audiophile grade listening setup in his basement. The kind where you just fall back onto your leather couch and let the music immerse you. The setup we all wish we had but can't afford yet. You know what I'm talking about. Well, I let him listen to both of these with via MacBook Pro -> iFi iDSD Micro. He thought the UM Miracle V2 were great IEM. Better than anything he'd heard to date. Then I let him test drive the UM Maestro. The look on his face was priceless. He said it was like being in his dad's listening room but miniaturized. Sure, Maestro are pricey, but compared to his dad's setup? No comparison. 
SUMMARY
It's been a fun journey with the UM Miracle V2 and Maestro, and I'm glad my life's settling down enough now that I can share my thoughts with you all. Are these for everyone? Certainly not. They're both TOTL competitive IEM and priced accordingly. If that's what you're looking for, then you should be looking at these. If they're out of your price range, no worries. Buy some nice triple hybrids (I highly recommend the
FLC8S
) and be satisfied for now. Sooner or later, the TOTL siren song will be calling your name, and when that time comes, please give these some serious consideration. The sound certainly warrants it. And if / when you do decide to pull the trigger, I'd urge you to go for full customs to get the most comfortable fit and best sound out of these that you can. I have the sneaking suspicion that these would sound even better if they were full customs. 
Just as an aside, I'd also urge you to look into the UM Merlin. They're UM's quad hybrid, and I'm betting those are a damn fine listen. I hope to hear them someday!
To wrap, I'd like to give a big thanks to MusicTeck for providing me with review samples of the Miracle V2 and Maestro. 
Pros
:
World class combination of musicality and detail, Elite soundstage and imaging, Comes in a universal or custom shell
Cons
:
Price, I would have preferred a Pelican case over the metal canister
At the time of the review, the Unique Melody Maestro was on sale at Musicteck's online store. Here is a link to their listing of the product:  
https://shop.musicteck.com/products/um-maestro-universal  
Unique Melody has a great Facebook Page with lots of links to some really good reviews. Here is a link to their page:  
https://www.facebook.com/UniqueMelodyInternational/?fref=nf  
Introduction
Over the course of reviewing products we occasionally are given rare opportunities to cover something really special. These times don't come around all too often, and when they do it's an epic opportunity, not only to experience a summit-fi product, it's also a chance to share my experience with the Head-Fi community.  
Unique Melody has been around for a while. They hit it big around 2010 with their release of the Miracle. Since then an ongoing war has been waged, as companies continue to come up with ways to stuff more and more drivers into each channel of their in-ear monitors and jack up the price. This can be a very good thing, but it can also be nothing more than a gimmick. I've heard multi-driver earphones that sound worse than some single dynamic driver designs. It's not a matter of how many drivers you can stuff inside a shell to make them sound good, it's more a matter of whether or not the manufacturer can use tubing, resistors, dampers and crossovers to make a number of drivers sound cohesive and pleasing to the listener's ear.  
When I was contacted to see if I could review the Unique Melody Maestro universal in-ear monitor, my excitement level was through the roof. At the same time, I didn't want to set my expectations too high. In the summit-fi multi-driver IEM world there are models that are selling drivers rather than sound. I had to wait until I actually heard them to decide which side of the fence Unique Melody was on with this earphone. I'm happy to say that Unique Melody is selling twelve armature drivers on each channel (twenty-four total) that sound INCREDIBLE.  
Disclaimer
I was given an opportunity to review the Maestro in exchange for my honest opinion and review. I am in no way affiliated with Unique Melody. I would like to take this time to personally thank my friend Andrew for the opportunity.  
My Background
I AM NOT a numbers and graphs audiophile or sound engineer. Personal audio enthusiast? Absolutely! Headphone junkie? Possibly…  
There's something about quality DAPs, DACs, Amplifiers and Earphones that intrigues me, especially if they can be had for low prices. I will buy the $5 to $500 earphone that looks promising, in hopes that I will discover that one new gem that can compete with the big names in this industry. If you look at my Head-Fi profile you will see that I have purchased MANY different headphones and earphones, ranging from from dirt cheap to higher end products. For me, this hobby is more about getting great price to performance ratio from a product, and having a variety of different gears with varying builds and sound to mix and match. With personal audio gear, we tend to pay a lot of money for minor upgrades. One thing I've learned over the last few years is that just because a headphone has a higher price tag, it doesn't mean that it has superior build and sound quality.  
I'm always looking for great audio at a great price. I'm after headphones and IEMs that give me the "WOW" factor. I can appreciate different builds and sound signatures as long as they have good ergonomics, and the sound is pleasing to my ears. It is my pleasure to share my experiences with audio products and make recommendations based on gear I have owned and used.  
REVIEW
The Miracle comes in an all black box the size of a large jewelry cube. The Unique Melody logo is printed in discreet shiny black print on the top. "HAND CRAFTED WITH LOVE" is printed on the bottom of the box with the same glossy black lettering. Another interior box slides out from the package which contains the earphones. A third box pulls out from the second one, containing the Maestro Universal accessories.  
After removing this box, I was greeted with a heavy duty black metal canister that unscrews to reveal a velvet bag which was holding the earphones.  
Specifications and Accessories
Specifications:
12 Balanced Armatures
4 Low, 4 Mid, 2 High, 2 Super High
4 Way Crossover
20 Hz to 20 kHz
109 dB SPL Sensitivity
20 ohm Impedance
Accessories:
4x Pair memory foam tips (S,S/M,M/L,L)
4x Pair black silicone wide bore tips (S,S/M,M/L,L)
1x Airline adapter
1x ¼ inch adapter
1x Earwax cleaning kit
1x Two year warranty card
1x Metal cannister
1x Velvet drawstring pouch
Housings
The Maestro housings are made of a black acrylic material that seems very sturdy. It's bulky and has a quasi-custom-ish shape. A two pin connector is located on the upper portion of the housing. The fitting is slightly recessed into the housing, making the cable connection more secure than earphones without this feature. The faceplate of the earphone is a holographic carbon fiber printing with the Unique Melody name printed in a shiny finish. Overall, the housing seems tough enough to withstand daily abuse. Because these are a loaner I refrained from using them as nunchucks to see how well they would hold up. Just know that they look built to last. I didn't see any screws or misaligned seams. It's honestly pretty flawless looking. If you have any concerns, the Maestro comes with a two year warranty.  
The Maestro name is printed on the inner part of shell. The right side is printed in red, and left side is printed in blue (to mark each channel). The Maestro nozzles are wider than average. Looking at the end of the nozzle, they have three separate ports for sound. Tip rolling is a bit tougher than normal but for the most part I was able to fit just about every tip I had on the nozzle with a little extra effort.  
NOTE: The Maestro comes in both a universal and custom model. Please take a look at Musicteck's website to find out more about pricing and design options for the custom models.  
https://shop.musicteck.com/products/um-ciem-maestro-12-drivers  
Cable, Y-Split, Cable Jack, Strain Reliefs
Maestro comes with a braided black cable that follows along the lines of many other high end in-ear monitors. A quad braided cable leads up to the Y-split which is held together by clear heat shrink tubing and separates into two twisted cables that leads to each channel's two pin connector. There is also a piece of clear tubing that operates as a chin/neck slider to snug things into place. The Maestro stock cable has two inches of memory wire that help secure the earphone in place and works well. The cable jack is a ninety degree variety that has a gold plated 3.5 mm jack and plastic and rubber jacketing. Strain relief at the jack is adequate, and the memory wire offers some strain relief where the cable connects to the housing.  
Functionality
The stock cable is plug and play. However, the fact that it is removeable opens up options for microphone and remote cables as well as upgrade cables. When talking to a fellow reviewer, they indicated that The Maestro sound benefits from an upgrade cable.  
Ergonomics, Fit and Microphonics, Isolation
The Maestro is a bulky housing, but also a pretty nice fit. The tips that come with the Maestro are formidable for getting a good seal. I found the memory foam tips that come with Maestro to be high quality.  
Unique Melody gives you everything you need to get a secure and consistent fit. Find the right fitting tip, pop them in your ears, secure them in place with the memory wire, then adjust the chin/neck slider to secure the cable over your ear. The Maestro is designed to go over the ear. Because of this microphonics are minimal and virtually non existent. With the right tip isolation is just a hair below custom in-ear monitor level.  
Sound Review
I did my demo with my usual gear. I used an LG-G3 with the latest firmware for portable and smartphone use, and either my Shanling H3 or iBasso DX80 DAP for high fidelity portable use. For desktop use I used my Toshiba Satellite Laptop in combination with a ifi micro iDSD playing at 32/192kHz. I tested them with several other sources as well. I used Google Music in its highest download quality (320 KBPS) and I also streamed FLAC via Tidal streaming service. I also used purchased and downloaded tracks in MP3, FLAC, WAV and DSD. I make sure that any gear I test has sufficient playtime before writing a review.  
I used my usual same songs for testing gear:
"Limit to your love" by James Blake (bass speed, punch, response)
"Doin' it Right" by Daft Punk (sub bass)
"Get lucky" by Daft Punk (bass to midrange transition resolution, male vocals)
"Madness" by Muse (soundstage, separation)
"Some nights" by Fun (soundstage and male vocals)
"The soundmaker" by Rodrigo y Gabriela (texture and imaging)
"Bassically" by Tei Shi (bass to midrange resolution, female vocals)
"Skinny Love" performed by Birdie (female vocals, acoustic playback)
"One" by Ed Sheeran (male vocals, acoustic playback)
"Outlands" from the Tron Legacy Soundtrack (symphonic presentation, imaging)
"Sultans of swing" by Dire Straits (detail, separation, balance)
"And Justic for All" by Metallica (driver distortion, treble response, rock playback)
"Ten thousand fists" by Disturbed (driver distortion, treble response, rock playback)  
Note: Other tracks were used, but the listed songs were primarily used to assess and break down the gear's response.  
Source Selection
Just like most multiple driver in-ear monitors, the Maestro is a very sensitive and easy to drive IEM. With most more powerful sources (even portable sources) you will hear a faint hiss when music isn't playing.  
I don't know how it does it, but one of the things I really enjoyed was how well the Maestro could play with any source or recording and make it sound incredible. The Maestro was able to take my mp3 files playing from my clip zip and make them sound like FLAC. I heard details in tracks from this very average/mediocre source that I never heard before with any other earphone. Also, they sounded that much better with a higher quality sources and recordings.  
The Maestro will sound great with a smartphone streaming music, and phenomenal with your best DAP playing your highest bit rate music files. For best results, use the best sources and files you have in low gain with the Maestro and be whisked away to another dimension of quality audio.  
Sound Signature
The graph made with my Vibro Veritas. Although it isn't an industry standard device, it should give you an idea of the Maestro tuning. 
The Maestro is a combination of musicality and detail that you will seldom hear. It's endgame sound in my opinion. The amount of clarity and spaciousness trumps just about all of my in-ear monitors and full size headphones. The sound is rich and dynamic. It's definitely a music lover's earphone. You get an incredible low end response in combination with a level of resolution that is seldom replicated. The thing I think I liked the most about the Maestro was its ability to play every frequency with ease and at a maximum level of resolution and clarity. If I had not heard the Shure KSE 1500, I might be saying that this is the best in-ear monitor I've ever heard (this or the Noble K10). The sound is balanced with just a touch of lift at upper and lower frequencies. Extension on both ends is fabulous.  
Bass
Bass is impeccable in my opinion. I've said it before in other reviews, but these definitely have the best combination of armature accuracy with dynamic impact I've heard at the time of writing the review. Bass extends as low as I can hear and is just as responsive at 30Hz as it is at 150Hz. Truth be told I can hear kickdrums in a way that I don't hear them with other earphones. The resolution is so good it adds a sense of realism that you have to hear to understand. I usually talk about the transition from sub bass to mid bass, but there isn't necessarily a "transition" to speak of. The four way crossover blends the 12 drivers pretty flawlessly. Mid bass is perfectly in line with the neighboring frequencies, rendering a very spacious sensation. Its as if someone at Unique melody was able to pull the sound apart to reveal every single detail the way it should be heard. To be completely honest I can't listen to the Maestro, then go back to listening to other earphones without feeling like the low end is either somewhat sloppy or muffled.  
Midrange
The midrange of the Maestro is just a hair behind the lower frequency response, but not to the point that it is severely lacking or overshadowed by the rest of their sound. Just like any other part of the Maestro presentation, the level of resolution is top notch, and the sound just seems effortless, like the drivers have no problem keeping up with the music being played. There is a bit of dip at upper midrange frequencies, making vocals have a smooth finish and never allowing the signature to seem shouty whatsoever. I might have liked to see the upper midrange be just a touch more forward, but I completely understand why Unique Melody did this. This keeps people from saying vocals are "grainy" or "shouty" while still maintaining their musical signature.  
Treble
The Maestro has a spike at around 6K, that makes cymbal crashes and hi-hats sound awesome. This spike also helps pronunciations of the letters S and T coincide with the forwardness of the lower midrange. I can see this being an issue for those sensitive to this frequency, or for those who listen to their music at louder volumes. I personally enjoyed it, and didn't find it harsh or sibilant in any way. After trying to EQ this area down a couple decibels, I soon found out that the Maestro presentation seems somewhat lifeless without it. In fact, there was no EQ adjustment I could come up with that sounded better to my ears than the stock sound. Let that be a testament to how well the Maestro is tuned.  
Soundstage and Imaging
This is where I give the Maestro an eleven on a scale from one to ten. The resolution and extension is awesome, giving the Maestro one of the most impressive soundstages I've experienced. I heard reverb and echos in vocals and instruments I simply didn't hear before with other gear. Even with a mediocre sources and files I picked up micro details I didn't previously notice in the past. The resolution and sense of space makes imaging on the Maestro elite.  
Comparisons
Unique Melody Miracle V2 Universal ($1000 USD on Musicteck's website)
The Miracle V2 universal is retuned version of the original. I will be reviewing this earphone in the near future.  
Comparing the two, the Miracle is a somewhat similarly tuned earphone. The differences are minor, but make a considerable difference. The Miracle is a slightly smoother and more neutral sounding earphone with a bit less sub bass extension and smoother upper frequency presence. Midrange seems slightly more forward on the Miracle. To my ears the Maestro seems more musical and detailed, with the Miracle being more neutral and transparent. The Maestro is more of an entertainer and music lover's earphone, with the Miracle being more of a reference monitor. I can see the Maestro being more for a drummer or bassist, with the Miracle being more for the guy mastering the track in the recording studio. Both are excellent in their own way.  
Build quality and accessories are a draw. They are pretty much identical in this case.  
At the end of this comparison, I can see why the Maestro has a higher asking price. If these two earphones were people, the Maestro would be the Miracle that started going to the gym three times a week, taking protein supplements and hiring a personal trainer. The Maestro is a beefier and more defined version of the Miracle to my ears.  
Noble 6 ($1000 on Noble Audio's website)
The Noble 6 is a bass forward earphone with a warm top end. It carries a very decent amount of detail and dynamics.  
Comparing the two, the Noble 6 brings a much more prominent mid bass presence and lower midrange. After this the Noble six slopes into a relaxed upper midrange and treble presence that maintains a nice sense of extension. The Maestro is a more balanced sound with a brighter top end. They have a less forward but more responsive low end. Choosing between the two will be a matter of preference. I prefer the Maestro tuning over the Noble 6, but I can see how others who like warmer and bassier tunings being turned off by the 6kHz boost of the Maestro, preferring the Noble 6 as a result.  
Build quality goes to the Maestro. Their housing feels more solid in my hands, and the recessed fitting for the two pins plug seems more solid. Accessories goes to the Noble 6 by a large margin. They offer a plethora of tips, and I prefer the pelican case over the metal cannister that comes with the Maestro.    
Conclusion
If the Maestro was a thousand dollars or less, I would contact Head-Fi administrators to see if they could add a sixth star to the rating system for this review (joking). When I look at a price tag approaching $1500, I have to deduct a half of a star. I've purchased cars that cost less.  
Is the Maestro worth the money? I think that comes down to budget and how much a guy has in his wallet at the time of purchasing them. If I ran into a large inheritance I would be scooping up a pair right away, no questions asked. As it stands, I'm your average Joe who is married with a mortgage and child who needs to go to college some day. If I took this much out of my savings to purchase a pair of in-ear monitors, I might be sleeping on the couch for a while. Your mileage may vary…  
I was able to take the Maestro to a Head-Fi meet in Chicago shortly after getting them in. I had guys listen to them who honestly didn't think too much of in-ear monitors all together, and were primarily listeners of high end full size headphones with DACs and amplifiers that cost thousands of dollars. The consensus was pretty much unanimous. Despite their biases, they were all impressed with the performance of the Maestro.    
The Maestro is a legend in my book. They are a incredibly well tuned earphone that didn't just take twelve drivers and stuff them in a shell. They took twelve drivers and a four way crossover and turned it an earphone that will be a trophy earphone in several audiophile's collections. Their combination of dynamics and detail will give many who hear them the "wow" factor we're all after.  
Are you looking for an endgame earphone? See if you can give the Maestro a listen. They might check all the boxes and be the high end in-ear monitor you've been searching for.  
Thanks for reading and happy listening!
Comments
There are no comments to display.