SoftEars Cerberus
Pros
:
- dynamic and lively
- warm, organic and natural
- great tone
- effortlessly detailed
- balanced soundstage that is not infinite, but certainly not cramped
- pressure relief system built in
Cons
:
- price
- cable is meh
This is a top performer that holds up to the Turii Ti.
The Cerberus is a stunning tribrid with a chameleon-like ability to change with different sources
Pros
:
Exceptional treble
Forward, full, energetic mids
Spectacularly refined sub-bass
Well controlled mid-bass that's very present (when paired with the right source/cable)
Cons
:
Not really a con, in my opinion, but worth noting that the sound signature is very source dependent (I consider this a great thing because it allows for an unprecedented change of character from one source to the other, making the Cerberus a very versatile, but always excellent, performer for different use cases).
A big thanks to
@mvvRAZ
for sending me the
@Softears
Cerberus to review. He knew I'd had some previous experience with them at various CanJams over the last few years and that I was keen to do a deep dive with them, so the opportunity is much appreciated.
As many of you know, the Softears brand is the luxury high-end division of the Moondrop brand (who have been creating some fantastic mid-range IEMs like the terrific Moondrop Blessing 2 Dusk edition, tuned in association with
@crinacle
). I've not had the benefit of listening to the rest of the Softears line-up (I'd certainly like to, that's for sure, and from what I've read the rest of the line-up is incredible) but I suspect that the brand is reserved only for when they feel they can do something truly exceptional in a particular market segment. Softears have been around for a few years now but, for some reason, have not been gaining as much attention and praise as they should have been. It's really only now that they seem to be emerging as a brand that are really getting noticed, largely owing to their mid-range RSV, that I hear are category-breaking performers.
Like I mentioned a couple of paragraphs back, I'd encountered the Cerberus at a couple of CanJams a few years back (I was lucky enough to be in several countries on business that year at the same time as CanJams taking place in each). I only listened to the Cerberus for a short time at each and loved what I was hearing. I even tried to purchase them at each one but someone had already beaten me to it, which was immensely frustrating but par for the course. I haven't been able to get them out of my head since and even tried a few times to find them on internet stores but just couldn't track them down. It had, until recently, been one of the big regrets that I've had in my Head-Fi journey thus far. But recently, Michael reached out to me to see if I'd be interested in reviewing them and, of course, I leapt at the chance.
Over the years since I've heard the Cerberus, I have wondered though, if it was one of those 'moments' that I had remembered with 'rose-tinted' ears. For us Head-Fiers, CanJams are exciting and an 'experience'. As such the experience can rub off on one's impressions of what one hears in much the same way that the 'buzz' of a new movie at a festival can generate overly favourable reviews. So, I was ready to be heavily critical of the Cerberus, perhaps more so than most. With that in mind…
Like
@mvvRAZ
, I've got to applaud the genius who came up with the name Cerberus for a tribrid but, unlike Michael, I'm going to straight up say that I LOVE the Cerberus. That's not to say that I don't agree with most, if not all, of his findings, but these IEMs perfectly fit my preferred sound signature(s)(…with the right source and cable pairing in some cases - please keep reading to the very bottom of this review for an explanation).
Initially I plugged the Cerberus into my
SP2000Cu
and found much the same as RAZ did. To summarize:
Treble
– extremely detailed, somewhat bright but never harsh or sibilant. In fact, I would go as far as to say that this is the most pleasing, well-controlled treble that I've ever heard in an IEM (and, yes, I have included my sacred Trailli in that appraisal too – which is really saying something as the Trailli is exceptional in that area – not to mention over three times the price).
Mids
– As RAZ mentioned, the Cerberus has very forward mids, particularly in the upper mids. He is very open about his dislike for a bump in the upper mids, which is why he, understandably, doesn't like the EE Odin. This is perhaps the one area where I tend to differ from RAZ's preferred signature, as I am actually quite fond of a forward mid-range and I like the clarity that a bump in the upper mids brings to the overall presentation. Probably why I'm a fan of the Odin too. In fact, I'd say the Cerberus shares quite a few similarities with the Odin and perhaps does many of them better (again, I'm a huge Odin fan, before the fanboys start pulling out the pitchforks). The mids are definitely forward in the Cerberus but they, like the treble, never become harsh or unpleasant to listen to, for me.
Bass
– This is where the Cerberus is most unusual in its presentation. With the SP2000Cu, I found the sub-bass to be incredibly textured and well controlled, despite being very present in the overall mix. Its quantity and quality are, for me, almost perfect, bringing that weight to tracks that need it in a way that no other IEM (except perhaps the Odin) has ever done for me. But unlike the Odin which has a very clear sense of air being pushed through the DD, this feels much more subtle and textural in its delivery, but equally as forceful – like the perfect hybrid of DD and BA. It's very difficult to describe which is why that last line might sound a bit contradictory. All I can do is urge you to listen for yourself if sub-bass quality and quantity is important to you, because I don't think you'll find an IEM that can do it better.
The mid bass is where the Cerberus (on the SP2000Cu, at least) is a little unusual. Despite the heavy presence of sub-bass, the mid bass quantity is far less. Don't get me wrong, it IS there but it's incredibly restrained and very controlled to the point where some may feel they are missing something in the overall mix. Personally, I have mixed opinions about this. Whereas (and, I stress,
on the SP2000Cu
) the mid bass may be less present that I'd ordinarily like it to be, it does create a very interesting sound signature that is very mids focused but accompanied by a very grounded, almost guttural, earth shaking sub-bass that gives the overall presentation this somewhat ethereal gravitas and sets it apart from almost any IEMs I have ever heard. When, like so many here on Head-Fi, you own multiple IEMs that are all playing in similar fields, it's a nice change to have a pair that do something so different.
On the
technicalities
side of things, I'd say that the Cerberus excels on most fronts. The stage is expansive (perhaps a bit more width than depth or height, but not lacking in those either). The detail retrieval is exceptional, as are imaging and placement. I'd say that, in those categories, Cerberus are at the top of the pile for me. And the coherence is pretty exceptional for a hybrid, let alone a tribrid, which is doubly surprising to me, given the separation between sub-bass and mids (again… on the SP2000Cu).
I'm not really one who cares about the look of things, but the Cerberus are really great looking, and the build quality is exceptional, befitting a true TOTL experience. If I had to criticise one element, it would probably be the cable that is supplied with them. It's a really strange choice of cable as it really doesn't bring out the best in the Cerberus. It's by no means awful and does the job but, in these days of TOTL IEMs being supplied with customised TOTL cables, it's perhaps a little lacking in that department. But, and this is a big BUT, the Cerberus have been around since 2018, before that became a thing, and they are also priced at around $2k rather than the $4k to $6k that such modern TOTL IEMs command.
If you've read this far (thank-you) and you're into Jazz, Movie Scores or Classical music then, honestly, you can stop reading now. The Cerberus are pretty much the best IEMs (even through the SP2000Cu) that I've ever heard for these types of music (yes, sorry Trailli fanbase – of which I'm one – but these really are THAT good).
If you're into Rock, EDM or Hip Hop, keep reading…
So, then I switched the cable to the EA Onyx, a 6-wire palladium plated silver cable, and plugged them into my
Cayin N6ii with the new R2R R01
board and, HOLY crap, PLOT TWIST…
… suddenly all the awesome qualities that I'd discovered with the SP2000Cu were still there but they'd been joined by an exceptionally controlled, very present mid-bass and lower mid-section. In fact, I'd go as far as to say that this is the best controlled mid-bass that I've ever heard in an IEM, with exceptional separation between frequencies, none bleeding into the other. Along with that exceptional sub-bass, those incredible mids and treble, the Cerberus has suddenly become something TRULY exceptional.
This change (I'm loathe to use the term 'improvement' because, for certain types of music, the Cerberus were already perfect for me) is so huge, yet strangely didn't make listening to Classical or Jazz any less gratifying. I've never heard a change so dramatic when adjusting cable or source (or both) before and it really took me by surprise.
This made me want to try them out with another source, so I immediately tried them on the
Cayin N6ii/A02 and Cayin C9 combo
and, again, a slightly different presentation that lies somewhere between that of the R01 and SP2000Cu, with a slightly larger stage (in all directions) but no less satisfying than either. I haven't had any time to do more cable rolling or tip rolling (I'm currently using the Azla Sedna short, for those that are interested) but I'm willing to bet that I'll find slight changes in the presentation again, and I'm also willing to bet they'll be equally pleasing too, just in different ways.
Since I've had the Cerberus, I've mainly been listening to either them or the Trailli through the same equipment. Both different sound signatures, both immensely satisfying and both complimentary to each other. If I could only have two IEMs, these would be them (sorry Odin and many others in my signature - I love you too, but…).
Is the Cerberus quite as 'holographic' as the Trailli? Perhaps not quite, but we're talking tiny fractions here and the immense sub-bass (and stunning mid-bass on some pairings) more than makes up for that. In fact, I've found myself reaching for the Cerberus more in my late-night listening sessions than the Trailli. And if that isn't the highest praise imaginable then I really don't know what is.
Are the Cerberus my favourite IEMS? Quite possibly, yes!
Last edited:
SoftEars CERBERUS: a mystical beast of rare beauty
Pros
:
Sound, design, kit.
Hi friends!

Discovering new names is an exciting activity, especially when you get to know it yourself and acquaint others with something really interesting, one might say - amazing. Today I will tell you about the awesome CERBERUS hybrid flagship from SoftEars!

Not so long ago, we reviewed two models IEM of this brand from the Middle Kingdom from the Reference Sound line, namely the ten-driver RS10 and five-driver RSV, which, in my opinion, are simply beautiful.

CERBERUS, on the other hand, is built on seven emitters / drivers, including electrostatic ones, which initially aroused increased interest. But we'll talk more about EST in the review itself. Now I will note that these headphones aroused the strongest emotions in me. Here I heard the philosophy of clean, neutral, competently tuned sound, already familiar from other SoftEars models, but embodied in an unusually melodic manner, focused exclusively on contemplating musical images and getting maximum pleasure from listening to the sound. Moreover, it seems to me that CERBERUS is several years ahead of the general vector of development of portable high-end audio, it is so good.


Well, and a little digression into the history of Softears. The company was founded in 2017 in China and worked exclusively for the domestic market. For 2018, the brand will announce its flagships IEM RS10 and Cerberus. This was followed by the TURII model built on a dynamic emitter, followed by the five RSV drivers.

Due to its focus exclusively on the domestic market of the Celestial Empire, the company was little known on the international market until recently. Fortunately, now the brand is confidently gaining momentum and decided to push the boundaries of its presence, and this, believe me, is great news for all lovers of great sound.


We have finished with the opening speech and it is time to unchain our beast. But do not be alarmed: he will not bite anyone, and an English gentleman will envy his impeccable manners. This Cerberus is a formidable, sometimes gloomy, but a truly mystical creature of rare beauty.
Text by Alexey Kashirskey aka Hans Barbarossa


Specifications
Type: in-ear / IEM / hybrid
7 drivers: 1 (DD), 4 (BA), 2 (EST-Sonion) + 3-way crossover.
Frequency Response Range: 10-80000Hz
Sensitivity: 104dB / 100mV @ 1kHz
Impedance: 5Ω @ 1kHz (± 15%)
Detachable cable: 1.2 m, 2pin (0.78mm) / jack 3.5 mm - straight
Appearance kit and ergonomics
CERBERUS is packaged in a small dark green box with an embossed gold Softears logo on one side. Inside the cardboard cube we find a respectable cover-washer of the same color with an embossed brand logo, a metal business card-warranty card (this is what I call a serious approach to my product), an instruction booklet and a bag with three pairs of silicone tips of different sizes (S / M / L).
Opening the leather case, we find the IEMs themselves, carefully placed in two soft pouches, a detachable cable and a branded microfiber napkin. Everything is beautiful and stylish, you will not find fault.
As we can see, the kit contains everything you need that you might ever need to use these IEMs.
SoftEars CERBERUS looks extremely attractive. It was medium in size, extremely comfortable and extremely cute, the material was medical resin.
And, of course, a unique design: either amber melted in a hot flame, or golden sand from ancient treasuries - the sun streams spread over the ebony. CERBERUS immediately attracts the eye, and its mesmerizing patterns are a source of true aesthetic pleasure!
On the outside of the IEM, the black faceplate was located, matching the entire body, through which the fire ran and left behind two golden traces. The silver Softears logo was also placed right there.
On the inner side of the body there is a sound pipe with four outlets, one of which is covered with an acoustic filter. In the upper part there are connectors for a cable plug with 2pin (0.78 mm) and a small compensation hole covered with an acoustic filter. I believe that it is intended for the correct setting of the dynamic emitter.
Inside each of the headphones fit seven drivers: 1 (DD), 4 (BA), 2 (EST), as well as a three-way crossover.
Here, it is worth mentioning that in CERBERUS, as in the IEM RS10 model, one more, additional passive driver is used.
The IEM is expected to be worn behind the ear. Soundproofing is average, so in too noisy places, such as the metro, I suppose you shouldn't count on complete comfort when listening to music. Otherwise, everything is pretty decent.
Silver-white cable, extremely lightweight and flexible, with soft silicone earhooks. Cable length is 1.2m, connectors are 2pin (0.78mm) / jack 3.5mm. If you wish, you can replace the cable with any other with 2pin connectors, although personally to me it seems very attractive and effective.
Well, according to the results of the first part of the review, SoftEars CERBERUS deserve only praise. But the most important thing, as you understand, is only ahead of us: we are moving on to the analysis of sound.
Sound Impressions
Listening (audio testing) was conducted on: MyST DAC 1866OCU V.2, iFi iDSD Diablo, Lotoo paw Gold, iBasso 220 MAX, iBasso DX300 & QLS QA-361.
With all audio devices CERBERUS played at a very high level, their "voice" changed slightly depending on the sound source.
Once again, I urge everyone to responsibly approach the process of selecting tips, as they make a noticeable contribution to the creation of a sound picture.
The sound of SoftEars CERBERUS is clear, smooth, perfectly balanced, without sharp peaks and dips. This is an almost linear frequency response with a subtle elegant accent in the lowest register. There is both a restrained manner and a slightly darkened, soft background.
As if in the night sky, as if woven from velvet, myriads of bright sparks sparkle, which, gathering in constellations, skillfully dance in front of the listener. You do not just listen to music, but you begin to see beautiful sounds and their intricacies in your head.
CERBERUS perfectly build a stereo panorama, have high resolution and good detail, playing compositions in a measured, graceful, wide and very musical way.
The sound is delivered smoothly, legibly and unusually melodic. This is at the same time neutral, slightly dark, clean and beautiful manner of presenting the sound.
These IEMs exhibit excellent dynamic range and stunning volume reproduction with precise localization of apparent sound sources in space.
Musical compositions are presented at the same time seriously, strictly, precisely, smoothly, tenderly and sweetly. This is an amazing interweaving of analog and digital sound with incredible beauty - a real Hi-End!
In general, CERBERUS, as I mentioned above, were clearly ahead of their time. Other companies are just beginning to show substantive interest in electrostatic (EST) drivers from Sonion, and SoftEars already thoroughly studied this issue and competently applied them in its development several years ago. In my opinion, this is one of the best EST implementations at the moment.
What is perhaps missing here is the violence in the form of pressure and drive. They are certainly present, but in a rather modest form. Our Cerberus does not use claws and fangs, if he strikes, then only with a strong, but fluffy paw. And this is done intentionally, because this is how the elegance and beauty of sound is achieved in this case.
Well, for other purposes, the brand has a line of in-ear monitors "Reference Sound" RS10 and RSV, as well as a dynamic model Turii. I can't say about Turii, I am familiar with these IEMs only by hearsay, but in general, the hand of a master is recognized in the family of SoftEars in-ear monitors. Despite the different sound character from each other, in all IEM models of the company there is a clearly verified tonal balance, super-competent IEM tuning and a complete absence of distortion. Yes, these guys from Softears are virtuosos, what else to look for! But let's get back to the CERBERUS sound analysis.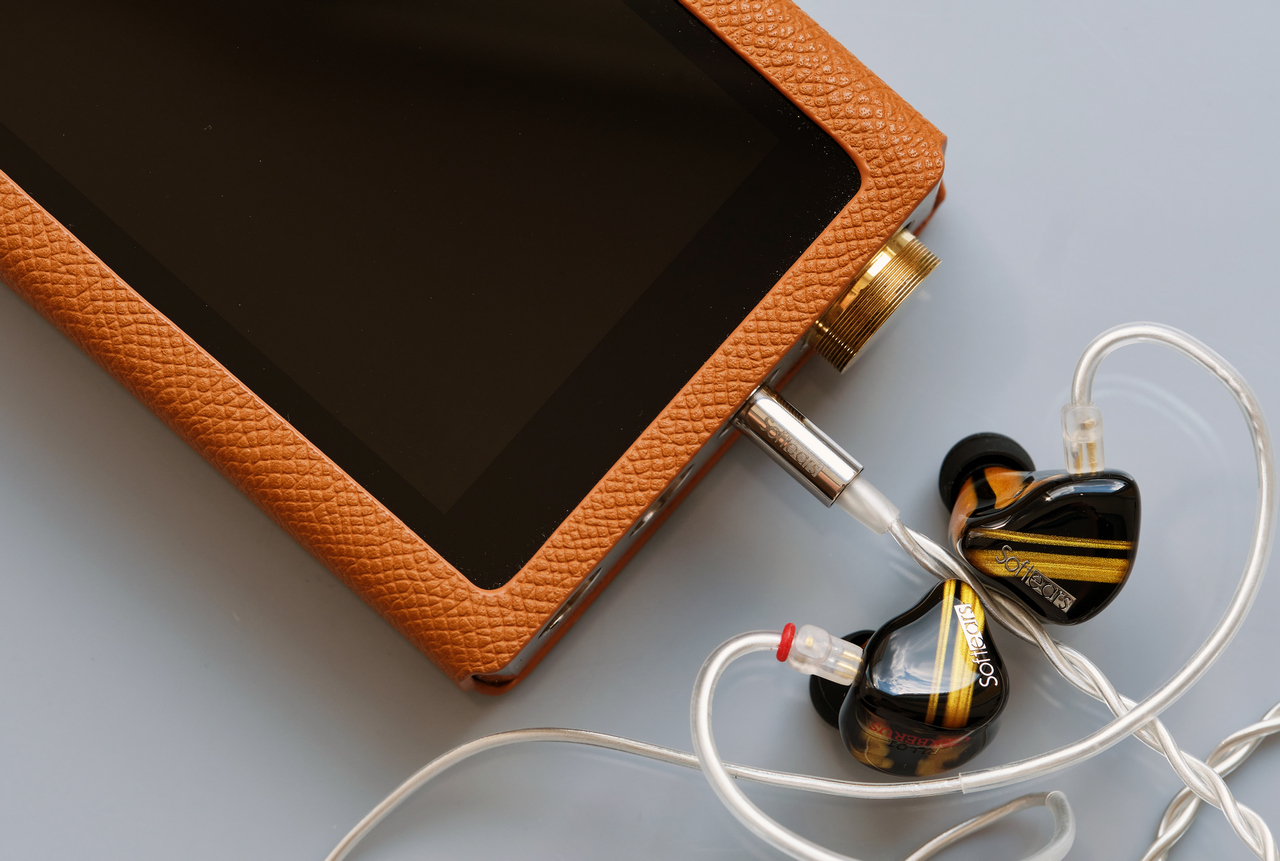 The bass for the dynamic driver is quite tight and nimble, with good control, accurate kick, clear articulation and high-quality elaboration of textures. Here, as I mentioned earlier, there is a barely noticeable accented area in the sub bass area. It is worth noting how smoothly Lows move to the mid-frequency range, merging with the neighboring register and complementing it with depth, rhythmic base and warm living substance. The midbass area is served linearly and is almost level with the mids.
Mids are smooth, smooth, natural and charming. Here, every musical image is endowed with a bodily basis. This is an extremely melodic and holographic manner, where all sounds and instruments are in their right place. The compositions are presented smoothly, balanced and beautifully, in a neutral-soft manner. CERBERUS demonstrates good detail and amazing visualization of sound images where no detail escapes the listener. It is a balanced and moderately emotional performance. The sound canvas is drawn harmoniously, informatively and reliably, with a spreading stereo panorama.
The high frequencies are reproduced in an unusually clear, crisp, euphonic and completely comfortable manner. Here you can hear the impeccable operation of the EST driver. Highs clearly and accurately hit the target, wonderfully, like stardust, shimmering, scrupulously draw the micro-contrast. It turns out beautifully, unobtrusively and charming. Quantitatively, there are not many of them, for my taste, more is not needed. The register is transmitted clearly enough, cleanly, smoothly, without sharpness and distortion. Highs harmoniously contribute to the overall operation, precisely matching the play of the entire frequency range. Pure harmony and nothing more.
In terms of genre preferences, in my opinion, SoftEars CERBERUS have a fairly wide coverage: they play interestingly both classical music, instrumental, jazz, and electronics or rock. In principle, things are not bad with brutal styles either, but, in my opinion, there may not be enough mass and pressure here, CERBERUS is too elegant for such musical forms.
Conclusion
SoftEars CERBERUS is an amazing model of in-ear monitors. This IEM are beautifully designed and deliver truly amazing sound, and this is definitely a winning combination that fans of melodic and modern Hi-End sound should fully appreciate. Softears engineers are extremely commendable, and their products receive the utmost scrutiny. I sincerely hope that Softears will take a prominent place in the portable audio market, they deserve it!
Well, about the price, which is also impressive. The RRP for the SoftEars CERBERUS model is $ 2,099. Yes, the money is big, but that is how much the sound costs, which excites and captivates, makes you dream and sends you on magical journeys.
In general, if you have the opportunity to fork out for a great sound, then I recommend CERBERUS for purchase without the slightest hesitation. Listen and get high!
Last edited: