Black Hole: Unique experience
Pros
:
- Beautiful, immersive sound with vast amount of details
- Very good sound stage and separation
- Futuristic and unique design
- Very good build quality of IEMs and cable
- Scales well with more powerful and better matching sources
- Excellent price-performance ratio
Cons
:
- Bass/Sub-bass could have a little bit more depth and impact
- Cable design/looks is an acquired taste
- Only 3.5mm trs plug as standard option
- Packaging and accessories a bit on the cheaper side
Intro
(Cable taken from Shozy Form 1.4)
Black Hole (BH) is the latest in-ear monitor from Shozy. This rather unusual earphone was co-engineered with KOOK™ Electro-Acoustic Engineering Lab (USA). It features a single 10mm dynamic driver, has a semi-open-back design and comes in at $799.
Shozy call it their most advanced In-ear design to date (Q4/2020) and have put a lot of effort and research into creating this unique IEM. Apparently they spent 2 years with tuning and re-shaping to achieve a sound signature and stage unknown for a single-driver earphone to date. We'll put this to the test in the following review.
Specifications
Single dynamic driver earphone:
Type : semi-open-back design
Patented Multiple Separation Technology (M.S.T.)
Driver:10mm dynamic
Impedance:16 Ohm
Frequency response:16 Hz-24KHz
Sensitivity:105 dB
SPL:125dB @ 1KHz
THD (Total harmonic distortion):< 1% @ 1KHz
Color choice:Gloss Black/ Gold/ Silver/ Rose Gold
Termination:3.5mm/ Gold-plated
Cable length:1.2m
Disclaimer
My review consists solely of my own thoughts, opinions and impressions of the product. I paid for the tested product, it was not given for free. All pictures were taken by myself unless stated otherwise.
Review gear
Burson Audio Conductor 3X Reference (main testing source)
Astell & Kern SP1000M DAP
Cayin N8 DAP
Cayin N6 II DAP with E02 module
Music selection/Testing playlist
Voices, midrange, acoustic guitars etc.
Tenacious D - Tenacious D - Wonderboy
Marily Manson - The Pale Emperor - Day3
Chris Jones - Moonstruck
Sara K. - Hell or High Water - I Can't Stand The Rain, Stars
Ana Tijoux - 1977 - Partir de Cero
Channel separation
Tenacious D - Tenacious D - Kielbasa
NIN - The Downward Spiral - Hurt
Johnny Cash - The Essential - Ring of Fire
Stephen Coleman - Westworld Season 2 Soundtrack - C.R.E.A.M.
Soundstage, treble, electric guitars etc.
Tenacious D - Tenacious D live - Rise of the Fenix
Alice in Chains - MTV Unplugged - Rooster
Korn - MTV Unplugged - Freak on a Leash
Anneke van Giersbergen - Symphonized - Feel Alive
Howard Shore - The Hobbit: An Unexpected Journey - Blunt the Knives
Dynamics, bass, subbass
The Diary - The Gentle Storm - Endless Sea |Gentle Version|
Wardruna - Runaljod: Ragnarok - Tyr
Hans Zimmer - Man of Steel OST - Look to the Stars
Hans Zimmer - Pearl Harbor OST - Tennessee
Ice Cube - Raw Footage - Gangsta Rap Made Me Do It
Andreas Vollenweider - Vox - Enchanted Rocks
Packaging & Accessories
The packaging is quite plain and simple: You get a small metallic-gray cardboard box where you find the IMEs and cable inside a gray fabric carrying case.
Only other accessories are a bunch of different eartips. That's about it. I like the fact that this package is small and thus maybe a bit more environmentally friendly. But for an asking price of 799 $, there could be a bit more in terms of a higher quality packaging and maybe a nicer case that just matches the BH's quality and price a bit more. However, if Shozy decided to put all the money into the sound rather than accessories, I'm fine with it. We'll find out.
Build quality & Fit
IEMs
Build quality of the Black Hole is very good indeed. The finish is pretty much perfect and the 2-pin connectors of the cable "snap" into the slightly recessed sockets of the IEMs with a little click. Really nice!
Since the Black Hole has a semi-open-back design, the looks are rather unusual with big holes on the back of the earphones. That's of course a matter of personal taste. I personally love the bold and - to my eyes - beautiful futuristic design of the BHs.
The Black Hole are rather big in-ears, so they will not fit smaller ears. In fact, I wanted to give a pair to my wife as a gift since she loved the looks, but unfortunately, they were just too big for her ears. For my medium sized ears they fit just fine.
With the included ear tips, I don't get a very good seal, but that's not the point here since we're basically dealing with open-back earphones leaking music out and environmental noise in. This is of course intentional and part of the design.
Still, when experimenting with different tips, I managed to get a rather good seal with Flare Audio's Audiophile Earfoams that I use on most of my in-ear monitors (IEMs).
Cable
The build quality of the stock cable is very good indeed with good flexibility and low cable noise. I do not love the looks too much though. The strands are 3-colored: silver, gold and copper which, in my opinion, makes for a rather flashy cable. The connectors, y-split and plug are polished metal (chrome?) and have some kind of little "bumps" on them. The whole cable looks quite unique for sure and certainly is an acquired taste.
There is another thing though that bothers me a bit more concerning the usability of the cable: While there is a small blue dot on one side of the 2-pin connectors to indicate the direction in which the cable should be plugged into the IEM, there is no such indication on the IME itself. Less experienced people might attach the cable the wrong way, resulting in possible damage to the electronics or at least a bad sound quality. However, apart from the unique design, you get a very good cable.
Edit* One last thing about the cable: The BH's cable comes standard with 3.5mm trs plug termination. On my special request, Shozy kindly provided me with 2.5mm trrs termination, because I always use balanced output. The option to choose from the most standard connections should be standard in my opinion. (Campfire Audio does the same and their balanced cables start a 149$, so this adds to the price should you want a balanced output.) I gave that feedback to Shozy and I hope they will think about that.
Sound
Now do the Black Holes make up in sound for what they lack in accessories?
They do!
Overall tonality
The Shozy Black Hole provides a very full, immersive sound with a sound stage that might match some full-size headphones. The timbre is more on the musical slightly warmer side than being absolutely neutral. I would not call the BH a "warm" IEM though. I did not do measurements but Shozy confirmed a slight W-shaped signature.
Treble & Detail
Acoustic- and electric guitars are represented in vast detail and it is a joy to listen to acoustic/unplugged music on those beauties. Treble is pronounced but at the same time silky smooth and as to this point, I could not make out any sibilance. Overall, details and nuances are rendered incredibly well not only for a single dynamic driver, but for an IEM in general. Try Andreas Vollenweider's "Enchanted Rocks" from his "Vox" album and you will know what I mean. Literally, rocks are grated against each other and it feels like someone's doing that in front of you. Wow! Be aware though that this can make for an intense listening experience and after a while it could be almost too much.
Midrange
Voices are slightly pronounced but never overwhelming in a way that the rest of the band/orchestra would fall behind. I consider the rest of the midrange to be rather neutral and pleasant. Nothing is missing, nothing is overdone.
Bass/Sub-bass
Bass is tight and punchy with a nice sub-bass extension. All in all you get a very nice foundation for the rest of the frequency spectrum. It is worth mentioning that the Black Hole's bass capabilities largely depend on the source used. When switching from A&K SP1000m to Cayin N6II or N8, the bass/sub-bass presence increased noticeably.
The BHs are not bass monsters like Empire Ears Hero or Legend X that feature specialized subwoofers. They only have 1 driver to do it all. With that in mind, they do a good job in the bass department.
Soundstage
One highlight of the Black Hole is certainly the soundstage: Big and 3-dimensional. It feels like the sound "embraces" the listener. This might be a property of that special "semi-open-back" design, but I can't tell. It sure is impressive what can be done with a single driver in this particular configuration!
Channel separation
This is another area where the Black Hole excels. Channel separation is very very good and on par with much more expensive in-ears. What more is there to say?
Neutrality
This is certainly not a neutral IEM with its W-shaped tuning. But it's also not very colored. It depends a lot on the source you're using too. Like in the review of EE Hero i'd rather describe it as "well balanced" with a nice dose of fun.
Amplification/Matchability/Scalability
The BH surprised me right out of the box with a very full, immersive and relaxed sound on my AK SP1000M DAP. The real shock came when paring the BHs with my Cayin N6II/E02 DAP. Everything just went bigger: More bass, bigger soundstage, simply a more emotional performance overall. I figure the Black Hole IEMs need enough power and might very well profit from a more "musical" source rather than a neutral one like my SP1000M.
Comparisons
Shozy & AAW Pola39 (950,-US$)


The Pola39 remains Shozy's most expensive offering to date and features multiple drivers including an electrostatic driver for the high frequencies. It features a classic but beautiful resin-made body with a beautiful faceplate.
Despite the Pola39's use of an electrostatic driver, the treble is much less pronounced than on the Black Hole. It's a lot smoother with the details being there too but less obvious. The Pola may be the more relaxed experience for long listens, on the other hand, the Black Hole is a bit more engaging and fun.
The midrange representation is, to my ears, quite similar with voices maybe a little less pronounced on the Pola39.
Bass seems less tight on the Pola39 with more sub-bass extension in comparison to the Black Hole. This gives the impression of a slightly warmer and fuller sound on the Pola39. The differences are subtle and more in terms of tonality than total amount of bass.
Separation is very good on both IEMs but soundstage wise, Black Hole grabs the crown due to it's semi-open-back design.
I have to mention the packaging & accessories here, since the Pola39 came with the most luxurious packaging and accessories of all IEMs I have ever owned. The unpacking experience for me is still unmatched: You get a blue leather box with everything in it and the IEMs sit in a handcrafted wooden case inside. Amazing!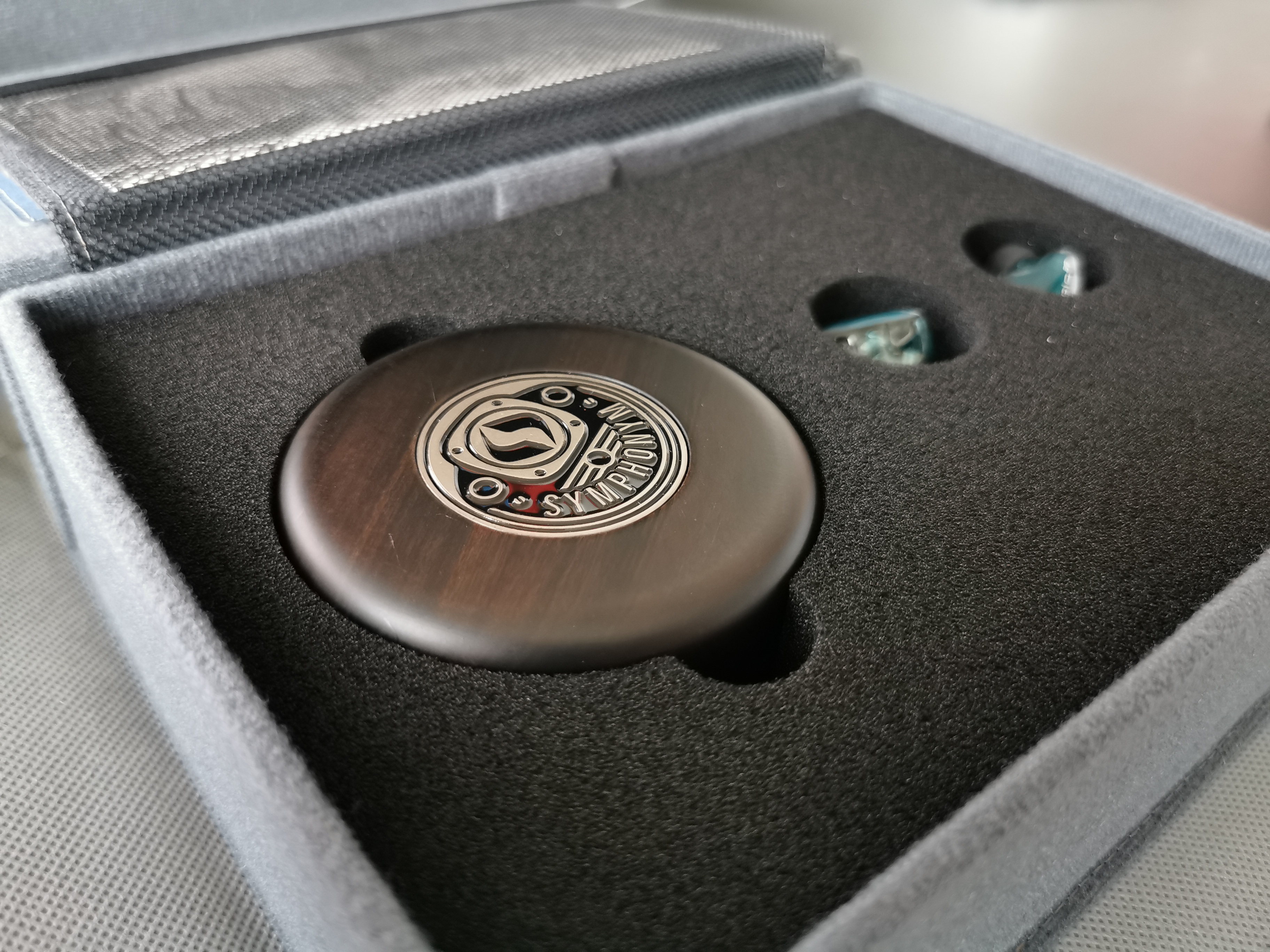 Compare this to the Black Hole and you will be disappointed. But in the end, what should count is the sound, right?
I think both IEMs are very good for their price and ultimately, it comes down to preference which one you might prefer.
Verdict
I have spent quite some time now with the Black Hole and come away impressed. The amount of detail and soundstage rendered are phantastic. Apart from the looks of the cable (personal taste!) and the issue of possibly connecting the cable the wrong way, this is a clear winner and should be a no-brainer for many people.
800$ is a lot of money to spend on an IEM, no question. But what you get is flagship-level sound with a very unique design that competes with earphones well above it's price. In combination with a warmer, more musical source like the Cayin N6II, they punch well above their price. Well done, Shozy!
Last edited:
Shozy Black Hole Review - Captivating, Unconventional
Pros
:
Captivating design with sensational build quality, Comfortable, Great cable from factory, Huge soundstage with excellent layering, Hyper-clear vocal presentation, Well-textured treble
Cons
:
Minimal isolation, Vocal-focused sound isn't especially genre versatile, Cool tone affects timbre
The Pitch –
The Black Hole is Shozy's current flagship IEM. It utilises a single DD combined with an intriguing open-back design – hence, the name. The Black Hole retails for $799 USD at the time of writing.
Verdict -
The Black Hole is essentially uncontested if you dislike the wearing pressure of conventional in-ears but still want a focused sound with spotlight on vocals and huge, expansive soundstage presentation.
Introduction –
Over the last year, it's definitely been the sub $1000 price range that's really piqued my interest. Where traditionally, innovation has occurred at the top-end of pricing, we are now seeing a shift here towards refinement of existing method. In turn, we have experienced a certain homogenisation according to the stringent references now widely available and known. But jump one price class down and you'll see a very different story; one rife with daring and risk-taking design. It is my personal opinion that audio is at its most enjoyable under such circumstances.
And who better to undertake such a task than Shozy, known for their experimental designs that push the boundaries of form. The Black Hole is their latest and highest-end in-ear design to date, exemplifying this mantra. Co-engineered by KOOK electro-acoustic engineering lab in the USA throughout a 2-year period, Shozy's flagship offers one of the first open-back designs on an IEM. Impetus has been placed on the acoustic design so as to maximise the performance of the 10mm dynamic driver, as has always been a priority for the company. The Black Hole is a hugely divergent design from the status quo.
You can read more about the Black Hole and treat yourself to a set on
HiFiGO
.
Specifications –
Type: Semi-open back
Driver: 10mm Dynamic
Impedance: 16 ohms
Sensitivity: 105 dB
THD: <1% @1 kHz
Behind the Design –

Front Section Chamber Design
In my conversations with Shozy, I found it intriguing how the company approaches their IEM and earbud design much like a speaker. It appears the Black Hole is the epitome of this approach and a sort of open baffle IEM design. The benefits to this design includes reduced internal reflections which enhances high-frequency clarity and extension and this is aided by the hole-punch faceplate design that minimise standing waves that can interfere with the fidelity of sound output.
Multiple Separation Technology (M.S.T)
I was unable to find further details on this online, but looking at Shozy's material, it appears to be the combination of dense material choice reducing unwanted vibrations in addition to balanced air pressure between the front and rear of the driver. The goal here is a quick transient response with agile decay for a detailed and articulate sound. Such factors are imperative for DD designs and have been shown to be effective in measurement and subjective listening on several competing designs.
Unboxing –
The Black Hole comes in a small hard box with simple metallic Shozy logo embossed on its front, reminiscent of their earbuds. Inside is the carrying case containing the earphones, cable and ear tips. The zippered hard case is of great quality with a hexagonal design and fabric exterior. It feels a little quirky yet also premium and portable, a complement to the in-ears themselves. In a separate box are 6 pairs of silicone ear tips to optimise the fit experience. Pre-installed on the earphones are JVC Spiral Dots, some of my favourite large-bore tips. The walls of the sound tube are dimpled much like the exterior of a golf ball to reduce buffering and reflections, promising a more detailed sound. Common consensus is that they provide a slightly warmer sound with good top-end extension, so they are a good choice for the Black Hole.
Design –
The Black Hole is an IEM that can be enjoyed almost as much out of the ear as within. It has a striking 3-piece alloy construction that is precision milled in-house to achieve minimal unit variance and stringent QC. And indeed, this is the case, seams match to the extent that they are barely palpable and the surface finish is immaculately smooth, creating a play on light that accentuates the housing's elegant shape and curves. Though offered in silver, black and rose gold too, the gold scheme subjectively achieves the cleanest aesthetic, perfectly matching the alloy cable. Despite being quite a bright gold which is usually too loud for my tastes, it is a handsome realisation here that works in the realm of its already eye-catching design.
The Black Hole utilises recessed 0.78mm 2-pin connectors and comes with a "premium alloy" cable from factory. Though unable to confirm, 3 conductors are clearly visible within the cable's transparent jacket - silver, copper and gold. The cable itself also provides an excellent ergonomic experience. It is soft and smooth with zero memory which makes it tangle-resistant and easy to coil. The pre-moulded ear guides are well-shaped and comfortable while the metal terminations play well with the metal IEM bodies. My unit is terminated in 4.4mm balanced but it is also available with a 3.5mm TRS plug. I enjoy how IEMs are starting to ship with better cables from factory as it does enhance the wearing experience and feels far more suitable than generic black plastic for premium high-end designs.
Fit & Isolation –
Though slightly larger than your average IEM, the Black Hole's alloy construction is light and low-profile. It has clearly been shaped to suit the curves and folds of the ear, in turn, I find them exceptionally comfortable to wear even over extended listening and they can be slept on due to the slim housings too. They also achieve a stable fit, with protruding, well-angled nozzles that promote a medium-deep fit depth and orient the housings neutrally in the ear. Upon first wear, the Black Hole immediately feels unlike other IEMs. Though the tip forms a seal with the canal, there is a complete absence of pressure which creates an overtly comfortable if somewhat unconventional wearing experience.
In turn, expect minimal isolation making these most suitable for listening in quiet environments. Outdoors, bass is quickly drowned out and it can be hard to appreciate the full capability of their sound. Due to the obvious venting, wind noise is also very apparent. On the contrary, if you don't like the sensation of pressure created by most IEMs but find earbuds may not sit securely in your ears, the Black Hole might just be the happy medium you're looking for. The experience surely is much different to your usual IEM. I do personally enjoy the spatial awareness afforded by their openness and the fit is far more stable and consistent than any earbud design I've tried.
Sound –
Testing Methodology
: Measured using Arta via IEC 711 coupler to Startech external sound card. 7-9KHz peaks may be artefacts/emphasised due to my measurement setup, less so with deep fit. Measurements besides channel balance are volume matched at 1KHz. Fit depth normalised to my best abilities to reduce coupler resonance. Still, due to these factors, my measurements may not accurately reflect the earphone or measurements taken by others. I gave the Black Hole 100hrs burn-in to ensure maximum performance prior to subjective breakdown.
Tonality –
Similar to its design, the sound of the Black Hole is quite different from what most would be accustomed to and measurements surely don't do it justice given the unique design. In turn, expectations must be in order; the Black Hole doesn't deliver balance and fidelity like a traditional IEM, on the flipside, it does provide unique traits that you won't find elsewhere. Shozy have also implemented a few tuning decisions that can be polarising on regular IEM designs, but in the context of an open-back design, make more sense. At its most fundamental, the Black Hole is a slightly n-shaped in-ear with a clean, upper-midrange focus. That said, coming from balanced BA earphones, it does sound relatively balanced with the DD providing a bit more fullness than measurements would suggest. It has a slightly fuller bass note structure that balances out its atmospheric presentation; but as lows remain laid-back relative to the midrange, don't expect a bassy or warm sound here. The timbre is different to most in-ears too and surely is not a specialty of this earphone, but it also isn't an unnatural earphone either. Tone-wise, the Black Hole is neutral to slightly cool depending on track, representing a departure from Shozy's usual house sound. This is a highly atmospheric in-ear with lighter note weight and clear, open tuning that highlights this quality.
Bass –
It is hard to orientate a product such as this in the market. It does not compete with IEMs in terms of use case due to the lack of isolation, similarly, it cannot be compared to an earbud due to the sealing design. And accordingly, the listening experience is dissimilar to both. The tuning is slightly laid-back which lays the foundation for a revealing and open sound over a coherent and full-bodied one. Bass in and of itself is mostly flat with a slightly sub-bass bias to my ears. Extension impresses, being as strong as you would expect from a good DD in-ear. With such a tuning, I perceive a hefty slam with uptick of note weight despite roll-off on measurement, alongside subtle pressure and a well-defined rumble. The mid-bass is clean and the upper-bass extends linearly into the midrange.
This tuning delivers a subtle warmth and a slightly bolder and fuller note structure that enhances engagement and ensures the Black Hole doesn't present as thin or anaemic. The note presentation also complements the tuning with a focus on timing and separation. Attack is very quick while decay is longer, contributing to the impression of a fuller note despite absence of bass emphasis. Bass texture is smooth due to the longer decay. Though driver control is high and the earphone is without bloat or muddiness, it does have lower note definition relative to most competitors. Still, the Black Hole is able to keep pace well with faster tracks and it upholds good dynamics considering the laid-back tuning. Though not for the bass lover nor balanced in a conventional sense, the Black Hole's bass performance provides a good foundation for its sound and very enjoyable timing for musical enjoyment.
Mids –
No doubt the highlight of this earphone, the midrange lies at the forefront of the presentation and is where the open-design is most easily enjoyed. This is a hyper-clear, open and atmospheric sound with an intoxicating sense of space, layering and dimension. In terms of signature, it sees a progressive climb from the lower through to upper-midrange before a small peak in the lower-treble. Despite this, the earphone does not sound intense, sharp or overly intimate, only slightly vocal-forward. It comes across as articulate, delicate, a little raspy and breathy but also very high definition with minimal sibilance. I can only attribute this to the form factor as I do perceive most earbuds to sound quite laid-back relative to most IEMs, so it is possible the Black Hole suffers from similar fall-backs and has been tuned with a forward upper-midrange to compensate.
As with all sculpted sound signatures, the presentation is unique and enjoyable in some regards and less inspiring in others. With its laid-back low-end, the tone is highly clean but also somewhat cool at times. In addition, note body is on the cusp of what I would consider to be just adequate to avoid thinness and stridence. Vocals do hold clear focus over instruments, and they are most flattered in the presentation. Female especially are presented with enhanced size and forwardness in addition to surprising smoothness that makes them sound impressively refined. Still, the timbre is not perfect as they are lacking some density or body to counterbalance. In conjunction with the tonal coolness, this can produce a slightly metallic timbre on some tracks.
Unsurprisingly, the Black Hole is most in its element when listening to Asian pop genres where its outstanding clarity and definition create a hyper-palatable vocal experience. Though biased towards female vocals, male vocals are similarly flattered with liquid smoothness and excellent definition with minimal dryness that is a feat considering the style of tuning. The voicing remains mostly natural that said, despite the unique tonality. Altogether, a somewhat dualistic beast that is difficult to rival when tackling its preferred genres of pop and Asian vocals but can lack some refinement on others requiring a more natural timbre such as jazz.
Highs –
It is here where I most disagree with the measurements posted online in addition to those taken by myself – and I did re-measure quite a few times to confirm. To further complicate matters, when booting up a sine sweep I also did not hear a 6k peak, rather, a fairly even treble sitting just behind the upper-midrange. And in music listening, this is the experience I received. Highs are even, well-bodied and of natural timbre, just a little crisper than neutral in tuning. This is counterbalanced by a slightly smooth note attack, lacking the hard-edge provided by most lower-treble emphasized closed IEMs. Still, fine detail retrieval is quite strong, especially in the foreground, and both body and decay are natural, providing a highly textured portrayal. As emphasis falls off quickly after through the middle-treble, the Black Hole provides a dark, clean background for heightened contrast between layers.
This works to good effect in conjunction with its focused and well-detailed foreground instrument presentation. It isn't the sparkliest and highest energy performer, but hardly lacking in openness due to its design and upper-midrange tuning – So given the effect of the design on how its sound is perceived by the listener, I feel the treble is in good taste. Extension is also quite good with a nice linear portrayal of the upper-treble that provides a good sense of micro and background detail. This contributes strongly to its ability to portray distance and layers convincingly in tandem with its design. It isn't the most overtly high resolution in-ear I've heard and resolving power is commonly bested in such a competitive price range. However, surely the presentation is the centrepiece here and the Black Hole is put in a disadvantageous position with regards to resolving power due to its lack of isolation and immediacy – so to reiterate, it is not a bad performer here at all, just not the best.
Soundstage –
If you weren't convinced by my prior comments, the soundstage performance on offer is most likely to change your mind. Forget about comparison to other IEMs, the Black Hole almost rivals open-back headphones in terms of its ability to portray space and imaging. It is here where its tuning starts to make sense even though objectively, it still cannot be dubbed as especially accurate or balanced. Width is sensational, stretching well-beyond the head and depth too, even with its forward vocals, is able to project a great sense of distance. And, despite this, the stage is not sparse or lacking focus, with the treble presentation aiding a sharp sense of direction and location.
Layers separated and hyper-defined, and imaging is very multi-dimensional if not especially holographic due to the lack of energy in the middle and upper-treble. In addition, though note definition is not the highest from an IEM point of view, the excellent separation on offer ensures each detail is easy to pinpoint. The leaner bass tuning makes sense when maximising separation, so too does the forward vocal presentation and crisper treble in the context of such a vast and atmospheric soundstage. The Black Hole ultimately sounds very impressive and quite unlike an IEM which is the highest compliment I can give an in-ear with regards to soundstage performance.
Driveability –
With a fairly standard 16 ohm impedance and a higher 105dB sensitivity, the Black Hole does not present much challenge with regards to driveability. It isn't too sensitive to hiss, similarly, it doesn't require heaps of power to achieve a high listening volume. Being a single-DD, it also shouldn't be too affected by output impedance.
Output Impedance Sensitivity
Comparing between the Hiby R6 (10-ohms) and Shanling M2X (1-ohm) revealed that the Black Hole isn't too susceptible to output impedance as expected. Still, there were small differences, a slightly fuller and less defined bass on the Hiby alongside a slightly crisper and more forward lower-treble. This may be partially attributed to the colouration of the source itself, and as the changes are very small, the Black Hole can still be enjoyed from high-impedance sources.
Driving Power
The Black Hole scales very well with greater power and larger sources in general. Switching from the Shanling to my THX789 desktop setup revealed a noticeably tighter and more controlled bass with greater definition. Highs had slightly better fine detail retrieval as well. In particular though, the soundstage was substantially larger on the desktop source. It had an altogether, more complex and layered sound that was more immersive and a better showcase of the Black Hole's unique abilities. Hiss was barely audible on the Shanling and completely inaudible once music was playing, even on the lowest volume setting.
Suggested Pair Ups
The Black Hole is not too source selective in terms of noise and output impedance but does scale well with a bit more power or a source with a larger soundstage. In terms of tonality, I did enjoy the uptick of warmth provided by the Shanling and Hiby despite the slightly softer note presentation. It provided a more natural body and timbre in the midrange especially. Given that it isn't too affected by output impedance and source noise, the Black Hole would be a good match for a tube amplifier or warmer SS source. Neutral sources like the THX789 and iBasso DX200 with AMP5 module are enjoyable most with Asian genres as aforementioned.
Comparisons –
GAudio Nair (759 CHF):
The Nair provides a highly linear sound and similarly strong build quality with custom Satin Audio cable in the box. Both have a similar sonic balance despite measuring far differently. The Black Hole is a touch more upper-mid forward and the Nair generally sounds more linear. The Black Hole has a bit more sub-bass pressure and a slightly bolder note structure while the Nair has a hint more mid-bass warmth but less extension. The quantity is similar on both, the Nair has higher definition while the Black Hole has more texture and stronger dynamics. Through the midrange, both are surprisingly similar in presentation too, and both have a clear yet natural voicing.
The Nair has a bit more smoothness, body and density, enabling a more accurate timbre. The Black Hole is slightly thinner and cooler but also delivers higher clarity and much better layering. The treble actually sounds a bit more forward on the Nair despite the Black Hole measuring brighter here. The Black Hole has a slightly smoother transient response but also a slightly crisper tuning, the Nair being more linear with a bit more body. Both have similar detail retrieval and clean, darker backgrounds. The Nair has a bit more middle-treble while the Black Hole has slightly better extension at the very top. The Black Hole has a much larger soundstage and its positioning is similarly precise. The Nair has slightly more stable imaging and similarly strong separation due to its more even tuning.
Oriveti O800 ($799):
The O800 has a smooth voicing signature to Oriveti and is a very technically competent IEM. The O800 has a more robust and powerful voicing with more body in general. Its bass is slightly more forward and fuller with moderate mid-bass emphasis. It has greater heft and punch. The Black Hole has slightly better extension and sub-bass slam while, being quicker decaying, the O800 manages a more textured and defined mid-bass despite having more bass quantity. Mids are naturally voiced and forward on both, the O800 is slightly more vocal forward but has greater body and a smoother articulation that ensures it never comes across as peaky or intense.
The Black Hole has higher definition and clarity and both are well-extended through the upper-midrange. The O800 sounds bigger and more powerful with a more full-bodied whilst maintaining a neutral tone, in turn, it doesn't suffer from the same issues with timbre as the Black Hole can. The treble is a touch more laid-back on the O800 and a bit more balanced on the Black Hole. Despite this, the O800 has slightly better fine detail retrieval that is emphasized with its slightly crisper tuning. Both have good contrast with clean, dark backgrounds, the O800 has similarly strong extension but also slightly more sparkle at the very top. The Black Hole has a much larger stage and better layering though the O800 is no slouch here either, delivering more stable imaging.
NXEars Opera ($799):
The Opera is a warmer sounding earphone also with a focus on soundstage. The Opera has similar tonal balance but a bit more fullness and warmth in the bass that draws a bit more attention. The Black Hole has better extension with slightly more slam and pressure. It also has a more linear and cleaner tuning. On the flipside, the Opera has much quicker attack and decay that balances out its fuller tuning. In turn, it is slightly more defined and has slightly better timing while the Black Hole benefits from greater texture and dynamics. The midrange is forward on both, the Opera has a much fuller and smoother voicing with much higher coherence. It provides a foil to the Black Hole's clean, clear and wide open tuning.
The Opera does sound a little roomy and boxy at times but has a smoother articulation and more complete note structure. As such, I found both to be about on par in terms of timbral accuracy, the main difference being with regards to tone. The Opera has a slightly crisper lower-treble. It has a touch more fine detail retrieval here and a slightly cleaner transient response. Neither have huge air or sparkle above. The Black Hole has a much larger stage, both are equally strongly layered. The Opera has sharper, more multi-dimensional imaging while the Black Hole has better separation especially with its cleaner tuning.
Astrotec Phoenix ($799):
The Phoenix has a hugely engaging signature. I personally find it more balanced with some alcohol swab covering the nozzle which balances out the high-end. The Phoenix has a much bigger bass with greater emphasis and a fuller, bolder note structure. It isn't as fast but has excellent control with greater texture and superior depth and dynamics. The Black Hole meanwhile, is much cleaner with a more natural voicing, higher separation and greater mid-bass definition. The Phoenix has a large lower-mid dip to aid bass separation, albeit its greater bass emphasis means it comes across as more full-bodied and warmer than the Black Hole. The Black Hole has a more linear tuning, its voicing is slightly more natural and it also sounds more consistent between tracks.
The Black Hole is also cleaner with greater extension and vocal size. The Phoenix sounds a bit more strained with more upper-mid bias and quicker climb to emphasis, it also sounds a bit raspier due to its more aggressive treble on top. On the contrary, this is balanced out to some degree by its greater body and warmth so it remains an enjoyable listen, simply one that is more coloured than the Shozy. The treble is thinner and crisper on the Phoenix. However, it also has a much cleaner transient response, delivering far superior fine detail retrieval and a more convincing sparkle and extension at the very top, the Shozy being smoother and more textured. The Phoenix has a smaller soundstage and less defined layers. The Black Hole also has better separation.
Fiio EM5 ($299):
A comparison I felt apt despite the vast difference in price and form, the EM5 is a technically impressive premium earbud that some may consider comparable in use case. I will be using my preferred VE Monk+ foams on the EM5 for this comparison that I feel provide the most balanced sound. The EM5 is a warmer and more coherent sound, also more laid-back up top. The EM5 has good bass extension but cannot best the sealing Black Hole. The EM5 has a bigger and warmer bass with more mid-bass emphasis. The Black Hole is cleaner and more linear, it has a harder-hitting sub-bass and is much tighter in general. The EM5 has slightly longer decay with more textured notes that said. The EM5 is more laid-back through the midrange and is more coloured by its bass, being warmer and fuller.
The EM5 has slightly better layering and a bit more depth due to its even more open form factor. Meanwhile, the Black Hole sounds a lot more revealing and immediate, with higher note definition and substantially better upper-midrange extension. The EM5 is quite a bit smoother, another contributor to its more coherent presentation. The Black Hole definitely has the more resolving and balanced treble response, an area where earbuds do struggle. The EM5 has a thinner lower-treble, it is crisp but still a little laid-back and not the most detailed, especially coming directly from listening to this crop of $800 IEMs. The Black Hole has noticeably better extension and headroom so it has more background detail and a more detailed presentation overall. So, though the EM5 still has some advantage to space, most notable depth and layering, the Black Hole has much sharper imaging aided by better separation - I will call this a successful union between IEM and earbud characteristics.
Verdict –
There are more than a few earphones around this price with trick designs and alluring features. Even then, the Black Hole stands apart for its one of a kind form factor and Shozy's prudent execution of said open design. Nonetheless, it would be a lie to call this earphone versatile or widely appealing as it simply is not balanced or linear in the conventional sense nor does its non-isolating design make it ideal for portable use. So, in many senses, consider the Black Hole to be the pinnacle of earbud design, retaining the comfort of zero wearing pressure and spatial awareness of an open design whilst introducing the fit stability, bass extension and resolution of a good IEM. That is something you won't find replicated elsewhere even at a vastly higher price. In and of itself, I also find the Black Hole a very outstanding package in many regards, again, if not the most versatile one. In particular, its laid-back bass and cool tone mean its presentation doesn't flatter all genres equally. That said, this is not a fatiguing or overly wonky sounding in-ear and one with world class space and layering. The Black Hole is a paragon of openness and sits essentially uncontested if you dislike the wearing pressure of conventional in-ears but still want a focused sound with spotlight on vocals and huge, expansive soundstage presentation.
The Black Hole is available on HiFiGO (International) for $799 USD at the time of writing. I am not affiliated with Shozy or HiFiGO and receive no earnings from purchases through this link.

Track List –
Beck – Mellow Gold
Bob Segar – Night Moves
Brb. – Sorry That I Love You
Courtney Barnett – Sometimes I Sit and Think and Sometimes I Just Sit
Crush – NAPPA
Dire Straits – Communique
Dirty Loops – Next To You
Eagles – Hell Freezes Over
Elton John – Honky Chateau
Eric Clapton – Unplugged
Joji – Sanctuary
Nirvana – Nevermind
Pixies – Doolittle
Post Malone – beerbongs & bentleys
Radiohead – OK Computer
Rich Brain – The Sailor
Vampire Weekend – Father of the Bride