Item information
Added by
Views

7,326
Watchers

2
Reviews

1
Last update
Rating

4.00 star(s)

1 ratings
Latest reviews
Pros
:
Design & Build quality
Touch screen
Stable system
Sound quality
Well implemented balanced output
Cons
:
Bluetooth may be too sensitive
WiFi streaming currently limited to Tidal only
No case included
REVIEW – Shanling M5s Music Portable Player
Website – Shanling
​
Specifications
(
From Shanling website
)
Price:
U$D 429.

The Shanling M5s unit here was kindly arranged by Shanling company together with MusicTeck; as always, credits to both for this opportunity.
Links
:

Official Shanling M5s product page
MusicTeck store
and their Amazon store
Unboxing…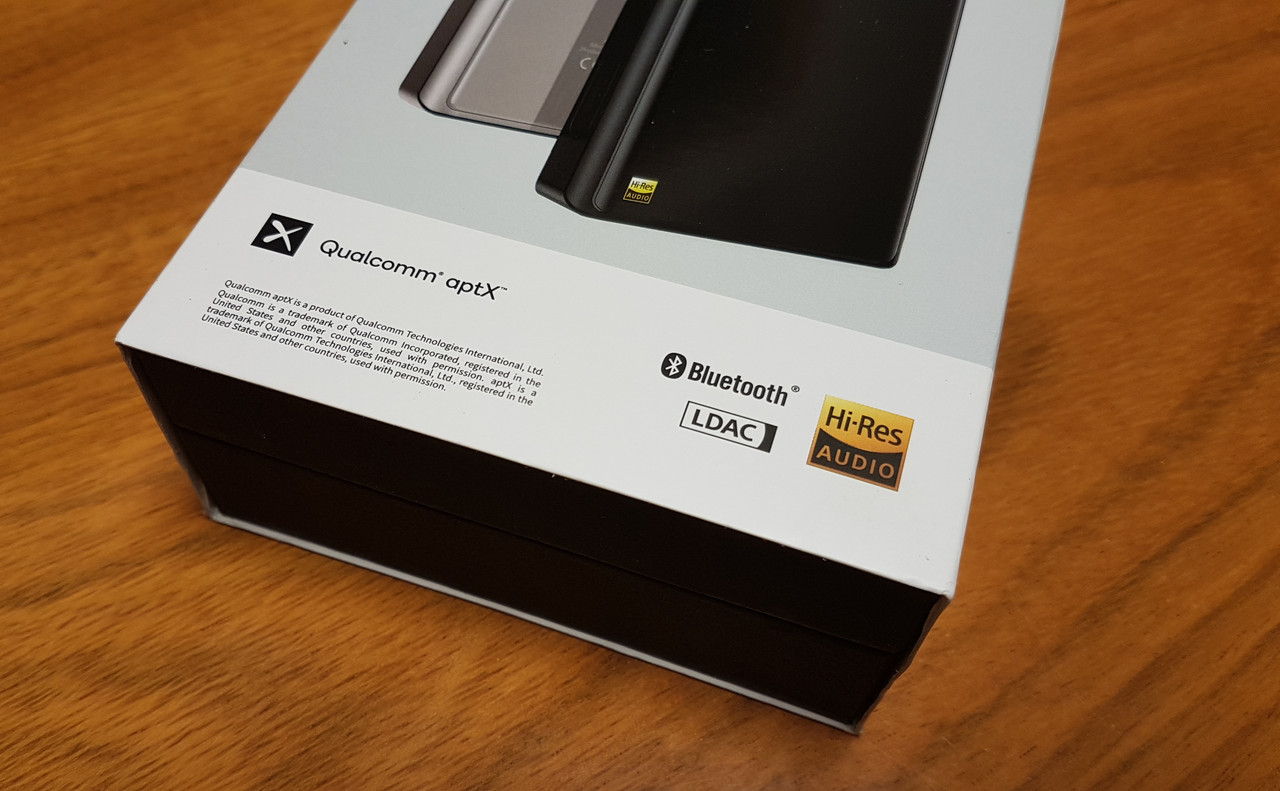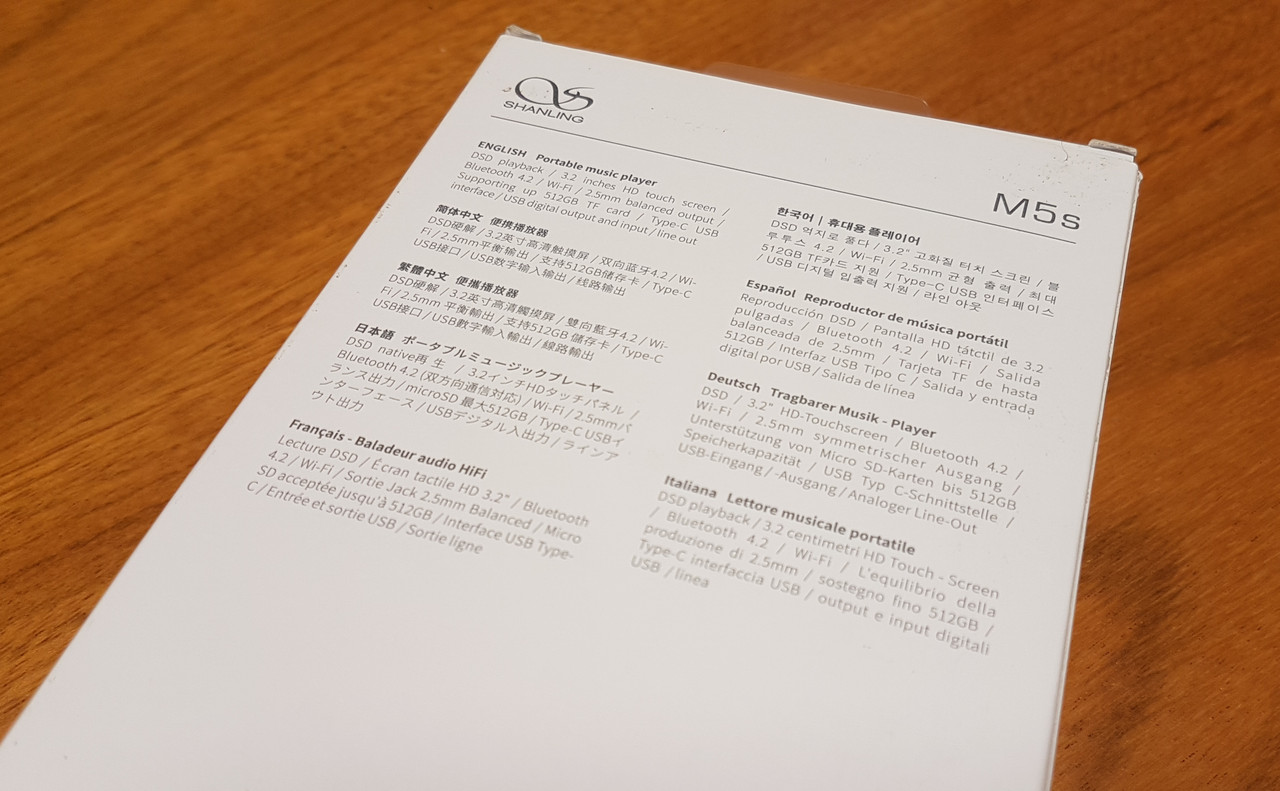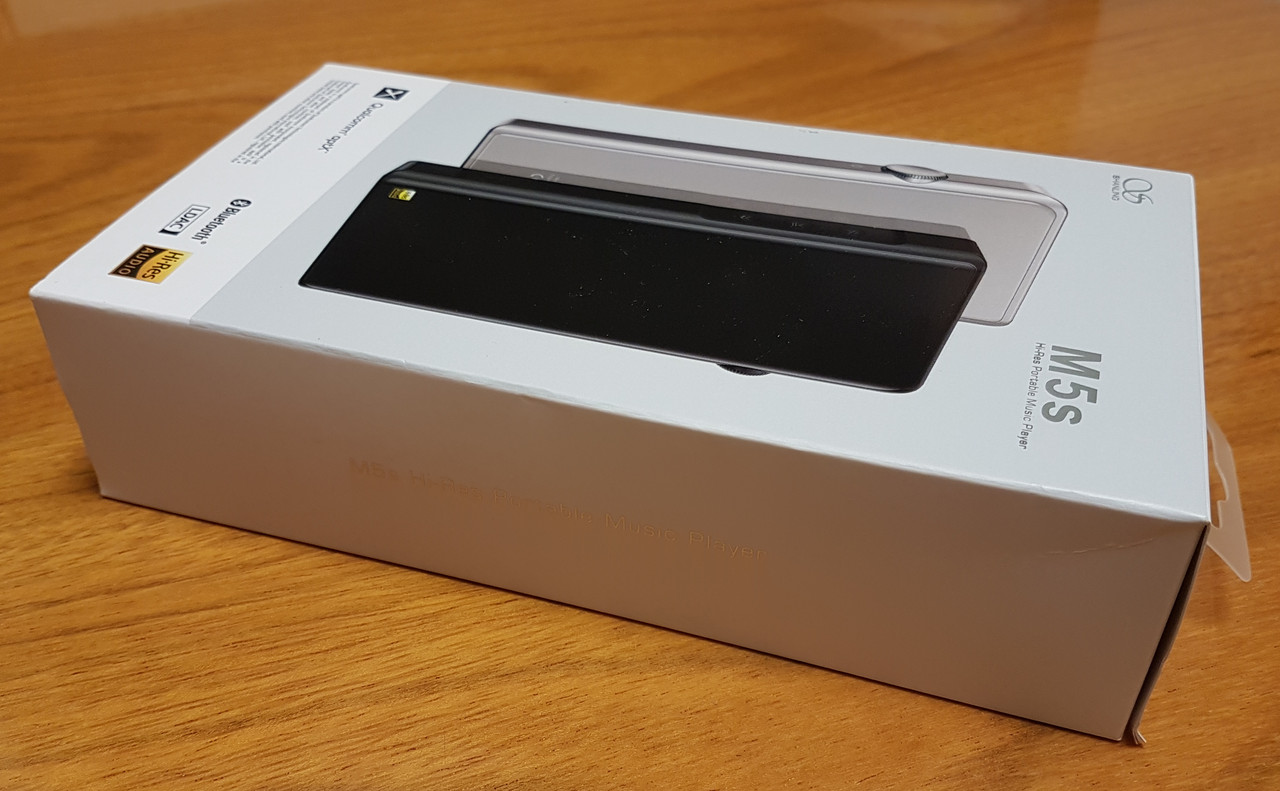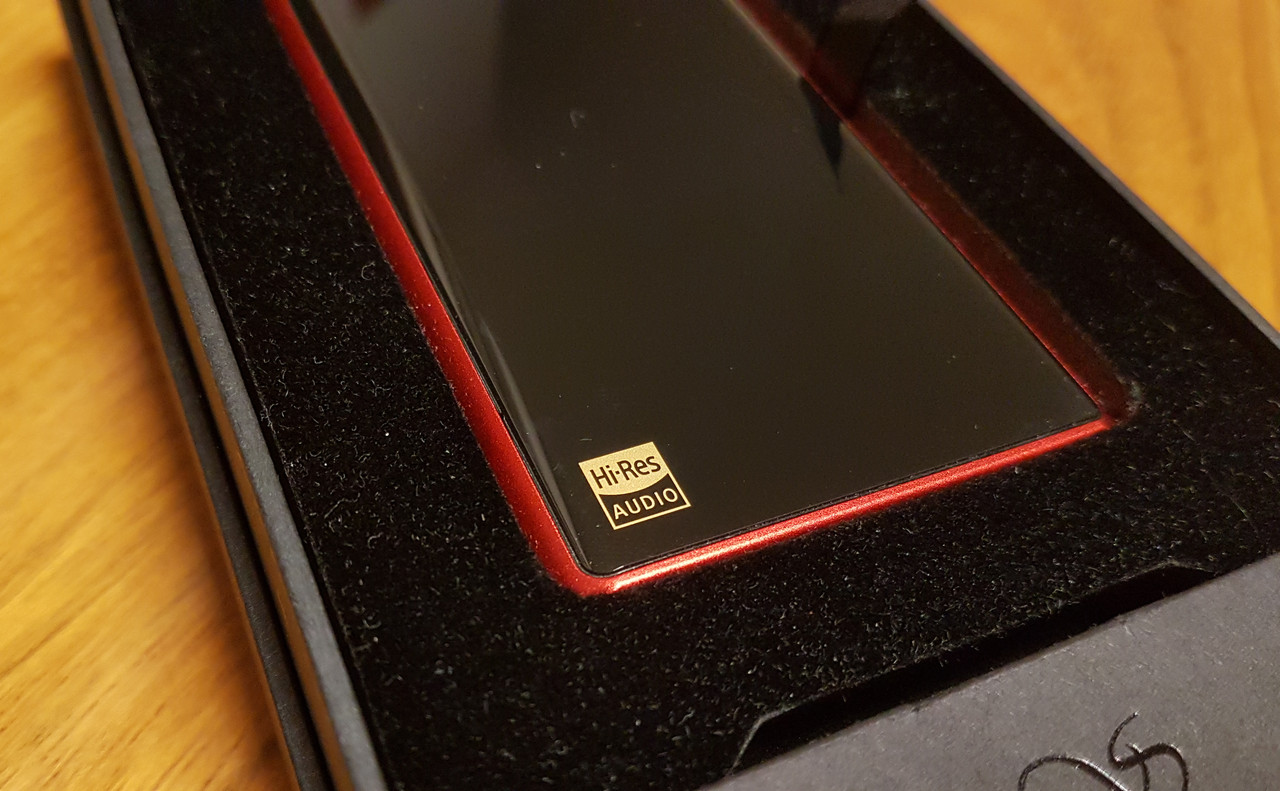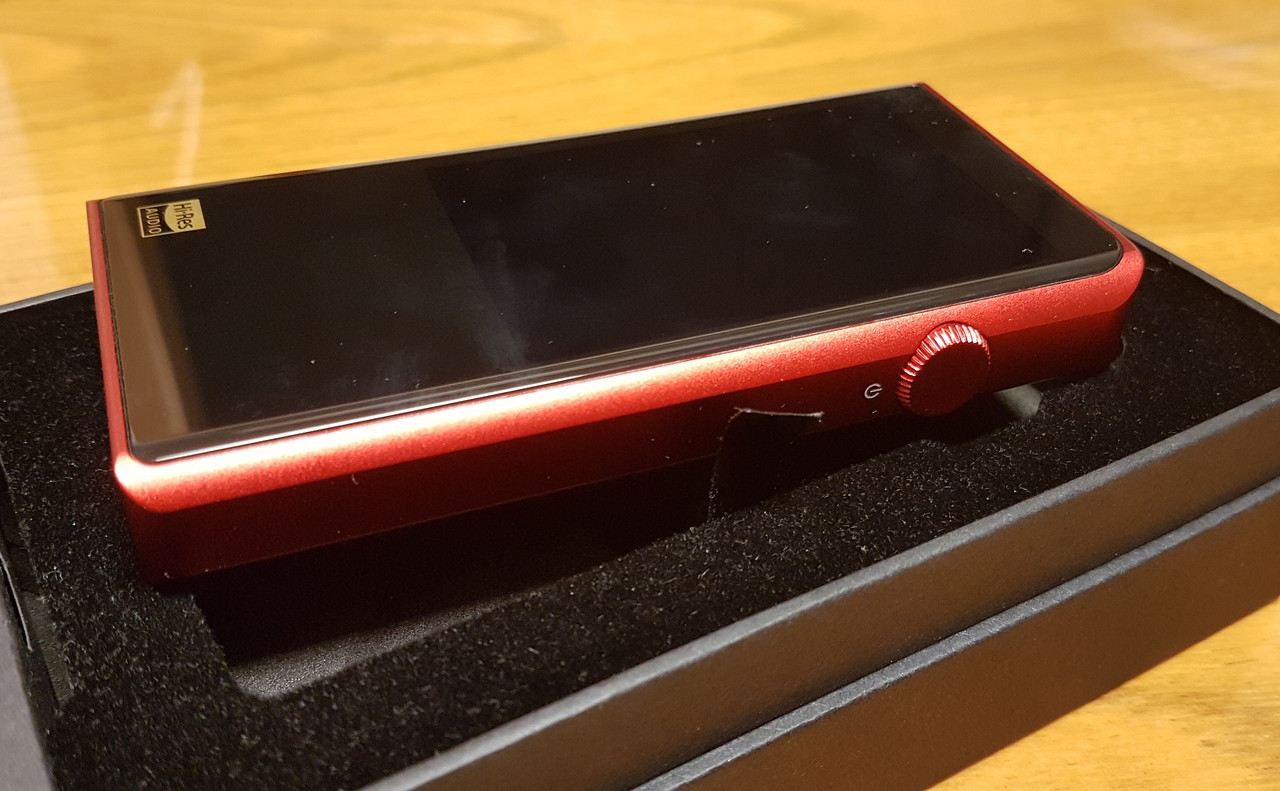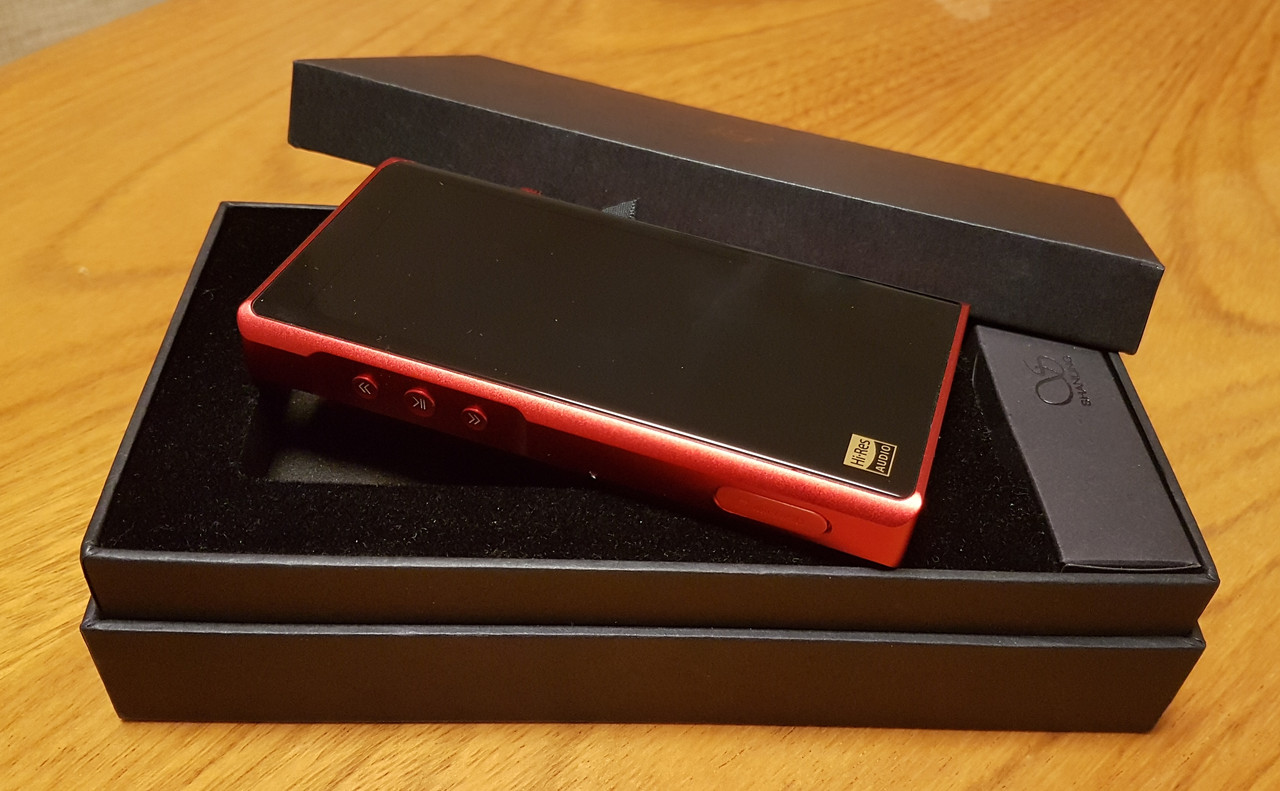 Design
Anyone who already owned the cute Shanling M0 should get a clear idea about how the M5s is, as this higher model player follows a very similar pattern in build quality and overall design. The M5s is pretty much a maximized version of the more budget entry-fi level DAP from Shanling, with addition of the usual physical buttons and balanced output. As such the build quality is very high and also the design is nicely done with a fine smooth finish. The main body is well crafted from thick CNC machined aluminum material, anodized and nicely polished and fine painted. In this case, the red color gives a more eye-catching flashy metallic shine that looks anything but boring. Personally, I liked the titanium and blue color versions of the M0 I had, but nonetheless the metallic red theme is very nice. Tempered 2.5D curved glass is used on both front and back panels, so the M5s has a more modern smart device look on it than of the traditional portable players.
The M5s dimensions make it fairly friendly for daily portable use. All the edges are smoothly rounded with an all seamless finish. The length/height of the device is similar to compact smartphones with narrower width, but still noticeable thicker. It also weights below the 200g mark, so more practical than other similar priced mid-fi players. Sure, it is nothing as minimal as the ultra-portable micro sized M0 or the FiiO M6, but then it's a price to pay for the higher sound quality that is still fairly portable. There is no case included in package and it's highly recommended to get one if you plan to use the M5s as your daily portable DAP.
Screen
The touch screen is of 3.2" diagonal size, and like the M0, is a LG full touch screen. Resolution is as limited as 320x480 can be, but still the colors are vivid enough with good contrast. Brightness level is fine unless exposed directly under sunlight at midday of summer season. While definitely of better quality as the M0, do not expect to be as sharp and defined as a modern smartphone can be. It is good enough to show the necessary album artwork when available, but you won't be browsing through an image gallery with the M5s player.
Despite the whole glass front panel, the touch screen only occupies about two thirds; it has its benefits as it possible to hold the device from the lower front panel without worrying about selecting any of the touch screen areas. It is worth mentioning there is no protective screen film applied nor none is included in the box, so extra care should be taken when using the M5s or just get a simple film and done.
The firmware arrived with the 2.0 but before the review it has been updated to the more recent 3.0 version. The screen responsiveness is fast; in fact, the whole system runs very fast, and even after powering on it takes very few seconds to completely start. The screen can display six lines, both on the several setting menus and music files lists. Folder scrolling can be still a bit too sensitive; much better than the M0, thanks to the larger screen but might need some time to get used to it compared to Android smart devices.
Layout
The controls and connections layout is simple and organized. On the left side of the player there are the three physical playback buttons, rewind/previous, play/ pause and next. If pressed and held, the previous and next buttons can be used for back and fast-forward on the current playing track, even when the screen is off; still not the most accurate, at least on current firmware, but do work if needed. The buttons line is recessed within the player contour what avoids them from being unwillingly pressed, while each button is very slightly raised and has a good grip that can be easily reached while inside a pocket. Also, at the bottom of the left side there is the micro SD card slot which is securely hidden by a small plastic cover, though can be a bit tricky to open.
The bottom carries the two analog audio outputs, standard 3.5mm in the middle and balanced 2.5mm to the right. They can also be set as Lineout ports from the audio settings menu, but be aware that the volume might be set to maximum; there will always a confirmation message before switching to LO mode. To the left side there is the USB Type-C port for the usual charging and data management of the micro SD card as the device has no internal memory, and can be also used for digital audio functions, both as a source and as external DAC. For DAC use it may be needed to install extra drivers that are found at the Shanling website. Worth mentioning that the M5s can work as wireless Amp/DAC as well; a neat feature.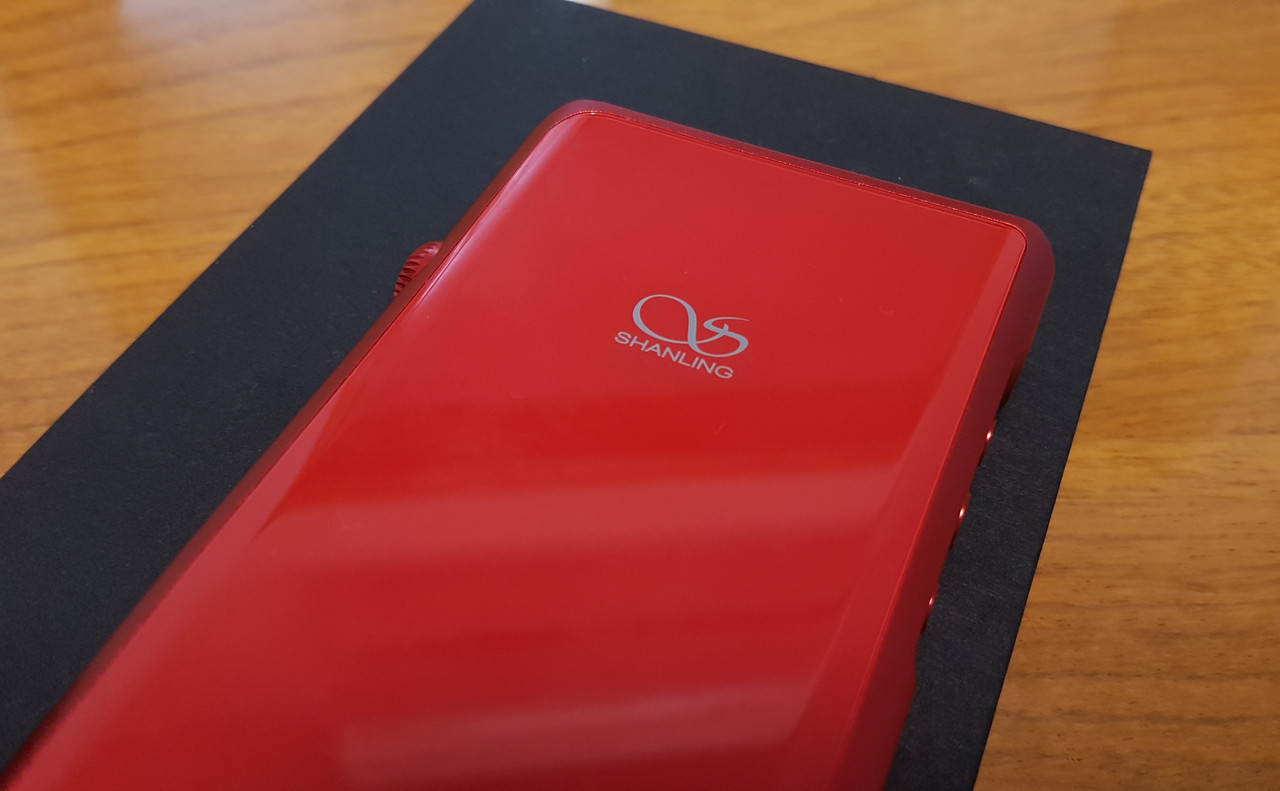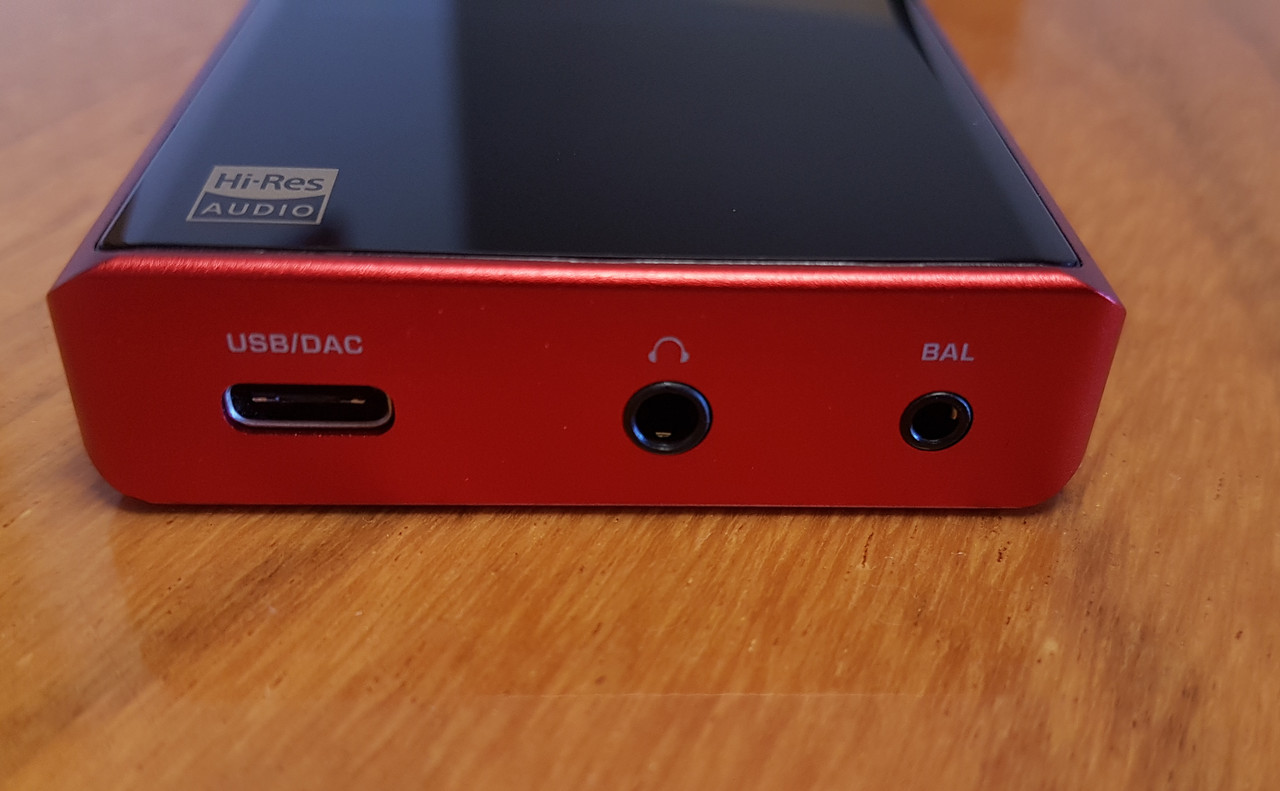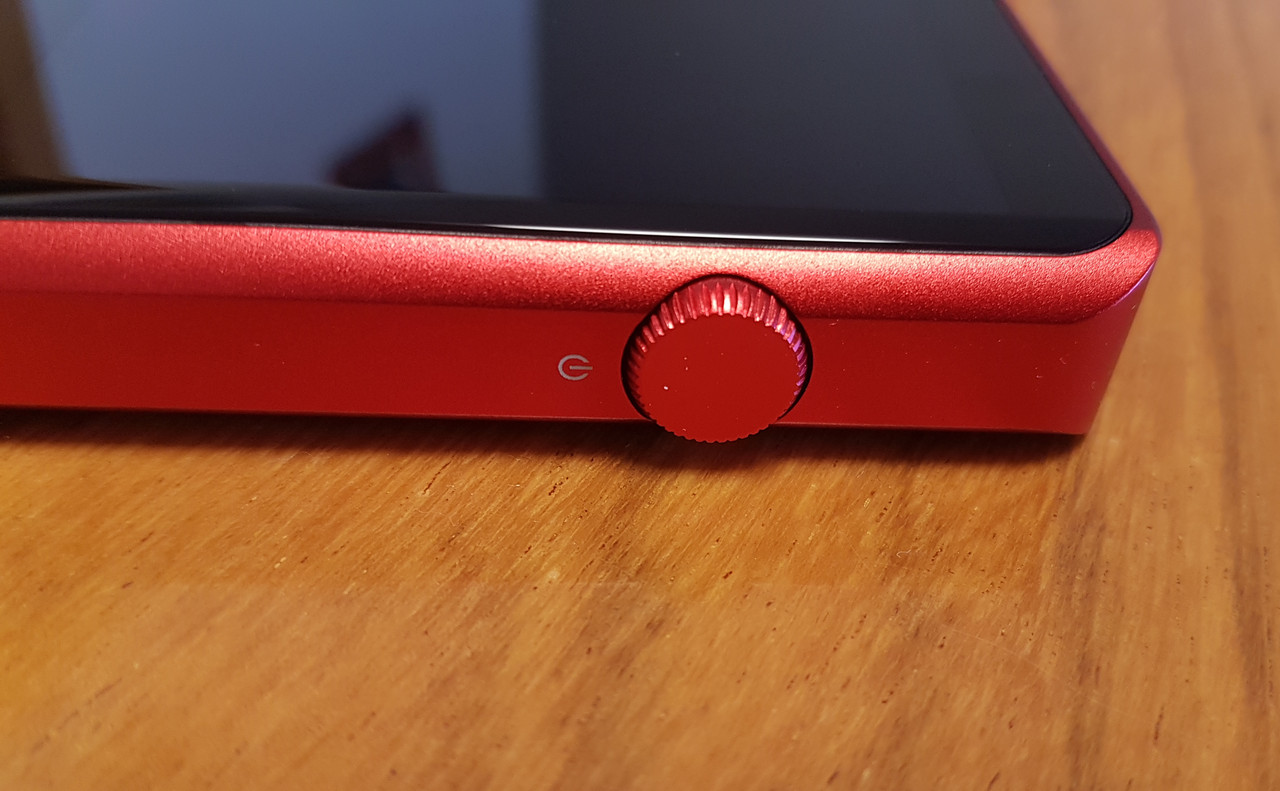 UI & Navigation
The M5s runs on the own Shanling MTouch 2.0 system, which was already introduced with the M0 with its small and functional touch screen. Anyone that had tried the M0 and found it good enough then should enjoy the M5s even more, and even those who couldn't get along with that small 1.8" touch screen and its limitations should not discard the M5s, as the larger screen is much more accurate and comfortable to use. It is a simpler environment than any Android or iOS based system, more similar to the Mango OS used by iBasso players. It takes just a few seconds to boost and can be set to start at the main screen or at the last played track, including the last position.
Everything runs rather smoothly and the response it is very fast with no delays or glitches that could be found so far. The whole interface is very logical and almost every single option is self-explanatory to even care about checking the manual, but there is still one included short if ever needed.
The home screen arrives with a default array of icons that can be customized and rearranged by the user preference. There are up to 6 icons on each screen, most of them are for music files searching (albums, artist, etc.), and of course there is the 'folder' icon to access either the micro SD or OTA memory. The extra 'Hi-Res' icon will open a list of all the current tracks that are of higher sample quality. The 3.0 firmware now includes Tidal app for WiFi streaming and there might be more added later on. There are two main icons, 'playback' and 'settings', logically for audio and general setup options.
Navigation is very easy and fast. A short swipe up from the bottom of the screen (at any screen) will immediately return to main home screen, and can go back to the music playing screen on a single touch at the lower bar there. When navigating through folders or different screens, then a swipe to the right will take back to the last previous screen. On selected menus and screens a swipe to the left will reveal other screens options, or during the playing screen it will show the currently played list.
At the music playing screen, there is small touch icon to toggle between the different playing sequences, and another icon to quickly add or remove the current played track to 'favorites' playlist. Also, a single touch at the image or album artwork will open extra options, like adding the current file to a selected playlist, file delete, and also a shortcut to the 'playback' settings menu. One or two swipes to the right will show the lyrics screen and the file info details as well.
As usual, more screen options can be found here below:
Home screen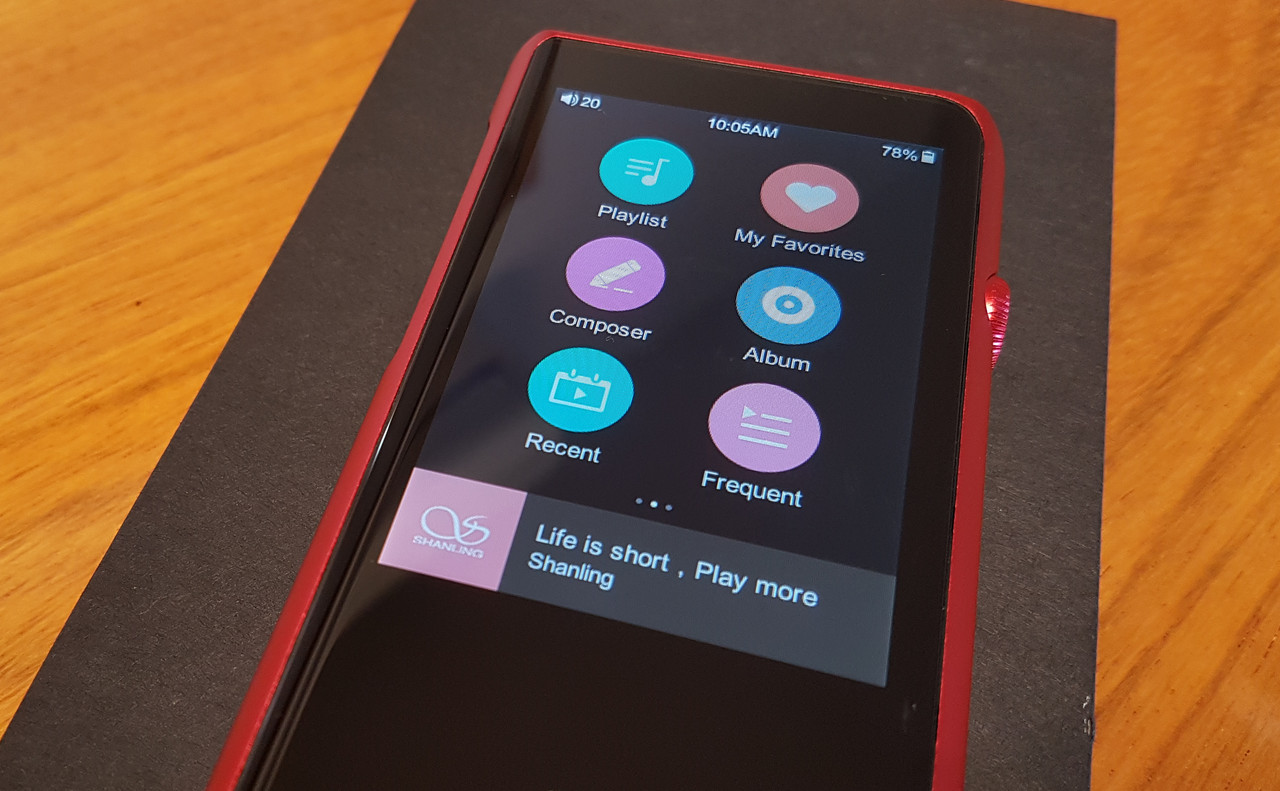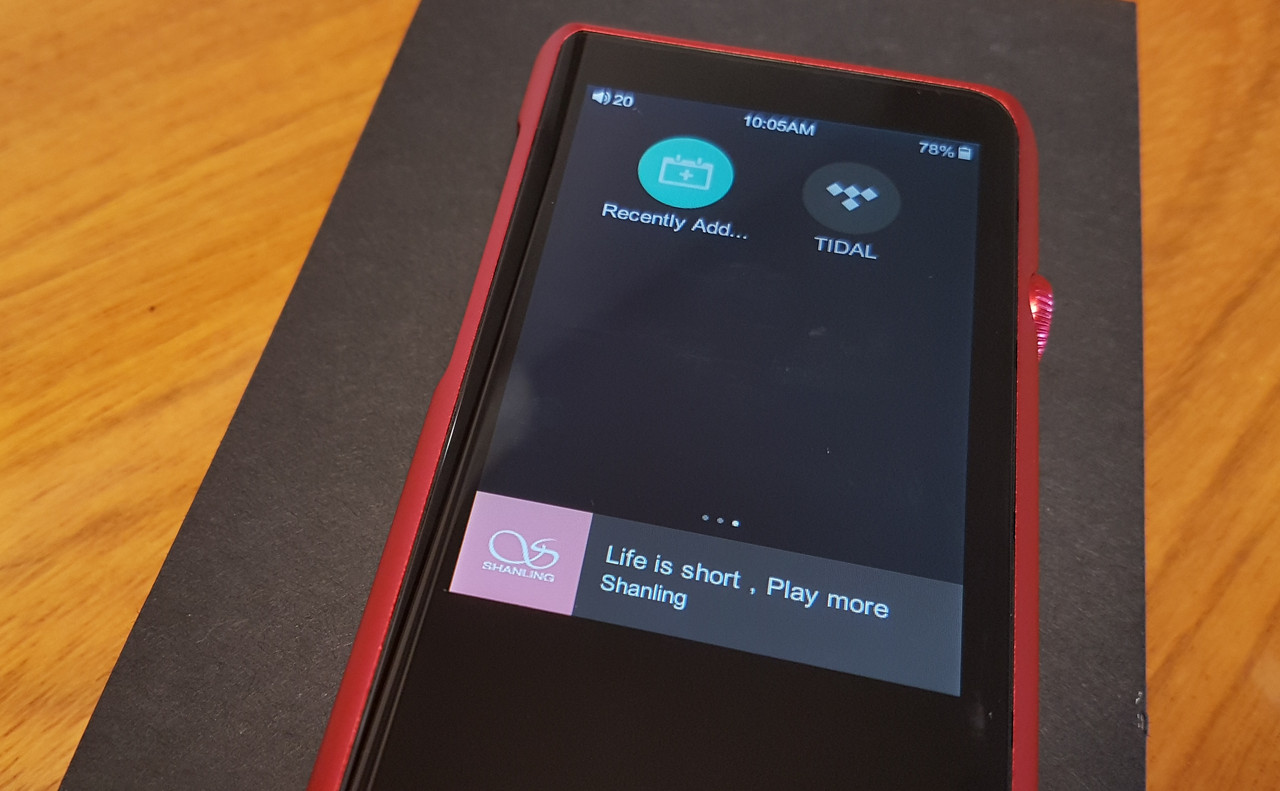 System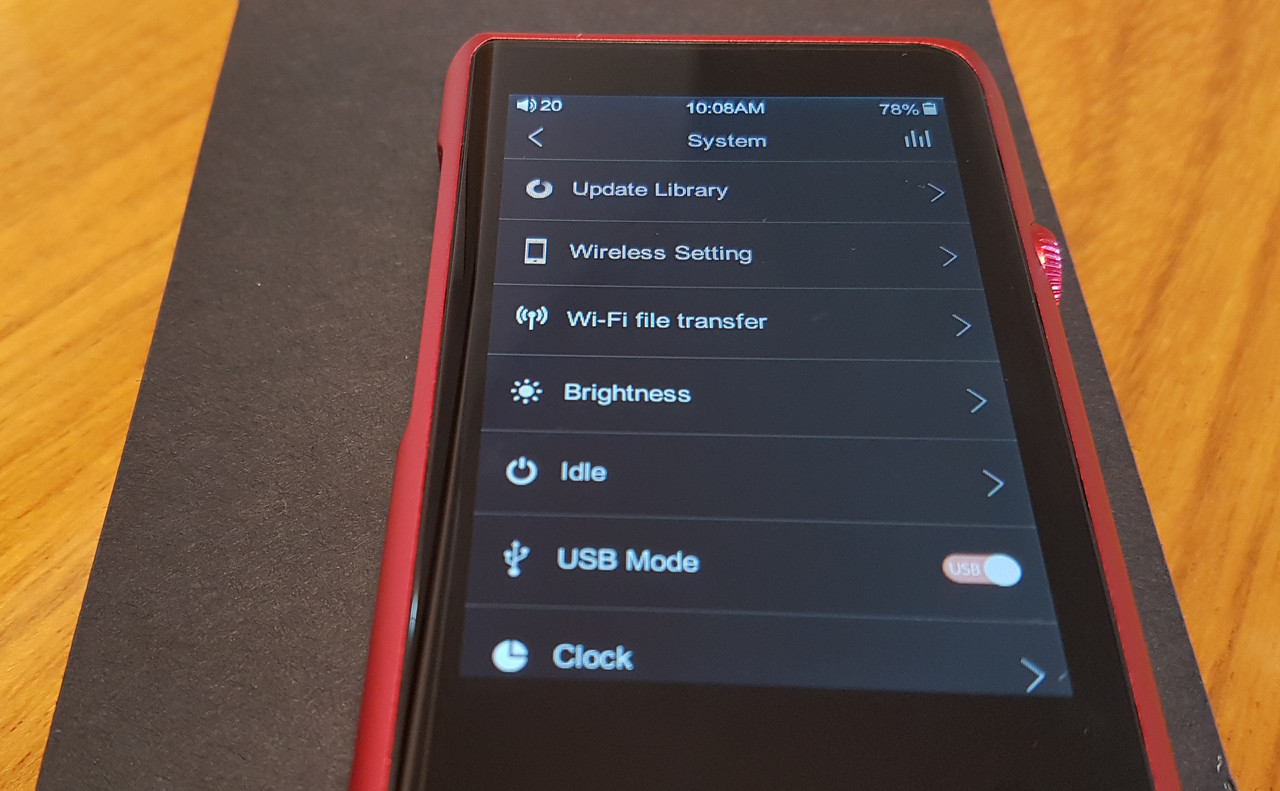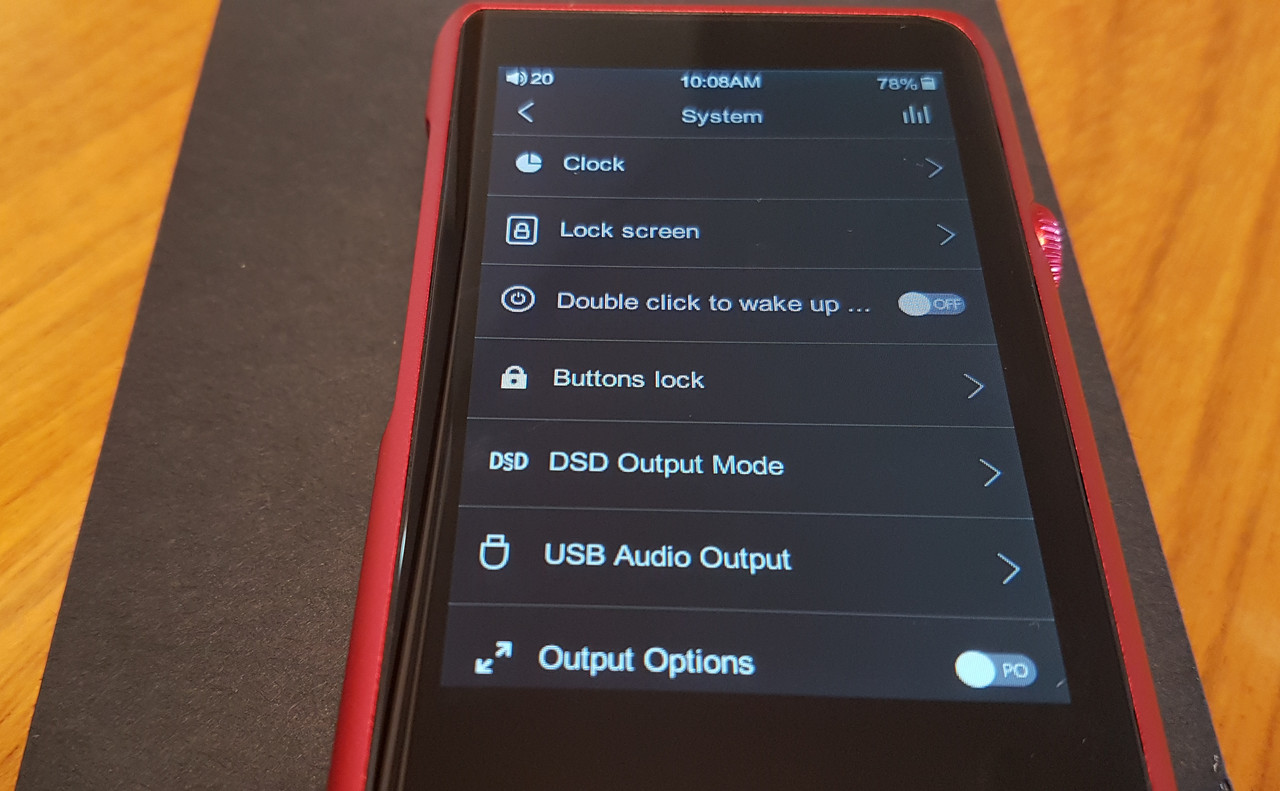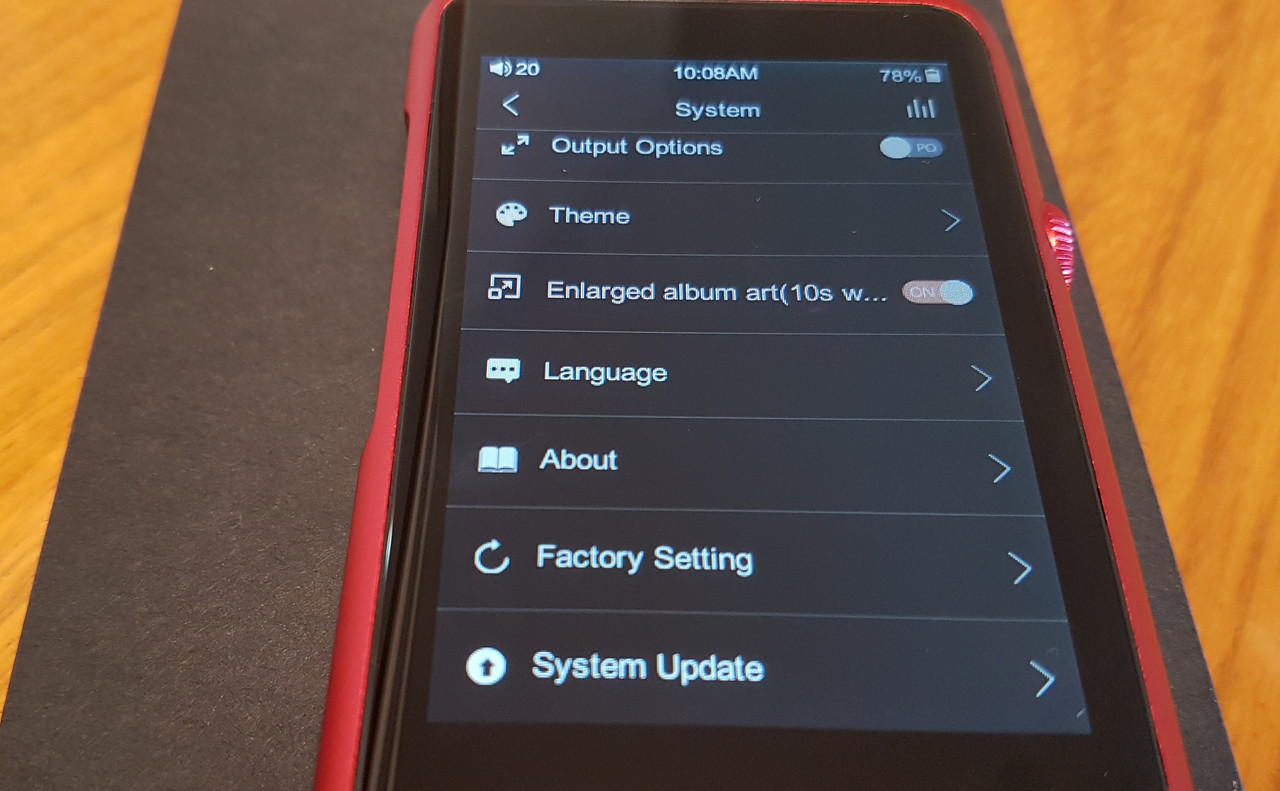 Bluetooth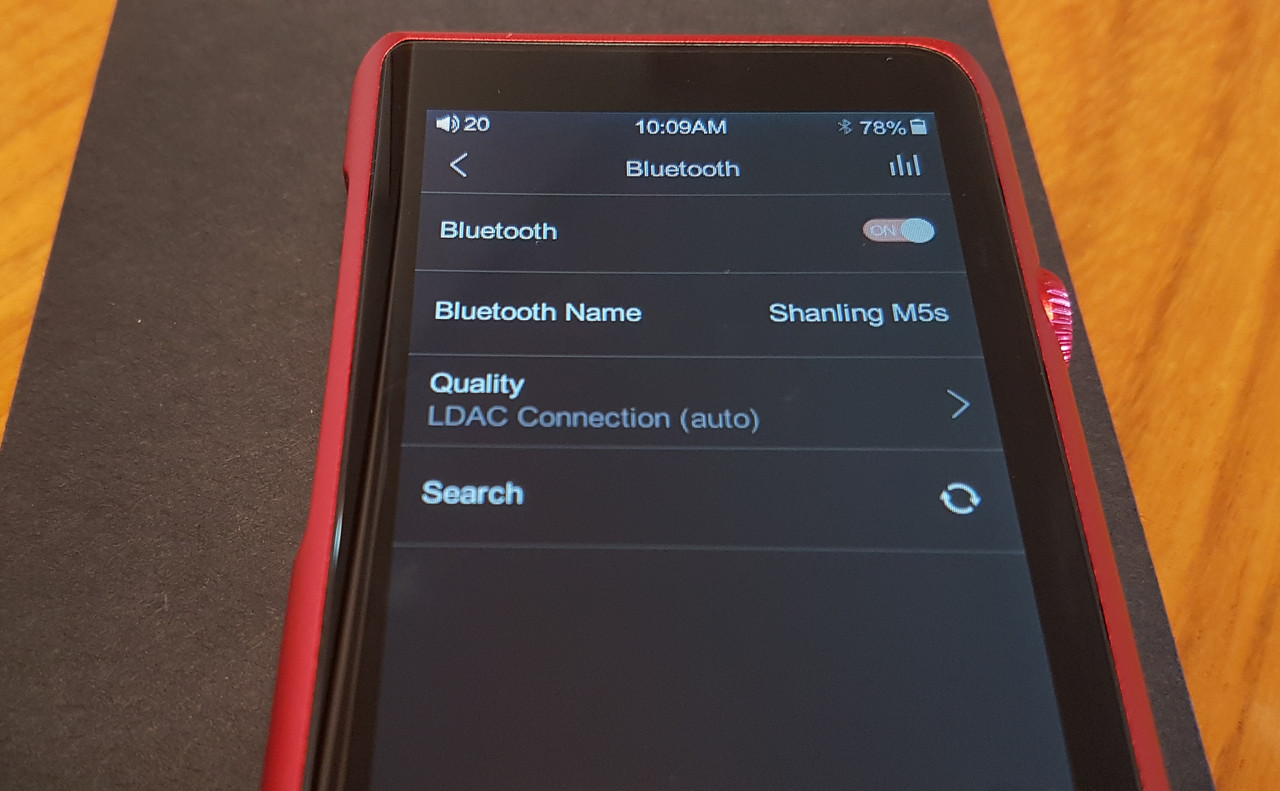 WiFi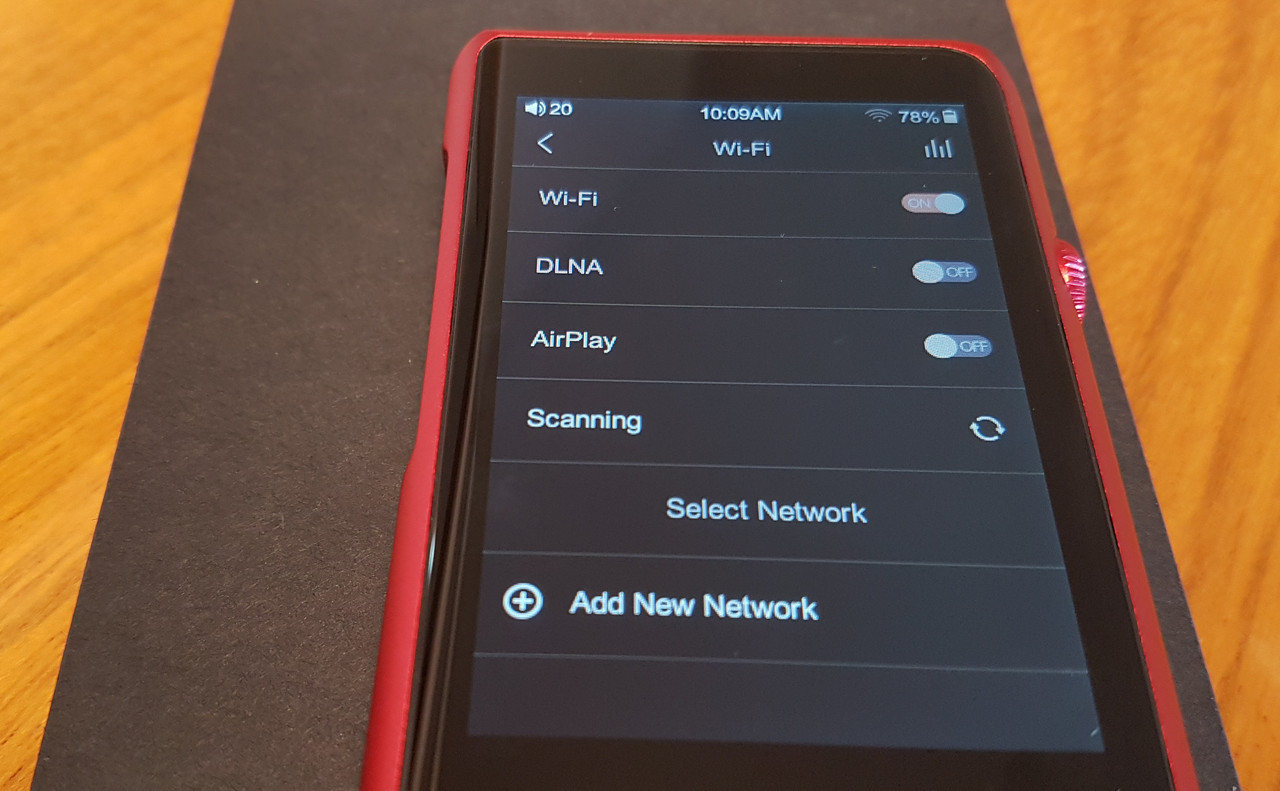 EQ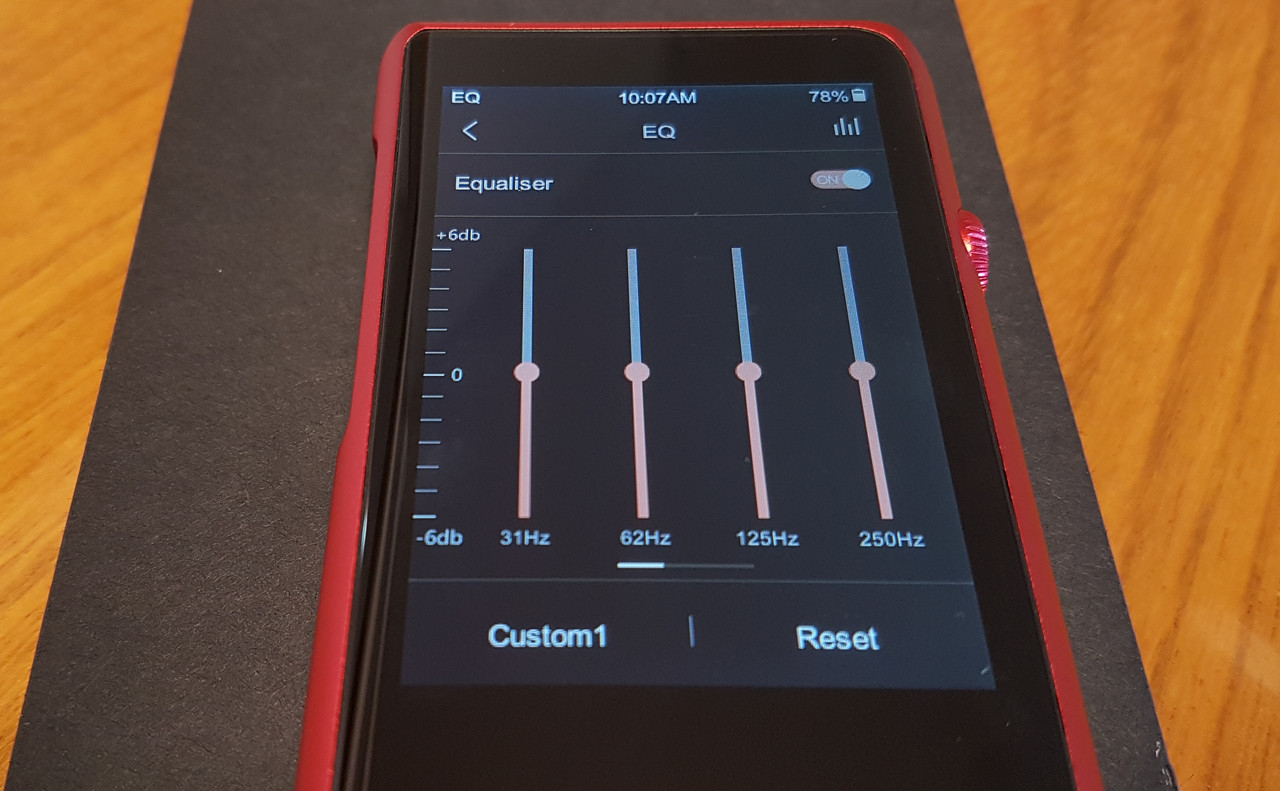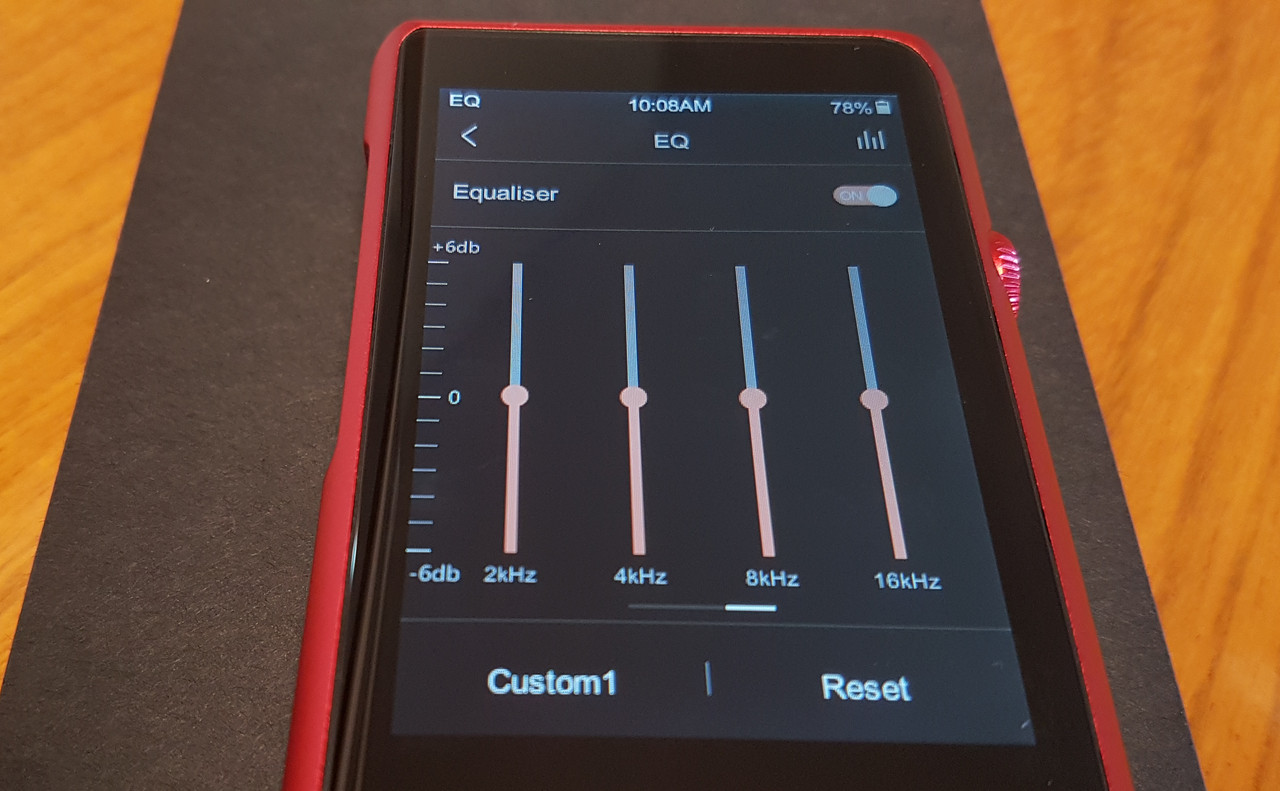 Playback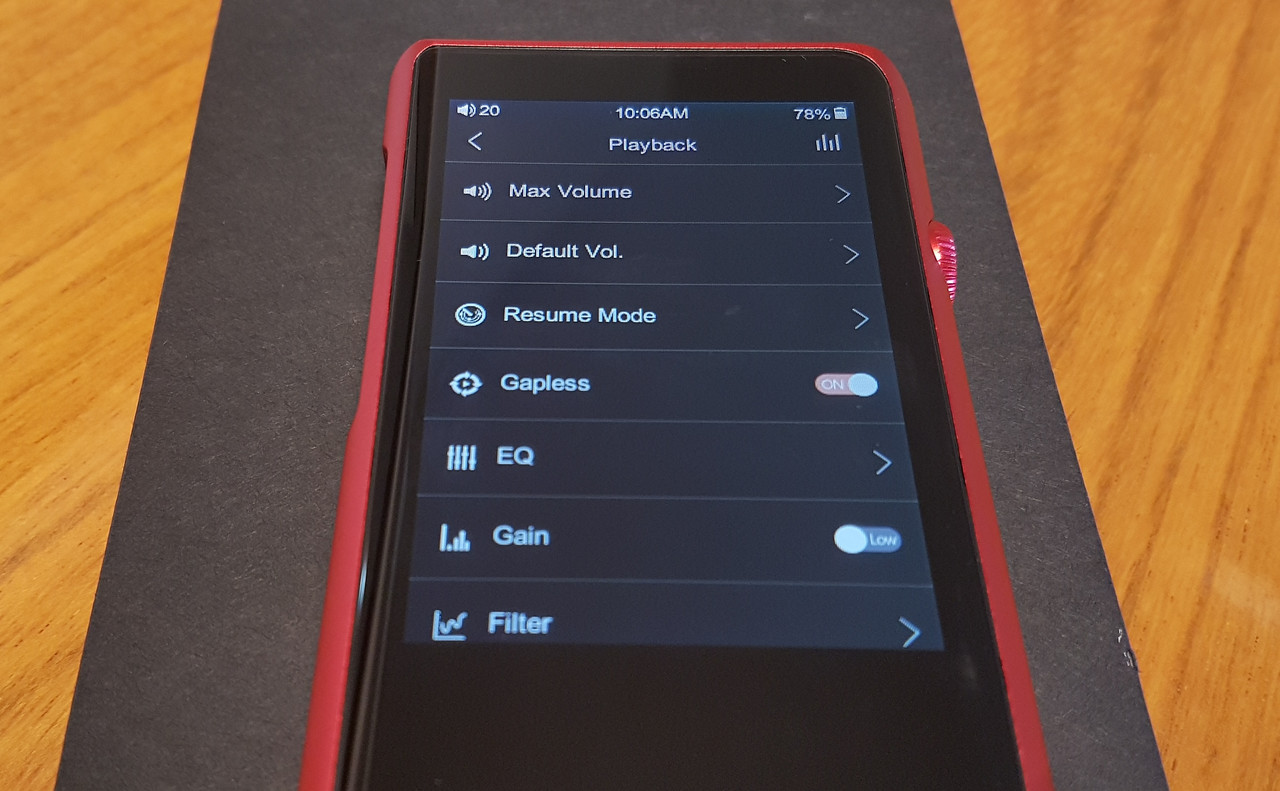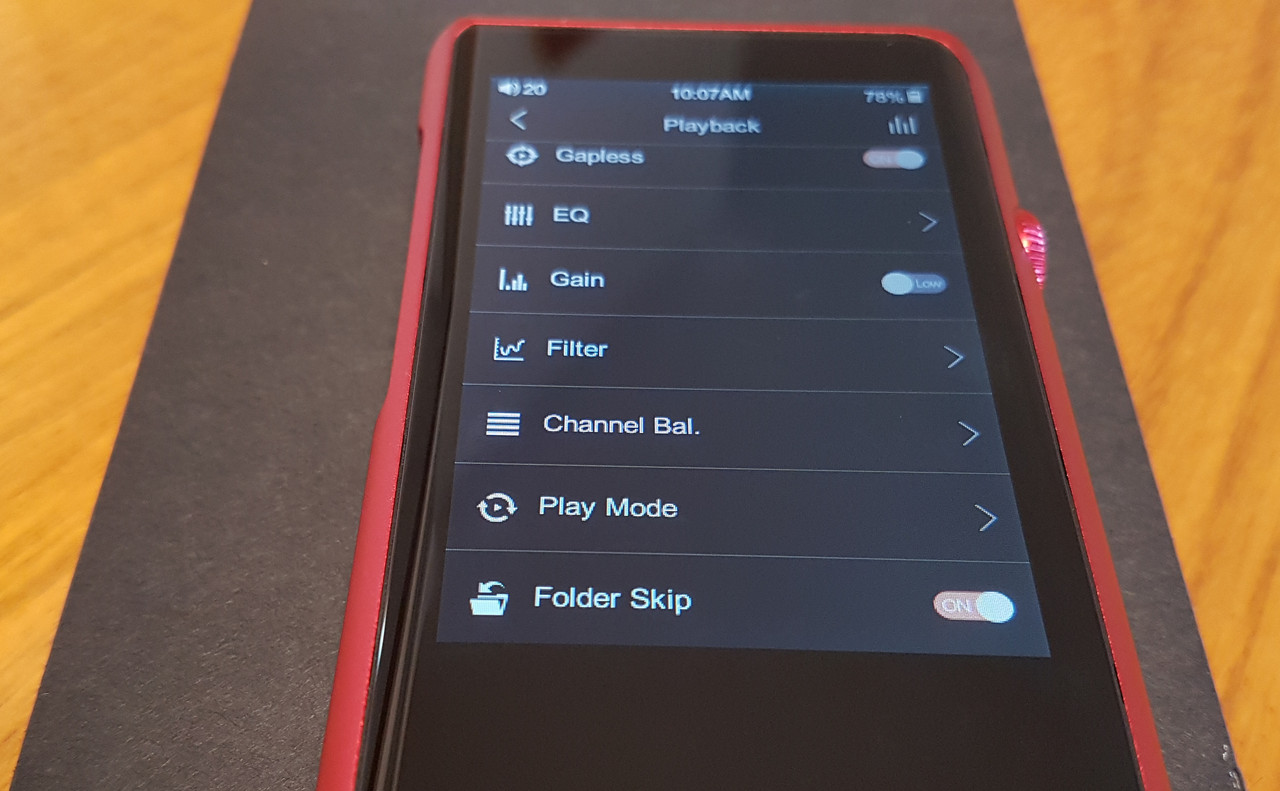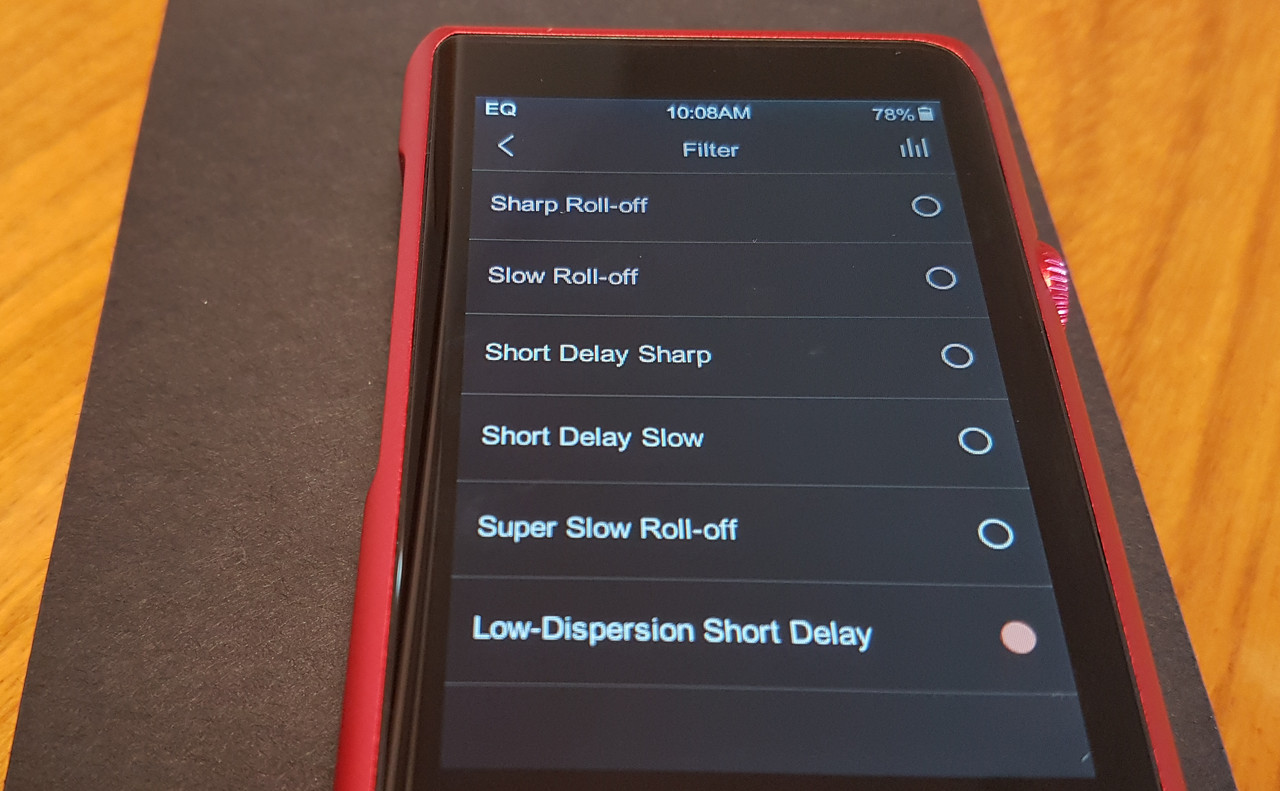 Playing screen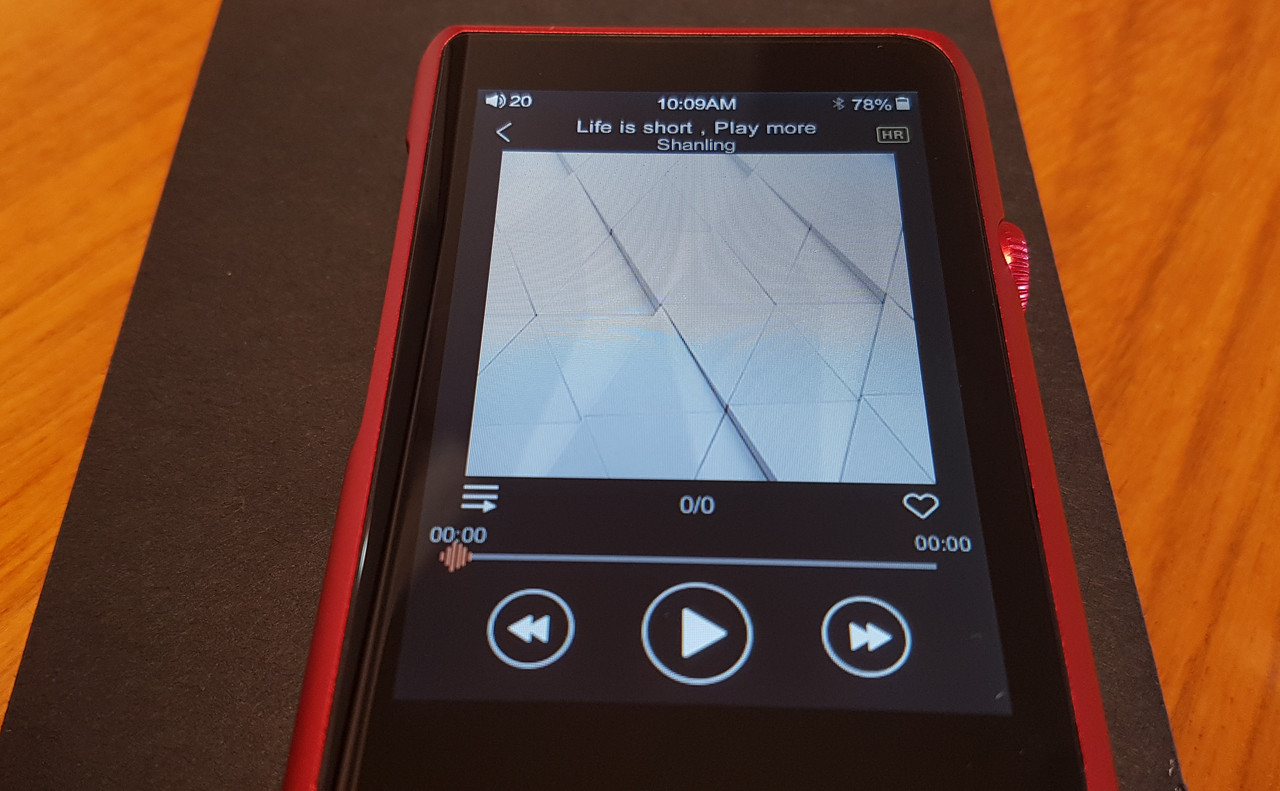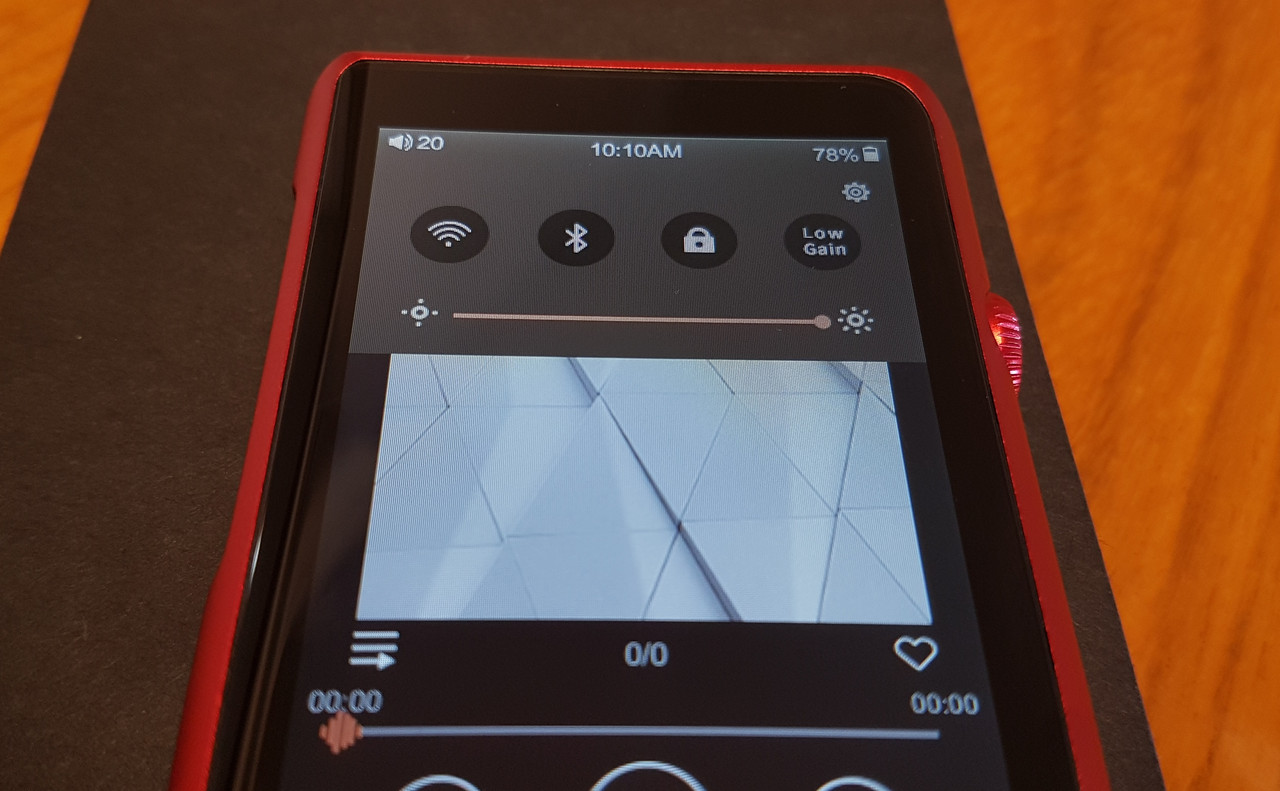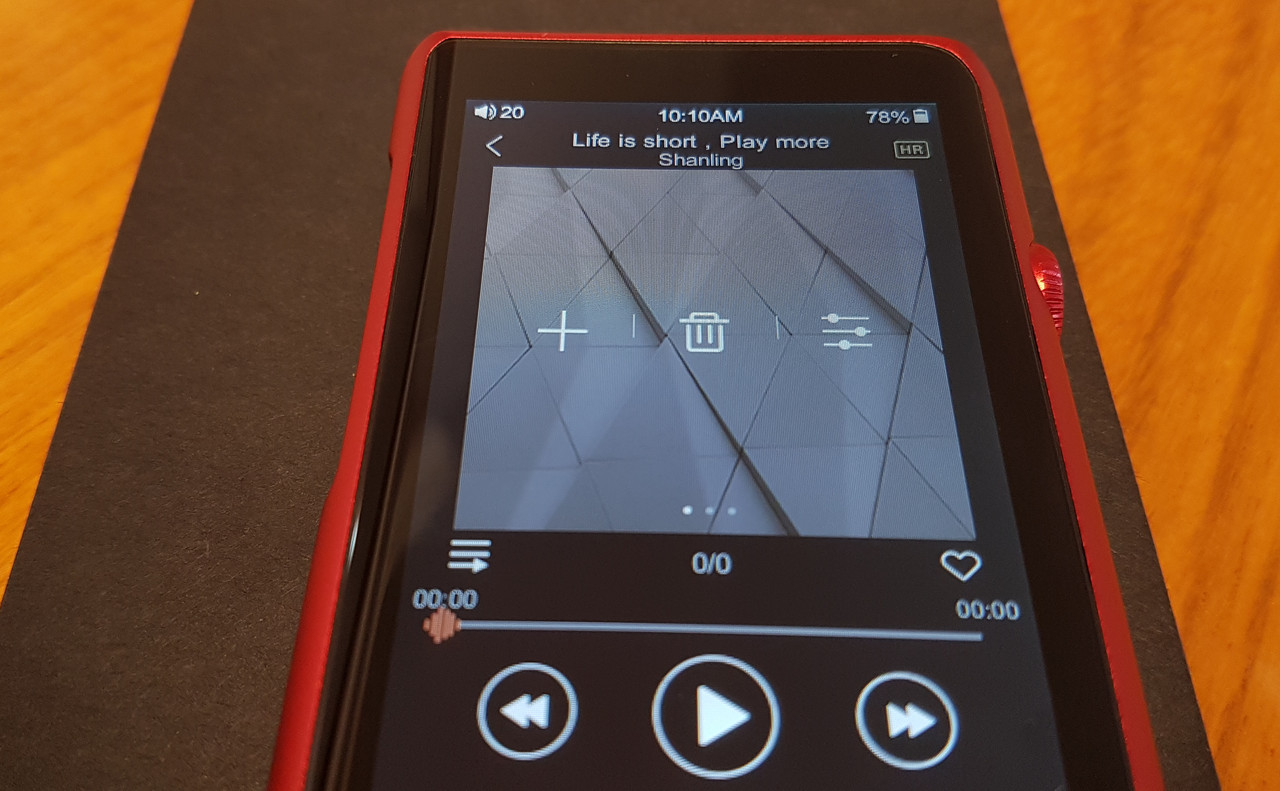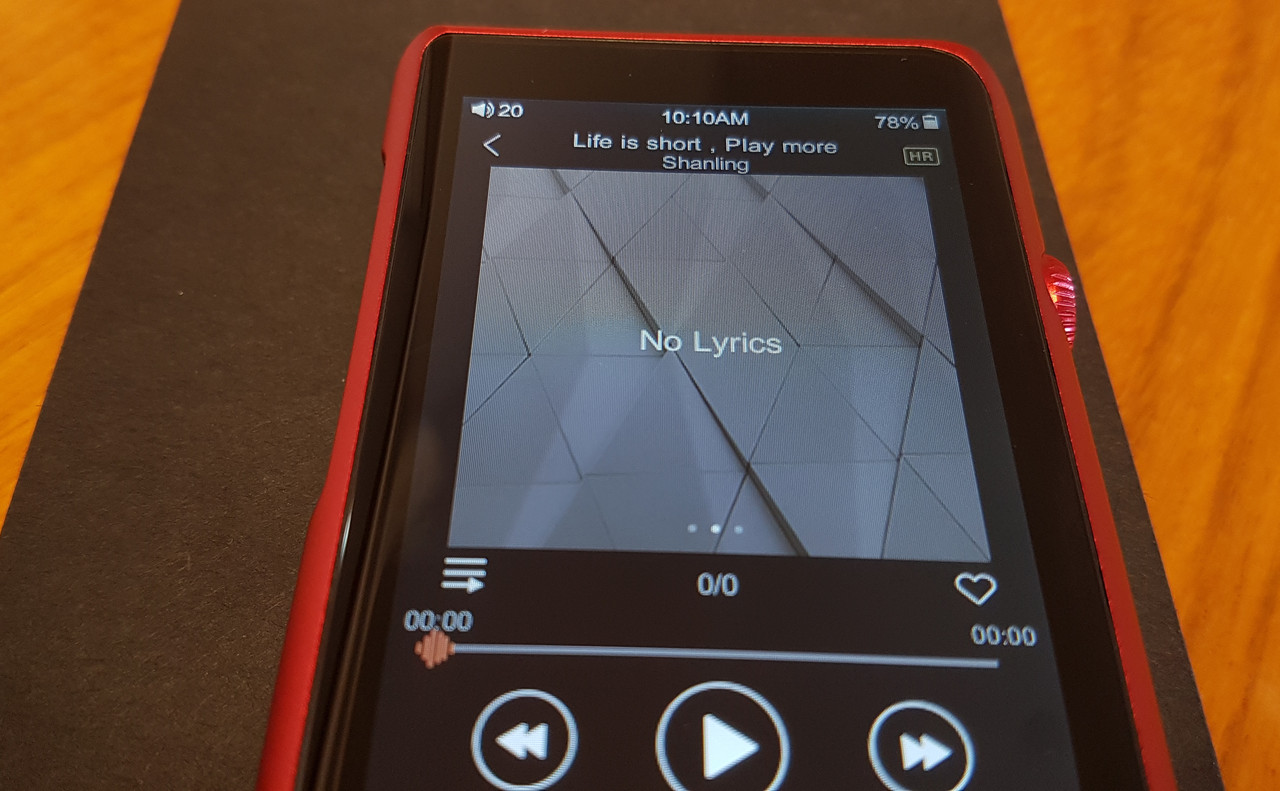 Wireless features – Bluetooth & WiFi
The Shanling M5s supports both Bluetooth and WiFi wireless connections. While Bluetooth is not new for Shanling devices, the M5s is their first model that adds WiFi. It also supports DLNA and Airplay, but haven't got a chance to try these two features yet. The Bluetooth version is 4.2, which is already a standard nowadays for any portable device, and supports the different modern codecs of AptX, LDAC, AAC and SBC (though still missing AptX HD). Also, the Bluetooth supports two-way transmission, meaning it not only works as a transmitter source to headphones, speakers or even wireless amplifiers, but also as receiver that may be used as wireless Amp/DAC. The pairing is quick and holds very good sound quality as a portable device. However, the better quality antenna can be rather sensitive to the surrounding area where it is being used. As long as there is little interference or physical objects and walls, the BT range is as good as the 4.2v can get.
The WiFi connection can be used for system firmware update, wireless files transferring, and with the 3.0 version and above the M5s can be used for audio streaming on Tidal app.
Battery
As rated on the specifications, the battery time may vary depending on single and balanced outputs and the files quality. With a 3400mAh battery, the times are very good for a portable player at this price, with such power and sound quality. As long as the screen is not turned on constantly, the rated times are quite accurate, about 15 hours from the single output on a mix of Mp3, Flac and DSD files, and up to 10 at best from the balanced output. Of course it will depend on the headphones and the device volume level and gain.
Charging time, on the other hand, can be slow and the M5s is not rated to support quick-charging. Usually it should take at least 3 hours or more to fully recharge.
Sound Quality
The
Shanling M5s
should probably classify as one of the most neutral sounding portable player, at least on the mid-tier segment. It is a clear example of pure quality over quantity with a linear response and very clear tuning. There is practically no emphasis on any specific frequency region; nothing seems to sound warmer or brighter. Transparency is what could best describe the M5s, having a clean and natural timbre. It offers a very subtle sign of musicality that avoids sounding boring or too flat, and most importantly, the presentation packs great dynamics, high accuracy and resolution. It lacks that extra tilt on the highs region as some more 'reference' tuned DAPs may have, so it won't bring more treble energy, but nonetheless, the detail is never missing. There is a more delicate fullness on notes from lower to upper instruments, that while may sound leaner do gain more precision and separation.
With the very neutral tuning the bass does not show more sheer power and attack, but instead highly impresses with excellent control and accuracy. There is better speed with a very natural attack and decay that will merely be depending on the headphones used. Great layering and depth, just not strong impact and rumble, but by being lighter it is also more effortless and extended reaching easily the lower notes. Those who may prefer a weightier and thicker bass won't be amazed with the M5s, but otherwise if looking for more agility and higher quality, then it should be a perfect match.
The midrange is presented very clean, linear and uncolored. It adds no extra warmth on the lower mids and no brighter tilt towards the upper mids either, and also the presentation won't sound either more forward or recessed. Simply put, it is too transparent with high clarity, neat separation and timbre. if anything there is a very bit subtle sense of musicality that avoids the sound to be too cold or clinical, which makes the M5s very detailed yet enjoyable, without resorting to any little equalization.
The M5s particularly stands out in the treble performance. As for quantities and positioning on the overall presentation it is completely neutral, and maybe too neutral. While laid back it is not, it can be presented a bit shy in energy and sparkle; however, there is excellent control and finesse quality for the price. There is also smoothness as the M5s won't highlight any peak on brighter sets, but then won't add more treble presence on dark or warmer headphones; still, if there is a trait of sibilance then it won't be hidden, but at least should be more controlled. In that regard, the M5s may sound a bit dry, though it makes up with a high definition and accuracy, purer quality and resolution.
The presentation is spacious and very detailed. The imaging is very correct and the M5s is technically strong on layering and depths. Soundstage is not particularly too large but nothing feels congested or intimate either, keeping the best neutrality possible and right width for a mid-tier portable player, and there is still a precise right and left separation and strong sense of air.
Switching from the single ended output to the 2.5mm balanced will have the expected good results, everything sounding just more 'balanced'. There is noticeable better extension on both lows and highs and a more even and weightier presentation without breaking the neutrality, but does sound more natural and coherent; it can sound even a little bit more fun and lively. The gain in dynamics and layering can be also appreciated, and even the soundstage is larger in width, depth and height, with a more open sound. In short, if available then is highly recommended to use the balanced output, unless there is need for the longer battery time of the single ended output.
In terms of driving power, the M5s have plenty to drive any sensitive IEMs with standard impedance up to 32ohm and above 100dB of sensitivity without reaching the 30 volume steps on the low gain. On balanced output it goes even louder so a lower volume is enough. I kept a fixed startup volume of 20 which on low gain it is enough to drive the IT01s and IT04 IEMs on balanced mode, and then simply raise it accordingly to the other sets used. For more demanding stuff like the Dita Audio Twins or final E5000 and E4000, then the volume reached about 40~50. For the VE Zen 2.0, in 2.5mm balanced plug, with a much higher 300ohm impedance there was need to switch to High gain and reach around 50 volume steps; surprisingly a good result. For portable closed headphones like the Meze 99 Classics the low gain was enough at around 50 steps too. Generally, the jump from low to high gain is louder at least on 10 steps, and even more on balanced output.
​
Comparisons

iBasso DX120
There is the
iBasso DX120
that shares some similar features as the
Shanling M5s
, like full touch screen, 2.5mm balanced output and USB DAC support. While the DX120 retails at a $300 tag, the final price may vary depending on the region and shipping costs so it gets closer to the $400 price of the M5s. Also take in count that the M5s offers the extra wireless features of Bluetooth and WiFi.
Each of them uses their own company OS, MTouch vs Mango OS, and interestingly have a similar fast and accurate response. The DX120 has a bit larger screen with cleaner resolution, though for only showing album covers during playback the difference is less significant. The layout is different, DX120 having physical buttons for the volume control against the wheel of the M5s. Navigation is simple on both devices and the whole interface is straightforward. In terms of portability both weight below the 200g., though their outer shape is very different so may depend on the user preferences.
As for what sound quality goes, both players are strong contenders. However, they do differ in their overall presentation. The DX120 is fuller and weightier on the low-end, with a slower decay and thicker midrange, putting more musicality to the mix and a sweeter touch for vocals. The treble is also more energetic, and in occasions can sound splashy in comparison.
The M5s, on the other hand, is clearly more neutral and linear. It has pretty much no coloration compared to the DX120; and actually shows no emphasis in any certain frequency compared to many other DAPs. There is better speed and accuracy over the DX120 too; the sound is leaner but then also clean and airier, with better extension and effortlessness. Micro details are easier to catch and treble control is better, though will sound darker when paired with warmer, bass oriented headphones. Soundstage is a tad wider and overall sound more spacious.
Shanling M0
The own Shanling entry level player, the small and cute
M0
, is clearly a no contender for the current top model, however a short comparison is worth mentioning. The M0 is a bit more tricky to operate due its smaller screen, though the whole system is very very similar with the MTouch firmware. On the last versions the M0 adds the same USB and Wireless features as the M5s.
For the sound, well, the M0 is simply just more 'fun', with a stronger mid-bass lift and forward midrange, especially in vocals. Soundstage is average and treble can be more artificial. It still easy to like as an ultra-portable player. There is no question whether the M5s is worth the extra price, as they are made for different purposes.
At the moment I don't have other players at similar price range as the M5s to compare, they're either higher or lower models. Alternatives with Android platforms.are the iBasso DX150, HiBy R6 and new FiiO M11, which I yet need to try.
Conclusion
All-in-all, the
Shanling M5s
makes a strong option as a portable audio player with a full touch screen and balanced output. The build quality is solid and the relatively compact design is more friendly than other mid-fi players, and the MTouch system is simple and easy to use without resorting to a fancy Android platform. Bluetooth quality is also good, though if more sensitive to the surroundings, and while WiFi is supported here, it is more limited to streaming apps, file transfer and system updates.
The whole system response is very fast, and just may need some time to get used to, but more comfortable than the small M0. The battery time is solid as well, especially considering the driving power and multiple functions this player supports. In terms of sound quality, then the M5s stands out with a very neutral and clean presentation, high level of transparency and micro detail. The 2.5mm balanced is well implemented too and usually presents a better sound quality over the single end output.
​
Last edited: