Sennheiser HD 600 Headphones ( ear-cup ) - gray, black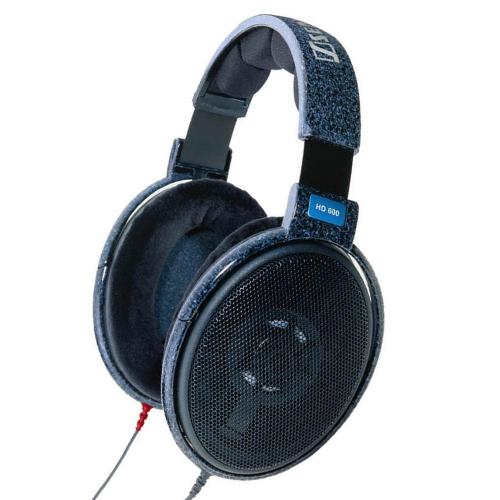 Sennheiser HD 600
Over-Ear item created by Csericks, Aug 11, 2010
Average User Rating:

4.79167

/

5

,
Tags:
Recent User Reviews
"Neutrality Reigns Supreme"

Pros - neutral signature, profound detail, lushness

Cons - lean-ish sub bass, modest soundstage

Introduction
 
This is a review of the Sennheiser HD600 headphone. The HD600 has been one of the most respected headphones on the market for nearly twenty years. This review will cover construction, comfort, power requirements, sonic performance, comparisons with other headphones, and a conclusion about this world-renowned headphone. With that, let;'s begin.
 
Technical Specifications
 
Nominal Impedance 300 ohms
Weight w/o cable  260 gm
Jack plug  3.5/6.3 mm stereo
Transducer type  open, dynamic
Coupling  circumaural
Cable length  3m
Frequency rewponse  12-39000 hz
Sound Pressure Leveel (SPL)  97 dB @ 1mw
Total Harmonic Distortion (THD)  0.1%
 
 
 
Accompanying gear for the review
 
naim cd555, iphone 6S, MacBook Pro, ipod shuffle 2G, DK Designs VS1 Mk III, magni2/modi2, Bravo Ocean, Audio Note Custom 300B, HD598, HE400S, HD600, 
 
Comfort and Construction.
 
The HD600 is constructed primarily of plastic with a small area of carbon fiber on the band. The pads are velour as is the headband, which makes for substantial comfort. Clamp force is fairly snug, but I can wear this headphone for hours with little discomfort. I have an average sized head. There is plenty of room in the band for those with larger heads. Overall, I would say this is a well-constructed headphone--and it must be because there are people out there who have had theirs for a decade or more.
One final note. My HD600 is brand new and it is not of the blueish hues that 600s of days past have been finished. Mine is black and the top of the band has a black and grayish paisley-like pattern where the word 'Sennheiser' appears. It is quite a beautiful headphone and is much better built than my HE400S is.
 
Power Requirements
 
I used a wide variety of power sources for this review. What I can tell you is that the HD600 requires a decent amp in order to shine. My ipod shuffle will drive them to loud levels, but it will not provide adequate power to support solid bass and optimal midrange. So, if you are looking at an HD600, be sure to budget for a good amp. You see the ones I use and they all drive the 600 to lovely heights--even the Ocean.
 
Preliminary Impressions
 
My first impression of the HD600 was of its detail On Pat Metheny's As it Is, the vocals were lush and rich, with individual vocal lines etched out from one another. The air around the voices was clearly audible.I smiled. I knew I was on to something. On Stravinsky's Rite of Spring, the woodwinds blaze a blistering path through the piece. I am in the room with them. They are real. The timpani are blasting acoustic energy at me, their echo clearly audible. On Larry Carlton's Last Nite, Carlton's guitar is harmonically layered like the steps of a stairwell. On Metheny's Minuano, something important emerges. It has to do with the treble. More on that in a bit. On Captain Fantastic and the Brown Dirt Cowboy, Davey Johnstone's guitar is lush and rich. I have never heard it sound so good. Wow!
I keep spinning the music. And I sit back and listen. And settle in. It's going to be a long session.
 
HD598 vs HD600
 
The most profound difference between the 598 and the 600 is that the 598, which I like very much, has sluggish and muddy bass by comparison. It is very sluggish and cannot keep up with the music. This is true on the Pat Travers' Band's Heat in the Street, where the 600 is like a fine German car. The 598, tries its best, but it's an old out-of-repair Nova and it just can't keep up.. That said, the 598 soundstage is clearly better and wider than the 600's is. There is no doubt about it. Instruments occupy a much vaster space with the 598 than they do with the 600. Treble isn't as good with the 598. More on that later.The midrange on the 598 is very nice. But it can't compete with the 600. Vocals in particular are widely different on the two. The 598 is good. The 600 is superb.
 
HE400S vs HD600
 
The HE400S is a very good headphone. It has a gorgeous midrange and very nice treble. However, its bass is fairly rolled off starting at around 70-80 hz or so. Sub bass is kind of weak. This is especially notable on song's like Fourplay's Elixir, which has deep bass. The power of this line is lost with the HE400S. The HD600, on the other hand, plays that line with impact. It is not as powerful as my HD681 Evo, but it is still felt and heard. The treble is very interesting. On the aforementioned Elton John and Pat Metheny songs, the drummers use multiple different crash cymbals. On the HE400S, those cymbals all sound fairly similar. On the 600, on the other hand, those cymbals are all each totally unique and distinct sounding. It is remarkable the resolving power of the 600 compared even to the very good HE400S. With midrange, the 400S is thin sounding by comparison to the lush and rich 600. everything is just thinner. It still sounds good, but it is rendered less resolving and full by the HD600, which is just stunningly neutral.
 
On Neutrality
 
My definition of neutrality is a headphone that sounds good on  good recordings and like crap on crappy recordings. In short, it spits out what it is given without adding or subtracting anything appreciable This is what the HD600 does. It adds little and subtracts less from the music. In short, it is a remarkably neutral headphone that is a joy to listen to. Run out and buy two--you'll be glad you did.
 
Conclusion
 
The Sennheiser HD600 is a tour de force, lo these many years later. It has an absolutely spectacular midrange, exquisitely detailed treble, and a bass and sub bass that is more than adequate for me. They are musical. They sound like music. Not many headphones can say that. Though its soundstage is smaller than the 598 and HE400S, the 600 images quite well. Instrument separation is superb. It conveys the emotion of the music beautifully. As I alluded to above, run, don't walk, and pick one of these up. You'll find yourself listening for a long, long time.


"Elegant, Composed, Neutral, Covergirl....... I mean Natural!"

Pros - Legendary sound, shows off the gear, all na-tu-ral.

Cons - shows its age a tad, kinda clampy.

This is by far the closest I have come to writing a 5 star review. Of course to get that, I would have to find the holy grail of headphones for me.
 
I had tried the HD558, HD598, HD650, and HD700 and figured I would simply fill in my knowledge gap. I had no intention of keeping the HD600 for any length of time. I found a new pair new for $200, thought it was worth the experience. Obviously, I got more than a fleeting memory.
 

 
These headphones sound like a dance in the ballroom. Calm, composed, simply natural. No hidden tricks, but all the skill is present. They are like a golfer who hits the ball 150 yards perfectly straight every stroke. Undeniably others have noted how neutral these headphones sound. Yes, they are correct. A little bass/sub-bass-light, but not many open back dynamics aren't. In fact, the more power you feed to the HD600, the more bass is spit back out. As some of you know, I don't really care what a graph tells me about headphones as cool as graphs are. What matters to me is how they sound, and what wonderful thing they can do to make my music more enjoyable, real, or revealing.
 
Thanks to our lovely community here, I bought a Project Polaris Amplifier from Garage1217 simply to bring more life to my new friend.
 

 
Yes, this made a difference. I plugged it all in real quick, and proceeded to be disappointed until I had the brains to move the gain setting up, and boy that made all the difference! There is now more bass, more extension, and overall more life. The Polaris also showed me something wonderful about the HD600. For the first time I found myself using a headphone to figure out what my gear was doing, rather than narrowing down variables with many other headphones. That is the definition of reference. I spent many hours with many headphones determining the exact sound of a FiiO e10, when it took 10 minutes and some HD600s to find out the same things I had spent so much time gathering.
 In case you were wondering about the Polaris: there is a slight tubey hollowness, though not much, excellent extension, and enough low end power to fill out the sound. (The thing needs its own review).
 
I'm gonna sneek in the ugly real quick.
The clamp is real. The cord is typical Sennheiser (FIX YOUR CABLES), but I don't hate it as much as any other cord they make. At least it ends in a 3.5 default...Not to mention the 1/4 inch adapter is fabulous as well. There isn't really a veil (at least if powered correctly), but there could be more detail.
 
I came from daily using HD700s. I love them by the way. Now they are in rotation with my HD600s, mostly because the HD600s clamp becomes a bit uncomfortable after a while, or my ears get a tad hot. I can honestly say that there is very little I can find wrong with these headphones.
Would I mix with them? Yes.
Would I test the mix equipment with them? Yes.
 
The balance and tone are fantastic. Every other headphone I have tried is immediately Bright/Dark Warm/Cold. The HD600s took me by surprise with being none of these things. The only distinguishing factor seems to be the slight lack of lower bass, and the slight hike toward the treble.

The best part is pretty much nothing is offensive about the sound.

 I can relax while listening to them. It is not so much a relaxing sound, but it allows me to be relaxed. Priceless.
 
As for my per review music recommendation; this is most difficult because

everything

 sound wonderful on these. Nothing was hugely exciting, but everything was as it should be.
I had songs that I really didn't listen to anymore become part of the regular loop again simply because the HD600 did them the right amount of justice.
 
Song Recommendation: The Veldt (Original Mix) - Deadmau5
 
If any of you have some nice recommendations, please share. Questions are cool too.
 
 
Future comparisons go here: I have found that this is pretty much just describing the sound characteristics of everything except the HD600
 
HD600 vs HD700:
The HD700 has some warmth, more detail in many frequencies, way more soundstage, and sounds quite smooth due to the warmth. The problem lies in the treble spike which the HD600 simply doesn't have. The HD700 can be a little harsh at times from that spike. The HD600 clamps much more too. They are like cousins. They clearly are from the same family, but have enough difference to not be brothers. I think I like them both equally.The HD700 adds that magic spark to many songs, while the HD600 has a magic neutrality which works with EVERYTHING.
 
HD600 vs SHP9500:
The SHP9500 has far less clamp, much more shallow pads, and of course the wonderful advantage of having a single 3.5mm port for the wire. The sound is a bit grittier on the SHP9500. The SHP9500 sounds a leaner than the HD600 though they are very similar sound signature-wise. The soundstage is a bit better on the SHP as well. The SHP9500 is a wonderful deal for the price point. I also think the HD600 is a worthy upgrade, especially if you just want fuller, more cohesive sound. Simply put, the HD600 basically replaced my SHP9500 for daily use.
 
HD600 vs HD558:
Seems unfair right? Well, the Project polaris amp added much clarity to my HD558s, so now they are not far off of a very bassy HD650. Obviously still more veiled, a bit of a treble hike at like 10k? Much boost in the mid-bass. There is more extension in the HD600. The pads are thicker on my HD600, but wither pair can have the pads replaced with HM5 pads using adapters from ModHouseAudio.
They both share that Sennheiser smoothness.
 
HD600 vs Superlux 668b
Well, now you know my next review. The Superlux is much less forgiving and harsh, more treble, and gives excellent detail. The Superlux strikes me as a bit V shaped with emphasis on the treble comparatively. Definitely leaner than the HD600. some frequencies are a bit under-represented on the Superlux. The bass is a bit lean too, but it gives pretty good extension, and great soundstage. The real difference for me is that it sounds like you are monitoring a recording on the Superlux, While listening to music on the Senneheiser. Of course the 668b has far less "veil" and more excitement similar to the HD700, but not nearly as full as the HD700. I think these are wonderful as well.
 
HD600 vs HD650
With fairness that the HD650 did not get the Polaris amp treatment: While the HD600 is pure neutrality, the HD650 tries to become a bit more fun by adding mid-bass. The treble becomes slightly accentuated as well. the result is that the roll off in lower bass is more noticable, but the overall sound is smoother. The vocals are not quite as clear with the 650, but gains enough warmth to make up for it. I think it is just as capable as the 600 in detail retrieval. I recommend the 650 if you herd the 600 and wanted a little soundstage and smooth warmth instead of only raw neutrality.
 
Conclusion: If you have not tried HD600s on a good amp; make it a must for your audiophile knowledge. I now understand the well deserved status these carry after all this time. I not only put these on my list of approved headphones, they go right on top, right where they belong, on their throne.


"Not a Veilheiser"

Pros - Natural and Smooth Sounding, Modular Parts, Lightweight, Scales with Equipment

Cons - Too many people hyping the "veil"

So I finally have my hands on a headphone I never thought I would lay hands on. The Sennheiser HD600. Despite the high amount of positive reviews these get, I disregarded THEM in the past and explored other choices on the market. Even the Veilheiser HD598 that I bought were a slight disappointment. Mids sound too laid back and hidden behind a silk curtain, Japanese female vocals are slightly sibilant friendly from the sparkly treble, the soundstage isn't intimate enough and the bass seeped into the mids without much sub bass extension. But I like the mid bass presence, it is wide and gives any instrument; especially cellos, a meaty and down to earth presentation which was quite opposite of the Q701. Was it not for the Q701, I'd give the HD598 more praise. I know the HD598's are in a different price bracket now (150CAD) but at the time they were a bit more (200CAD) and costed the same as a Q701.
 
The Q701's. Their Mids are sweet, clear, crisp and definitely haunted by the 2khz peak that introduced artificial tones. The peak is a double edged sword that could also give some fortissimo-like emotion to poprock music, boost metallic textures from string instruments and it's the reason for the sweetness in the mids. The treble has texture and it's easy to tell whether the drummer is using a brush stick, wood stick, crash, splash or riding. But treble lacks sparkle of the HD598. Bass extended deep, and the clean mid bass gave room to vocals that sounds much leaner compared to the HD600. But as much detail the Q701's have, they're a specialized headphone, Japanese media shamelessly advertise the headphones and there's no doubt their music strives with the Q701. Although the flip side is fatiguing, dry, fast decay and indeed artificial with the wrong recording. No doubt a favorable characteristic for medieval renaissance or drum and bass.
 
The HD600 I believe has so many strengths that it took me 30 minutes  to shelve my Q701's. There were so many mentions of the HD600's guilty of the infamous veil, I didn't want the weird mids of the HD598 to touch my beloved vocals. There was so much flak that the entire HD600's simple truth was the treble recession compared to other headphones. Other than that, all instruments and vocals have such a natural decay, they're smoother and female vocals simply extended into the 1khz area that was overshadowed by the 2khz peak of the Q701. Mid bass isn't just bloomy like the Hd598, but it's thick, detailed and actually so great it's able to cover up the sub bass roll off that I could easily disregard. The HD600 has a hidden sparkle and the treble itself is significant enough to balance out the warmth and not show any sort of sibilance.
 
Ideally I wouldn't be able to recommend the HD600 for competitive gaming because of its lack of forward and rear soundstage. I'd say I recommend it now because valve has created the HRTF headphones setting for counterstrike global offensive. All it does is muffle rear sounds and create a wider soundstage that is not usable with the Q701 because of its already large soundstage. But the HD600's soundstage and imaging is cohesive compared to a Q701. Some people say the hd600 has a small soundstage, I disagree. I've heard the hd800 before and I can simply say that kind of soundstage is enjoyable, but way too big. Others of course may disagree.
 
One of the absolute amazing feature of the HD600 is that it is modular. I can replace the headband, headband foam,ear cups, the shell, the cable, the driver, the inner foam of the ear cups that I replaced with pantyhose to give the headphone a luxuriously spacious feeling. All without using tools. It feels so much lighter than the Q701 too. But I wish my headphones were new, because I would have liked the stronger clamp. The other name for these are the snapheiser, and for that I won't risk trying to bend these back.
 
The HD600 is not dark and not too warm. Trust me, take it from a bright headphone user who is satisfied with a JDS Labs ODAC/O2 pairing of an ER4S or Q701. I can also gladly run them off my Sony C4 phone and it will not disappoint. However the HD600's are definitely capable of equipment scaling.
 
My headphone search has ended, so you could possibly end yours with an HD600.

User Comments
To view comments, simply sign up and become a member!