High Resolution Technologies The Music Streamer+

The Music Streamer+ is an ultra high performance music interface that allows a computer and a home...
Sennheiser HD 600 Headphones ( ear-cup ) - gray, black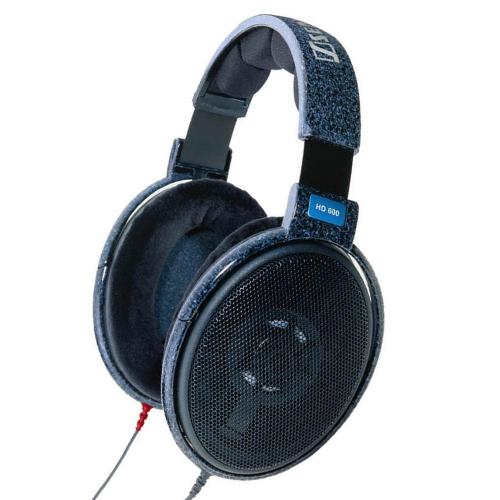 Sennheiser HD 600
Over-Ear item created by Csericks, Aug 11, 2010
Average User Rating:

4.8

/

5

,
Tags:
Recent User Reviews
"Reference Headphone for Opera and Chamber Music"

Pros - Detailed, neutral, sound quality. Does not change the tone of the music.

Cons - Needs a good amp to sound it's best.

Introduction

The Sennheiser HD600 is generally considered the reference headphone for Classical music and opera. I have owned mine for 17 years. I have purchased 5 other headphones since then but I still use my HD600 on a weekly basis and it is still one of my favorites.

The Sennheiser HD600 is considered a neutral headphone. It will sound like whatever your recordings sound like; for better or for worse. The reason that I have 5 other headphones is that not all recordings sound perfect and many recordings benefit from bass and treble boost. But on the occasion that I have a recording that sounds great the way it is, the HD600 is the headphone I choose.

My Setup

I use CD, Blu-ray, and DVD as my sound source. I mostly use a Marantz CD6005 but sometimes use an Onkyo C-7030 as my CD player. I use a bottom of the line Sony for video.

I drive all my headphones with a Schiit Asgard 2 headphone amplifier. Some of my other headphones sound fine being driven from the headphone output of CD player but the HD600 sounds significantly better with the Asgard 2 amp.

The HD600 is designed for home use. I do not use any portable listening devices and do all my listening exclusively at home.

I primarily listen to opera and orchestral music. I sometimes listen to jazz. If I watch a movie, the HD600 is my first choice of headphone. Movies are heavily equalized already and do not sound good with the added bass and treble boost of my other headphones.

The other headphones I currently own are the Sennheiser HD700, Beyerdynamic DT-880, Beyerdynamic DT-990, Beyerdynamic T51i, and Philips Fidelio X2.

My speakers are the Apogee Centaurs driven by an old Carver solid state amp and a passive preamp. I live in a small condo, so I cannot play my music very loud without disturbing the neighbors. I do most of my music listening with headphones and use the speakers for movies and television.

Sound Quality

The HD600 is known for its transparent sound quality. The sound is clear and detailed with sparkling highs and deep and detailed bass. Some will say that the highs are veiled and the bass is lacking but I cannot attribute that to the headphone as much as to individual recordings.

Out of the 6 headphones I currently own, only the HD600 and Beyerdynamic DT-880 are ones that I would consider neutral. All the others boost the bass and treble. It is important to have a neutral headphone because recordings are normally already equalized by the sound engineer and when you use a headphone that acts as an equalizer, it can mess up the sound. To further complicate matters, if the engineer is using a loudspeaker that does not have a flat frequency response to mix the recording, the sound balance can be drastically altered.

The Highs

The treble extension is a point of controversy among headphone aficionados. Many claim that the HD600 and other Sennheiser models have a veiled treble. I mostly use the HD600 for opera and most of my opera recordings do not sound veiled at all.

On the other hand, opera recordings that sound harsh on some of my other headphones can sound good on the HD600. So some people might want to call that veiled. I tend to think of the highs as "forgiving."

I think the reason some people think the highs are veiled is that they are comparing the HD600 to some other popular headphones that have boosted high frequencies.

Regardless, the highs are fully extended and clear and most opera recordings.

The Midrange

The HD600 has a gorgeous, detailed midrange that I consider to be reference quality. The midrange is what made the HD600 famous.

The Bass

The bass is another point of controversy. Some think the HD600 does not have enough bass. I think they might be comparing the bass of the HD600 to headphones with boosted bass.

The HD600 does not have a boosted bass but the bass is well extended and has detail. It all depends on the recording. Recordings with good bass extension will sound warm and deep. Recordings without much bass will sound thin.

Since most of my other headphones add bass, I use my HD600 for recordings that already have a bass boost applied. For example, the remastered recordings of the Schumann symphonies conducted by George Szell have way too much bass added in the remastering. The original budget recording was just right. I cannot listen to the remastered recording on any other headphone than the HD600.

Soundstage

The soundstage on the recordings is accurately represented by the HD600 but like all headphones, the soundstage will collapse if you play them too loud. You have to get the volume just right for the soundstage to come into focus.

One of the best examples is the recording of Handel's Alcina conducted by William Christie. If you get the volume just right, it is like sitting in the first row, right behind the orchestra pit; with the orchestra below you and the voices coming from the stage.

Conclusion

The Sennheiser HD600 has been around for 20 years now. I have had mine for 17 and I love it more now than ever due to my recent purchase of the Asgard 2 headphone amp. It is my reference when I compare other headphones for addition to my collection.

When reading headphone reviews, the writer usually treats the review as if the listener is only going to use one set of headphones for every recording. That might be true for someone listening to digital files going through an equalizer program. But I am listening to CD's, DVD's, and Blu-ray without any equalizer, so I end up using my headphones as an equalizer.

The Sennheiser HD600 is the one headphone I use when I don't want to change the tonal quality of the music. It is my reference for a neutral headphone.

I usually turn to the HD600 for opera, chamber, and solo piano. For large orchestral music, I like the added bass and treble of my other headphones.

The HD600 is excellent for movies since they are already equalized with added bass and treble.

The HD600 is very comfortable and I can wear it for a long period of time, even while wearing glasses.

If you are a fan of opera and chamber music, I highly recommend trying out the Sennheiser HD600. Many other headphones have come and gone but the HD600 is my reference headphones that all others are compared to.

"Amazing with the Emotiva Basx A-100 amp"

Pros - Huge amounts of transparency

Cons - Really needs a very beefy amp to open it up. The A-100 was the first that could throw it around.

Having owned this headphone for close to a decade, I feel that I definitely have the experience to write about it.
The first thing is..........if you don't have a headphone amp that likely costs as much or up to five times as much as this unit, you are wasting your money. This thing NEEDS a very powerful headphone amp if you want it to sound great. Otherwise it will merely sound good and pleasant. But you will miss the high resolution bass, the open treble. Pretty much everything that's amazing about them.

Luckily I found the Emotiva basx A-100 amp priced at about 200 and with its resistor jumper taken off, it was just the prescription for this headphones. And what a prescription that was! It threw it from - probably about right for the price to right in to the high end of performance imo.

So here's my review for it. If you are looking for an amp that can push unlimited dynamics with this thing look no further. Just remember to take the jumper off.

My review:
Y'all I bought this headphone amp and I couldn't believe it's selling for this price. It is a DREAM with the HD600s. The HD600's no longer feel dark or laid back. It simply came alive. Soundstage, resolution, unlimited dynamics. Oh and really low bass. Just insane really. Imo to beat this amp you are going to have to swing up to a Schiit Ragnarok. It has got huge amounts of power capability and I believe this is the reason the HD600's came alive. Lots of control.

I removed the jumper and absolutely heard a difference in dynamics - there was no smear. Just lightning quick transients. The first time I felt my headphone rig was not second class to my speaker rig. The jumper limtis the current output of the A-100 to prevent high sensitivity headphones from frying. Not a problem for the HD600. With the jumpers off, the A-100 pushes a godly 1300 mwatts in to 300 ohms. Doesn't sound like much? Check out how well other amps do at 300 ohms? You'll be lucky if they squeek out even a 100 mwatts. I've seen amp units that gasp out 14 mwatts at 300 ohms.
At lower impedances the A-100 will push 8.5 watts at 50 ohms more than enough to fry the headphones. Hence the jumpers to prevent over driving lower impedance headphones.
But with the HD600's....it's just a dream.

Speaker and DAC rig: (Axiom M80's fully balanced to Emotiva DC- to XPA-1 gen 2 monoblocks in class A mode + room treatments. With a source the Musiland Digital Times via BNC output. About a $4500 setup). I can't believe I'm saying this but it absolutely competed with this nice sounding speaker setup. In some aspects it did better as well.
I dare you to find anything close anywhere near that's price range.
Love it!

Along with the huge torroidal transformer, you will see that it has a ridiculous 20,000 mf of capacitance and that performance really shows bringing very low bass and extreme control to this set of headphones. The treble also really opened up. I am definitely hearing more air. The control allows everything to sound holographic with large amounts of layering.


"Neutrality Reigns Supreme"

Pros - neutral signature, profound detail, lushness

Cons - lean-ish sub bass, modest soundstage

Introduction
 
This is a review of the Sennheiser HD600 headphone. The HD600 has been one of the most respected headphones on the market for nearly twenty years. This review will cover construction, comfort, power requirements, sonic performance, comparisons with other headphones, and a conclusion about this world-renowned headphone. With that, let;'s begin.
 
Technical Specifications
 
Nominal Impedance 300 ohms
Weight w/o cable  260 gm
Jack plug  3.5/6.3 mm stereo
Transducer type  open, dynamic
Coupling  circumaural
Cable length  3m
Frequency rewponse  12-39000 hz
Sound Pressure Leveel (SPL)  97 dB @ 1mw
Total Harmonic Distortion (THD)  0.1%
 
 
 
Accompanying gear for the review
 
naim cd555, iphone 6S, MacBook Pro, ipod shuffle 2G, DK Designs VS1 Mk III, magni2/modi2, Bravo Ocean, Audio Note Custom 300B, HD598, HE400S, HD600, 
 
Comfort and Construction.
 
The HD600 is constructed primarily of plastic with a small area of carbon fiber on the band. The pads are velour as is the headband, which makes for substantial comfort. Clamp force is fairly snug, but I can wear this headphone for hours with little discomfort. I have an average sized head. There is plenty of room in the band for those with larger heads. Overall, I would say this is a well-constructed headphone--and it must be because there are people out there who have had theirs for a decade or more.
One final note. My HD600 is brand new and it is not of the blueish hues that 600s of days past have been finished. Mine is black and the top of the band has a black and grayish paisley-like pattern where the word 'Sennheiser' appears. It is quite a beautiful headphone and is much better built than my HE400S is.
 
Power Requirements
 
I used a wide variety of power sources for this review. What I can tell you is that the HD600 requires a decent amp in order to shine. My ipod shuffle will drive them to loud levels, but it will not provide adequate power to support solid bass and optimal midrange. So, if you are looking at an HD600, be sure to budget for a good amp. You see the ones I use and they all drive the 600 to lovely heights--even the Ocean.
 
Preliminary Impressions
 
My first impression of the HD600 was of its detail On Pat Metheny's As it Is, the vocals were lush and rich, with individual vocal lines etched out from one another. The air around the voices was clearly audible.I smiled. I knew I was on to something. On Stravinsky's Rite of Spring, the woodwinds blaze a blistering path through the piece. I am in the room with them. They are real. The timpani are blasting acoustic energy at me, their echo clearly audible. On Larry Carlton's Last Nite, Carlton's guitar is harmonically layered like the steps of a stairwell. On Metheny's Minuano, something important emerges. It has to do with the treble. More on that in a bit. On Captain Fantastic and the Brown Dirt Cowboy, Davey Johnstone's guitar is lush and rich. I have never heard it sound so good. Wow!
I keep spinning the music. And I sit back and listen. And settle in. It's going to be a long session.
 
HD598 vs HD600
 
The most profound difference between the 598 and the 600 is that the 598, which I like very much, has sluggish and muddy bass by comparison. It is very sluggish and cannot keep up with the music. This is true on the Pat Travers' Band's Heat in the Street, where the 600 is like a fine German car. The 598, tries its best, but it's an old out-of-repair Nova and it just can't keep up.. That said, the 598 soundstage is clearly better and wider than the 600's is. There is no doubt about it. Instruments occupy a much vaster space with the 598 than they do with the 600. Treble isn't as good with the 598. More on that later.The midrange on the 598 is very nice. But it can't compete with the 600. Vocals in particular are widely different on the two. The 598 is good. The 600 is superb.
 
HE400S vs HD600
 
The HE400S is a very good headphone. It has a gorgeous midrange and very nice treble. However, its bass is fairly rolled off starting at around 70-80 hz or so. Sub bass is kind of weak. This is especially notable on song's like Fourplay's Elixir, which has deep bass. The power of this line is lost with the HE400S. The HD600, on the other hand, plays that line with impact. It is not as powerful as my HD681 Evo, but it is still felt and heard. The treble is very interesting. On the aforementioned Elton John and Pat Metheny songs, the drummers use multiple different crash cymbals. On the HE400S, those cymbals all sound fairly similar. On the 600, on the other hand, those cymbals are all each totally unique and distinct sounding. It is remarkable the resolving power of the 600 compared even to the very good HE400S. With midrange, the 400S is thin sounding by comparison to the lush and rich 600. everything is just thinner. It still sounds good, but it is rendered less resolving and full by the HD600, which is just stunningly neutral.
 
On Neutrality
 
My definition of neutrality is a headphone that sounds good on  good recordings and like crap on crappy recordings. In short, it spits out what it is given without adding or subtracting anything appreciable This is what the HD600 does. It adds little and subtracts less from the music. In short, it is a remarkably neutral headphone that is a joy to listen to. Run out and buy two--you'll be glad you did.
 
Conclusion
 
The Sennheiser HD600 is a tour de force, lo these many years later. It has an absolutely spectacular midrange, exquisitely detailed treble, and a bass and sub bass that is more than adequate for me. They are musical. They sound like music. Not many headphones can say that. Though its soundstage is smaller than the 598 and HE400S, the 600 images quite well. Instrument separation is superb. It conveys the emotion of the music beautifully. As I alluded to above, run, don't walk, and pick one of these up. You'll find yourself listening for a long, long time.

User Comments
To view comments, simply sign up and become a member!