Item Information
Noble Audio Khan

,

1

votes
Author:
Category:
Views:

6,651
Reviews:

1
Comments:

1
PLUSSOUND Gold Plated Hybrid Litz Exo Cable

Exo series displays the beauty behind the rich sound. This cable consists of four high quality, custom manufactured UPOCC stranded wires with a...

64 Audio (1964 Ears) TIA Fourte

64 Audio Flagship Hybrid earphone

Noble Audio Katana

9 balanced armature aluminium universal IEM
<span style="font-size:large"> <a href="https://cdn.head-fi.org/a/10201972.jpg" target="_blank" class="LbTrigger" data-href="misc/lightbox"><img src="https://cdn.head-fi.org/a/10201972_thumb.jpg" alt="Gengis Khan.jpg" class="bbCodeImage...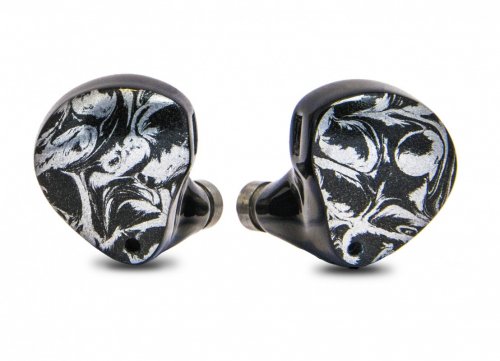 Noble Audio Khan
---
Recent Reviews
Khan, the King of Kings

Written by WCDchee
Published

Nov 23, 2018

Pros - Tonally sound, technically proficient, beautifully built earphone

Cons - As with any flagship, costly, not suitable for anyone looking for something warm, smooth and unoffending.

A while back, I was approached by John and informed of a new Tri-level hybrid that he had been developing. Naturally, I was extremely curious. For those of you that know me, the K10 is the first and only CIEM I have ever had. It is also the first BA IEM that I really liked. I remember asking John a couple of times, what he thought was good about this new earphone, and he kept mentioning the how addictive the bass of this earphone was. Now, I'm someone that comes from Dynamic drivers, and in the recent years have come to appreciate properly implemented Hybrids. The thought of Noble implementing a hybrid after having spent some time with Dynamic Drivers on their own was pretty exciting.

I've also had the opportunity to review the Katana and the Encore along with the K10, and till this day, they continue to be earphones that I pick up from time to time. I've always liked Noble's earphones, and what's always stood out for me with their earphones, is the way they're tuned. All too often we have these flagship monitors with immense technical capabilities, but tonally, they're just not quite there. With the Katana or the Encore, I don't have to worry about that. They may not be the most technically advanced sounding monitors, but they sure sound fantastic.



Build



The Khan is really quite the beautiful Earphone. Unlike the Katana and the Encore, it has an SLA housing, with a Mokume Gane Faceplate. Personally, I was hoping for a CNC shell like with the other Noble flagships, but I've come to appreciate the Smoke SLA shell for what it is. The Mokume Gane faceplate though, is really what stands out here. All in all, the earphone is well build, finishing is smooth, and consistent.

Perhaps due to its custom-ish shape, the Khan fits the ear very well, with a relatively deep insertion for a wide bore IEM. Isolation is on par with most BA UIEMs as well.



Sound



I will be making multiple references to the Katana and the Encore with regards to the sound.

As I mentioned above, when I asked John what he felt about the Khan's sound, he mentioned the bass a couple of times as his favourite part of the Khan. Before the Khan arrived, I was expecting a sort of a K10 reborn. I couldn't be more wrong, and from the moment I pugged the Khan in, I knew that this was something special.

Tonally, the Khan lies somewhere between the Katana and the Encore. The Katana is a very balanced sound with a slightly warmish, smooth midrange, a balanced bass response and a smooth top end. The Encore I have found to be a tad thinner, with a slightly brighter top end and a more powerful low end response. Technically though, this is a completely different animal from either the Katana or the Encore. It is simply on another level in terms of precision, resolution and transparency. The soundstage is large and spacious in all directions, and imaging is precise, layering is realistic, highly competitive with any of the best flagships on the market at present.

The highs of the Khan are driven by a 10mm Piezo tweeter. The Piezo tweeter isn't something typically used in high end audio, but hearing it in the Khan, I believe that there may be something here that high end audio has been missing. I heard it before in the Hyla CE-5, but I wasn't a big fan there. With the Khan, the highs are sparkly, airy, but almost never hot. They are definitely present, and airy, giving the sound a clear definition and edge but mostly, (unless the recording has it in spades), they avoid any sibilance.

The midrange of the Khan is very even handed, and close to the neutral midrange I hear on my Focal studio monitors. One of my biggest gripes with most BA monitors is the way the midrange is presented, BA monitors tend to have a very forward midrange, and coming from dynamic drivers which tend to have a slightly more distant midrange, I've always found it difficult to get used to. The Khan, however, manages to bring that midrange image back slightly, and allow it to sit in the mix a little more naturally. This is something I have found to be extremely rare with BA monitors. Coupled with the Piezo tweeter, I have found the Khan to reproduce music in a highly tonally accurate manner, with adequate weight and richness without compromising on transparency and accuracy.

In terms of the bass, they are nothing like the K10. As I mentioned above, the Khan is mostly a very even, balanced sounding earphone, it's bass is the same. It's mostly, subjectively, a pretty flat bass response with perhaps just a slight emphasis in the sub regions. What it does is an incredibly fast, snappy bass response that remains full of kick and impact. The bass response is quite frankly among the best I have heard in earphones. It has all of the speed and control of the BA bass drivers, yet when the music calls for it, it extends far deeper and kicks with the great impact expected of a good dynamic driver. It never attracts any attention to itself, but it never fails to fill the stage and provide a solid, deep foundation to the sound.



Final Words



I am extremely honoured to be picked out by John to review the Khan. As I understand, this is the only Khan outside of Noble at this point, (SN #1 in fact). John was very anxious about how I would feel about the Khan.

My take on the Khan is very different from that of the Katana and the Encore. The Khan remains, like all flagship Noble monitors, highly coherent, and tonally sound, yet it also brings to the table top end, flagship level resolution and technicalities. It is easy to drive, and sounds good off just about any portable source. Plug it into something bigger like the Hugo TT and it really scales up like the best of monitors do.

To all of those Noble fans out there, waiting for the Wizard to churn up something new and special, I believe this would be it. The Khan retails for 2399, a whole 550 dollars more than the Katana and the Encore, but in my very humble opinion, is well worth the price hike. For those of you out there always considering one of John's designs, but never coming on board, I think now would be a better time than ever to consider getting yourself a Noble flagship.
Comments
To view comments, simply sign up and become a member!