Item information
Added by
Views

8,927
Reviews

3
Last update
Rating

4.67 star(s)

3 ratings
Master & Dynamic MH30 On-Ear Headphone
General Information
The Mobile Thinking Cap
Latest reviews
Pros
:
Dynamic bass and subbass, meticulous and supremely sturdy construction, comfortable fit, thoughtful included accessories.
Cons
:
Larger heads may have issues with the fit. Everyone else may not want to take the MH30 off their heads.
Review: Master & Dynamic MH30
​
​
Introduction
It was a balmy day in San Francisco, the weather fulfilling requests of a windy and slightly damp morning. 
While I was setting up tables at the latest San Francisco Head-Fi meet at Burlingame's Doubletree, I noticed a company that I haven't heard of before.  Master & Dynamic.  I wondered to myself: "Wow, these headphones look pretty snazzy!  How do they sound?"  Well, I didn't get to hear their on-ear MH30 and flagship over-ear MH40 that day, but my fiancée was able to try both out, and she liked how they sounded.  I would like to thank Master & Dynamic for sending me a MH30 in exchange for my opinion.
Here is the audio equipment used in the review:
Headphones
B&O PLAY by Bang & Olufsen BeoPlay H6 with DJ Khaled – Black Red: $399
Master & Dynamic MH30: $349
Master & Dynamic MH40: $399
Sources
iPhone 6 (Space Gray, 128GB):  $849.99 or $399.99 with a 2-Year Contract
Surface Pro 2 64GB: $899.99
Questyle Audio QP1R Golden and Space Gray: $899 USD
DAC/Amp
CEntrance DACport Slim DAC/Amp Combo: $99 shipped in United States
Software Applications Used
Neutron Music Player – 320kbps
Spotify Premium – Extreme Setting
TIDAL HiFi – Lossless
Who is Master & Dynamic?
Master & Dynamic is a company that is based in New York, as all designs are created there.  They pride themselves with creating not only functional, but timeless designs as well.  What I thought was a fresh take of most companies' missions is that their mission is a philosophy.  Master & Dynamic's philosophy:
"We believe mastery is a never-ending exploration requiring a dynamic approach. Sound is a catalyst and a powerful creative element.
We see our headphones as modern thinking caps: tools to help focus, inspire and transport your mind. We build sound tools for creative minds."
If that awe-inspiring quote wasn't enough to whet your appetite, I was enthralled with this YouTube video of Master & Dynamic describing and demonstrating the design process of their MH40: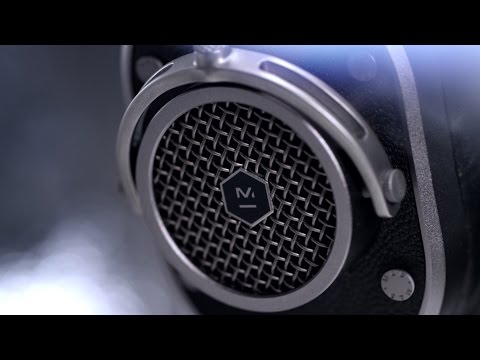 Here is their epic brand video: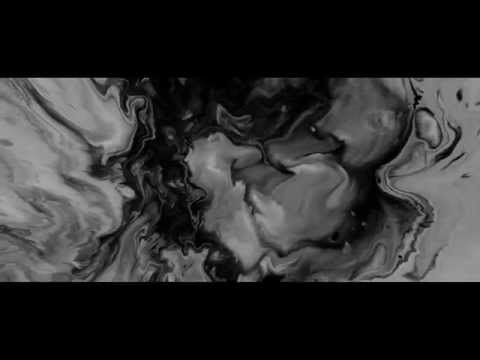 I wanted to find out even more about the company, and was greeted with open arms when I requested to interview Master & Dynamic.  Let's learn more from the founder of Master & Dynamic.
Jonathon Levine – Founder and CEO of Master & Dynamic
:
Jonathan answered these questions:
What gave you the inspiration to create the Master & Dynamic lineup?
While visiting a museum in Washington D.C. with my oldest son I came across a pair of old headphones that had withstood the test of time.  The product was both beautiful and durable, and I quickly became a collector of similar models. I knew I wanted to create a range of products that were as timeless and elegant as those museums worthy units, and in 2013 the idea of Master & Dynamic was born. All of our headphones, along with our stands and boom microphones, are built for decades of use, and the marriage of function and form has earned us a loyal following among those that appreciate design, materials, craftsmanship and of course, abundantly great sound quality.
What is your goal for your customers with regards to their experience with Master & Dynamic, and the MH40/MH30 in general?
Each of our products, including our signature MH40 Over Ear Headphone and the MH30 On Ear Headphone, is designed to appeal to the senses.  Acoustically, the headphones provide superior performance across a myriad of musical genres.  Visually, the headphones convey a level of elegance and style never found before in headphones.  They look amazing, whether on the head, or around the neck, as well as when on display in a home, office or studio.  In hand, the tactile nature and quality of the materials become apparent instantly.  The premium materials come together with superior fit, comfort and balance.  
What was your reason(s) to use the somewhat retro design?
As a designer I have always been drawn to industrial elements for inspiration.  Designing and building products using premium materials can be challenging but the extra effort is definitely worth it.  Timelessness demands superior design and materials.  When you see it, feel it, you know it at once.  Every aspect of our headphones is considered, both technically and aesthetically.  The tactile nature of our products remains very important to us.  We are thrilled to have created a suite of products that look as good as they perform.
What are your goals for the future with regards to Master & Dynamic?
We have a very robust product roadmap through 2017 as we continue to redefine what a premium audio company should be.  Expect to see continued growth across the board as well as an accelerated push into wireless products as we continue to establish ourselves as a brand that is among the best in high-end audio.
Inside the MH30 box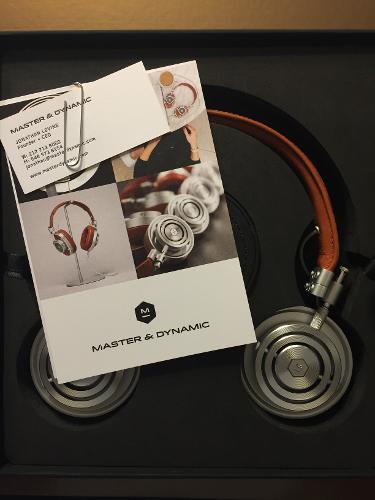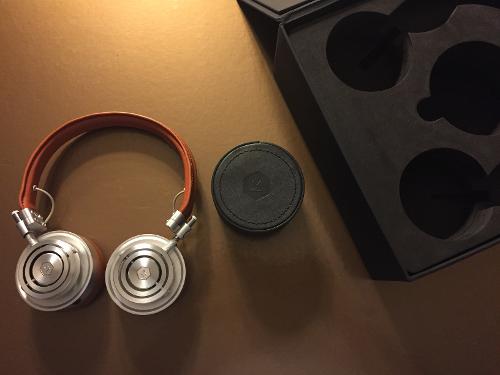 -Master & Dynamic MH30 box
-Master & Dynamic MH30
-User Manual
-Headphone Case
-Headphone Bag
-Cable and Connector Case
-Standard Cable
-Remote Cable
-1/8 inch to 1/4 inch adapter
The MH30 box invites you with its side profiles on the front for visual stimulation, and the back shows entire headphone with enticing text.  What grabbed me was: "At Master & Dynamic, we are obsessed with the interaction between sound and creativity.  Our passion is building beautifully designed, technically sophisticated sound tools for creative minds."  That alone sounds mighty interesting, doesn't it?  Let's see if they live up to the quote, mainly beautifully designed, and technically sophisticated sound tools. 
Beauty in a box
The headphone case is small and elegant, letting the headphone display when the flap is opened, yet can stay safe for transport as its own headphone case.  I feel it is so beautifully constructed, that I would only use it as a case at home, and use a soft/hard headphone case for outside excursions.
Here are the contents of the user's manual (click on pictures for larger view)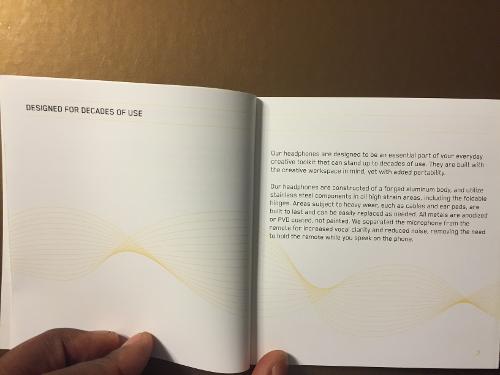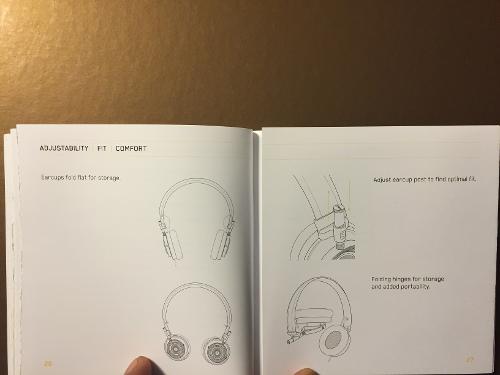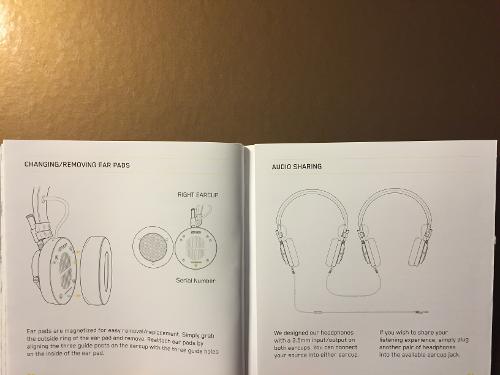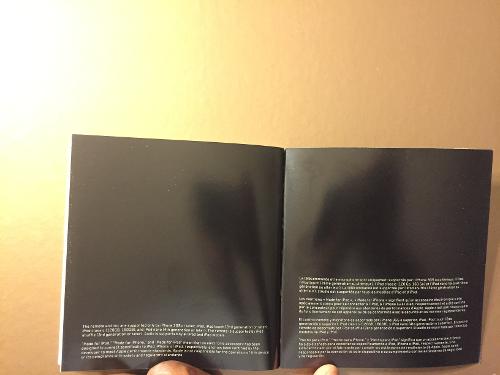 The little things make it worthwhile
The headphone bag is simple, yet tasteful.  It has a velvet look and feels velvety-soft to the touch.  The magnets and inside pocket to carry cables instead of the cables moving around everywhere in the bag are thoughtful touches.
Headphone bag...
...with a little pouch inside for cables/accessories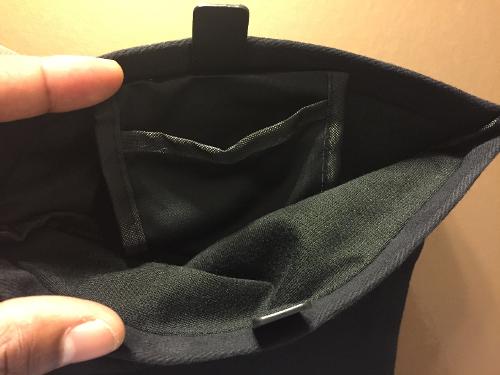 Magnetic-snap enclosure
The cable and connector case is stitched on top with a simple, yet effective close top that is affixed to the case, so you will never lose the close top!
Cable and connector case
Cable and connector case - opened
The cables and connector are top notch.  The silver sheathed/threaded cables feel and look high-quality.  The main cable (measures 79 inches tip to tip) is a length that is easily manageable.  It's better to have longer than shorter cables, as you can always wrap up what you don't need.  With a shorter cable, you cannot.  The remote cable (measures 49 inches tip to tip) is a good short length cable for those that do not want the long cable when walking around with an iDevice.  The remote cable caters to those that want to use it with their iDevice, which is great for people that want to have various controls at their cable.
Standard cable
Remote cable
Sidenote: Make sure that the remote cable is not plugged in upside down, as the remote will not work if it is plugged upside down.  Meaning, make sure the cable is plugged in so the remote is closest to your face/head, so the remote will be able to function correctly.
The MH30 and MH40's input connectors allows the use of third party elemental material cables if one so chooses. 
The 1/8 inch to 1/4 inch adapter is also thoughtful because the actual silver housing of the adapter is super slim, so it can fit in virtually all DAC/amp 1/4 inch ports.
An ingenious feature that the MH30 and MH40 offers are magnetic earpads.  This means changing earpads is quite possibly the easiest task that one can do compared to other headphones that do not have the magnetic earpads feature.  
Magnetic earpads
It's awesome that both MH30 and MH40 can have the cable going on the left side or right side, which caters to both left handed and right handed individuals.
M&D embossed on cable jack
There's more to love
Master & Dynamic embodies masterful construction, but is still able to create a light weight over-ear MH30 that feels very comfortable, encompassing a warm and musical sound.  Using cowhide, lambskin and stainless steel will allow the product to literally grow and mature like a fine wine, becoming even more like an heirloom as time goes on.  The solid construction of the MH30 might very well make it worth more than the price it's asking in 20 years' time.
Immaculate construction...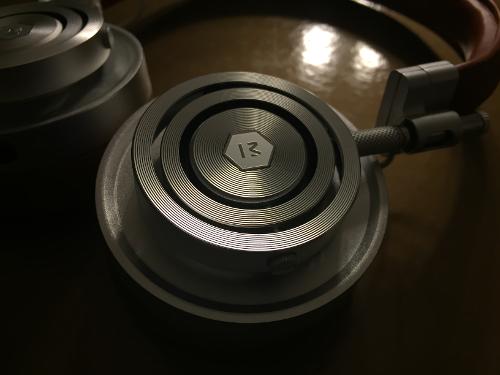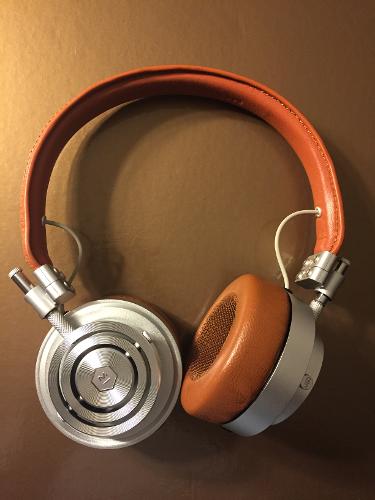 You can also choose from marked telescoping mechanism "0" up to "4" with regards to headband height position, which makes setting both sides the same exact height very easy.  
Height adjustment, made easy
Also, I did not know that the MH30 and MH40 offered this feature until opening up the boxes, but the "tandem" headphone sharing is a very smart decision, and coupled with the long headphone cables, two people can stand a few feet away from each other while both listen to the same song at the exact same point on the same source.  "Simply brilliant" is what I think of the feature.  Note that the tethered headphone will not have 100% the volume or fidelity as the main headphone connected to the source, but it is still a great way to share your favorite tunes with anyone you choose!
Tandem action of MH40 (main headphone) and MH30 (tandem headphone)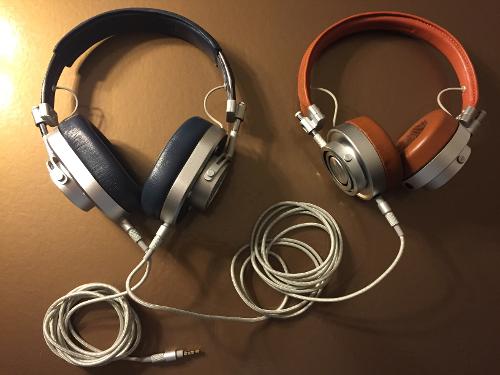 Closer shot of tandem action of MH40 and MH30
How does the MH30 sound?
My friend who is used to listening to Bose headphones had his jaw dropped as I played different remastered Michael Jackson's songs via iPhone 6's Tidal HiFi – Lossless and MH30.  He was also amazed that the MH30 and MH40 (and any other headphone with same connector for that matter) could be played in tandem, with two headphones listening to one iPhone 6!  It was so nice tandem smiling, moving our heads in unison and listening to the same song as well as the same beat!  It was like our own mini concert, and I was the conductor of the orchestra - in this case, the orchestra was all in my iPhone 6, playing Tidal. 
In the end of listening to both he told me that the MH40 sounded very open, and thought that there are sounds coming from different areas of the backyard where we were listening.  He also told me that they were the best headphones that he ever listened to.  He let his wife, two daughters and son listen to both.  They were all blown away.  His wife told me the MH30 had a "more bassier" sound, and preferred the MH40 that had more treble in the music than the MH30.  He loved how the MH30 sounded, and could only muster one word when listening: "Wow!"
Easy, like Sunday morning
The MH30 has a natural radiance
The MH30 is sensitive and very easy to drive, about the level as most of the IEMs that I have listened to or own.  There is not caveat that I have experienced regarding hiss because of the sensitivity, as the MH30 sounded great with no perceived hiss on various types of sources such as my iPhone 6, Questyle QP1R, Surface Pro 2 and Surface Pro 2 + CEntrance DACport USB DAC/amp combination! 
The MH30 is scalable, meaning as you feed it higher quality amplification and/or a higher quality DAC and/or digital audio player, you will be rewarded with even more crisp clarity, even harder-hitting midbass and subbass. 
The MH30's midbass and subbass most notably shines with higher quality DAC/Amps, and the overall frequency spectrum shines with feeding the MH30 higher quality components. 
The MH30's midrange is thick and slightly raspy, and the treble is light on its feet, rolled off, but almost infinitely easy to listen because of these inherent qualities. 
The MH30's spatial capabilities are more apparent with mastered, high quality tracks, and comparatively the MH40's spatial capabilities broaden with greater finesse and panache when higher quality components are utilized. 
Using the MH30 with higher-fidelity sources and applications such as Tidal HiFi – Lossless and Questyle's QP1R resulted in head-bopping and finger-snapping.  Not just Sunday morning, but any day is a great day to listen to the MH30!
Here is my brief review of the MH30 and comparison with the B&O PLAY by Bang & Olufsen BeoPlay H6 with DJ Khaled – Black Red and MH40 in my QP1R review:
"The QP1R powers the MH30 to very loud levels.  The MH30 is made for iPhone and comes with a remote cable.  As a result of being created for the iPhone, the headphones are sensitive and easy to drive.  The QP1R is overkill power-wise, but it is great that there is so much headroom.   The headphone is light on the head, but the sturdy steel and leather construction makes it a quality created headphone.  The MH30's earpads are attached by magnets and are easy to pull off to clean or replace. The MH30 has more bass slam and midbass presentation than the H6 DJ Khaled and MH40, but the overall presentation is more resolving on the H6 DJ Khaled and MH40.  The overall sound is simply fun and engaging, causing you to bop your head or smile from ear to ear when you listen to the lower midrange, bass and subbass.  The treble has a non-fatiguing presentation, but you can hear remnants of it if you focus on it, which may be a little difficult because of the enthralling subbass that may reel you in.  For those who want a methodically created and recreational sounding on-ear headphone for a price that will not elicit groans from your wallet, the MH30 is a clever choice."
MH30, MH40 and HIFIMAN HE1000 (for size reference)
Service
When all things regarding competing companies are equal or close to, usually service is the area where companies can make or break their name and legacy.  Master & Dynamic's PR Coordinator Andrew Gretchko, was professional and responded to my inquiries quickly.  Overall customer service is exemplary, and could not ask for anything more.  Master & Dynamic gets my wholehearted vote as a company to do business with!
Final summary
In the end, or the beginning, I feel the MH30 is not just beautifully designed, but elegantly created as well.  The MH30 is easily one of the most thought out and exemplification of the marriage of form, function, and enthralling sound.  Happy listening, everyone!
MH30 Specifications
Master & Dynamic MH30 Specifications
Model: MH30
Dimensions: 195mm x 190mm x 40mm
Drivers: 40mm Neodymium
Impedance: 32 ohms
Weight: 260g
Materials: Cowhide x lambskin leather, stainless steel, aluminum, detachable woven cable
Cable: Detachable 1.25m cable with remote and mic and 2.00m standard cable
Cable Material: Oxygen Free Copper Conductors (OFC)
Headphone Connection: Dual 3.5mm standard jack
Ear Coupling: Supra-aural
Microphone Type: Omni-directional
Ear Pads: Detachable lambskin memory foam
Apple Compatibility: The remote and mic are supported only by iPhone 3GS or later, iPad, iPod Touch (2nd generation or later), iPod Classic (120GB, 160GB), and iPod Nano (4th generation or later). The remote is supported by iPod Shuffle (3rd generation or later). Audio is supported by all iPad and iPod models.
Pros
:
Quality Materials, Very Light Weight, Very Engaging
Cons
:
Cable Length, Once You Put Them On You Won't Want To Remove Them
This review is for Master &  Dynamic MH30 over the ear. My name is Adam. I am a 38 years old headphone and IEM collector. I don't consider myself an audiophile, but have been into music and audio equipment since I was in middle school. Some months ago, I have always wanted to review the MH30's, but ended up reviewing there ME03's. After that review, I reviewed their MH40's. I guess the stars weren't lining up right for me to get my hands on a pair. I finally got my hands on a demo unit to review the MH30's, and I would like to say thank you to the whole Master & Dynamic Team: Scott, Mary, and Jonathan. I am not an employee, nor am I being compensated for this review. You can purchase the MH30's  for $349 directly from Master & Dynamic, if you live in NY city they offer one hour delivery. How's that for service? 
http://www.masterdynamic.com/products/mh30-on-ear-headphones
We should all know Master & Dynamic by now, they are based in New York City. They design all their products there, but have them manufactured overseas. I know what you're thinking: the quality. I can guarantee that all their products are nothing less then top notch. Master & Dynamic looks stand out for sure, and are more stylish than any other brand that I have seen. In today's market, consumers don't purchase headphones just for the sound. They also want them to look good. Just imagine walking down Park Way Avenue in a three piece suit, wearing a pair of plastic headphones. I still like to think at my age I still have some kind of style, but just don't ask my kids. After reviewing there MH40's I fell in love with Master & Dynamic right away, but I have always been wanting to review the MH30's. The MH40's style is more for the kind of person that owns a Hedge Fund company and doesn't drive, but uses limos to get around and wears custom made suits. Now, the MH30's style are more for the kind of person that uses the subway, and relies on Uber service to get around and works at a local club in Brooklyn. Now, that's more of the type of person I am. But style is only one part, so let's see how they sound and let's get right into it. Sorry for the contrast in pictures. Someone's kids dropped my camera ,and now the white balance isn't working properly. Yeah, it was one of my offspring.  
SPECIFICATIONS
Dimensions:           195mm x 190mm x 40mm
Weight:                   260g
Sound Profile:         Dynamic, Closed
Impedance:            32 ohms
Drivers:                   40mm High-Performance          
PACKAGING
Master & Dynamic MH30's come in a nice heavy duty cardboard box, with a hi-res photo on front and back of the sleeve. After removing the sleeve, you will find the black box with a lid and pull tab to get to the goodies. The first thing you will notice when opening the lid is the premium smell of leather that fills the air. It's kind of like walking into Schott's leather store in NYC. On top of the MH30's, you will be greeted with their welcome card. The headphones are packed in a pre-cut hi-density foam with the cable box set in the middle -- very nice to store, if not in use. Lifting up the foam tray, you will find the fabric pouch, warranty information, and user manual.  
Master & Dynamic really goes all out with first impressions with very nice packaging. Their packaging reminds me of the company that sounds like a fruit. Some companies don't put much thought in their packaging, and use plastic blister packs and thin cardboard, only to be damaged in shipping. And at this price point, they go above and beyond, and do better then some higher priced headphones packaging.      
ACCESSORIES
Canvas Headphone Case
Leather Cable Box
Gold-Plates Adapter 3.5/6.3mm
Headphone Plug 2.0m
Headphone Plug With Remote & Mic 1.25m  
The accessories who doesn't like accessories? I am all about accessories, and they just don't include a cable. They give you a pouch and a leather case for the cables. Two cables, that is one separate with a remote and mic. Just like their other products, I give them an A+. You're lucky if you get a 3.5 adaptor with some other brands.    
BUILD AND FIT
Now, this is one of the things Master & Dynamic stands out in the front of the crowd -- They're head turners. The color combinations they use are stunning. They're built with nice clean lines and smooth edges, all made with premium materials. You won't find any plastic on these, except for maybe in the housing. The MH30's are over the ear cans. The headband is wrapped in heavy grain cowhide with lambskin underneath for padding. The ear pads are wrapped in lambskin with memory foam underneath for an ample fit on your ears. Did I mention the ear cups are removable that attach with magnets for replacement? I really like this design. There has been once or twice I have ripped new pads trying to stretch them over for replacement.  
MH30's housing is made of aluminum that is anodized for extra hardness. The backs of the housing has a very nice circular machined pattern on them. There are two pins on the housing so the cups can pivot to the angle of your head. They also can be adjusted up and down for people that have longer heads. They are attached to the headband using a friction slide that has numbers on them, so you can match the other side up, if you're as picky as me. The slides have a nice machined knurled finish on them. You can also fold them up for storage, with the hinges connecting them to the headband. The cups can be turned so you can lay them down flat on a desk, or the seat of your Mercedes. Did I miss anything? Probably, but all you need to know is that these are built with premium materials, and don't have a single flaw in them. They will please some of the higher class wine and cheese eaters.  
The cables are made of oxygen free copper, and are wrapped in a nice woven fabric. The plugs are gold plated, with a nice knurled finish on the end of the housing. There is also a piece of rubber coming out of the back, to help with strain relief. Remote and mic cable is made from the same material. The mic is located perfectly,  closer to your chin for phone calls. They keep the remote separate from the mic, and makes for better phone calls and operation of the controls.  
I have to say the MH30's are my favorite looking headphones to date. They are built like tanks, but keeping a stylish look. They are very comfortable to wear. The clamping pressure fits my head perfectly. For being over the ear, they seal really well and keep ambient noise out above average. I could wear these for hours upon hours with out any discomfort. For people that wear glasses, these are very friendly. One thing I should point out I do have a big head, and the ear cups are at their maximum length. So, if you have an oddly long head, these may not fit. But like I said, I have a big head.  
SOUND
Okay, with all the style and premium materials, does the sound really matter at this point? Some might be happy just to wear them around their neck. I guess it matters, and how do they sound? They are now my go-to headphone for ON the ear use. I don't wear OVER the ear headphones out, just because they're too big. I need all the help I can get in the looks department, so why add something big over my head? The MH30's overall sound: I would say it's on the warmer side. I listened to these using all hi-res files with my AK100ii and Fiio X1 stacked with a Fiio E07K. These are very easy to drive, but I amped it because the E07K has 2 outputs so I could compare them really fast with the MH40's.  
When I say warmer ,I don't mean they're bass heavy. The bass extends very well with out bleeding into the mids. You have to hear these to see how well there low end is in sub bass and mid bass. You get a nice rumble and thump at the same time. Compared to the MH40's the MH30's sub bass is definitely more noticeable but it is very well controlled  It reminds me off my high school years driving in my 1994 Camaro Z28 with T-Top's blaring my music from my two 16" Kicker woofers. You can really crank these up and feel the bass threw out your body. Form reading that you might be thinking they have to be bass heavy, but only when your playing music when it's called upon.  
The midrange is warmer then the MH40's, but is very smooth and detailed without being laid back or veiled. Listening to female vocals, you will hear how it just flows and engages you into the performance. Higher frequencies is were these lack, and can be slightly laid back to the rest of the frequencies. By all means, I am not saying it's bad. That's just the sound signature these have. They blend well with the rest of the music. It's the type of headphone you want to use for portable use, like going on a train ride or a long air plane ride. Compared to the MH40's, the higher frequencies are more distant, and gives it a warmer sound.  Instrument separation is good, but with the MH40's being better. I found the best type of music to use these with would have to be Hip-Hop, Freestyle, Rap, and Dub Step and it's fitting for these. Just by looks, I can see more younger and middle age people buying these. Unlike the MH40's, which look like they're more for an older generation of people using them at home relaxing.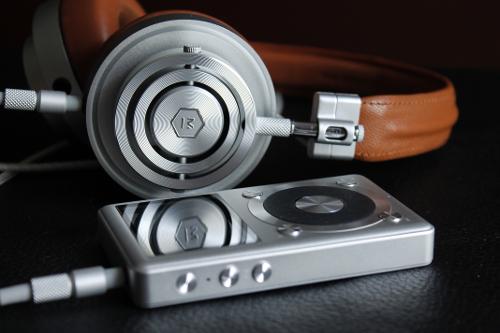 OVERALL
Like I said before, these have to be my favorite on ear headphones to use. Reviewing these even inspired me to make both of the headphone stands you see in the pictures. I would recommend these to anyone that is worried about style, and needs a good headphone that can be cranked up. Listening to these, you won't believe the sound that comes out of them for being so small. Master & Dynamic is fairly new still, and offers some premium headphones that are very reasonably priced. Some people might think the price is high, but I have used other headphones two times the price, and made of 80% plastic that don't even sound half as good as these. I can't wait to see what the future has in store for Master & Dynamic. I have a feeling they are going to be around for a long time. If you look on their website, you will see they do a lot of giving back to their local community. So in the end, if you are looking for a great portable can, get the MH30's. If you want to do more relaxed and critical listening, go for the MH40's. Their customer service is one of the best that I have ever dealt with. Thanks for reading. I hope I helped anyone interested in these.
Pros
:
Refined Natural Musical Sonic Presentation, Superb Build Quality, Vocals, Tonality.
Cons
:
Comfort for Larger Heads.
---
---
Me:
 I am a 21 year old student living in a small town in India. I would like to call myself a music enthusiast, rather than an audiophile. I was inspired by music since childhood, and as the time passed, the passion of music grew in me, and that subsequently led me to join Head-Fi. Eventually, I found the pleasure of listening to music mainly by the HD600 and recently, by the seductive LCD2 headphones, and realized the true components of recorded music. I usually like to listen to Indian Classical Music along with Bollywood songs. My main listening genres include classical, vocal, instrumental, jazz and sometimes pop.
---
Intro:
  Master & Dynamic is a new US brand specializing in the area of headphones and IEM's. They are based in New York. M&D rolled out their first product in July, last year. Their products are all designed & developed in New York, but made in China by high standards. MH30 is the On-ear Closed-back headphone offering from M&D.
Master & Dynamic have a specific vision in making their products: The products should last long (very long) and should have a natural sound reproduction for pure music enjoyment. 
Currently all of their headphone and IEM lines are closed back, solidly built by metal & leather components, and all of them have a very natural and musical listening experience with them. 
Mr. Jonathan Levine is the founder and Chief Executive Officer of M&D.
Specifications of MH30:
Drivers: 40mm Neodymium
Rated Impedance: 32 Ω
Weight: 260 grams
Plug: 3.5mm Gold Plated 4 pole
Cable: Woven with Oxygen Free Copper
---
Let us see what the MH30 has got for us,
Packaging and Accessories: The MH30's arrive packed inside a strong black cardboard box with a removable outer sheet, on which features and other information have been mentioned upon. Once the box is flipped open, The MH30 is seen resting. Cables are placed inside the hard leather case in the centre of the box. This layer of foam can be lifted off to reveal another storage compartment, in which pouch and user manual are present. Packaging is very similar to the MH40's.
M &D has done some real premium packaging out here. Each and every part has a premium quality and feel to it. The attention and perfection implemented here is one of the best I have ever seen, and is really more of a lavish style. Even the small paper clip or a velcro is made up of excellent quality material.
List of accessories in the box, which include the following:
Cables:
  One short 1.25M cable with mic and volume controls, and another regular 2.0M cable.
¼" Converter: To plug in the MH30 in the 6.5mm headphone jacks.
Leather cable case: This is a genuine leather case, and supplied to protect and store the cables.
Headphone Pouch: This pouch has a high grade jeans-finish to it, and functions as a storage pouch for the MH3
0.
User Manual: Contains instructions to operate the MH30 and other warranty information.
---
Design and Build:
 The MH30 has an 
excellent 
overall build quality. It has a top notch build which is as good as any Summit-Fi headphones.
The entire housing shell is made up of high quality forged aluminum. It isn't painted, but is anodized, which is again a step forward in engineering. These cans are pretty small, and appear to be large in pictures. These are light in weight (feels much lighter than MH40's) M&D logo is printed on the rear side of the housing shell. Left and Right markings are particularly hard to see, since the L/R markings are very small. Headband is made up of Cowhide leather. Earpads are covered with Lambskin leather, but actually have pleather material as cushions.
MH30's are already nimble, easy to handle, wear on and power requirement is low. Along with all these, these are fold-able, and are easy to carry around. MH30 has cable socket at both the drivers, but only one need socket to be used, according to user's choice. The cable is of very common type, a 3.5mm 4 pole jack. This ensures, even if the current cable breaks, a replacement is easy to obtain, any 3.5mm cable audio cable.
One downside I observe here is, wiring for opposite driver is embedded on upper end of headband, like the DT880's overhead cabling. Personally, I don't think this is the best mechanism here, and since MH30 has two sockets of jacks, so instead of overhead wire, which will be unreliable over time, M&D could have used both of these sockets to obtain HD600 cabling style.
Cable has a very good build. It is light, flexible and does not get tangled. I could not notice the presence of any microphonics. Plug is straight and gold plated. Both ends of cable have same connectors, thus the cable can be used either way: topside down or vice versa. The stock cable does a great job in transferring signals along with great transparency, and for any optional upgrade cable, one will have to spend above 50$.
---
Comfort:
  MH30's are very comfortable to wear in general, but I feel MH30 may not be very comfortable to wear for larger heads, owing to its short yoke (shorter than MH40's yoke).
Though MH30 is ergonomically designed, it is primarily designed for people with smaller head size. Enthusiasts with larger heads may not prefer the comfort of MH30. Length of the yoke will be slightly less for a good comfort. Since the earpads are madeup of leather, ventilation will be less, thereby causing sweating; especially in tropical climate.
Since MH30's are closed back headphones, these will isolate the listener from outside noise. This level of isolation is very good for a traveller. Going by weight factor, these feel fairly light (260 grams), and are definitely feasible.
---
Sound:
 As for the most important part, the MH30 has a dark, warm, smooth, yet airy sonic character. 'Musical presentation' is the key word. I find it very appealing and pleasing.  Presentation is in such a way that, mids are little more intimate, with lows & highs sound tad more relaxed and laid back. 
We have to keep in mind that, with on-ear headphones, sonic presentation may feel different with different fit. Therefore fit/angle is the deciding factor for sound being perceived by ears.
Burn in: These improve a lot with time. Let's say a playback of 20 hours provides major audible improvements, along with softening of leather earpads and better clamping force. 
Bass prior to break-in is overpowering, and eventually it becomes more accurate, Mids will sound more open, airy and natural. highs become slightly more smooth, soundstage opens up by a margin.
When I hear to the MH30's here is what I experienced: utter & sheer pleasure
Lows: are accurate, tight and refined; have a strong impact. Depth is very good. Lows are present in a little more quantity than MH40's
Mids: sound very natural, and appealing, and have a prominent warmth and lush (like the HD650's) I guess that is in a good way, comes very pleasing to our ears. Tonality particularly, one of the best at this price point. This character makes MH30 a strong contender for vocals.
Highs: Very smooth treble without grains and sparks. Highs convey an image of smoothened darkness, just like a caramel chocolate. Highs are slightly more airy than in MH40's.
Soundstage: Unlike the MH40's, the MH30's soundstage is more airy natural and circular soundstage. Depth is excellent. Instrument separation is very good, I believe MH30's presentation is like sitting in fifth row of an opera theatre. (with MH40's being in second or third row)
MH30 portrays music in such a way that, one feels as if the music is all around him. The sonic character here is so natural and eased that the tonality sounds very life-like. According to my observation, these cans sounded good in all genres I tried, and hence I conclude MH30's are also forgiving to poor recordings. Hence these are not resolving, but very musical in character. 
Comfort and fit plays a vital role in sound being perceived to our ears. Especially in case of MH30 where the earpads are very compact, if they fit in a wrong way, they will leak sound leading to missing details.
I will not be directly comparing the MH30's to other headphones since these are quite unique in their own regard. But for the sake of it, MH30's will sound (especially mids) are very similar to HD650's. Perhaps a touch more dark and thick.
---
Amplification:
 The MH30's are rated at 32 ohms, and designed to be power efficient, and hence are fairly easy to drive, and can be driven by almost any sources, smartphones and DAP's. Although setup like a O2/ODAC does indeed increases the soundstage and dynamics, and the difference in quality is clearly audible. Power is not very important aspect here, but a
transparent
setup indeed does help in increasing SQ;
---
Conclusion:  I feel the MH30's are a very special and unique set of cans. Build quality is phenomenal, sonic presentation is very pleasing, with fairly good soundstage. I never did quite like the on-ear cans, but with MH30's it's all about to change. I am absolutely in love in these. I have nothing but praises for these. 
On the downside, this type of presentation will be useful for listening to music, but definitely not for mastering or critical listening. Due to MH30's compact design, enthusiasts with moderate to large heads may not prefer the comfort in these. 
Only area I would like to see improvement is in increasing the yoke length about an inch, which might help a lot for enthusiasts with larger heads.
At the price point of 349$ these may seem slightly more pricey, but these are worth every single penny spent. I can whole heartedly  recommend MH30 for those, who would prefer a very musical (or magical) sounding , easy-to-drive headphones which are compact, portable and have a great build, plus whose head size is relatively smaller inorder to enjoy a good comfort and fit. Want a set of on-ear cans sounding close to HD650's? MH30 is the way to go;
Pros:
1) Build Quality: The MH30 has a superb all-metal/leather build. No compromise to be seen anywhere.
2) Sound quality: Sound presentation here is very natural, and is very much like-able for casual music listening. Tonality of vocals deserve a special mention. One of the finest tonality I have heard in 500$ price point.
3) Power: MH30's can run off on smartphones without issues, and still sounding very good. Amplification or source requirement is comparatively less. One can satisfy the hunger of MH30's with just a cmoy amp.
Cons:
1) Comfort: This is definitely a downside for enthusiasts with moderate to larger heads. MH30 cannot accommodate larger heads even with maximum yoke length.
Also, as the earpads are not ventilated, hence may cause sweating/discomfort in warmer climates.
---
---
---